Angus Brian MacDonald died on Good Friday at age 67, but before he passed away he made damn sure he would be remembered by writing his own amazing obituary.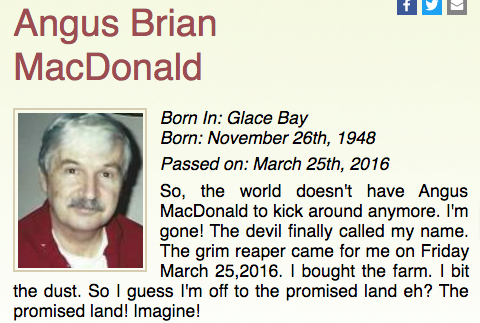 Here's the opening salvo of his obituary:
So, the world doesn't have Angus MacDonald to kick around anymore. I'm gone! The devil finally called my name. The grim reaper came for me on Friday March 25, 2016. I bought the farm. I bit the dust. So I guess I'm off to the promised land eh? The promised land! Imagine!
MacDonald also called out his haters.
"So anyway, I think I was a pretty nice guy, despite being a former punk and despite what some people would say about me. What did they know about me anyway? I loved my family and cared for them through good times and bad; I did my best."
MacDonald was born in Glace Bay, Nova Scotia, in 1948. He was one of 13 children. He is survived by his own large family: his wife Brenda, three children, and seven grandchildren.
MacDonald described having "some serious health problems" the last few years of his life, and getting by with the help of his family, and his beloved pets.
MacDonald paid tribute to his best little pal, his dog Scarlett.
"My little dog Scarlett died Sept. 2013, and there really are no words to describe what a total destresser Scarlett was for me. So I guess if there's a place in the after-life where little dogs and old dawgs go, then that's where you'll find me and Scarlett.
And he also managed to squeeze some jokes in about his own funeral — or rather, his decision not to have one.
A funeral is a waste of harrrrrrd earned and harrrrrrd saved money that my family can use now. I was a very private person in life, so I don't want to end that life with people gawking at me while I lay in a coffin. I'm being cremated and my ashes are being scattered (somewhere). So instead of going to see the great creator, I will be going to see the great cremater.
R.I.P. Angus MacDonald, true Canadian hero.