For social media users looking for "news served with a side of smile," there's a new outlet doing the rounds. In The Now, which has been gaining traction in the last year, is the latest online video channel that mixes entertainment, internet ephemera, and serious news to create shareable content that lives on social media. Its ethos is most obvious on its Facebook page, where the banner image is a collage of world leaders, cute animals, and meme-able celebrities like Shia LaBeouf.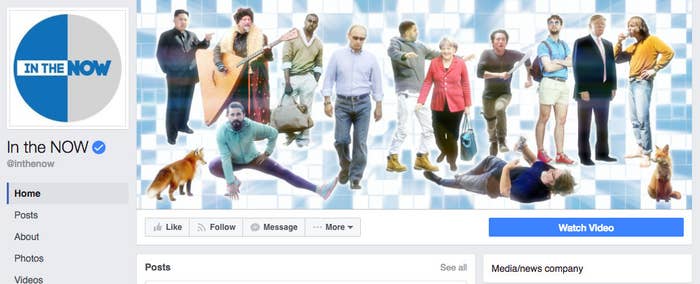 In recent days, it's had two big viral hits, both concerning what it says is the Western media's disinformation campaign surrounding the Syrian civil war.

What's not immediately clear to viewers of In The Now is that it's the latest venture from RT, the Russian state-funded news channel formerly known as Russia Today. It's news served hot with a side of smile and a big dollop of propaganda.

In The Now began its life as a regular show on the RT channel, and transitioned to a standalone project in the spring of 2016. But other than a page buried on the RT website, there are few signs that In The Now is connected to the Russian government at all. Its videos live on YouTube, Facebook, and Twitter, and nowhere on each platform is there branding or descriptions that connect them to RT.
The In The Now website — inthenow.media — also has no obvious clues about its ownership. On Thursday, its lead story asked if the Dalai Lama was a CIA agent.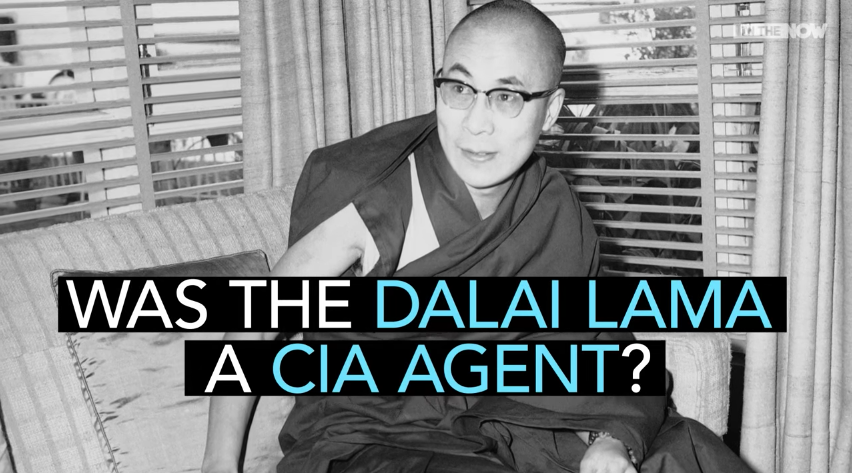 While there are no disclaimers to tip readers off, the content of the new service does seem to have a particular worldview — one that is skeptical of Western foreign policy and largely tracks with Russian interests.

One recent hit was a viral video, "Independent Canadian journo totally crushes MSM reporter on what's actually going on in Syria," where the Russian military is backing the Assad regime's scorched-earth campaign against its opponents.
The clip shows Canadian journalist Eva Bartlett answering questions from a reporter at the United Nations. She makes a number of remarkable claims, including that Syria's 2014 elections, which were widely denounced as a sham vote, showed Syrians "overwhelmingly support" President Bashar al-Assad. (Assad won 88% of the vote, down from the 97% he won in 2007.)

Bartlett also said the Syrian Civil Defense, better known as the White Helmets, is a Western-backed propaganda effort that routinely "recycles" children it pulls from the rubble of bombed-out buildings. "No one in eastern Aleppo has heard of them," she said.
A second viral hit for In The Now also focused on the Syrian civil war, this time claiming that a series of "farewell" videos posted by civilians in the besieged portion of Aleppo "looks like a coordinated PR campaign" by people who want viewers to believe "that Assad is randomly going from city to city and killing his own people for some crazy reason, with the help of Russia."
Do you believe that? the host asks.
That video was turned into a news article by RT. "In the Now found there's little to indicate that the people appearing in the mobile videos were actual civilians experiencing the hyped 'Russian and Syrian shelling,'" RT's article said.
Completing the circle, the Russian embassy in Canada then tweeted the RT story.
In an emailed statement in response to questions from BuzzFeed News, an RT spokesperson said In The Now is editorially independent from the main news channel.

"The project, though originated as part of RT's television platform ... eventually spun off as a separate brand because its creator Anissa Naouai wanted to explore a less formal, digital format," read the statement.
"Although RT doesn't support all of the views expressed by the platform we always appreciate Anissa's contribution to the discussion at large."
The video of Bartlett's comments has been viewed millions of times on Facebook and other platforms, with a receptive audience across the political divide, from committed anti-imperialists on the left to prominent supporters of President-elect Donald Trump on the right. The clips got love from senior Trump adviser A.J. Delgado, and alt-right star Mike Cernovich.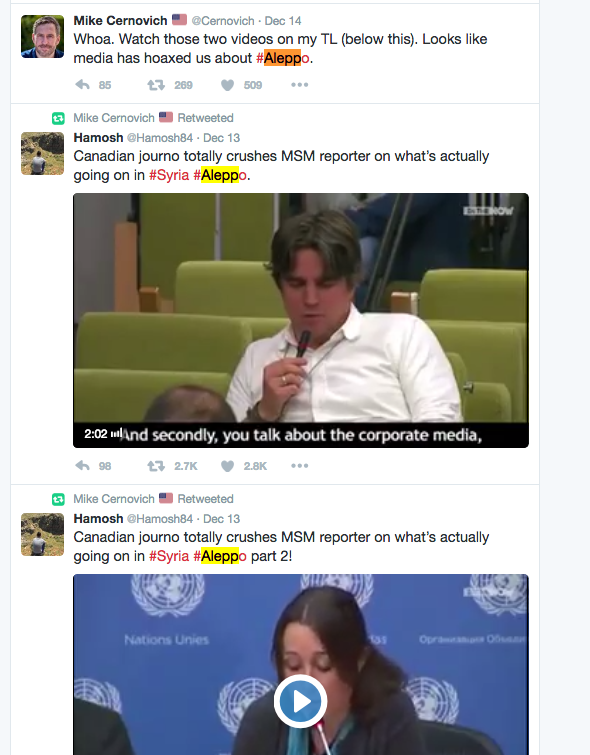 The press conference where Bartlett made her remarks about Syria took place on Dec. 9 at the United Nations building in New York. Kristoffer Rønneberg, the US correspondent for the Norwegian newspaper Aftenposten, was the journalist who In The Now reported was totally crushed by Bartlett's comments.
Rønneberg told BuzzFeed News he only attended because the Syrian ambassador to the UN, Bashar Jaafari, was scheduled to speak.
"I wanted to hear his perspective," Rønneberg told BuzzFeed News. "As far as I can tell or remember, there was no explanation given for why he didn't turn up. Instead there were four people, activists, representing in my view the message you would hear from the Syrian or the Russian government."

Rønneberg said he did not know whether the press conference was meant to generate this kind of viral moment, "but clearly it is being used by media organizations and internet users who are promoting a certain perspective on the war in Syria," he said.

"This exchange is being used actively as part of an information campaign in a military conflict," Rønneberg said. "If it was planned or not, I don't know."

Bartlett told BuzzFeed News that Syrian Ambassador Jaafari was originally scheduled to introduce her, but "due to the meeting in the GA that morning, he apologized to me that he could not be present." The press conference, she said, was organized "at my own request to present some of my findings, and also via the organizing of the US Hands Off Syria coalition."
Bartlett stood by all the claims made in her press conference, and said none of the civilians she has met in Aleppo have heard of the White Helmets. "The views I expressed are mine and also reflect the views on these Syrians I met," she said.
"I don't expect that you will appreciate this as the tone of your questions reflects your own alignment, which seems to be with that of the media which is determined to obfuscate the truth on Syria and instead promote war propaganda."
UPDATE
This story has been updated with comment from RT, as well as more detail about when In The Now relaunched as a distinct brand.