Black Lives Matter Toronto's Co-Founder On What The Group Has Accomplished
An interview with Sandy Hudson, co-founder of Black Lives Matter Toronto.
by
,
Black Lives Matter Toronto just wrapped up a two-week protest in front of the city's police headquarters after the group got commitments from city and provincial leaders to review how police shootings are investigated in Ontario.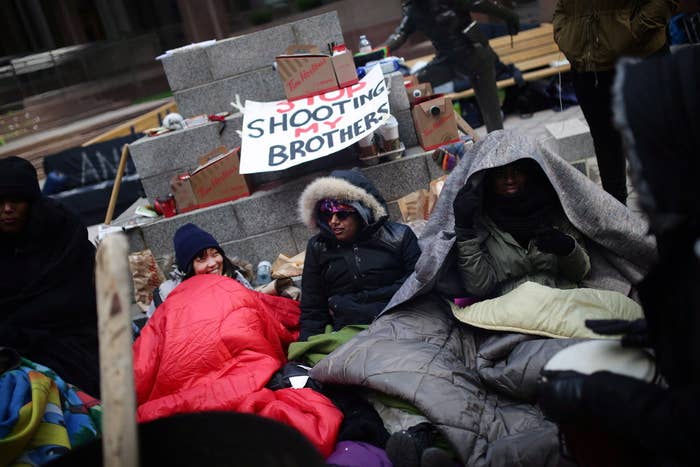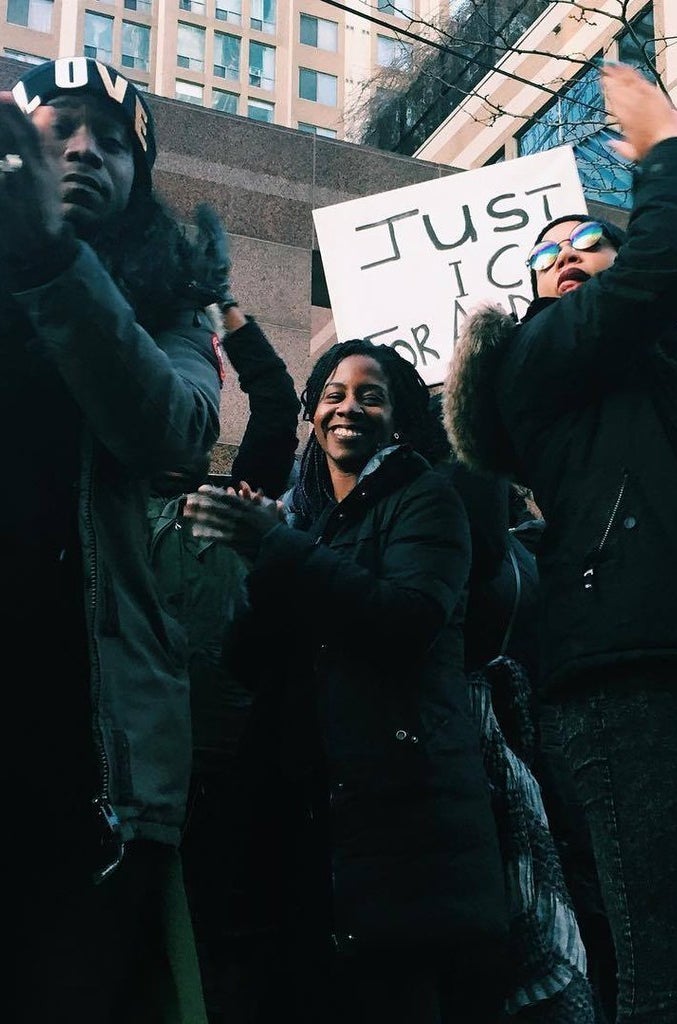 You've packed up the camp. Why now and do you feel you accomplished the goals you set at the beginning?
Sandy Hudson: We accomplished the most important goal, which wasn't a published goal. That was to try to make sure our community felt held, were able to come together to express their rage, create with one another, have joy with one another. And also to understand that there is power within them to demand justice for our community. For us, that was accomplished.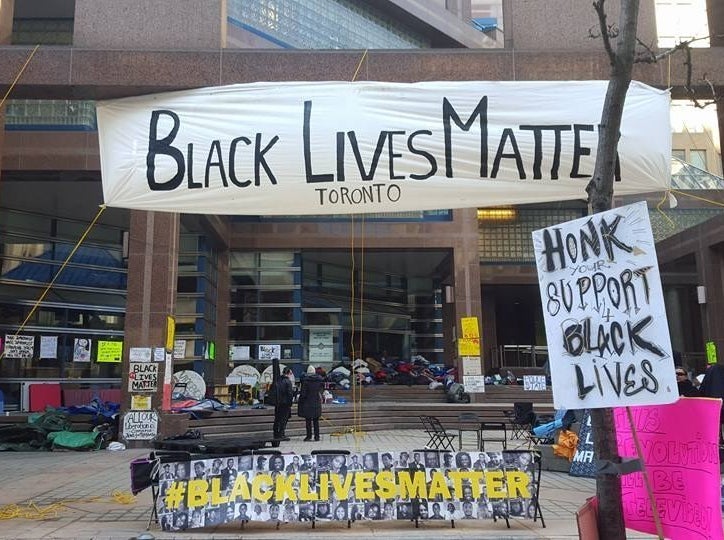 Why was it important to have a physical presence there, in front of police headquarters? Obviously there are other ways of activism but you stuck it out in two weeks in pretty harsh weather conditions.
SH: We also wanted the wider community to know how important this is to us. It was so difficult being out there in those harsh environments. Nobody wants to do that. But we so strongly believed that we could show people how important this was, what an injustice this was, by using our own bodies. Because nothing else had worked.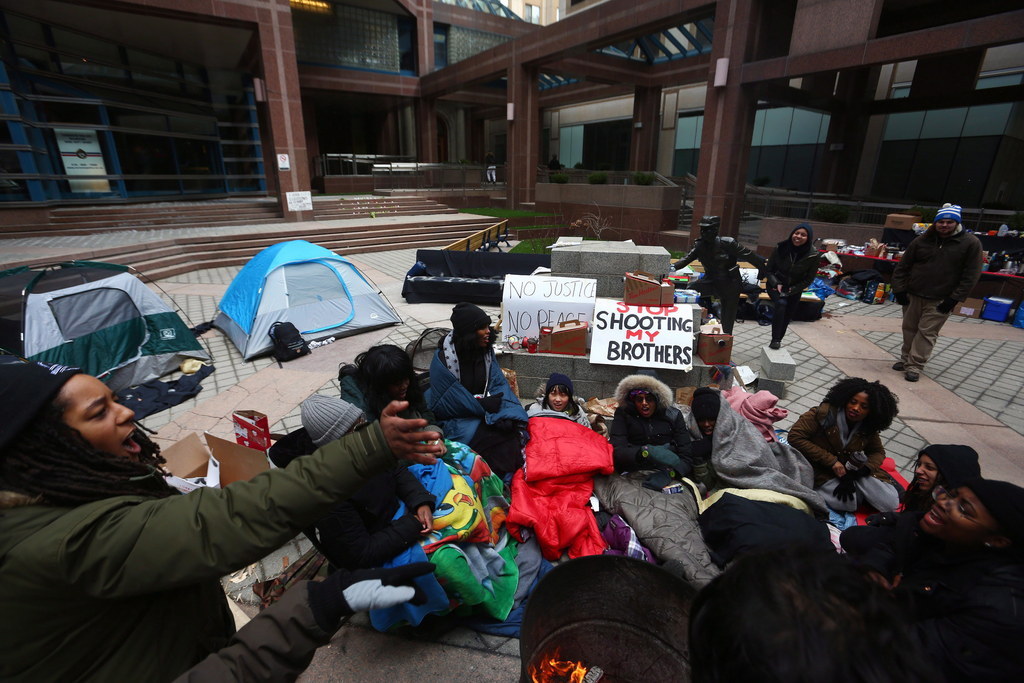 You've gotten a pledge out of Premier Kathleen Wynne to review the SIU. Toronto City Council passed a unanimous motion to that effect, calling for more accountability. Did you expect that city and provincial leadership would eventually pay attention or respond?
SH: We didn't expect it but we knew that eventually something would happen, because that's what our conviction is. We're so sure that we can win this, and that's what keeps us out there continuing to fight for this. It's what makes us realize this isn't all hopeless.
I was surprised to see Kathleen Wynne come out and make the commitment that she did, but I'm also cognizant that that happened after two weeks. Especially Mayor John Tory is attempting to position the idea of a "meeting" as all that is necessary. And I'm a bit nervous that the media or people who heard this story will think we won and it's OK to stop paying attention.
But we need a lot more than meetings. We need commitments to deal with this issue [of police violence]. This is something people have been talking about since the early '90s. It's very urgent, and it can't go on.
Now that the action is over, local columnist Jerry Agar found an old tweet from Yusra Khogali, a Black Lives Matter member, that then became a major news story. It's getting a lot of attention, maybe more than any specific day of the camp-in got. What do you make of that disparity, and how did the media cover the Black Lives Matter tent city protest?
SH: I don't want to play this media game of "You need to come on here and respond to this particular thing we're asking you to respond to." No, I won't do it. I'm only going to talk about what I think is important, which is the loss of life in our community at the hands of state forces, and the refusal to do anything about it.
For us it has taken months and months and months to get the media to pay attention in the way they did in the last two weeks. We've been trying through press releases, media advisories, op-eds, all sorts of things, to try to get the media to pay attention to anti-black racism in our midst. It was putting our bodies outside for two weeks that we finally got the media to start paying attention to what was going on.
This less than 140-character thing that Yursa put out [that is] not related to any of this, from months ago — the media are clamouring over each other. With the amount of emails, phone calls, Facebook messages, Twitter DMs, from media outlets asking us to respond to this, it's unbelievable. It's offensive. People have died in our community and that does not get nearly the same amount of attention as this tweet.
It also points to, if I can be quite honest, a problem in journalism across this country. The people who are represented in journalism in this country are overwhelmingly white, and there's a diversity problem there. The people who are choosing the stories are not necessarily doing that in a way that is in the interest of all communities.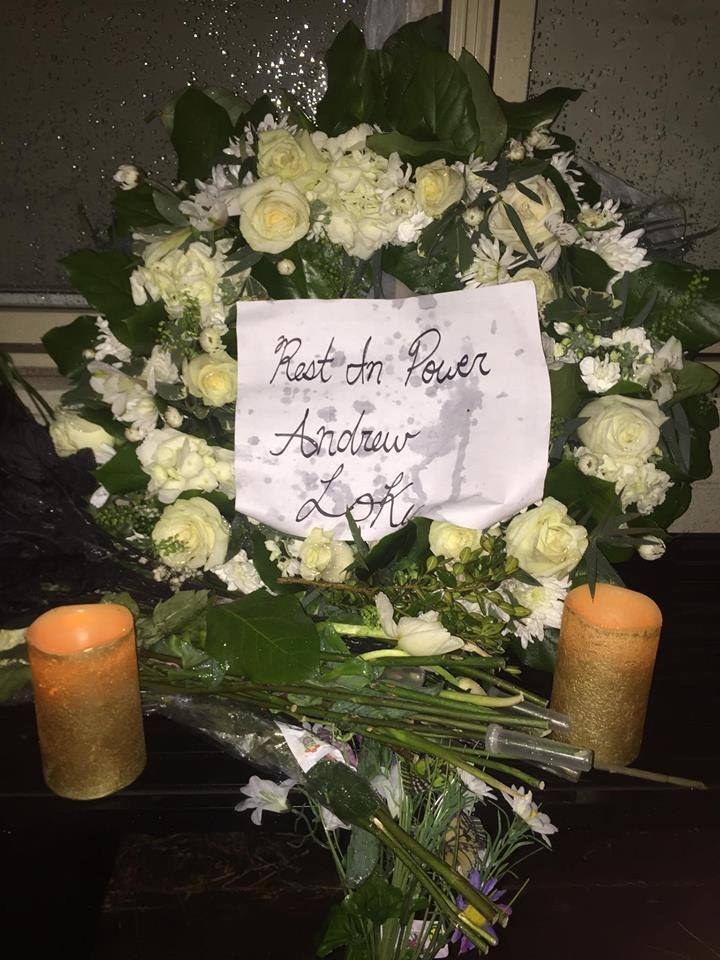 So this all started with a call for police reform. There have been some pledges to do that. Is there a specific shape you want things to take as this goes forward?
SH: I would like to see more transparency. In reviewing the SIU, if the cities and municipalities aren't willing to release the names and histories of infractions of police officers and whether or not they're still on the street, then the SIU should demand a level of accountability and transparency [from local police forces]. With respect to Andrew Loku, we've got witnesses who are talking to us and telling us that the SIU's report is contradicted by what they heard and what they saw. There's no way for a member of the community to voice concern over that or gave any accountability measures to double-check that.
With respect to Jermaine Carby [who was shot dead at a traffic stop in 2014 by a Peel Regional Police officer], again there was only a short report and an acknowledgement that evidence had been tampered with in that case and police officers had acted incorrectly. And still there was a decision not to lay charges and take it to a court of law. And there was no explanation of that. The public doesn't have access to information that they should have access to.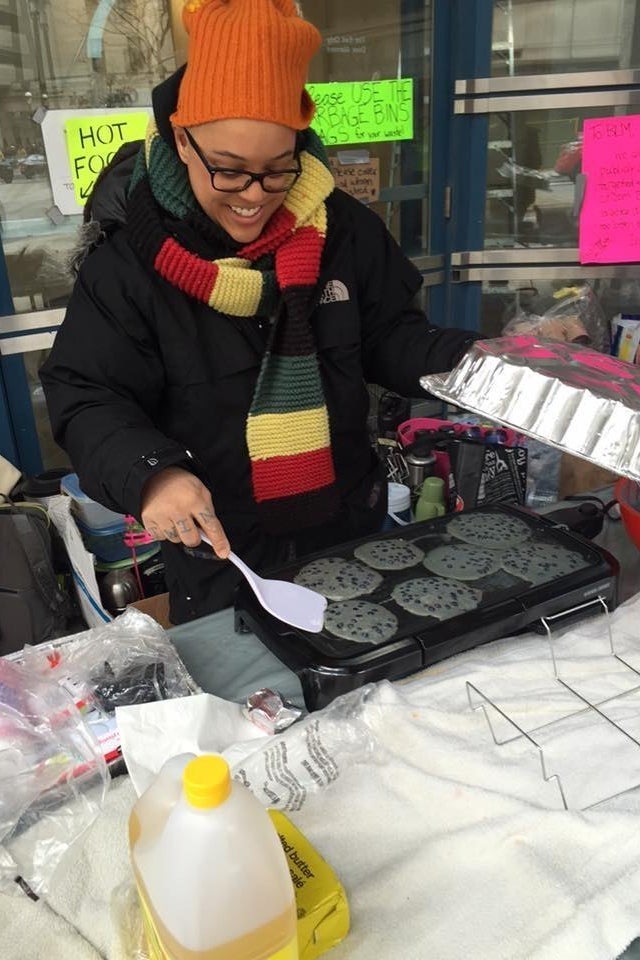 Just going back to what you mentioned about the atmosphere of the camp itself, about feeling anger, joy, solidarity — can you explain what these two weeks have meant for Black Lives Matter in Toronto?
SH: It was extremely emotional for me. The community that was created exceeded anything that I expected. I was eating better at the camp than I do at home sometimes. I was unreal the amount of generosity that people displayed, and the way people were willing to come and just contribute to the space. So often we had DJs, performers, storytellers, dancers come by and just say, 'Hey, we're here. We wanted to see if there's something we could do for the group.' It was beautiful.
We also had a strong Indigenous community presence there that was saying, "This is Indigenous land. This is our land, and on our land we do believe that black lives matter." There were a lot of black folks there but also a lot of people from other communities who said they would be there and stand with us because they, too, see that there's something wrong.
I don't even know what to tell you. What did it mean to me? It was one of the most beautiful things I've ever been a part of in my life.
This interview has been edited for clarity and length.