This teenager used to be a Hedley superfan. But this week, she attended one of their concerts just to call out the band's behaviour.
Emily McCarthy is a 17-year-old high school student from New Brunswick. She told BuzzFeed Canada she was "a huge fan of Hedley," but she has been disgusted by the band's response to allegations of sexual harassment and sexual assault.
"They did not actually deny what was being said," McCarthy said of the band's public statements.
After numerous people shared stories about the band's behaviour on social media, Hedley said in a Facebook post that "there was a time, in the past, when we engaged in a lifestyle that incorporated certain rock and roll clichés." They also said the allegations were "unsubstantiated."
Multiple people have alleged, mostly anonymously on Twitter, that lead singer Jacob Hoggard and other members of the band groped them, initiated unwelcome sexual advances, or invited them to drink on the tour bus or in hotel rooms despite being underage.
This week, a woman told CBC News that Hoggard raped her in a Toronto hotel room in 2016, an assault so violent that she said she was unable to sit down for days afterward. Hoggard's lawyer told CBC News the encounter was consensual.
McCarthy and her two sisters all had tickets to see the band play in Summerside, Prince Edward Island. Rather than waste the tickets, McCarthy attended the show to protest.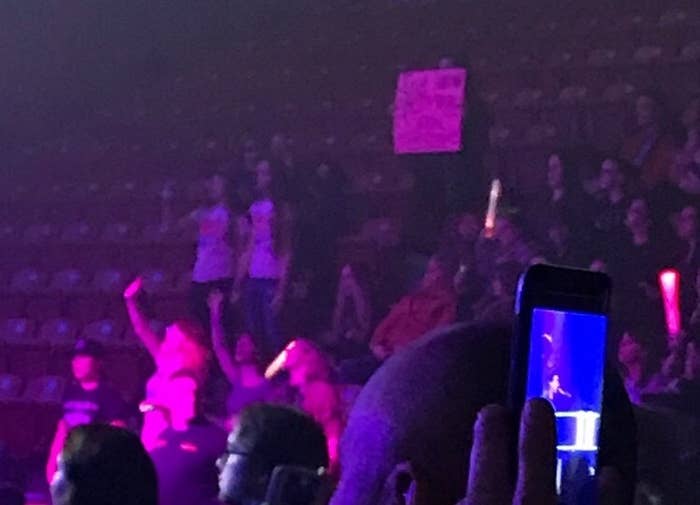 She held a sign calling out the band: "Sexual harassment is not a 'rockstar cliche' it's sexual harassment!!"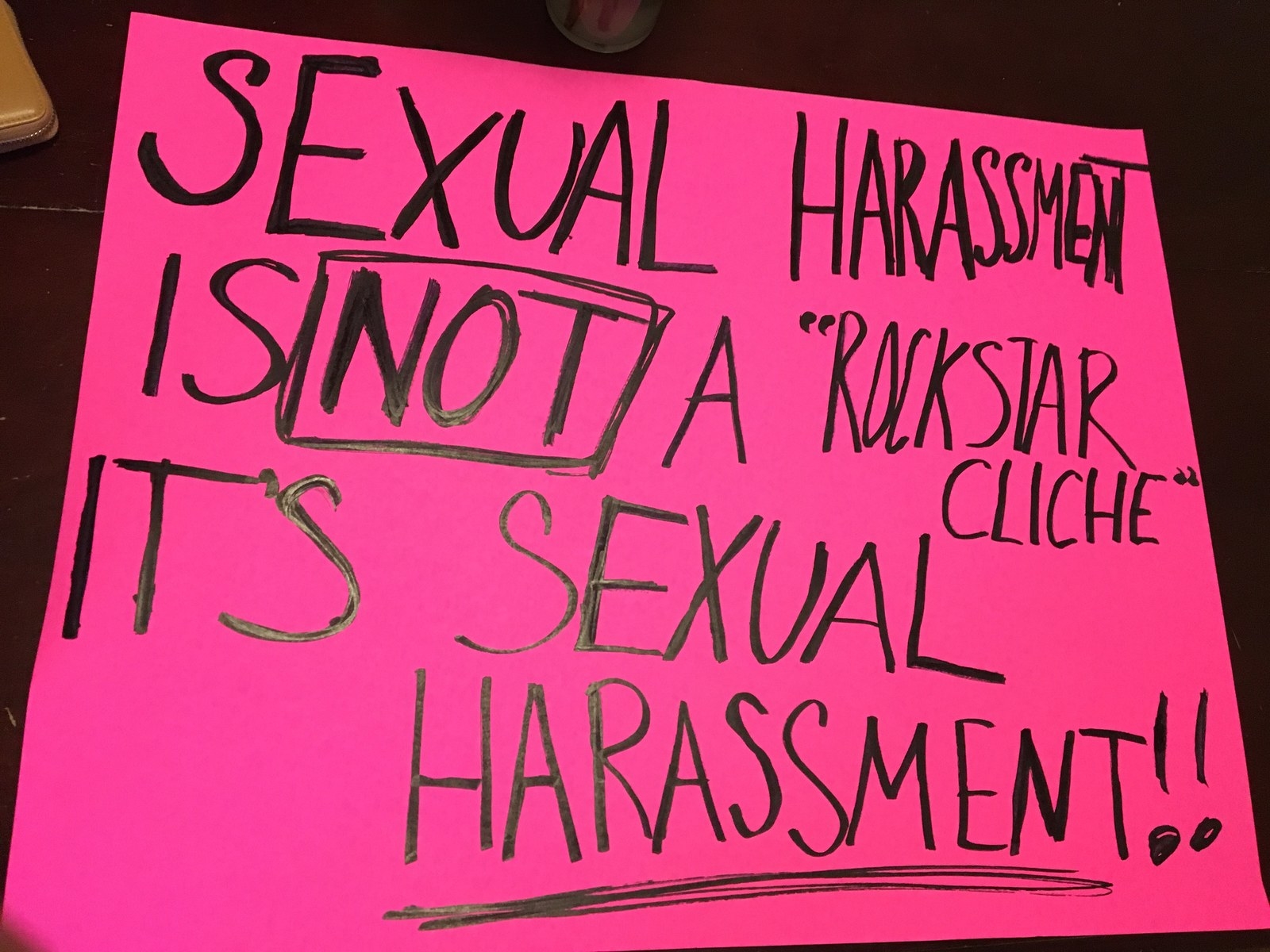 The other side of the sign read: "I bought my ticket before I knew you harass underaged girls."
McCarthy said it was a "sad" atmosphere inside the arena, with many empty seats and sections.
McCarthy said the fans who did show up were very enthusiastic, with some people even handing out "#IStandWithHedley" posters, which has become a rallying cry for the band's most devoted fans online.
"It's scary to think that some people can support a band despite them being accused of sexually harassing and even raping girls," McCarthy said. "The band did not once address the accusations."
McCarthy said it was important for her to speak out because the band had been so important to her in the past.
"I wanted the band to be called out and know that what they've done is not being tolerated," she said. "I could have just thrown away my tickets but then the band wouldn't have to face what they did."
McCarthy said she stayed for several songs, but after she felt sure the band had taken note of her, she and her sisters left before security could intervene.
McCarthy's protest has gotten a big response online, with many people thanking her for calling out the band directly.
She was not the only one to protest at the concert, though. Singer Kinley Dowling and a friend stood outside, handing out informational pamphlets on sexual assault.
"When I read about the recent allegations of Hedley it made me so angry that they would abuse their power like that," Dowling said on Instagram.
Downling said they handed out more than 100 pamphlets.
Similar actions are planned at other Hedley concerts for the remainder of their current tour.
The effort started with a tweet from Brianne Duke, a woman in Vancouver who told BuzzFeed Canada she wants to make sure people attending Hedley shows have the right resources to fight sexual harassment and assault.

"I've been through sexual harassment myself, so that was one of the reasons," she said. "I didn't see anyone else doing anything like this at the shows."

She said she's working with a few volunteers to organize more pamphleting outside Hedley concerts, and that there are plans for at least six more shows.
"We're going around trying to find as many people to help as possible," she said.