The Massive Wildfire In Alberta Could Continue To Burn For Months
"This fire will continue to burn for a very long time until we see some significant rain."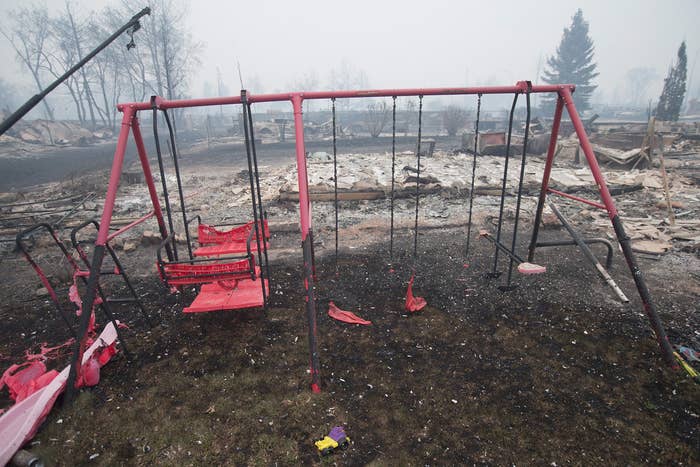 What We Know So Far
The fire continues to spread, and all of Fort McMurray remains under a mandatory evacuation order. Evacuation orders have also been issued for Anzac, Gregoire Lake Estates and Fort McMurray First Nation.
Close to 100,000 people have fled their homes.
Two people died as a result of a traffic accident during the evacuation.
It's going to be weeks before Fort McMurray is safe enough for people to return to, according to Alberta Premier Rachel Notley.
Edmonton community throws birthday party for five-year-old boy whose birthday was cancelled due to the wildfire.
A five-year-old boy was surprised with a birthday party at the hotel his family were staying in after the evacuation of Fort McMurray caused his original party to be cancelled.
In a post on Facebook, Corina Nolin told how her son Maddox had been really excited about his birthday party before the fires broke out.
"We had a big party planned and I rented a location (clubhouse at Syncrude Athletic Park in Timberlea) with a bouncy castle," she wrote.
"We invited all his friends and his whole class. He was counting down the days for the last two weeks but since we were fleeing the fire he had not mentioned it even once. That morning he never even asked if he was going to get a birthday present. Every time I thought about his birthday I was crying because I was so sad for him not having anything now."
But thanks to community support and the local hotel they were staying in, in Edmonton during the evacuation, little Maddox got a party after all.
"Thanks to my husband's employer Finning who booked a hotel for us for 5 days and thanks to the Doubletree by Hilton hotel which went above and beyond to bake a birthday cake, prepare appetizers, and also let us use a little area of the hotel to celebrate, he had an amazing birthday!
"We even had some of his friends that are in Edmonton as well come and celebrate with us. Someone we have just met came and brought presents collected from her friends for him. You have to see the excitement and total disbelieve in my son's eyes when he saw his friends today. Thank you Edmonton - you are my champion."
Alberta fire visible from space
Change in weather slows fire's progress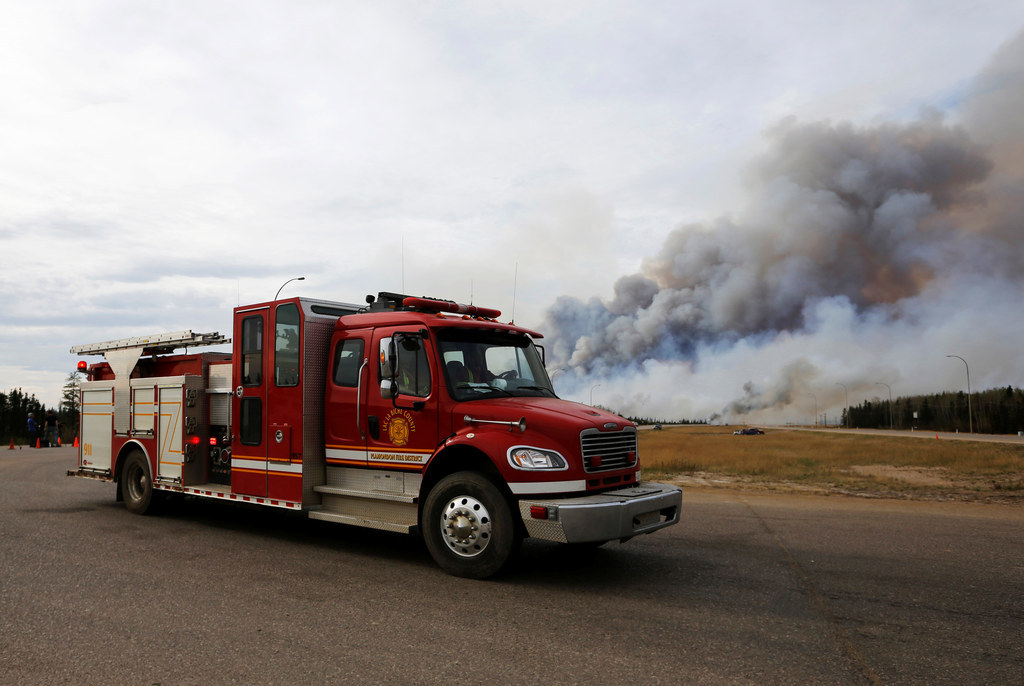 Wet weather and cooler temperatures have proved helpful to firefighters battling Alberta's massive wildfire, officials said Sunday.
The rain at Fort McMurray has not had any immediate impact on the fire, CBC reported, but was welcome news to first responders.
"For us this is great firefighting weather," said Chad Morrison, Alberta's senior wildfire manager, told reporters. "We can really get in there and get a death grip on this fire."
"With the cooler weather, we expect to hold the fire there and I expect to hold the fire there for a few days."
The fire had been expected to double in size on Saturday, but cooler weather halted its advance.
All who fled north have to escape fire now relocated to safety
Alberta Premier Rachel Notley announced Sunday afternoon that all people who fled north from Fort McMurray to take shelter at oilfield camps have now been relocated to the south.
"Our key goal was to complete the evacuation of the 25,000 residents who fled north and I am pleased to say that has happened," she said.
Wildfire could continue to burn for months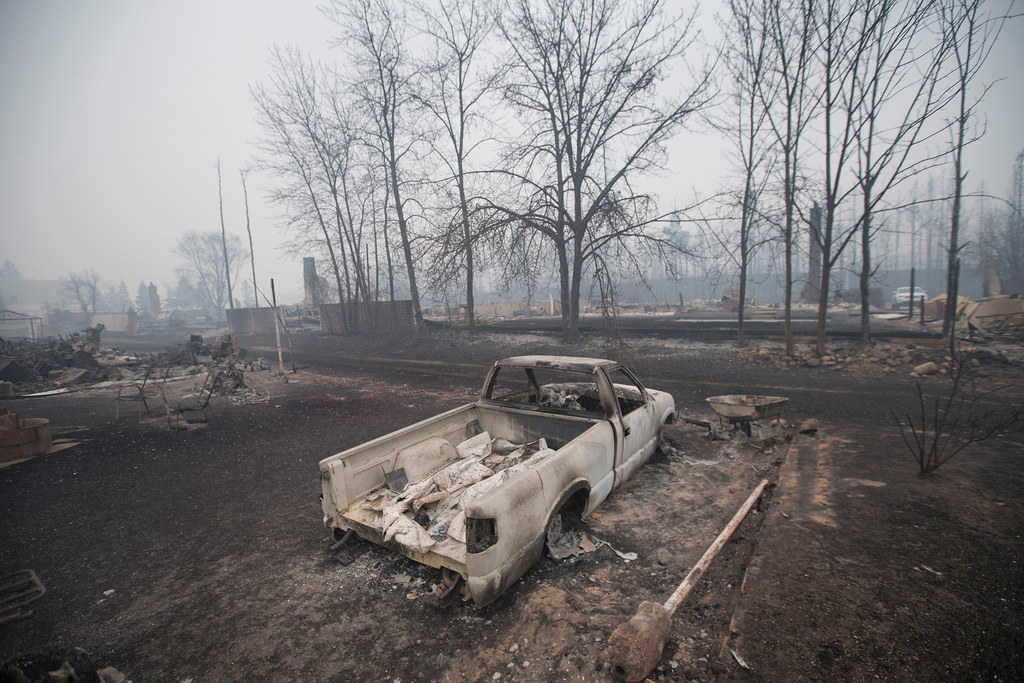 Canadian fire authorities said Sunday that the Alberta wildfire could continue to burn for months.
Due to strong winds Sunday and dry foliage in the area, the fire will continue to grow in size during the week, Alberta Agriculture wildfire information officer Matthew Anderson told the CBC.
"It certainly will increase in size today, and it's still listed as out of control and the conditions are still very dry," Anderson said. "We do have some difficult weather, some interesting weather, coming up."
A cold front and some light rain is moving into the area, but not enough to immediately quell or slow the fire down. Should the cold and humidity continue to increase, Anderson added, it could eventually make a difference.
"We would need a significant amount of precipitation to really help to bring things under control a bit more," Anderson said.
Evacuations almost complete, as fire burns 200,000 hectares.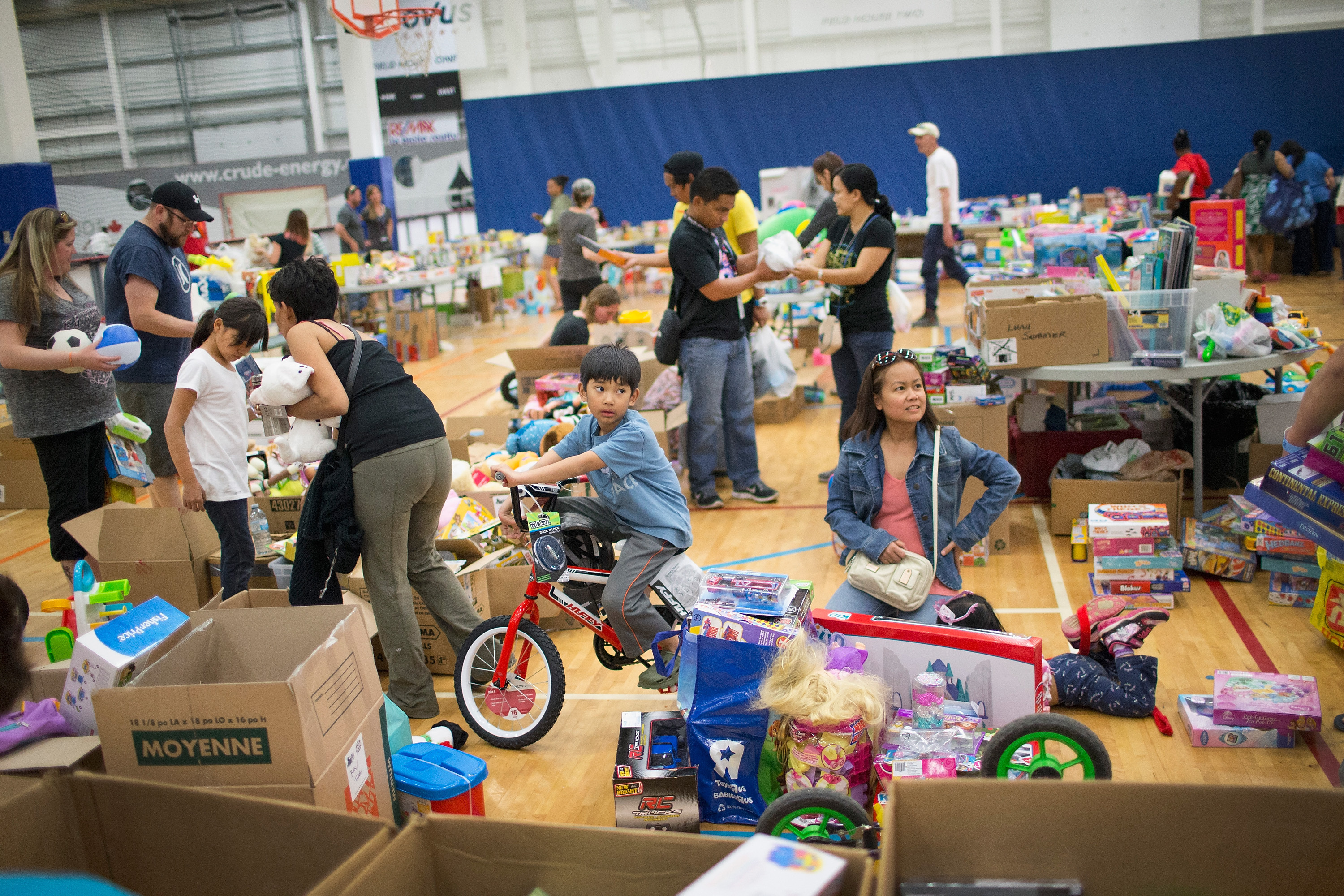 Canadian officials say mass evacuations of work camps north of Fort McMurray have been completed, as the massive wildfire now covers about 200,000 hectares of the province.
Late on Saturday, the latest statement from Alberta's government said the wildfire would cover more than 200,000 hectares (494,211 acres) by midnight and "will continue to grow."
Convoys of evacuee vehicles began leaving the work camps at the oil sands north of Fort McMurray at 6 a.m. on Saturday and finished by late evening.
Alberta Wildfire spokesperson Chad Morrison told the Associated Press he expects to be fighting the fire in the forested areas for months.
"In no way is this fire under control," Alberta Premier Rachel Notley added.
Notley said about 12,000 evacuees had been airlifted from the oil sands mine over the past two days and about 7,000 were evacuated in police escorted highway convoys on Saturday.
The fire and mass evacuation has forced a quarter or more of Canada's oil output offline.
Alberta Premier: Fire expected to reached Saskatchewan border on Saturday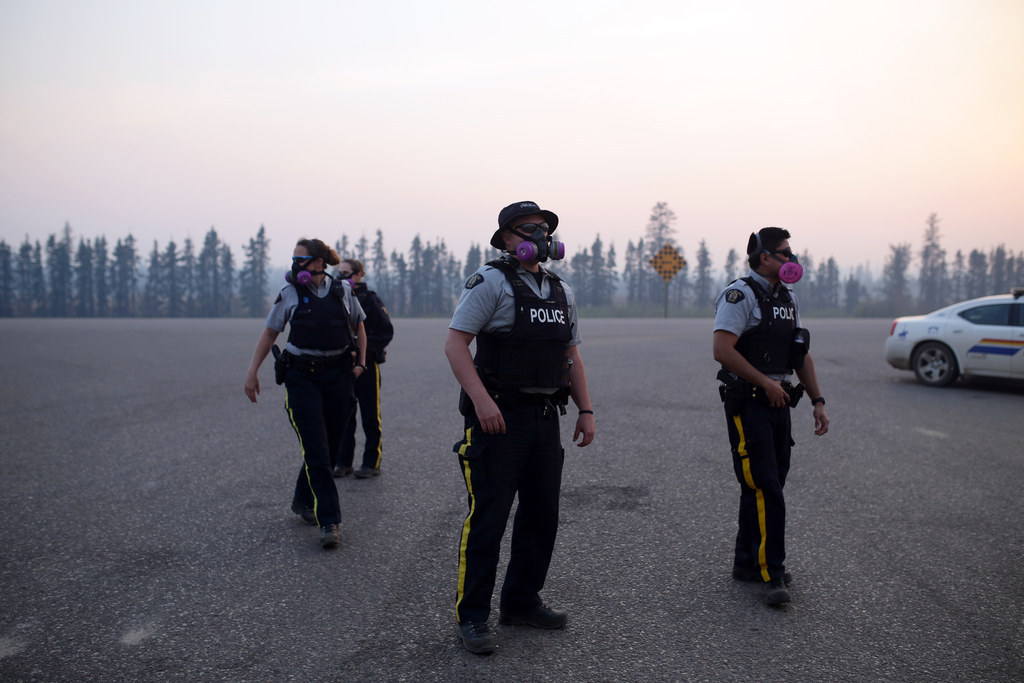 The huge wildfire blazing in Alberta is expected to double in size on Saturday and reach the border with neighboring Saskatchewan, Alberta Premier Rachel Notley said Saturday.
The blaze has already burned through some 1,560 square kilometres, officials said.
Notley told reporters firefighters are working to protect homes in Fort McMurray from the blaze, which has forced almost 100,000 people from their homes.
"I want to underline again that no one who is not a trained first responder with a specific job to do should be in Fort McMurray," she said, according to a CBC transcript.
More than 500 firefighters are battling the blaze in Fort McMurrary alone, Notley said, assisted by 15 helicopters.
Alberta wildfire could "double in size" Saturday, officials say.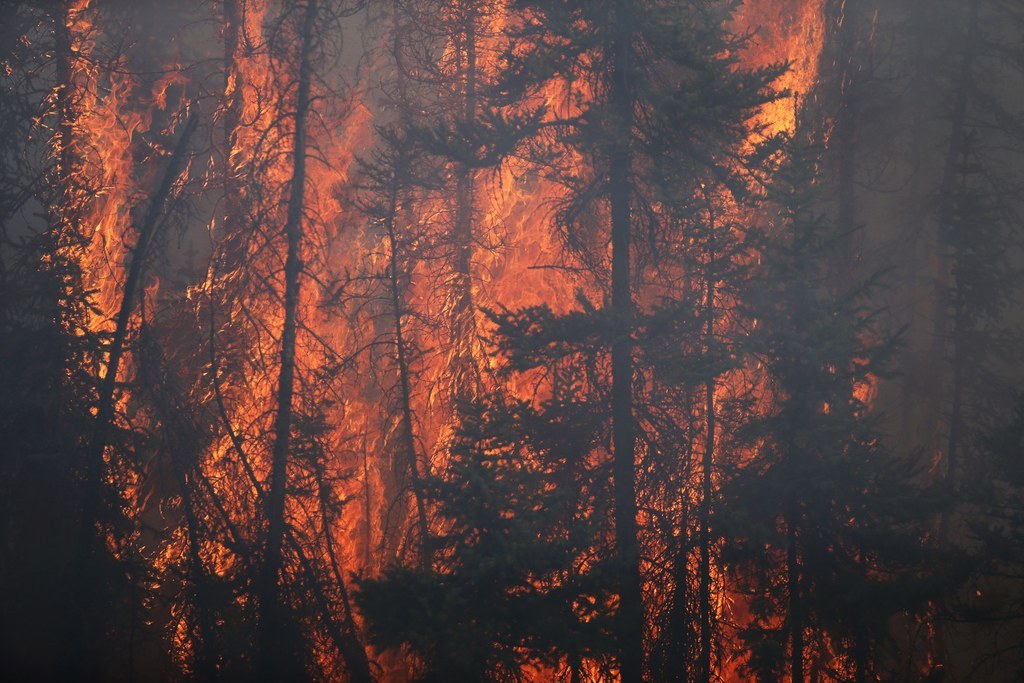 The wildfire raging through Alberta could double in size Saturday, Canadian officials have warned.
In an update posted by the Alberta provincial government late Friday, officials said fire conditions remained extreme.
"A total of 40 wildfires are burning, with five out of control, eight being held, 21 under control and six turned over to the responsible parties," the statement said.
Chad Morrison, Alberta's manager of wildfire prevention, told the Associated Press there was a "high potential that the fire could double in size" by the end of Saturday.
He said the fire could expand into a more remote forested area northeast and away from Fort McMurray. Extremely dry conditions and a hot temperature of 27 Celsius (81 Fahrenheit) was expected Saturday along with strong winds, he said.
"We have not seen rain in this area for the last two months of significance," Morrison said. "This fire will continue to burn for a very long time until we see some significant rain."
There are now two confirmed deaths related to the fire and evacuation of Fort McMurray. Emily Ryan, 15, and her stepmother's nephew, Aaron Hodgson, died in a crash south of the city Wednesday when their SUV collided with a tractor trailer, CBC News reports. Ryan was the daughter of a deputy fire chief in the area.
Alberta's municipal affairs minister confirmed the deaths Wednesday, but it was not clear at the time whether the crash was related to the disaster.
This photo of an RCMP officer surveying the damage in a Fort McMurray neighbourhood is quickly becoming one of the iconic images of the fires.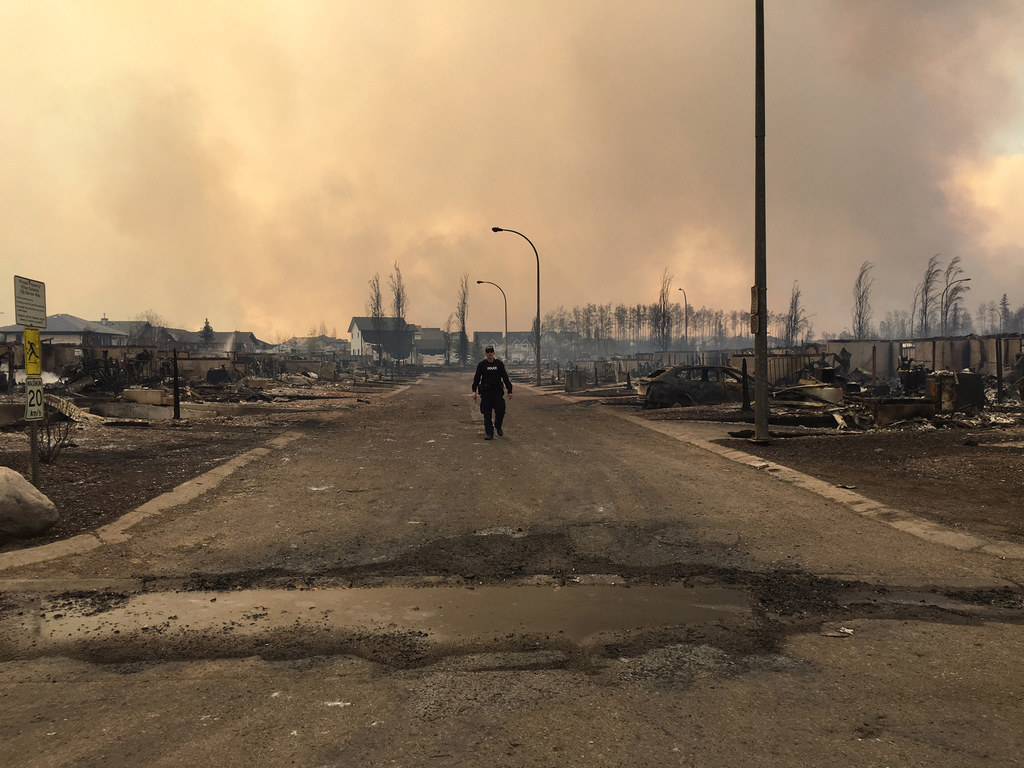 A convoy of vehicles has begun to move hundreds of evacuees from camps in the north. They will drive south for hours with police and helicopter escort — and past Fort McMurray — to make their way safely to Edmonton.
Alberta Premier Rachel Notley gave an update on the situation. She said the fire had grown to 85,000 hectares, and that they are working to move the roughly 25,000 evacuees currently located north of Fort McMurray to the south.
Notley said the current priority of crews fighting the fire is to "protect infrastructure and the community."
The latest update from Wood Buffalo municipality reports that the area of North Abasand is on fire, but the airport remains safe.
The federal government announced it will match individual donations to the Red Cross. Canadians can donate $5 by texting "redcross" to 30333.
The government of Alberta declared a provincial state of emergency Wednesday afternoon at 3:30 p.m. local time. The evacuation of Fort McMurray remains in effect, and residents are warned not to attempt to return to their homes.
A massive forest fire has significantly damanged parts of Fort McMurray, the heart of Alberta's oilsands industry, and tens of thousands have evacuated their homes to escape the flames.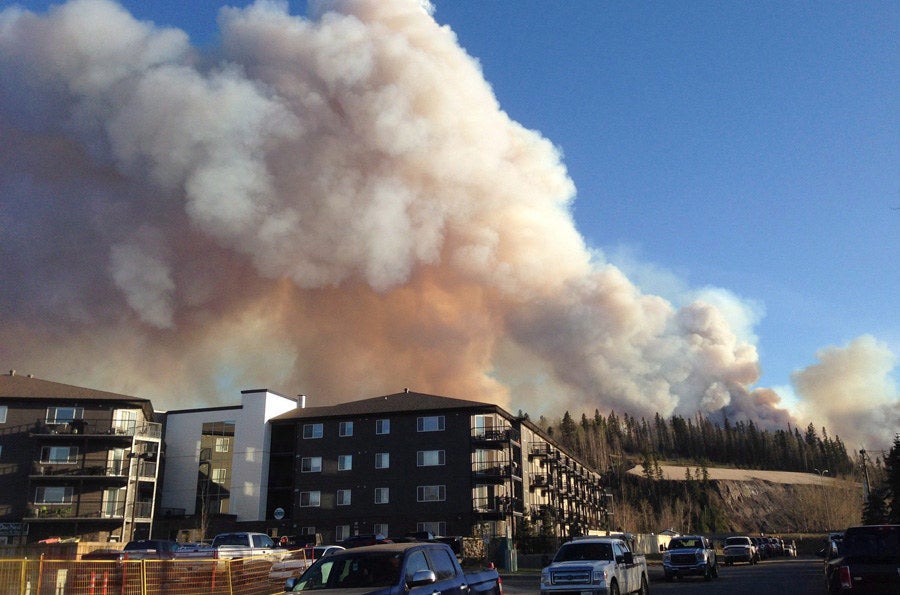 All of Fort McMurray was given a mandatory evacuation order at 6:20 p.m. local time on Tuesday. Approximately 80,000 people in Fort McMurray and the surrounding area are affected.
Alberta Premier Rachel Notley said it is the largest wildfire evacuation in the history of the province. In a media briefing on Wednesday, officials said that fires within Fort McMurray have been extinguished, but danger remains.
"This is a nasty, dirty fire," said Fire Chief Darby Allen. "There are certainly areas within the city that have not been burned, but this fire will find them and want to take them."
Fires continue to rage in the areas surrounding Fort McMurray and officials said the blaze covers an area of roughly 10,000 hectares.
There are no reports of fatalities.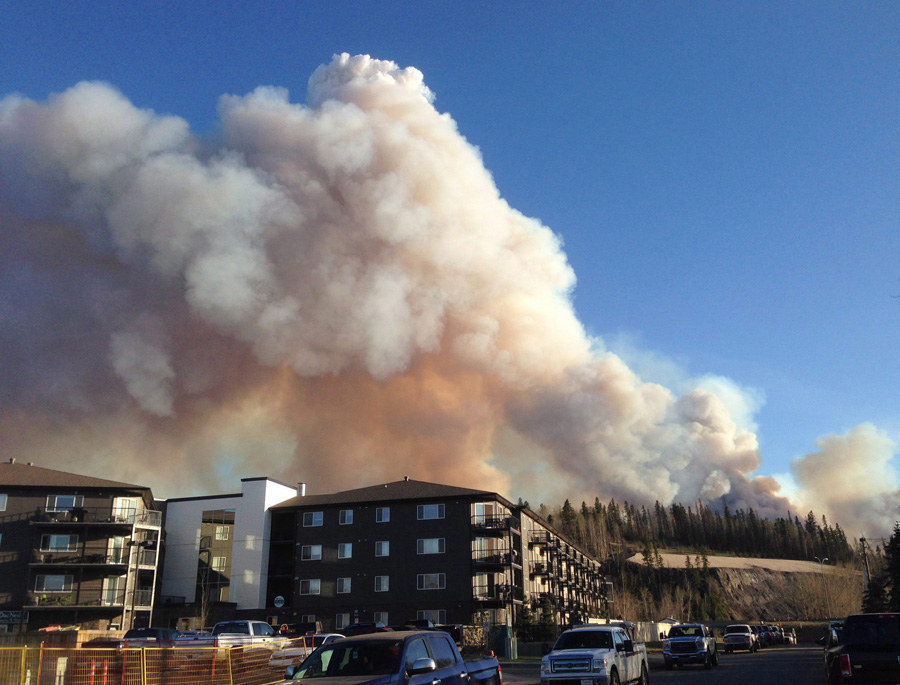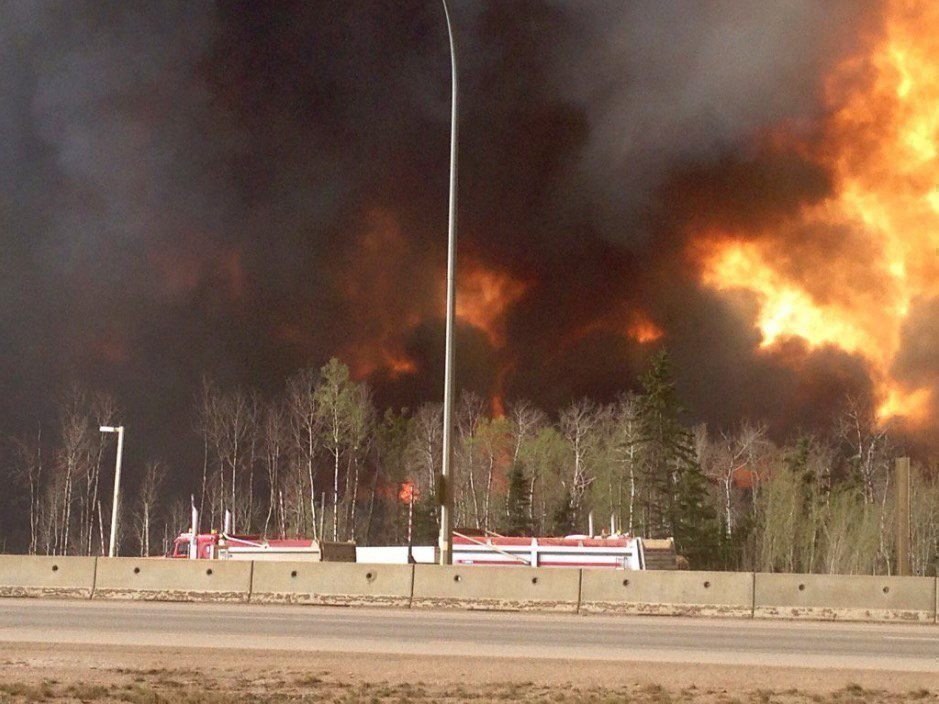 On Wednesday afternoon, the municipality of Wood Buffalo, which encompasses Fort McMurray, issued an updated damage assessment that said three neighbourhoods lost between 50% and 90% of all homes.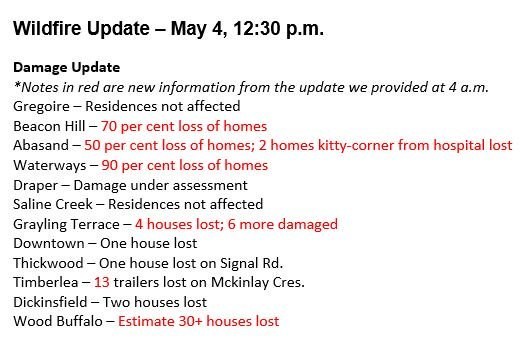 At the end of a Wednesday media briefing, Chief Allen became emotional as he spoke of the good work that has been done so far:
We had a devastating day yesterday and we are preparing for a bad day today but it's important to note the good things that have happened…. We successfully evacuated 88,000 people. No one is hurt, and no one is passed away right now. I really hope we get to end of this and we can still say that. We are here, we are strong, and we will keep doing our job.
Some journalists have gone back into the hardest-hit neighbourhoods and are sharing photos of total devastation.
This was shot by CTV News in the Beacon Hill neighbourhood, which lost 70% of homes.
As a result of the evacuation order, the north and south roads out of Fort McMurray were jammed with vehicles from Tuesday evening into Wednesday.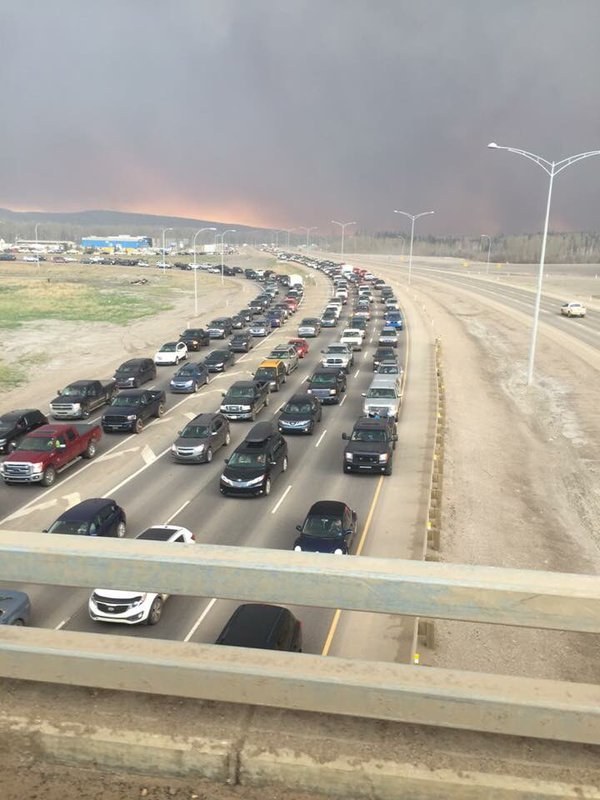 Many fled as they watched their homes burn to the ground.
Here's what things looked like on Tuesday, when the fire spread to Fort McMurray and forced the mandatory evacuation.
Firefighters had been battling a wildfire near Fort McMurray for days, and strong winds pushed the flames ever closer to the city. The province's wildfire information website said the fire covered 1,285 hectares and was "out of control."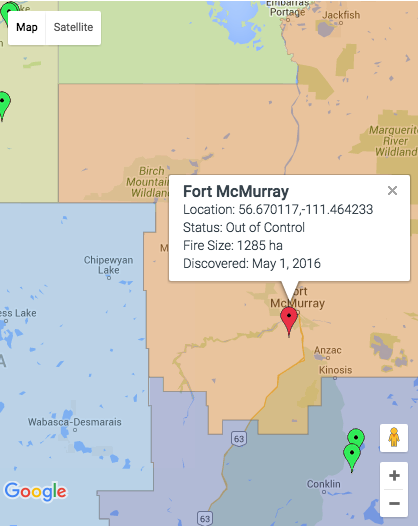 And strong winds made the whole thing even worse.
The Centennial Trailer Park on the outskirts of the city, which had already been evacuated, was engulfed.
The main highway in and out of town became choked with traffic as people tried to escape the fire. Part of the highway was later closed after the fire breached the roadway.
This man recorded his harrowing escape on Highway 63.