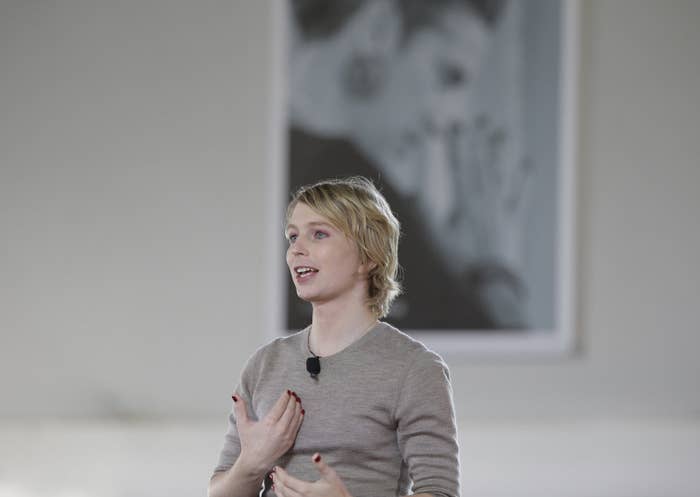 Chelsea Manning, the former US soldier who leaked a huge trove of classified documents to WikiLeaks in 2010, says she wasn't allowed entry into Canada last week because immigration officials consider her offence equal to "treason."
Manning shared a photo of an immigration report on her Twitter profile Monday that explained why she had been found inadmissible.
According to the document, Manning was found inadmissible "on grounds of serious criminality" related to her unauthorized leaks. Canadian officials can deny someone entry if they would get a prison sentence of 10 years or more for the same crimes in Canada.
Manning's actions, if committed in Canada, "would equate to an indictable offence, namely Treason," the report says.

In 2013, Manning was convicted in a US military court of 19 charges, including six counts of espionage, and sentenced to 35 years in prison. But she was found not guilty of "aiding the enemy," the most serious charge she faced and which would have amounted to treason had she been convicted.
A source close to Manning told BuzzFeed News that she was held overnight at the border station, and that she wasn't given her passport and car back until the next morning. Manning had been on a road trip, with plans to catch a flight from Montreal to Vancouver, when she was stopped at a Quebec border crossing on Sept. 22.

She aims to challenge the Canadian decision.
"The US Espionage Act has historically been used to silence and punish whistleblowers, and it has blocked Chelsea and others from arguing in court that their disclosures served the public interest," the source said. "We believe the law simply has no equivalent in Canada or other democratic countries."
Canada's own laws on treason include a ban on unlawful sharing of military documents, but only with "an agent of a state other than Canada." The Canada Border Services Agency declined to explain its rationale for keeping Manning out of the country, citing departmental policy not to comment on individual cases.

"Admissibility of all travellers is decided on a case-by-case basis and based on the information made available to the border services officer at the time of entry," CBSA spokesperson Barre Campbell told BuzzFeed News in an emailed statement.
Prime Minister Justin Trudeau told reporters Monday that he was waiting for more information.
Manning, who is considered a whistleblower by Amnesty International and other rights groups, served seven years of a 35-year sentence in military prison. President Obama commuted her sentence in one of the final acts of his administration, and she was released from custody in May.

UPDATE
This article has been updated with comment from CBSA.