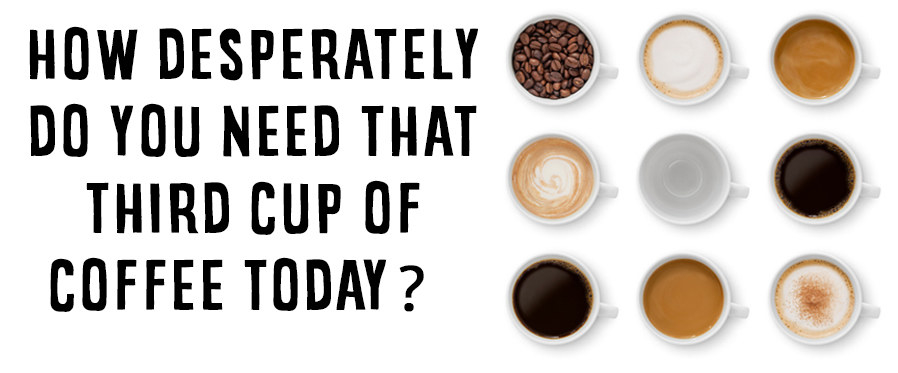 Tick off all that apply to you.

I've been yawning for the past hour.

I don't feel like I'm properly functioning.

I wish I was at home taking a nap.

I'm counting down the hours until work ends.

My brain feels like mush.

I keep looking at the clock every five minutes.

Procrastination levels are at an all-time high.

Nothing I typed in this Word document is making sense.

I'm not being productive at all.

Did I...did I really type coffee into this budget spreadsheet?

I can't focus on anything except coffee and memes.

I can't even focus on memes. Coffee is the only thing I care about.

I don't care for any other liquids than the acidic taste of a double espresso shot.

I promised to reduce my coffee intake but I REALLY need this.

It's been at least an hour since I had last my coffee.

I can feel myself getting grumpy because my caffeine levels are too low.

The lack of coffee in my veins is making me feel dead inside.

I tried having tea and it only made me crave coffee more.

I would do ANYTHING to get my hands on some coffee right now.

I'm craving it so bad that I'm willing to spend $10 on a bland, watered down version.

I feel delirious from the lack of caffeine.

Everything in the office reminds me of coffee.

I'm willing to throw a full-scale tantrum if I don't get a coffee ASAP.

I've tried googling if I can die from a lack of coffee and although the answer is no, I still desperately need it.
Looks like there are no comments yet.
Be the first to comment!