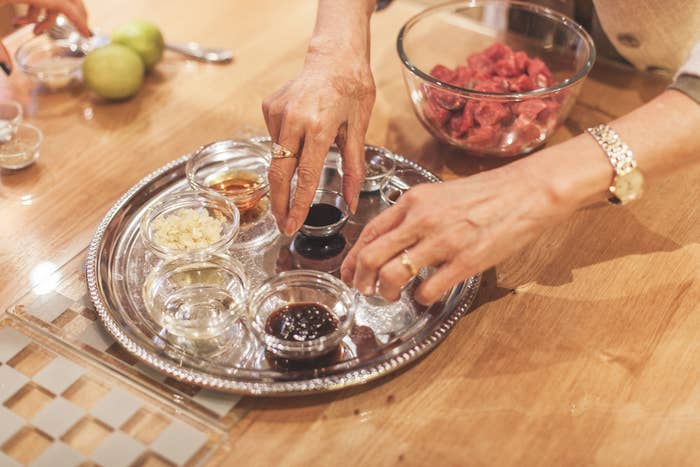 PREPARATION
Marinate the beef fillet with garlic, oyster sauce, dark soy sauce, pepper, rice wine, and salt. Then mix it very well, and cover it at room temperature for at least 15 minutes to an hour. I always make it the night before and leave it in the fridge, and in the morning take it out so it's room temperature, because it needs to be warm for the wok.
To make the lime sauce, mix all the sauce ingredients together, stir until the salt and sugar dissolve. Set aside.
Prepare the serving plate by lining it with lettuce leaves and arrange the tomato and onion slices on top of the lettuce. Set aside.
Just before serving, heat the oil in a wok or skillet over very high heat until very hot. Here you can add a little sugar, and when the sugar begins to brown the wok is hot enough to cook the meat. Add the beef mixture and stir-fry for 2 minutes or until it turns golden brown. (Note: This should be done in a few batches because adding all the beef in one go will lower the temperature of the wok and will result in the beef being steamed in its own juice rather than being fried).
Transfer the fried beef to the prepared serving plate. Serve piping-hot with steamed rice or French baguette. To enjoy this, take a portion of the beef together with tomato and onion, and drizzle it with the lime sauce just before eating.