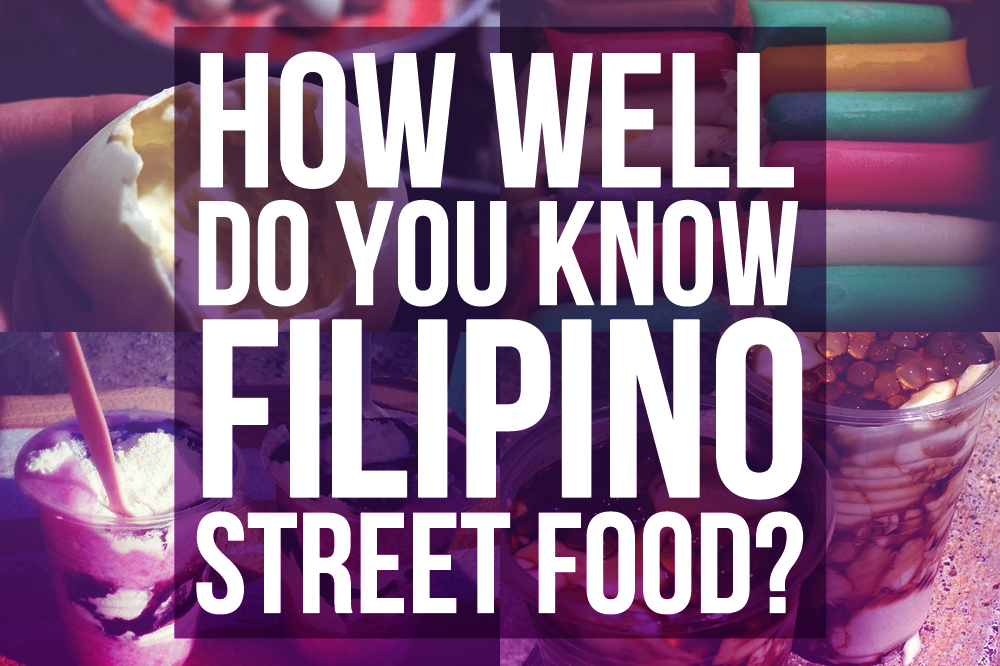 Skewered pig intestines are also called isaw!

The intestines are turned inside out several times while cleaning before putting it on sticks and grilling. Isaw is best dipped in spicy vinegar.

2.

Which of these two are fish balls?

The other balls are squid balls.

Balls can be *really* confusing, I know.

3.

These grilled chicken feet are named after which popular shoe brand?

instagram.com

Because... you know, feet.

That's dried pig and chicken blood, also known as "betamax."

It resembles the shape and color of the popular videocassette magnetic tape, Betamax, hence the name. Ask your lolo about it.

Kikiam is made of pork, shrimp, and vegetables like carrots and onions so it's pretty much the grubby version of lumpia. It is also commonly used as a topping for soup dishes like lomi.

They're also called "walkmans." As in the Jurrasic version of the iPod.

7.

Which of these is called kwek-kwek?

It's the one on the left!

The others are called tukneneng — boiled, then fried duck eggs. They're relatively bigger than kwek-kwek.

They're made of silken tofu!

The tofu is mixed with caramelized brown sugar and sago pearls. Taho is best enjoyed as breakfast but see if you can resist not eating it any time of the day.

9.

What do you call this sweet concoction of boiled corn, shaved coconut, sugar and/or salt?

instagram.com

Mature, white corn is soaked and boiled until it's sticky then topped with heaps of coconut and sugar/salt.

*starts singing Frank Sinatra's "17"*

At day 17, the chick in the balut doesn't have feathers yet and still has a relatively soft beak so it's, uhm, easier to eat, I guess?

11.

And what do you call this distant relative of balut?

instagram.com

It's penoy! You know, like "Pinoy" hehehe.

Like balut, they're also fertilized duck eggs but ones that failed to develop an embryo upon incubation. They're pretty much the black sheep of the fertilized duck egg family. :'(

12.

Which of these is "proven"?

Via en.wikipedia.org

Via instagram.com

To the (one on the) left, to the left!

You know chicken gizzard, right? So there's another gland beside it called proventriculus which is the main ingredient for this street food. Get it? Proven = Proventriculus? Oh, and it's also *proven* to taste very good. Lololol.

13.

What do you call these pink little cups of heaven?

instagram.com

It's a slushy made out of frozen condensed milk and is probably Dolores Umbridge's favorite snack.

14.

This kind of Filipino ice cream is locally known as...

instagram.com

No such thing! Ice cream is ice cream.

*starts singing Christina Aguilera's "Dirrty"*

But it's really not dirty! It's only called as such because it is sold by vendors on the streets and it doesn't look like the regular ~expensive~ ice cream.

Milk, sugar, and preferred flavoring (usually in-season fruits)

They are made from #LEGIT fruits and flavors!

The mixture of milk, sugar, and juice/chunks of fruits are funnelled into a narrow plastic bag before freezing. These iced candies are most popular during the summer.
Did we miss some of your favorite Filipino street food? Let us know in the comments below!