1.
A Takeya cold brew maker to save you $$$ on your usual drive-thru coffee by helping you make the smoothest cold brew coffee right at home. It has an airtight lid *and* stainless-steel filter to keep your angry bean water fresh for up to two weeks!
Takeya is a small business specializing in products that'll quench your thirst, like travel bottles and cold brew makers!
Promising review: "With the indefinite work from home situation 2020 has put us in, I had a real craving for my Starbucks iced coffee especially as the weather has gotten warmer. Since I can't go out and get my expensive iced coffee, I decided to get this product to make it myself. Best decision ever. It's very easy to make smooth, delicious iced coffee overnight and have a perfect brew in the morning." —Shelby

Get it from Amazon for $27.99+ (available in three colors, two sizes, and in two styles).
Check out the Takeya cold brew maker on TikTok to see how it works!
To learn more, check out our full Takeya Cold Brew Coffee Maker review.
2.
A Lovoir Winged Eyeliner Stamp because creating the perfect cat-eye is just way too daunting when you already don't want to spend too much time doing a full face of makeup. One side of this pen has a perfectly shaped wing you simply stamp where you want it on your eye. The other side is a brush pen, so you can easily complete the look. I have been using these for months, and it's the fastest cat-eye I can create!

It's also waterproof & smudge-proof!
Promising review: "Someone recommended this product for me on TikTok, I was unsure of the quality because it was such a cheap price. I have cried and swam, and this stuff doesn't come off easy! It's great. Not to mention it lasts a long time! I am happy with this brand." —Shay Lastowski
Get it from Amazon for $14.98 (available in three sizes).
Check out this TikTok by @kingaborysiewicz!
3.
A pair of glowing light saber chopsticks to make your weekly sushi night *way* more fun. Invite a friend over and have a duel over the last roll. May the force be with you. 
BuzzFeed Shopping writer Emma Lord says: "As you can see from the above GIF, I bought these for myself, and I love them to pieces. TBH, I use them as decor every bit as much as I use them to eat. Sometimes I just keep them in my work area to light them up during the day to feel fancy. They toggle back and forth between a bunch of different colors, like red, blue, yellow, purple, and multicolor, so you can either make them match *or* have a red and blue one together and bring ~balance~ to the Force."

Promising review: "The chopsticks are very durable, and the glow is bright. They're a bit bigger that I expected — but very pleased nonetheless with the product because it serves the purpose and is entertaining for kids, right up to adult Star Wars nerds. It also made the perfect gift for my fellow Star Wars nerds. I've been too busy playing with them rather than using them to eat food — but hopefully that will eventually happen before the batteries need changing." —Anthony
Get it from Amazon for $10.97.
Check out a TikTok of the light saber chopsticks in action. 

4.
An acrylic bed tray that will not only help you not slump in bed while you work from home, but will look incredibly stylish and chic every time you use it.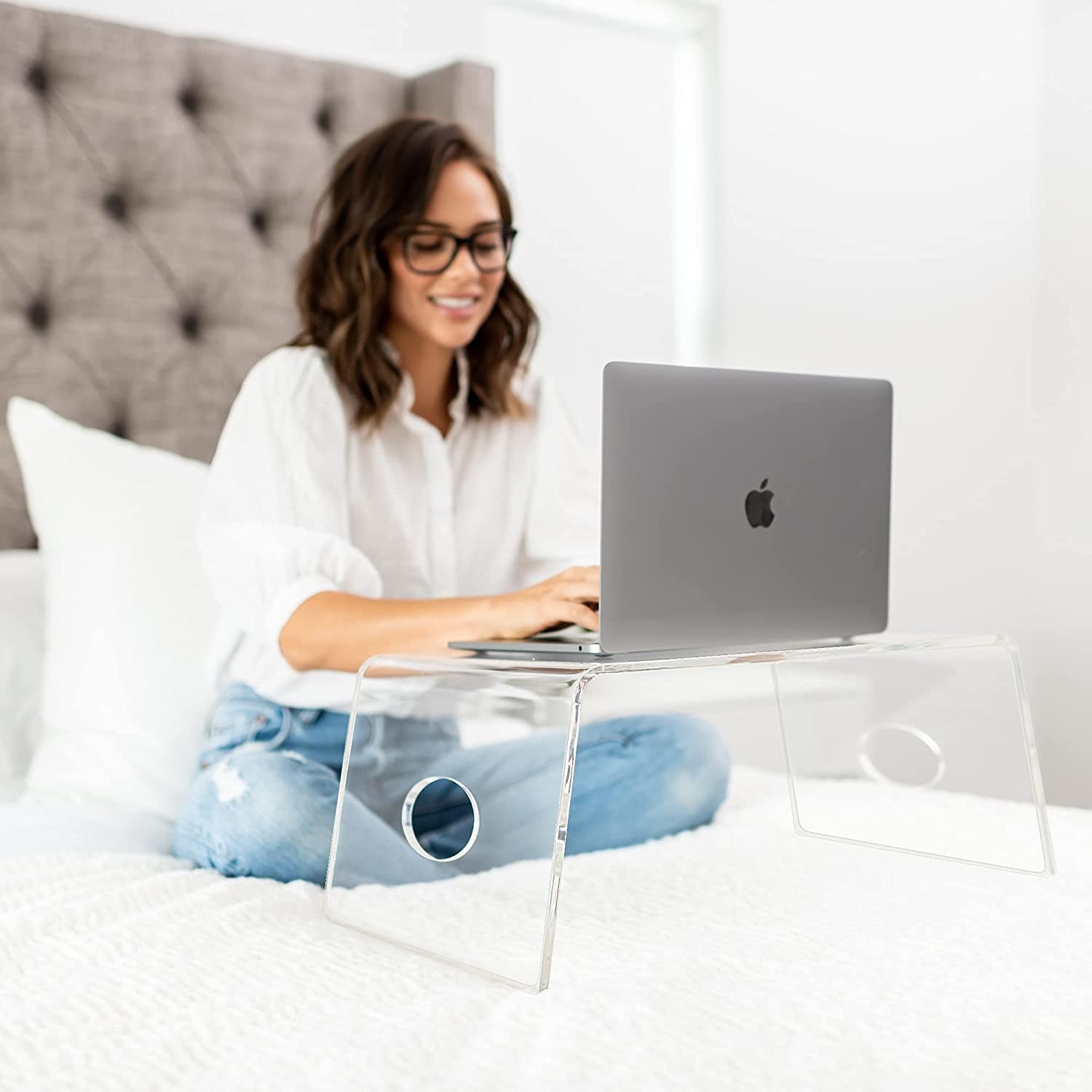 Promising review: "LOVE this acrylic desk!!! My style is Pottery Barn meets Industrial Farmhouse. I enrolled in college at an older age, and I needed something when I work in bed and work on the sofa. This little desk looks great!!! I can leave it out, and it just adds to the decor. I know it's a little pricey, but I looked at it for about a week before I bought it. I'm so glad I did!!! Highly recommend!!" —Denise
Get it from Amazon for $89.99.
Check out this TikTok by @haubes!
5.
A "Bread Buddy" dispenser for a serious upgrade on your bread storing situation. It keeps the bread upright and as you pull the bag down to dispense each slice, you're creating a tight seal without letting more air in. AKA, fresher bread for longer!

Promising review: "The Buddeez Sandwich Bread Dispenser is great! It does exactly what it was intended for. I live alone, and I don't quite go through bread often enough before the last quarter section of the loaf starts to go stale. I was originally looking for something to put a loaf of bread in as a shell for my vacuum sealer, that would keep the bread from getting crushed from the pressure. This dispenser solved all of my problems. Thank you!" —DRMcQuaig

Get it from Amazon for $12.49 (available in two colors). 
Check out a TikTok of the Buddeez sandwich bread dispenser in action. 
6.
A rainfall shower head because after a long day of work, don't you deserve to feel like you stepped into a luxurious spa when you open your bathroom door? The answer is yes. Yes you do.
Promising review: "I was able to install this item rather easily; my old head was harder to get off than this head was to install. The wrench that is provided is adequate, along with the use of your hands; no other wrench is needed. I would just make sure you do not tighten it very much. No pipe tape was needed with my installation; there was none included with my purchase. I love the adjustable arm, the flow of the water, and how relaxing it feels after a rough day to stand underneath and enjoy the water flow over your body." —Ozatlarge
Get it from Amazon for $30.99+ (available in three sizes and four colors).
Check out this TikTok by @evangelxnaa!
7.
Maybelline's Instant Age Rewind Concealer with a sponge on the end so you can effortlessly swipe it under your eyes in mere seconds. It's easy to use and lightweight, so you can apply just this concealer to brighten your face and be done with your makeup look for the day!

The concealer has a sheer/matte finish and is fine for people with acne-prone skin. It's infused with Haloxyl which is used to treat puffiness around the eyes and help minimize the appearance of dark circles. 
Promising review: "I personally like this product. Throughout high school (I recently graduated in June), I never knew how to do makeup. But then I heard this product was the absolute best on TikTok. And trust me, they were not lying. It has really good coverage and hides my 'raccoon eyes.' And the beat part is that a little bit goes a long way. So if you're starting out or want to try something new I definitely recommend to try this out .<3" —Liela Lee
Get it from Amazon for $8.80+ (available in 18 shades).
8.
A pack of stickers to cover those obnoxious lights that emit from your electronics. You know...the one that keeps you up every night? Yeah, that one.
Light Dims is a small business specializing in created products that make your life a little less ~bright~. 
Promising review: "I'm SO happy I ran across these on a TikTok video! They work perfectly to dim the lights on my computer monitors, QI charger, laptop dock at my WFH desk, and blinky cable box lights. No more keeping me up at night with their maddening glow/blinking! I bought the black dim style, and they let me still see that the item is turned on, but it dims the light perfectly. These work WONDERS!" —DKT
Get a pack of 100+ from Amazon for $2.89.
9.
A garbage disposal and drain pipe cleaner because honestly, you'd be surprised at how dirty your disposal probably is, but you ignore it because it's dark and scary down there. 👀 
Promising reviews: "Made hard water spots disappear, cleaned both sides of my sinks, and freshened up the nasty smelling disposal. Don't know how I lived without it for so long." —KristinJA

"Ever since I got a new LG dishwasher four years ago I have been struggling with a foul odor. No amount of cleaning or cleaners helped. I have tried numerous disposal cleaners as well that have been a waste of time and money. Then I found these. My sink and dishwasher has been completely odor free and I couldn't be happier! No more embarrassment with the death smell that came every time I opened my dishwasher. Will definitely order more." —Ferg4914
Get a bag of four from Amazon for $5.12+ (also available in a bag of 24).
10.
The cult-favorite Always Pan from Our Place, that'll braise, sear, steam, strain, fry, boil, and sauté its way right into your culinary heart. It's surprisingly lightweight and comes in so many beautiful colors, so you can pick the one that'll *really* upgrade your kitchen.
Here's what BuzzFeed Shopping writer Taylor Steele has to say about the Always Pan: "As someone who neither enjoys cooking nor is particularly good at it, the Always Pan has made being in the kitchen feel like less of a chore. Having one pan that can do everything means I don't have to second-guess every cooking decision I make. I can boil and prepare pasta in it. And I can roast Brussels sprouts. And I can make the perfect fried egg. And I can steam dumplings. The best part is that everything slides so seamlessly out of the pan and onto the plate, which also makes clean up super fast and easy. Both the amateur (read: reluctant) cook and the more seasoned chef will enjoy creating fan favorites and new recipes in the Always Pan!"

Also, BuzzFeeders LOVE this pan. Here's our review of the Always Pan, in which seven members of our team weigh in everything they love about it, from the nonstick coating to the versatility to the ~aesthetic~.
Get it from Our Place for $145 (available in 11 colors).
Check out a TikTok of the Always Pan in action. 
11.
A magnetic cloud key holder, which is just the cutest way of making sure you never lose your keys again. You just need to remember to put them here...
Promising review: "Everything about this is perfect. It stuck and stayed stuck. And it is heavy duty. My keys aren't exactly light, but if you position the key ring so it has more surface to hold, it can hold some fairly heavy sets of keys. Great value for money and hella cute." —Sabrina
Get it from Amazon for $5.99+ (available in four colors).
Check out this TikTok by @kaylamalayasia!
12.
A reusable Revlon oil-absorbing roller stick that'll instantly remove the excess shine right off your face, with or without makeup, so you don't need to use any annoying powders for the same effect! It's made of volcanic stone and can be reused over and over again with a few washes in between. 
Promising review: "First off, if you have extremely oily skin, this. is. it. I was so tired of getting blotting powder/wipes. It felt wasteful and always left residue on my face. I saw this on TikTok and NEEDED it. It was backordered but then I got an email saying it was in stock and I was SO excited. Not only is it affordable, but it's washable, which helps you save money and be less wasteful." —Kelsey B.

Get it from Amazon for $14.49.
13.
A reviewer-beloved veggie chopper because once you realize you don't have to manually chop onions and cry about it, you'll wonder why you waited this long to buy this. This bad boy comes with different attachments so you can chop, slice, and julienne all your favorite vegetables. It even has built-in storage to keep everything clean and ready to be used! 
Promising review: "Makes life so much easier. I can't imagine chopping onions or bell peppers by hand anymore, and it does so much more. We used to have a Prepworks chopper, which was a similar idea, but you had to press so hard to chop, and it broke after not too long. This one requires very little effort to cut through the food, and it has a generous container." —Amazon Customer

Get it from Amazon for $29.99+ (available in two styles).
Check out a TikTok of the veggie chopper in action.

14.
A towel warmer that will become your favorite purchase you've ever made for the home. Once you dry yourself after a shower with a warm towel, you can *never* go back.
It heats up in just one minute and reaches the highest temperature in just six minutes. It *also* has up to 60 minutes of heating time.

Promising review: "Warms nicely in about 15 mins and 30 mins feels like a towel that's been sitting in direct sun by the pool. I like the power button on top it's easy to use. It says it shuts off in an hour, but I always turn it off when I get my towel out. Its bigger than a 5-gallon bucket, but probably holds about the same amount as one. I put my XL heavy robe in and barely have enough room left for a large towel if I compress it. Two large towels fit easily. The wood is actually plastic. My wife and I love it and have used it every day for the past 3 weeks. Easy enough for my mother to use too." —George Van Peanut Butter
Get it from Amazon for $146.99+ (available in six colors).
Check out this TikTok by @thatmomalli!