Panic! has 5 albums: "A Fever You Can't Sweat Out!", "Pretty. Odd.", "Vices & Virtues", "Too Weird to Live, Too Rare to Die!" and "Death of a Bachelor".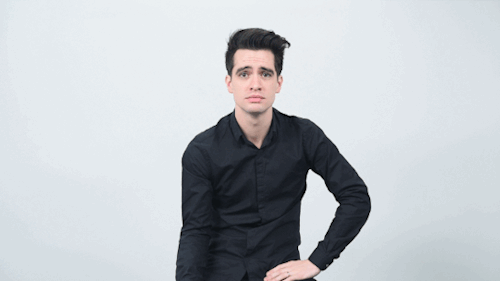 Did you carefully listen to all of their songs? Let's find out. The questions vary from filling in the blanks to song titles.
"Ladies and gentlemen, we proudly present, a picturesque score of passing fantasy."

The Only Difference Between Martyrdom and Suicide is Press Coverage

There's a Good Reason These Tables Are Numbered Honey, You Just Haven't Thought of It Yet

London Beckoned Songs About Money Written by Machines

Yes, we're starting off this quiz with the introduction.

"A daydream spills from my _____ head / Breaks free of my _____ neck"

"I know why / Because when I look in her eyes"

When The Day Met the Night

"Well we're just a wet dream for the webzine / Make us _____, make us _____, make us _____"

"Moving forward, using all my breath,"

Can't Fight Against the Youth

The black magic of Mulholland Drive / Swimming _____ under desert skies

"The mad key's tripping / Singing vows before we exchange smoke rings"

Well... Brendon's cool, Fall Out Boy's cool.

Via Tumblr

"Ladies and gentlemen, due to circumstances beyond our control, we are unable to continue our broadcast of _____ music."

Welcome to the "Intermission" of this quiz.

Get some water, maybe food or even take a shit and come back here.

Via Tumblr

"I know it's sad that I never gave a _____ about the weather / And it never gave a _____ about me."

"Dès le premier jour, ton parfum enivra _____ amour"

"You're so normal that you just disappear"

The Good, The Bad And The Dirty

"I won't leave any doubt or stone unturned"

"You're gonna let it _____ you away"

"I'd put a statue of myself upon the shelf"

I Have Friends in Holy Spaces

Do You Know What I'm Seeing?

The Piano Knows Something I Don't Know

"You're a regular _____ emergency"

"I crack a family tree and, / Chopped off all of the branches,"

Demo of "Nearly Witches".

Via Tumblr
This post was created by a member of BuzzFeed Community, where anyone can post awesome lists and creations.
Learn more
or
post your buzz!