53 Thoughts Every Desi Has When Guests Come Over
It's been, like, one solid hour since we've been saying our goodbyes.
1. Hello, Salam, Namaste, Satsrikaaal!
2. Time to invest two hours smiling at guests I don't entirely care for because my mom will kill me otherwise.
3. OOPS, haha, wasn't really expecting to be embraced for that awkward length of time, aunty.
4. Wow everyone wears very strong perfu—OH.
5. Oh shit, they brought a kid.
6. He'd better be well-behaved……………
7. Praying he will stay out of the vicinity of our ornamental vase.
8. Still can't see the bag of goodies you're supposed to bring, guests.
9. Wait… Really though, where is the mithai?
10. WHERE ARE YOUR SANSKARS?
11. TAKING SO MUCH OFFENSE RN.
12. OH, phew, mom already took it from them, PHEW.
13. Yes, aunty, I'm done with school.
14. We literally met six months ago and I told you.
15. Oh, I "look healthier than last time"? YOUR BODY ACCEPTANCE OVERWHELMS ME.
16. Uhhh… Uncle is talking to dad about politics for some reason.
17. "In 1986, the opposition--" WTH dad, where was this info when I needed you for my history exam???
18. Let me check back up on mom and aunty's goss session.
19. Okay they're both complaining about their kids. WE'RE LITERALLY RIGHT HERE.
20. Wow, it changed into a polite my-kids-are-better-than-yours war in five minutes.
21. Can moms decide whether they hate us or lov-- OMG SCREW THAT, SNACKS ARE HERE.
22. WHY ARE SNACKS EXTRA THRILLING WHEN THEY'RE FOR GUESTS?
23. *bites gently* I would've brutally murdered this samosa if these guests were not here.
24. *Talks dirty to samosa*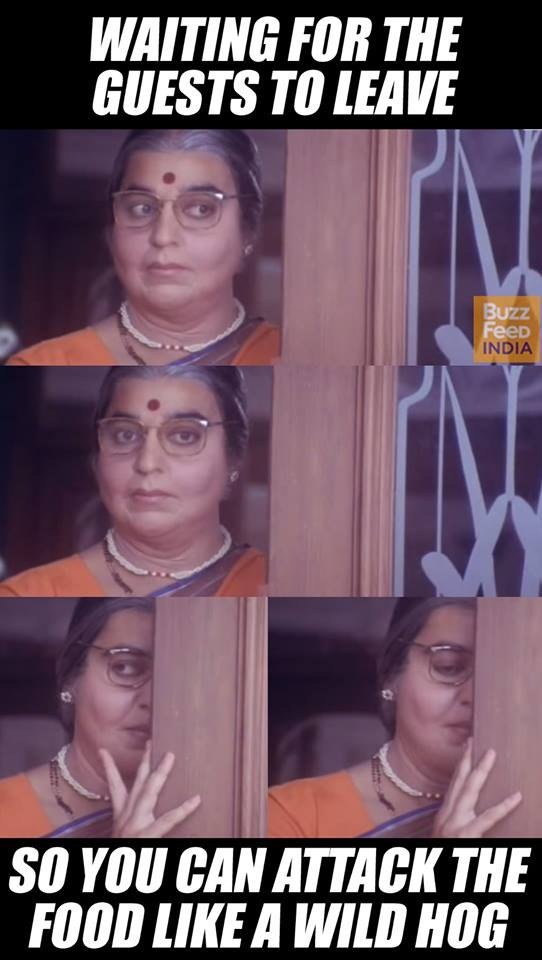 25. It's already been 1.5 hours.
26. NO, MOM DON'T CONVINCE THEM TO STAY FOR DINNER.
27. There really is no desi concept of going to someone's house for evening snacks, is there?
28. Maybe they should leave now that they've had dinner.
29. So I can eat that damn mithai they brought. *drools*
30. Wait OH MY GOD IS MOM BRINGING THAT MITHAI TO SERVE THEM?
31. MOM, WHAT IS WRONG WITH YOU.
32. Freaking splendid. She distributed the whole thing.
33. Oh, now I have to pick up the dishes after they ate MY mithai in them. HOW IS THIS JUSTICE?
34. And look at that asshole kid, ugh.
35. TEACH HIM HOW TO EAT, WILL YA.
36. I think he wiped his hand on our sofa.
37. He seemed so shy in the beginning but he can't shut up now.
38. NO I DON'T HAVE ANY GAMES ON MY PHONE, STAY AWAY FROM ME.
39. *sits on phone to protect it* Shooh, go away.
40. No, aunty, I have no plans of getting married yet.
41. You JUST asked me if I was still going to school, what is wrong with you?
42. Lol yeah, sure I'll add you and your daughters on Facebook.
43. Oh no, I've been asked to explain my job.
44. "Well, basically…"
45. Yeah, no one understood that.
46. After the fourth time mentioning it, they're finally leaving.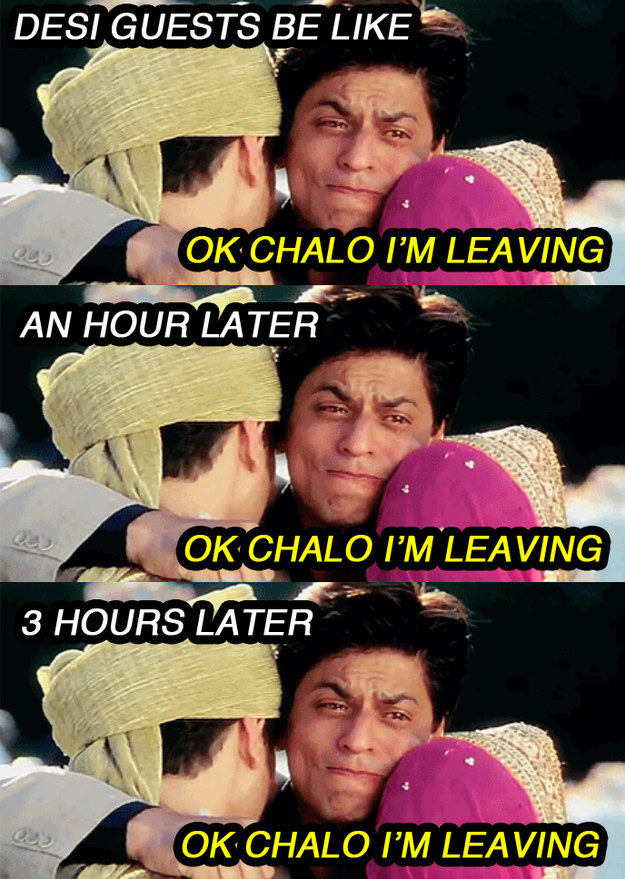 47. Journey to the door is particularly slow.
48. Mom, stop keeping up the conversation, damn.
49. REFUSED TO TAKE MONEY FROM AUNTY BECAUSE MOM FORCED ME TO. THIS WAS ALL WORTH NOTHING.
50. It's been, like, one solid hour since we've been saying our goodbyes.
51.*WhatsApps friends, goes through all unread emails, Facebook notifications*
52. Day 3: We are still bidding our guests farewell at the door.
53. And they're goooooone. OFF TO MAUL THE SNACKS!
Follow BuzzFeed India on Facebook: