Granny Goodwitch with Anne Rice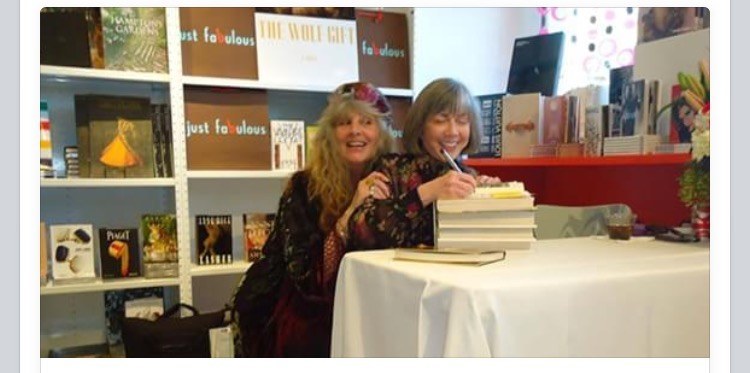 For those of you who do not know her, let me introduce Granny Goodwitch! She's a saucy witch, who practices witchcraft, advises Anne Rice (the Vampire Queen), and most importantly, shares quite a bit of knowledge, history, current and social events, positive messages, health tips and more on Facebook. Her knowledge of magic and myths and her service to Lady Anne and her son Christopher Rice even earned her an Honorary membership to the Talamasca – an order of Psychics and Witches referenced in Anne's Witching Hour series of books.
She has amassed quite the following on her personal Facebook Page, under her clever moniker, used to keep her private life separate from her personal. Let's face it with all of the religious zealots and ignorant folks in the world being a witch still aint easy in 2015!
Despite that, Granny has always been extremely kind and has paid particular attention to reaching out to veterans, troubled youth, the LGBT community, animals and any other type of misfit – reminding them that everything is ok, love yourself, be yourself, fuck anyone who tells you differently and if you feel like you want to end it all, smoke a blunt and call the suicide hotline. It is no exaggeration that her posts has saved lives; she has touched every single follower, friend and fan deeply.
Now imagine several thousand people and two of the largest authors in the world; wake up to lovely messages and insights from Granny that lasts during the day and BOOM: This message has been temporarily removed until we can verify the sender's account.
And Granny is lost to us all!
Over the last few weeks the Facebook Police got Granny – for a NON ISSUE! Who are they to tell her that she can't be Granny Goodwitch anymore? Not only that, but imagine the hell they are putting this woman through! Yes she's technologically savvy for her age, but she has basically lost all of her previous posts, family photos and contacts because Facebook does not think that she is real, nor do they care!
There is now a ridiculous process to follow for her to even think about getting her old account back, thankfully one of her more technosavvy wards has set her up on a Facebook Fanpage and limited personal account – but who's to say Facebook wont cyber bully her again!
Right now there is a massive petition for Granny to get her account back; and if any of you at FB are reading this, please help her, because she has lost quite a bit. Sign the Petition, join her new Fanpage and write as many letters as you can to stop this injustice! If you can help her get her facebook back or at least a copy of her files please email her agent ian@imsroyer.com!
Just so you know, the fan page has been open for less than 24 hours and has over 2000 fans and the petition has close to 1500 signatures. We love you Granny! Fuck the new "Man"!
This post was created by a member of BuzzFeed Community, where anyone can post awesome lists and creations.
Learn more
or
post your buzz!