How Was It Even Possible That E! Didn't Break The News That Kim Kardashian Gave Birth?
E! basically invented Kim Kardashian, so why was it last to report that she gave birth? It was like if ESPN didn't mention who won the Super Bowl for an hour.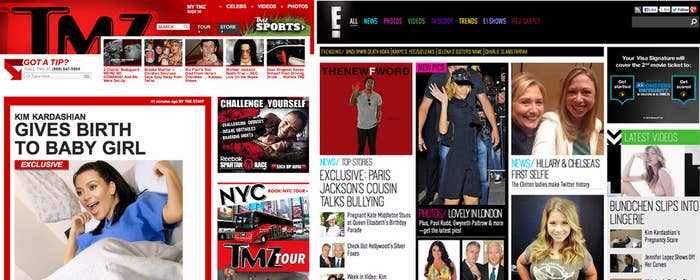 Reports that reality star Kim Kardashian had given birth nearly a month before her July 11 due date began bubbling up Saturday afternoon. First it was The Daily Mail and OK! Magazine; then TMZ, the arbiter of breaking celebrity news, confirmed. But noticeably absent was E!, the network that has beamed her and her family into living rooms across the country and made her a household name.
Those who wouldn't believe it until E! reported it had to wait a while. And there were a lot of people in disbelief.
TMZ reported Kardashian gave birth around 12:30 p.m. PT. It wasn't until about an hour later that E!'s Jason Kennedy broke into the network's previously scheduled programming — reruns of the first two episodes of the new season of Keeping Up with the Kardashians — to make the announcement. The @eonline Twitter account also tweeted the news.
A scrolling "breaking news" chyron occupied the bottom of the screen for the rest of the night that directed viewers to the E! website, which was lagging behind and initially had no news on the birth.
A spokesperson for E! did not respond to questions about why they were so late to break the news.
"The Kardashians knew they would get backlash from both Kanye and from their fans if it seemed like they were pimping this baby out as it traveled down the birth canal," Jo Piazza, executive news director of In Touch Weekly and author of Celebrity, Inc.: How Famous People Make Money, wrote in an email to BuzzFeed.
"I think that the Kardashian family, who has complete control over how E! uses their information, didn't give E! the exclusive for the day of the birth," she said. "I know they didn't give anyone an exclusive. The information was gained by the Daily Mail's reporter."
Piazza also said she thinks E! held off reporting the news until they knew the delivery was successful. "Pregnancy and delivery is such a sensitive matter, they probably would've broken the news after a successful, healthy delivery if all had went as planned. But you can't control paparazzi, and to me it seemed like the story just kind of leaked before it even developed."
This wasn't the first time E! has been late to a story about Kardashian. In 2011, TMZ scooped the network on the news Kardashian was divorcing basketball player Kris Humphries after 72 days of marriage. Kardashian later gave a statement to E! News about the divorce, according to the New York Times.