The Office. I've seen it, you've seen it, Marty McFly traveled to Oct. 8, 2009 to watch Jim and Pam's wedding when it aired. We've all seen it.
It is a great show with many, many A+ episodes — like "The Injury," "Threat Level Midnight," and "Fun Run," to name a few — but there is one episode that stands above the rest, and that is "Dinner Party."
Here are 50 moments from "Dinner Party" that prove its brilliance.
1.
When Michael "calls corporate" to tell them he's going to let his branch have the night off.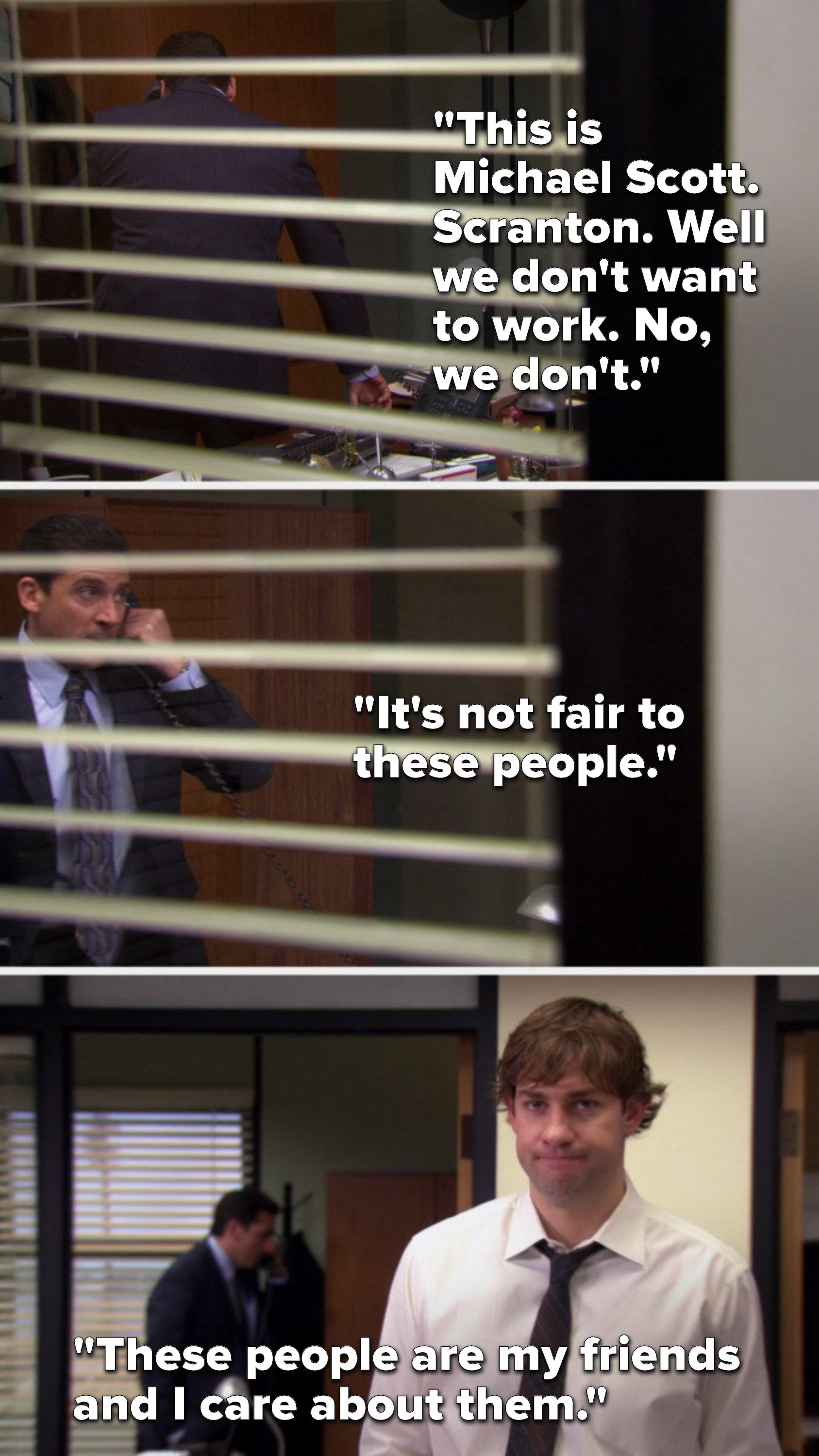 2.
When Michael invites Angela and Andy to his dinner party but he doesn't invite Dwight, because it's couples-only and Michael and Jan only have six wine glasses.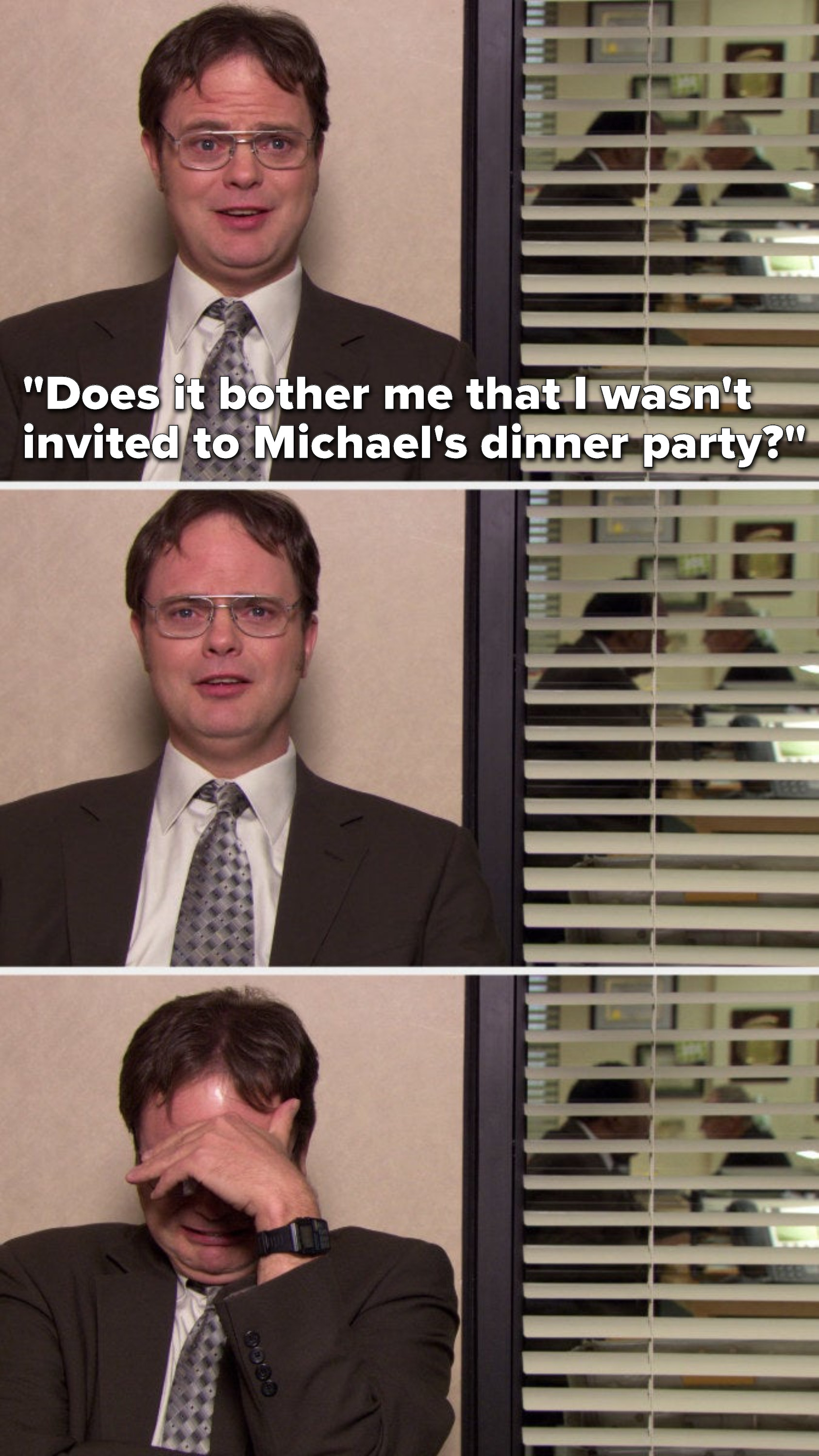 3.
When Pam and Jim arrive at the condo.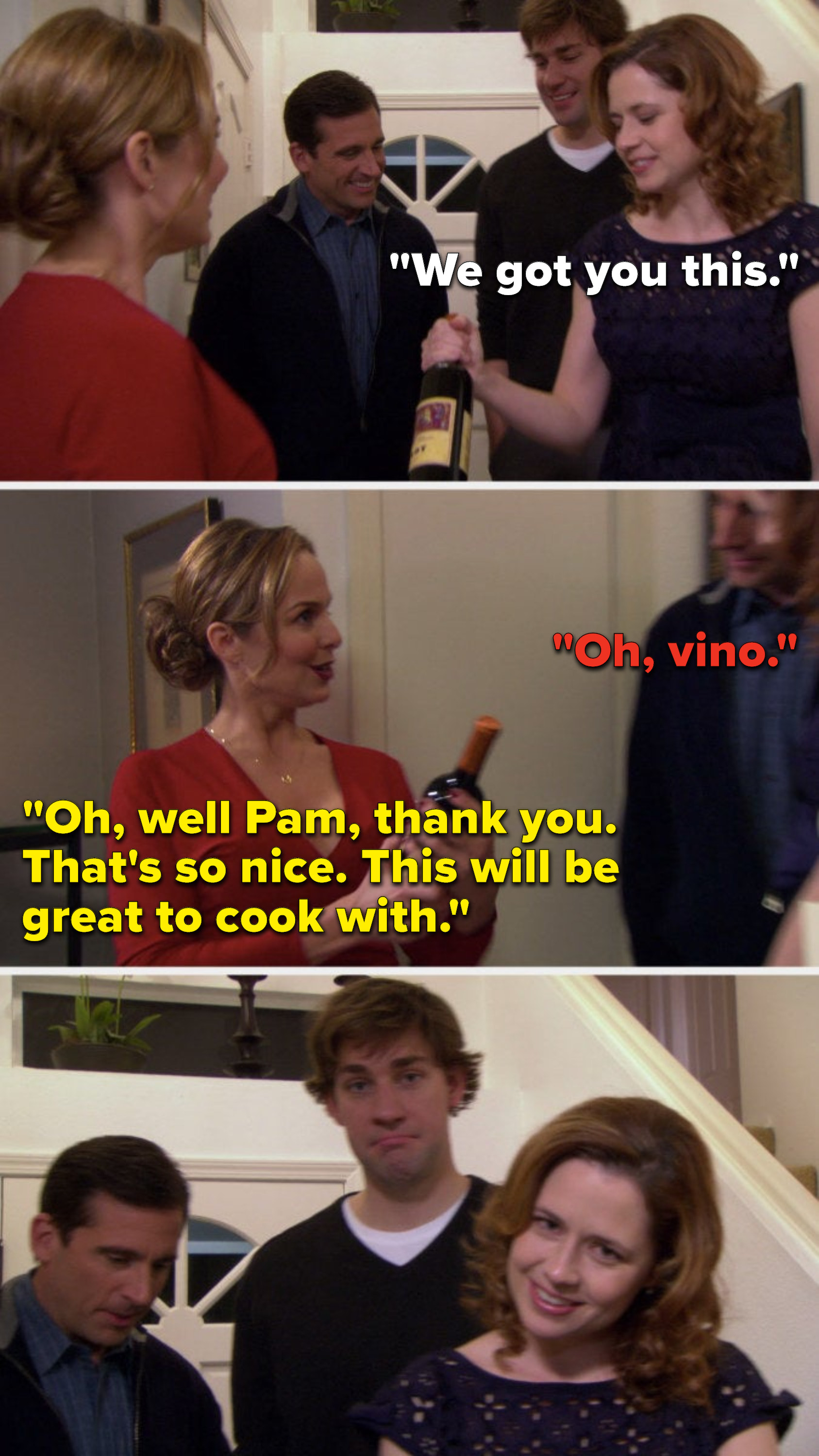 4.
When Michael wants Pam and Jim to feel comfortable.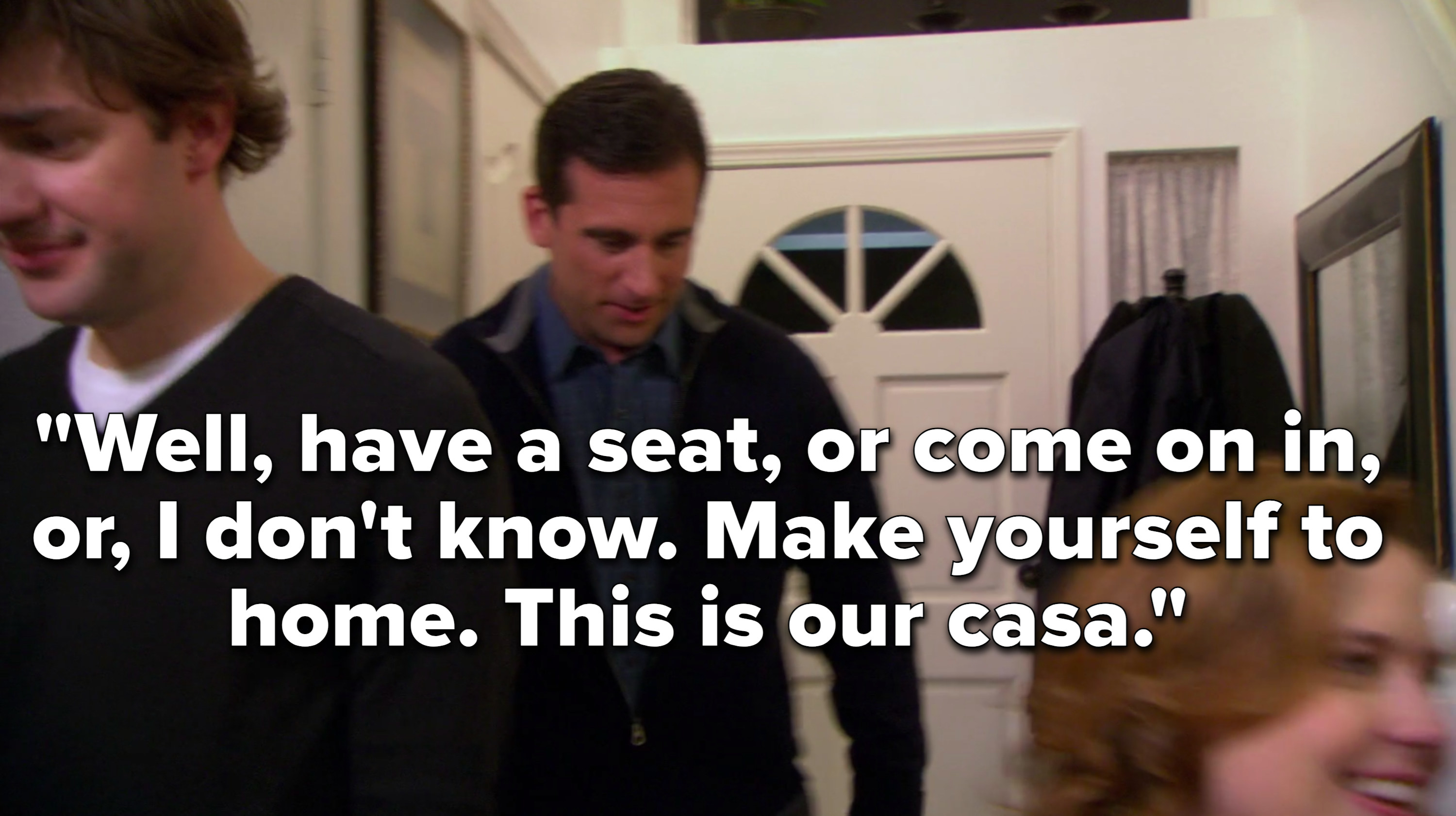 5.
When they start the tour of the condo, and we see the art in the stairwell.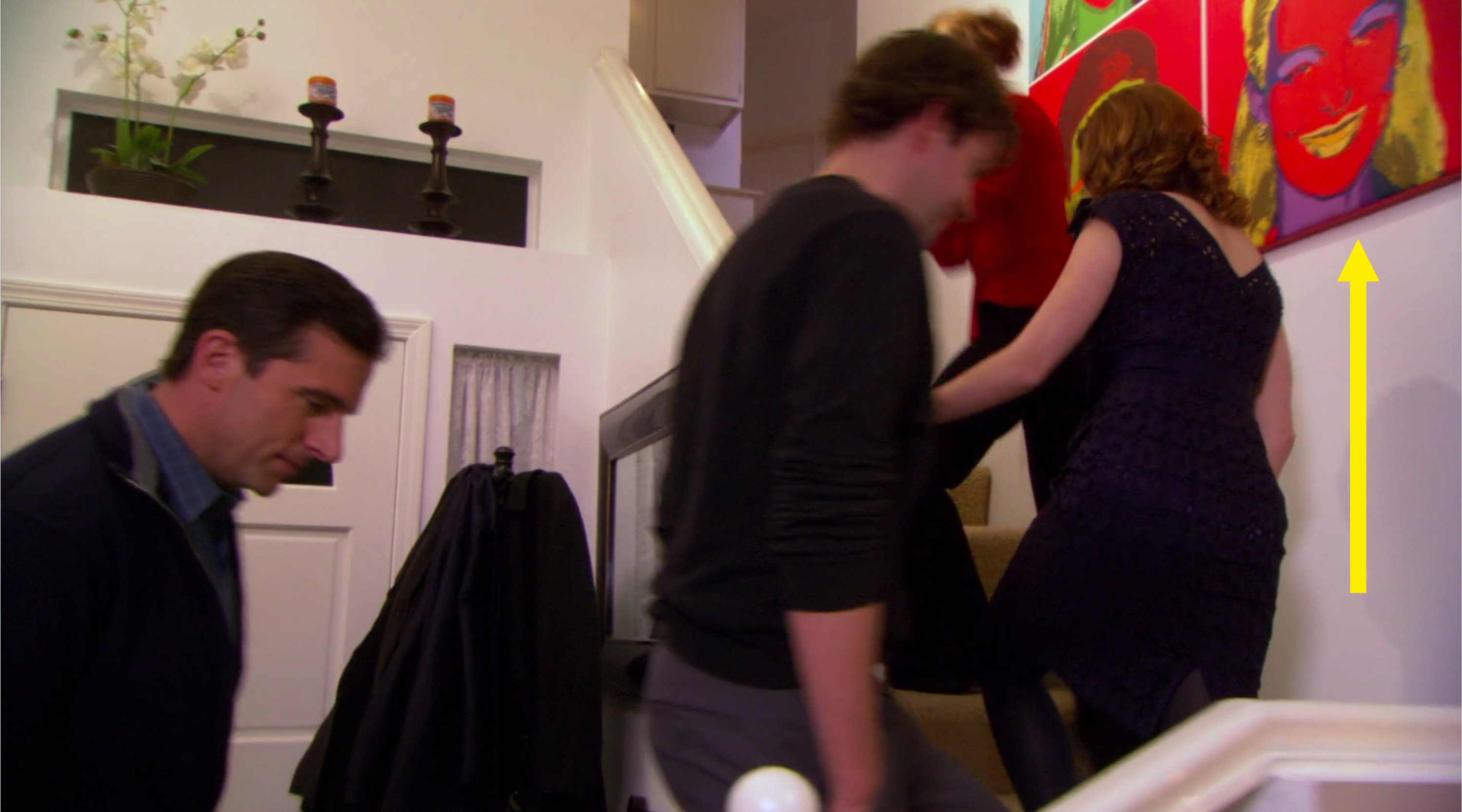 6.
When Jan shows Jim and Pam her office and her work space — where she makes her Serenity by Jan candles.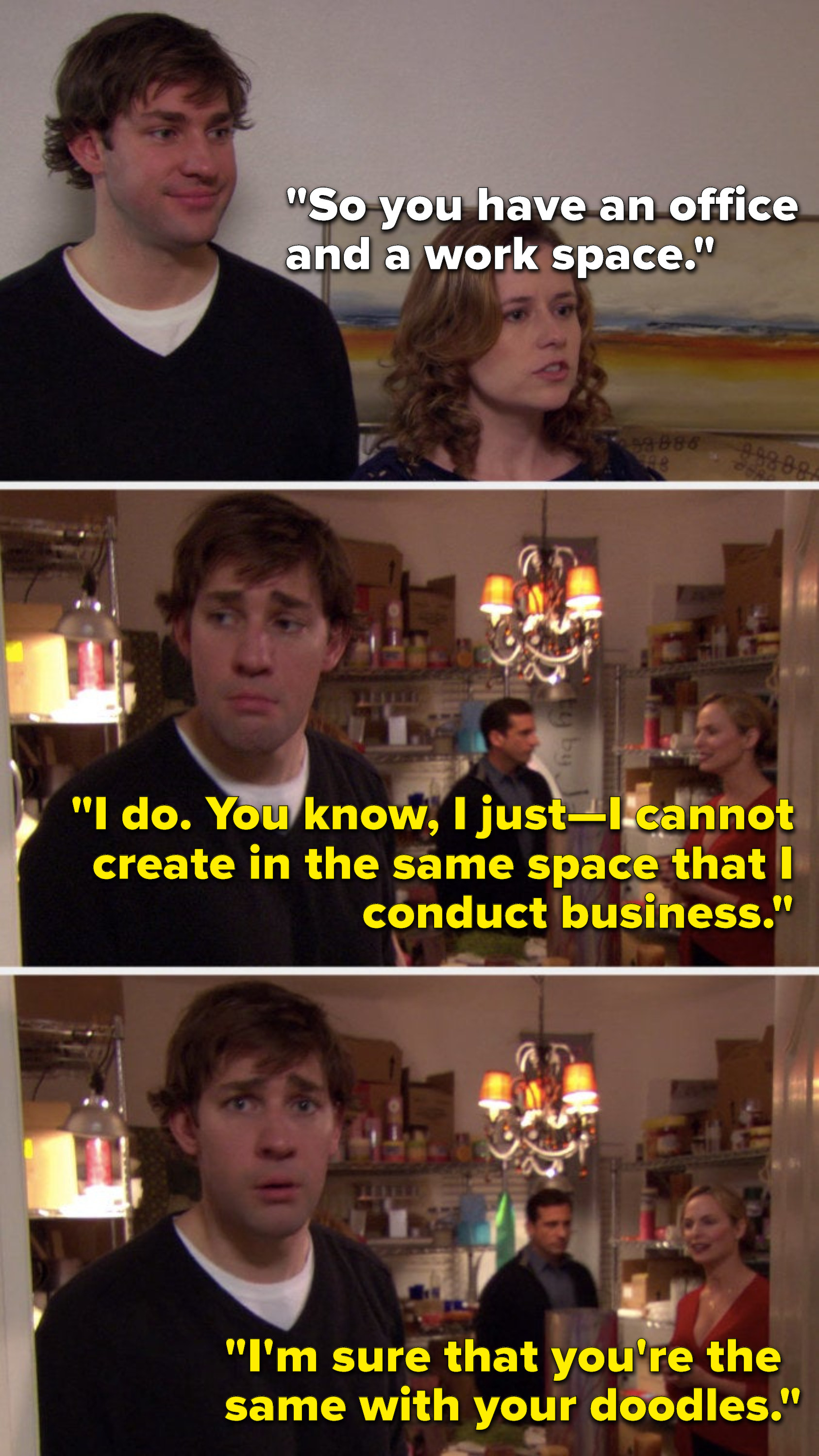 7.
"Men love this one."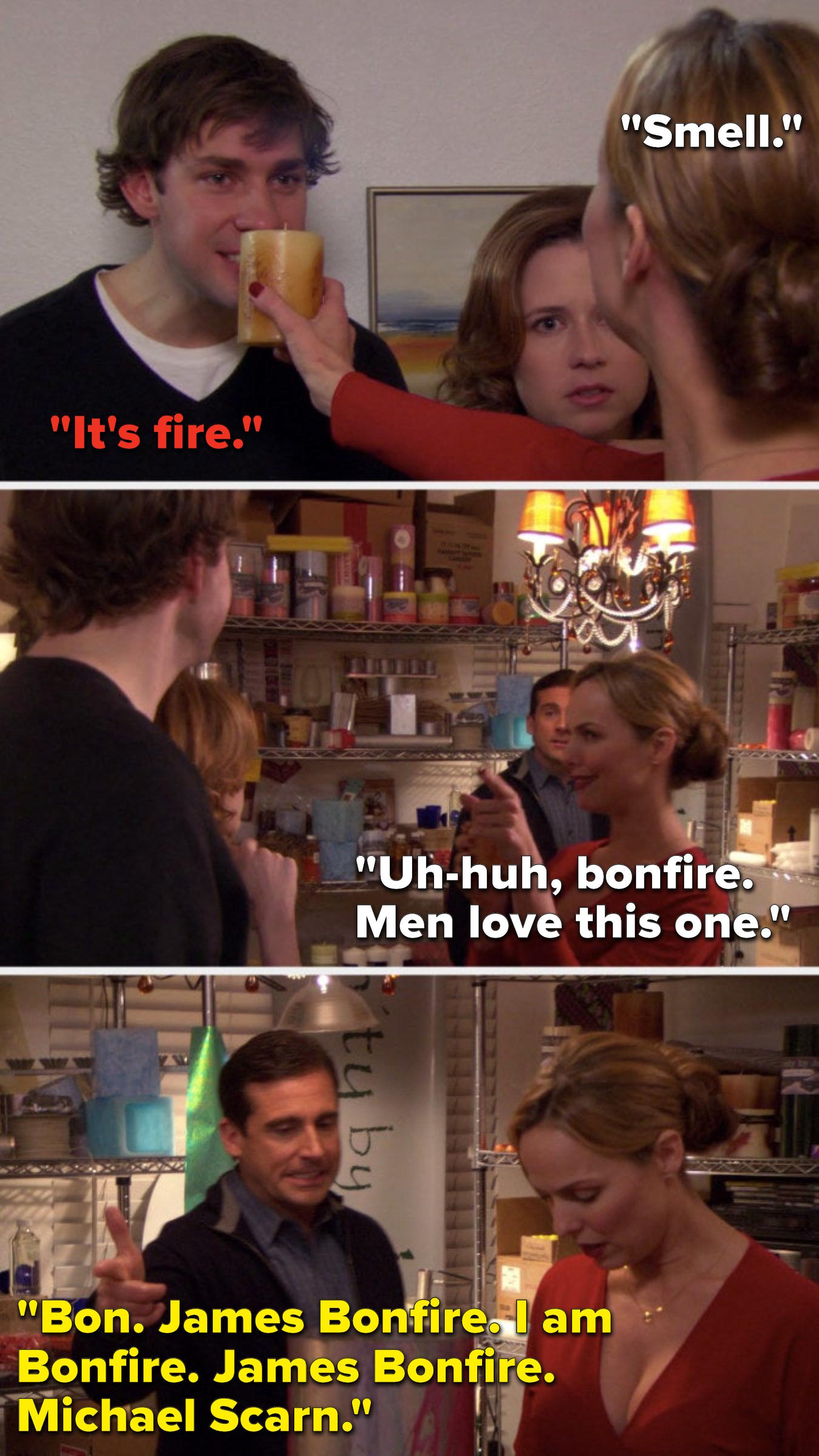 8.
When they get to the bedroom, babe.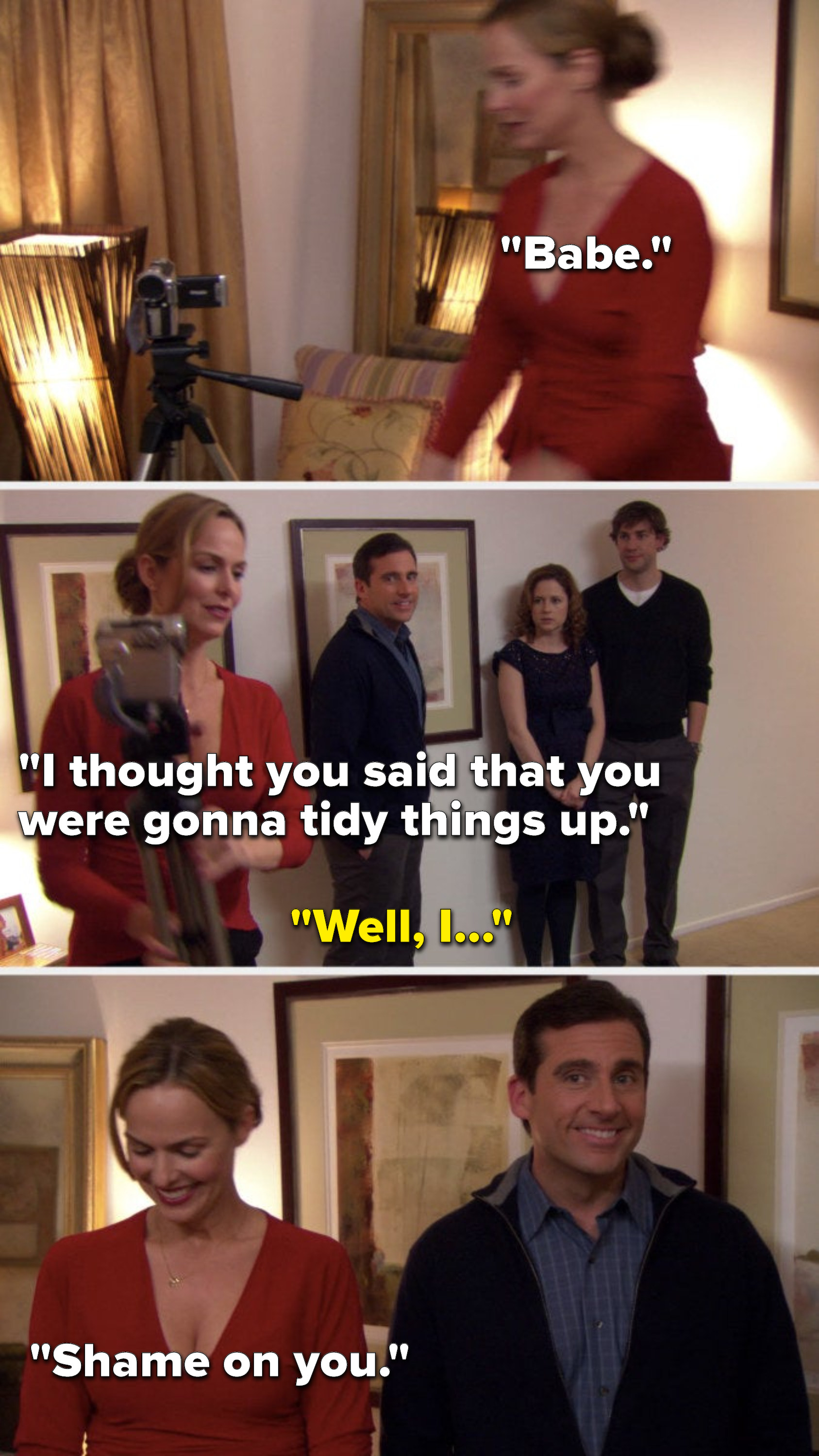 9.
When Michael shows Pam and Jim the bench he sleeps on at the foot of the bed because "Jan has some space issues."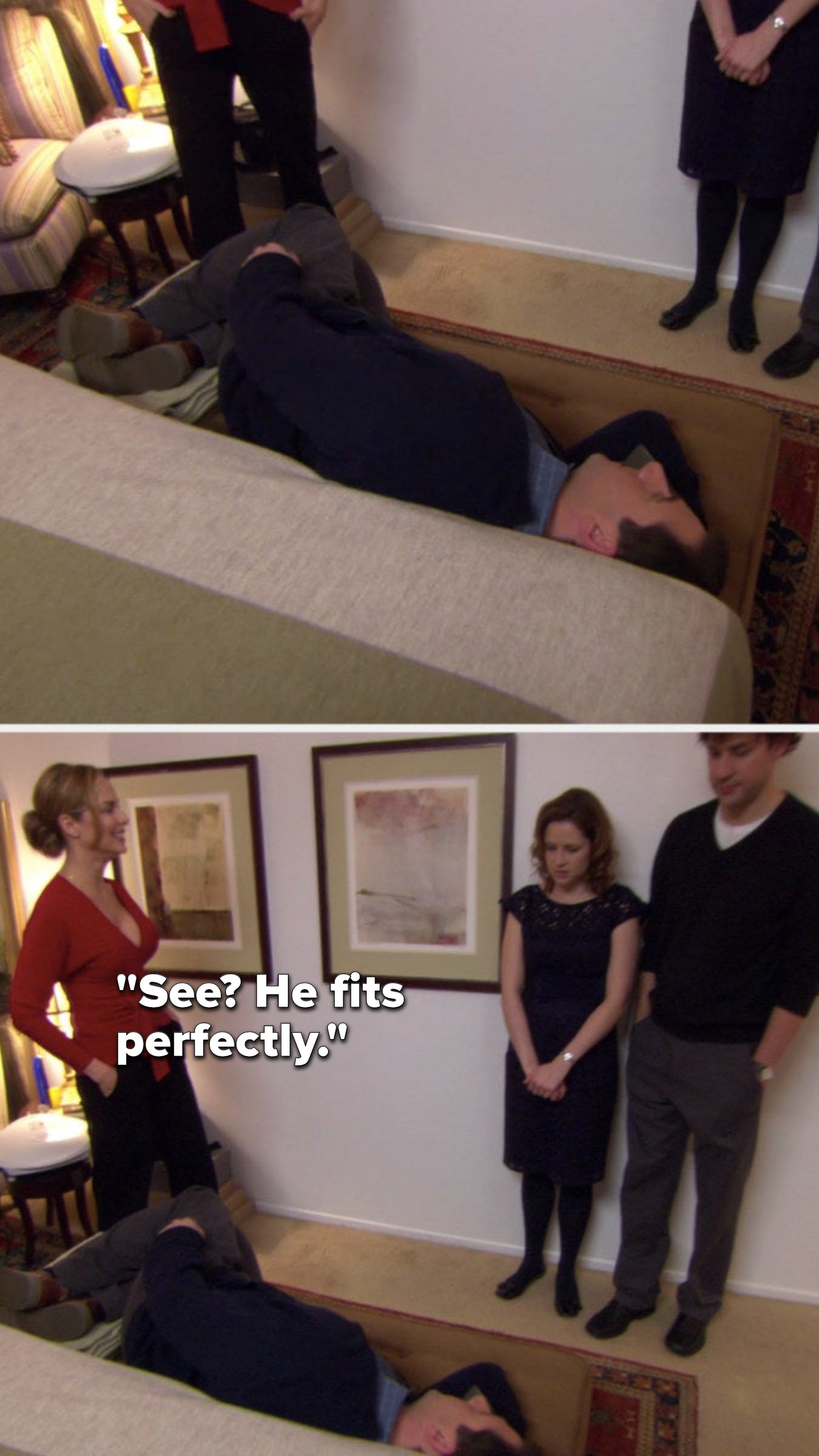 10.
When Michael demonstrates the wonder of the plasma screen TV he finally broke down and bought himself.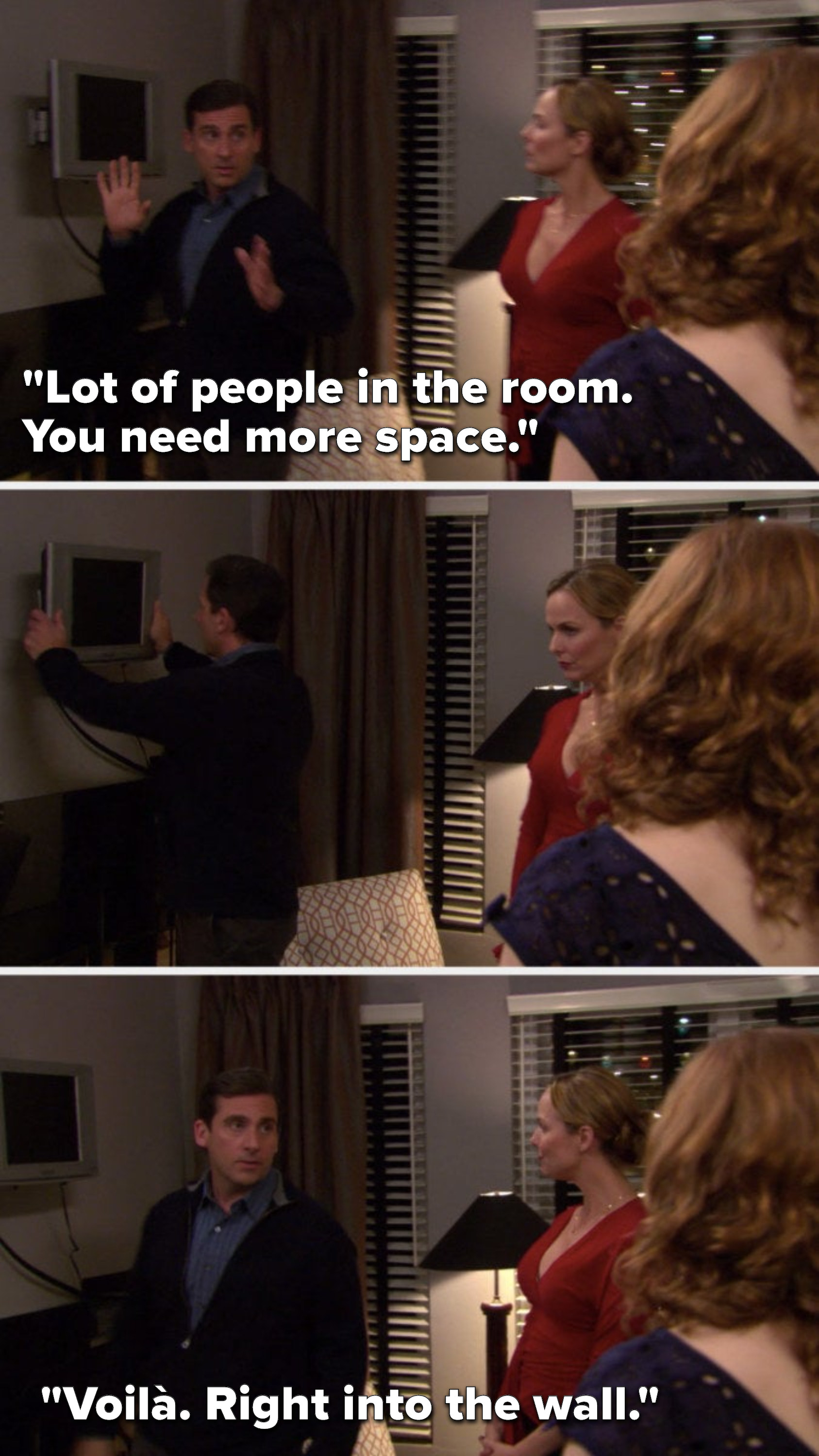 11.
"I love this TV."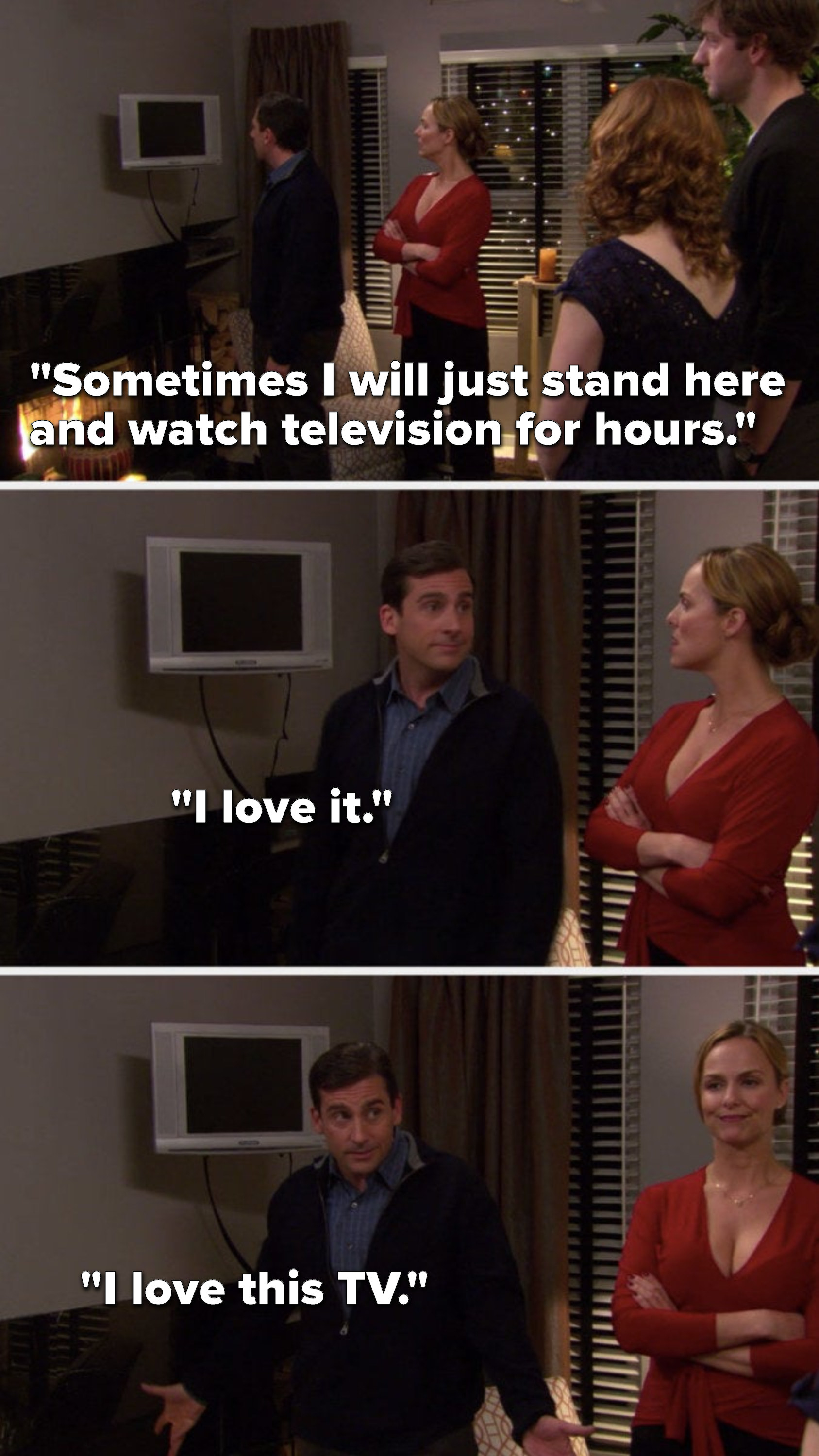 12.
When Michael shows off the table he built.
13.
When Michael calls Jan his second-best trophy.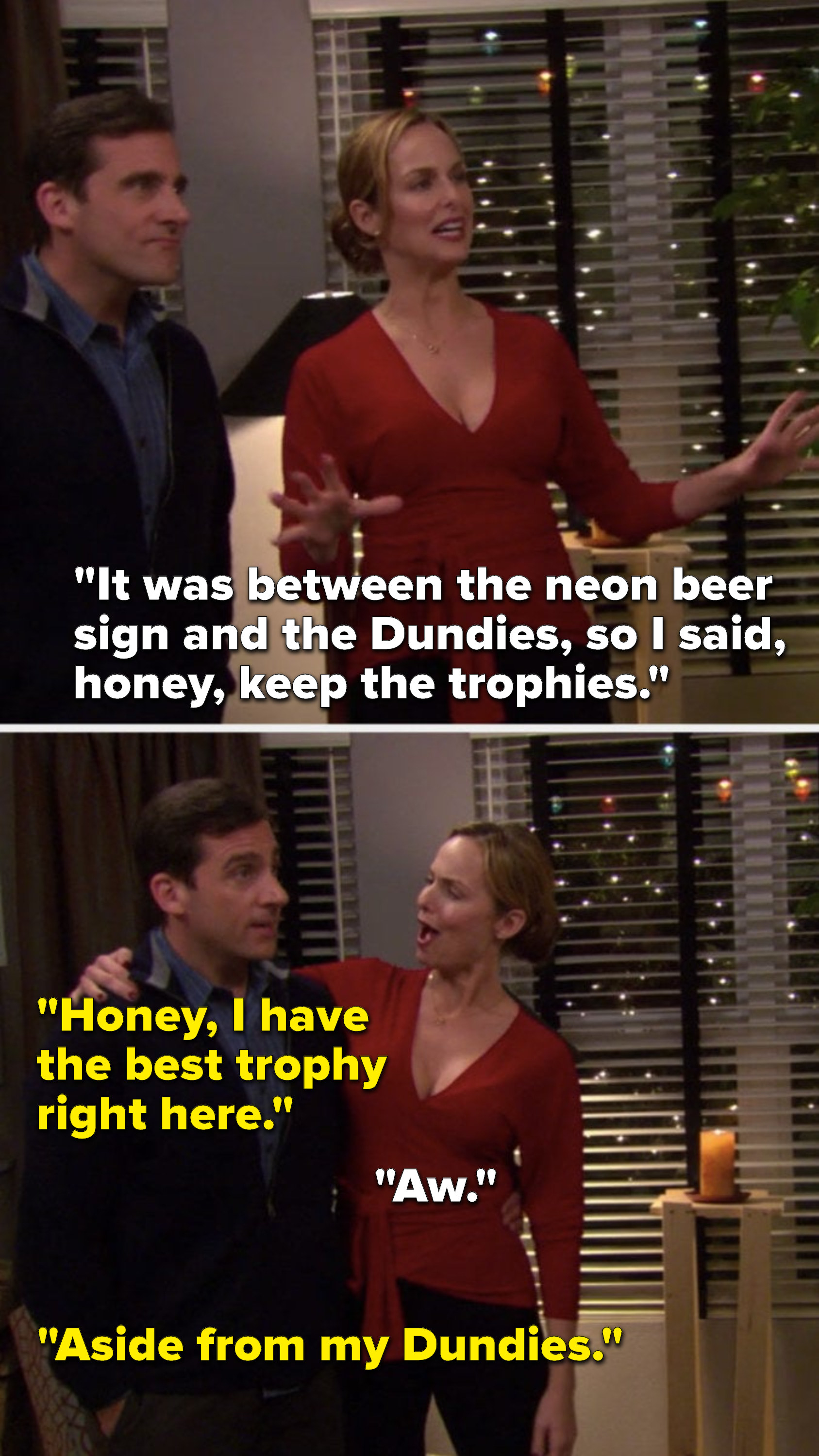 14.
When Angela and Andy arrive and Jan says the osso buco needs to braise for three hours, and Pam is like three hours from now or from earlier.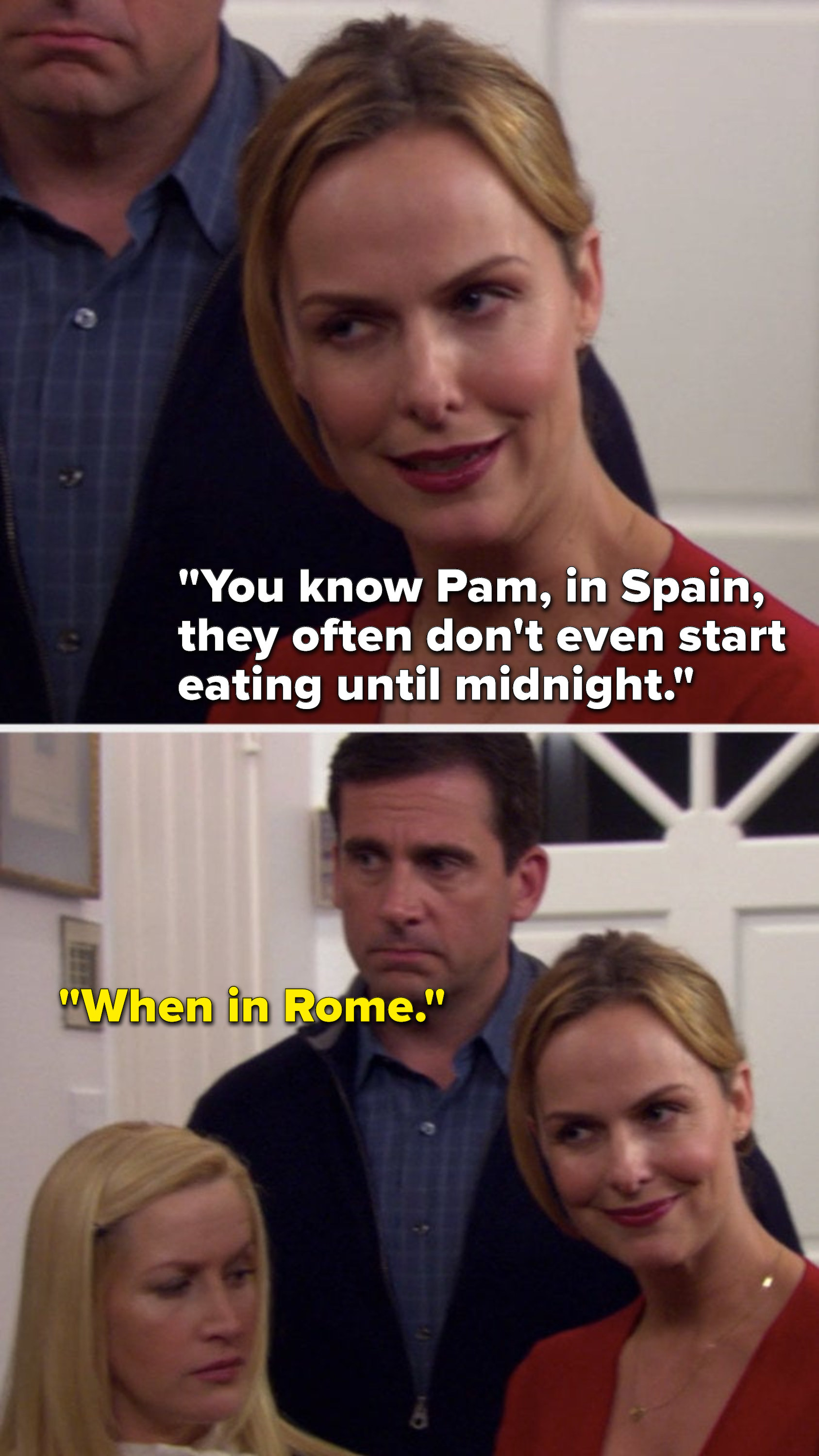 15.
When Michael has a sip of wine.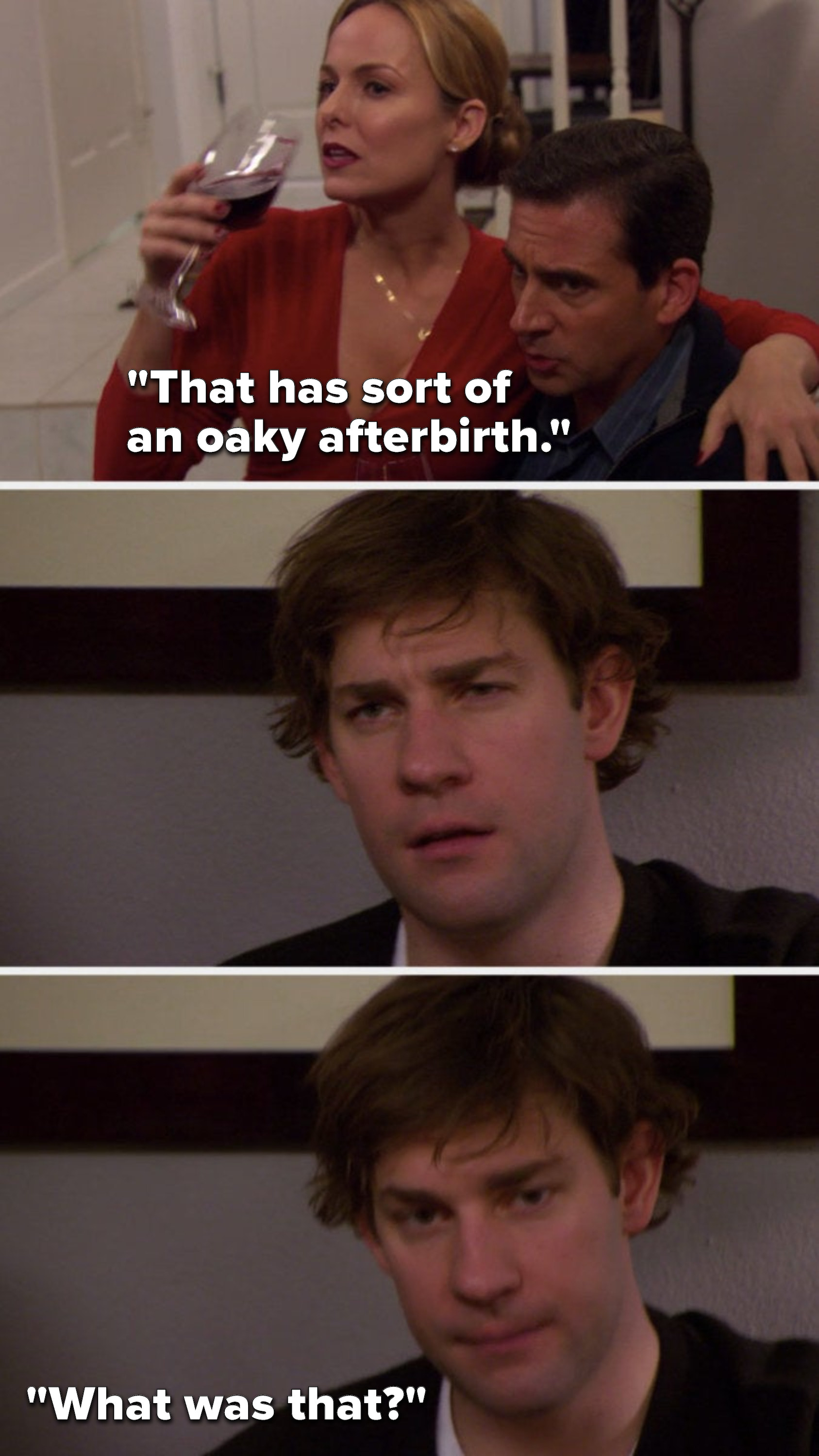 16.
When Jan goes to turn on some music and we see the cover of her old assistant Hunter's CD, which is called "The Hunted."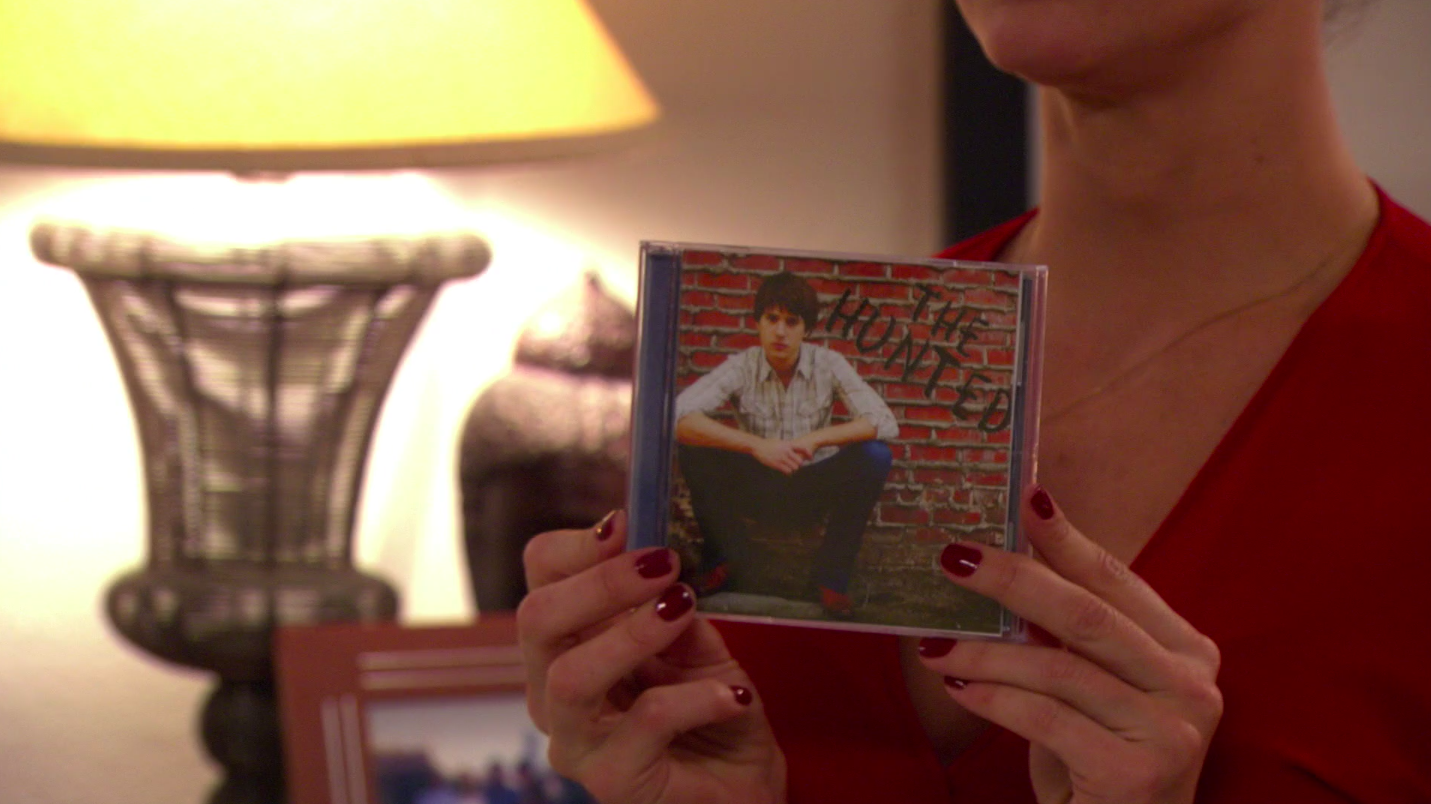 17.
When Jan dances to Hunter's song, which is 1,000% about her.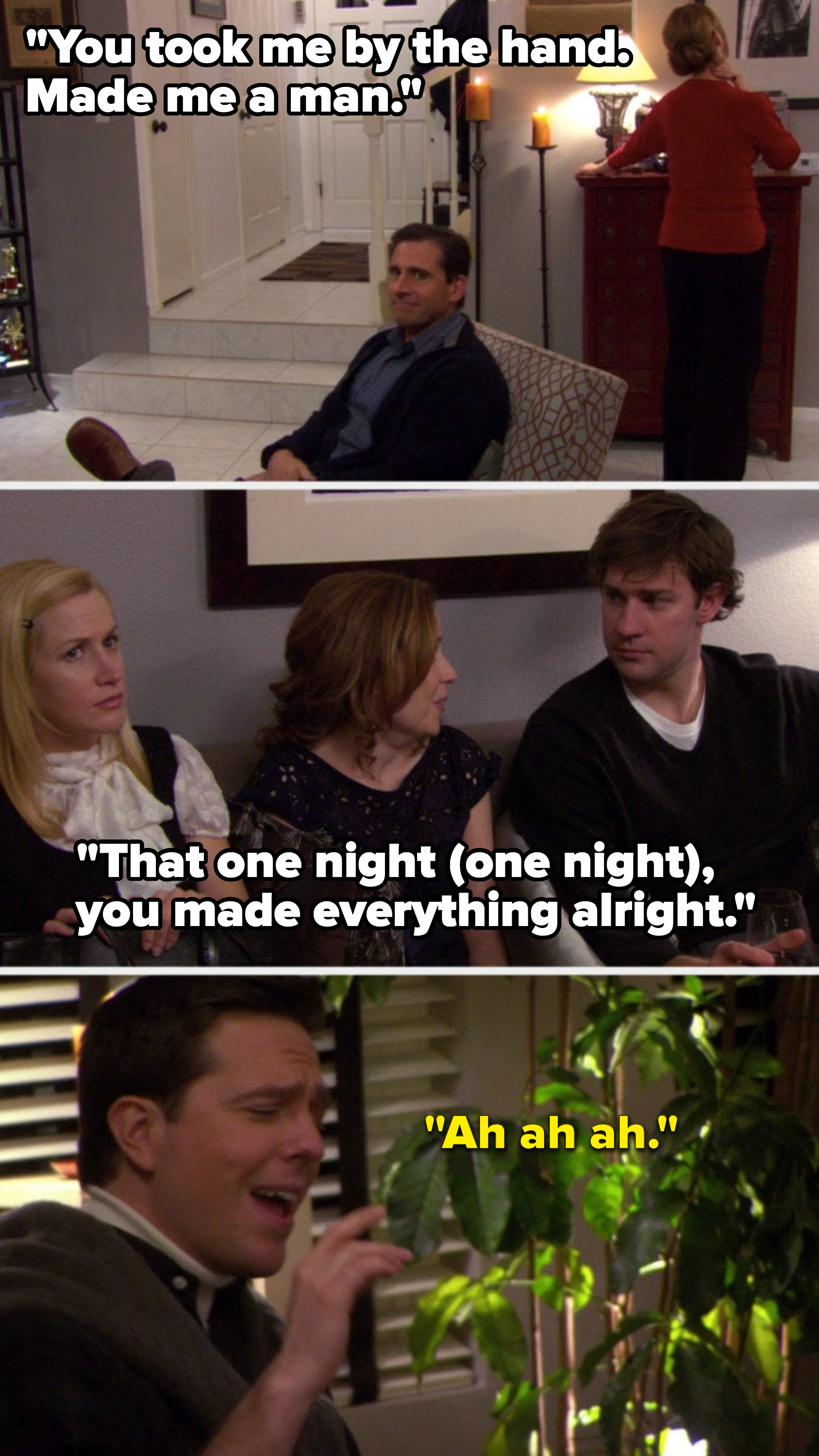 18.
When Jan tries to dance with Jim, but he's not on board.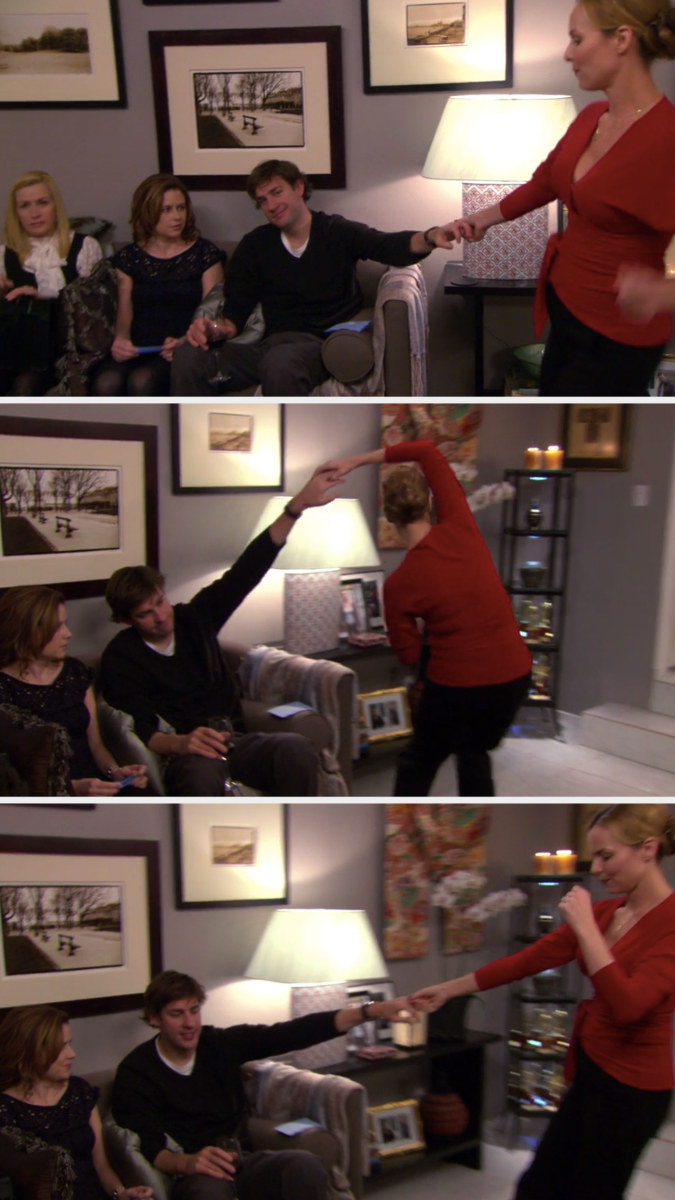 19.
When we hear the strongest proof for Jan's belief that Michael and Pam are currently having an affair, because she used to stay late with Hunter.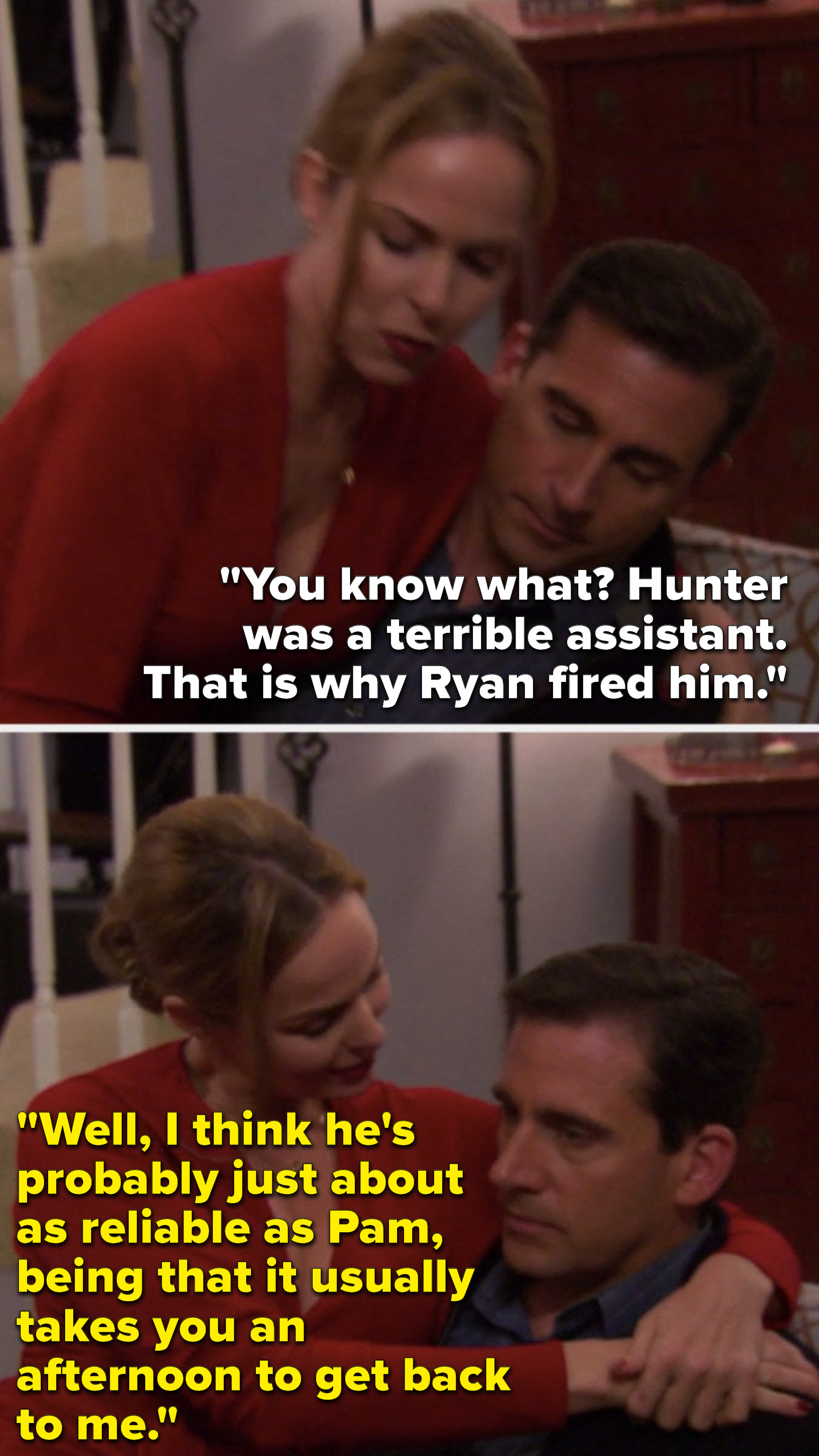 20.
When Angela talks shit about Pam right next to Pam.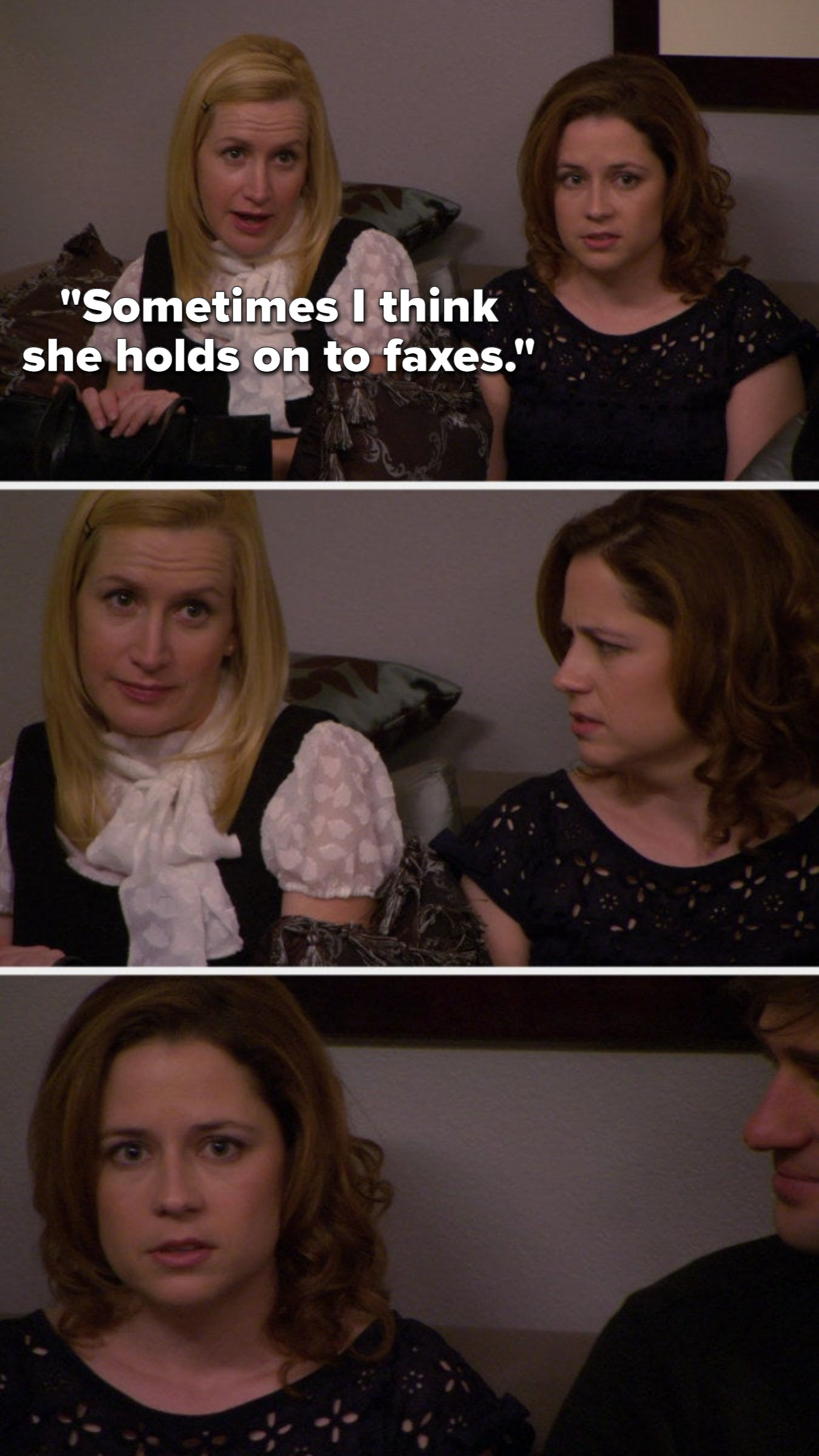 21.
When Pam is done.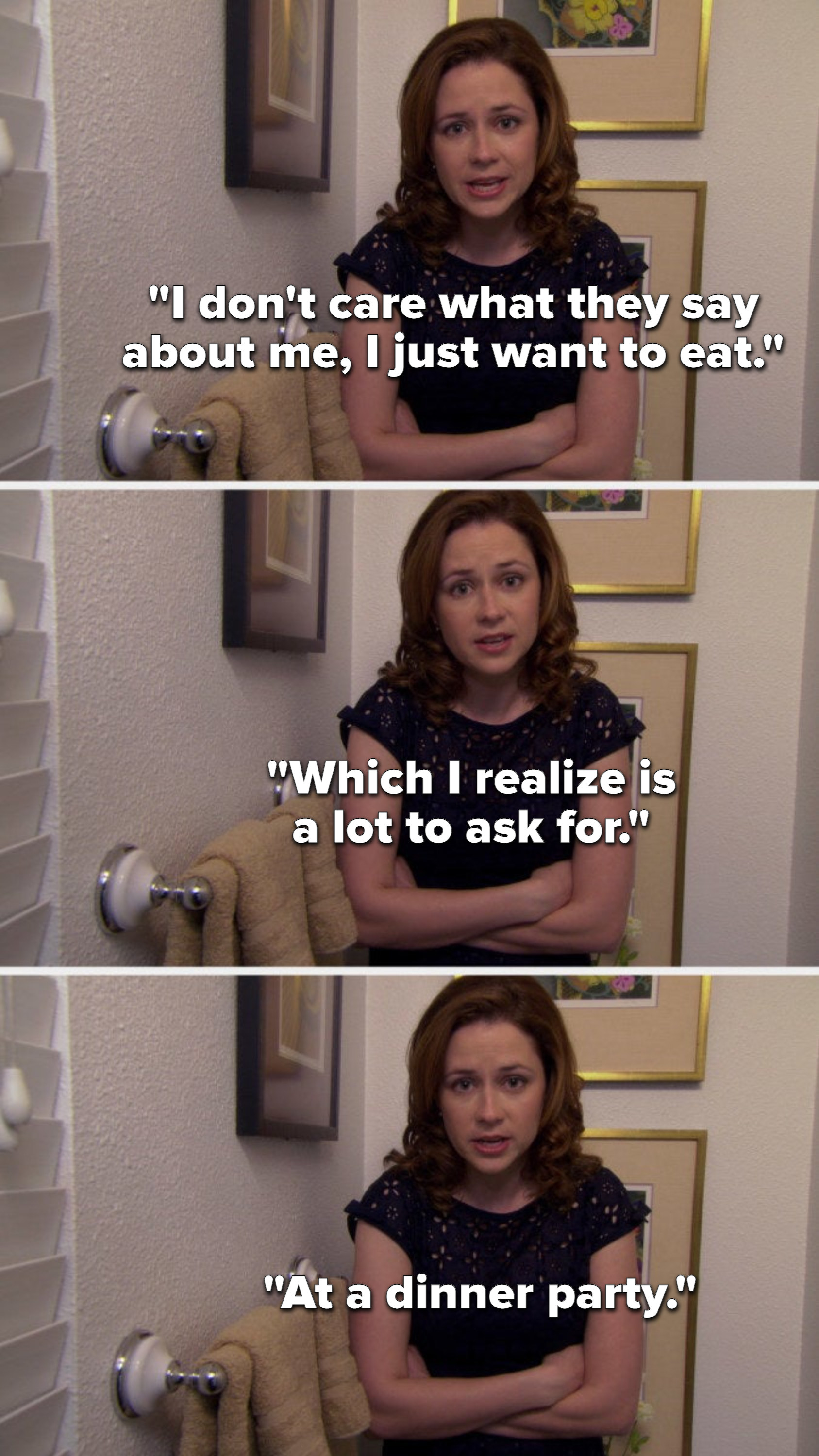 22.
When everyone plays celebrity and Michael is thrilled about it being his turn, so he does a little "My turn" song, which leads into Michael and Jan arguing a bit about whether Michael is being annoying or funny.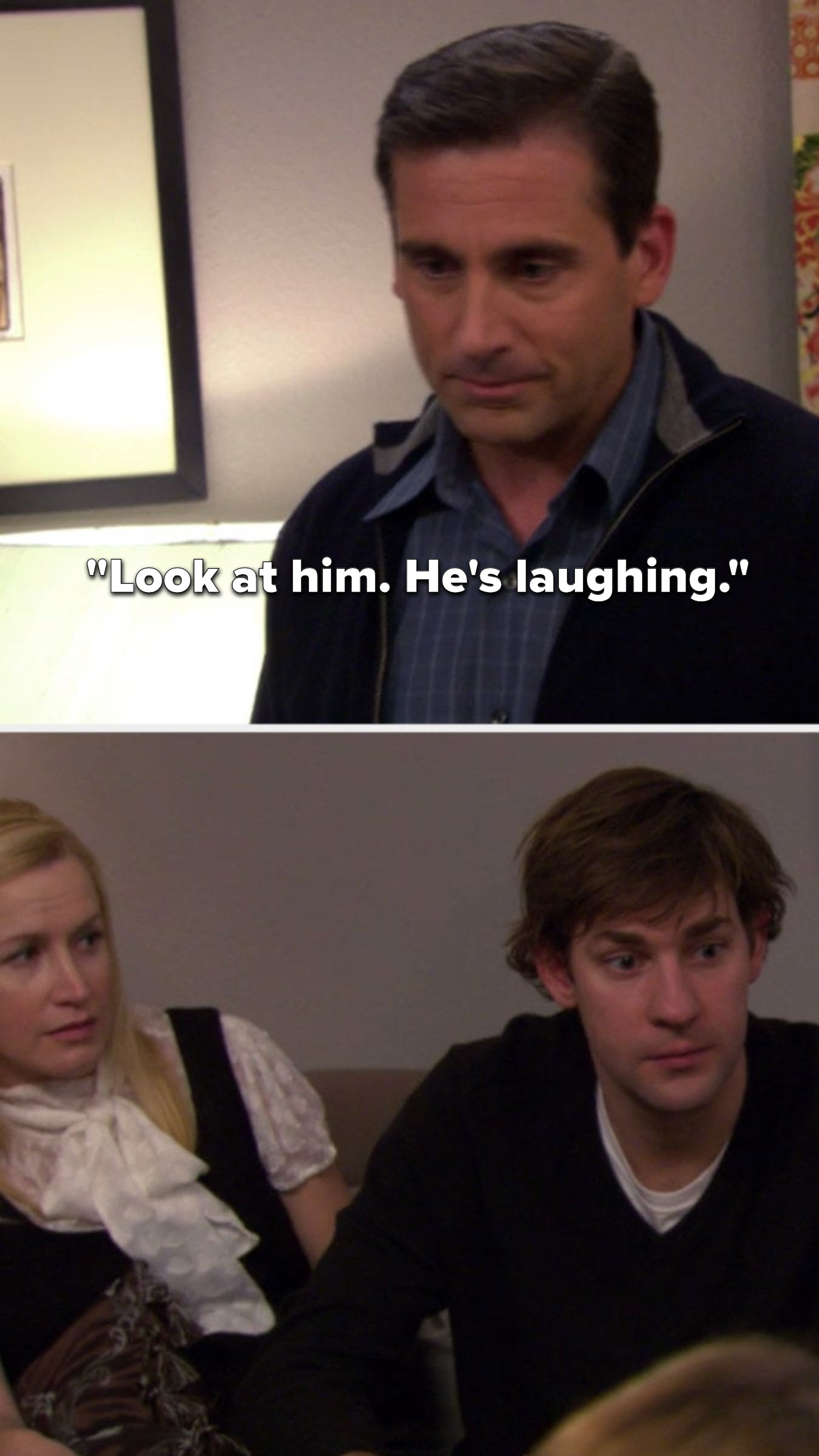 23.
When Jim says he and Pam have to go, because his apartment flooded.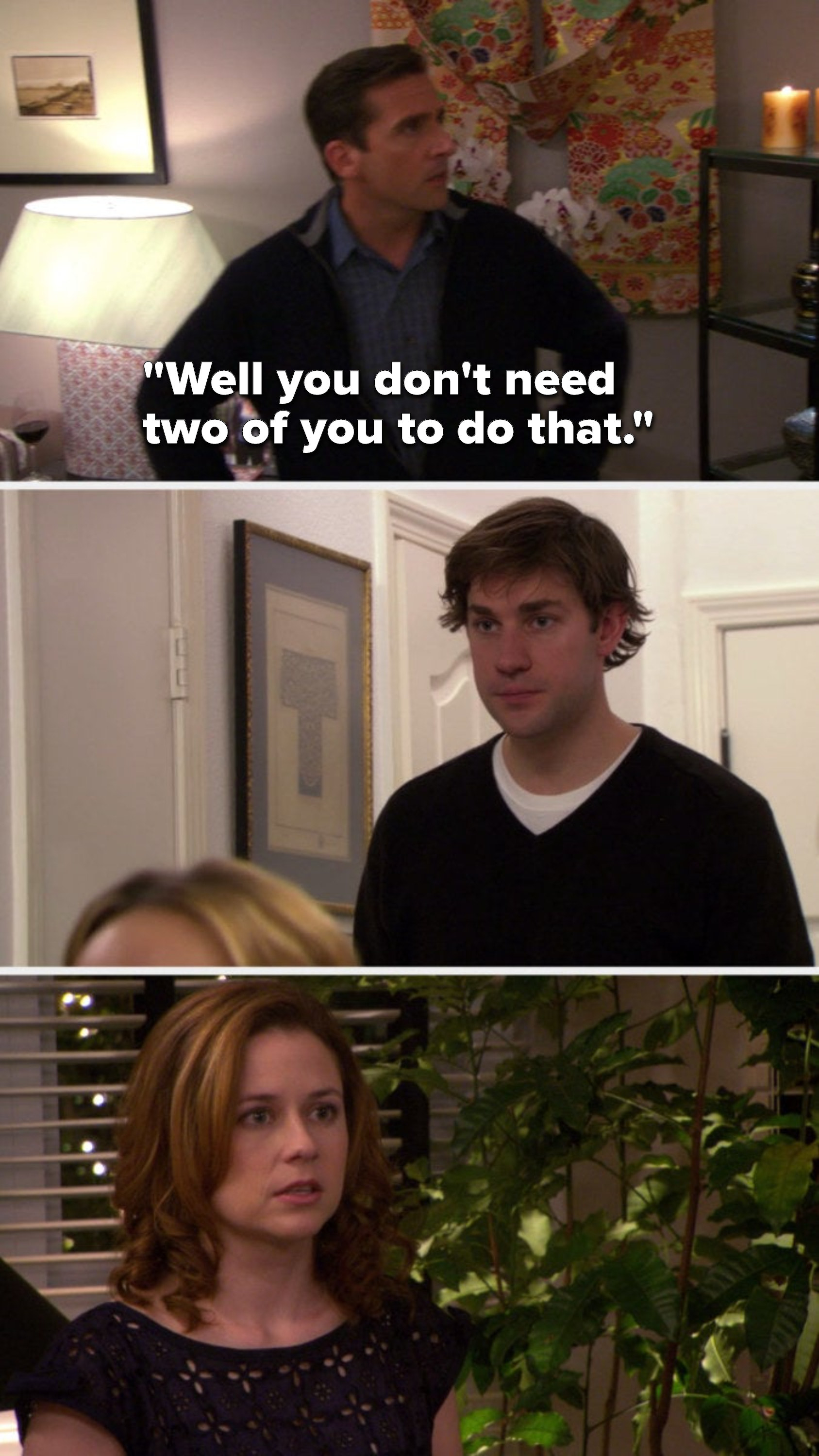 24.
So Jim says he'll go, but Pam is not having it.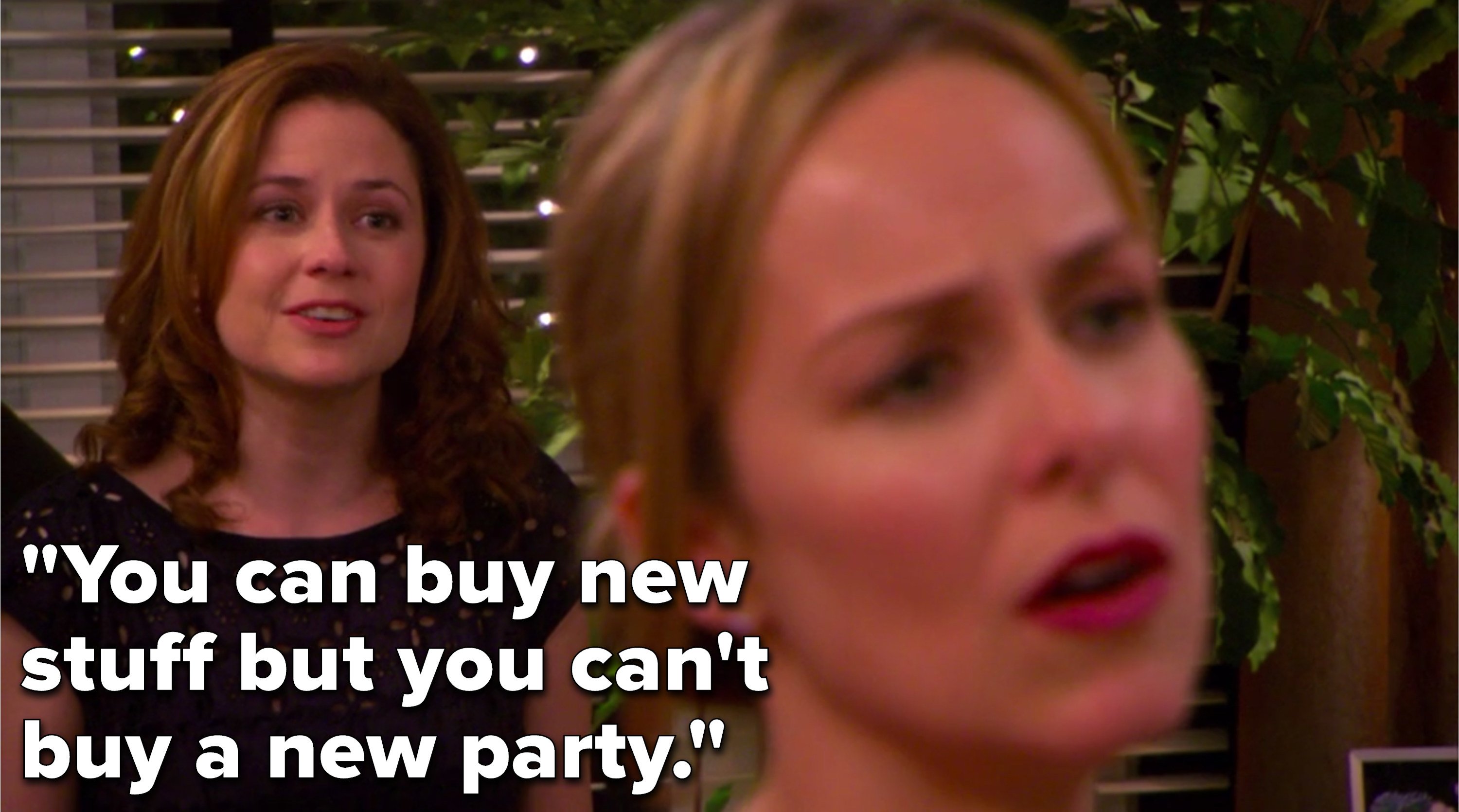 25.
When it's Michael's turn in celebrity and this happens.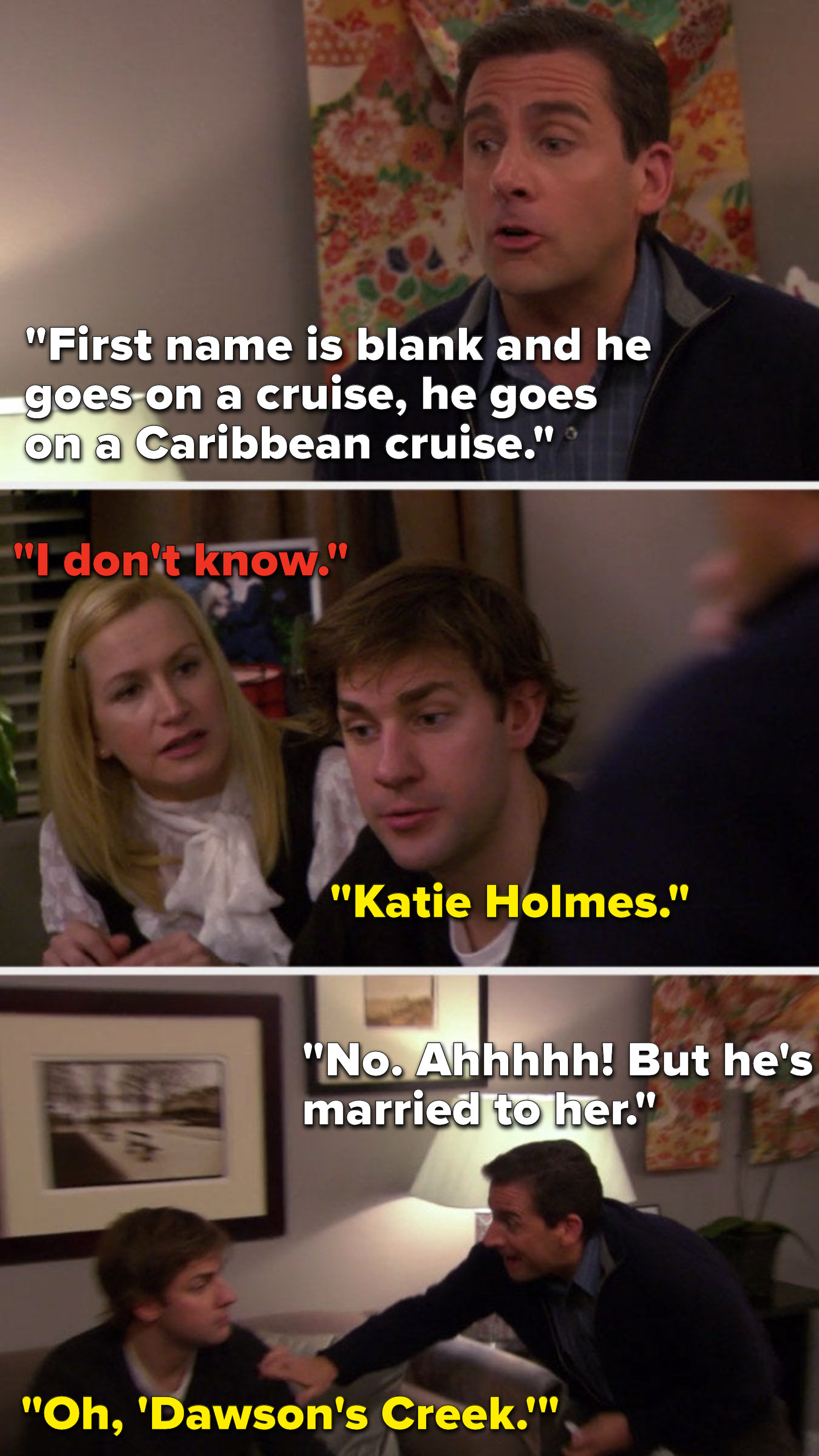 26.
And this happens.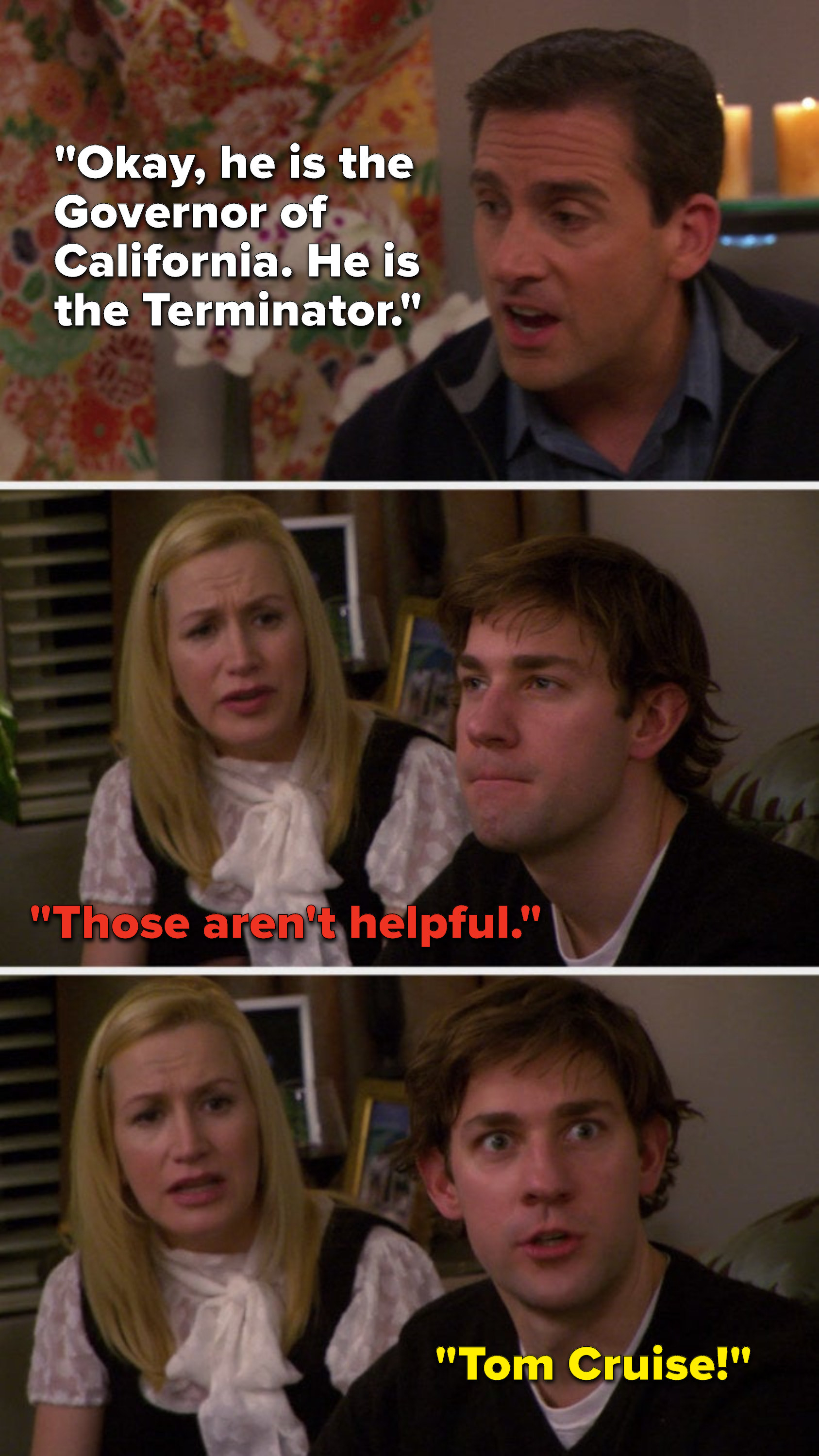 27.
When Michael gives Pam his jacket because she's cold, and Jan looks at Pam with such amazing hate.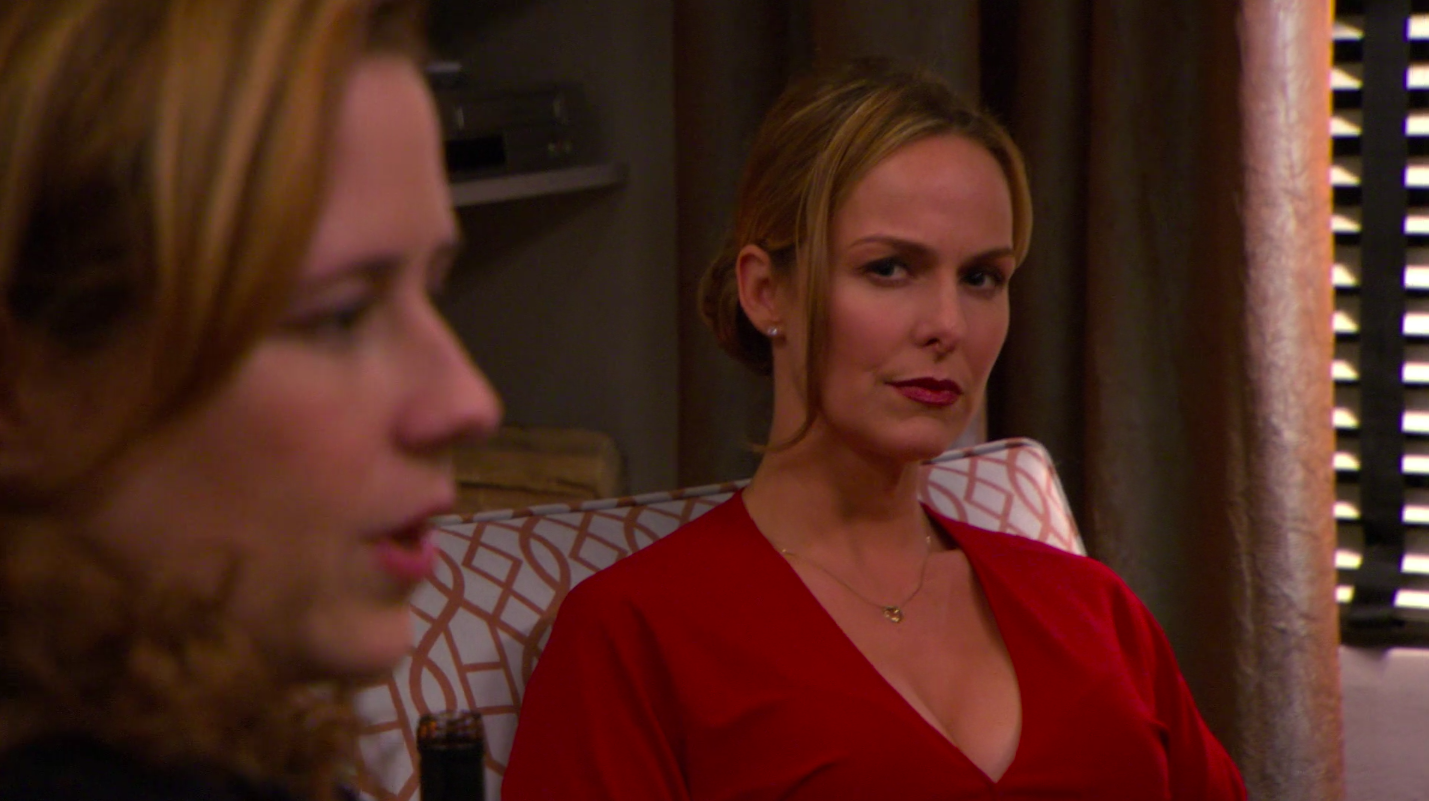 28.
When Jan explains why the sliding glass door is broken even though Michael doesn't "like that story, babe."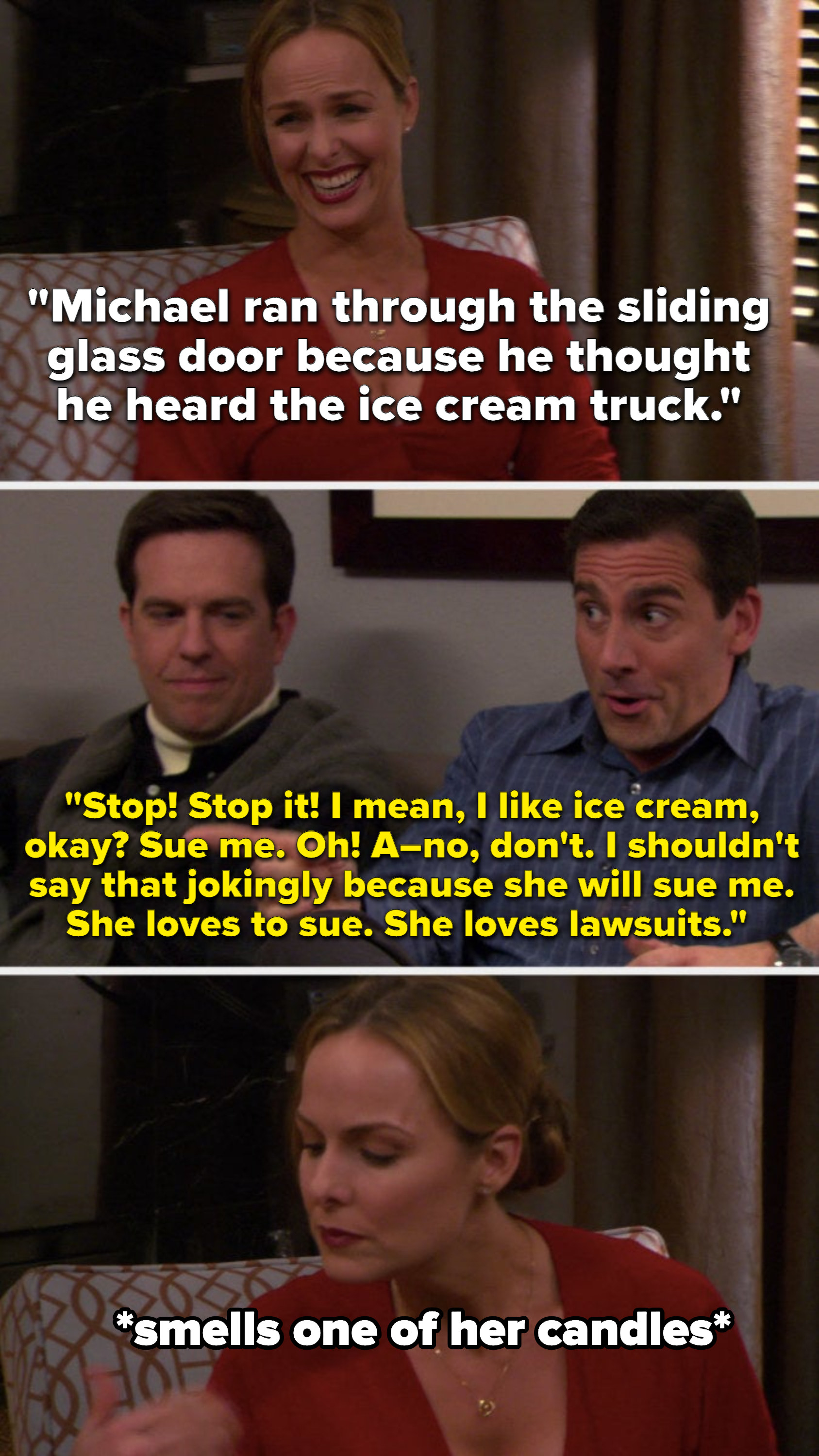 29.
When Michael says the door looked invisible.
30.
When Jan calls herself the devil.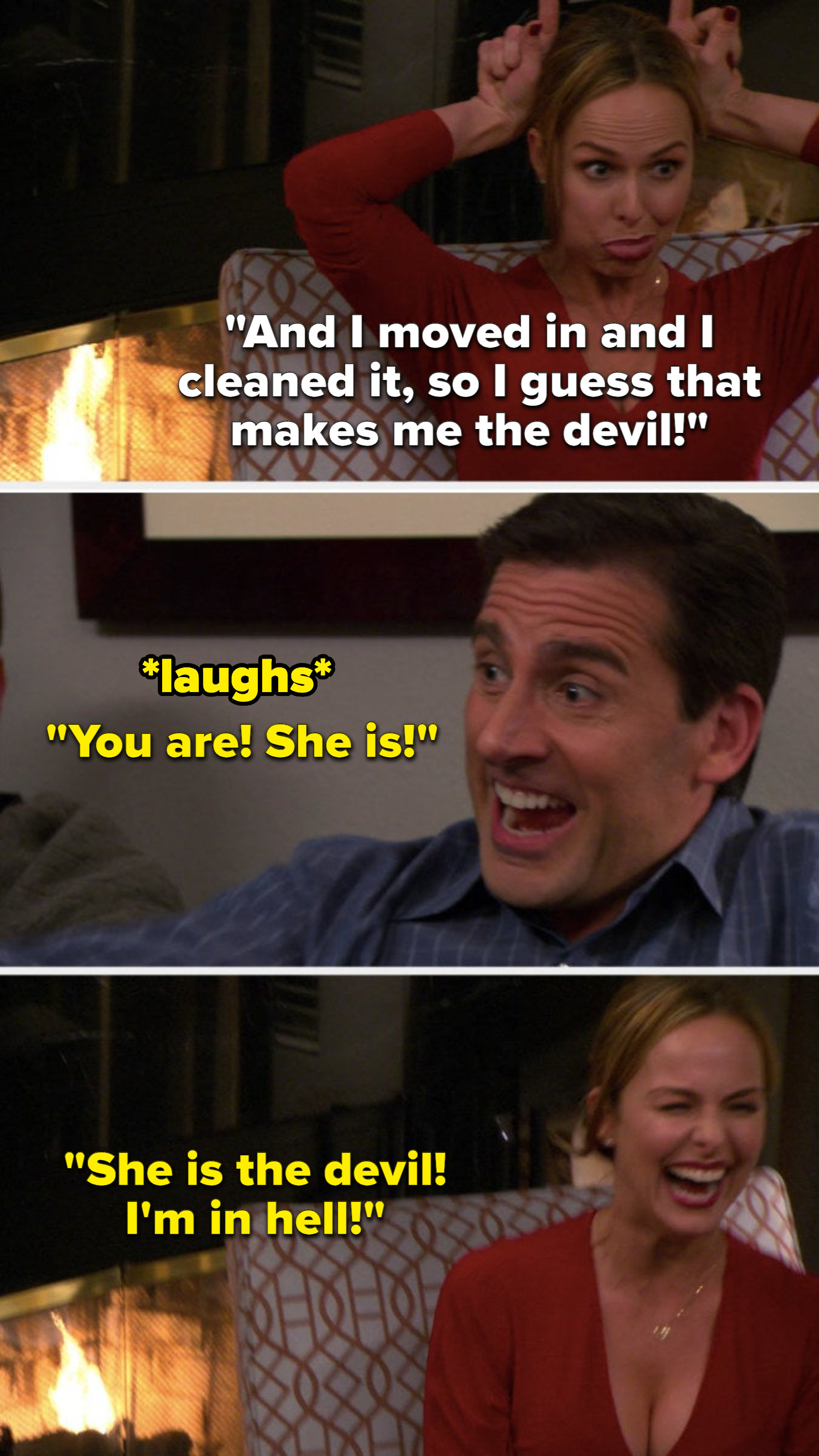 31.
When Angela chimes in on the devil/hell convo.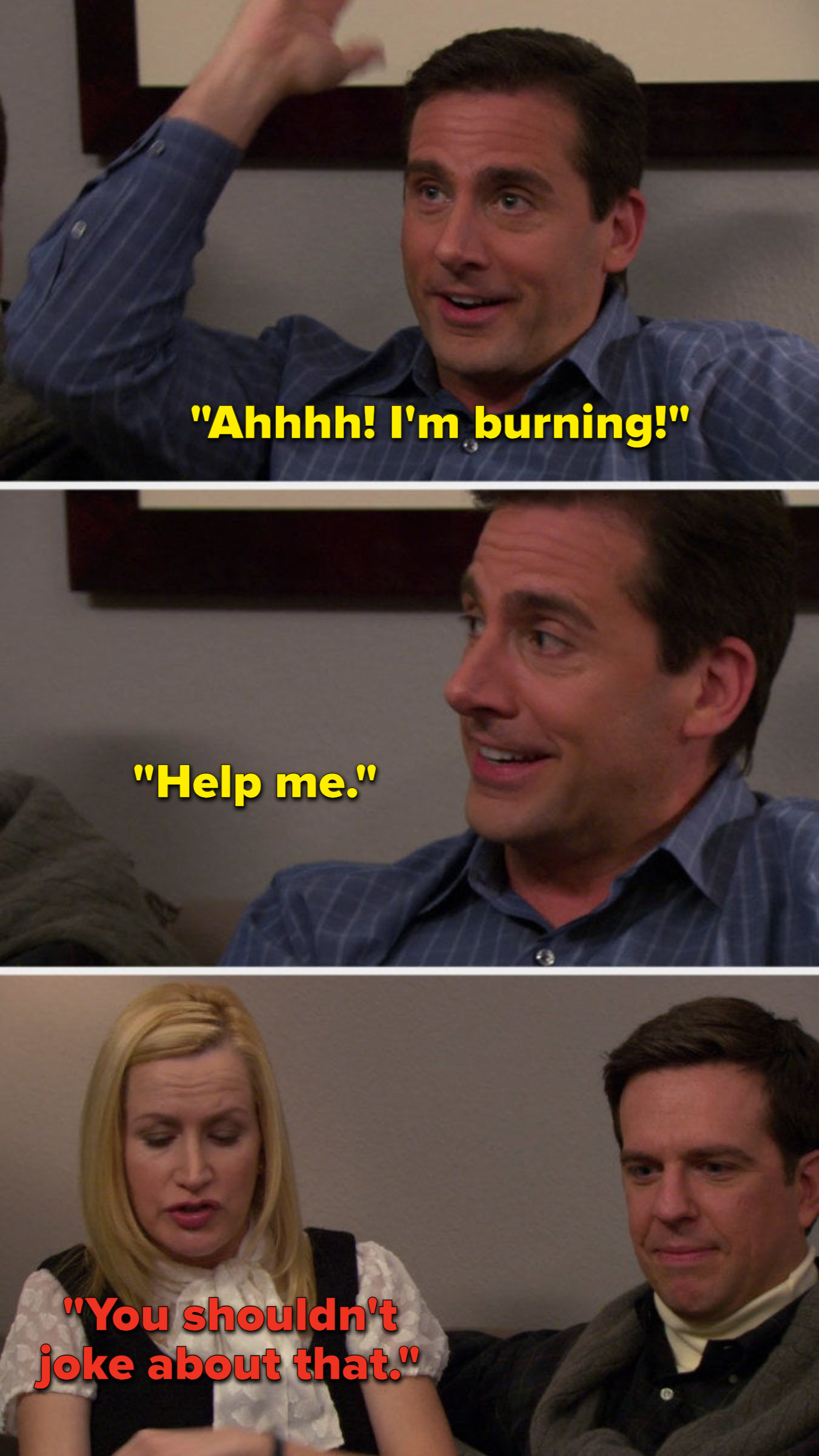 32.
When it gets very tense, so Pam offers to get more wine in the kitchen.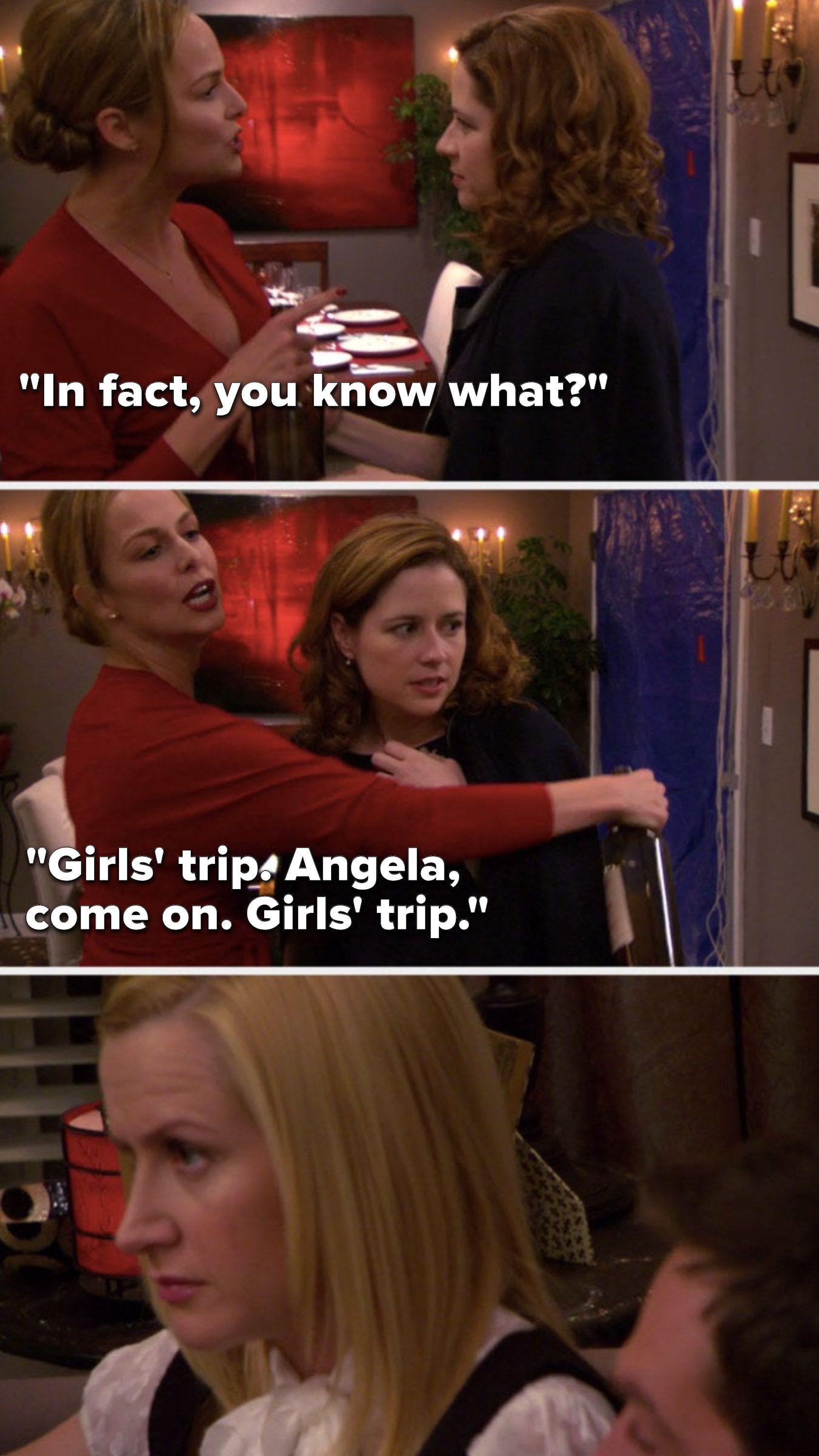 33.
When the boys go to the garage and Michael tells Andy and Jim to "have a hand" because, naturally, these are chairs Michael owns.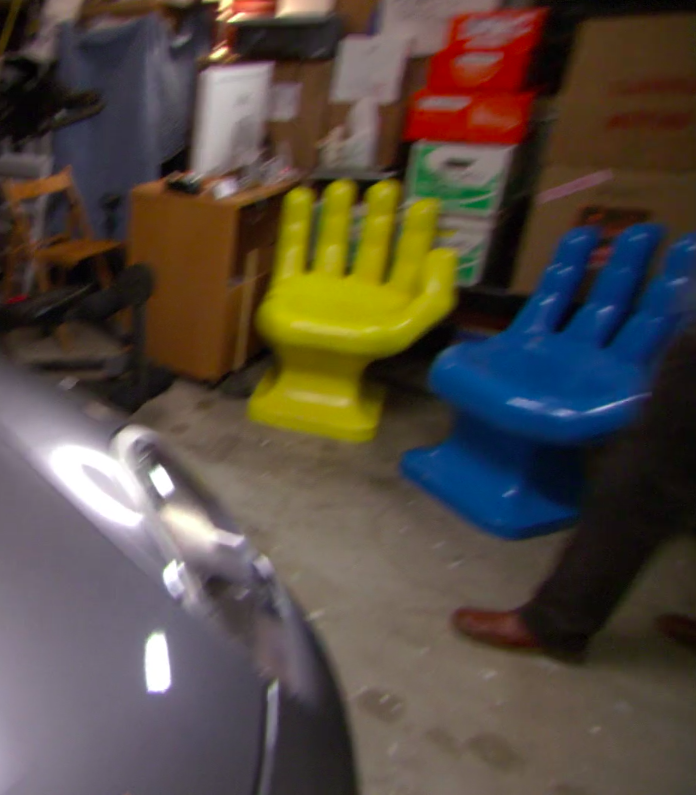 34.
When Michael says that candles are the #1 fastest-growing product in the scent aroma market, as if it would be anything else.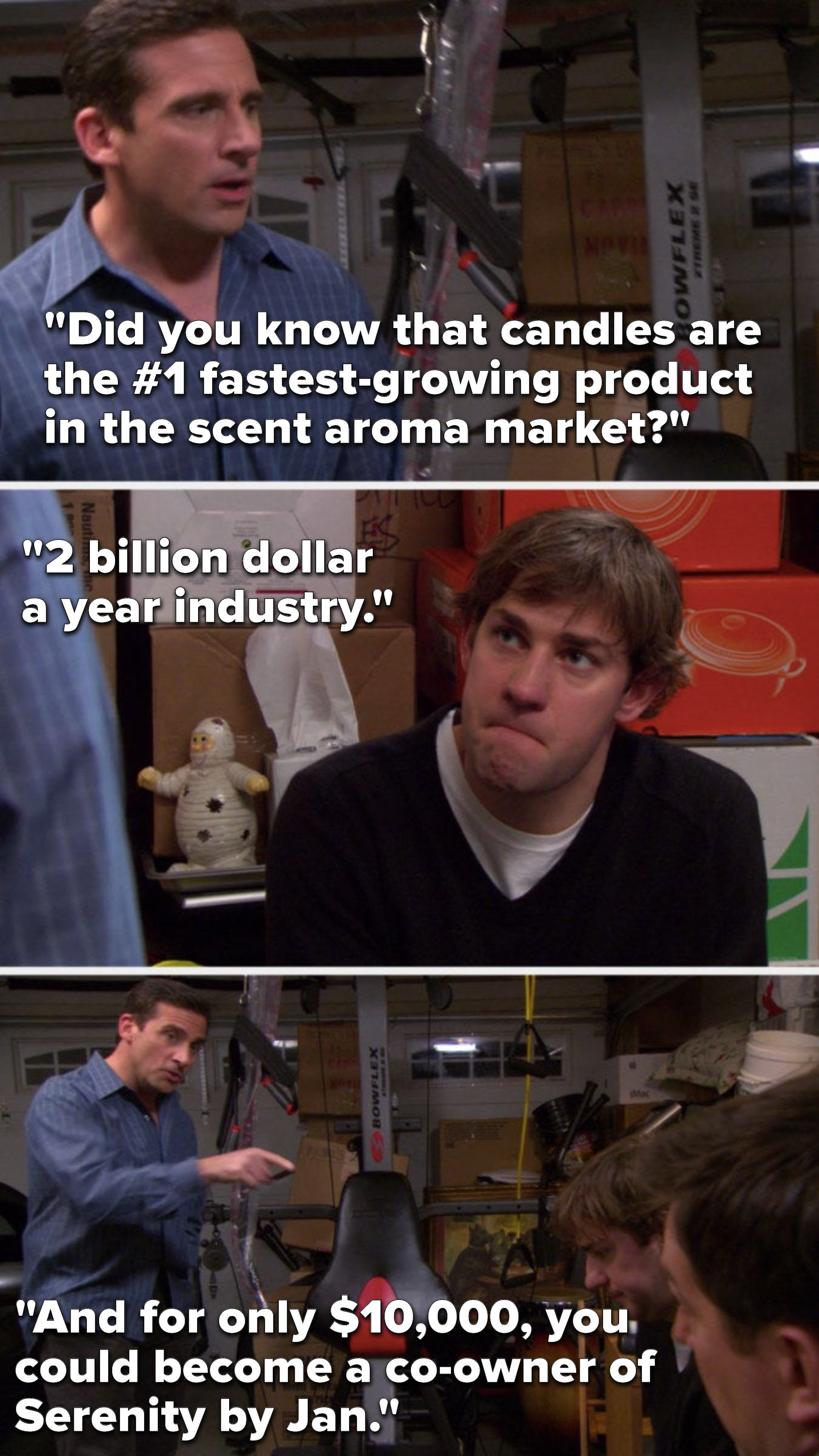 35.
When Dwight shows up with a date and two wine glasses.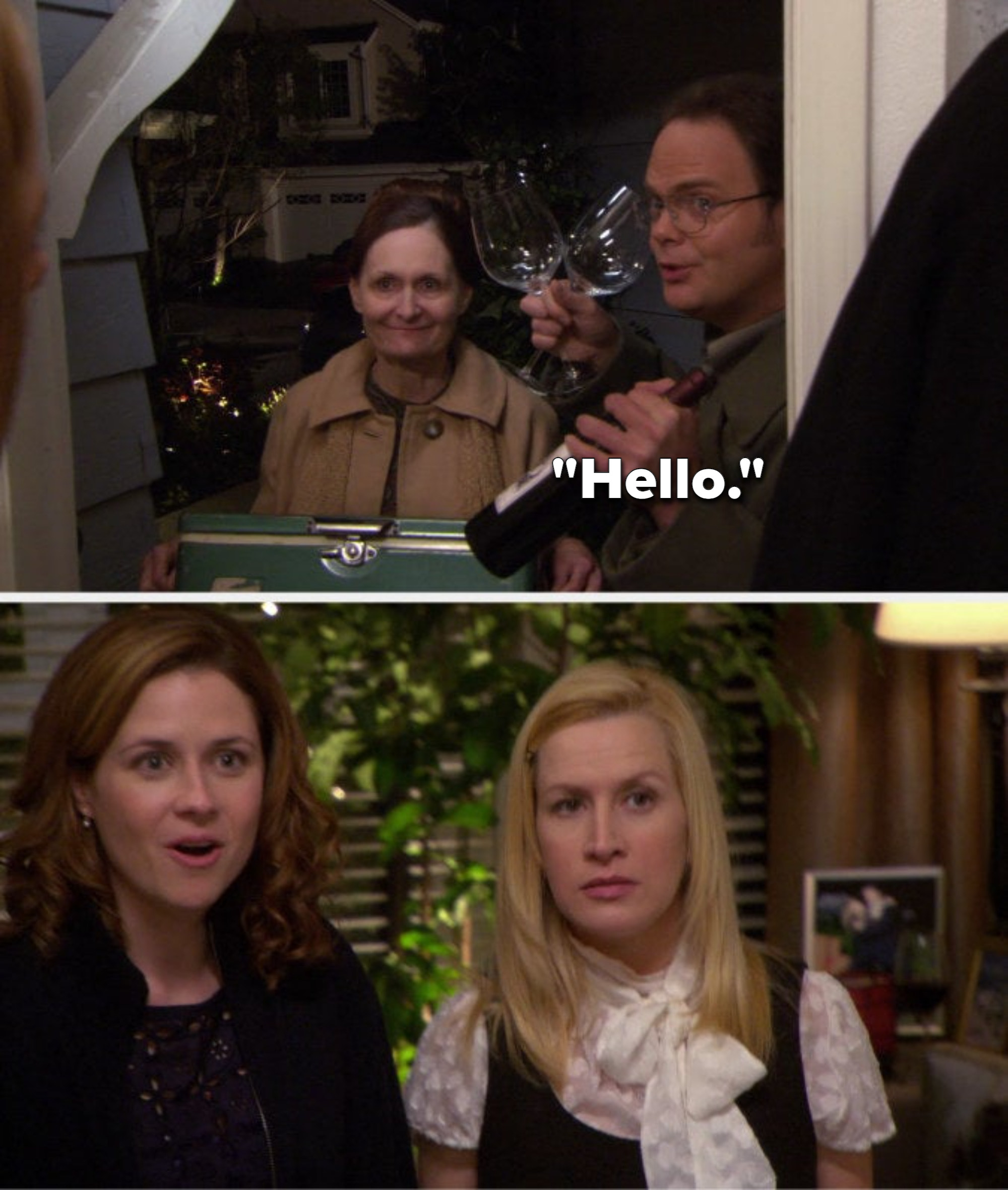 36.
When Michael wants Dwight to stay and Jan says, "Fine. Whatever you want. Just like always, whatever you want."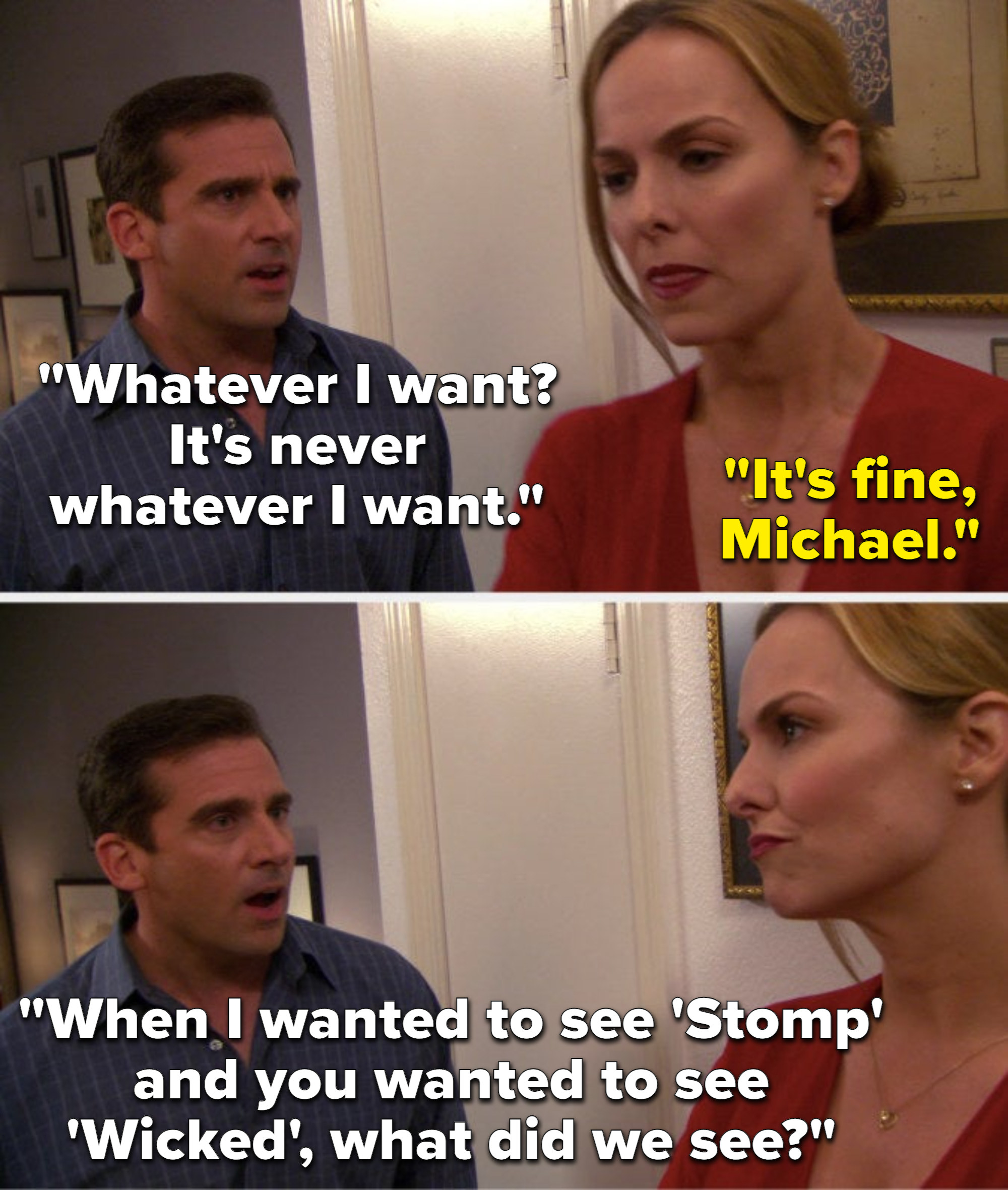 37.
When Michael gives another example.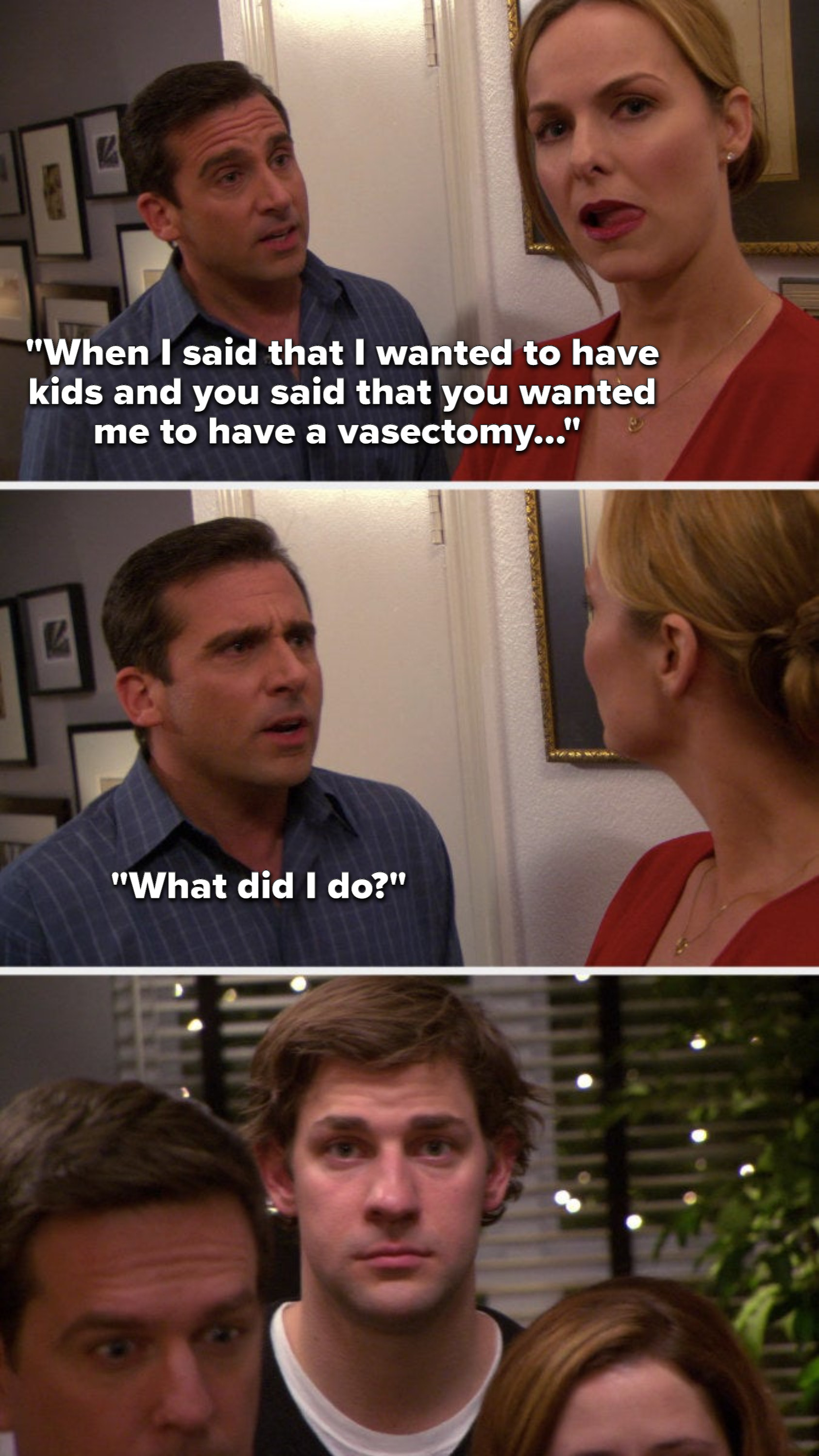 38.
When Michael says he had three vasectomies because Jan couldn't decide if she wanted kids.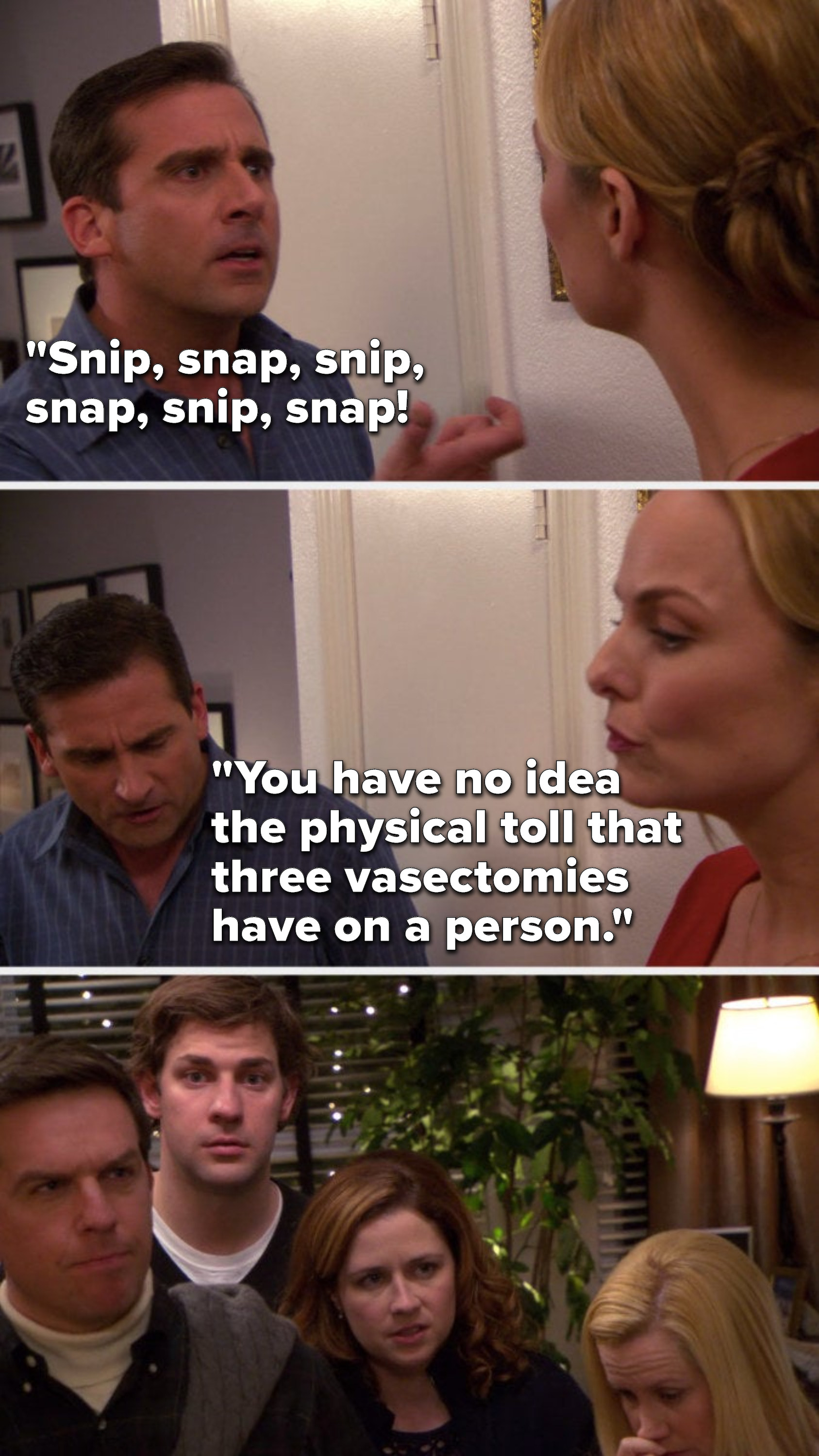 39.
When Dwight asks Angela if she'd like any of his beet salad.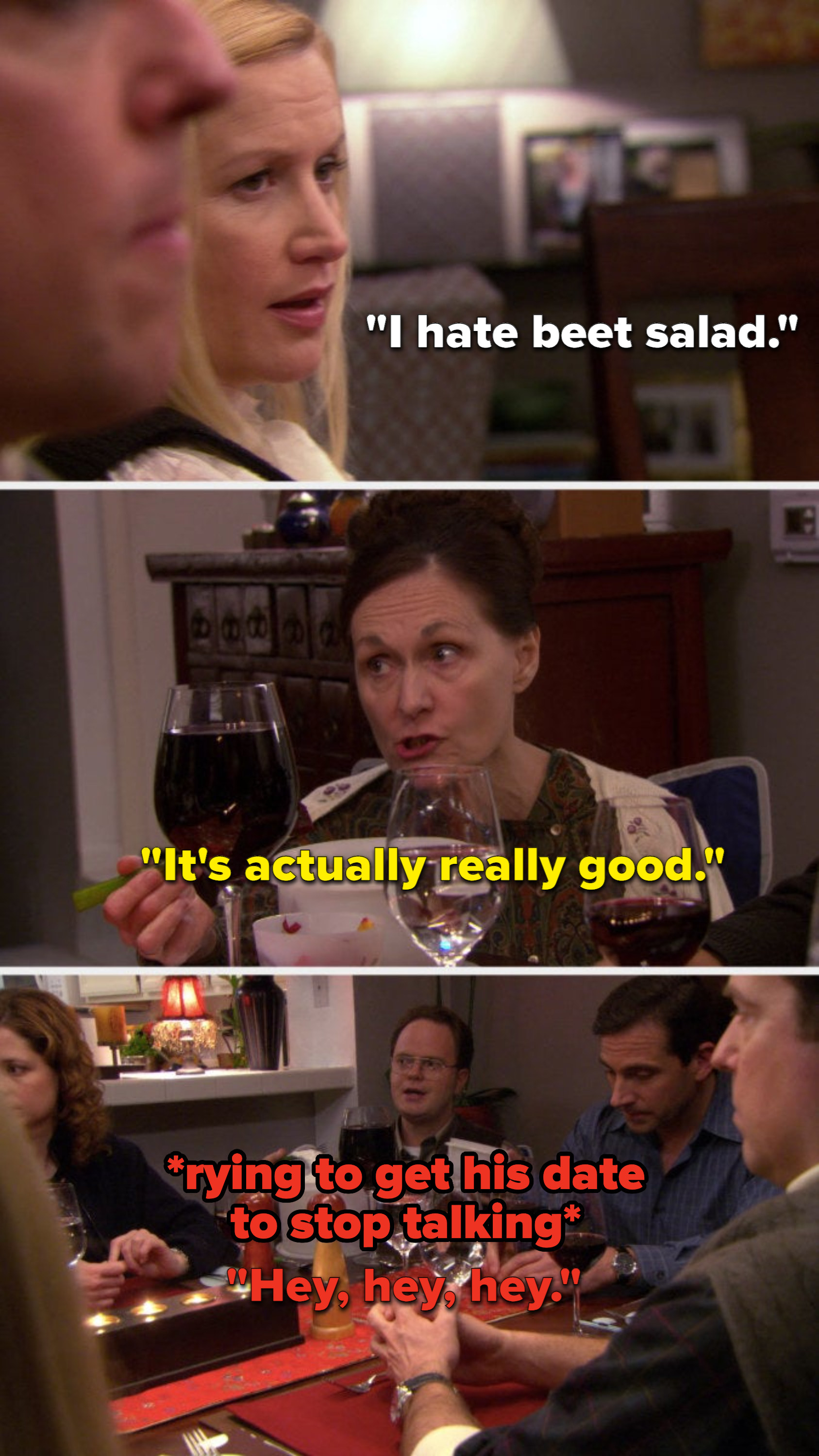 40.
When Michael tells Pam he thinks Jan might be trying to poison him.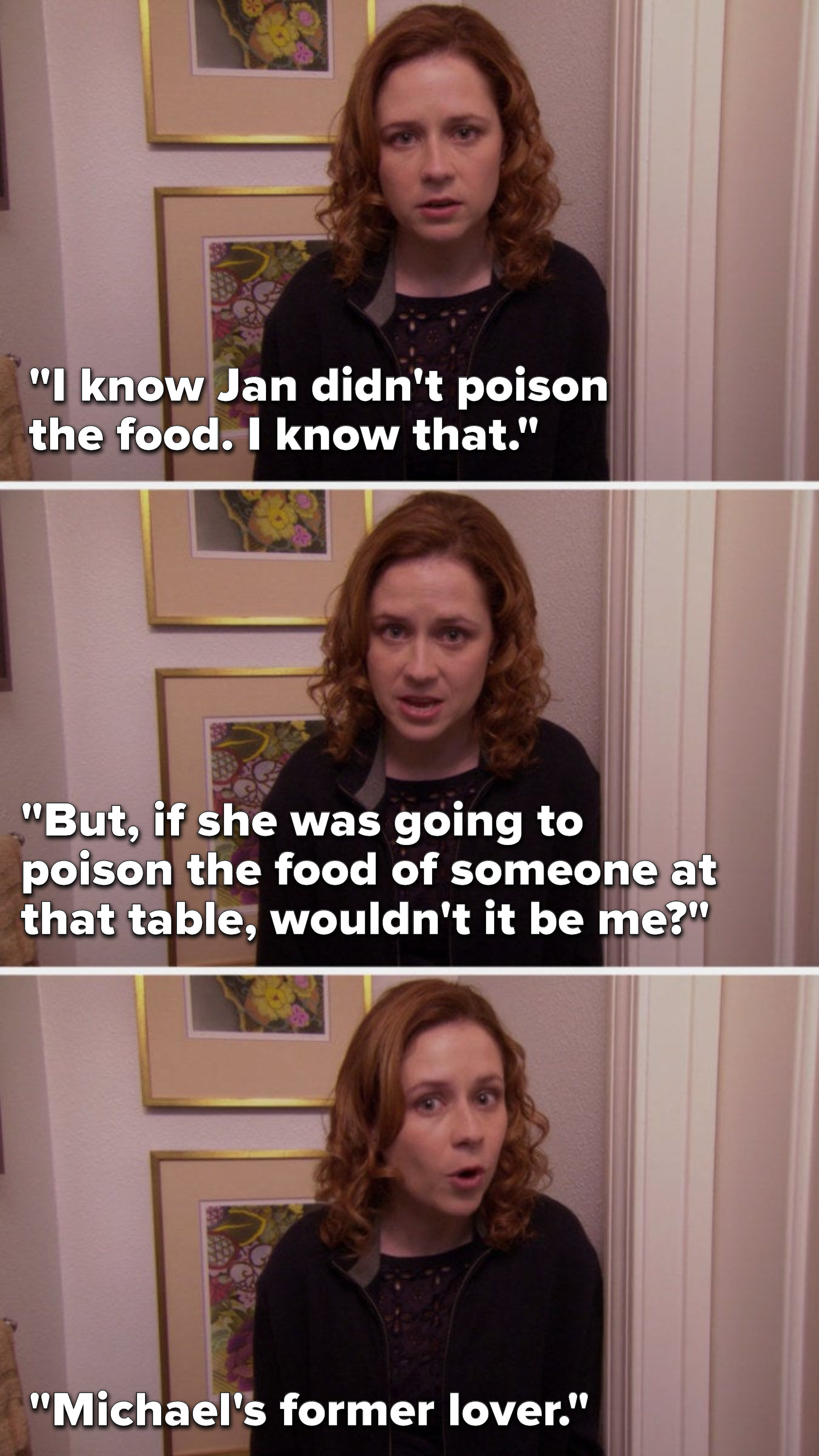 41.
When we see that vegetarian Angela has covered the meat on her plate with a napkin.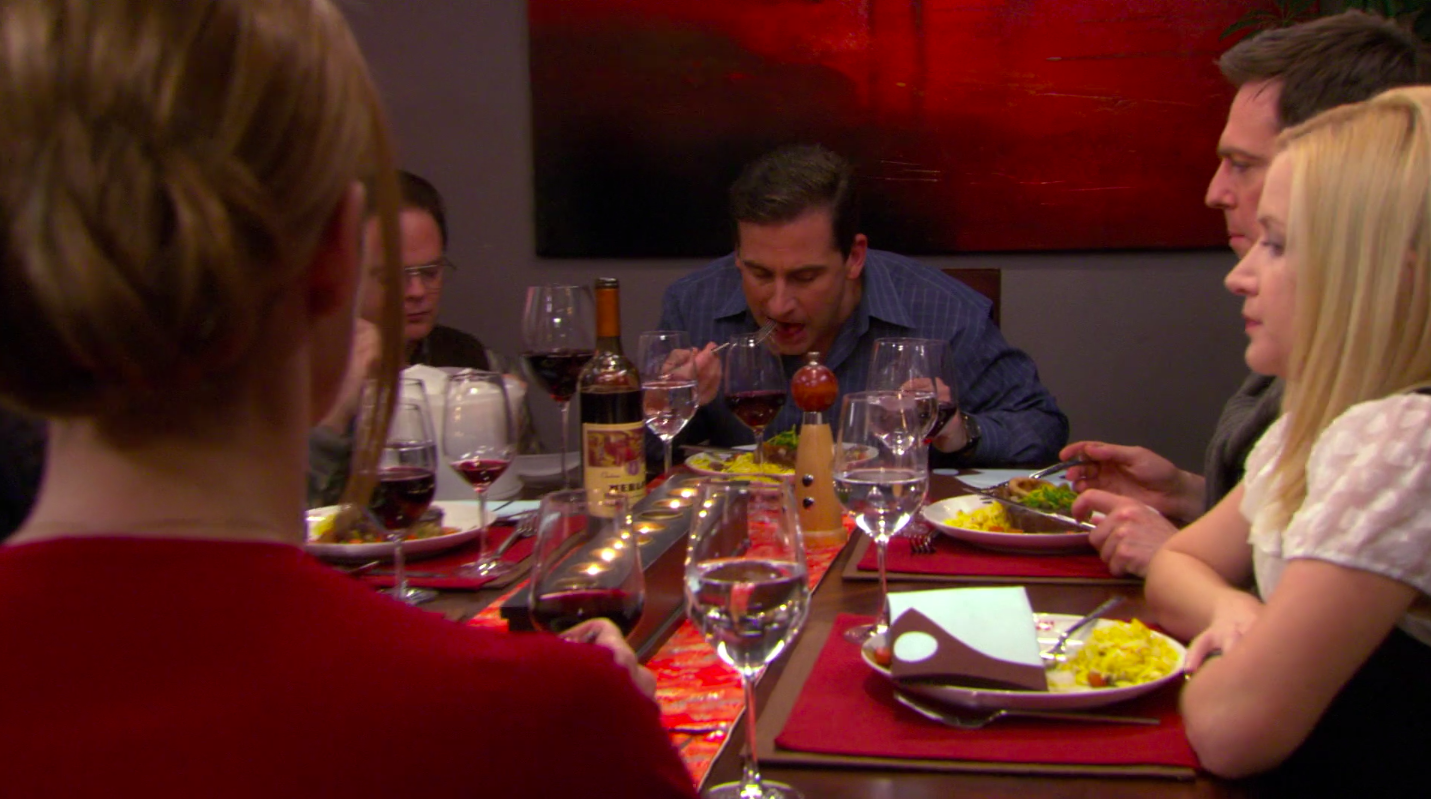 42.
When Michael dips his meat into his wine.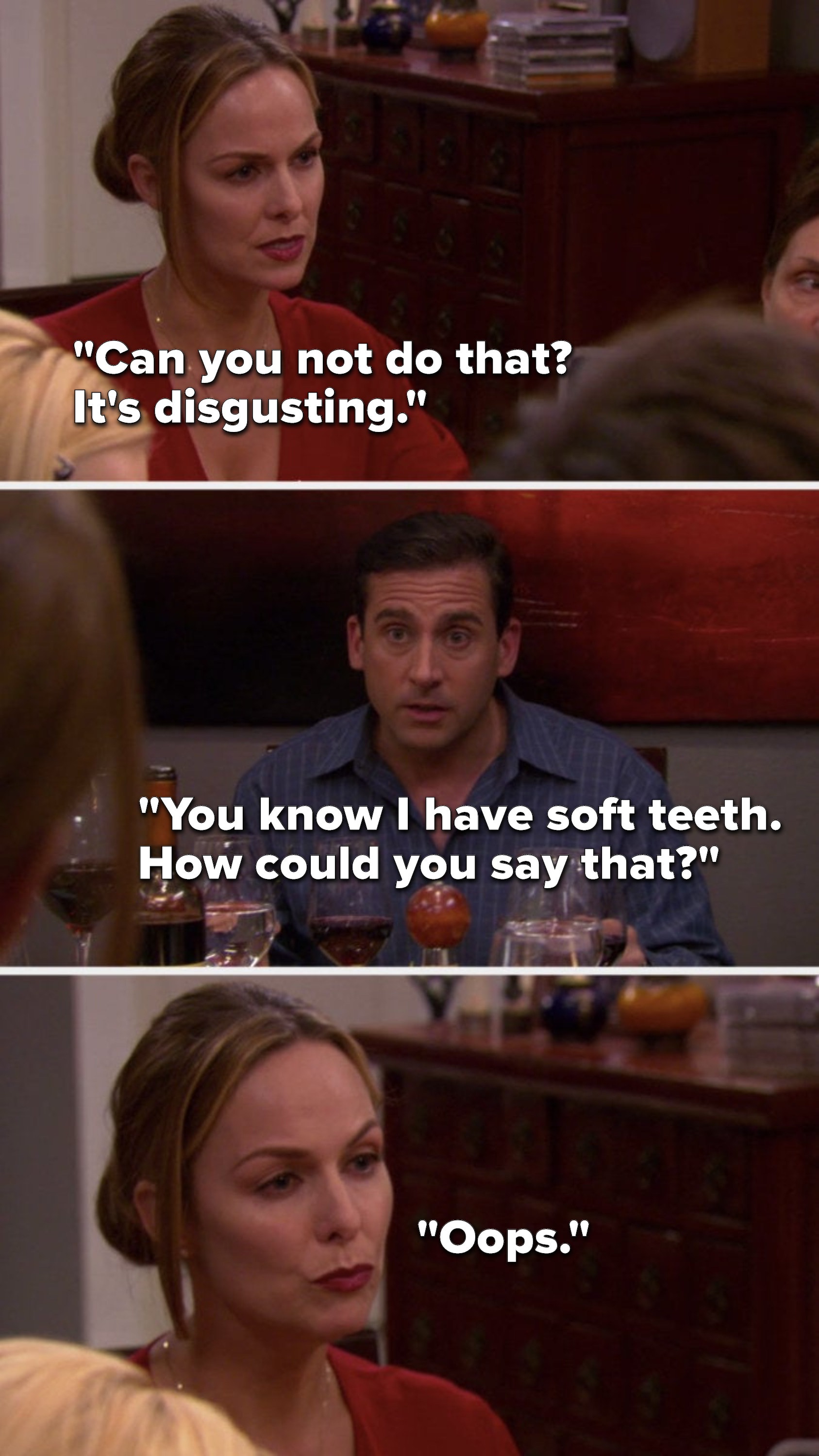 43.
When Jim learns Dwight's date used to be his babysitter.
44.
When Michael brings out the neon beer sign and hangs it on the wall.
45.
When Jan and Michael have their whole huge fight. It's all perfect — "You're hardly my first," "THAT'S WHAT SHE SAID!" — so I'll just put down the final moment.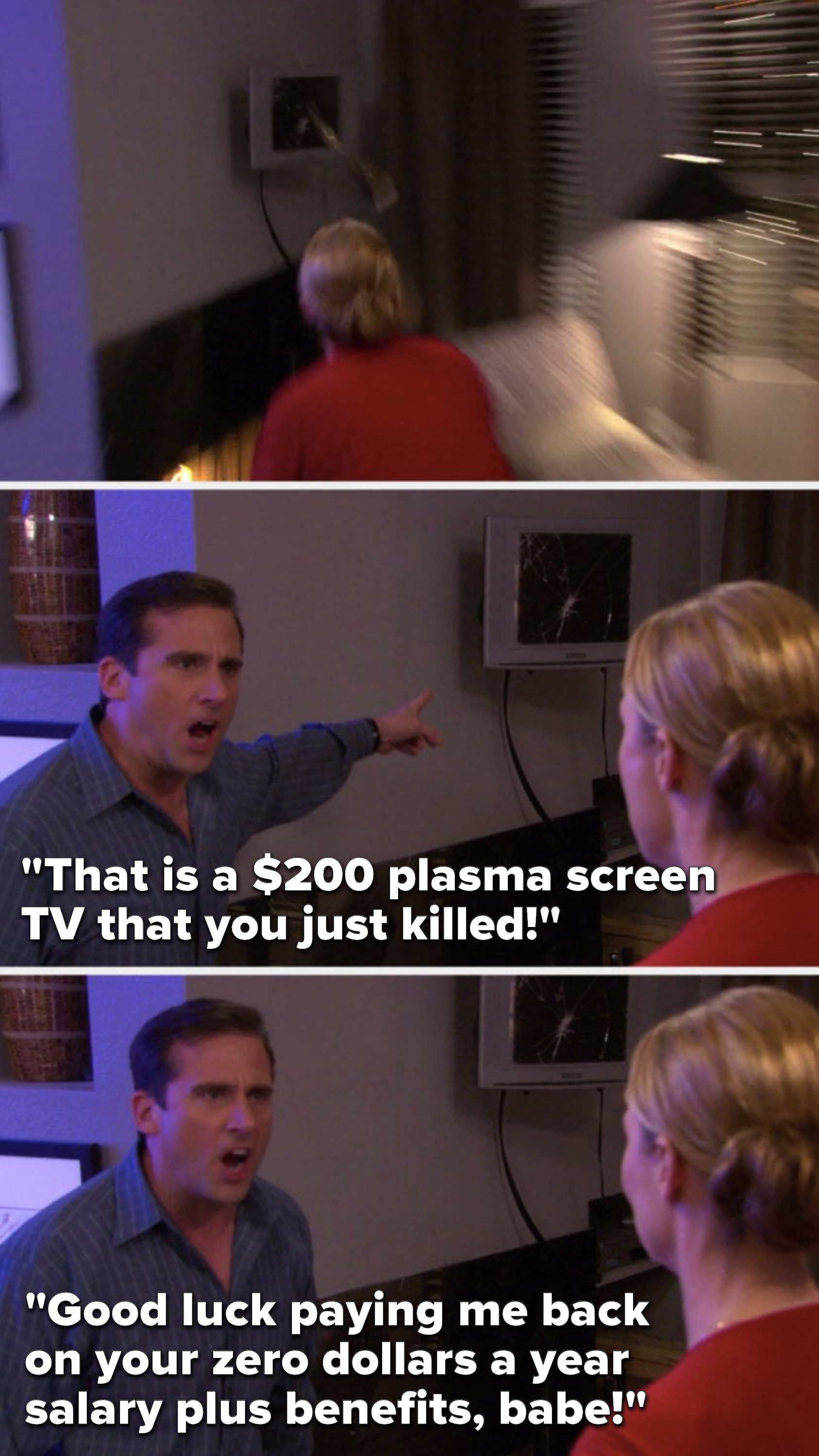 46.
When the police arrive because of the noise.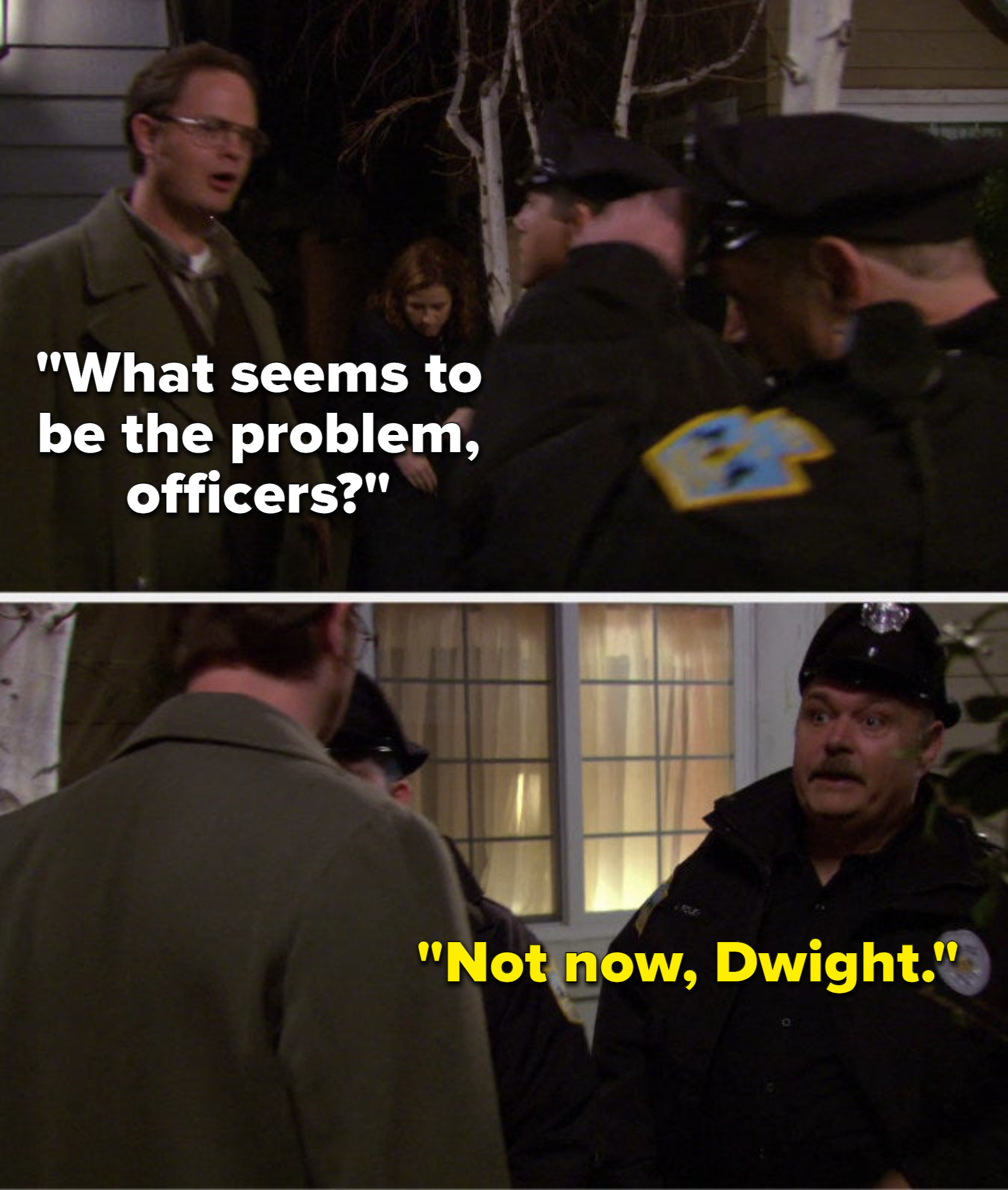 47.
When Michael tells the cops that his girlfriend threw a Dundie at his TV, so they ask him if he wants to press charges.
48.
When Michael knows he's going to stay somewhere else tonight, but he doesn't want to stay with Dwight.
49.
When Angela and Andy get ice cream after the mayhem is over.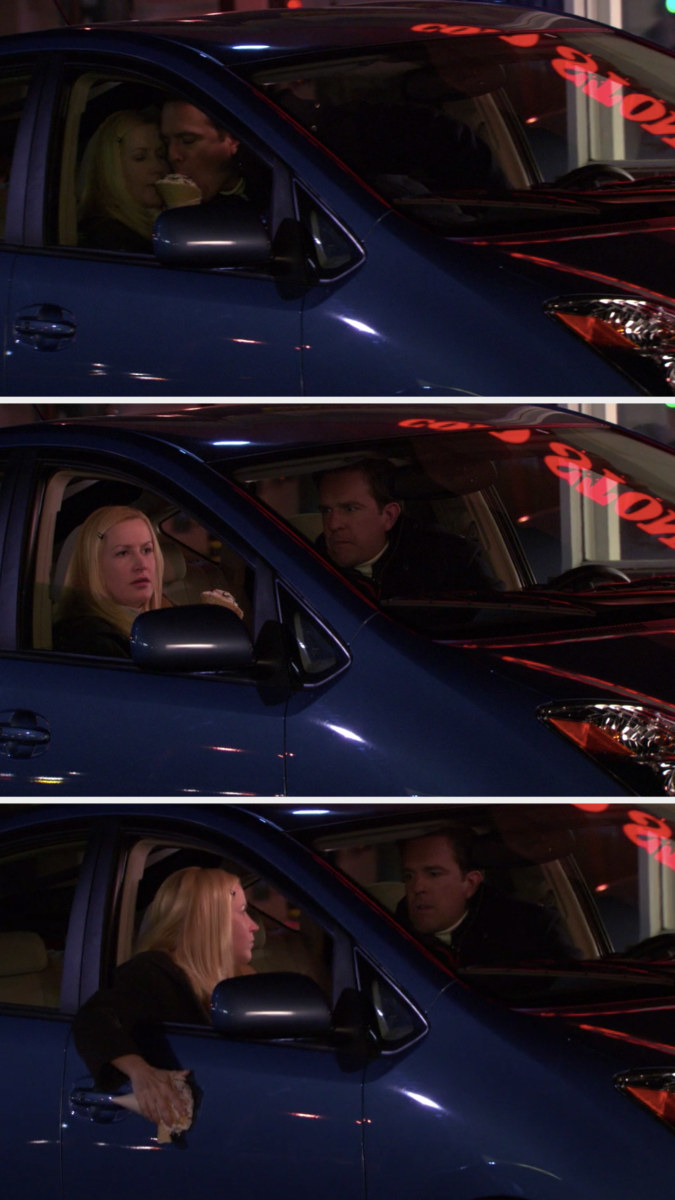 50.
And finally, when Dwight takes sleeping Michael back to his place but doesn't pick up his babysitter/date when he sees her at the bus stop.
In conclusion: "Dinner Party" is a dream, and it will never get old.
You can watch The Office on Peacock.
There are so many things you can watch on Peacock for free, but if you want even more content, you can sign up for Peacock Premium for $4.99 a month or Peacock Premium Plus for $9.99 a month after a seven-day free trial.