1.
Girls are more interested to the hunky police officer deployed on site
2.
Others are more interested with the sling bag worn by one of the police officer
3.
One satay vendor decided stick around and serve satays even if he's only 300 feet away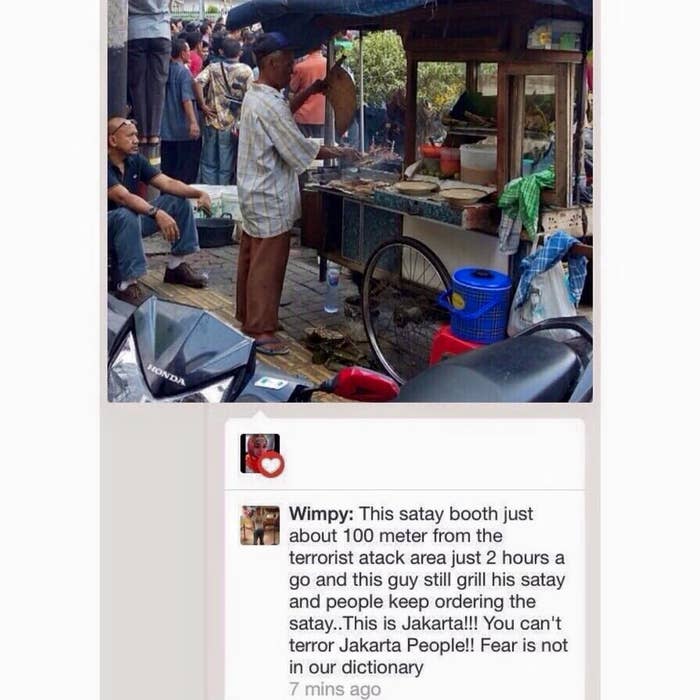 4.
Street vendors are actually making money around the attack site
Cigarette, bottled water, and steamed peanut vendors are making quick bucks from curious people who gathered a few feet away from the bombing site. Including thirsty polic squad! Twitter user Frederic A. Ferry said that terrorists in Indonesia are "treated like nuts" which is a slang for "being ignored".
Di Jakarta mah teroris dikacangin. https://t.co/ijtJPTVbt1

— Frederic A. Ferry (@_FredFerry) January 14, 2016
Twitter user @Bebiben joked if the ISIS commander saw the picture below, he will drop to tears because his self-worth will drop to zero.
Komandan ISIS liat foto ini: Beneran ini di lokasi kejadian? *air matanya menetes karena harga dirinya jatuh* pic.twitter.com/0PLMXSJhom

— Yang Mulia (@bebiben) January 14, 2016
Other Twitter user Mega Simarmata said that bombs can explode, terrorist can hide, but street vendors can only be busy selling their goods.
Bom boleh meledak. Teroris boleh sembunyi. Pedagang asongan asyik hilir mudik jualan. pic.twitter.com/Cb6uekoPfh

— Mega Simarmata (@MegaSimarmata) January 14, 2016
5.
6.