1.
Spikeball, an easy-to-transport game that is kinda like volleyball and will have your friends asking you to bring it on every beach trip.
My friends are OBSESSED with Spikeball. While I'm not super coordinated and prefer to be a cheerleader (I'm accident-prone, OK!), this game is one of the most fun beach activities I've seen in a minute. It has been described as "if volleyball and foursquare had a baby" and can be played in a variety of ways.
Promising review: "This is a great beach game. Its simplicity as a spin on volleyball will have you and your friends be the envy of the beach. On multiple occasions I was asked where I bought this game. Great fun, and a great product. Assembly was simple enough. It's just plastic clips and then finding a way to get the net tight enough onto the hoop. You might think it isn't springy enough but it will be. Remember... This isn't a trampoline!" —Btschultz
Get it from Amazon for $59.95.
2.
A slug-shaped fidget toy you'll likely find yourself playing with when your kid finally puts it down to take a nap — it's oddly enticing for reasons I simply can't put into words.

RexRoi3D is a small business based out of Los Angeles, California that sells 3D-printed items.
Promising review: "I got the large size and he has immediately become one of my favorite fidget toys! It's got a nice weight and feels sturdy, a really good quality item" —Mio Leroux
Get it from RexRoi3D on Etsy for $13.45+ (available in three sizes and nine colors).
3.
A pop-up tunnel play set that'll keep little ones busy so you can kick back and enjoy an ice cold beverage.
Promising review: "Easy to set up and tear down, and I like that it comes with a storage bag. I also love that it can be configured different ways and you can just use pieces and not the whole thing if you want. The addition of stakes for using outside is also handy. Overall a great product and my kids love it. They got it for Christmas and two months later it is still holding up well after regular use. Even the cat loves it!" —Azure
Get it from Amazon for $66.95.
4.
A five-pack of stretchy fidget tools that won't make a sound so your kiddo can get out their nervous energy without disrupting everyone else around them.
Promising review: "Perfect sensory toy. I'm glad this comes as a multipack because my kiddo with Down syndrome is obsessed. He needs something to twirl pretty much any time he's awake and this is great. They're super stretchy, but don't get long enough during twirling to, say, hit your brother in the face in the car, so that's nice. (One less battle and everyone is happy!) Easy to clean and sanitize, and they seem to be incredibly durable after a month of the green one being used about 13 hours a day — and as serious fidgeter has been testing the limits. We got the most massive smile when the orange one was presented yesterday. A new color? Life is awesome! Wait until he sees the other three hiding in the closet. Haha! I have no hesitation recommending this item." —I'm me
Get a set of five from Amazon for $9.99.
5.
A Fortnite drawing guide book for when they find the strength (or you scold them enough that they listen) to take a break from gaming to focus on one of their other many talents.
6.
A supersized version of Connect Four that'll provide your squad of kids with hours upon hours of simple fun in the sun. The only downfall is you might never want to play the regular version again!
Promising review: "Best purchase! We bought it for the kids but my husband and I stayed up until 1 a.m. playing!! It was a hit at our party! Great quality. Yes, you can hit the bar and release the discs, but it hasn't happened to us and wouldn't be a big deal if it did! Totally worth it! So glad we got it!!" —Rechel B
Get it from Amazon for $79.99.
7.
Kan Jam, an outdoor frisbee toss game that'll start as a casual game of catch and most likely evolve into a SUPER competitive battle for greatness.
This is another game my friends have been playing at the beach since we were in high school — it's always been a big hit. The rules are quite simple: break into two pairs but position yourselves across from one another. Then all you have to do is aim your frisbee toss at the "kan." If your teammate deflects the frisbee to hit the kan, you get one point. If the disc hits the kan on its own, that is two points. If your teammate taps the frisbee into the kan that's three points. If by some lucky chance you throw the disc RIGHT INTO THE SLOT, you win!
Promising review: "This is a ridiculously fun and easy lawn game. It's got the strategy of horseshoes with the fun of a team activity. The rules are simple, the equipment is made to last — if you are looking for a semi-active game to bring to the beach, family barbecue, or even company picnic, this is it!" —J. Caldwell
Get it from Amazon for $14.99+ (available in three styles).
8.
A playhouse for your kids (or friends' kids) that looks like an actual lil' seaside shack and'll make your backyard the go-to destination of the summer.
9.
Waterproof playing cards, so you can get a fierce game of Go Fish going without fear of the moment your kids inevitably spill their drink all over the table.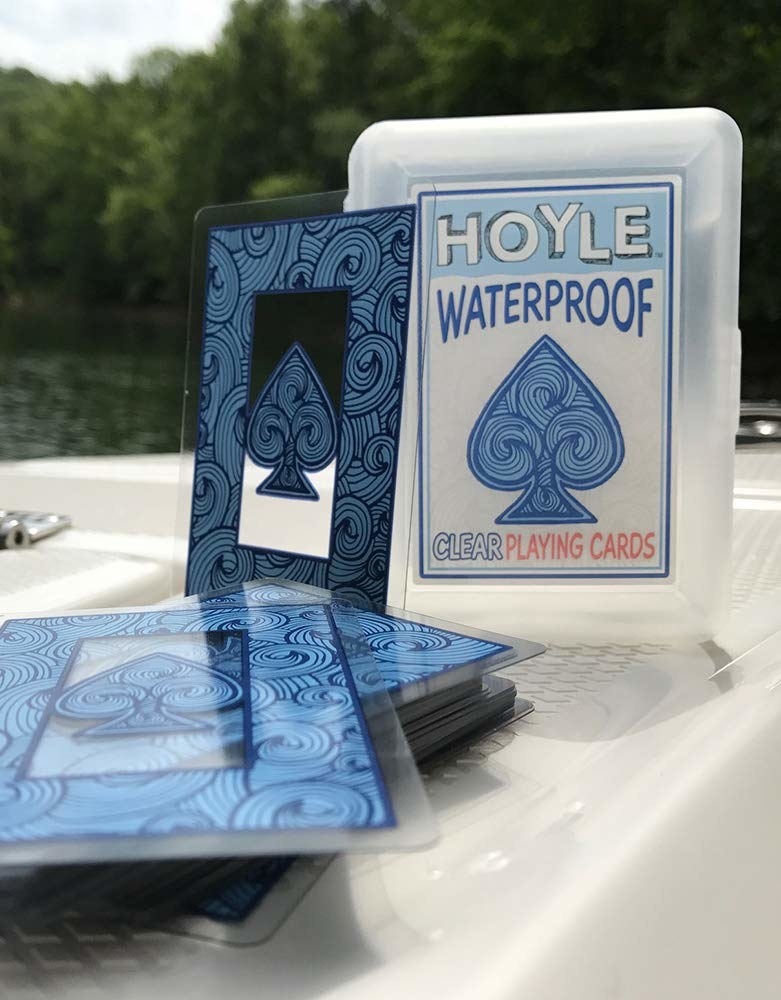 Promising review: "These playing cards are a HIT. I take them out with me for social events and when visiting people, even to the beach. We just play and play. So you can get them wet and they won't soggy up and tear, it just becomes a little hard to shuffle. It is so cool that they look like you can see right straight through them but you can't." —Tabitha
Get them from Amazon for $5.97.
10.
And a battery-operated card shuffler that'll ensure your kids won't need to ask you to do the daunting task for them each time they finish playing a round of Go Fish.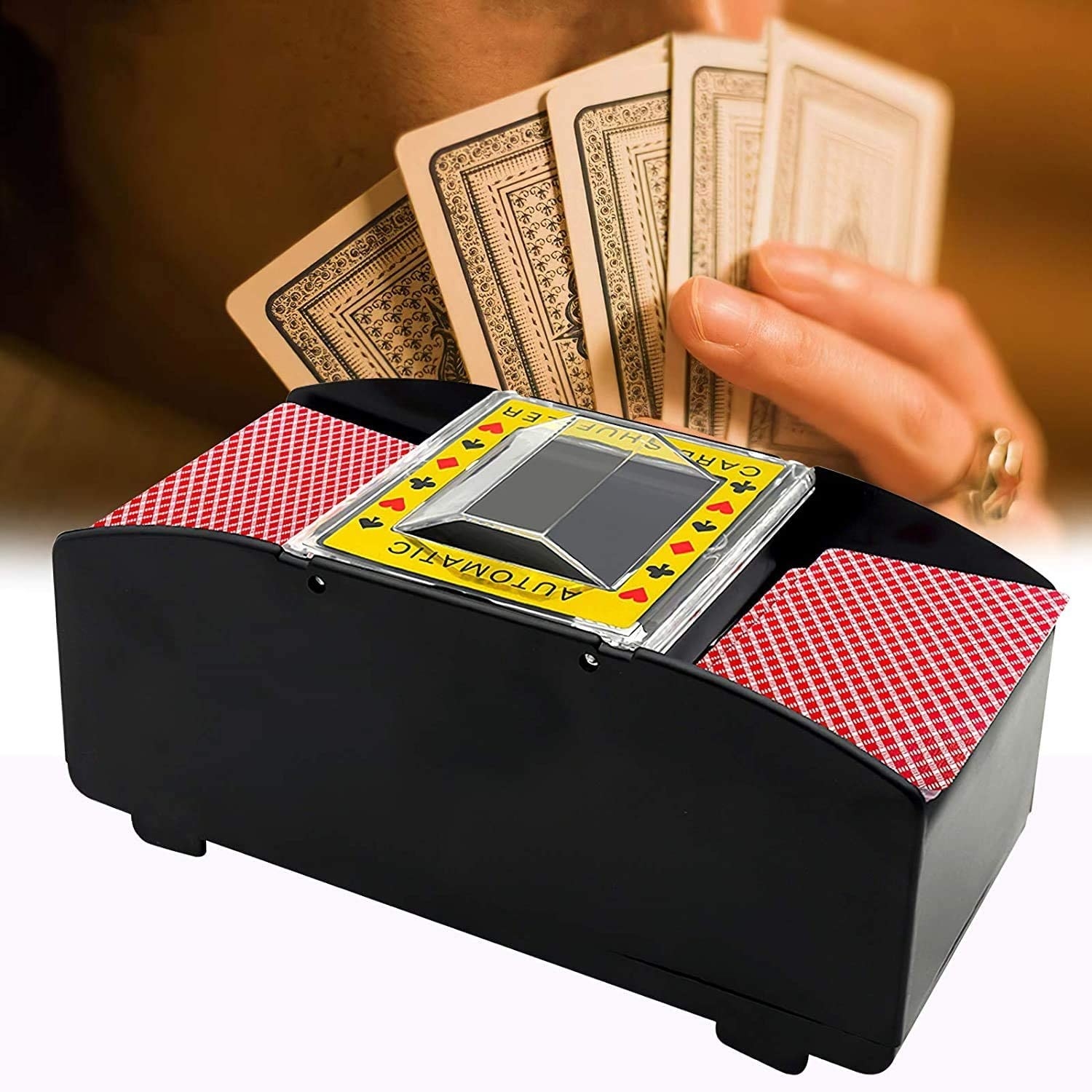 Promising review: "This is a great device for shuffling cards. We bought it for our younger children because they love playing cards, but hate shuffling cards (and aren't very good at it). This device does just as described. We actually put a smaller deck of Rook cards in it and it works just fine, so it's useful over and beyond a standard playing deck. I give 5 out of 5......would buy again." —Jessica Dasher
Get it from Amazon for $9.95.
11.
A portable karaoke microphone that'll transform your outdoor patio into a party from the moment you connect it to the app of your choosing. Ahem, that's just me clearing my throat to treat you all to my rendition of Aladdin's "A Whole New World."
Promising review: "We need something to let the kids sing without having to turn on the whole karaoke system. This works like a charm. The Bluetooth connection helps as well. You can just turn on YouTube and look for any song and they probably have a karaoke version or a song-a-long they can sing to. The range is also great. We were outside and the volume can be heard nicely." —Phong Bui
Get it from Amazon for $30.99 (available in 11 colors).
12.
A flying LED disco ball that might just become the light of your, ahem I mean, your kid's life. No dance party would be complete without it!
Promising review: "My kids love this flying glow ball! It's easy to control, just keep your hand underneath and it will hover right over. I would only use indoors as we took outside and it flew over our neighbor's fence! A little bit of wind is not good for this toy! Luckily we got it back, however learned our lesson to keep inside. It looks beautiful when it's flying as the colors illuminate on the ceiling! Very cool in the dark too! Great price and a lot of fun!" —Brian "SpookYouLaterz" Lubecki
Get it from Amazon for $9.96.
13.
A geode-breaking activity from National Geographic that'll give you and your kids an excuse to pick up a hammer and smash rocks in half. The best part? The cracked-open rocks will reveal stunning crystal centers you can learn about together.
Promising review: "We bought this for our boys who are 4 1/2. They loved the goggles and the magnifying glass that came with the kit. Breaking open the rock was a little more difficult than I thought. My boys definitely couldn't do it. You will also need to make sure you have a hammer and chisel to break them open. The rocks we got looked very different which is great! One was black on the outside and one was a creamy white brown color and the insides were very different as well. The lighter colored one was also much easier to open. The rocks are so much prettier in person and they really sparkle in the sun. It comes with a nice picture book as well. Great activity! Definitely recommend!" —Martin
Get it from Amazon for $19.99+ (available in two styles).
14.
A jar of stress relief therapy dough, because why should anyone inhale that very specific-but-not-necessarily-pleasant Play-Doh scent when you can unwind with a version that's the scent and color you've always wanted?
Quirky Ginger Uniques is small business based out of Colorado that specializes in handcrafted goods like ornaments, jewelry, and more.
Promising review: "I love the dough. It feels amazing! I bought this to fidget with during my therapy sessions and online classes, and it really makes a difference! First of all the Stress Away smells like very soothing peppermint tea with hints of minty freshness. All the scents blend very nicely together. The dough itself is a lot like Play-Doh but more malleable and softer. It makes my hand feel and smell good and helps relieve a lot of anxiety and anger. Only con I can think of is that occasionally it gets stuck under my nails but that is solved easily by clipping them. 9.5/10 I strongly recommend for stress relief, anger relief, for fidgeting, for the smell and texture. The owner was very nice and helpful, the item shipped very swiftly, and she even sent in a car freshie! Very satisfied with my purchase. I strongly recommend!!!" —K. Minton
Get it from Quirky Ginger Uniques on Etsy for $7.50 (available in eight colors and seven scents).
15.
Or a popping stress toy you can count on to mesmerize both you and your child. It's super lightweight and easy to take on the go — you might need one for every member of your family!
Promising review: "Pop-its are some of the most popular fidget toys and I believe everybody should have one. There is a soft and loud side. The only issue is that the soft side is a little harder to press but it gets easier once you have a technique. It is so fun and feels nice on your hands. Would definitely recommend!" —Charley
Get it from Amazon for $6.99 (available in 18 styles).