1.
A giant 10x10 blanket everyone in your home can pile under together when Mother Nature decides none of you should venture outdoors that day — throw on a nostalgic Disney movie and snuggle up!

Big Blanket Co is a small business that, obviously, creates HUUUUGE blankets. The blankets are made with four-way stretch, temperature regulating fabric, and can fit in standard-sized washing machines. 
Promising review: "I took the leap and bought my first blanket! I am in love with it! It is so soft. I love the weight it has. It keeps me at a good temperature. I have a feeling that I will be getting more. 😉" —Lelia R.
Get it from Amazon (available in 12 colors) or Big Blanket Co (available in 10 colors) for $159+. 

2.
A raincoat that'll keep you dry without sacrificing an ounce of your carefully curated style — it comes in an array of fun colors, so good luck choosing just one to add to your cart.

Promising review: "We just moved to Florida after 45 years in NYC. We get a LOT of rain here, very heavy at times, and I need a rain jacket that won't soak through. We live minutes from the ocean so I needed a windproof rain jacket for sitting outside for drinks or meals overlooking the ocean at local restaurants and bars. This coat is perfect for that, and so lightweight, it's easy to take with." —Karen B

Get it from Amazon for $43.99 (available in women's sizes S–2XL and 16 colors).
3.
An adjustable Columbia raincoat with the ability to fold up into its own pocket (!!!) perfect for keeping in your desk drawer, car, or handbag in case there's a slight chance of rain on the horizon.
BuzzFeed editor Chelsea Stuart has personally tested this jacket out:
"I purchased this jacket a few years ago before a trip to the Peruvian Amazon and it definitely came in clutch. If you're a frequent traveler, you'll appreciate not only how easy it is to pack, but that you can actually fold it up into its own pocket so you can store it in your backpack or purse when you don't need it."
Promising review: "To be honest, I was a bit skeptical with this jacket. Many reviews mentioned it wasn't water resistant and it didn't fit correctly. I decided to take a chance as I needed a light rain coat to take to Japan. Little did I know that a GIANT storm was rolling in before we left. I got a chance to try it out in a Texas thunderstorm, too... Which if you haven't heard are massive! The jacket fit great! It was a tad tight around my hips but still very comfortable. I am able to put another sweatshirt underneath and still feel comfortable. Now, for the functionality. I wore this for two days in the pouring rain and didn't get wet once! It also did a great job shielding the wind. The hood tucks nicely in the collar and is easy to put in and out. I work in emergency services and it is imperative to have a jacket that is waterproof for crazy storms that pop up. Very lightweight and super easy to throw in my purse just in case." —Sarah Crain
Get it from Amazon for $48.29+ (available in sizes XS–3X and 50 colors).
FYI, if you have Amazon Prime, you can give this a spin before you buy it!

4.
Nonslip sandals featuring squishy bottoms you'll find *so* comfortable whether you're wearing them around the house or prancing around in the rain — they're made of a material that'll dry quickly so no need to fear surprise showers.
Promising review: "Love them! So comfortable! Really your feet will not sweat. I notoriously have sweaty feet and nothing but perfection here. I just moved so I'm walking a ton of laps in my new place. They are great! Easy to slide on. Walk the dog. No breaking in! They are better than my Crocs! 😜" —Laura Green
Get them from Amazon for $18.99 (available in women's sizes 2–12, men's sizes 4.5–11, and in 16 colors).
5.
Short Hunter boots that won't feel clunky but will still protect your feet from the elements — what more could you possibly want out of your rainy day apparel???

I have and love my little Hunter boots — mine are in a playful red color that protects my tootsies but also adds a pop of vibrancy to my rainy days. They're extremely comfortable, don't feel heavy at all (which is something I've hated about other rain boots I've worn over the years) and are very easy to slip on and off.
Promising review: "Love everything about these boots! Perfect size to wear out and about in the rain. They keep my feet dry and are comfy and stylish. I've been wanting Hunter Boots for awhile and am glad I finally bought these. Love the color too!" —Cassie

Get them from Amazon for $86+ (available in women's sizes 5–11 and 17 colors).
Psst: This item is included in Prime Wardrobe, so you can give it a trial run if you're a member!

6.
Waterproof high-top sneakers, a must-have for anyone who hates wearing rain boots all day but knows they gotta wear something to prevent being stuck in wet, soggy socks.
Promising review: "These shoes have been a lifesaver for me at work while mowing wet lawns. They definitely will keep your feet dry unless you step in a giant puddle or something. Very durable. I am surprised they are still wearable after all the wear and tear." —Melissa Iverson

Get them from Amazon for $31.99 (available in sizes 5.5–11 and four colors). 
7.
An activity book that has been specifically designed for the writer to destroy once they've finished it — you'll get the chance to dig deep into your past, present, and future without any pressure to commit to daily journaling. Can't you imagine curling up with this and a soft blanket on a rainy day and just diving right in???
...and the celestial design on the front is stunning, if I do say so myself.
Promising review: "This book helps you understand that it's okay to be completely honest with yourself. The book itself was in great condition with clean pages. I can't wait to venture more into this lil' journey with myself. ♥️" —Molls
Get it from Amazon for $7.32.
8.
A beautiful paint-by-number for anyone who likes a bit more of a challenge while they unwind during a rainy day. This one is ideal because it's so gorg you can hang it on your wall as art when it's complete!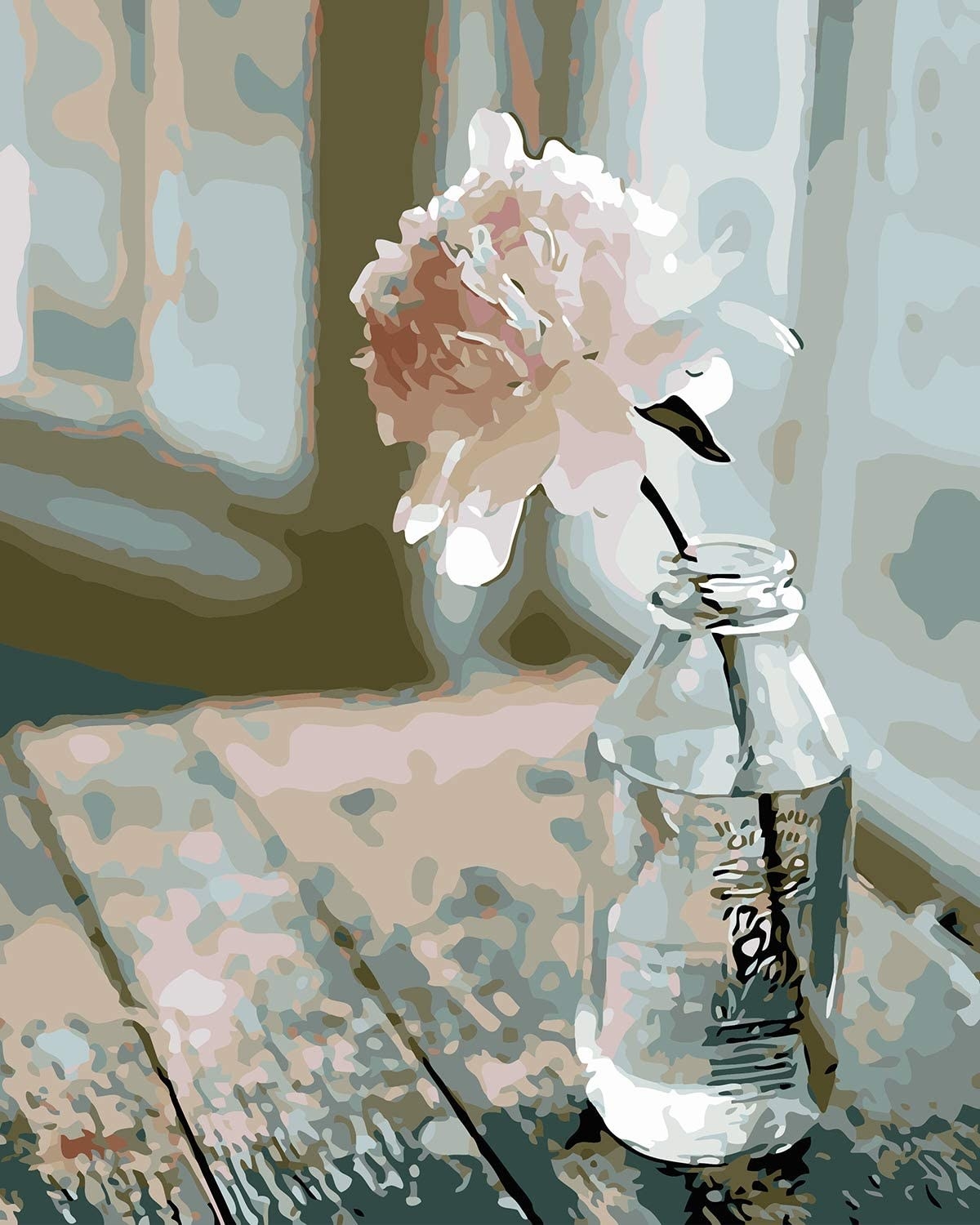 Each set comes with a detailed numbered outline, three brushes, and a set of numbered acrylic paints with extra to spare.
Promising review: "I loved this painting! I was worried that it wouldn't look right but it turned out perfectly! Way more than enough paint! Some lighter colors you had to go over twice." —Anonymous
Get it from Amazon for $12.79.
9.
A coloring book starring all kinds of cats happily having adventures all across the globe. (How cute!) You can grab your favorite medium to color with and settle in for a relaxing rainy afternoon at home crafting meow-sterpieces. 😉

Promising review: "Totally adorable without crossing over into being too, too cute. I almost didn't order it because there were no interior pages viewable, I'm so glad I did. However, this is not a book for those who prefer simple drawings to color — it's not excessive, but the drawings range from quite a bit of detail to a lot of detail. That said, they're incredibly fun looking and pretty much guaranteed to make you smile." —Ceili

Get it from Amazon for $6.99.
10.
A whimsical 500-piece puzzle to work on while hunkering down during one of April's showers — it comes with a double-sided fold out poster (fun!) and a a reusable resealable bag so when you finish it you can pass it along to a friend to enjoy next. Sharing is caring, after all.

Le Puzz is a small business that was started by two best friends who wanted to create vintage-inspired puzzles with an odd sense of humor (and they CLEARLY succeeded in doing just that!). Each Le Puzz puzzle box also has a fun game to play on the back! Additionally, each puzzle piece is randomly cut (no two are the same) and is made out of earth-friendly paper pulp.
Promising review: "First puzzle I've tried from Le Puzz. I like it a lot! The odd-shaped cuts make it interesting how the picture will end up coming together, compared to classical puzzle styles." —Gregory D.
Get it from Le Puzz for $32.
PS — You might want to invest in a puzzle roll, so if the sun comes out sooner than planned you won't have to lose all the progress you made/ leave a mess on your coffee table!
11.
The I Love Trader Joe's Cookbook complete with 150 recipes, all using ingredients you can pick up at your beloved supermarket. You can spend your next rainy day cooking up a storm ☔️.
Promising review: "For Trader Joe's lovers everywhere, this is a fantastic cookbook! It is filled with hints and tips, shopping guidelines, nicely organized recipe categories, and beautiful mouthwatering pictures. I love how the recipes are noted if they are gluten-free or vegetarian, etc. I ❤ Trader Joe's and I ❤ this cookbook!" —Love My Bookish Life
Get it from Amazon for $13.49.

12.
A sunrise alarm clock that'll wake you up so pleasantly you won't even notice that it's pouring and dark outside.
This lovely lil' gadget has seven different light settings, calming "wake up" noises, and can be set to gradually get brighter at 30, 20, or 10 minutes.
Promising review: "I got this recommendation from TikTok and it really has helped, especially with Oregon winters where the sun is not out by the time the alarm rings. It has several peaceful alarm settings and even has night music to put you to sleep. The sunrise with the alarm piano is what I play to wake me up every morning and it is a way better way than to wake up to an annoying phone alarm." —Amazon Customer

Get it from Amazon for $32.88. 
13.
A roll-on migraine stick to nip your pain in the bud before it gets out of hand and ruins the rest of your day — those horrid headaches always seem to show up with bad weather!
I actually did buy this for my best friend when she was starting to get so stressed-out about her daily migraines. It helped immensely!
Promising review: "I can't give this product enough stars! I have suffered from debilitating chronic migraines for years. Prescription medications, while effective, usually make me extremely tired and result in rebound headaches, so I rarely take them. This oil blend is especially great for the days when I have a migraine, but am unable to stay home and rest. This takes the edge off the pain enough that I am still able to go about my day and do everything I need to do. I also love the way it smells. I sometimes roll it on my wrists just to enjoy the energizing fragrance." —Lacey V
Get it from Amazon for $11.99.
Read our full review on the Migrastil Migraine Stick here.
14.
A Fellow Stagg electric pour-over kettle that'll look great sitting out on your counter (loooove that minimalist vibe) and help you make delicious pour over coffee and tea — perfect for cozying up with on a rainy day.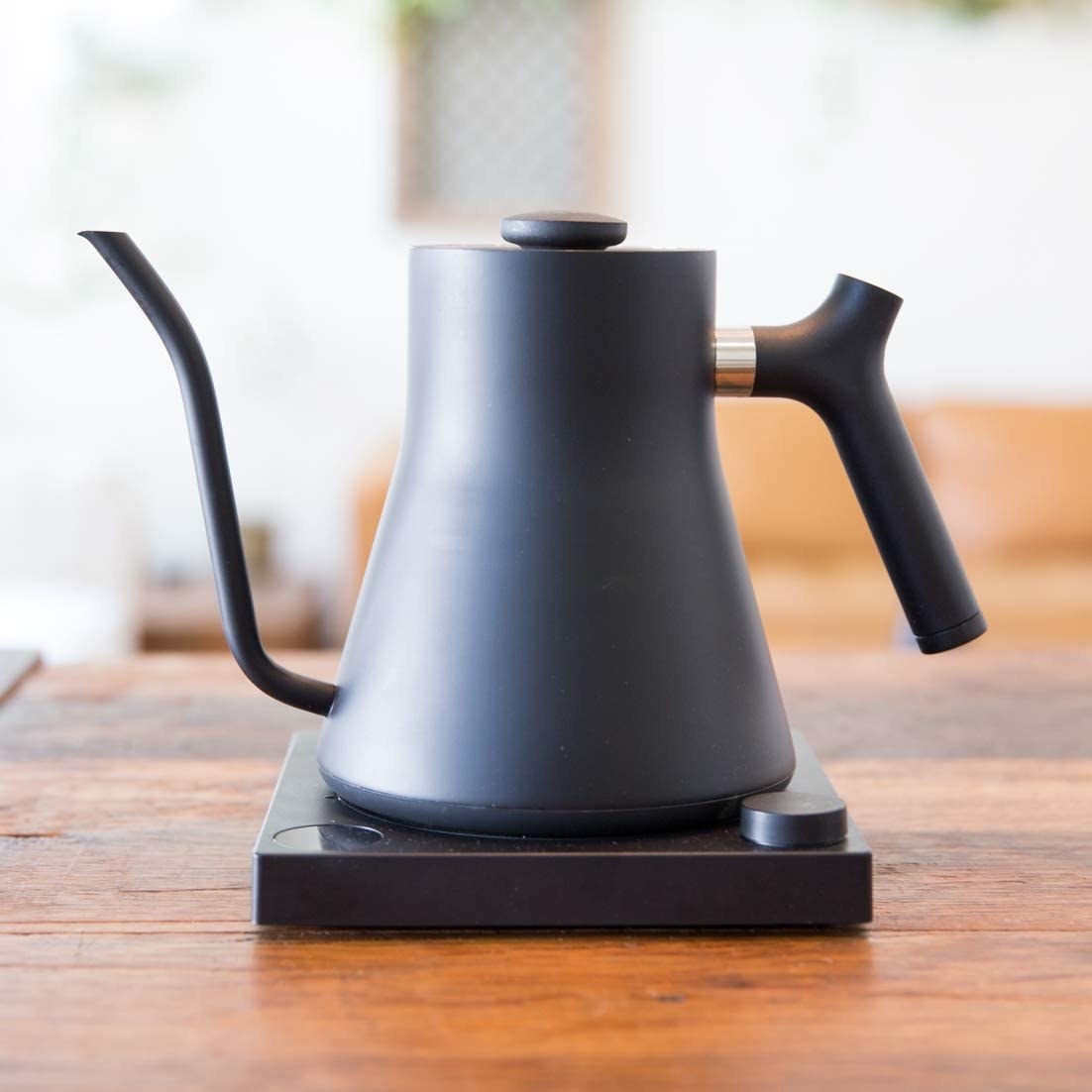 Promising review: "I was skeptical about purchasing this item because most kettles on the market are priced lower than this, but I do have to say: ***It is worth every freaking penny.*** This kettle heats up lightning fast to the degree chosen, holds temp, is easy to pour, and it did make the best cup of coffee in my life. Another thing that sets this kettle apart from any other electric kettle really is that it is very very easy to clean! It is worth the investment." —Allison J.
Get it from Amazon for $165+ (available in three sizes and seven colors).