1.
Beckham Hotel Collection Bed Pillows because the ones they've been sleeping on are starting to resemble Flat Stanley. It's time for them to upgrade their sleeping situation!
Promising review: "I purchased them two years ago. They are the most wonderful and comfy pillows I've ever had. When I read the reviews saying they washed up badly, I was ready to buy new ones. Lo and behold, I washed them and dried them in the dryer, and they turned out great. I just have the older type stackable washer and dryer set, not large, just regular sized. I put both pillows in the washer on gentle, then put both pillows in the dryer. I ran the dryer on medium heat and ran the cycle several times, just to make sure. I'm happy they turned out so well 'cause I love these pillows!" —T. Rune

Get a set of two from Amazon for $61.37+ (available in Standard/Queen or King sizing).
2.
COSRX Snail Mucin 96% Power Repairing Essence that'll have them wondering if Gary the Snail has been the reason SpongeBob has been looking GOOOOOD for all of these years — it soothes damaged skin while also repairing dark spots and improving skin vitality. 
Promising review: "Um...WOW! I have used so many products to help with my dry, red, and inflamed skin. During the winter it is so hard to keep my skin moisturized through out the day. Within two days I saw such a huge difference. So calming and gives you a nice, moisturized glow. I feel so much better knowing my skin is healing. I will use this in my routine for the rest of my life!" —Christina A.
Get it from Amazon for $19.18.
3.
And COSRX Snail Mucin 92% Moisturizer they've *absolutely* seen popping off all over their TikTok FYP — it'll pair perfectly with the Power Repairing Essence and assist in relieving their skin of redness and dryness. They might want to think twice before saying "gross" the next time they see a trail of snail slime in your garden...

Check it out on TikTok here!
Promising review: "I fought buying this, but after several friends swore by this I caved. I have sensitive acne prone skin but also have some fine lines. Let me tell you after applying this I immediately felt my skin calm down. And the next day my skin was glowing and my acne had diminished. This will forever be apart of my regimen." —arand5292

Get it from Amazon for $18.94.
4.
A dimmable sad duck nightlight guaranteed to bring a smile to their face each time they glance down at it. He'll not-so-happily become their daily desk companion. (We all need one, honestly.)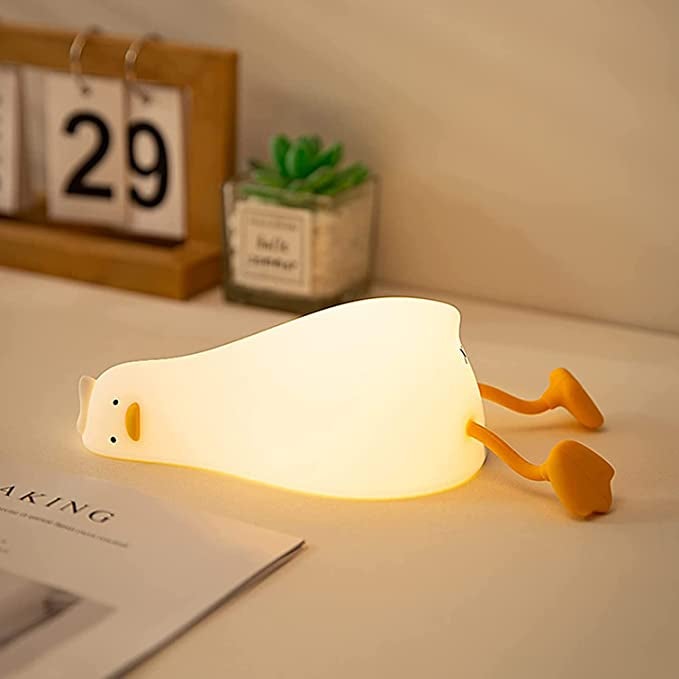 Promising review: "I ordered this lamp because of its appearance. I didn't NEED a depressed duck lamp ... but it has totally filled a void in my life I didn't know existed. Everyone who sees it pokes it. The lamp is actually very functional. It's got a really nice set of brightness options and the glow is yellowish, which is much nicer than white in a dim/dark room. One thing that isn't mentioned in the description is that its legs are utterly floppy. It's terrific." —Literated

Get it from Amazon for $15.99.
5.
Oversized flower-shaped hair claws that'll help salvage their Monday mood — even on their worst hair day yet. How could anyone possibly stay grumpy when their updo looks like a garden?

Promising review: "These are cute colors. I bought these for my 12-year-old daughter because everybody was wearing them on TikTok. She has long length hair that is medium thickness and it holds it in an updo just fine. These are sturdier plastic and not made of the typical clear fragile kind." —Mamamia28
Get a set of eight from Amazon for $13.99. 
6.
A special edition set of Little People figures inspired by Barbie: The Movie to ensure they'll have *the best day ever* even if they're just scrolling through emails.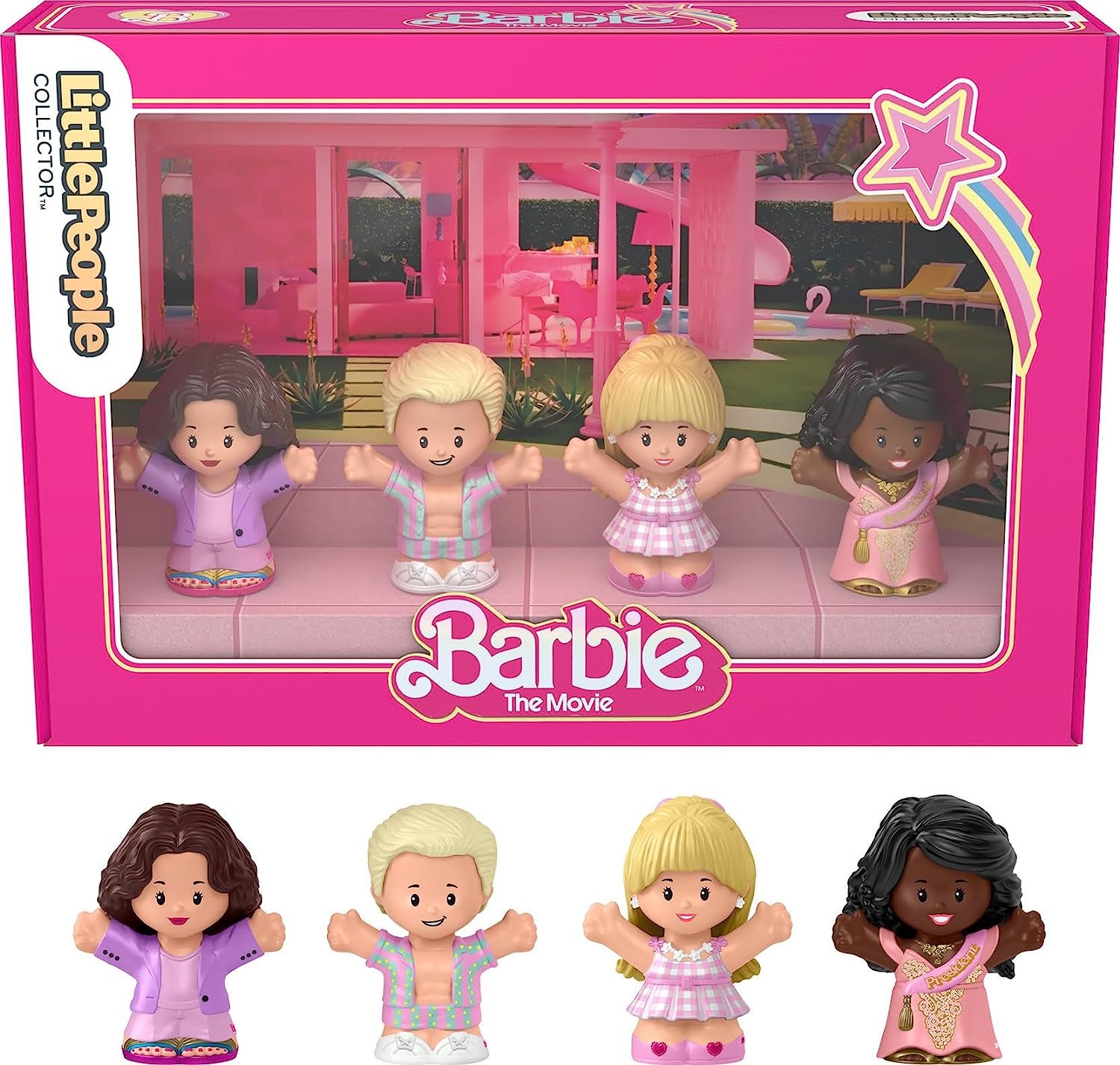 The set comes with Barbie dressed in gingham, President Barbie, a beach-ready Ken, and Gloria in her power suit. S'cute.

Get it from Amazon for $24.99.
7.
Tozo earbuds many swear are *just* like AirPods but for waaaaaay cheaper — a must-have for your coworker who sits next to that one person who always seems to be loudly blabbering away on the phone.
Check out a TikTok of them if you're not yet convinced!

My colleague Elizabeth Lilly has and loves these: 
"I use these for work calls on my laptop! I also use these on the reg in my everyday life to listen to Spotify and podcasts, and even talk on the phone. I have to charge them about once a week and always keep them in my coat pocket."
Promising review: "Okay these are by far the best earbuds I've ever used. No exaggeration. My husband had these in his Amazon cart a couple of months ago but never checked out. Well it's about to be Christmas soon, so I chose to get these on the sly for him. When they came in I wanted to make sure everything was working correctly before wrapping them up for Christmas. The sound quality is absolutely perfect, the noice cancellation is AMAZING! They were on low and the sound was crystal clear. I asked my 6-year-old son to talk so I could see how well they canceled out noise and I couldn't hear him, so I told him to shout and I still couldn't hear him at all. My husband will absolutely love these!! Also, now I need to get myself a pair as well! Definitely happy with my purchase!" —Ashley Haley
Get them from Amazon for $23.99+ (available in five styles). 
Be sure to clip the coupon for an addition $5 off!
8.
A mug warmer that'll make sure they actually get to take a sip of hot coffee even if they've gotten distracted by a bazillion tasks since brewing it in the office kitchen.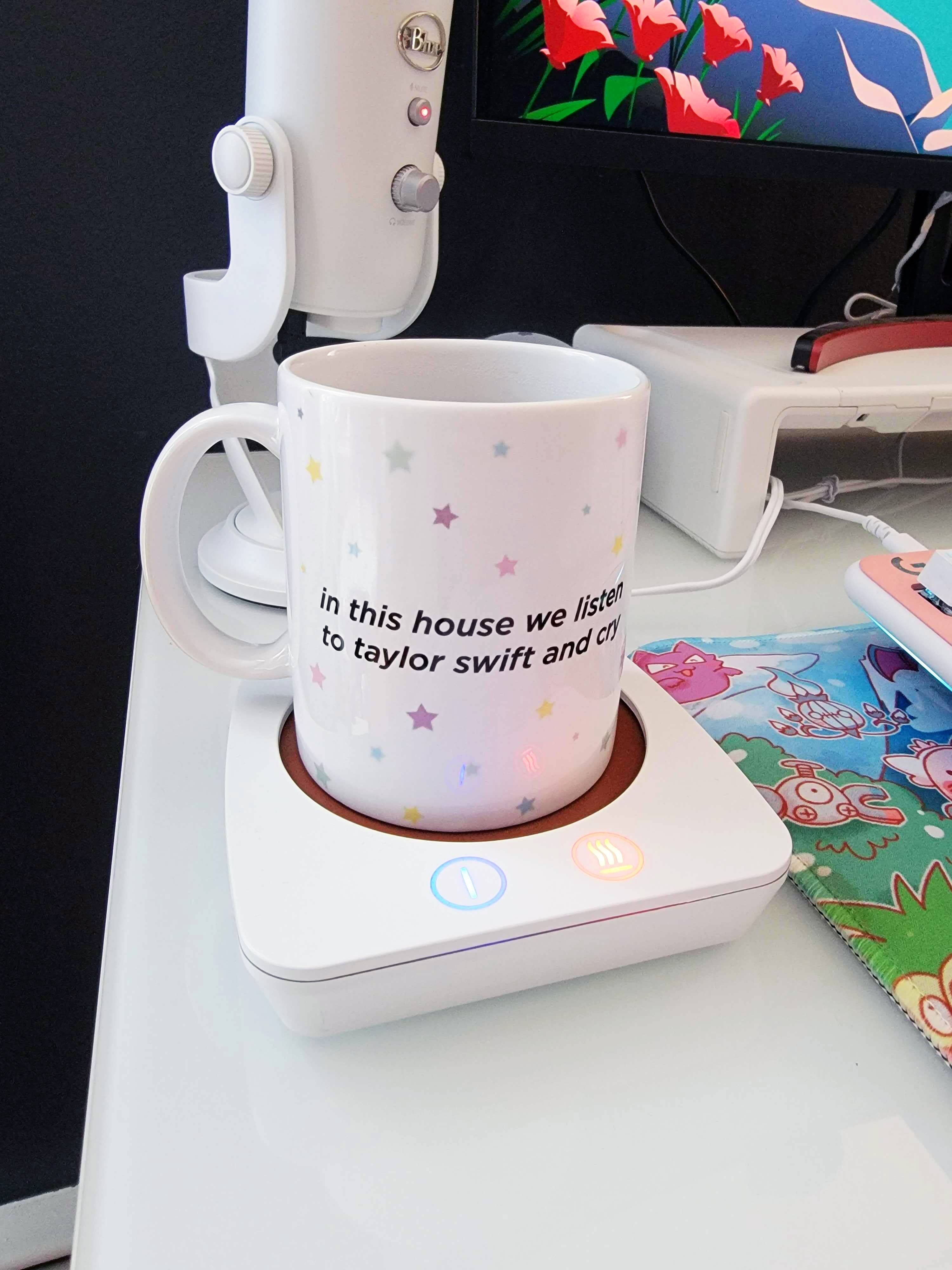 BuzzFeed editor Jenae Sitzes can confirm this gadget is worth the money:
"After seeing this coffee warmer all over BuzzFeed Shopping and even gifting my dad one for Christmas, I finally decided to buy one for myself. Based on all the reviews, I was pretty confident I'd soon be kicking myself for not getting it sooner, and that proved to be true: This thing not only looks good, but works great for keeping my coffee warm all day long. (Because yes, I'm one of those people who will sip on coffee until 5 p.m., all right!!) I was kind of worried it'd be too small for some of my larger mugs, but the center plate is bigger than expected and accommodated every mug in my (very eclectic) collection perfectly. I can confirm that flat-bottomed mugs are the best option for using with this warmer as they do stay hotter, but it still keeps my concaved-bottom mugs warm enough for my taste. Also, I looove how sleek the white version looks on my white desk, and the auto-shutoff function is a nice safety feature as an absent-minded person."
Promising review: "I researched so many coffee warmers and am so glad I decided on this one. It definitely keeps my coffee hot, no matter how long it takes me to drink it. I also like that it has three settings. As you drink down your coffee, you can lower the heat because it keeps the coffee very hot. I like it so much I ordered a second one for another part of the house." —hottytoddy
Get it from Amazon for $24.29+ (available in eight colors).
9.
And a "Book Club" mug, in case they enjoy sipping on hot tea or coffee while they mentally escape into a whole new world courtesy of the latest book they checked out from the library.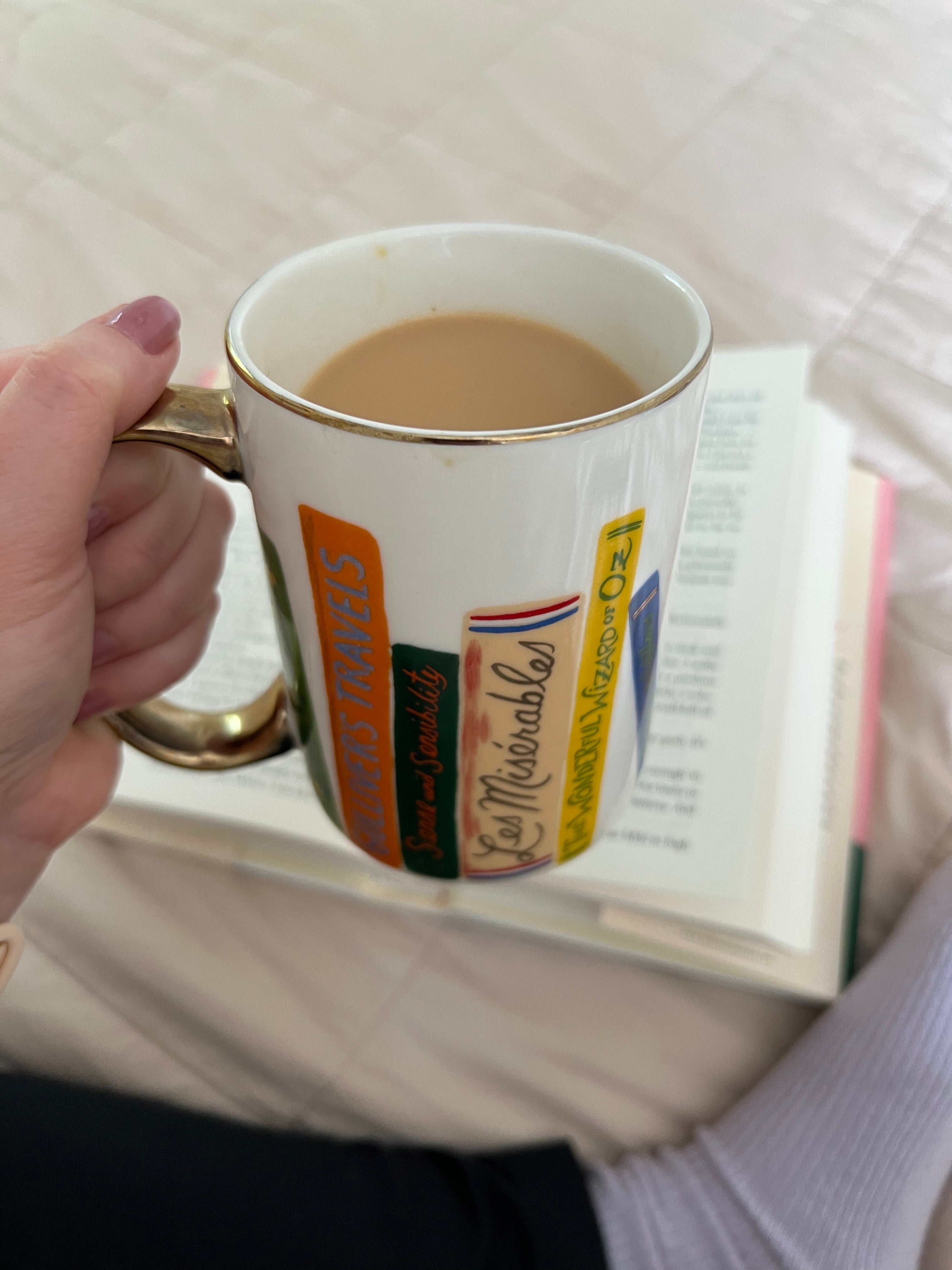 I have this mug and it's one of my favorites. It's from Rifle Paper Co, a woman-owned small business, and it is covered in stunning classic novels. It's an absolute must-have for any book lover. It is, however, worth noting that it cannot go in the dishwasher or microwave! If you love this design as much as I do, you should also check out this beach towel and this notepad featuring similar styles (yes, I have both).

Promising review: "Love this mug! I am a Jane Austen fan and I cannot wait to curl up with my book and hot chocolate in such a cute mug! Ah thank you!" —LexiAmazon Customer
Get it from Amazon for $25 (available in 11 styles).
10.
A Taylor Swift Little Golden Book adults and kiddos alike will cherish, I'd be remiss not to say it's "the best thing that's ever been mine." The illustrations are gorgeous and it'll look so cute on display in their home.

I have this book (as pictured above) and by that I mean the second I saw it available for pre-order I added it to my cart faster than you could say "We Are Never Ever Getting Back Together." As the parent of a 1-year-old, I have many Little Golden Books in my home. However, this one is just STUNNING. I'm a big fan of Taylor (obviously) but was really enamored by how beautiful the pages are. I was so excited to read this lil' biography with my son and teach him a little more about someone I adore. (Which it does a great job of doing in a pared-down way!) It's a short book, looks cute on my desk, and is a hit for bedtime story time. What more could you want???

Get it from Amazon for $4.99.
11.
A set of LED lightsaber chopsticks that'll make their weekly sushi lunches just a bit more fun.
Promising review: "I purchased these for a friend's birthday present (he is a sushi waiter) and these are flippin' AMAZING. I ordered two sets by mistake, but I am totally keeping the second pair for another gift (or for myself!). These are sure to be great conversation pieces and attention-getters. Way to go!" —T. Redwood
Get two pairs from Amazon for $12.97.
12.
A sleek time-marked water bottle they'll love for its aesthetic — must-have for anyone who has been very meticulous about what they display on their desk.

Arcana is a small business that sells stylish, practical water bottles.
Promising review: "Saw it on TikTok and thought it would be a great bottle for work. It is very sleek and lightweight enough to carry when you have other items in your hand. I love the modern look and cleans very easily! The time increments really do motivate, definitely ordering again for myself and gifts. Fast delivery and very nice packaging." —Rosa

Get it from Amazon for $16.99+ (available in three colors and two sizes). 

13.
A 1,000-piece Mystic Maze puzzle with over 50 hidden Easter eggs in it! It's a real journey of an activity (including a hidden twist at the end!) that'll delight and amaze anyone who works on it.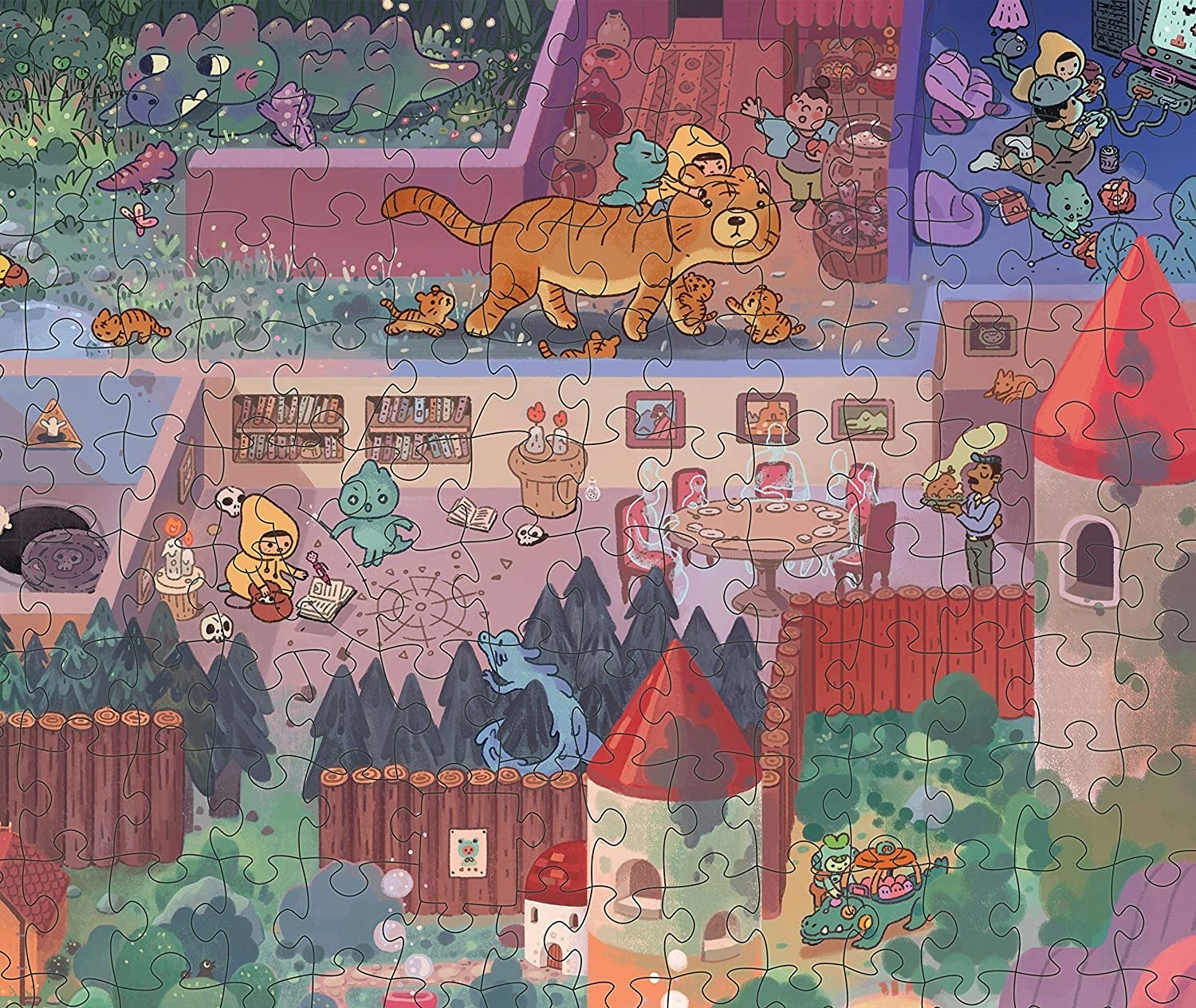 You can check out a TikTok of the Mystic Maze puzzle in action (but warning, it will spoil the surprise!). 

Promising review: "I bought this as a gift for my husband because he absolutely loves puzzles and magic, so it was a no-brainer! I was honestly way more excited to finish putting this puzzle together than a normal puzzle because I couldn't wait to see the end result. Blown away. I'm super impressed and will be purchasing a different version. Oh, and they weren't kidding about the no dust in the box...very pleased with this purchase!" —Nlbrimberry
Get it from Amazon for $22.99.

14.
Taco Cat Goat Cheese Pizza — a card game they can play with their squad (turn it into a drinking game?!) on cold winter nights or even at the beach when the weather is warm.
You deal all the cards out to your two to four players, and everyone keeps their mini-deck face down. Everyone takes a turn putting a card down in the middle of the table, saying one of the words "taco," "cat," "goat," "cheese," and "pizza," in that order. If the picture on your card matches the word that's said, everyone slaps their hand on the card in a pile as quickly as possible. The last person on the pile has to take the stack and add 'em to their cards, and whoever runs out of cards first wins!
Get it from Amazon for $9.84.