1.
A TikTok Bluetooth scrolling remote that'll take your laziness trait to the next level but leave you feeling smug at the same time for working smarter not harder. You can set this bad boy up then get under your covers and enjoy some seriously cozy scrolling, hands-free.

You can also use the remote to take selfies on your phone from afar! 

Check out a TikTok of the remote in action!
Promising review: "I love this for scrolling through TikTok videos on my phone while I'm in bed. It is comfortable to wear. I use it with a mounted phone holder, so it's completely hands free! I would definitely recommend this to anyone who spends hours scrolling on TikTok like I do!" —Shawn P.
Get it from Amazon for $22.95+ (available in three colors).
2.
An outlet timer you can attach to the lamp on your bedside table or the twinkle lights you've recently hung above your bed to ensure you stop falling asleep with all of your lights on.

Check out a TikTok of the outlet timer in action. 

Promising review: "I was looking for a better countdown timer to turn off corded entertainment devices after I fall asleep. The one I've been using has small buttons and a LCD display. Although any countdown time can be set on it, the display is hard to see in low lighting. This BN-LINK has larger buttons and knowing their order allows me to select a preset time in the dark. Yes, not infinitely flexible, but 15 and 30 minutes, plus 1, 2, 4 and 6 hours is close enough for my needs." —Picky Consumer 01
Get it from Amazon for $11.99. 
3.
A set of Wonder Hangers you'll be absolutely amazed by once you see just how much closet space you'll get back after setting them up — which will mean more room for new clothes!

Check out a TikTok of the Wonder Hangers in action. 

Promising review: "These are so clever and versatile! I live in an old house with tiny closets so I have to get creative. These are great because they can be used hanging horizontally or vertically. I also found they work great for hanging camisoles and tank tops. I can see what I have and take just the one I need!" —Therese Van Heuveln
Get a 10-pack from Amazon for $13.99 (available in three colors and four pack sizes).
4.
A sunrise alarm clock that'll wake you up so pleasantly you'll forget that you're supposed to be cranky about heading off to work.
This lovely lil' gadget has seven different light settings, calming "wake up" noises, and can be set to gradually get brighter at 30, 20, or 10 minutes.
Promising review: "I got this recommendation from TikTok and it really has helped especially with Oregon winters where the sun is not out by the time the alarm rings. It has several peaceful alarm settings and even has night music to put you to sleep. The sunrise with the alarm piano is what I play to wake me up every morning and it is a way better way than to wake up to an annoying phone alarm." —Amazon Customer

Get it from Amazon for $42.98. 
5.
A set of motion-activated bed lights for a lovely soft lighting option you can count on to be there for you when you hear a bump in the night.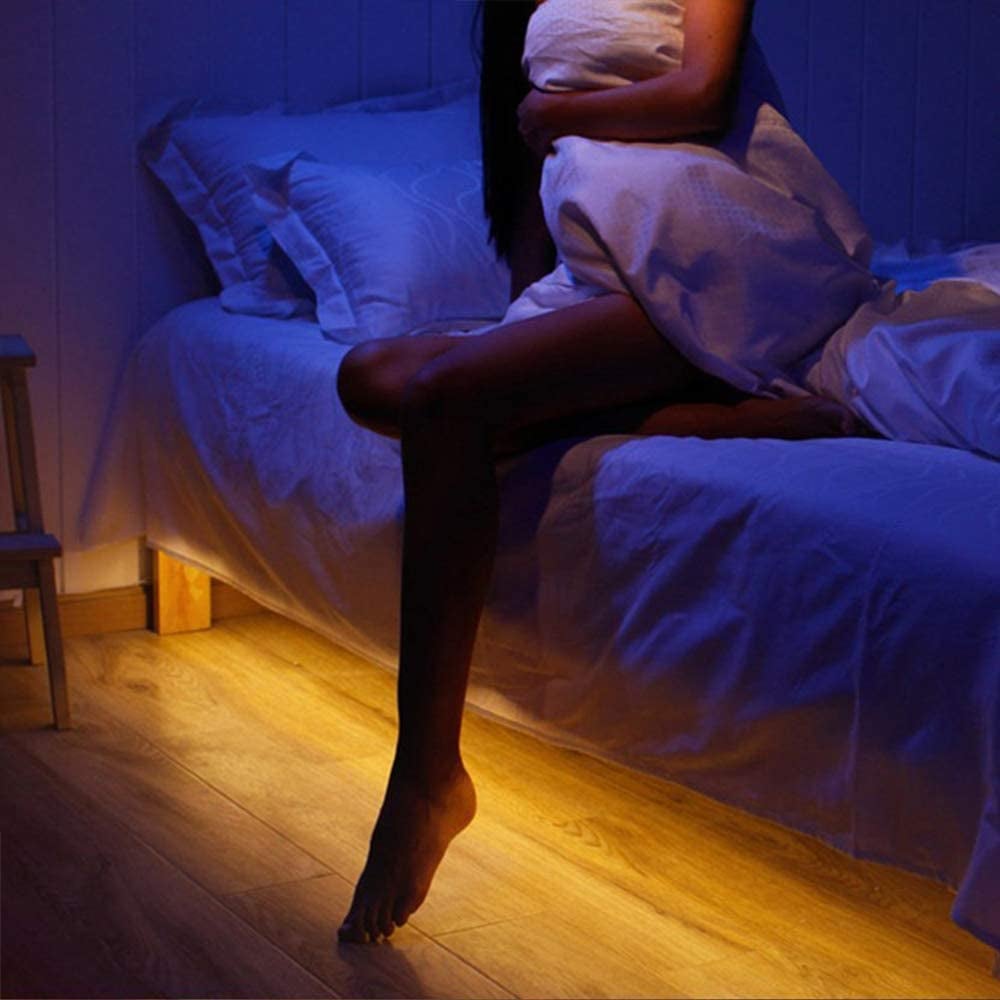 The lights have an auto-shutoff feature so no need to fret about your room being lit all night.
Check out a TikTok of the bed lights in action. 

Promising review: "My husband wanted a nightlight in the room but I didn't. I attached these under his side of the bed and put the sensor at the foot of our bed. The sensor 'sees' us coming in from the hall, from the bathroom, or him from out of the bed. We keep them at 10% and that's enough light for him, but doesn't wake me up. They are perfect!" —Lisa Hummel
Get it from Amazon for $20.99. 
6.
A SwitchBot Smart Switch Button Pusher you'll likely want to buy for every single switch in your home (apologies) as you'll be able to use it to transform *any* device into a smart one! Once you set it up you'll be able to use Google, Alexa, or an app on your phone to control it. Technology, man.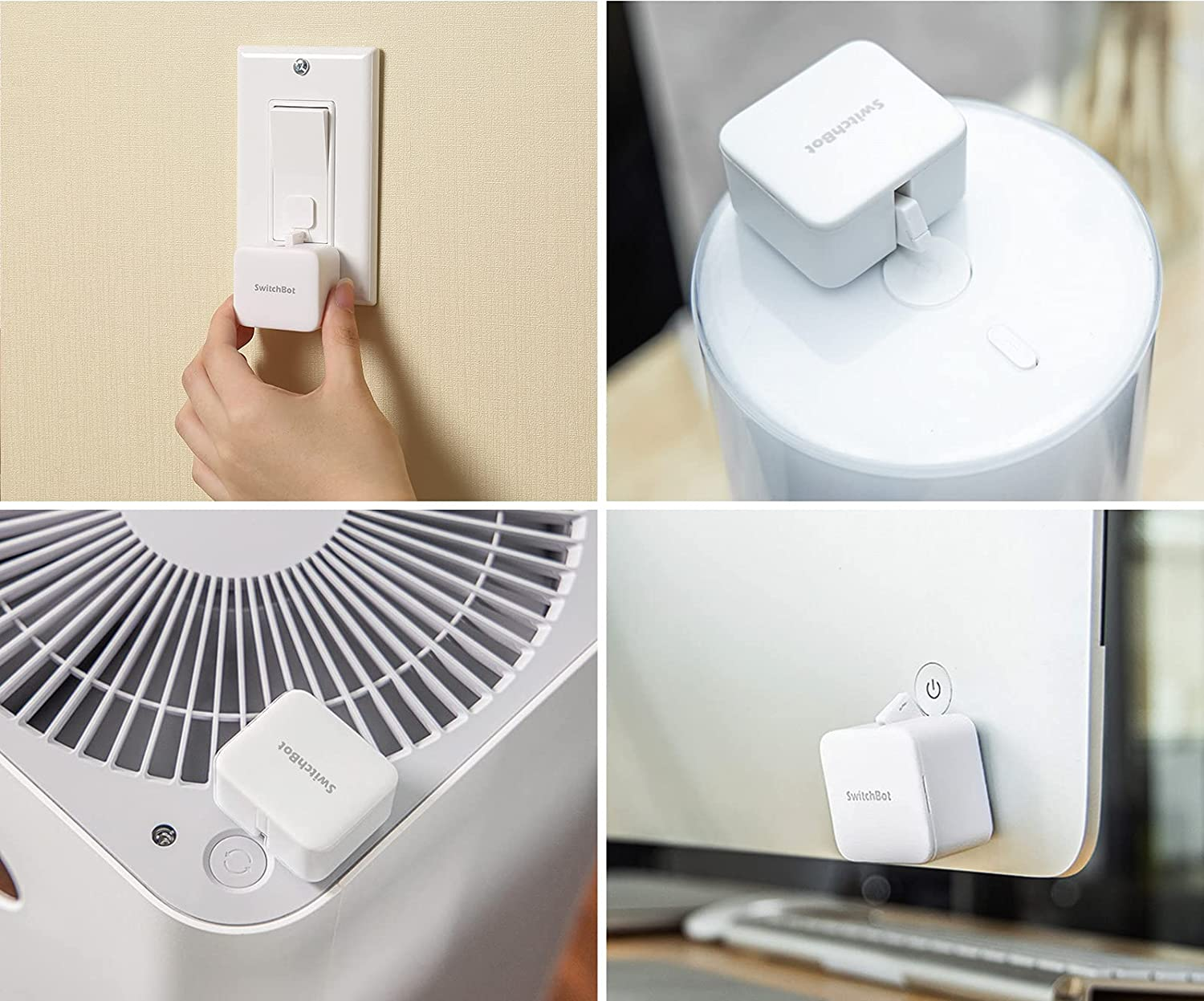 Reviewers love this because it doesn't require you to "smart enable" other parts of your home. I need to get one of these for my husband who drags himself out of bed every morning to turn on his espresso machine.
Promising review: "This is exactly what I was looking for and had no idea it existed until I saw someone mention it on TikTok! Our front walkway gets pretty dark at night, and I was frustrated with trying to remember to turn on the light every evening and off every morning. I looked into those light sensors you can plug in, but our front porch light is under an awning with enough shade that it would have kept the light on 24/7. This little Switchbot solved the problem. I applied it to the indoor light switch and set the time on my phone. It has worked perfectly ever since." —Alecia McLochlin
Get it from Amazon for $29.99 (available in white and black). 

7.
A zippered sleeve to keep all of those pesky wires and plugs under control and out of your way so when you finally get around to hanging your fabulous new TV on the wall it won't look like a hot mess.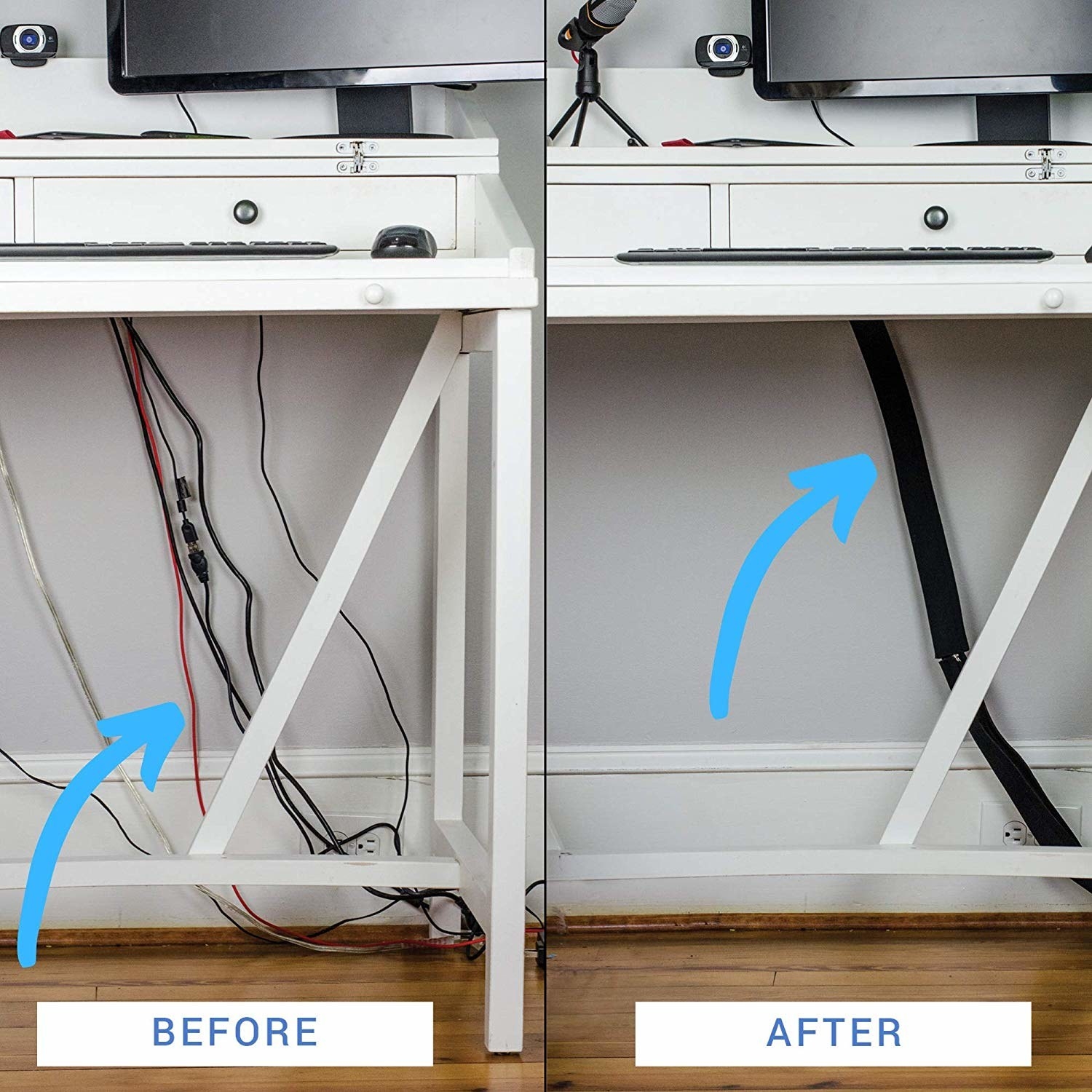 8.
A set of flameless LED candles with a timer feature to bring a calming ambiance to your room without the added worry of "OMG, did I leave that candle on?" if you accidentally doze off.
These have a 10-key remote that allows you to control the brightness, flicker, *and* choose between a 2, 4, 6, or 8-hour timer. PS, get some batteries!
Promising review: "Love these! I don't like to burn real candles because I can't handle scents, but I like the look of candles as part of decor and candlelight. I hate those cheep faux wax looking ones. These are much more sleek and fashionable. You can't immediately tell they aren't real. It's not glass but a very sturdy hard plastic which I prefer with a toddler running around. My only small complaint is the remote sensor can be weird. The candles can be right next to each other, and sometimes, not all three will turn on, so I have to hit the button three to four times. There's also a flicker light option which helps make them more realistic. Buying more!" —Amazon customer
Get it from Amazon for $27.99+ (available in four colors).
9.
A mini beauty fridge that'll keep your skincare products (think: serums, rollers, the works) chilled so they'll feel super refreshing on your face before bed.
10.
A handheld lamp you will surely find yourself *mooning* over each night.
Check out a TikTok of the moon lamp in action. 

BuzzFeed writer Emma Lord is obsessed with this gadget:
"UMMMM I bought this because it was on one of Amazon's top selling products pages for so long that I was like "Why are people so obsessed with this moon!!" And now, my friends, I know. First of all, it really does look hyper realistically like a small moon and adds a chill vibe wherever you plant it. But it's also just so soothing to watch and have in the periphery. You can control dozens of different colors for it and either keep it on those colors or have them alternate, fade quickly, or fade gradually. It's super easy to charge and controlled by a remote, so you can move it off its stand and have it light up wherever you want. These days I tend to turn it on for my designed ~me time~ night every week, in which I will light a candle, pour a glass of red wine, read a romance novel, and, of course, light my lil' moon. Definitely one of my favorite 'the internet made me do it' purchases."
Get it from Amazon for $19.99+ (available in eight sizes). 
11.
A heated eye massager complete with five different massage modes and Bluetooth music so you can fully indulge and relax while relieving pain from eye strain and headaches.
12.
A color-shifting mushroom light because you're a ~fun guy~ and will totally appreciate the cozy lil' cottagecore aesthetic these bring to any room.
Check out a TikTok of the mushroom nightlight in action. 
Promising review: "I LOVE this night-light. It's in my bathroom and is a lovely addition. It turns off the second the lights go on, which is nice because I don't have to worry about accidentally leaving it on. Super cute and the little itty-bitty lighting element does a good job lighting, just enough so I don't have to turn the main lights on in the middle of the night." —1Thand
Get it from Amazon for $5.97. 
13.
A Himalayan salt lamp you'll love if candles make you sneeze because it'll create a similar soft, warm glow without additional scents.

Promising review: "Love these lights — actually have two sets now for two different bedrooms. Each lamp is unique and they come in different shapes. The instructions are easy to put the light inside and the dimmer switch is great for getting the right level of light. I turn these on at bedtime and can even read a book when the light is on the highest setting. They are salty (hahaha, I did actually lick one to see), and there are some parts of them that can break off a bit if you were to drop something on them, etc. So, make sure you put them in a place where they won't be knocked around. The color is really beautiful and they are also lovely for staring at during meditation or just to relax." —Skye Schulte
Get it from Amazon for $27.22.