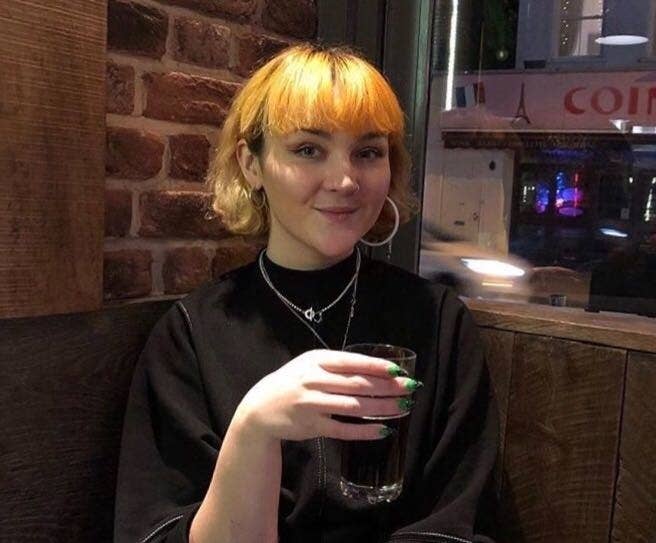 A student who waited more than three months for a response from her campus mental health advice service said universities should allocate more resources to meet increasing demand.
Jemima Pegden, 21, transferred to De Montfort University in Leicester for the second year of a degree in fashion buying and marketing, and ahead of her arrival, she contacted the university health services about her anxiety.
Although she is only partway through her course, it would be the third university she enrolled in. She had left two previous institutions in frustration over the mental health provisions.

"I emailed before I even started because I always know there's a massive wait," she told BuzzFeed News.

But it was not until the beginning of her second term, after months of frustration and worsening anxiety, that she heard something back. She tweeted a screenshot of the reply she received from the university on Jan. 3, appearing directly below the email she had sent on Sept. 18.

"MH services at UK universities epitomised in an image," she wrote.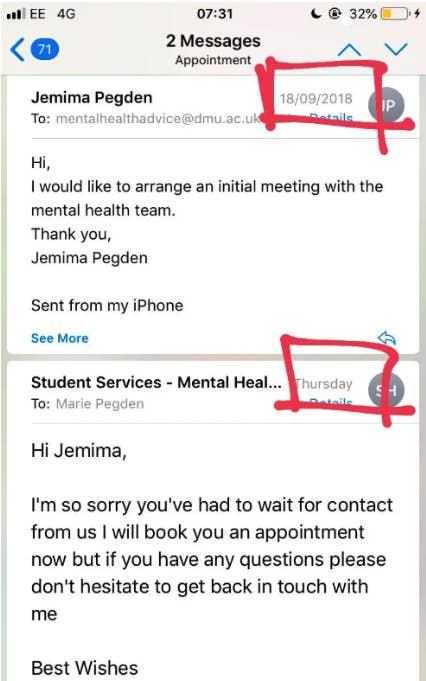 "I think the only reason I got a reply is because I emailed my personal tutor saying, 'I'm really struggling, I'm really finding it very difficult to come in or even check my university emails because I'm so anxious about it'," she said.

"Then I got that email about it, so I guess she flagged it up to them."
Pegden has subsequently attended mental health appointments that she has found helpful. Her experience comes amid increasing demand on universities' mental health services.

During the three-and-a-half-month wait for a response, Pegden said her anxiety prevented her from attending classes.

"You kind of feel overlooked, you feel like you're being ignored. The main thing with anxiety is that you feel like it's such a massive deal for you, and it's so intense and so horrible because it completely changes how you live your life.
"You're aware that people who don't have anxiety don't understand, and find it very difficult to understand what it's like, because they think, 'just get over it', and it feels like that's reflected by the university.
"You get quite irritated. ... You are quite frustrated with the university and you don't want to harass them, because you don't want to be that person [asking them] all the time. I don't think it's their fault, I don't think they really are sat there saying 'just get over it'. But it does feel like that."
"You kind of feel overlooked, you feel like you're being ignored."
A spokesperson for De Montfort University said it was "exceptionally rare" for students to encounter problems with its services, adding that the institution could not comment on individual cases.

"We are very sorry to hear that one of our students has experienced a delay in receiving our services," they said.
"We take the mental health of our students extremely seriously. We go to strenuous efforts to provide a timely and good quality service and we can confidently say the feedback we receive from students is excellent.
"We do however recognise that there is always more that we can do and have instigated a university-wide approach to student wellbeing called #Healthy DMU."
Around 25,000 students attend De Montfort University. There are 10 members of staff on its mental health team, including trained mental health mentors, as well as what a spokesperson described as "inclusion" and "intervention" staff.

The spokesperson added that the average maximum wait time for appointments made online or over the phone is two weeks, and said there is a complaints procedure for students who experience difficulties with the services.
Universities UK, which represents British universities, said that the institutions cannot be expected to meet increased demand alone.

"Across the UK, we are seeing an increase in the number of young adults disclosing mental illness and this is reflected at universities, where there is rising demand for student support services," a spokesperson told BuzzFeed News.

"But universities cannot address these challenges by themselves and we are working closely with the NHS locally and nationally to address needs and ensure students are provided with the right support."

However, Eva Crossan-Jory, vice president of the National Union of Students (NUS) responsible for welfare, said that the onus is on universities to meet the mental health needs of their students.

She pointed to Pegden's case as evidence that services "remain wholly inadequate" on many campuses.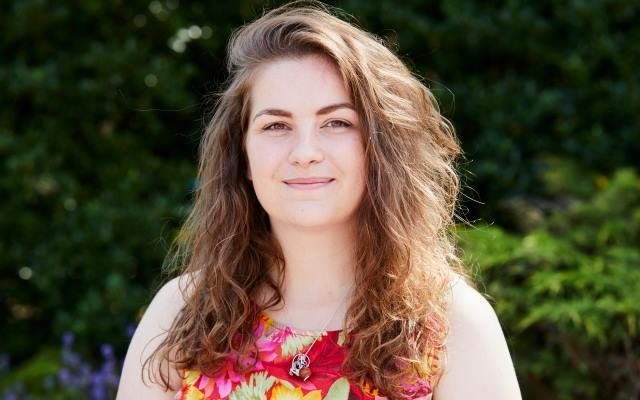 "Universities say that there has been a growth in demand for student mental health services over the last decade — which is true, in part, because the reality of studying in the UK has changed so much," she said.
"With fees so high, and the job market so competitive, students feel they have to continually push themselves perhaps more so than before. This means that many more are chronically sleep deprived and overworked — there is also an increase in reports of loneliness, isolation, depression and anxiety.

"Providers nevertheless have a responsibility to meet this increased demand, and there is clear evidence that they are failing to do so."
Crossan-Jory agreed that universities need to work with external organisations, particularly the NHS, to assess students' needs and the required investments to address them.
Pegden said that accessing counselling at the university itself, rather than through an external provider, was important to her. Not only would it mean avoiding a potentially long wait for help elsewhere, but, more importantly, she believes that her anxiety is directly related to her life on campus.
"University is an environment that I particularly — and I know a lot of other people — find really detrimental to their mental health for some reason. You can't quite put your finger on it, but it really does have a big effect on how people feel in so many ways, and it seems to be negative mainly," she said.

Pegden said that she did not suffer from anxiety before she became a student, and feels that, with fees of £9,250 a year, universities should allocate more resources to students struggling in the environment.

She added: "I think if you're putting people actively in a situation where their mental health is getting worse, you need to either change what you're doing that's doing that, or put the money in when people need the help."