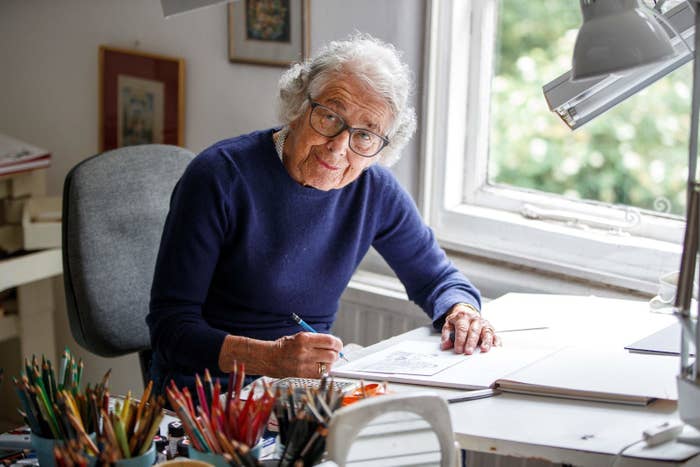 Tributes have been pouring in for British author and illustrator Judith Kerr, creator of children's classics such as The Tiger Who Came To Tea, who died on Wednesday aged 95.
The German-born writer, whose family fled Berlin for Britain to escape Nazi Germany, has been described as "legendary" and responsible for teaching "whole families how to love books".
Kerr died at home following a short illness, according to a statement issued by publisher Harper Collins on Thursday.
Among the works published over her 50-year career were the autbiographical When Hitler Stole Pink Rabbit, which tells the story of the rise of Nazism from a child's perspective, and the Mog series, about the adventures of a cat and her family.

Other British children's writers took to Twitter to pay their respects, including Britain's Got Talent judge David Walliams.
Other writers and journalists also paid their respects, praising her books' ability to bring families together.
Labour MP Jess Philips shared her own story about how her family were inspired by Kerr's first book, The Tiger Who Came To Tea – a story about a girl and her mother who welcome a tiger in for afternoon tea, only to find that he consumes everything in the house and disappears.

The Tiger Who Came To Tea has sold five million copies since it was first published in 1968.
Some pointed out that no matter what commentators tried to read into the classic children's tale – from Nazi persecution to the sexual revolution of the 1960s – Kerr would insist that it was only ever about a tiger.

Before becoming a novelist, Kerr joined the BBC as a scriptwriter, and married screenwriter Nigel Kneale, who died in 2006. They are survived by their children, Matthew and Tacy, and their grandchildren.
Kerr was awarded Illustrator of the Year at the British Book Awards this month for the iconic designs that accompanied her work.
Ann-Janine Murtagh, executive publisher HarperCollins Children's Books, praised Kerr's "incisive wit and dry humour".

"She embraced life as one great big adventure and lived every day to the full," she said. "Her characters and books have delighted generations of children and provided some of the first and fondest reading memories of childhood."