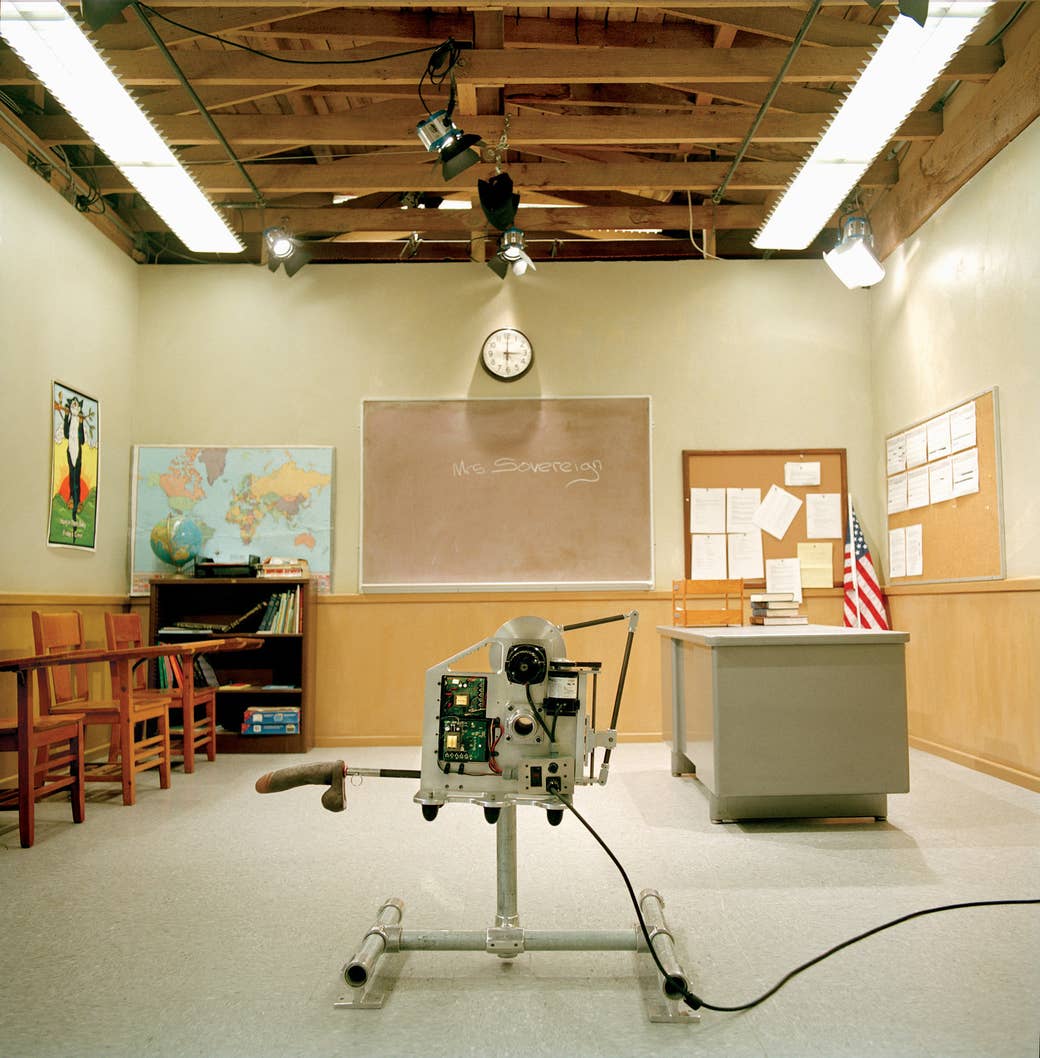 Just FYI: The US patent office is filled with early designs for mechanical sexual devices. People have been making sex machines since the invention of Cleopatra's bumblebee-powered vibrator.
In 2005, American photographer Timothy Archibald published a book called Sex Machines in which he met these creators and their various DIY fuckbots in their garages, bedrooms, and living rooms.

He told BuzzFeed: "While researching the world of inventors for another project I came across a listserv online for people who were inventing these primitive sex machines. It was anonymous, but the inventors shared photographs of their inventions.
"To me this little subculture had everything in it I ever wanted that would allow me to tell a rich story about men, women, and America.
"Each person had a reason why this thing spoke to them, and every answer was different. I recall one inventor attempting to explain his fascination to me and it really came down to the sound the machine made. At that point I realised that like with many things, the appeal is really dependent on the individual. I tried every one. (That is a joke.)"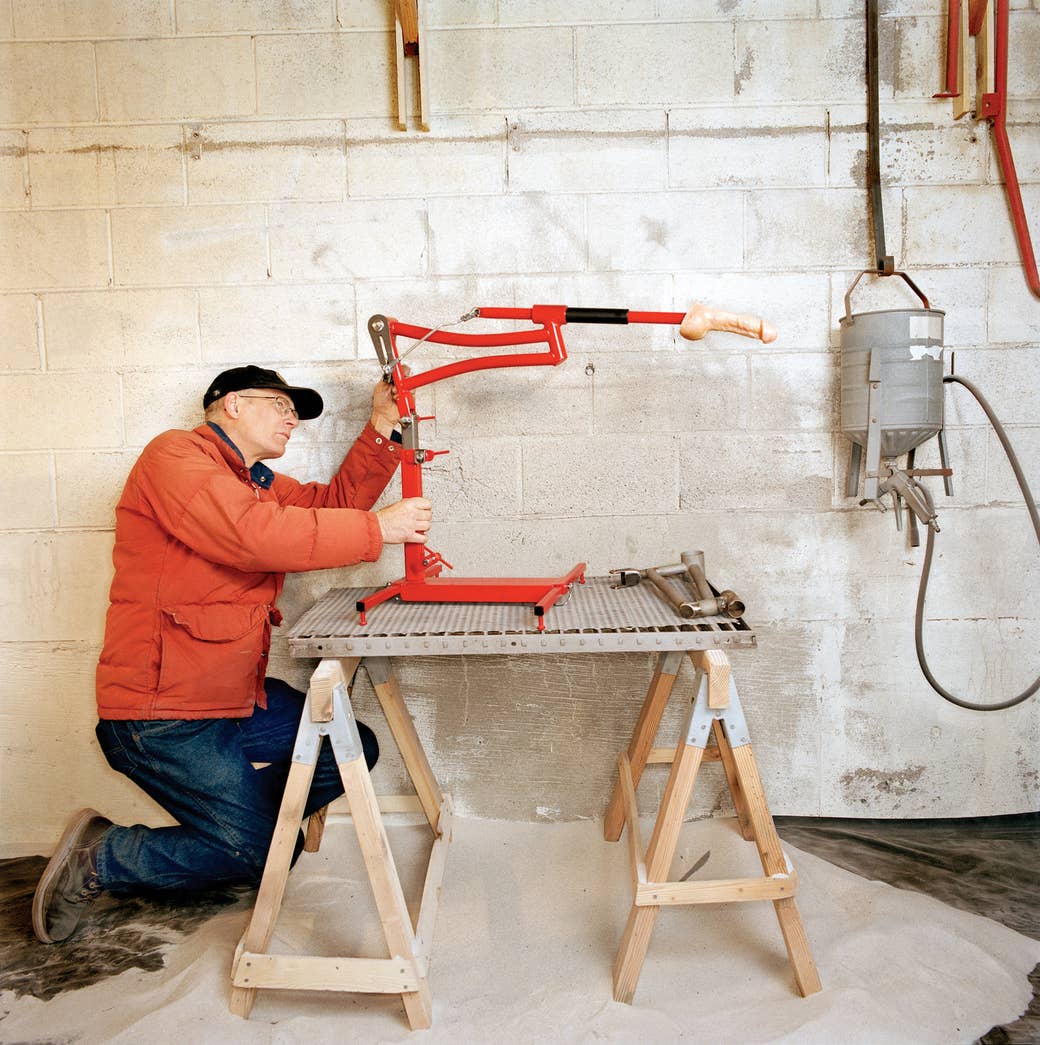 Dwaine Baccus – Emmett, Idaho.
Dwaine: "The machine, it's called 'Two to Tango' because it takes two people to use it. That was important to me to define when creating the thing. It takes two.
"I thought, why not turn a bicycle frame upside down? I already had some bicycle frames and crank assemblies. I just laid the parts out on the table and it looked like it would come together.
"After I got it up and running, jeez, it must have been a year before I could find anyone to field-test it. I didn't have a steady or regular partner.
"I had to rely on running into people."
Dan and Jan Siechert with The Monkey Rocker – Bakersfield, California.
Dan: "I wanted to create a machine that someone would really want to use for themselves, something that was appealing to women and men, something silent, convenient, discreet, high-end, and attractive. Something nice that women would not be afraid to try."
Jan: "It doesn't really surprise me that Dan came up with this. We aren't an especially sexually obsessed couple, but we are as normal and driven as other people are. Dan is a man. I mean, I don't think he can help but think about these things, the sexual, the mechanical, the craftsmanship of it all. Men are wired to think this way.
"He is a man — I think that explains enough."

Eric Wilson of The Love Locker, Inc – Lancaster, Ohio.
Eric: "I knew [my wife] fantasised about being with two guys, but we weren't ready for that. I had come across a mannequin and thought that might be a neat thing to bring into our bedroom. I got the mannequin dressed up in jeans and a work shirt, and I fit him with a dildo.
"Well, my wife and I made love using this guy, this mannequin. It really turned her on. I mean, she was into it...but not all the way."
Eric: "...I wondered how much more real it would seem if I made an actual sex machine that was having sex with her as she was performing oral on me, or whatever. So I went out to the garage one day and started tinkering around, and eventually put together our first machine.
"It was powered by an electric drill."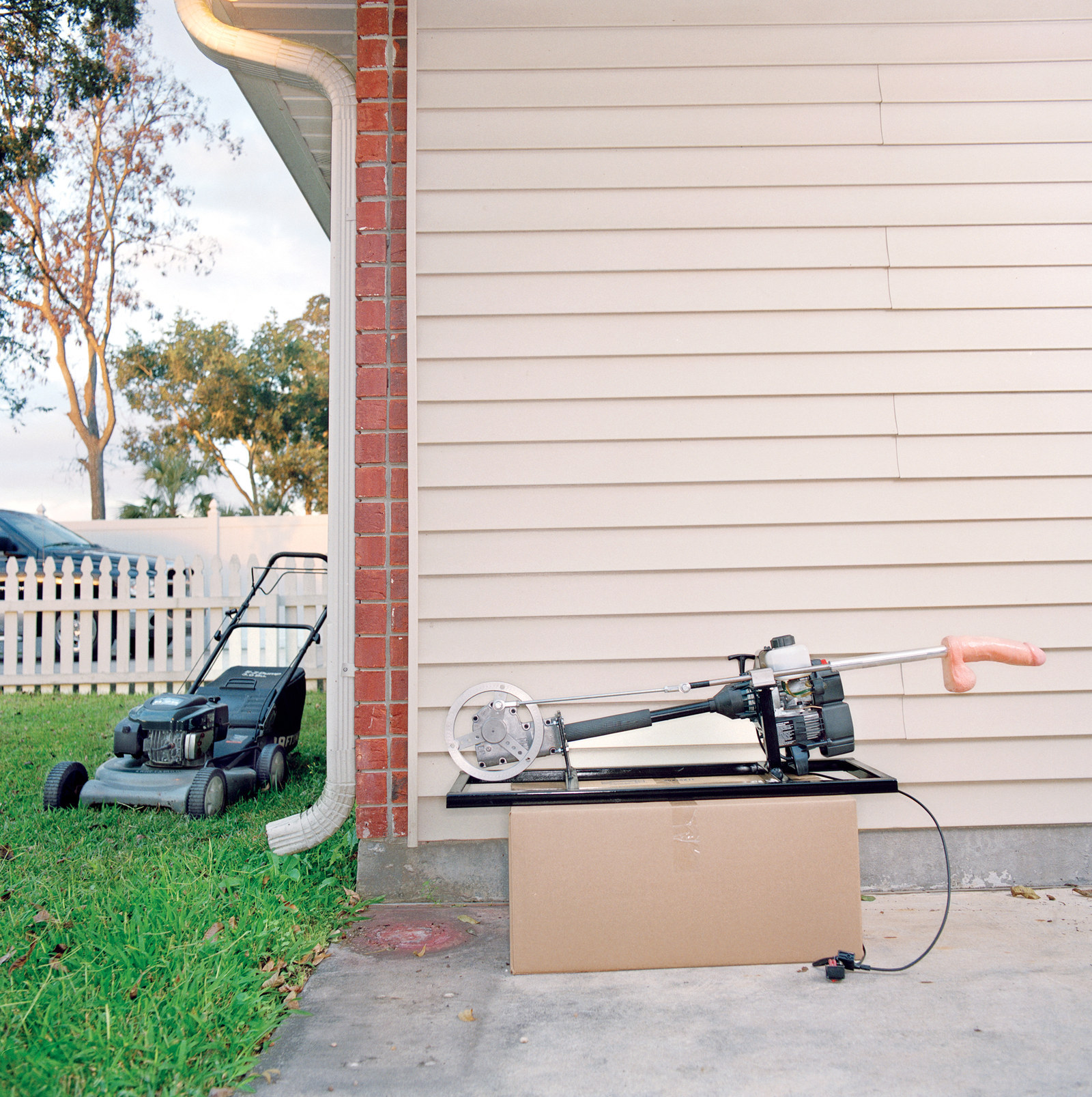 Ken Cruise of Ken's Twisted Mind, Inc – New Orleans, Louisiana.
Ken: "I believe that the Hide-a-Cock is going to be in every home someday – like the television or the microwave oven. I want to make it so that everyone can afford one. These days I'm selling about 30 a week.
"Guys order a machine, married guys, and they order the biggest King Kong dildo. And the women, they order a machine, and they get the smallest one we offer! It's like from here, I learn about men and women, I learn everyone's secrets."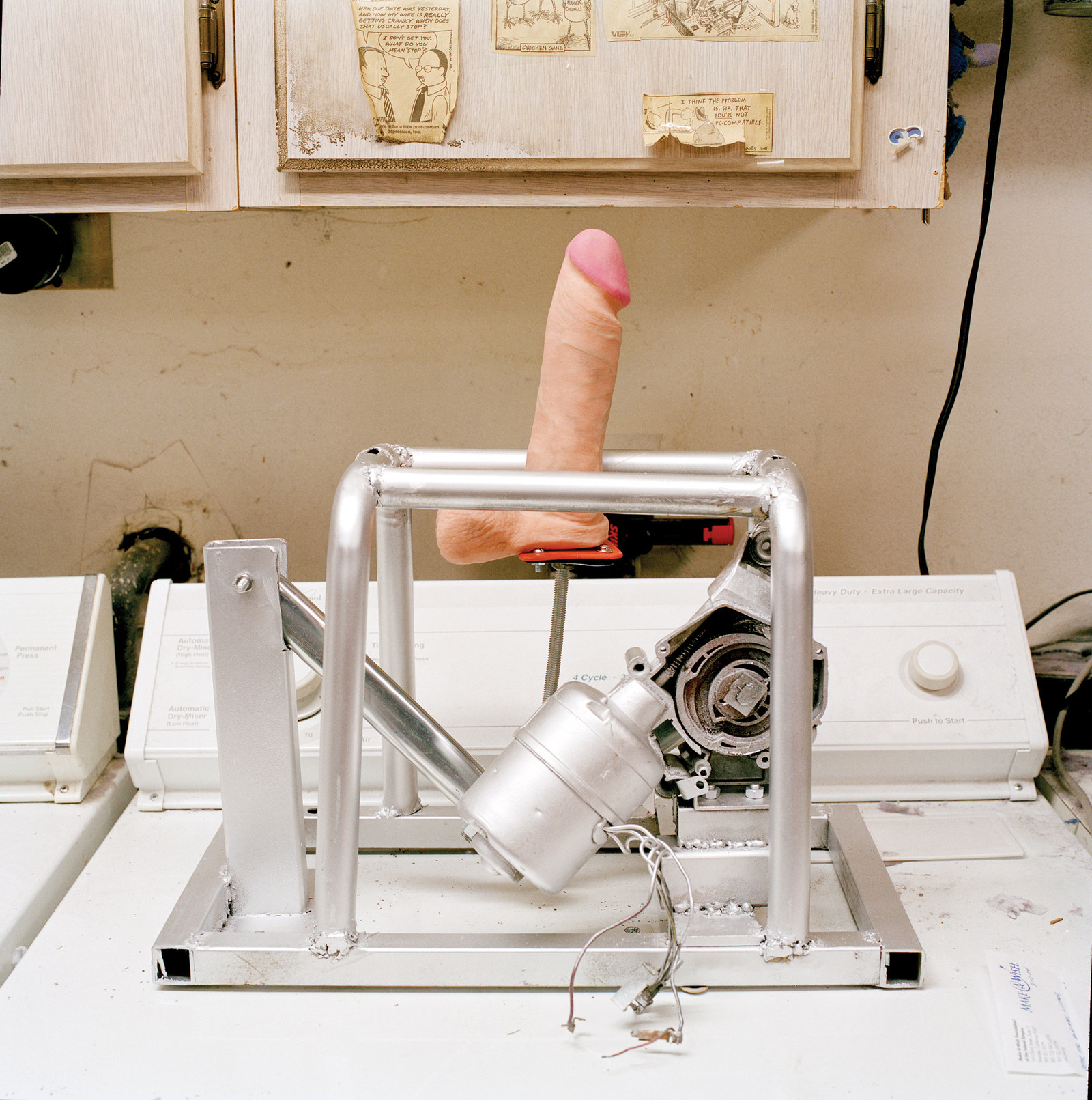 Lou, from a sex machines members' forum:
Lou: "In my head I saw a vision — it was set in the future. The world was predominantly women. There were a few men, but most were sick with disease. I saw a place where women would go to have pleasure. It was safe, disease-free, and they could stay there as long as they wanted until they were satisfied."
Marlon Rogers – Austin, Texas.
Marlon: "I don't remember how I stumbled across first seeing a sex machine, but upon doing so enlisted the input of a female who was sufficiently open and articulate to talk to me about the range of functionality that she would like to see in a state-of-the-art erotic device.
"I had this female over to test the machine I built. It takes a while to get a female in the mental place where they can articulate what they would like, but we put the time in and got her to explain, then adjusted the machine accordingly."
(Marlon previously invented a dielectrically insulated, pneumatically operated robotic pipe cleaner.)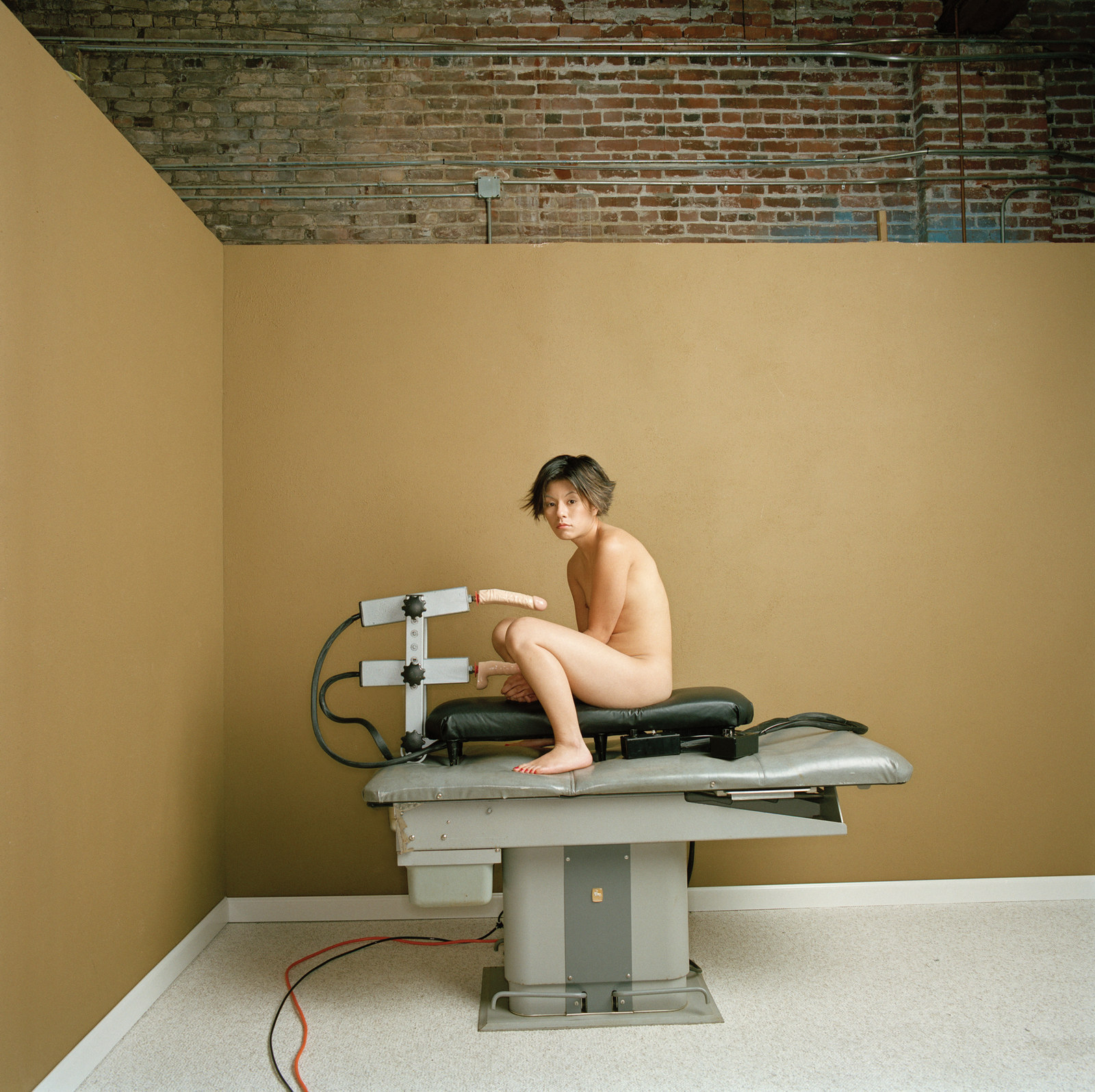 Carl Geers, pornographer, MachineMaidens.com.
Carl: "I'm looking at my audience and I'm thinking 'What do you want to do, get off looking at a machine?' I mean I'm in this situation where I've got this site, with this name MachineMaidens.com, and I'm kind of stuck. I kind of limited myself by putting the machine in the title.
"For me, it's really just about women, beautiful women. But now I've got this niche I'm trying to work, the machine thing, and I really think it's limiting me. If I could do it over I would in a second."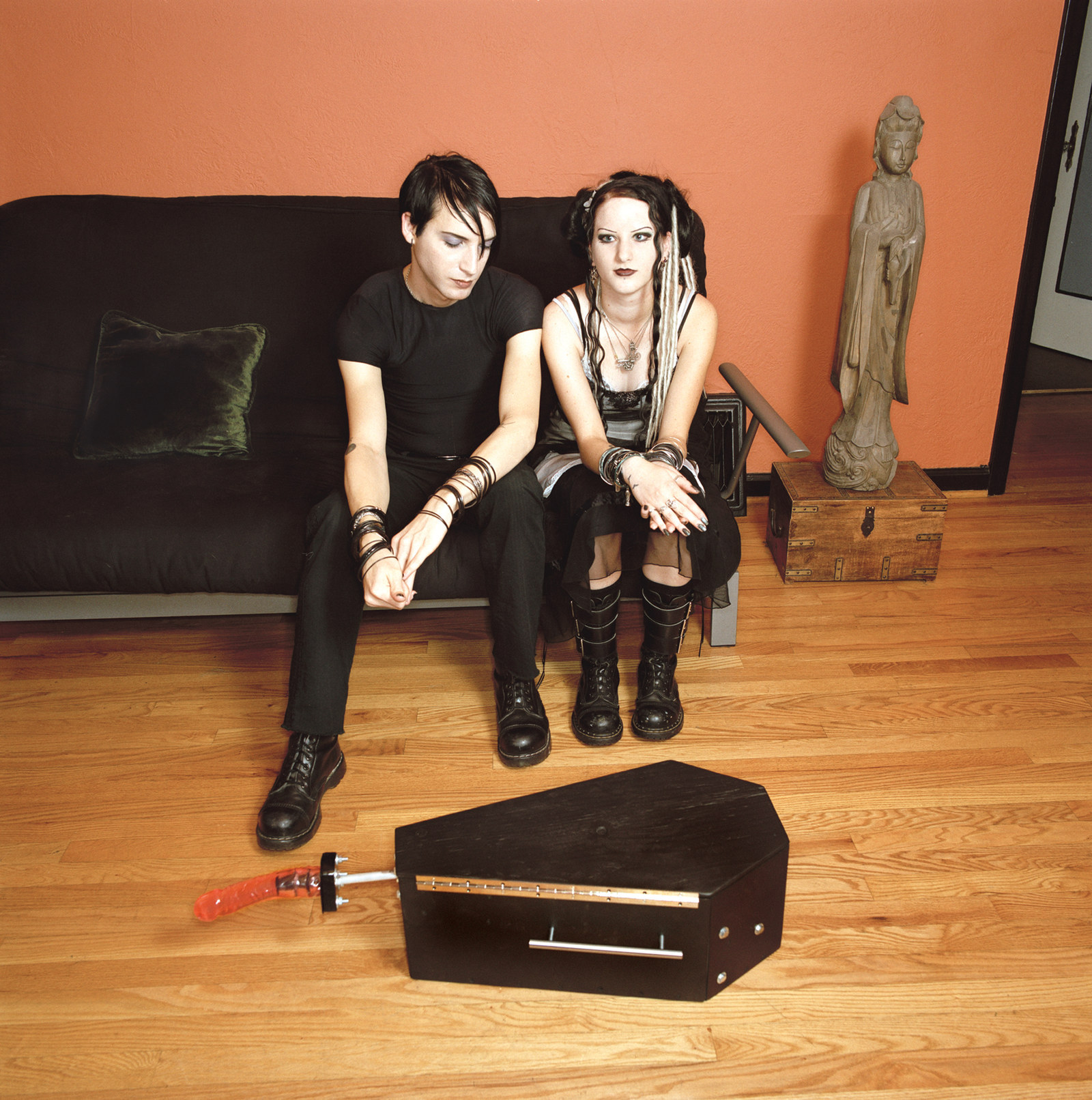 Ruiin and Tuesday – Portland, Oregon.
Ruiin: "For me, the Holy Fuck is something to have that I made. Like with sex, I'm not really into the orgasm. Tuesday got to take it out for a ride, but that's about it. It's not like I'm loaning out a rake to someone to use in their yard. A lot of people gross me out. I'm picky as far as who could use this thing.
"I don't really know what we are going to do with this machine now. Halloween is coming up. I was thinking of putting a ghost on the end and setting it up in front of the house for the trick-or-treaters."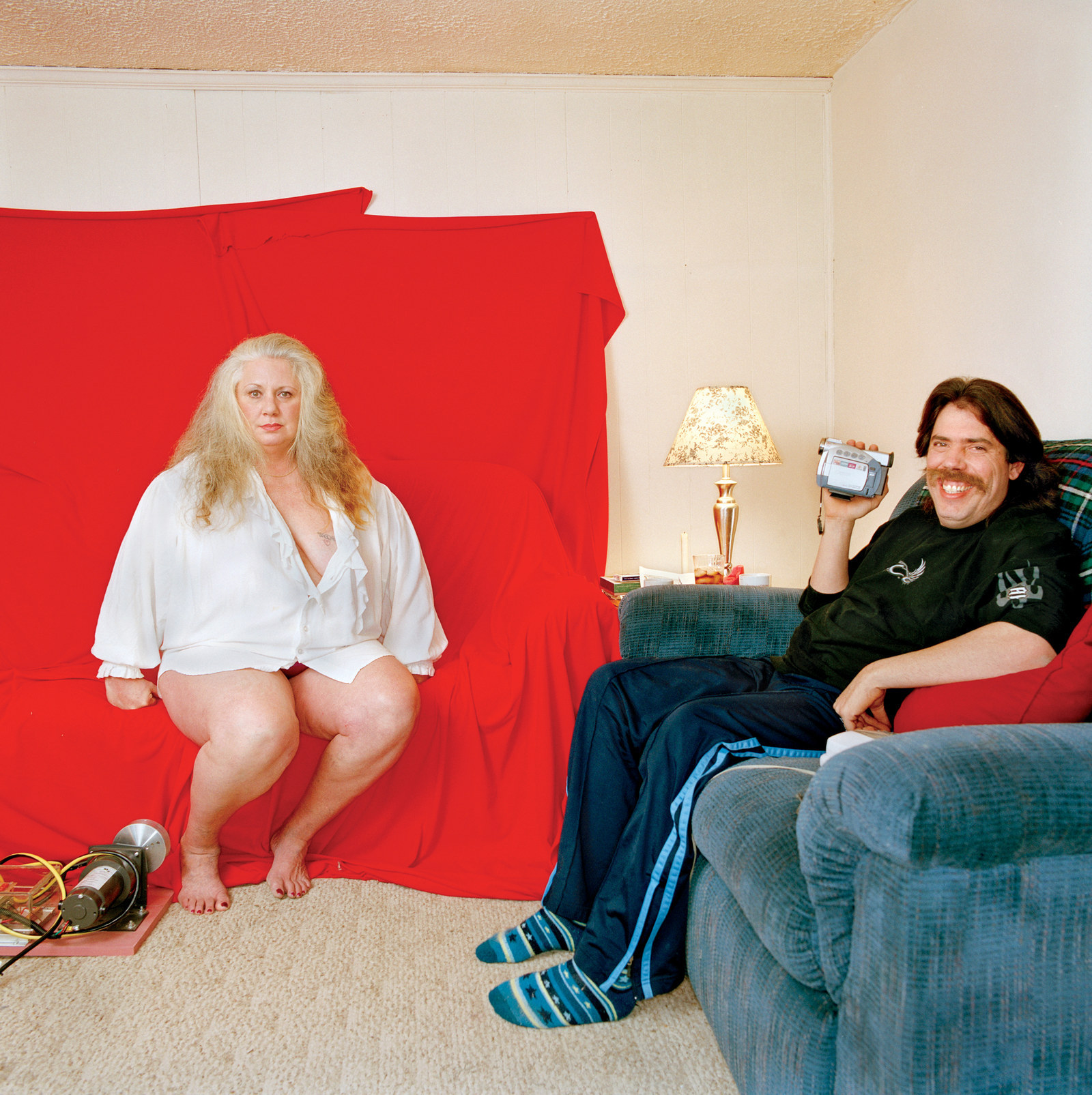 Deb and Bill Howard – Woodbridge, Virginia. They run their own homemade porn site.
Bill: "I was always taking pictures of Deb, since the day we got together. When the net came along I got into posting them. It felt good knowing that other guys found my wife attractive. I got hit with MS and ended up in this wheelchair. Then Deb had to have her hip replaced. She couldn't have sex with me, and look, I'll be honest: Deb likes sex. I can't deprive her. A friend we met on the net offered to make us a machine. We used it and we liked it."
Deb: "I'd never have had the confidence to do this at a younger age. I'm a 51-year-old mother of two, a big woman...look at me. This was about acceptance of myself. When someone would say I was beautiful, I always denied it. I couldn't accept it. Now I can."
Frank Reimer of Quality Mechanical Machines – Dixon, California.
Frank: "I was more embarrassed to tell my friends about this than I needed to be. All our friends have been very supportive, very encouraging of the idea of me building this thing. Now, not supportive to the point of trying the machine out yet! But they like it in theory."
Rick Van Thiel of Spindoll Manufacturing and Sales – Henderson, Nevada.
Rick: "I've made the ultimate sex machine. My machine will make more women come faster and hard, and just get them off better than anyone else's machines, no question. It does everything you want it to do: It angles, it raises, it lowers, it vibrates, it thrusts, it's fast, it's slow...
"Shit, it does everything but snuggle with you."
Kristy Van Thiel, wife of Rick, above.
Kristy: "These machines, I'm not into them. I like the real thing: squeezing, hugging, cuddling, just holding each other. It was hard enough for me to get comfortable selling someone a dildo, but after a while it's just like everything else."
Kristy: "When we opened up the shop and hung out the sign that said 'Unique Sex Toys, Free Demos' Rick and I agreed that I'd do the demos on the men, and he would do the demos on the women. We'd keep it polite and professional, always courteous.
"The first guy I did was a stoned, drunken pervert! I was giving him a demo of the Fucksall (a reciprocating electric saw with a dildo attached to the end) and he kept asking me to touch him. Here I am, ramming this dildo into his ass and he's totally gross and he wants me to touch him."
Jon Traven – Idaho City, Idaho.
Jon: "I'm this divorced Christian guy, not promiscuous at all, and here I am with a sex machine.
"It was an idea I came up with in the last year or two of the marriage, as a last-ditch attempt to save whatever we had...our sex life, if nothing else. She actually pushed me for a divorce before I could finish it and give it to her.
"So, I want to sell it to a couple. I will require anyone ordering a machine from me to provide proof of marriage and a signed statement of intent to use only within that marriage – kind of like a gun dealer that requires proof of age and proof of passage of a firearm safety test before selling someone a firearm. Sexual arousal is a doorway to a person's very soul and isn't to be messed with lightly."
Tony Pirelli, owner of a sex machine porn website.
Tony: "We started FuckingMachines.com in 2000. Other directors have used machines for sure, but we were really the first who kind of did something mainstream with this.
Tony: "I vividly remember seeing some film loop by director Ernest Greene, way back in the '80s, that had a woman with a machine. There was something refreshing about that. A woman having sex without a guy, which really seemed to work for me."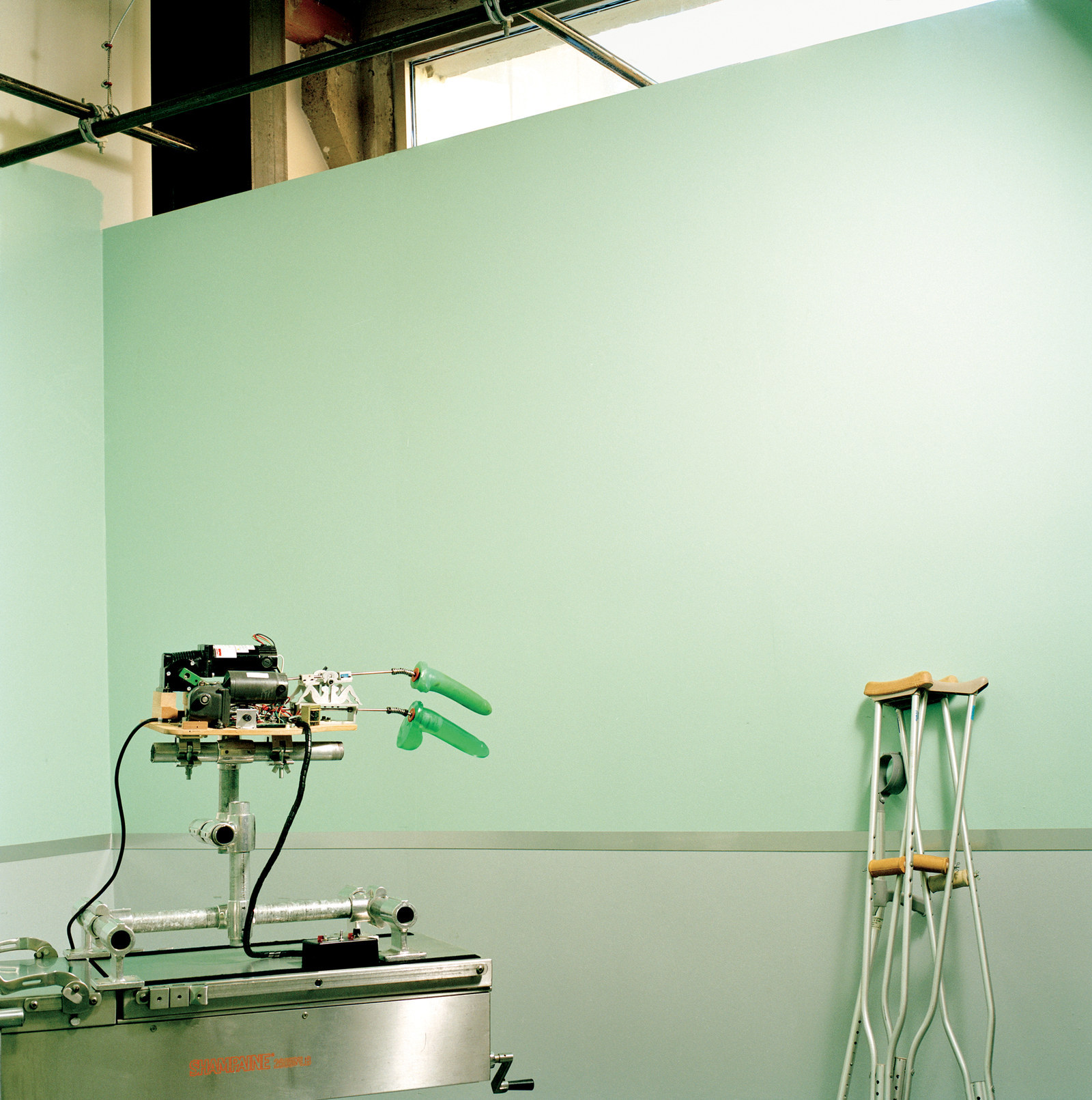 Tony: "We brought it into the average guy's living room or office. It was no longer hard to find for someone. And then more people started inventing machines and approaching us with them."

Nirvana, administration director of The Chicken Ranch, a legal brothel in Pahrump, Nevada.
The Thrill Hammer is a 450-pound vibrator capable of vibration speeds of up to 6,500 rpm and rotation speeds of 150 rpm. It combines an antique dentist chair, a large vibrator, and a computer monitor. Four tentacles extend around the chair and hold the monitor and the lighting systems.
After the inventor, Allen Stein, sets it up in a room in the Ranch, Nirvana is not sure about it.
Nirvana: "I'm worried about the chair. I just don't think it will fit in. The look of the whole machine is a bit contradictory to the Chicken Ranch style. Then we have the noise – the vibration mechanism is so loud, you could hear this buzzsaw sound throughout the parlour.
"We can't have the customers listening to that during line-up."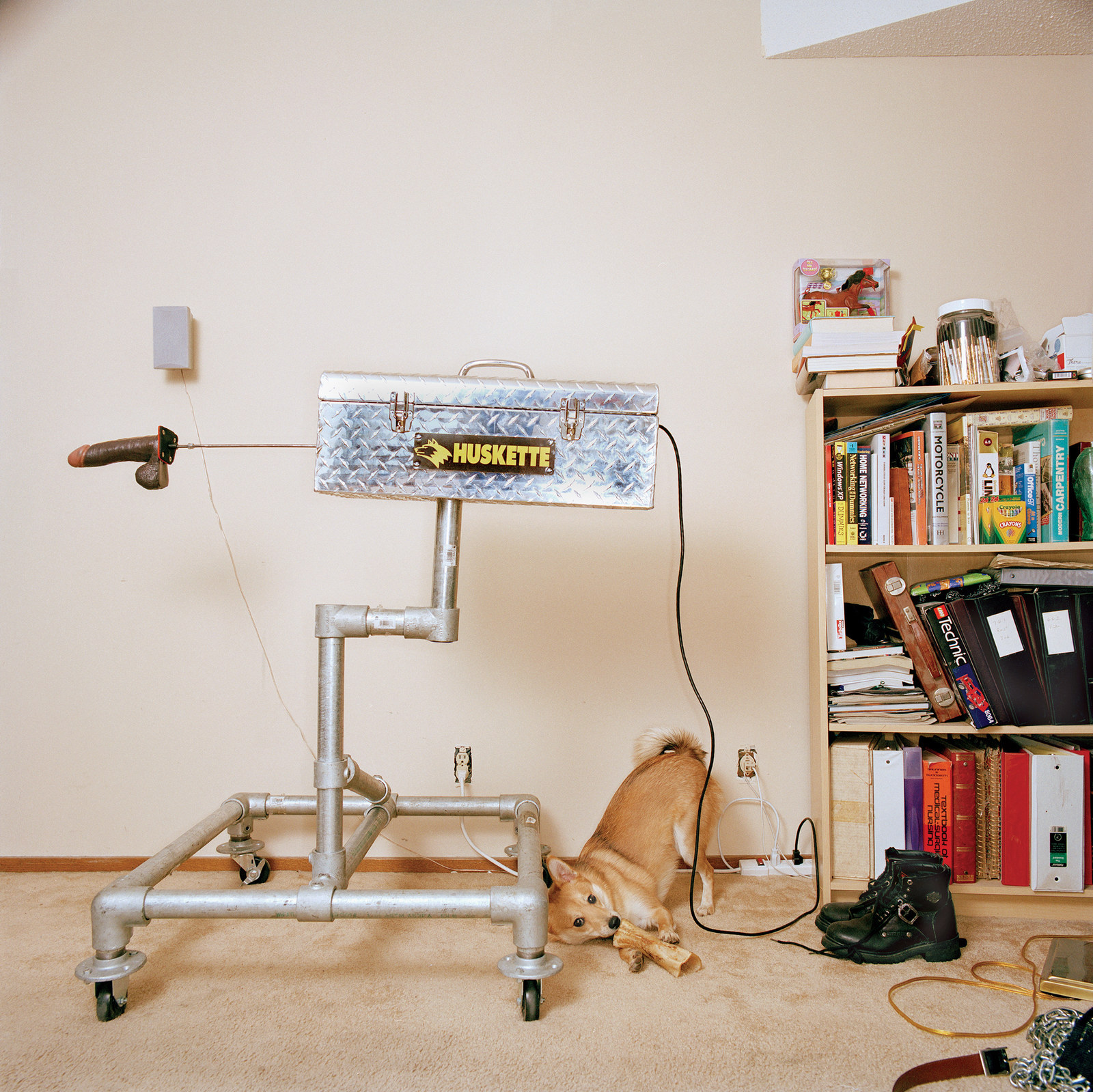 James – St. Paul, Minnesota
James: "The Huskette has a $300 KitchenAid mixer motor inside it. We thought it was silly to spend $300 on something with only one use, so we made this detachable. So, if you wanted to make cookies, you can detach the mixer from the engine, hook it to its original base and bowl – clean it off, of course – and you can get to work in the kitchen.
"We aren't kidding. We did have a kinky cookie bake with our local BDSM group last year during the holidays.
"We do every year, in fact."
Sex Machines is published by Feral House.