What's The Best City In India To Watch A Movie?
Analysing data for nearly 600 movie theatres across 8 Indian cities to figure out the answer to one of the burning questions of our times.
by
,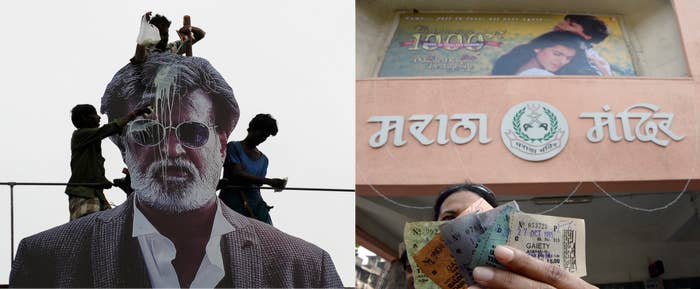 Indians love films. We, as a nation, produce nearly 2,000 in about 40 languages every year. That translates to about 2.6 billion cinema tickets sold. By both these metrics, India's film industry is roughly twice as large as its nearest competitor. And yet, the revenues generated by Indian films hover cumulatively hover around the $2 billion mark, which is about a fifth of what Hollywood generates.
This is largely because ticket prices are ridiculously low compared to the global average. Another important factor is the fact that India has a massive shortage of movie theatres - just 1 screen per 96,300 residents, compared to 1 screen per 7,800 residents in the US.
In order to understand this disparity better, (but more importantly, to decide on the vital question of which Indian city would get bragging rights for being the most film-friendly*), we decided to figure out the answers to a few questions:
*Lowest average price and most number of theatres.
How much do Indians pay to watch films? How do these prices vary across cities? Which theatres have the most cities? What is the multiplex revolution doing to this equation?
We collected information on average ticket prices, number of screens, and theatre capacity for 578 theatres across 8 Indian cities — Ahmedabad, Bengaluru, Chennai, Delhi, Hyderabad, Kochi, Kolkata and Mumbai.

Here's what we found out
Delhi and Bengaluru's multiplexes charge the most on an average (₹323 and ₹263), while Chennai and Hyderabad's single-screens are the cheapest at an average of ₹81 and ₹82.
Bengaluru and Mumbai have the most number of screens (261 and 252), while Kolkata and Kochi have the fewest (81 and 38).
Average prices for tickets across India is ₹222 for a multiplex and ₹130 for a single-screen theatre.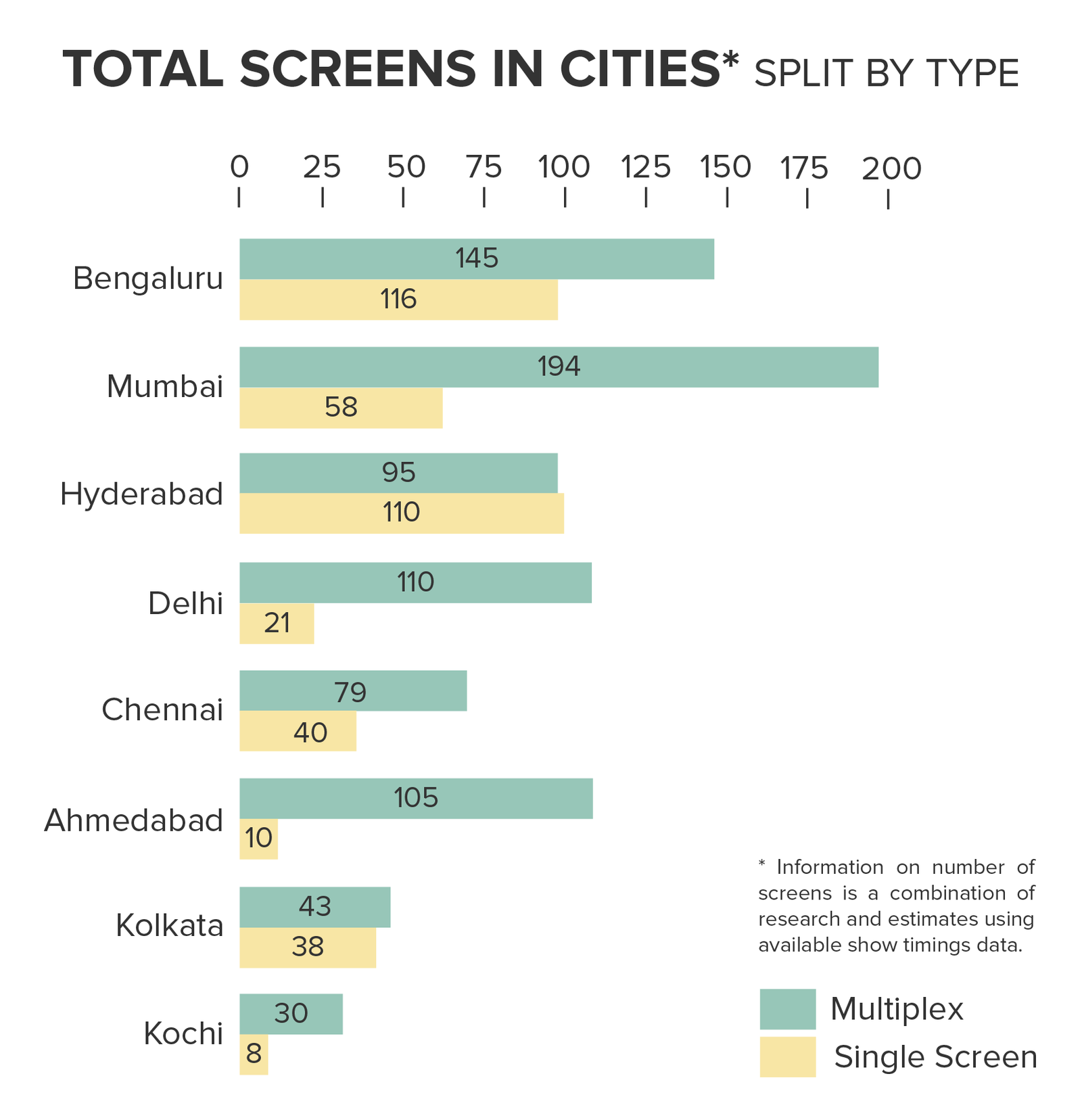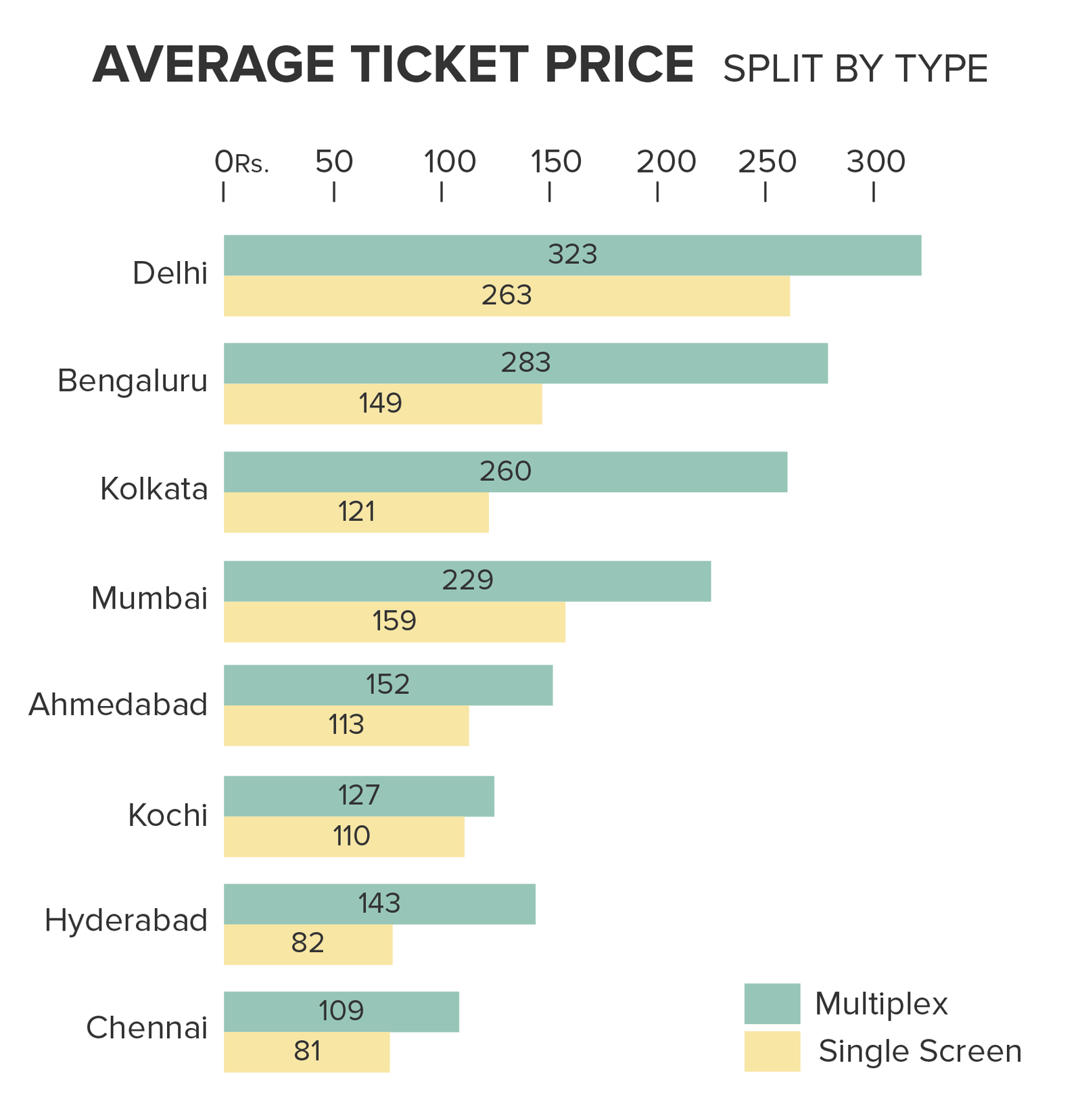 And the winner is...
By dint of ranking in the top three for most number of theatres and lowest ticket prices, Hyderabad appears to be the clear winner here.
City-Wise Observations & Maps
We also plotted these theatres on interactive maps to figure out which areas of these cities were the best-served.

The following maps have locations of movie theatres in each of these cities and have information on corresponding average ticket prices and theatre capacity. The size of the bubble corresponds to the number of screens and the colour of the bubble indicates the average price of the theatre. Yellow indicates that they're either the cheapest in the city or we don't have information about the theatre. Blue is for the most expensive theatres on average. You can click or hover on them for more information about the theatres themselves.
Ahmedabad
Average ticket prices for multiplexes and single-screens in Ahmedabad are priced at ₹152 and ₹113, making it one of the cheaper cities to watch movies in. Single-screens are largely restricted to the walled city to the east of the Sabarmati, whereas on the west bank of the river, it's almost entirely multiplexes, except for Sapna Theatre in Juhupura.
Bengaluru
A multiplex ticket costs ₹283 on an average in Bengaluru, the second highest in India. The ticket prices of the single-screen theatres hover around ₹143. The Karnataka Government implemented a ticket price cap of ₹200 earlier this year. But the cap is not inclusive of taxes and isn't applicable on weekends.
Chennai
Did you know that theatres in Chennai could not charge more than ₹120 rupees for a multiplex ticket (₹10 for the first few rows!) until recently? That explains the lower average ticket prices in Chennai. All that will now changed significantly thanks to a new government order hiking prices by 25%.
Delhi
Delhiites pays the most amount of money to watch movies. They spend 323 rupees to watch a movie at a multiplex and 263 rupees on average at a single-screen theatre. Geographically, the Lutyens building code prevents any modern multiplexes in central New Delhi. And all the larger multiplexes are spread out everywhere except the inner core of the city. The only two multiplexes near Connaught Place are single-screen theatres that have been converted into two-screen theatres.
Hyderabad
In Hyderabad, the average movie ticket costs ₹82 at single-screens and ₹142 at multiplexes. Along with Bengaluru, it is the only city where there is a sizable number of single-screen theatres that compete with multiplexes in numeric strength. Its single-screen theatres on average host 1080 people, the maximum among these 8 cities. Most multiplexes in the city are located in the western and more affluent part of the city. Hyderabad also has 1.75 theatres per 100,000 people, the highest among the six metropolises.
Kochi
Kochi has the smallest number of theatres among all these cities. The ticket differences between multiplexes and single-screen theatres is the lowest among all these 8 cities. Multiplexes are on an average 17 rupees more expensive than single-screen theatres. It has 2.4 theatres per 100000 people, the highest values among these 8 cities.
Kolkata
Kolkata's Multiplexes are the third most expensive and it's single-screen theatres are the third cheapest on average. North Calcutta, with the exception of Hind INOX is entirely single-screen theatre territory.
Mumbai
Mumbai is home to the most number of multiplexes in India. It's single-screen theatres are the second most expensive to watch among the 8 cities. Andheri, MS Ali Road and Kurla are the biggest clusters of movie theatres in the island city.


Data and Methodology
The maps and charts in this post are available from publicly available data — primarily from BookMyShow (number of seats and ticket prices), and TheMediaAnt (number of seats and screen numbers). There were several other sources for the screen size and capacities, each listed along with the theatre.

Through BookMyShow we could extract ticket prices for only 407 movie theatres. For the remaining 171 theatres, we could only get their screen sizes and capacities.
However, there is an important caveat for the data on ticket prices from BookMyShow. Several single-screen theatres and a few multiplexes on BookMyShow rely on offline sales for tickets and our dataset excludes prices of tickets sold at the theatres themselves. They are usually cheaper than the tickets available through BookMyShow.
Only the Municipal Corporation Boundaries of these cities has been considered.
PVR's Gold Class and IMAX Screens have been considered as separate "theatres".
For most theatres, the number of screens and the theatre capacity has been sourced from MediaAnt or other forums on the Internet. But for a few theatres, we devised an algorithm to come up with the number of screens per theatre. We looked at all the timings of shows in a movie theatre and came up with the reasoning for the possible number of screens being equal to the maximum number of shows happening in a period of one and half hours. Thus, there is a good possibility of the screen number figure being off by one or two in such theatres. But nevertheless, this is a good measure of identifying the number of screens, with no real data available.
The raw data is available here.