Asylum seekers previously held by the Australian government on Manus Island are being moved to a new detention centre and told they will not be able to leave their rooms, according to refugee advocates.
Refugee and journalist Behrouz Boochani tweeted on Monday morning that at least 35 asylum seekers were to be transferred to the Bomana Immigration Centre in Port Moresby. The Refugee Action Coalition activist group estimated the number of transferees to be around 50.
Boochani tweeted a photograph of notices provided to those being transferred.
"You will not leave room. Your meals and drinks will be provided to you in your room. If you are on medication, we will administer this to you," the instructions read. They also said asylum seekers had to surrender their phones.

The men were previously held in Hillside Haus detention centre on Manus Island, where they were allowed to leave the compound in daylight hours and could also have phones, Refugee Action Coalition spokesperson Ian Rintoul told BuzzFeed News. They were then transferred to Port Moresby, where they were held in hotels.
"We're very concerned that it seems to be going back to the closed kind of detention regime we've seen previously," said Rintoul.
In 2016, PNG's Supreme Court found that the detention of asylum seekers on Manus Island was illegal. Rintoul said asylum seekers would challenge their detention at Bomana in the courts.

A spokesperson for the Department of Home Affairs told BuzzFeed News the Australian government had been advised that PNG's Immigration and Citizenship Authority "has undertaken activities in relation to specific individuals under regional processing arrangements".

The department said that only individuals who had not been determined to be refugees were affected, and that "failed asylum seekers" were encouraged to depart PNG voluntarily.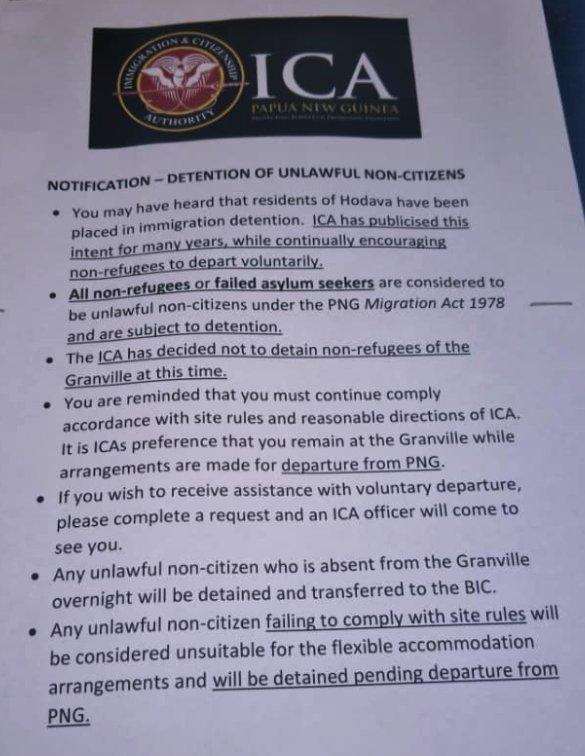 Rintoul told BuzzFeed News that some of the men have been deemed failed asylum seekers despite never claiming refugee status in PNG, because they wished to seek asylum in Australia. "In any case, they're people who cannot be returned to their home country," Rintoul said. "If they try to keep those people in Bomana, it will be indefinite."
The home affairs spokesperson said that PNG's government had advised that it had engaged a provider to ensure detained asylum seekers receive necessary medical services.

The department denied that the Australian government played a role in the decision. "The management of refugees and failed asylum seekers under regional processing arrangements in Papua New Guinea is a matter for the Government of Papua New Guinea," the department said in a statement.
The Bomana centre is new and the Australian government contributed $20 million to its construction. Its purpose is to hold non-citizens and non-refugees until they can be deported.
BuzzFeed News has contacted the PNG government for comment.