Can you swim in a public pool? Should we shut schools? What about closing the borders? Do you get immunity if you recover from COVID-19?
Australians, like everyone else right now, have a lot of questions about the coronavirus outbreak. And increasingly they're turning to a 60-something Scottish-Australian journalist by the name of Norman Swan for answers.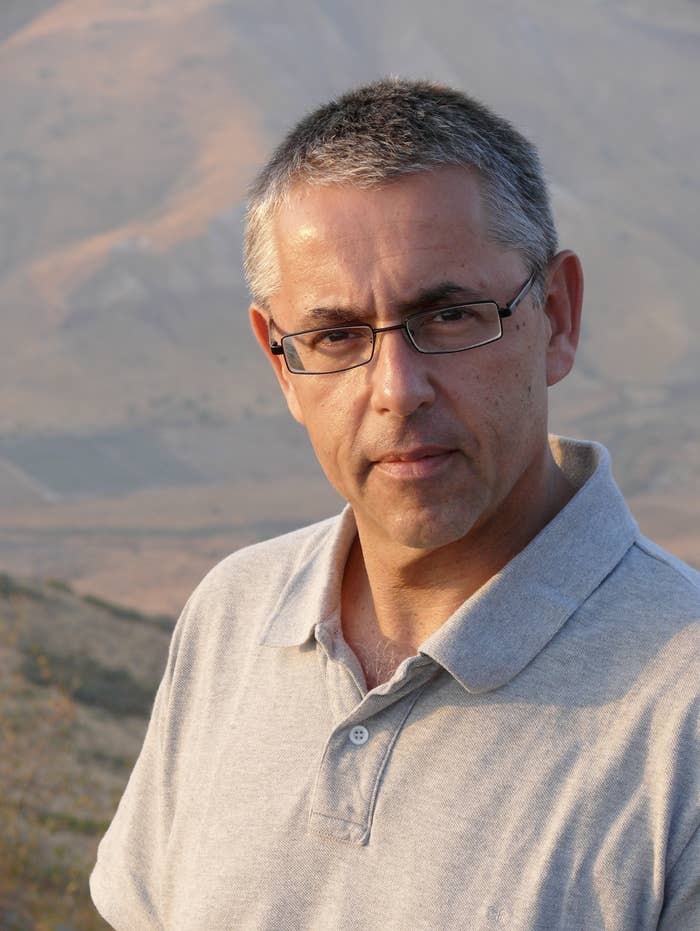 Swan, a health reporter with the publicly-funded Australian Broadcasting Corporation, is everywhere right now. He's hosting a daily podcast called Coronacast, which is topping the Australian charts. He has a twice-weekly regular spot on the ABC's flagship current affairs show, 7.30. He had about 12,000 Twitter followers at the start of all this. Now he has 47,000.
"It's going up at the same rate as the epidemic, I suspect," Swan said of his Twitter following, in a Wednesday evening phone interview with BuzzFeed News.
Swan has been a journalist for 38 years. He was general manager of the ABC's Radio National station in the 1990s, and his colleague and old friend Geraldine Doogue credits him with laying the foundations for its current success. He won a Gold Walkley in 1988. He is also Dr Norman Swan — that prefix appended to all his appearances on the ABC. Swan is a registered doctor who qualified as a physician in Scotland, then trained in paediatrics in London and Sydney.
So how did he become the most trusted voice on the coronavirus outbreak in Australia?
Scott Morrison's government has copped criticism for not being upfront with numbers and information, and sending mixed messages about what we need to do to flatten the curve. The communication skills and decision-making of Australia's chief medical officer, Brendan Murphy, have been criticised. His deputy, Paul Kelly, frustrated Radio National listeners by failing to give a straight answer to host Fran Kelly's question on Thursday morning about whether Australians should be meeting their friends at cafes. It was just last Sunday that Morrison declared that "so long as Australians keep being Australians, we'll get through this together".
By contrast, Swan seems calm, consistent, and knowledgeable. His delivery has been appropriately urgent, without lurching into panic. His messages are clear and delivered with panache. His mantra is social distancing, social distancing, social distancing. On Wednesday's Coronacast, his co-host Tegan Taylor asked about weddings. "We've just got to stop all that," he said, adding that cafes and bars should shut down too.
"I'm calling it the year of the plague," he said. "It is a year that we will remember for the rest of our lives."
"It's his moment," Doogue told BuzzFeed News.
Swan was a performer at university who did a lot of drama. "So it was a neat segue into journalism and then radio and television work, which he absolutely loves," she said.
"He both loves it, I think, from an ego perspective and because he really does believe in the business of spreading health messages and messages of science. It all works very much to suit his personality, I suppose, and his intelligence."
Swan has long had pandemics on the brain. In the early 1990s he wrote and filmed for the UK's Channel Four Invisible Enemies (also called Plagued) a four-part series about new and emerging diseases, and the factors create the environment for a pandemic.
"Norman has been fascinated by pandemics ever since I've known him. He has told me for years that we were overdue a pandemic," Doogue said. "Well, here it is."
Over the Australian summer, Swan filled in as host on RN Breakfast. On Jan. 7, he emailed Katie Hamann, who was producing the show, about a mysterious pneumonia in Wuhan that had infected 59 people, with seven critically ill. "Worth keeping an eye on," was the subject line.
Now it is the world's biggest story, and in Australia, Swan is at the centre of it.
Swan's son Jonathan is himself a prominent reporter, known for breaking scoops on the Trump administration for US website Axios. (He still calls his father to workshop and talk through strategies ahead of big interviews, including with Jared Kushner, Tom Perez and Iraq's president Barham Salih.) According to Jonathan, his dad was "built for it". Explaining complicated concepts with credibility and authority for a large audience is "what he's been doing his whole career", he told BuzzFeed News.
Where others might be terrified of the scale of this, Doogue says Swan "loves a crisis … He's pretty unafraid. He sort of boldly steps off. It sometimes takes my breath away where he will step."

As the pandemic has unfolded, Swan has walked a fine line between filling a gap left by the government and being in direct conflict with it.
Over the weekend, Swan fronted a video for the ABC, offering personal hygiene advice to avoid COVID-19. "The nation thanks you, Norman," ABC presenter Michael Rowland tweeted when he shared Swan's video. The government only rolled out its own videos later that day.
Morrison and Murphy have been resolute that schools should stay open, arguing kids aren't badly affected and closing the schools would have dire knock-on effects. Swan has said they should close, and he has said so quite firmly: he declared that Australia was "dicking around and we've just got to shut stuff down now", when asked about the issue on ABC television on Monday.
Many on social media have announced they trust Swan more than Murphy. That sentiment is "actually acutely embarrassing", Swan said, and not his intent "at all". He's known Murphy for decades and has a healthy respect for him.
Swan believes he has become so prominent because people are desperate for information. "I've not relished the role," Swan told BuzFeed News. "I'm prepared to step up for it, but I've not relished it. It shouldn't be me doing it. Something is wrong if a medical journalist is the go-to person for this, that's not right."
He says the government should be using technology to communicate better, and publish more up-to-date information about infection rates. He's relying on a graph put together by a journalist. "[The government] seem to be frightened of scaring the public, but they're scaring the public more by trying to not scare them," he said. "Because they feel that something's being hidden and when you do that anxiety goes up."
Swan thinks that if the government is asking people to flatten the curve, every day they should show people the curve. People will see the impact their actions are having and respond. "And if by the end of the week we're not bending the curve, everyone will know we're not managing, and say, 'OK yeah, we've got to stay home, we won't go to the cafe'," he said. "Everybody understands nationally."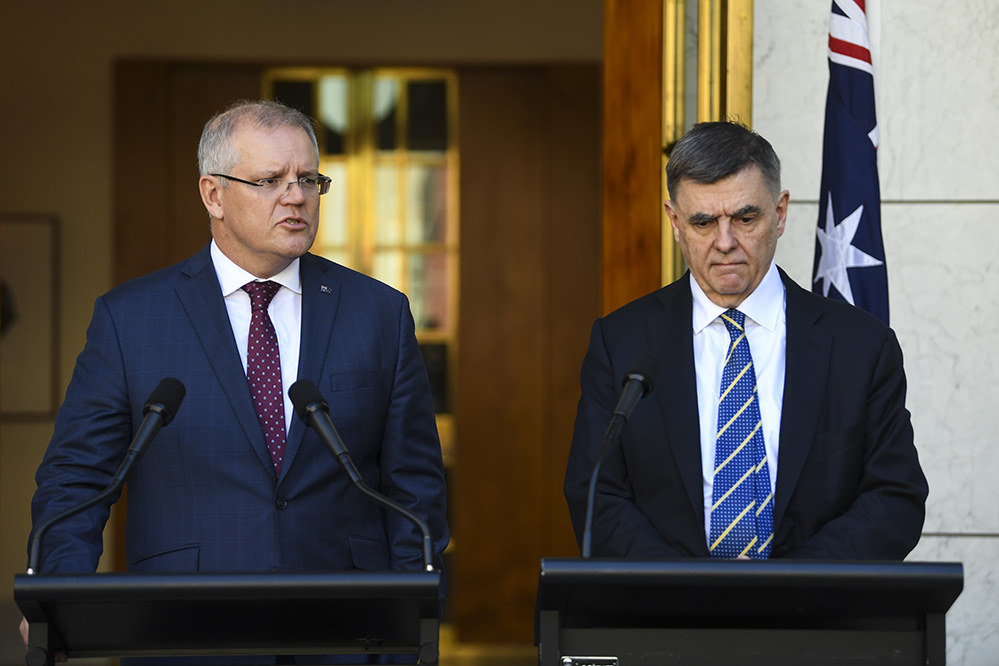 Swan also criticised the government's response to the outbreak last week as "mad stuff". On Friday afternoon there was the "football fiasco" — a head-spinning few hours in which Morrison was going to the rugby league, banning large gatherings in 48 hours, not self-isolating despite coming into contact with his COVID-19-infected colleague Peter Dutton, then not going to the football any more.
"It's been all over the shop, inconsistent," Swan said. "The public's actually been more scared than they should have, they are getting conflicted messages and it's spooking them."
Swan says he has had "indirect messages" that people in government are a bit uncomfortable with his strident approach to providing information on the outbreak. But he emphasises that no chief medical officer has come to him and said, 'you've made a mistake' or 'you've got it wrong'.
"I think that what they're nervous of is the potential for wrong messages to be put out or their message to be undermined. And I don't think they like the fact that they've been put under pressure to do more than they want to do in this moment," he said.
But he's not going to stop. This is too important and too urgent. "I've been unabashed about being critical of what's going on, but that's really as a journalist, presenting the evidence," he said. "The last couple of weeks, we've done the wrong thing and we've called it out.
"This week I get the sense that they're getting their act together. They're not doing that much yet, but I get the sense that the hand is steadier on the tiller." (The interview took place before the government announced it would close Australia's borders to all but citizens, residents and their direct family members.)
"They've got a few days up their sleeve, that's it."
Swan's prominence, and his unusual role in the crisis, have made some uneasy. The Guardian's Melbourne editor Gay Alcorn criticised the ABC for quoting Swan as an expert voice in a news story. "Please stop! He's not an expert and shouldn't be quoted as such in stories like this," she wrote on Twitter.
Some have suggested that contradicting Murphy could make the situation worse. Australia's peak public health body asked its members not to second-guess the advice of Murphy and his state and territory counterparts, Nine newspapers reported on Friday. Australian Medical Association president Tony Bartone also told Nine that "evidence-based information led by the Chief Medical Officer is the way to go" and "we need a single source of truth".
Anti-Swan sentiments have largely failed to take hold, however.
"People in moments like this are looking for not just someone who can give them reporting, but someone who can be a curator and a synthesiser," Jonathan Swan said. "People just want someone credible, someone who's not tainted by partisan politics, and I think he's serving that role right now."
David Fisher, a long-time ABC colleague, agrees. "He is across what's going on, and he's a good communicator. So you put the two together and he's the one," Fisher told BuzzFeed News.
"I must say, I have been really struck myself, even though I know him so well, by how he has been the right man at the right time for this particular challenge," Doogue said.
Right now, Swan starts his day early, so he can read the journal papers that come out overnight on COVID-19 and catch up. This is not a new habit. Fisher said Swan is often seen at the ABC reading and highlighting copies of the British Medical Journal and The Lancet ahead of interviews.
"He has been around for 30 years doing this, doing very arcane as well as populist stuff," said Doogue. "He's not a Johnny-come-lately and I think that's really contributed. He's not just a doctor who's skilled at the media, he's very different."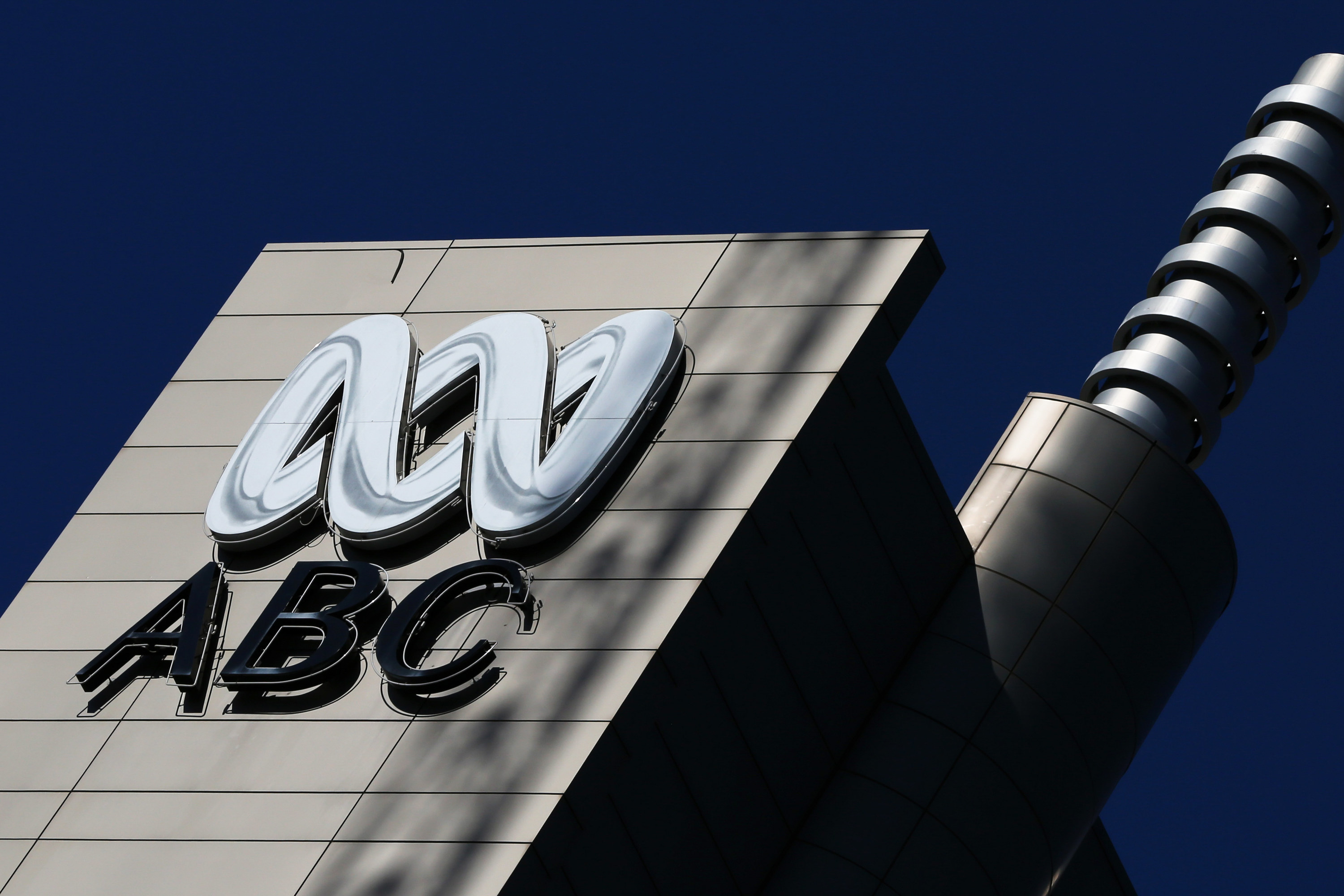 Swan's following is partly due to Australians' trust in their national broadcaster. It's also good advertising for the value of the ABC, as it faces ever-tightening budgets and (now-delayed) layoffs. Swan says his role is only possible because of the ABC's commitment to specialist reporting. "No commercial broadcaster has done it, not even SBS has done it. It's where you get market failure," he said. "It's not an accident that we've got the ability to do [this] because of the investment of Australian taxpayers in the sort of stuff that we do." If you lose that expertise, it's gone, he said.
Despite his experience and qualifications, Swan says he is still just a journalist. And he knows he is walking a tightrope by speaking out so loudly and frequently in a time of unprecedented crisis, where so much is unknown.
"I'm going to get things wrong," he said. There is not much evidence on COVID-19 and the studies are mostly "crap", with small sample sizes. Swan is aware of two mistakes he has made so far, about school closures in Hong Kong and the number of young people in intensive care in Italy, both of which he has corrected. He constantly checks in with an informal network of contacts, people "who actually really do know what they're talking about", he said.
He stressed that he hasn't practised medicine in decades, saying "my medical speciality is broadcasting … You can get sucked into thinking you're more of the expert than you are, and what you are is a commentator and translator of the evidence, and don't ever think you're anything more than that."
Swan was the medical host of six seasons of Biggest Loser on Channel Ten, and people still recognise him in the street from that, he said. But the level of feedback he's received since the outbreak has been "a bit surreal".
Swan used to tweet about once a week. He only learnt last week how to use the quote-tweet function. "I'm just a complete idiot when it comes to that," he said. But making a podcast and using social media to tell the story of the pandemic have been exciting, allowing him to reach a new audience and communicate across generations.
When Swan is broadcasting, he's "never quite sure who's out there." The "intense engagement" of social media is unbelievable, he said. "What I love doing is translating complex information into simple communications for people who need and want to know. That's what turns me on."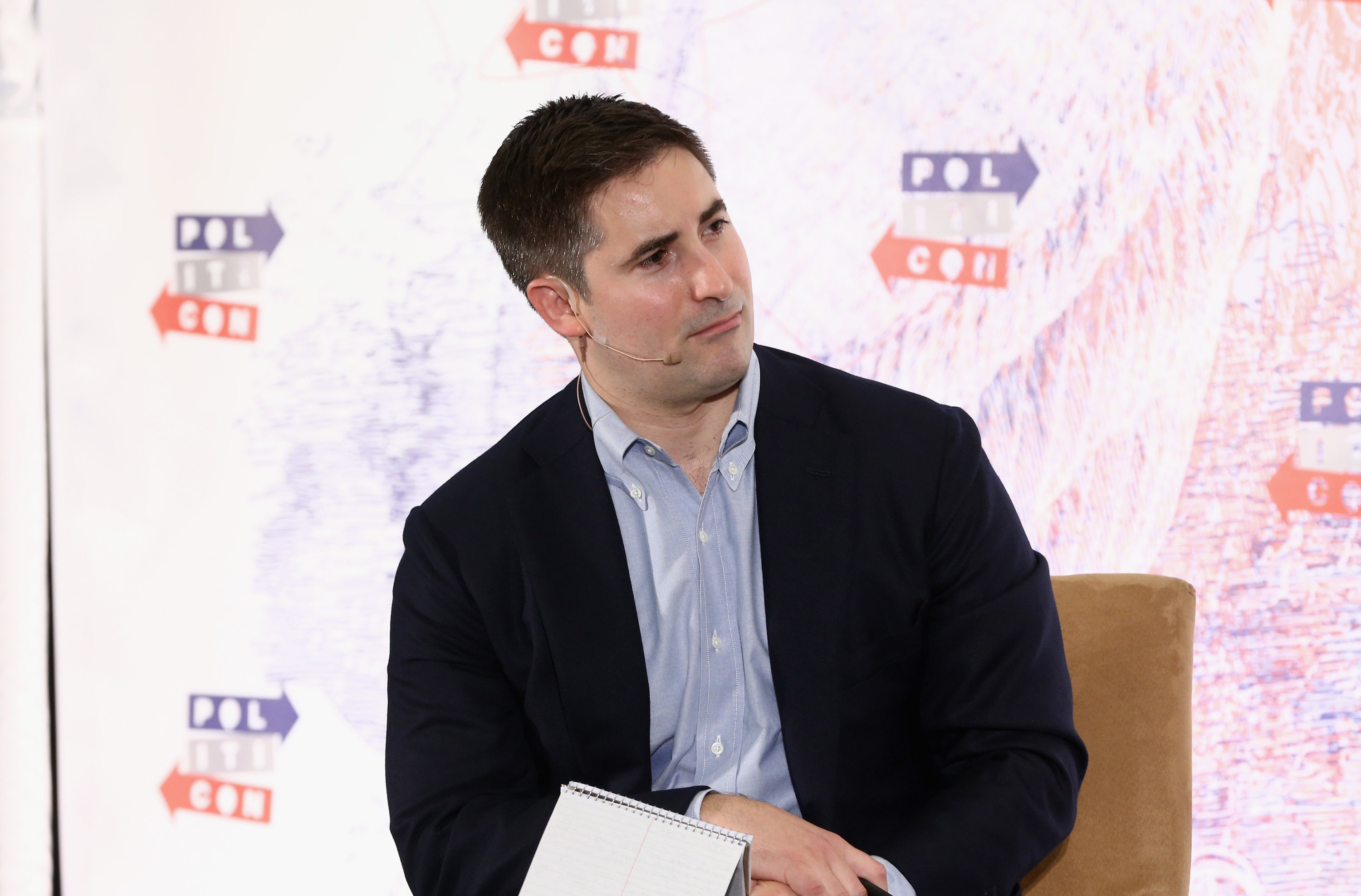 Swan is working extremely hard, which is normal, according to those who know him well. "He's worked like a freak my whole life," Jonathan said. Fisher said Swan has been seen to have quick naps at work to get through it all. "Sometimes the head goes down at the desk for a two-minute kip and then he's back at it," he said. Doogue says he is running on adrenalin. "He just looks totally exhilarated to me," she said.
Still, Jonathan says he is a "little worried" about his father. "He's pretty old now," he said.
Swan agrees that if he was to get sick, the Australian public would be spooked. He's not going to the gym anymore, replacing it with running. "I knew some time ago that the six pack was just a dream," he said.
He's driving rather than taking public transport. He's not going to the movies or theatres, or any public spaces with a lot of people. He's obsessively cleaning surfaces, spraying everything with alcohol if he uses a studio, and washing his hands frequently throughout the day.
It's an "extraordinary" time, Swan said. But someday this will all be behind him, and us.
"Media stories don't last forever, people eventually get inured to them," he told BuzzFeed News. He and the Coronacast team are already thinking of how to evolve the podcast and get ahead of the curve. But not yet. They got 5,000 questions last weekend alone. "If we're not providing people's information needs, that will soon become apparent," he said. "It's not apparent."