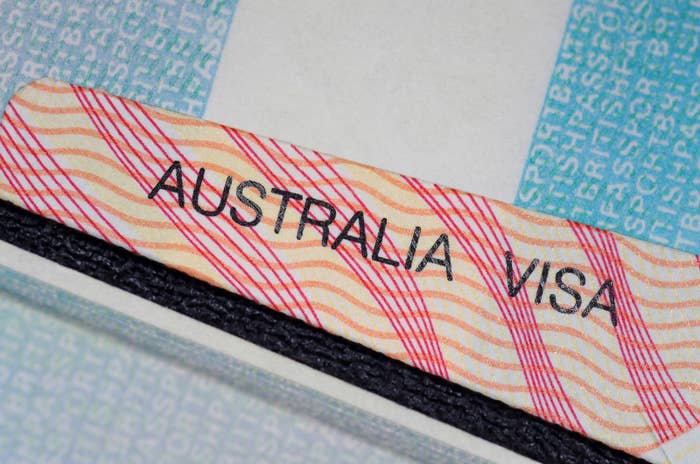 A man who identifies as Aboriginal had his visa cancelled and was detained in immigration detention for over two months, before a tribunal overturned the ruling this week.

The decision comes ahead of a High Court challenge from two other Aboriginal men who have been held in immigration detention and are seeking a ruling that a "member of the Aboriginal race" cannot be deported from Australia.

The 35-year-old man, called "WSML" by the tribunal, came to Australia from New Zealand in 2005 when he was 22 and has lived here since. He was born in New Zealand and has Maori heritage. However, he told the tribunal that he has primarily identified as an Aboriginal Australian after learning of his family's ancestry on his mother's side.

"My mother has ancestral connections to the indigenous people of Tasmania," he wrote in his personal statement to the tribunal. "My grandfather (5 generations back) ... left Tasmania for New Zealand to escape the massacre of Tasmania's indigenous people."

WSML came to Australia with his partner, who he married the following year. The couple have two sons, aged 8 and 12, and are expecting a third child in May.

The man committed a string of offences, mainly related to domestic violence and driving, between 2006 and 2014. The offences escalated in seriousness, and he was eventually incarcerated for a number of months.

In August 2017, the government wrote to the man, stating that it was considering cancelling his visa. As part of his response, he informed them that he was Aboriginal Australian by descent. In the documents he provided to the department, he described his mother's nationality as "NZ/Palawa Australian Aboriginal" and his father's as "NZ/German/Australian Aboriginal".

In Nov. 2018 the man was told his visa had been cancelled by a delegate of home affairs minister Peter Dutton and he was taken into immigration detention. His visa was cancelled under section 501 of the Migration Act, which permits cancellation for a "substantial criminal record".

The number of visa cancellations on character grounds under section 501 has escalated dramatically in recent years, since a provision was introduced to make cancellation automatic in some circumstances. Visa cancellation is now possible for relatively minor offences. In some cases, visas have been cancelled where a person has been charged with a crime, but not convicted, or have associated with a particular person.

"I find it quite astounding that as an Aboriginal person you can be deported to another country when this has been your country for over 70,000 years," Jackie Huggins, co-chair of the National Congress of Australia's First Peoples, told BuzzFeed News. "Irrespective of where you've moved to or where you've lived, you are still bounded by your DNA in Australia."
On Tuesday, the Administrative Appeals Tribunal overturned the government's decision to cancel his visa, relying in part on the man's Aboriginal background.

Although the senior tribunal member, Michelle Evans, found that he failed the character test and that his offending was serious and suggested his visa should be cancelled, this consideration was outweighed by others, particularly the interests of his children.

The tribunal found that if he was deported, his children would either be permanently separated from their father or taken from the place where they could best explore their Aboriginal identity.

"The tribunal is concerned that the cancellation of their father's visa may have a detrimental impact on the children's cultural identity," Evans wrote. "If their Aboriginal parent ... was removed to New Zealand without them, they would lose the benefit of learning about their culture from their father."

The children's education about their heritage would be "best met" if they remained in Australia, where they could engage with and form relationships with Aboriginal family members. The tribunal also acknowledged the children's Maori heritage, their appreciation of which "may indeed be enhanced" if they relocated to New Zealand.

The tribunal found that the man's ties to the Australian community were "very strong" and weighed in his favour. That included his evidence that for for the past five years he had "primarily identified as an Aboriginal Australian".

The man provided the tribunal with his application for membership of the relevant Aboriginal Corporation, a family tree tracing the Aboriginal line of his family, a letter from his Aboriginal grand-uncle confirming his heritage and identification as Aboriginal, and his grand-uncle's "confirmation of Aboriginality" certificate from the relevant Aboriginal Corporation from 2015.
The children's former school principal confirmed in a letter that the man and his kids had identified as Aboriginal since they arrived at the school six years ago, and that the school had identified the children as Aboriginal in censuses every year since then.

The tribunal decided there was "sufficient circumstantial evidence" to suggest that he was of Aboriginal descent, and accepted that he identified as "as an Aboriginal Australian person".

The man's wife gave evidence at the tribunal hearing that approximately six years ago at a family reunion, the man learnt that he was the descendant of Aboriginal people in Tasmania.

The man's wife said his children were confused by his visa cancellation. "They've been very confronted by the sense of questioning of their belonging to this country," she said.

The tribunal found a permanent separation from their father would harm his sons.
The man committed 28 offences between 2007 and 2015, with 11 of them being driving and traffic related. The offences included breaching restraining orders, common assault, assaulting a public officer, possessing cannabis, driving without a licence and speeding.

The evidence was that he stopped offending in mid-2014, and was out of trouble for the three and a half years leading up to his detention.

His wife said he had become a better father and husband in recent years. "The difference is black and white," she said. He was no longer drinking or taking drugs, had a long-term commitment to employment, and was better connecting with family and friends, she said.
A psychologist said his risk of reoffending was "low to moderate" and that he was "highly motivated to change his previous behaviour".
The role that Aboriginal identity and heritage should play in immigration decisions has become a prominent issue in the last six months.

Two men – Daniel Love and Brendan Thoms – are going to the High Court over being held in immigration detention. Both had their visas cancelled despite having Aboriginal backgrounds.
Love was released after seven weeks and is suing the government for false imprisonment, and Thoms remains in immigration detention.
As part of their case, they are arguing that a "member of the Aboriginal race" who has a connection to Australia cannot be considered an "alien" under the Australian Constitution, and therefore the government has no power to detain or deport them. The cases are expected to return to the court for directions next month.

Huggins said the case "will prove that a member of the Aboriginal race of Australia under the Constitution cannot be treated as an alien...If you grew up in another country, you're still Indigenous to Australia."
In November, the Full Court of the Federal Court of Australia criticised the minister's delegate for failing to consider the identification of Justin Hands, who spent decades living in Aboriginal communities, as an Aboriginal man, and to consider the impact of his deportation to New Zealand on the Aboriginal community.

A previous Federal Court ruling upheld a decision to deport a man with Aboriginal heritage to New Zealand.

BuzzFeed News reported in September that Aboriginal and Torres Strait Islander people were routinely being held in immigration detention. The laws and guidelines around migration do not explicitly mention Indigenous background or heritage as a factor to take into account. Huggins said Aboriginal and Torres Strait Islander people were a "a unique case", and that laws should reflect their position as the First Peoples in this country.

The home affairs department does not record whether its detainees are of Aboriginal or Torres Strait Islander background. For that reason, a freedom of information request by BuzzFeed News for the numbers of Indigenous people detained or deported yielded no documents.

"Individuals are recorded in departmental systems according to their citizenship and the Department does not collect information regarding the number of Aboriginal or Torres Strait Islander people," the FOI decision-maker wrote.

The Senate Standing Committee on Legal and Constitutional Affairs committee recently recommended expanding visa cancellation powers under the character test.

BuzzFeed News has approached the Department of Home Affairs for comment.

Do you know more? Contact this reporter on Signal at +61488 601 373 or by email at hannah.ryan@buzzfeed.com.