53 Wildly Disturbing Things That Actually Happen In "Bee Movie"
What did Ray Liotta do to deserve this?
Look, I love movies. I love memes. One thing exists at the exact intersection of these interests: Bee Movie.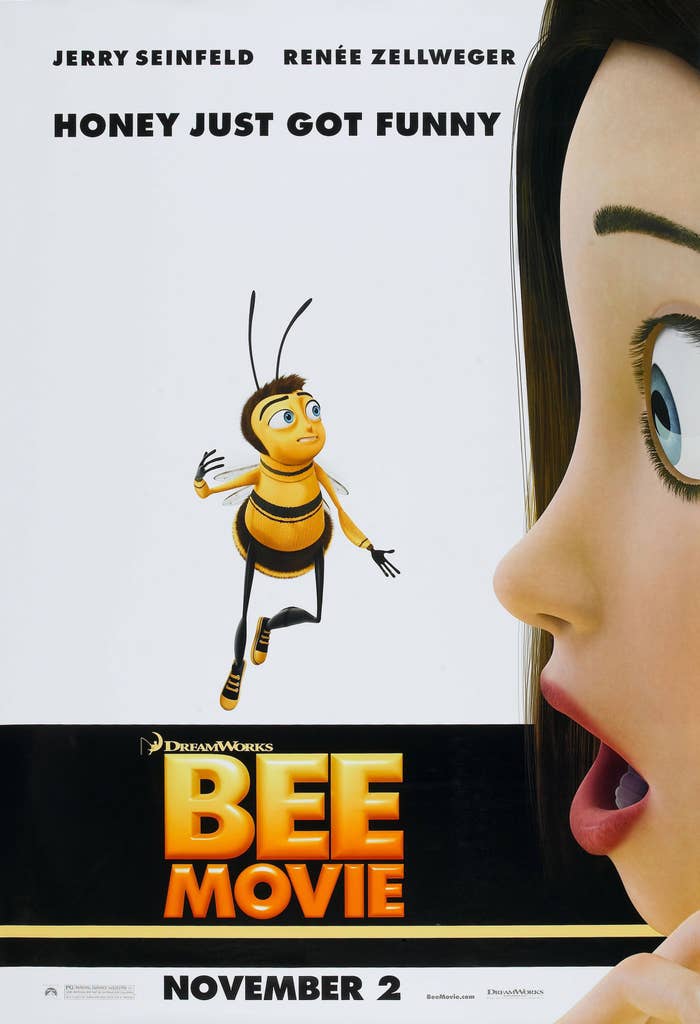 Despite this, I have never actually seen Bee Movie. All of my knowledge of the film I've gotten from Tumblr.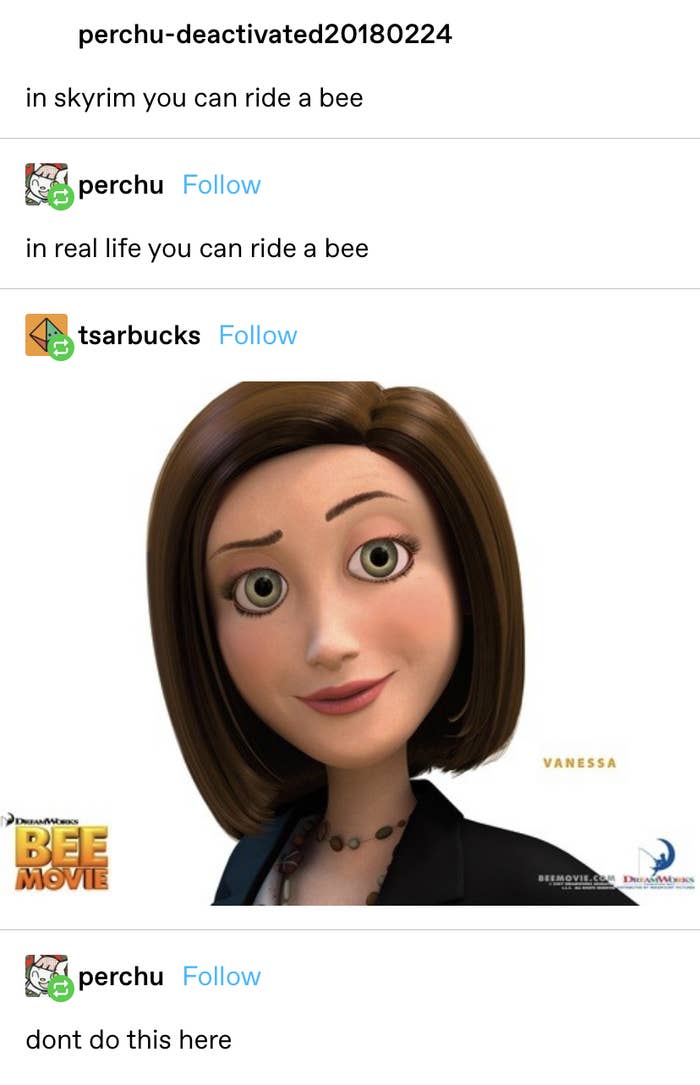 Because a) I'm curious and b) I have nothing better to do, I have decided to finally watch the film and see if it's as bonkers as everyone says. Thus, I will document every disturbing thing that happens in the film.
1.
Right off the bat, in the first few minutes of the film, something happens that truly makes me shudder: Our main character, Barry, SHARPENS his STINGER in a pencil sharpener, which vibrates his bulbous butt.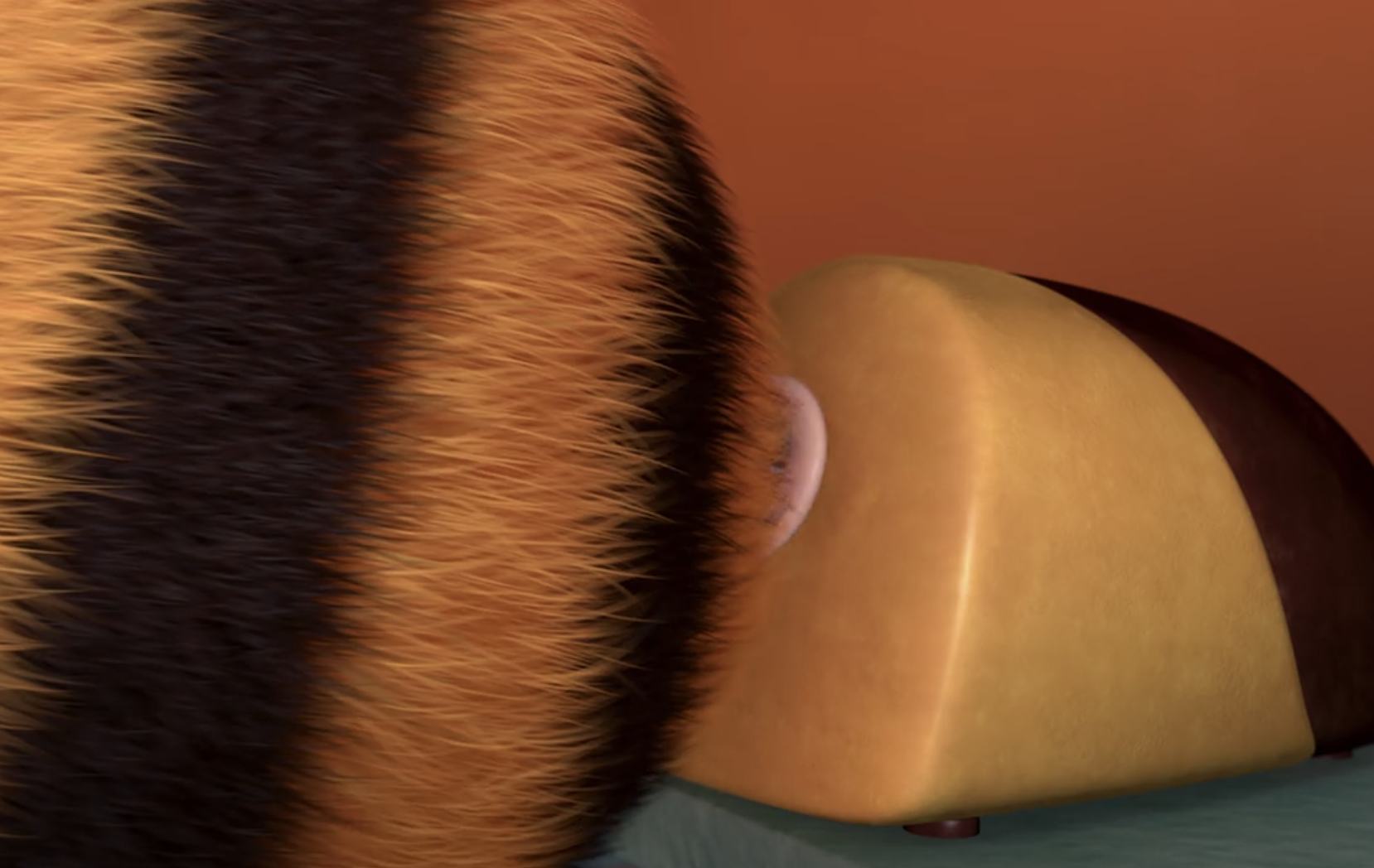 2.
Barring that truly disturbing moment, the movie starts off pretty standard. Everyone in the hive is super excited to do their part and work for the rest of their lives — but Barry wants more out of life.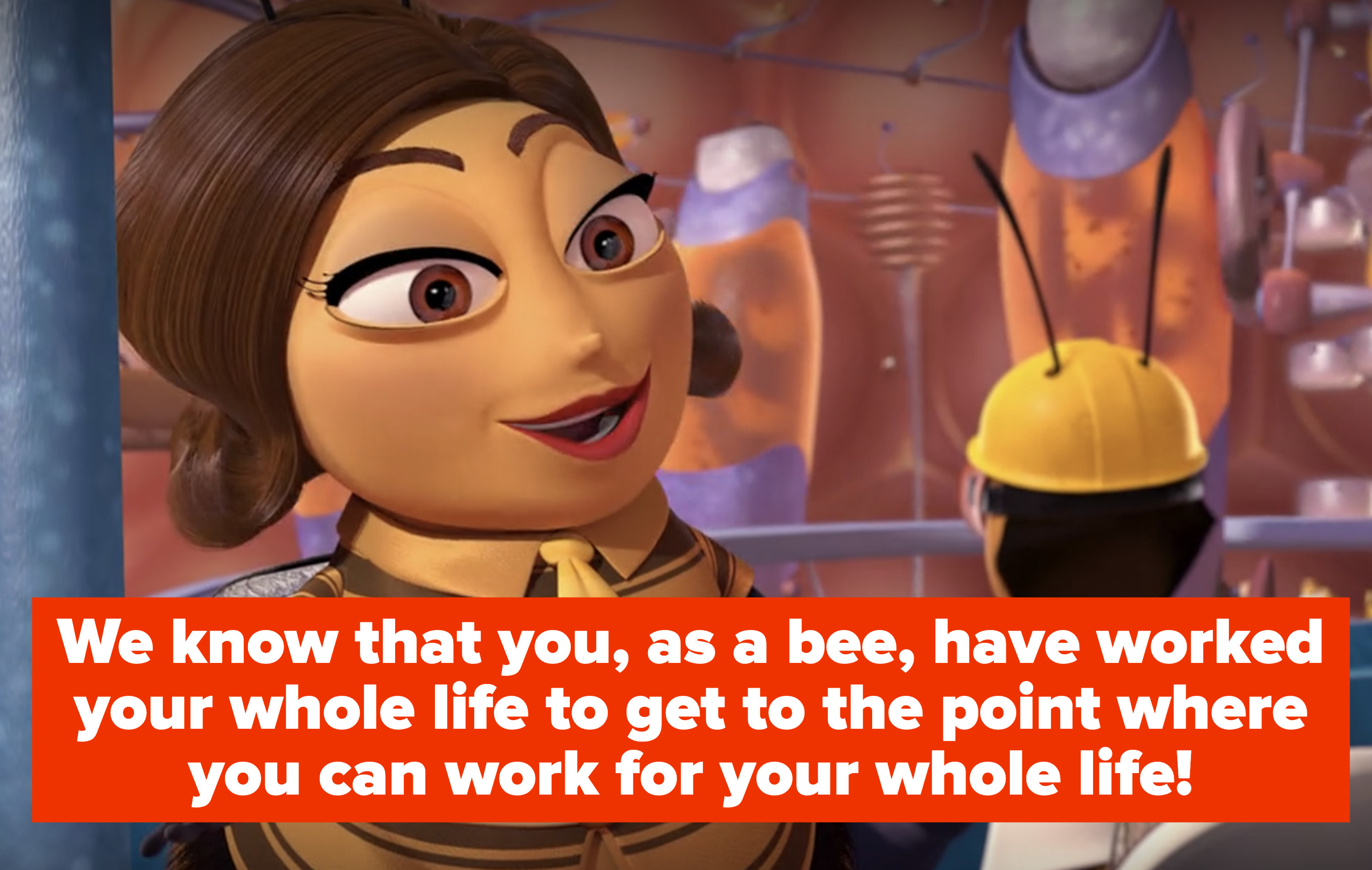 3.
Before they choose their jobs, Barry and his BFF Adam get a tour of the hive (at this point I'm confused, because they've lived there their whole lives, but whatever), and we get the second disturbing moment of the film...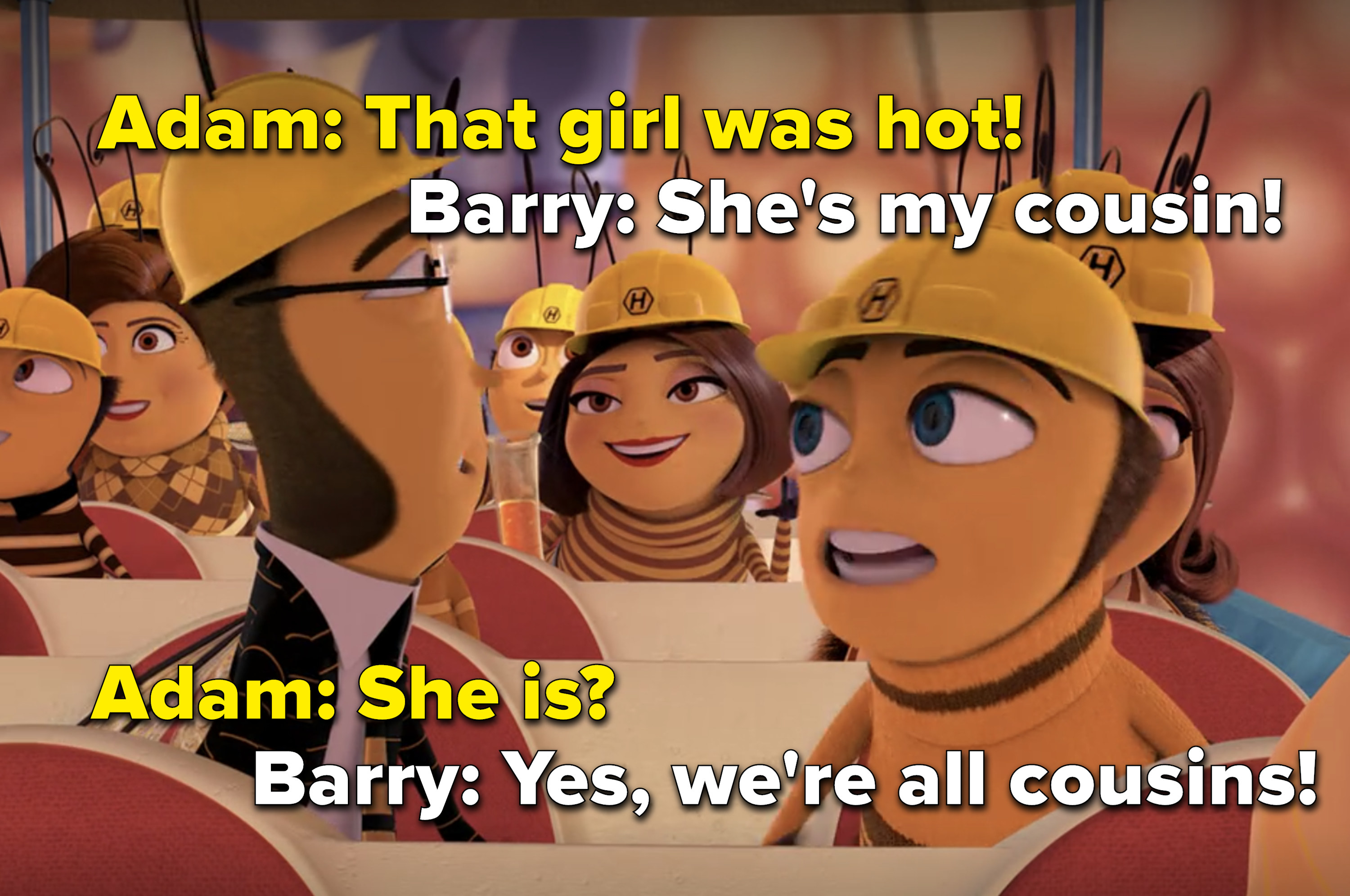 4.
It's not a one-off, either. They really run with this joke.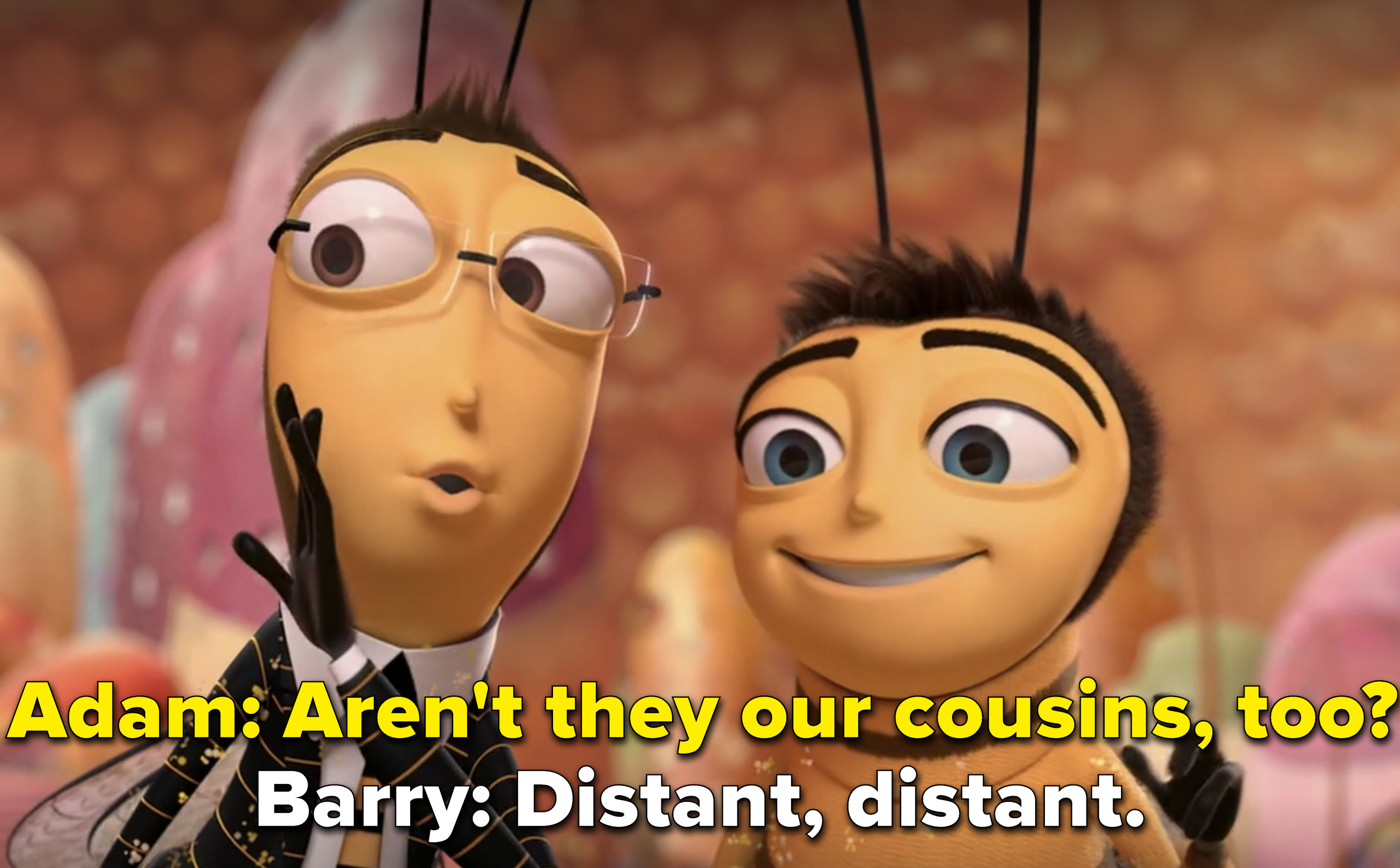 5.
Wait, I take back what I said about capitalism. Is this a critique of failed communism??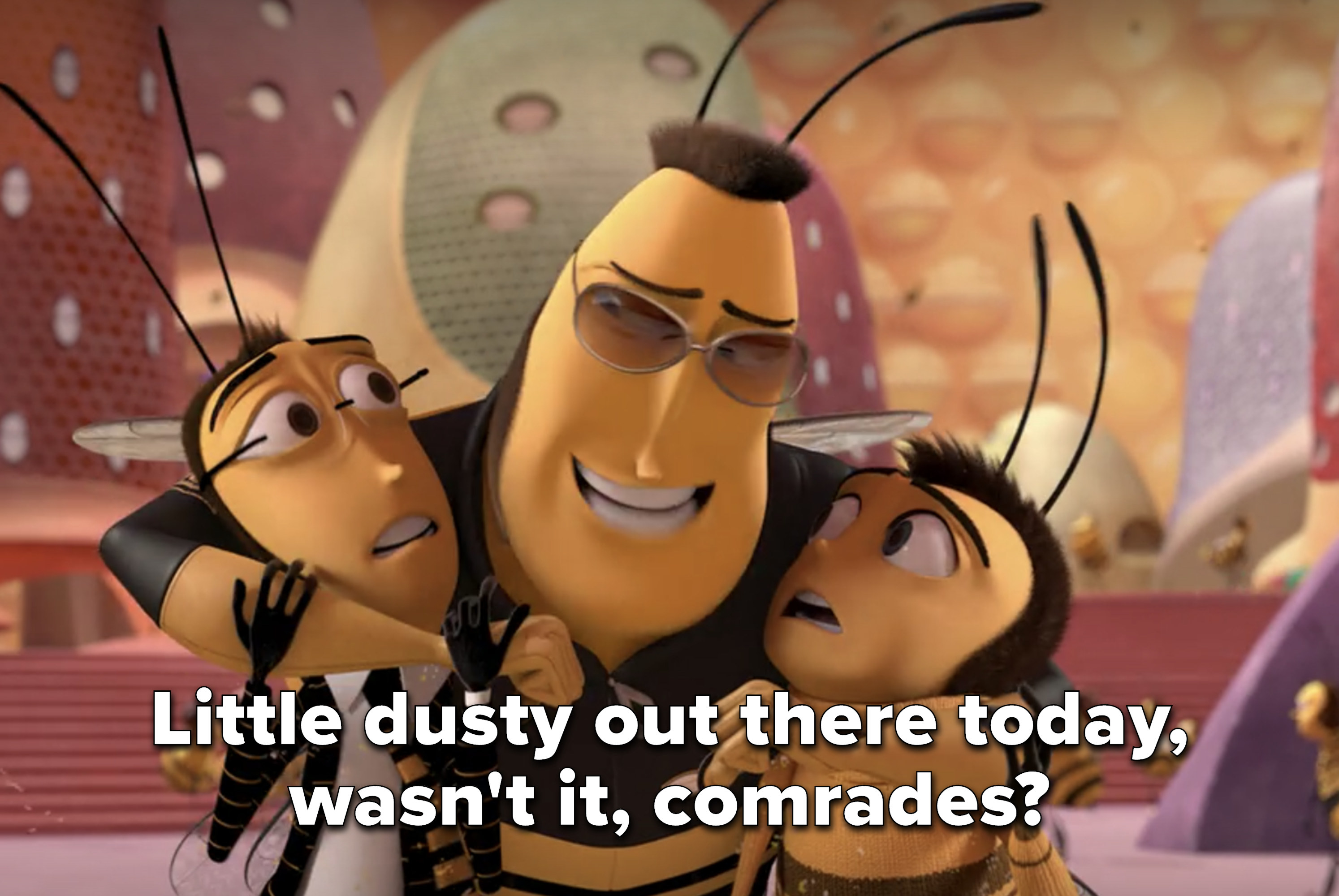 6.
Then the plot really gets going: Barry decides to go out of the hive with the pollen jocks rather than choose a job, but he gets lost and eventually ends up being saved by a woman named Vanessa. I just want to mention one thing here, and that's Barry coming across a dead bug in the air-conditioning vents of a car.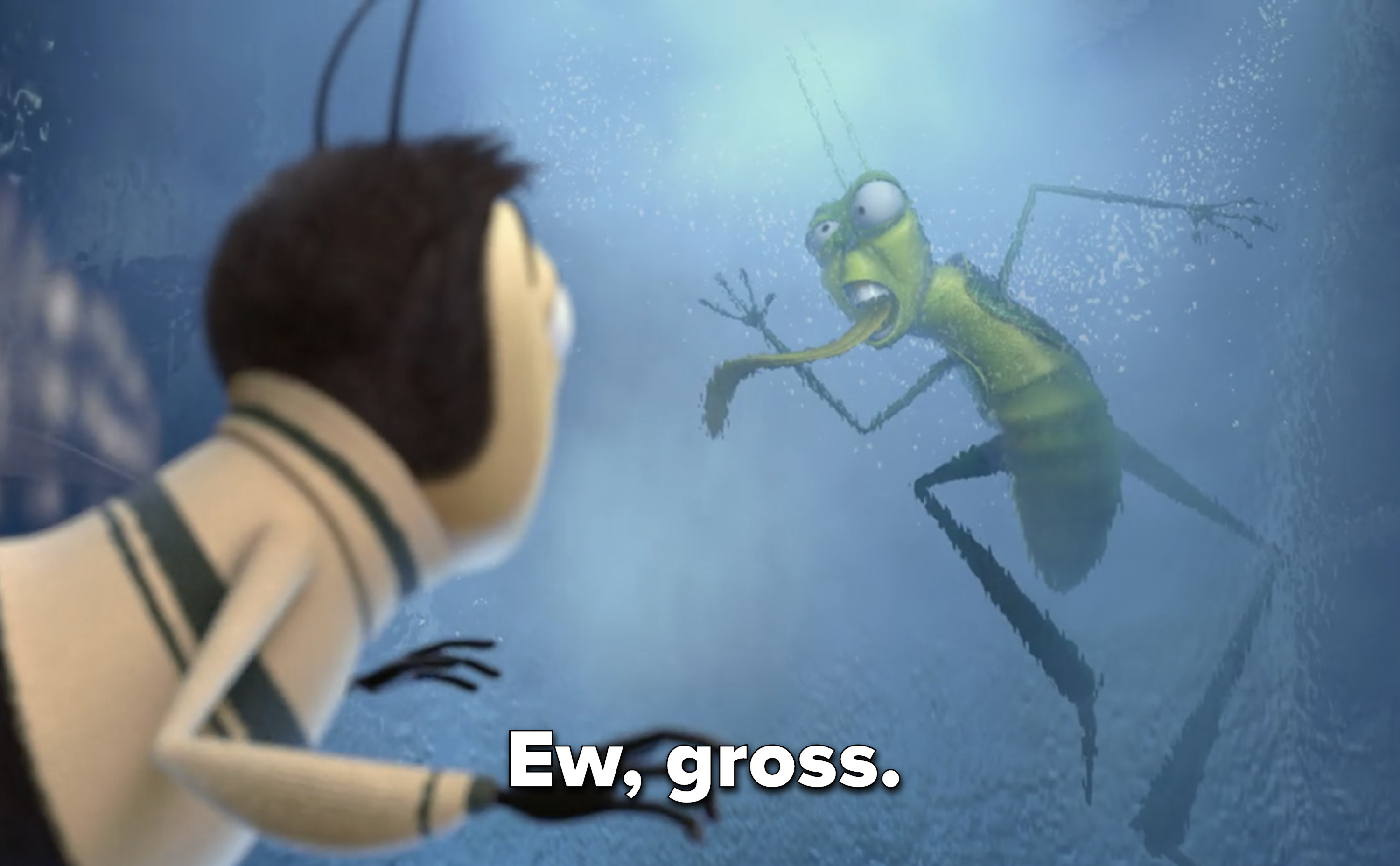 7.
Vanessa is understandably shocked at hearing a bee speak, so naturally, she stabs herself with a fork.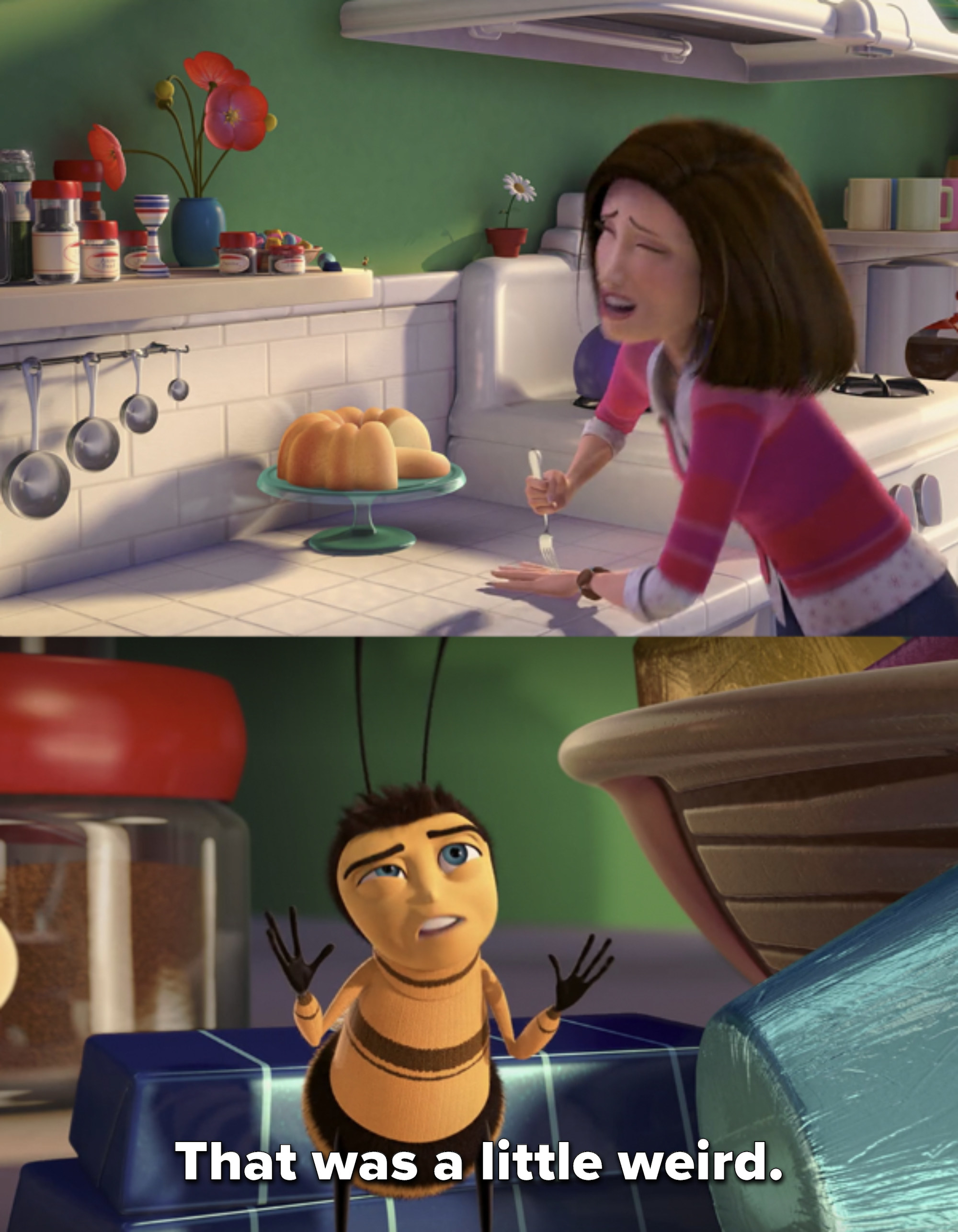 8.
And then...Vanessa and Barry start flirting and hitting it off, and they play this "tender music" and HOLD HANDS, and oh my god, I cannot get past the fact that Barry is a literal BEE.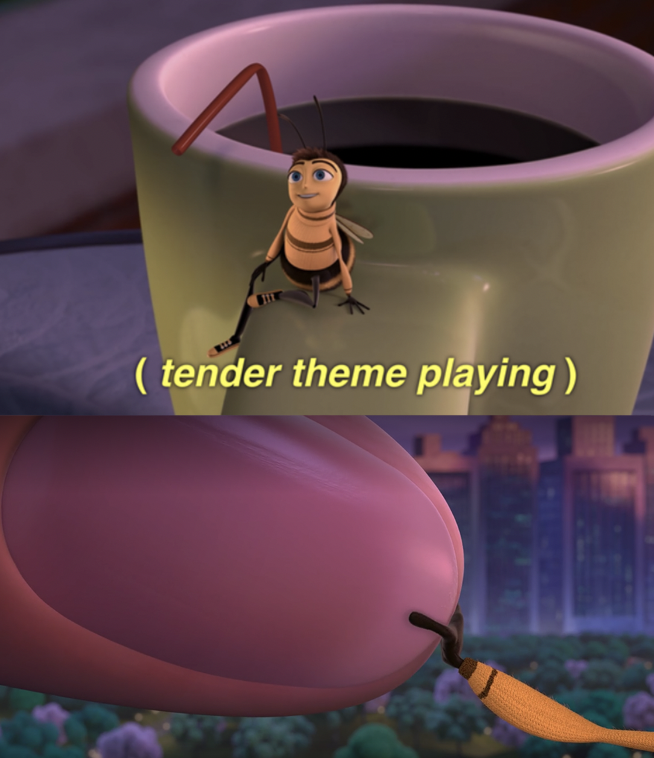 9.
But the worst part of the film so far comes when Barry daydreams about going on a date with Vanessa. There's just...a lot to unpack here. Like when Vanessa kills a bug in front of Barry.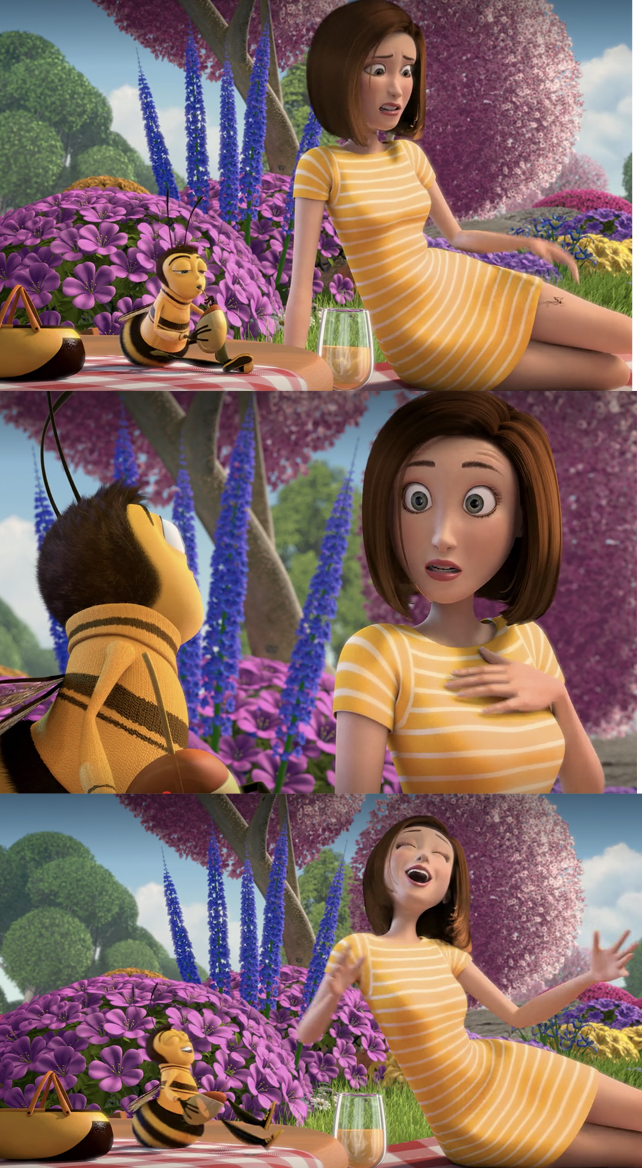 10.
Or just the generally flirtatious way she speaks to him.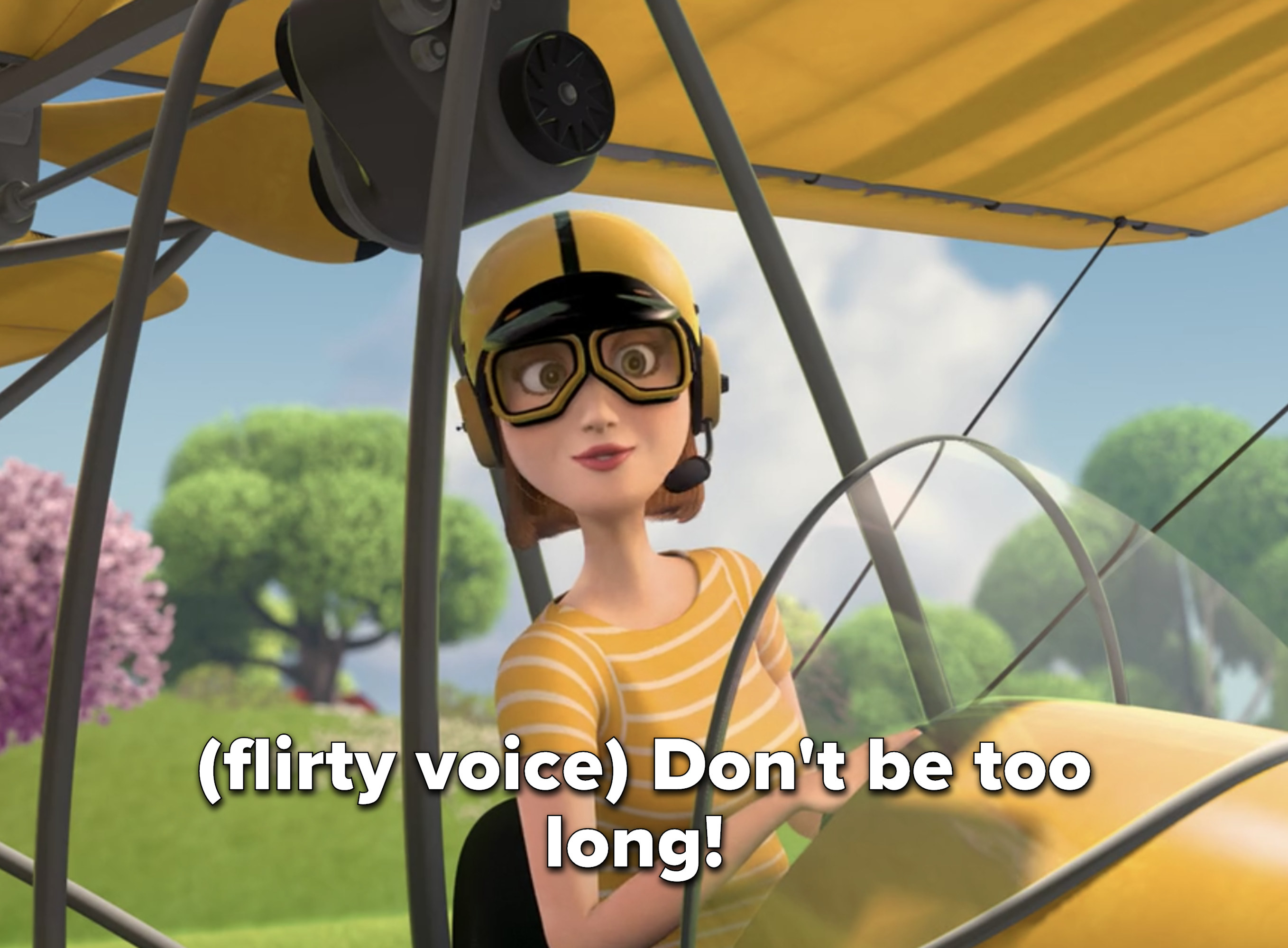 11.
AND THEN VANESSA CRASHES AND DIES IN HIS FANTASY???!??!!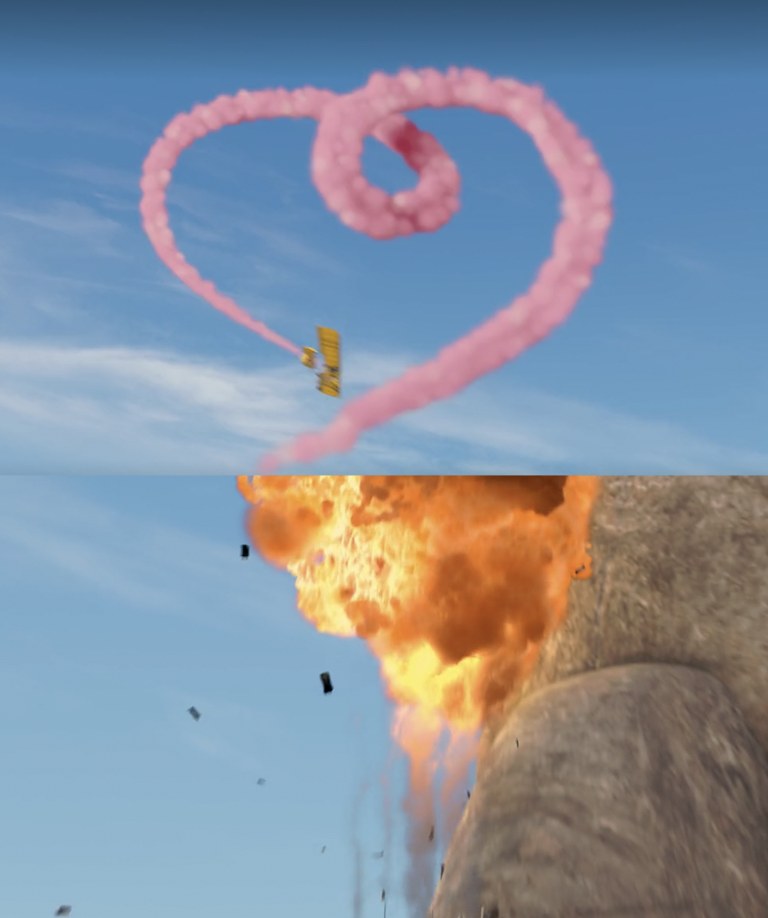 12.
That is literally Vanessa's skeleton.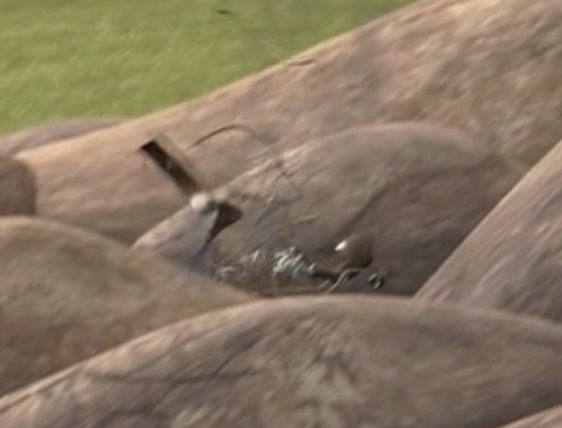 13.
Despite being cautioned to stay away from Vanessa, Barry just keeps going back. And then he mentions his sex drive. :/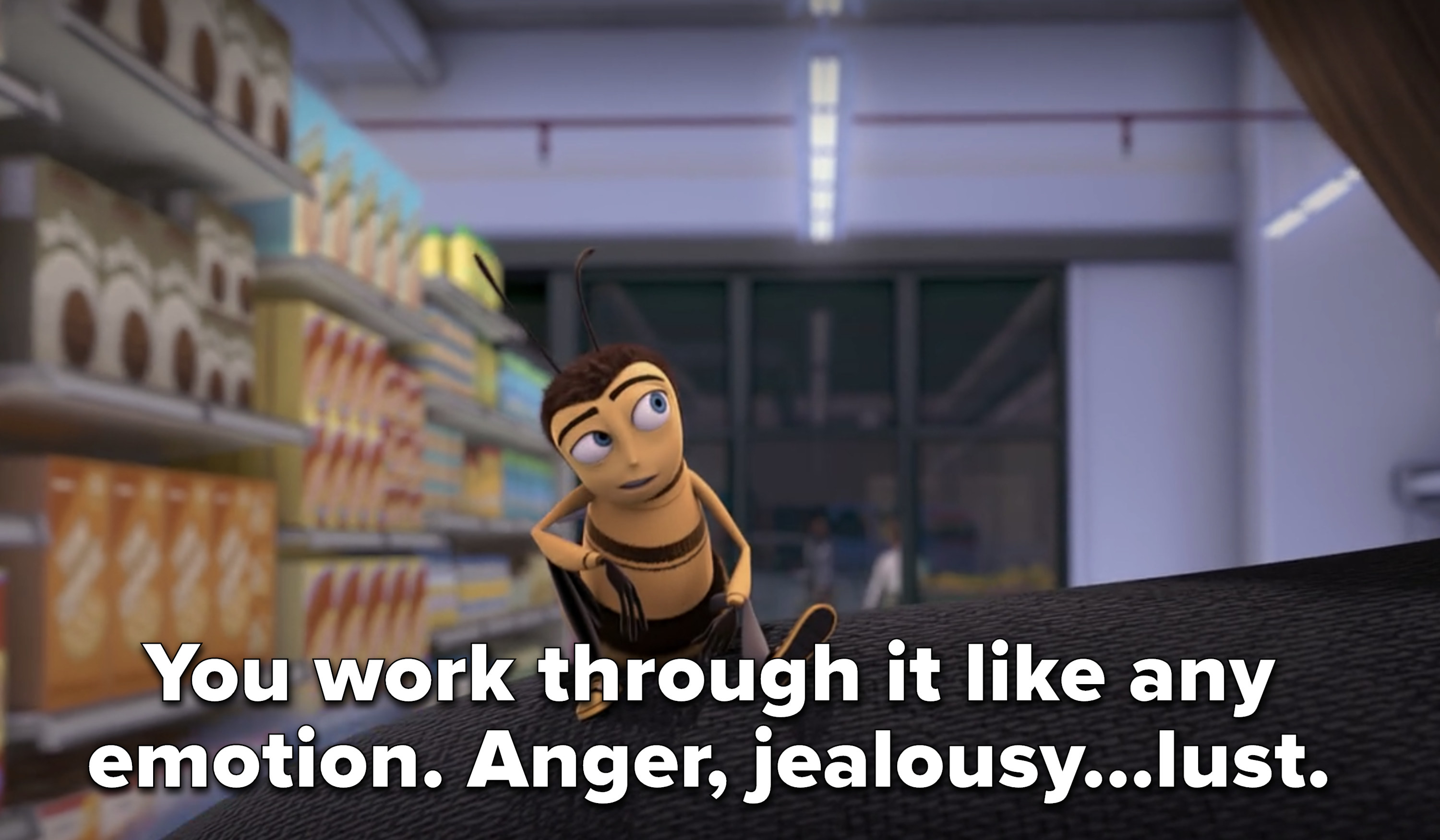 14.
It's around the 33-minute mark, though, where things really start to go off-kilter. Thus far the plot has been about Barry wanting to see the world and then falling in love...very Disney. But then he finds out that humans are selling honey and gets super upset.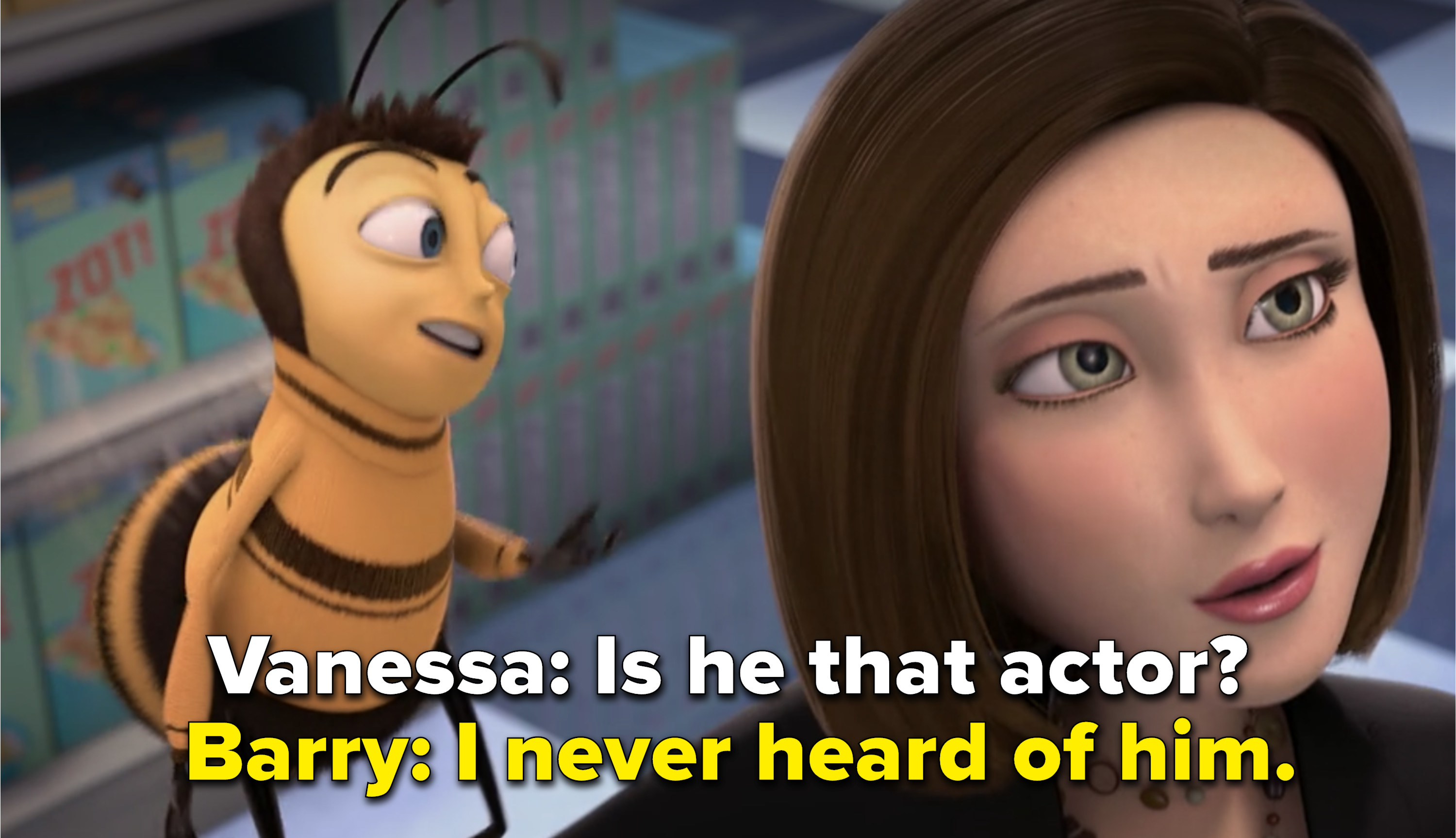 15.
Barry goes to interrogate a worker to find out where the honey's coming from...and the worker somehow senses him in the room?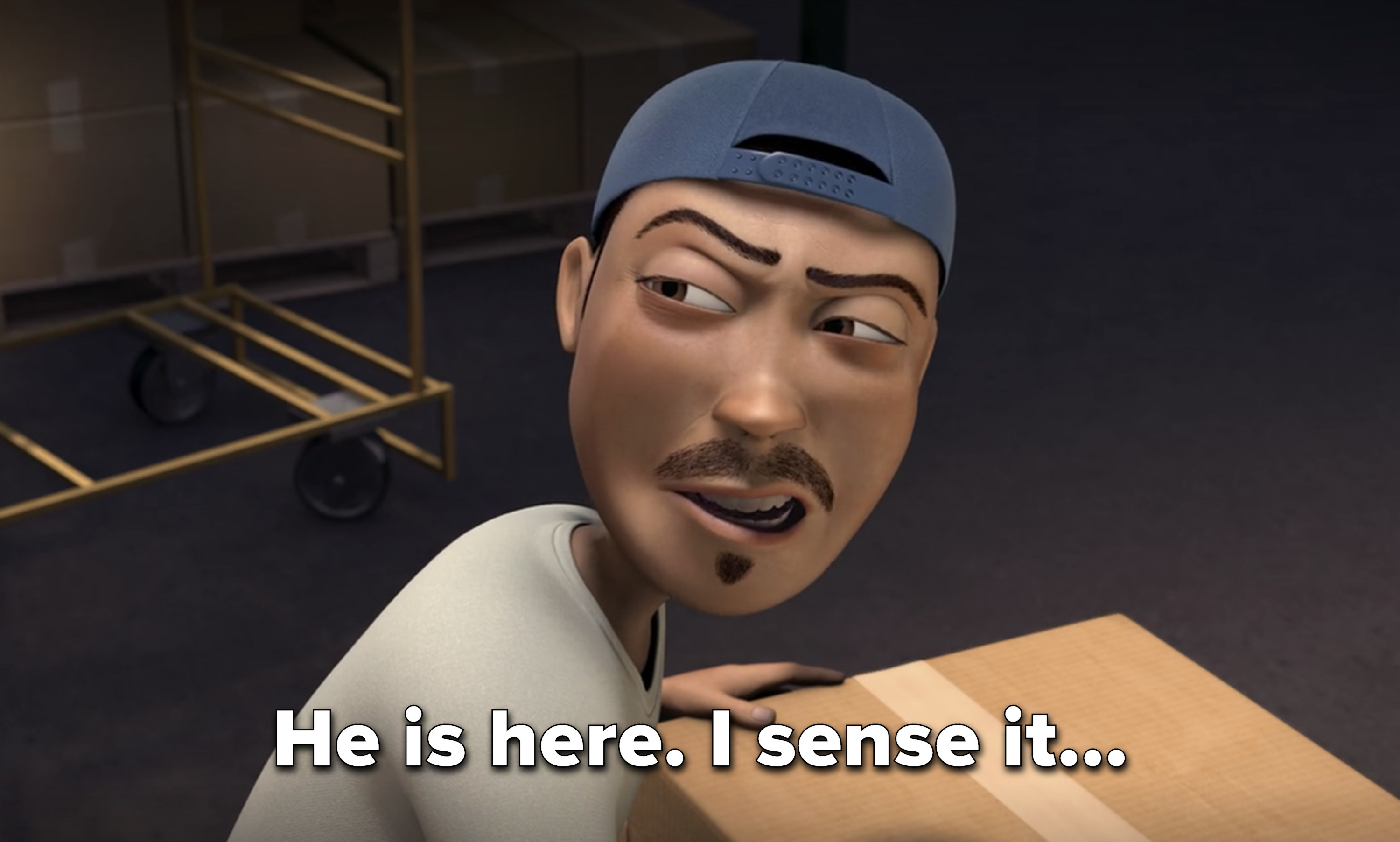 16.
THEY LITERALLY START SWORDFIGHTING WITH A PIN AND BARRY'S STINGER.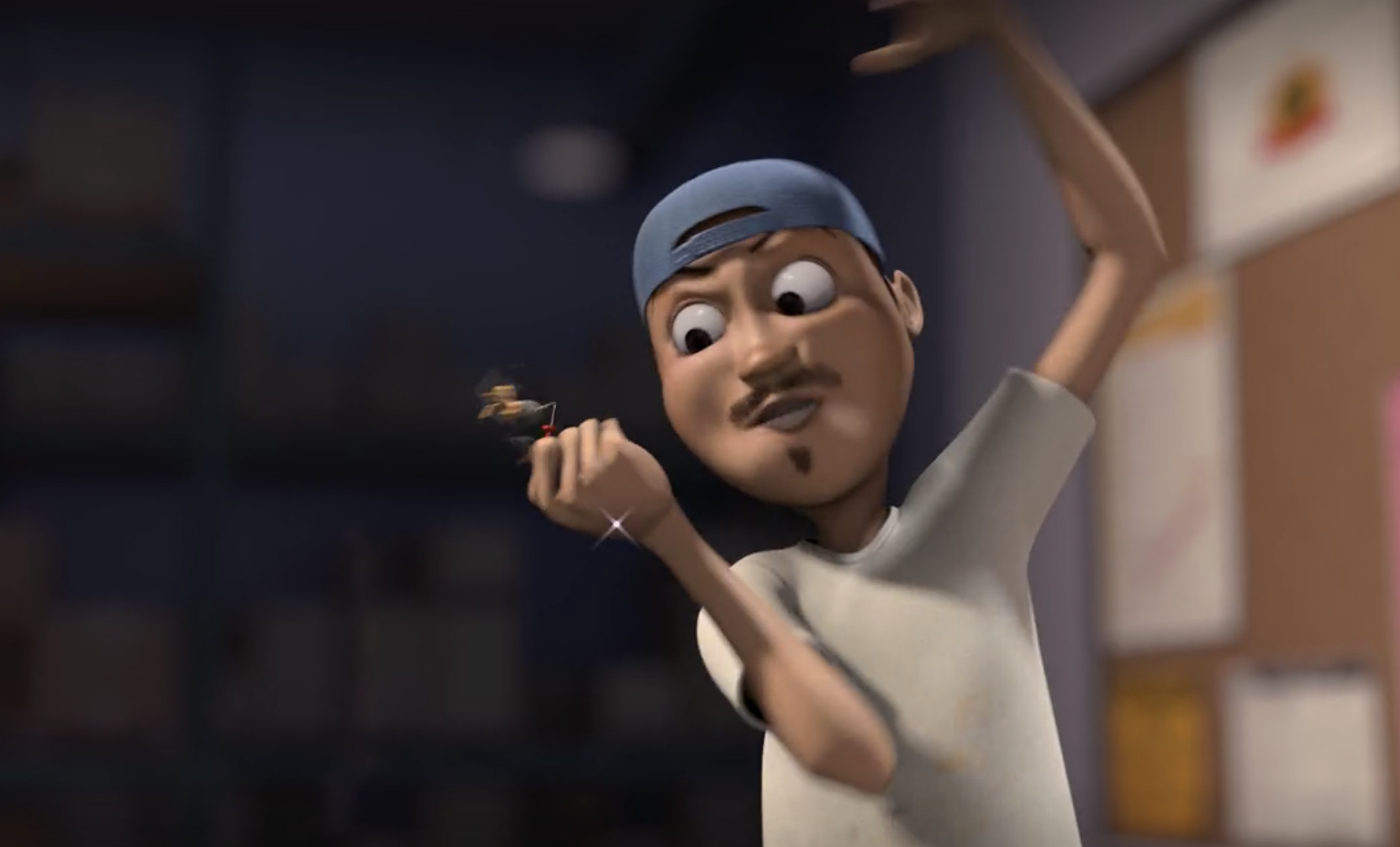 17.
I finally get my answer about how bugs are seen in this world when Barry gets stuck on a windshield with a bunch. They're clearly comparable to bees in terms of personality and intelligence. And yet...Barry is still completely nonchalant about being TRAPPED NEXT TO A DEAD BODY.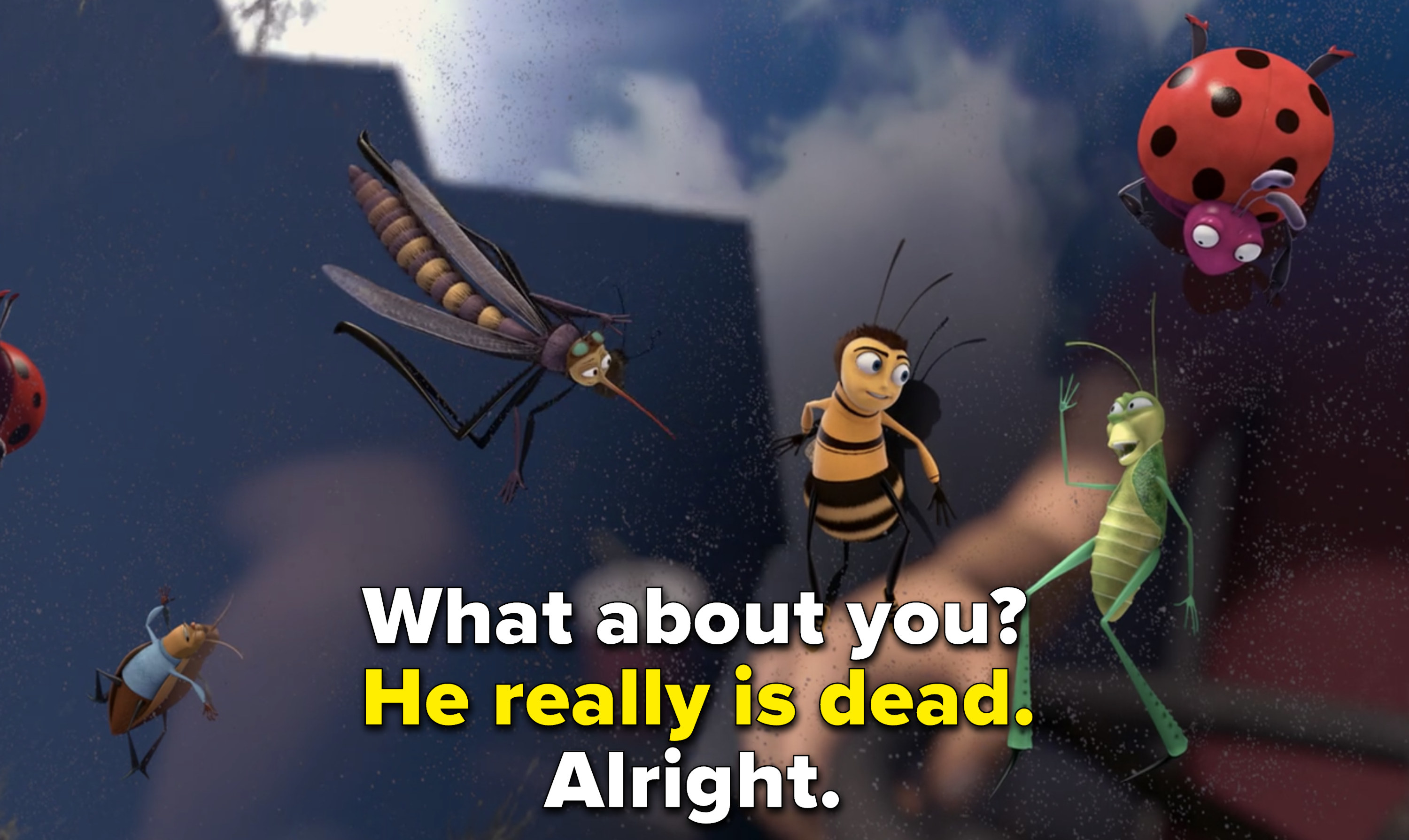 18.
He also competes with another bug to hold on to the car, cheering when the other bug is thrown off, presumably to his horrible death.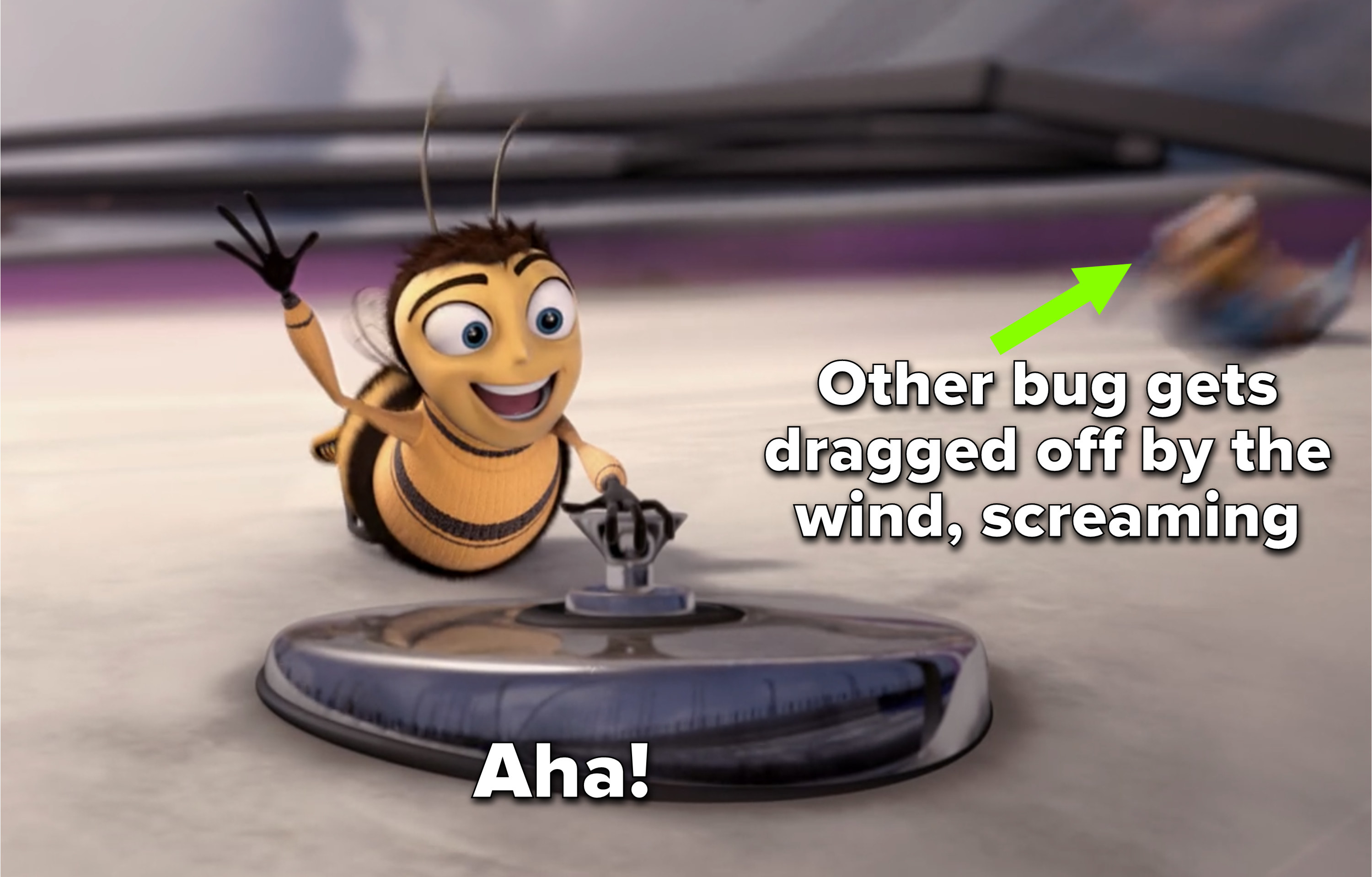 19.
Barry finds a honey farm and discovers that bees are being mistreated, and then we get this truly random joke that just did not need to be in this film.
20.
Like, seriously. Who decided to put these lines in a kids movie?!
21.
The plot continues to go off the rails when Barry decides to sue the human race. Yep, you read that right.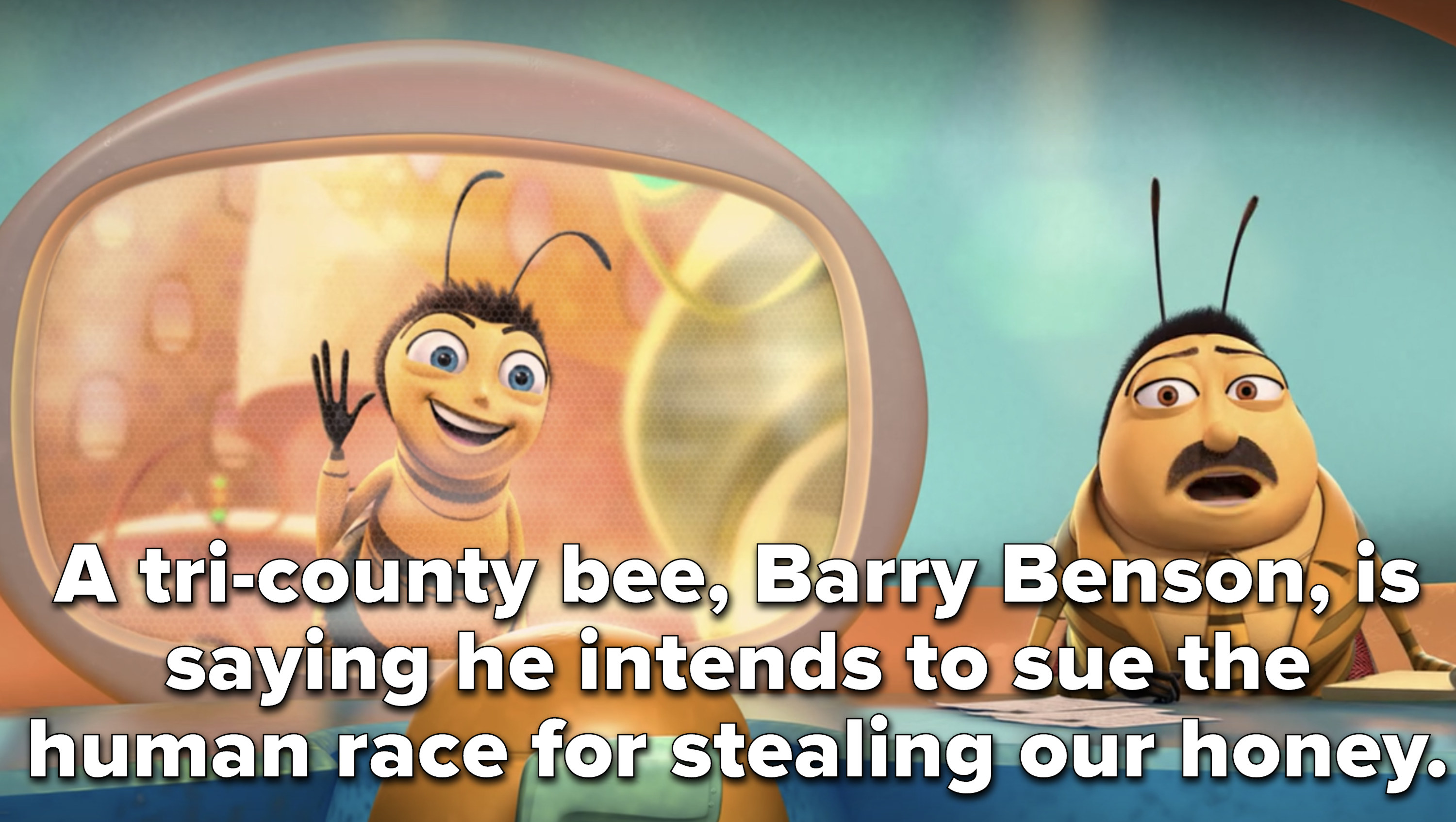 22.
Sidenote: Some of the jokes in this movie just feel SO out of place, like this one about plastic flowers. Who is this movie for?! This is not Seinfeld!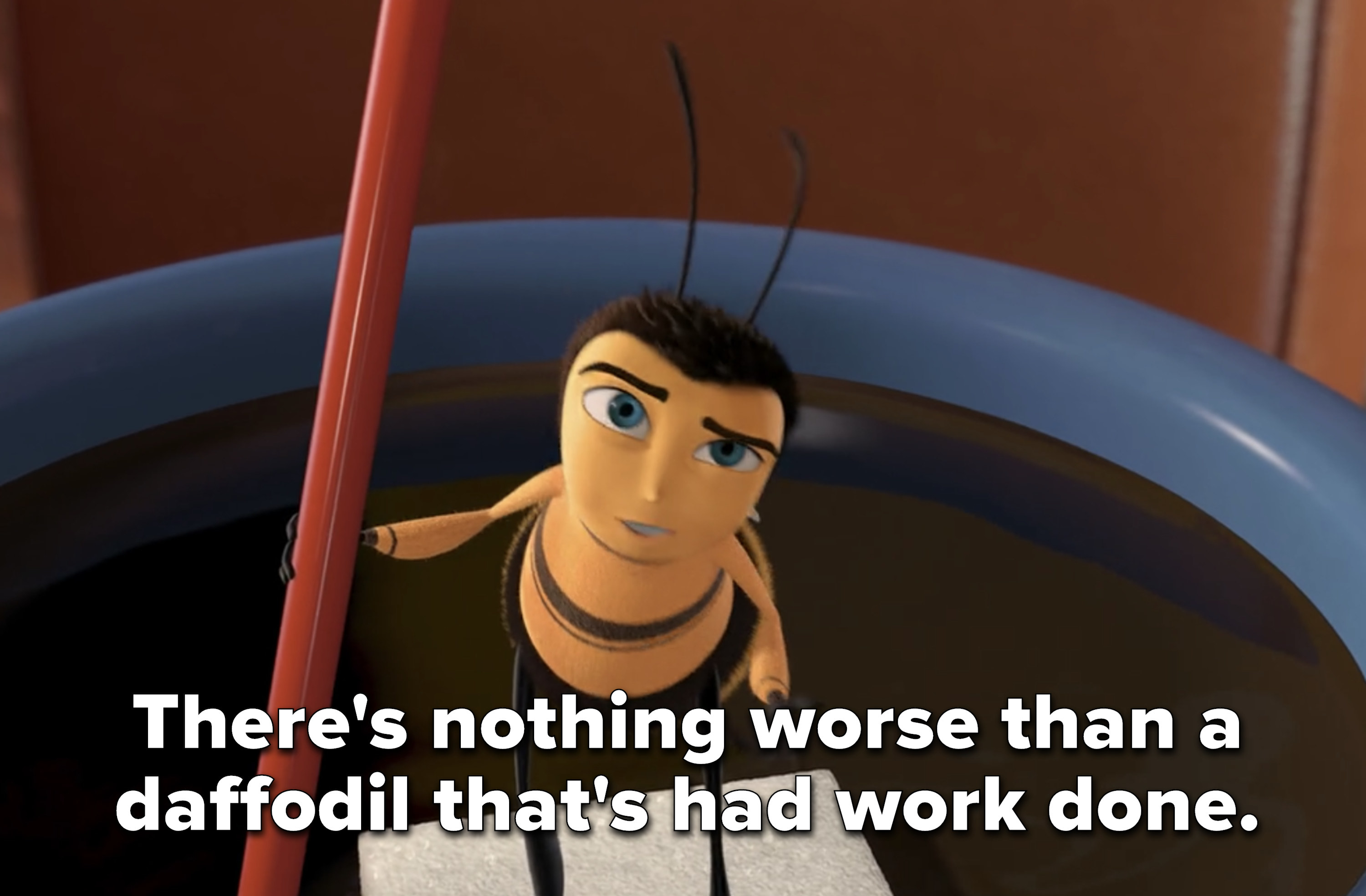 23.
Okay, the idea of suing the human race was bonkers enough. But then...they actually get a trial?! And the lawyer of the other team just walks in and casually accepts that there are literal bees he's about to argue against?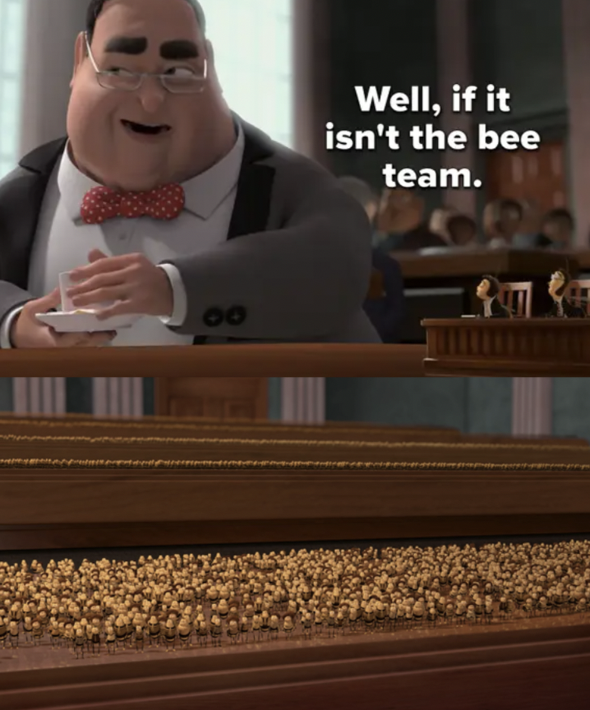 24.
We also get another act of bug violence for good measure.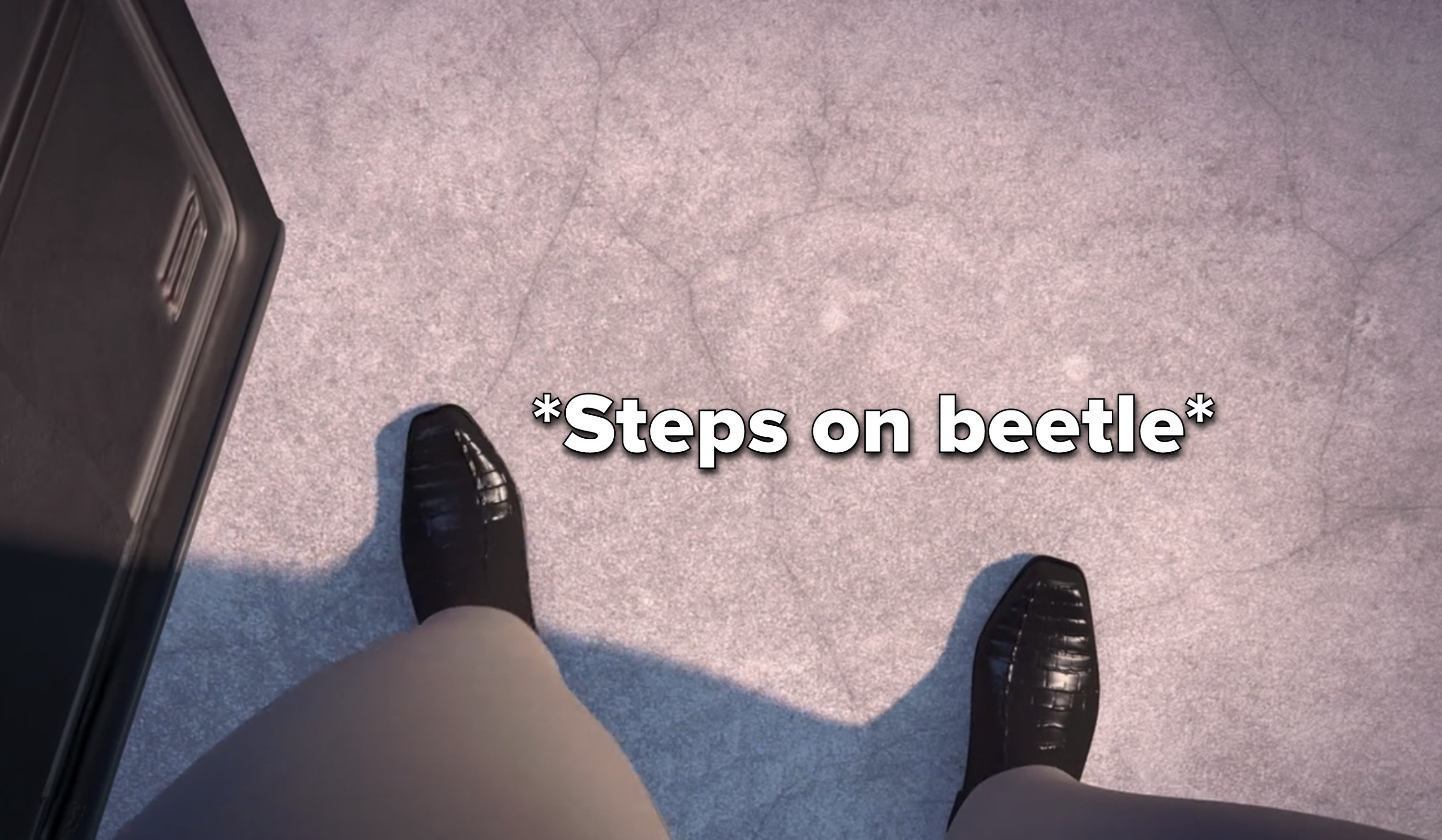 25.
The trial proceeds about as you would expect — i.e., absolutely ridiculously. It's not even funny at this point; it's just...odd.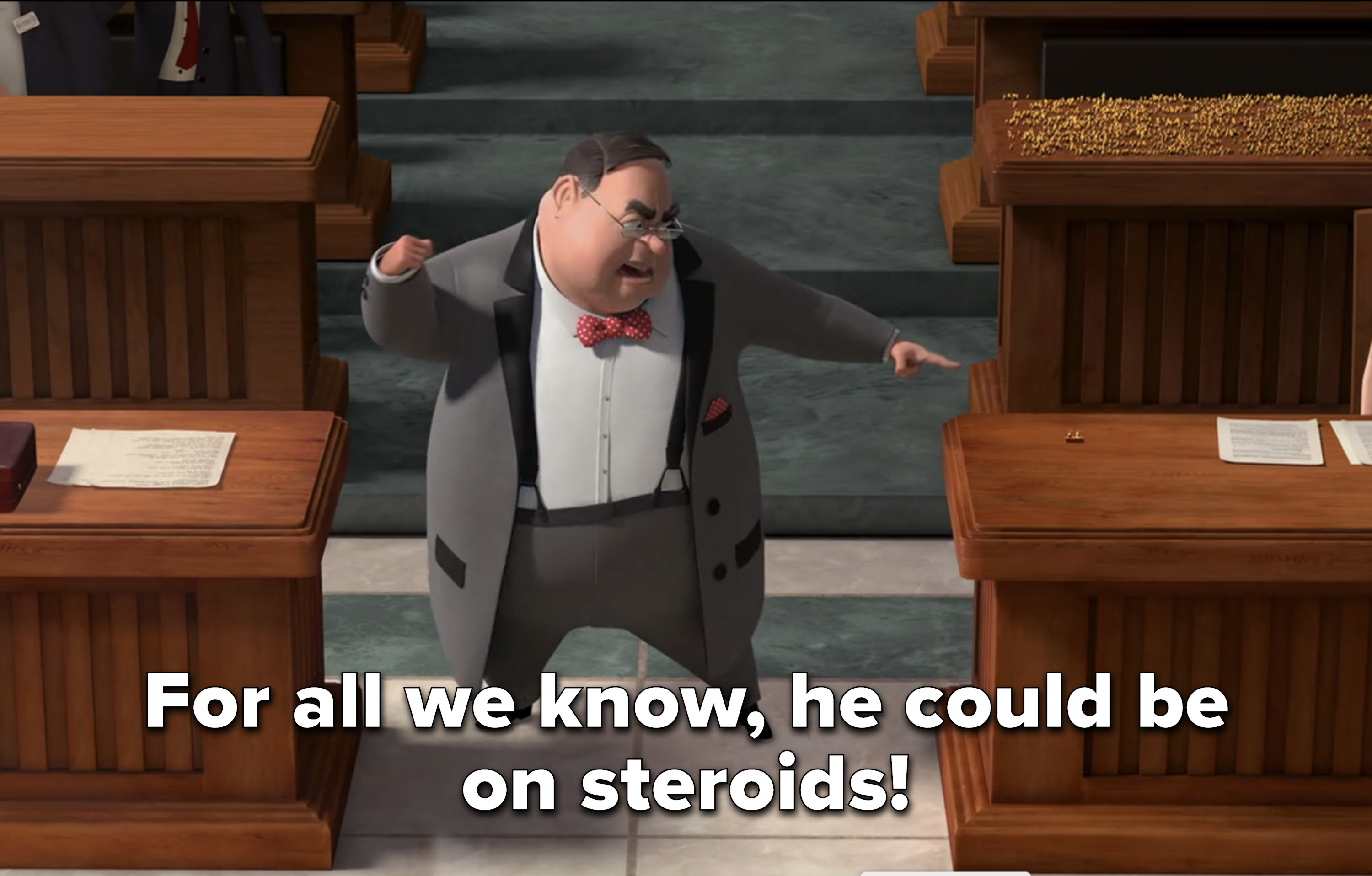 26.
At one point, Barry brings out an actual live bear to frighten the jury, and I just accept it. I've seen worse in this film. He also brings in musician Sting to defend his stage name, which Barry is basically claiming as bee appropriation? I don't know. I got a little lost here.
27.
I really don't get what this movie has against Ray Liotta. They singled him out hardcore. Out of all the celebs to throw shade at, Ray is about the most random one they could've chosen.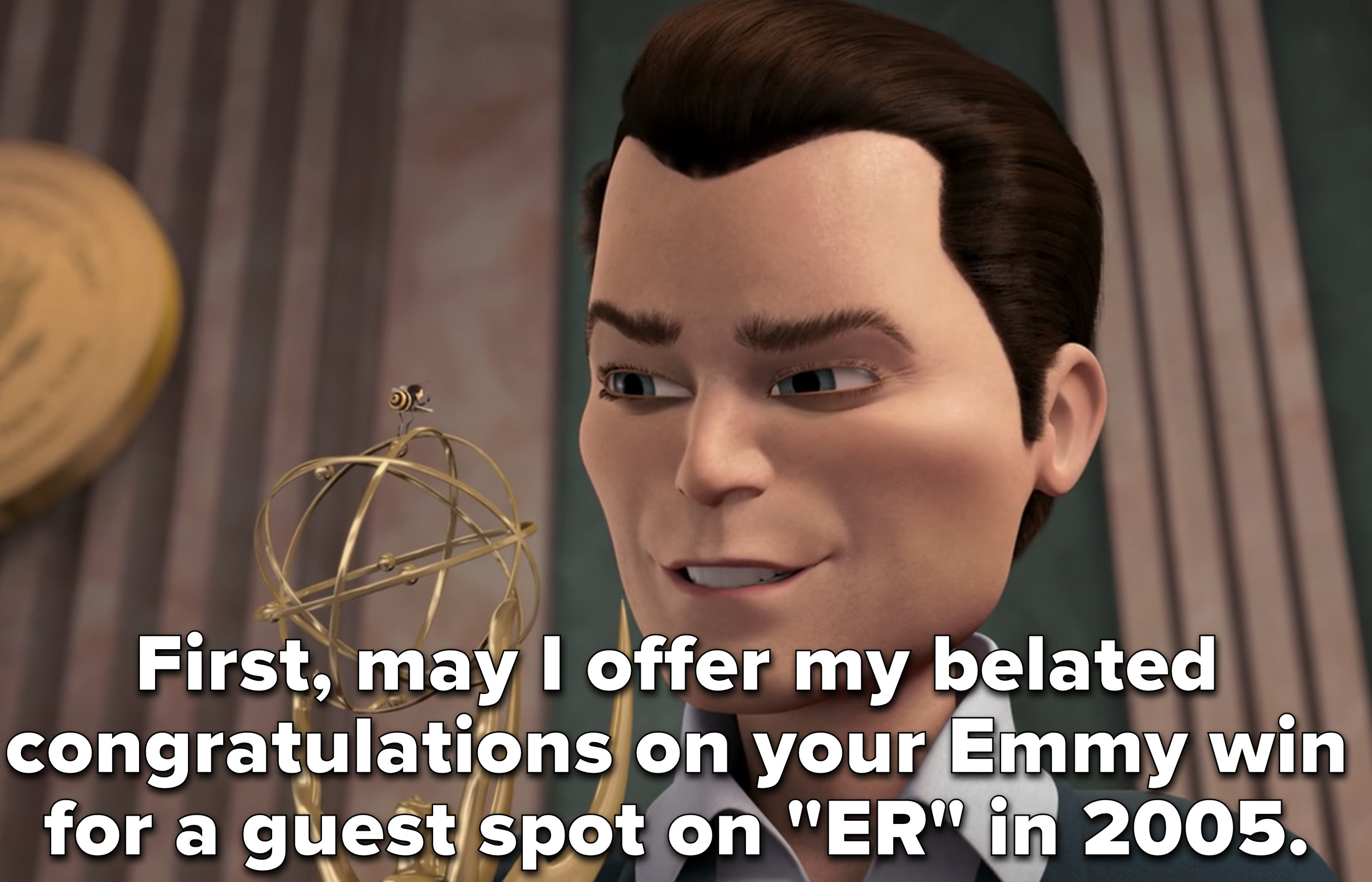 28.
This is so weirdly specific.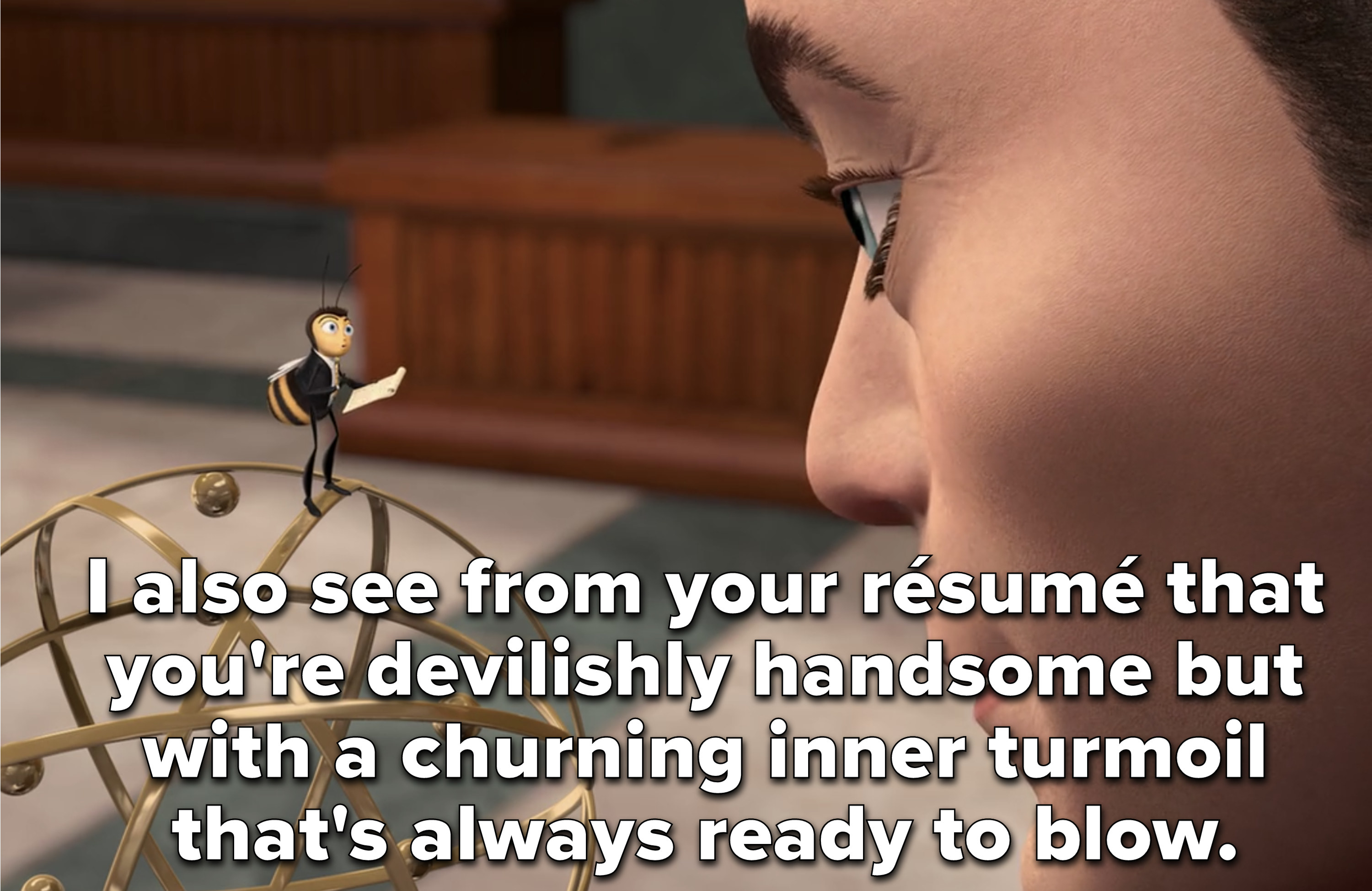 29.
I mean, really.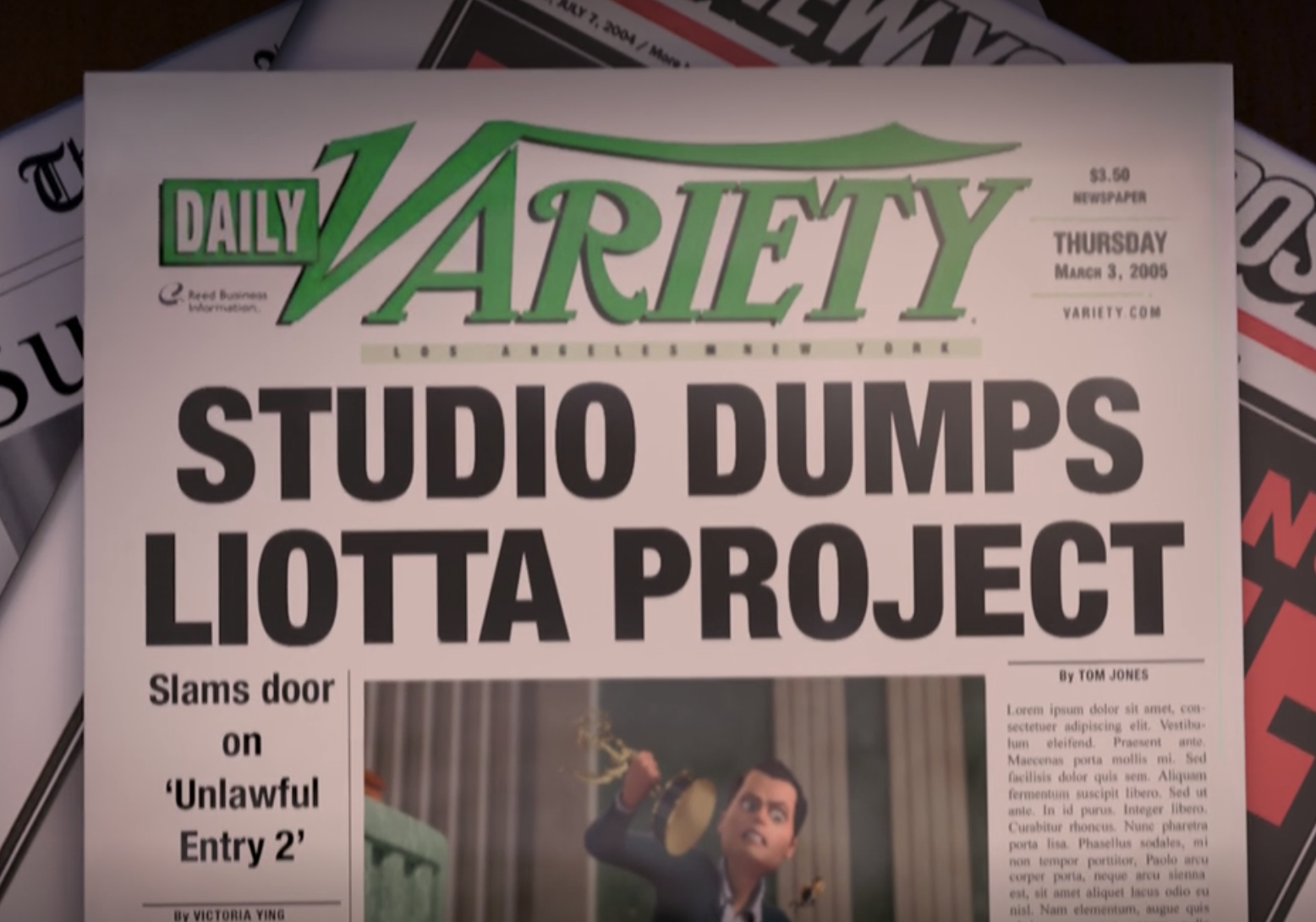 30.
At a break between days of the trial, we check in on Vanessa and her fiancé (I'd almost forgotten about that storyline), who treats Barry like the other man (which he kind of is). So naturally, he tries to violently kill Barry.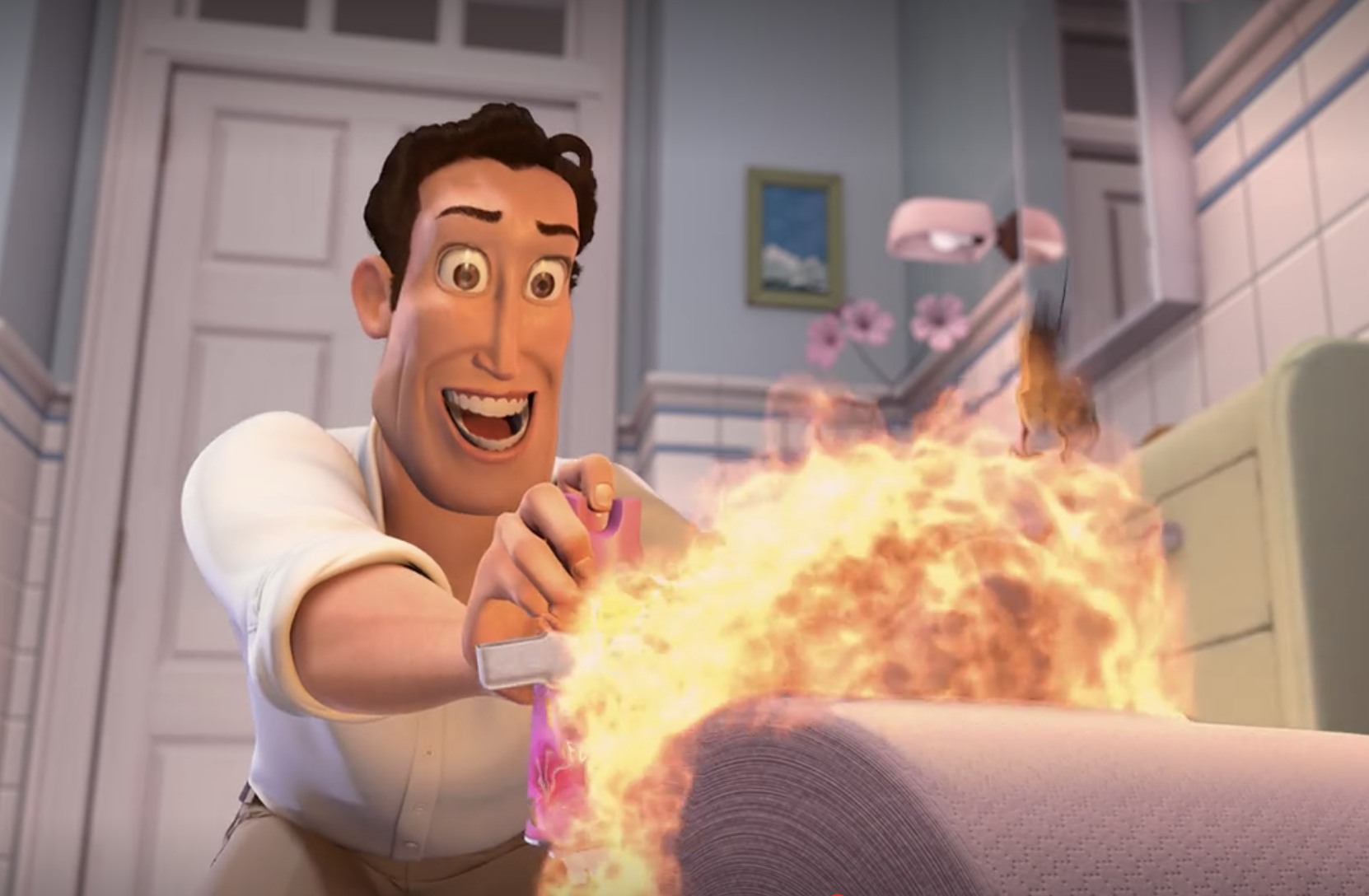 31.
Barry somehow surfs on a nail file and survives. Was the person who wrote this on drugs?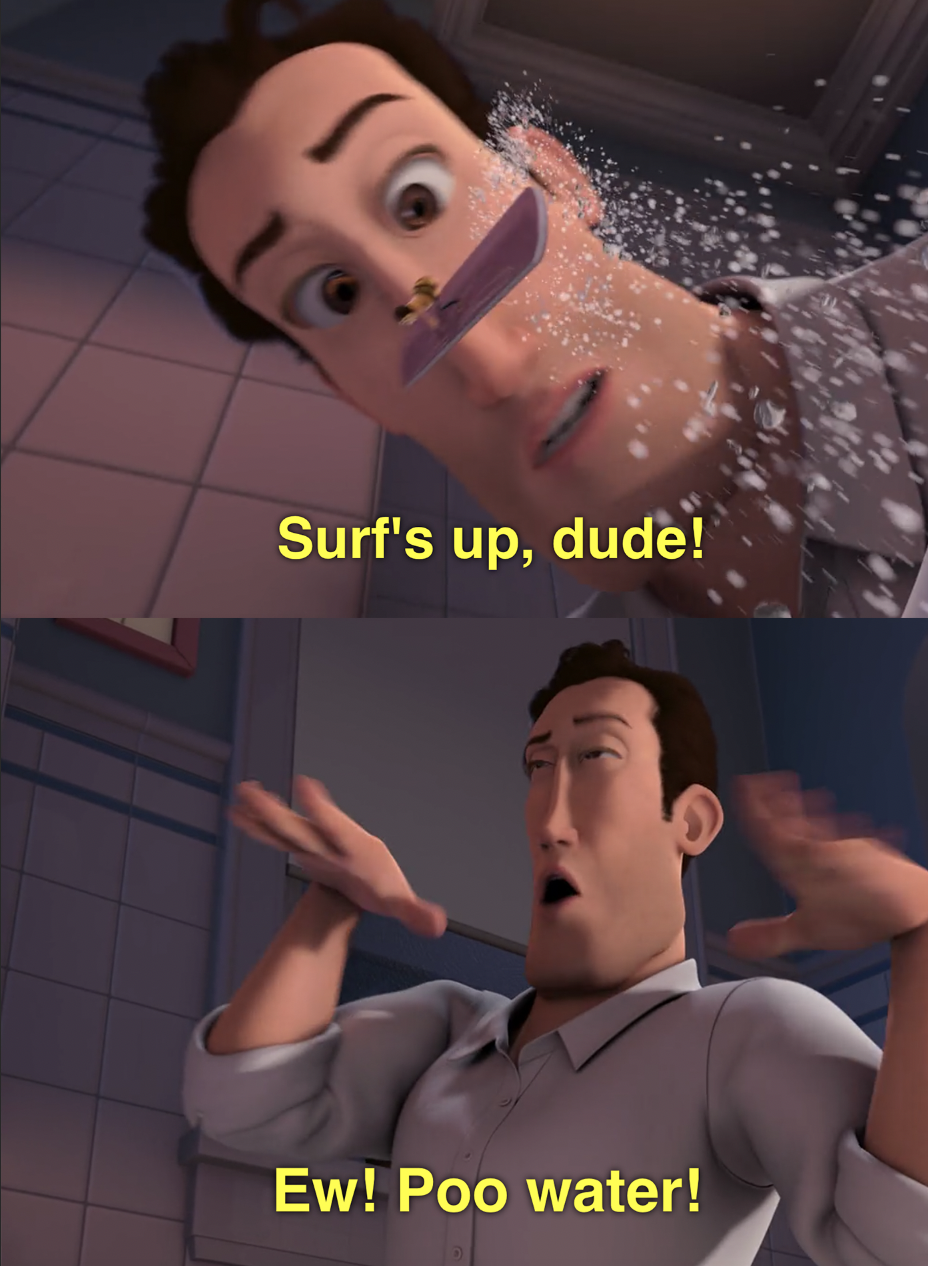 32.
And Vanessa finally kicks her bum fiancé out in a moment with a LOT of weird subtext. Does Ken think Vanessa is having sex with Barry and/or other bugs??!?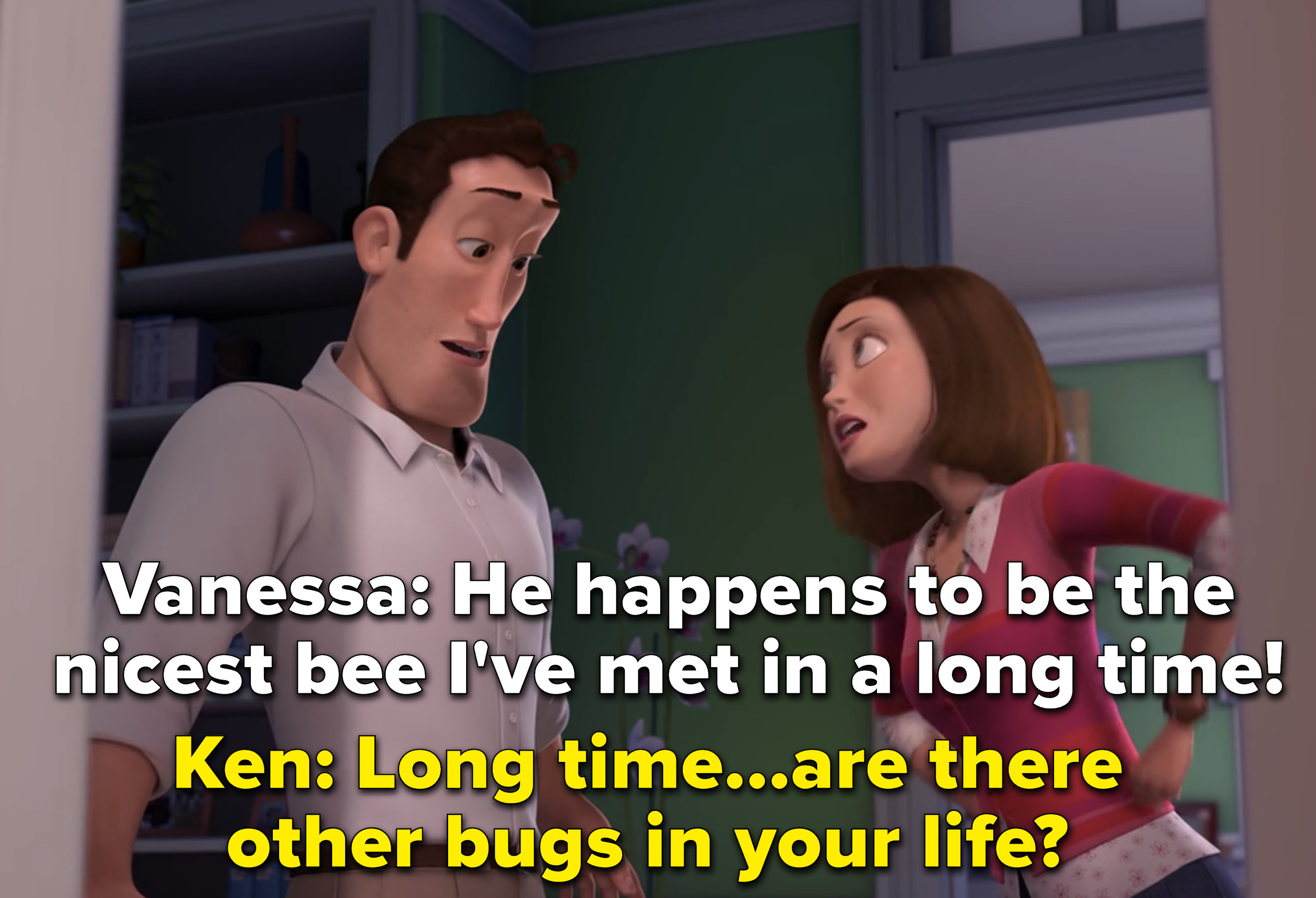 33.
Oh, here we go. The food-corporation lawyer asks the question we've all been waiting for.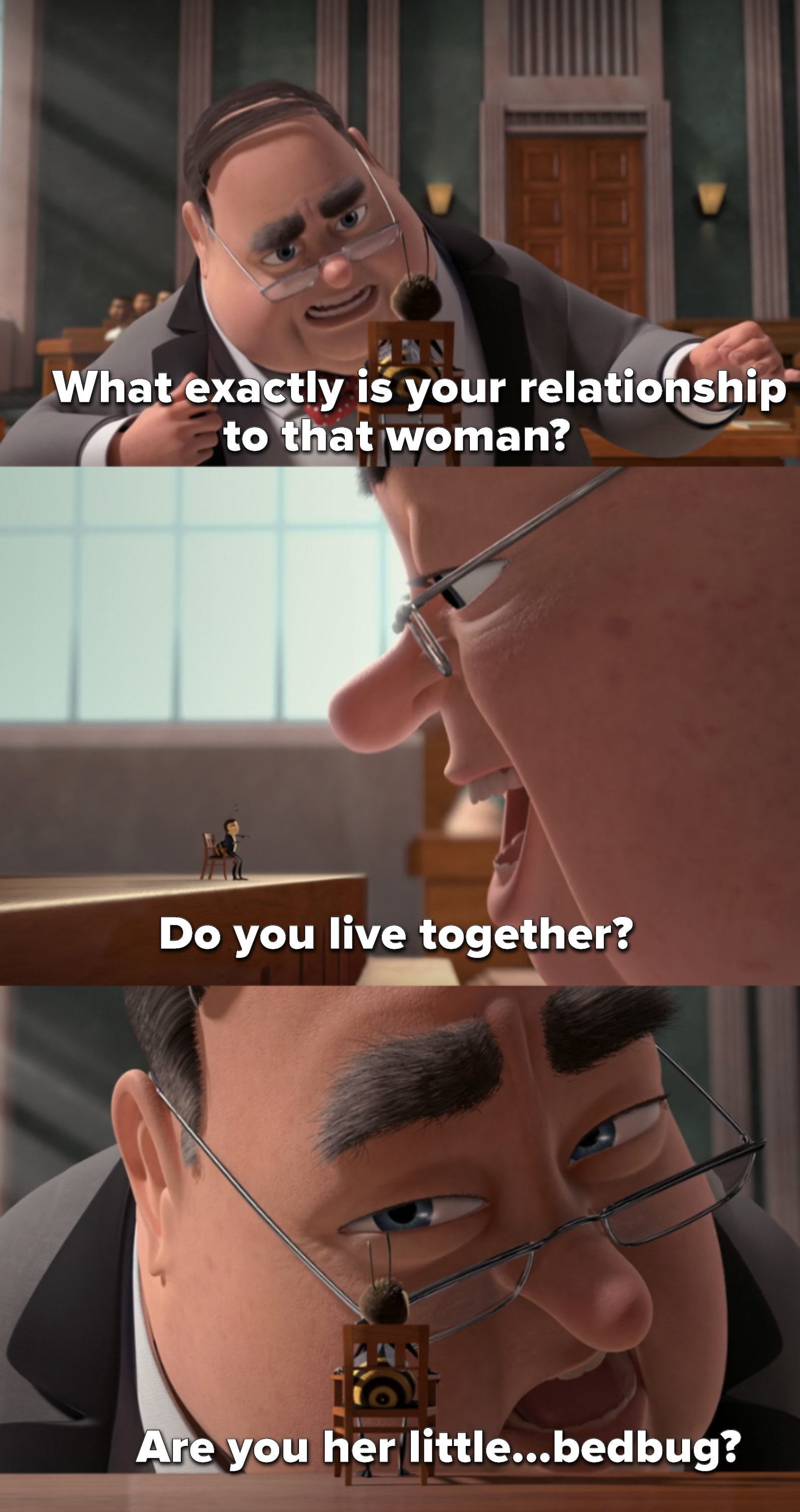 34.
Turns out he's just provoking the bees so they'll sting him and show the jury that they're vicious, which makes sense. What doesn't make sense is the lawyer lifting up his coat so they can sting his butt specifically.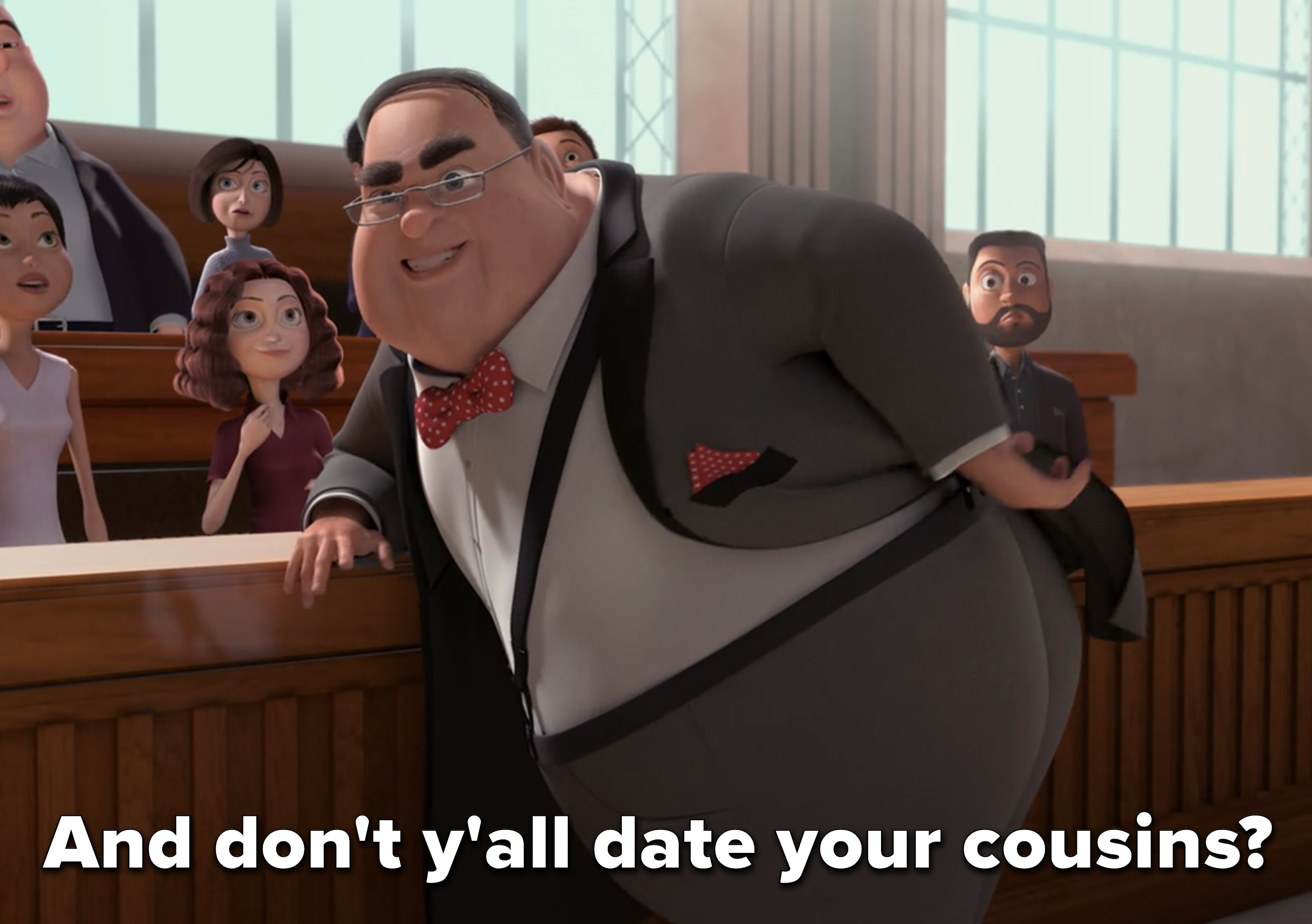 35.
The person who animated this...please explain. The person who wrote this...you need help. One of the jurors legit did a Hail Mary after this. You know what you did was wrong.
36.
So Adam stings the lawyer's butt and is put in a hospital bed. He has inexplicably had some sort of sandwich toothpick stuck into the hole where his stinger was or perhaps his butthole.
37.
But even worse than an actual bee being treated at a hospital with a toothpick in his butt is this line, which comes when Barry asks Adam what it's like to be stung.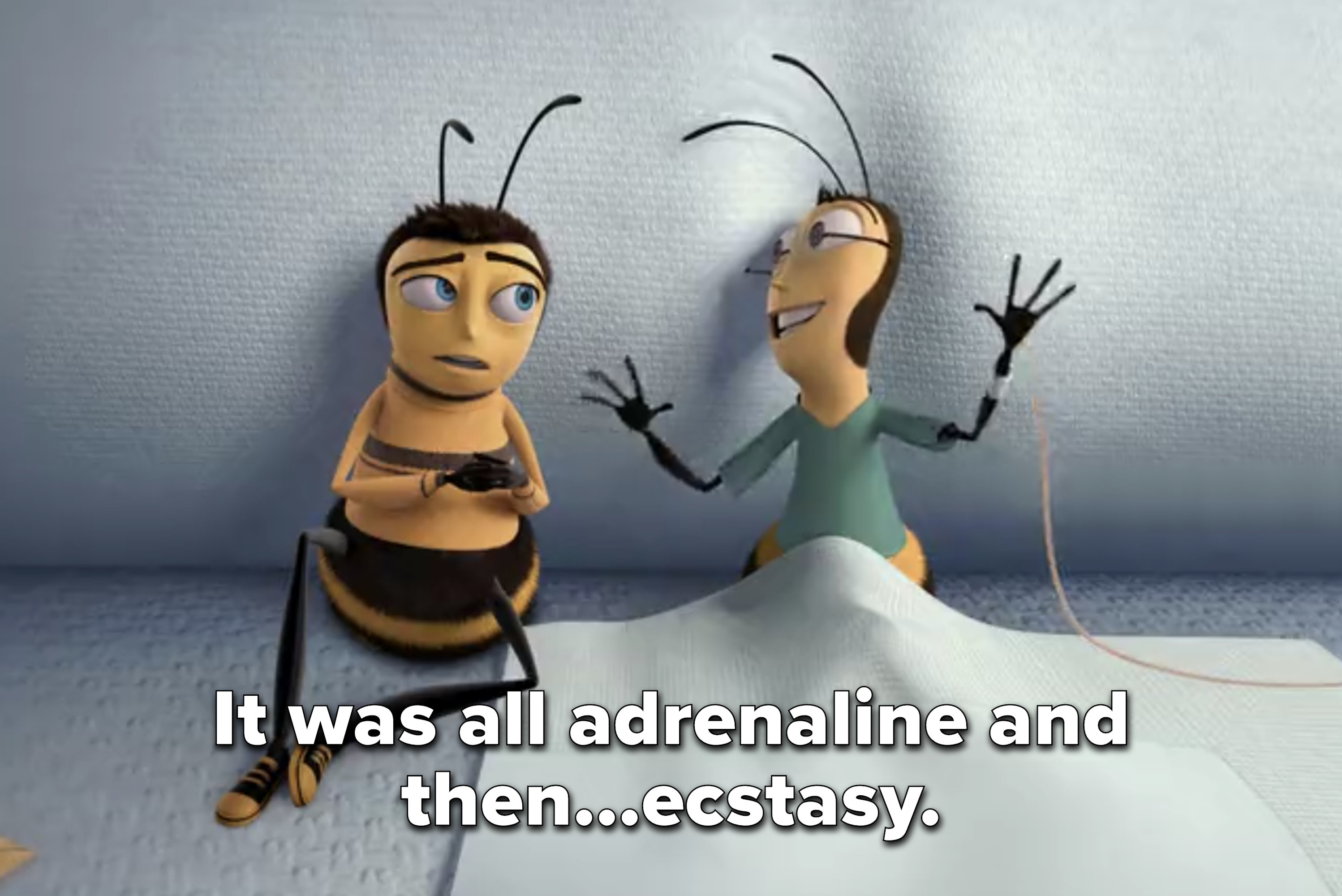 38.
Of course, Barry finds his smoking gun (literally) and goes back to the trial, where the food corporation's lawyer is in one of these baby walker things with absolutely no explanation.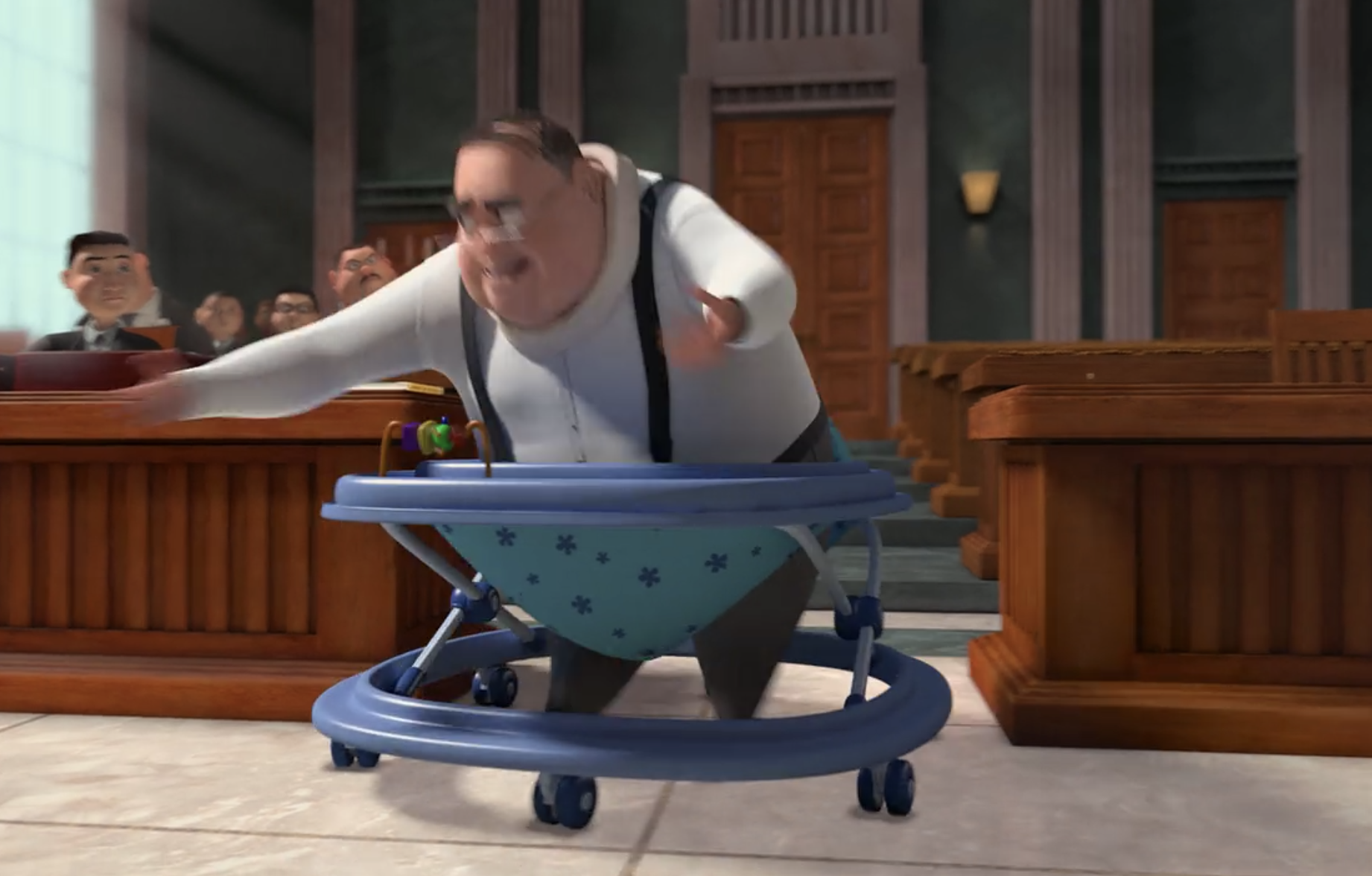 39.
Barry delivers a scathing closing statement, with not-so-veiled racial commentary that really has no place in this film.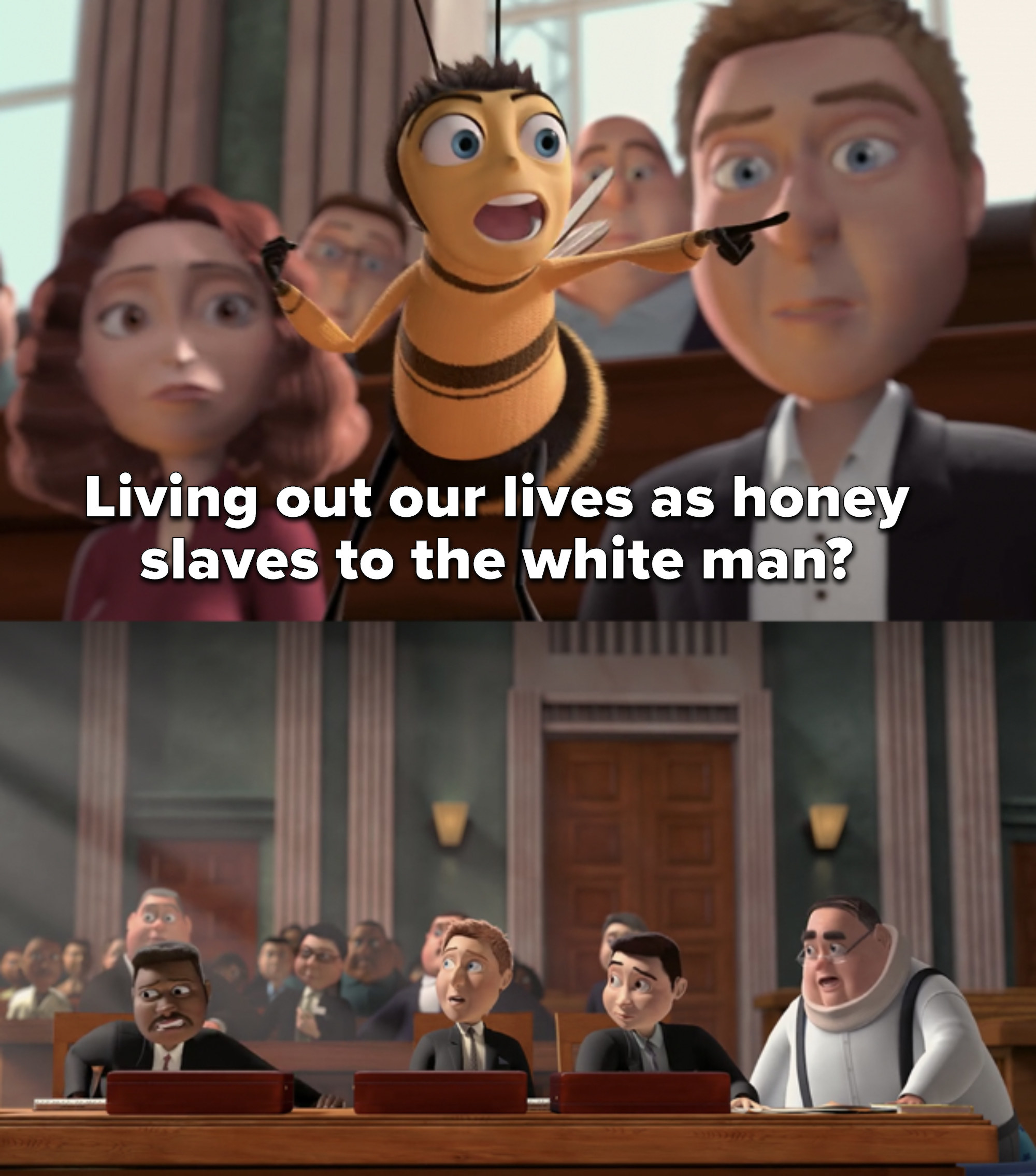 40.
And they go for another racial joke a second later. This movie really just doesn't know when to give things a rest.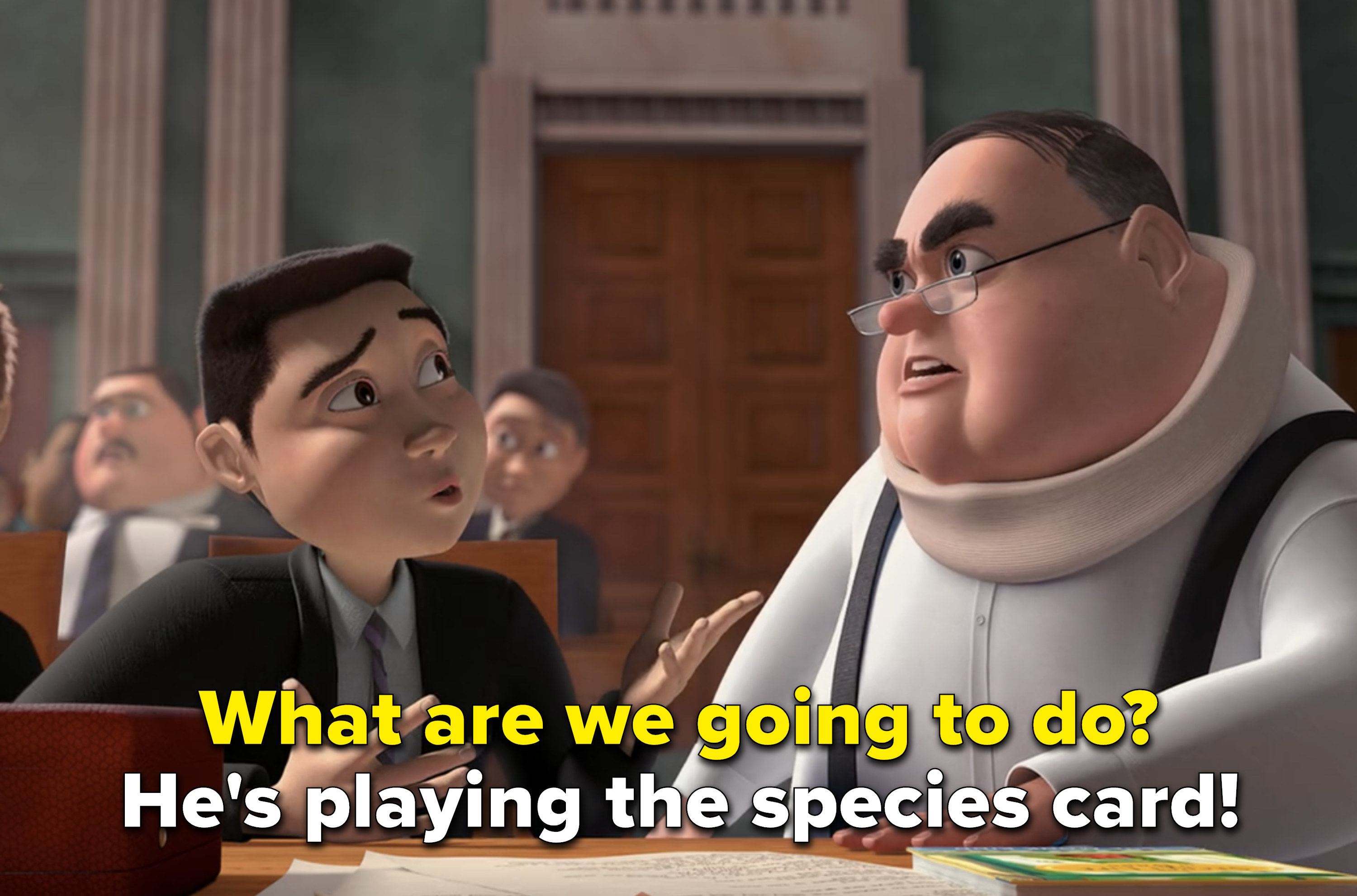 41.
Barry wins, and the honey gets returned to the bees, which means it gets taken from everyone else. Including WINNIE THE POOH!! Did the legal team at Disney really allow this??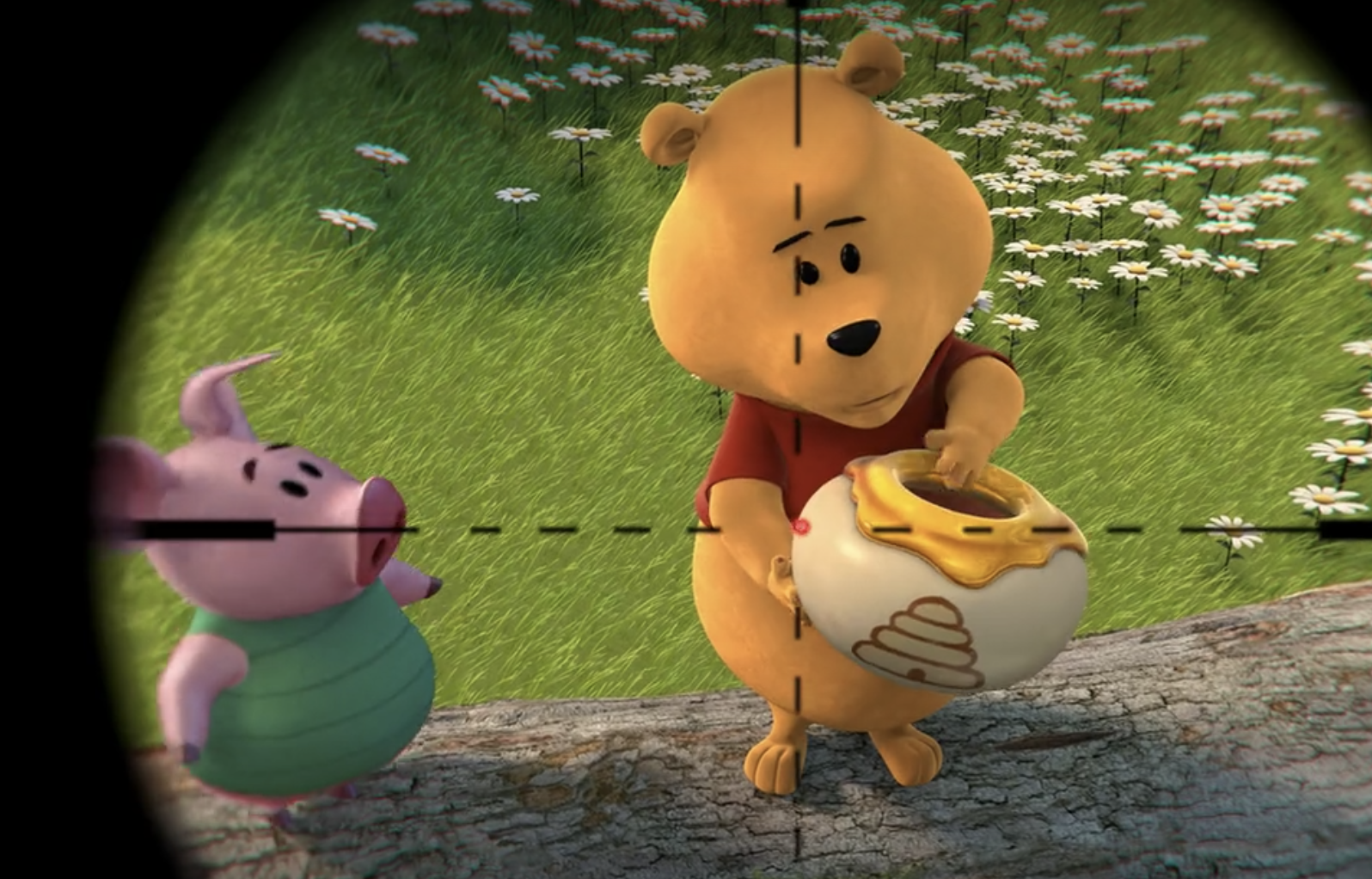 42.
Not even old ladies using honey in their tea are safe. I honestly find this image one of the most disturbing of the film.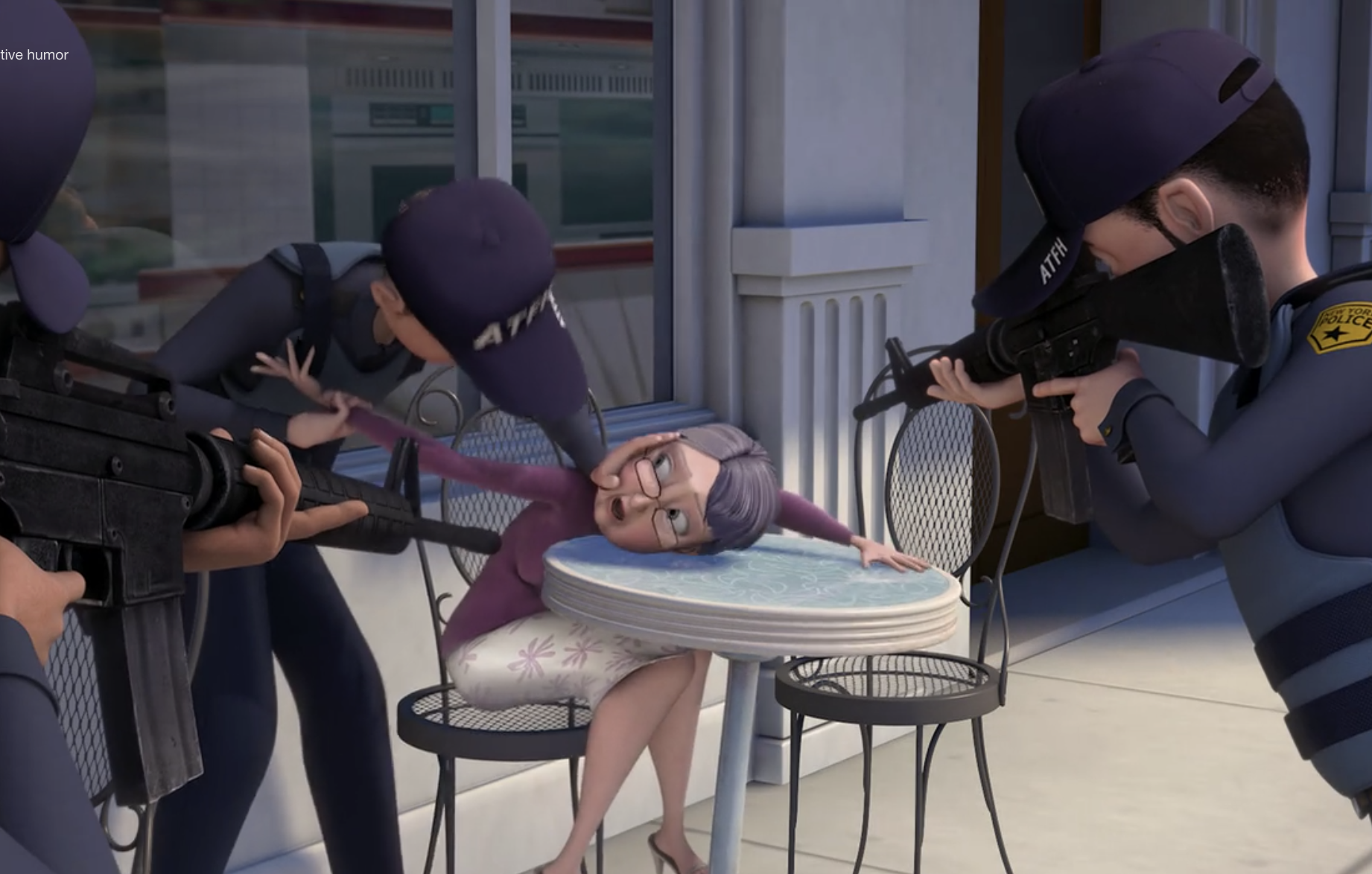 43.
At this point, I'm not really sure what's to come in the movie. But I'm still surprised when it turns out that Barry is basically responsible for what's about to be the end of the human race/the planet.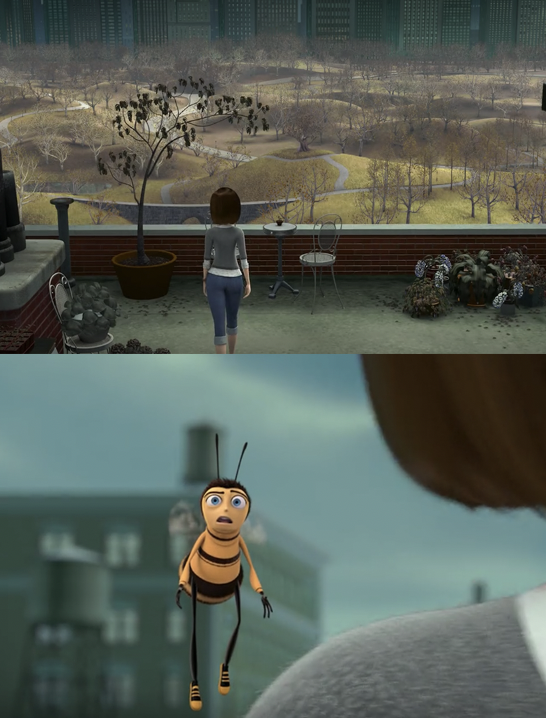 44.
Vanessa and Barry talk about the hopeless fate of the human race, and then Barry suggests a suicide pact that's really more of a murder-suicide. I wish I could say I was surprised at this point.
45.
They come up with a fairly ridiculous 11th-hour plan, which of course involves property theft and violence.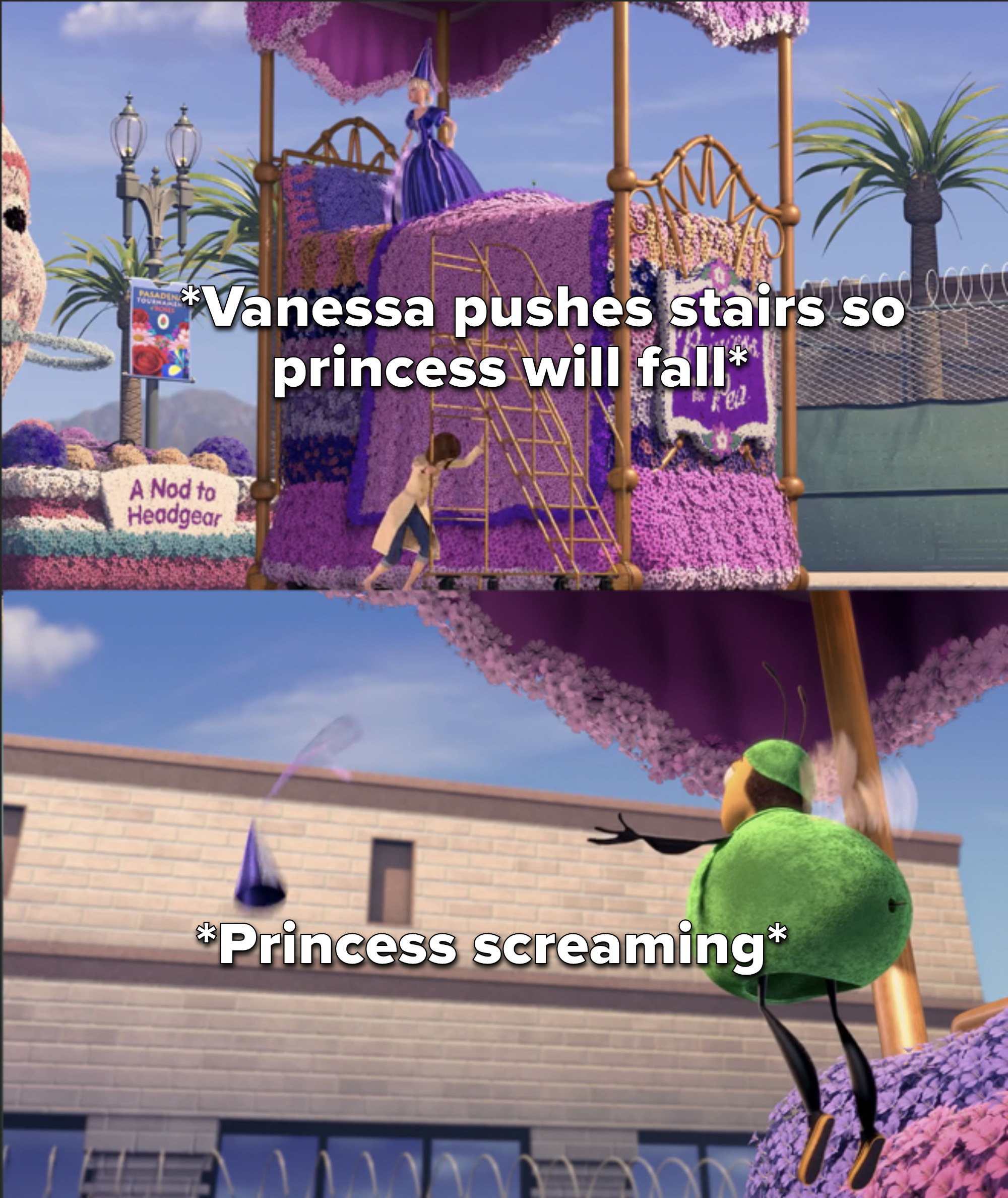 46.
And then here comes the final plot pivot, which honestly leaves me shaking. Through a series of events that are too stupid to write, BARRY AND VANESSA END UP HAVING TO LAND A PLANE.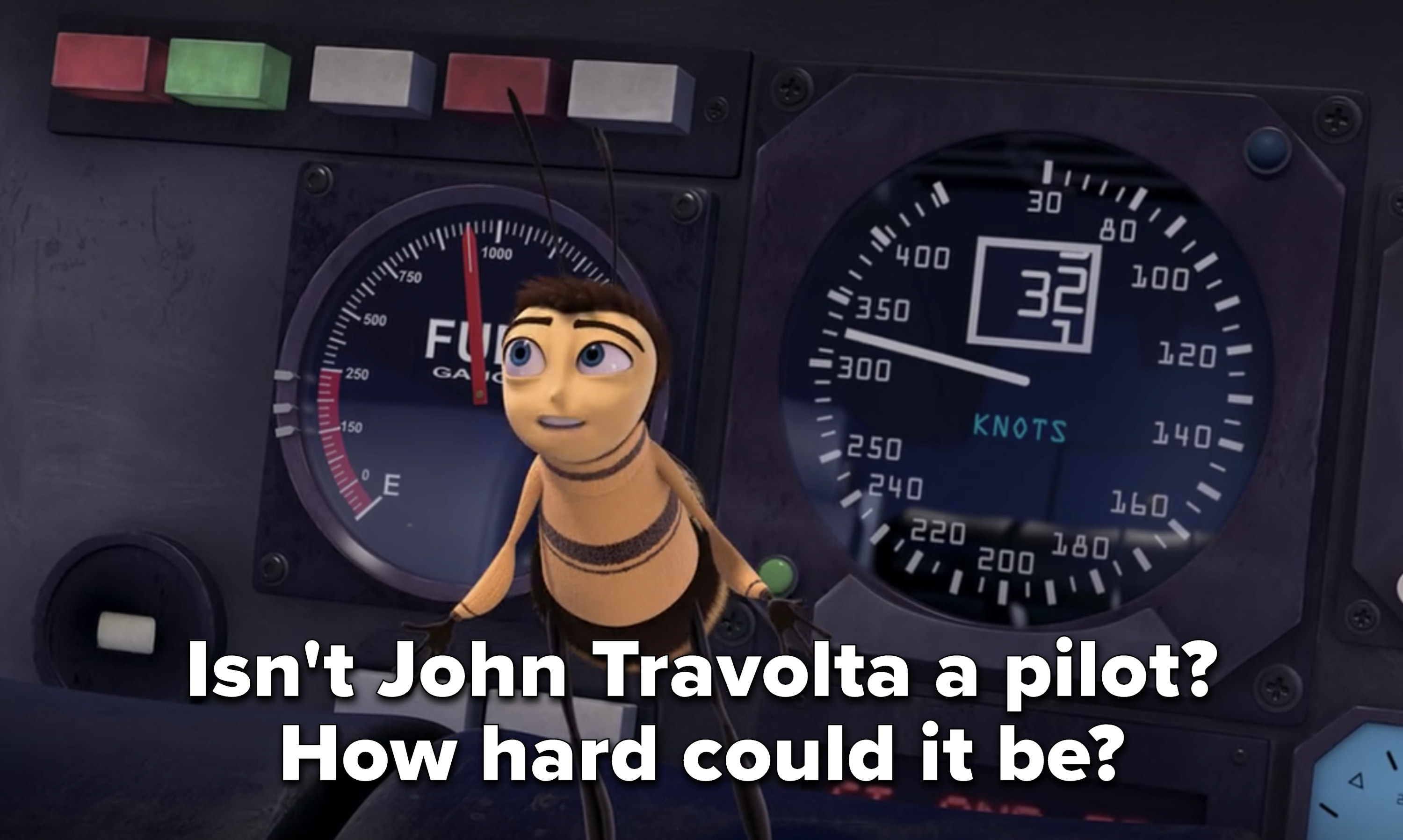 47.
The press finds out, and Barry somehow inspires the bees to help and tells humans to stop underestimating them. I'm so unclear about the theme of this movie.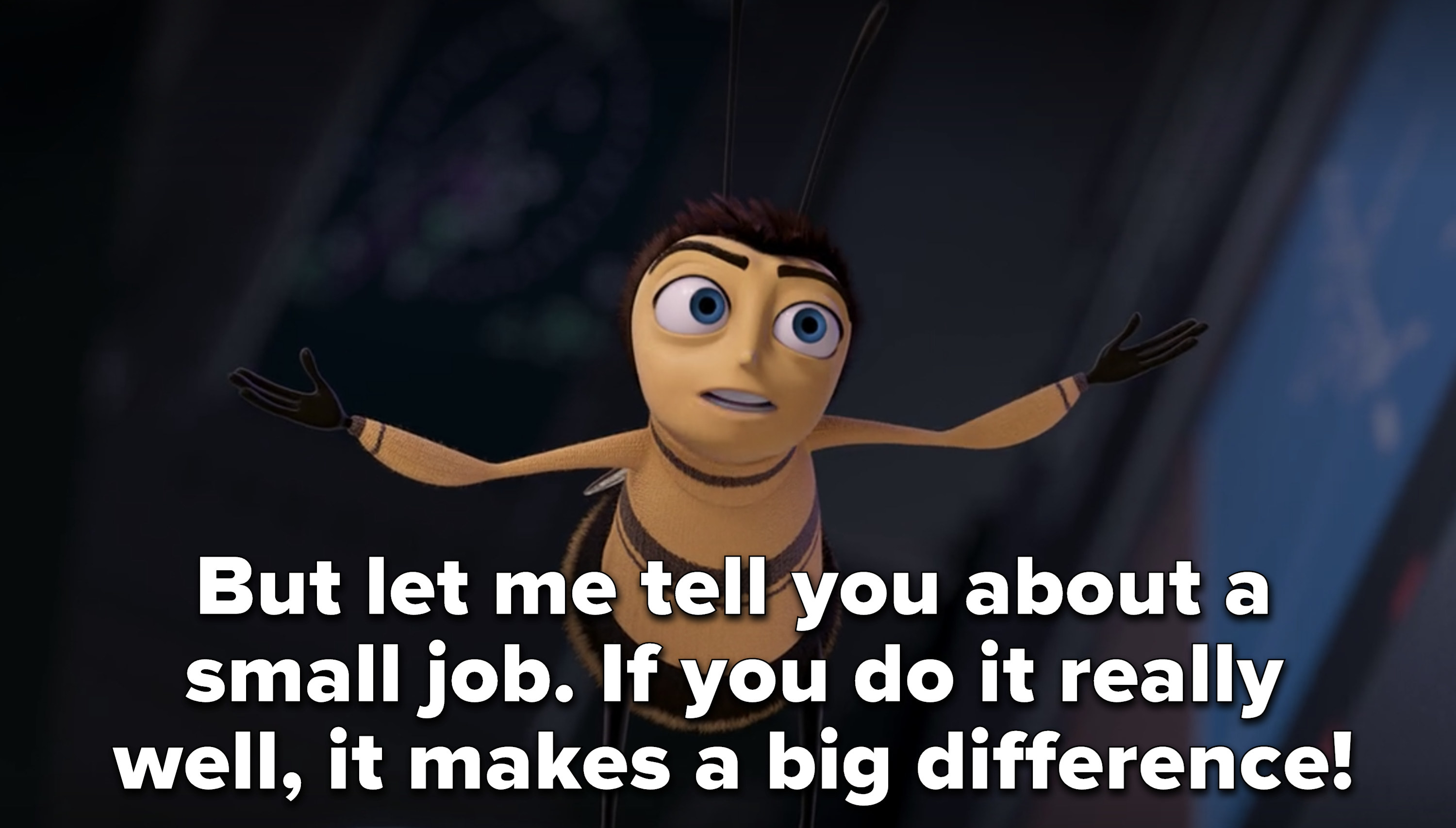 48.
The bees HOLD THE PLANE UP (I refuse to believe this is possible), and yet for some reason, Vanessa still almost straight-up murders a tourist in a flower shirt because Barry tells her to "aim for the flower."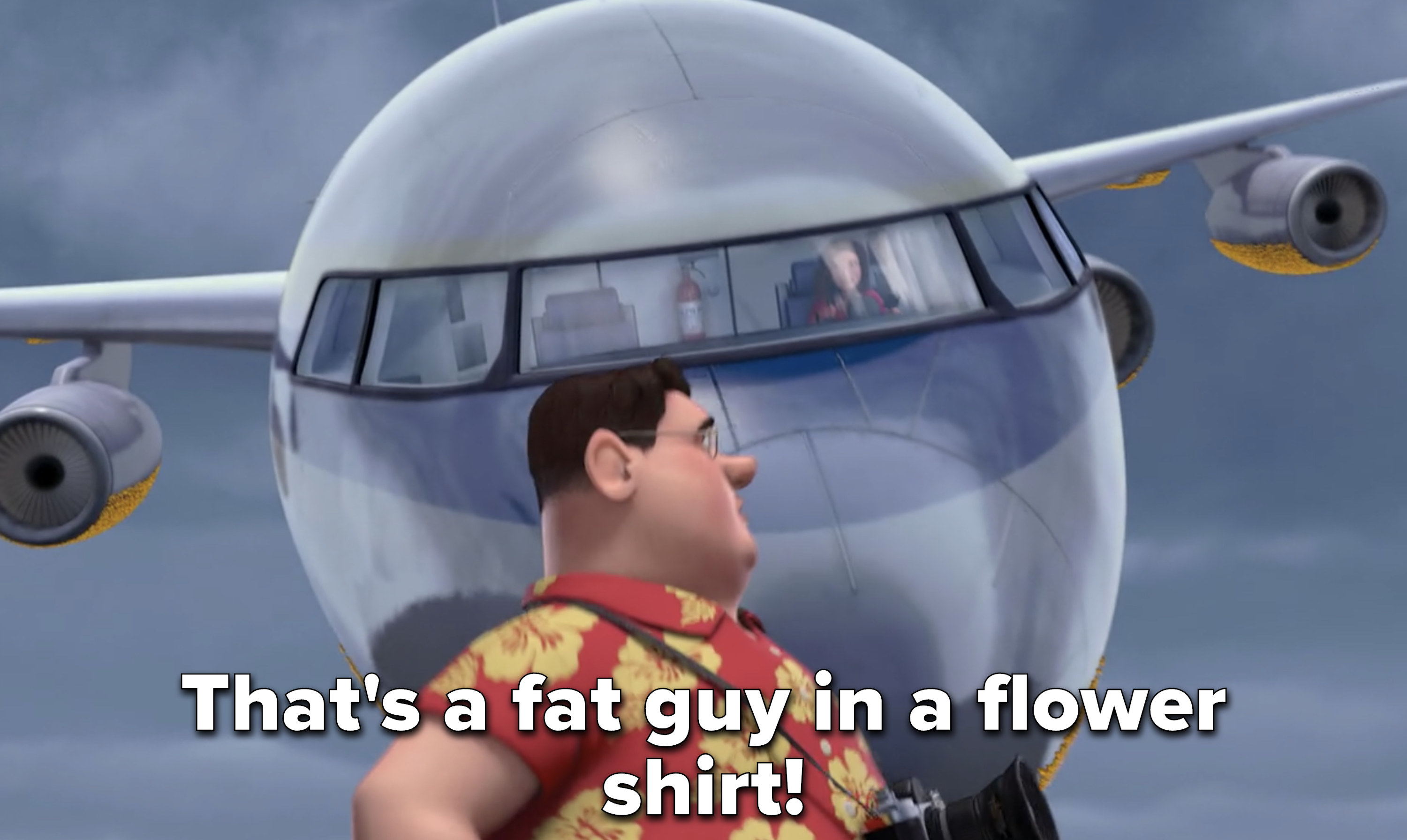 49.
They land the plane because Barry feels some instinct pulling him to this flower made of bees chanting, "THINKING BEE! THINKING BEE!" in a cultlike fashion. Somehow they do not crush a single one of the bees.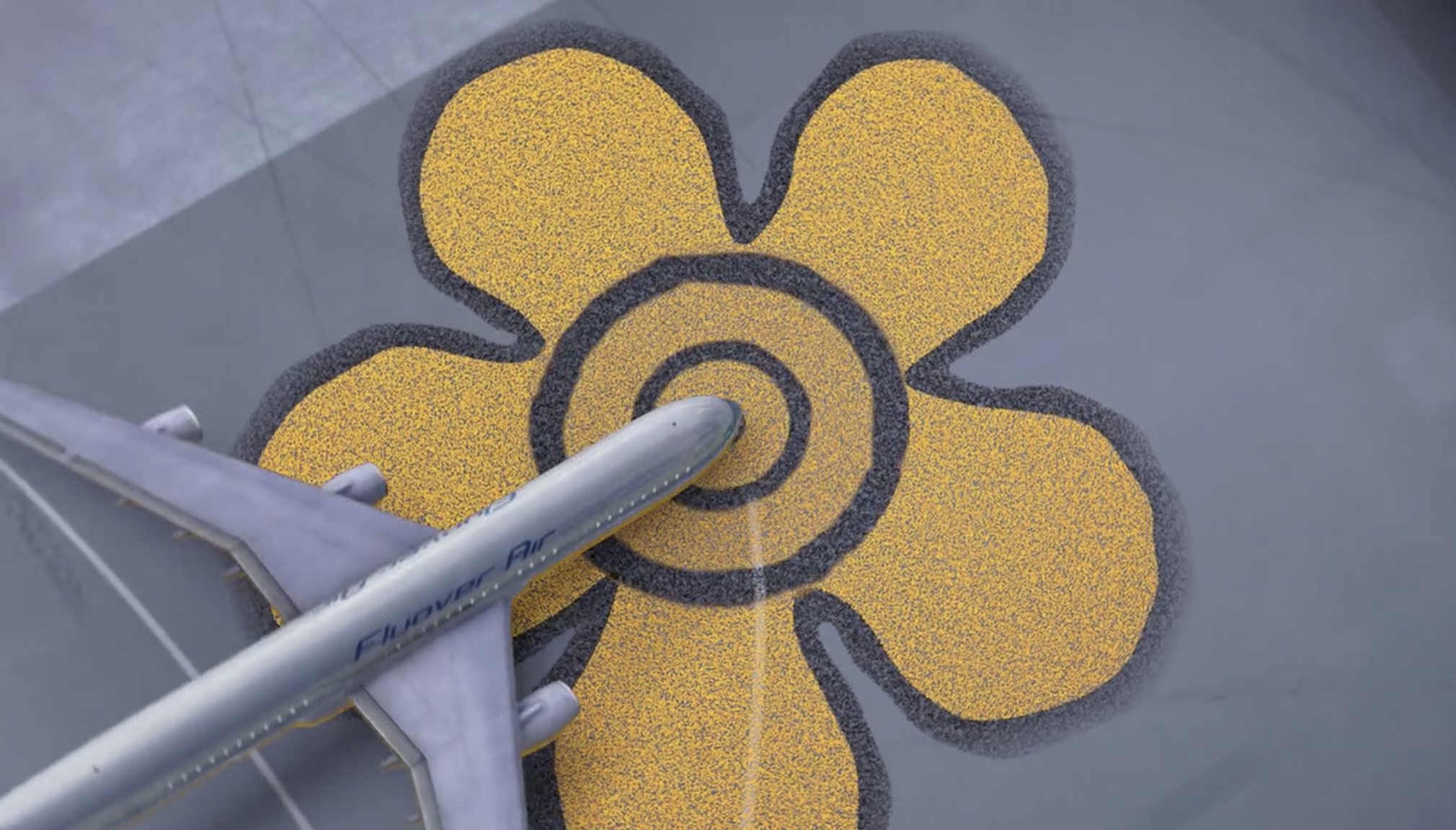 50.
The bees pollinate the city and stop the world from ending. Vanessa allows Barry to help run her shop. We are still unclear about whether/how they're boning.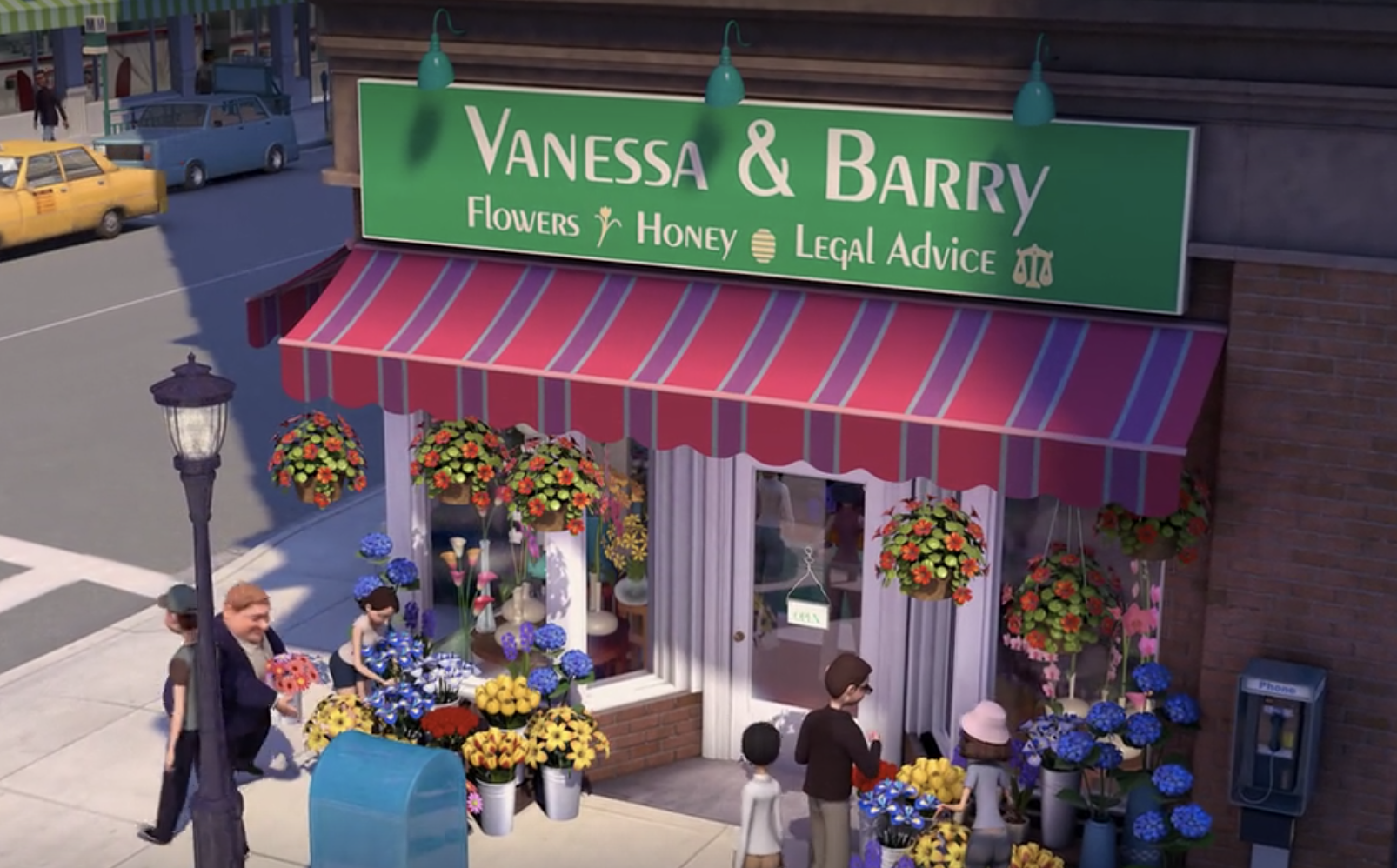 51.
And finally, we get one last vaguely offensive joke, this time directed at lawyers.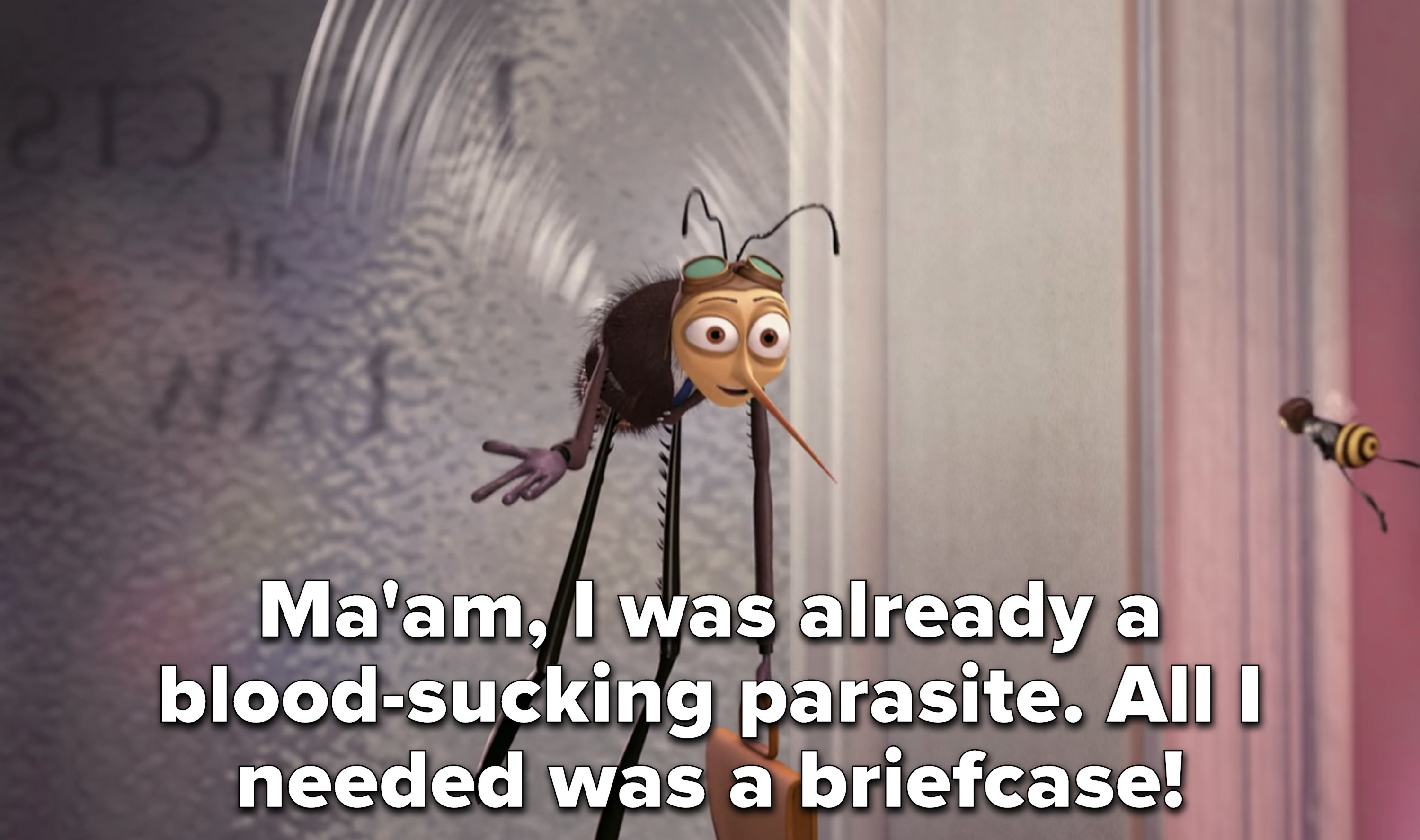 Alright, folks, here's our final count: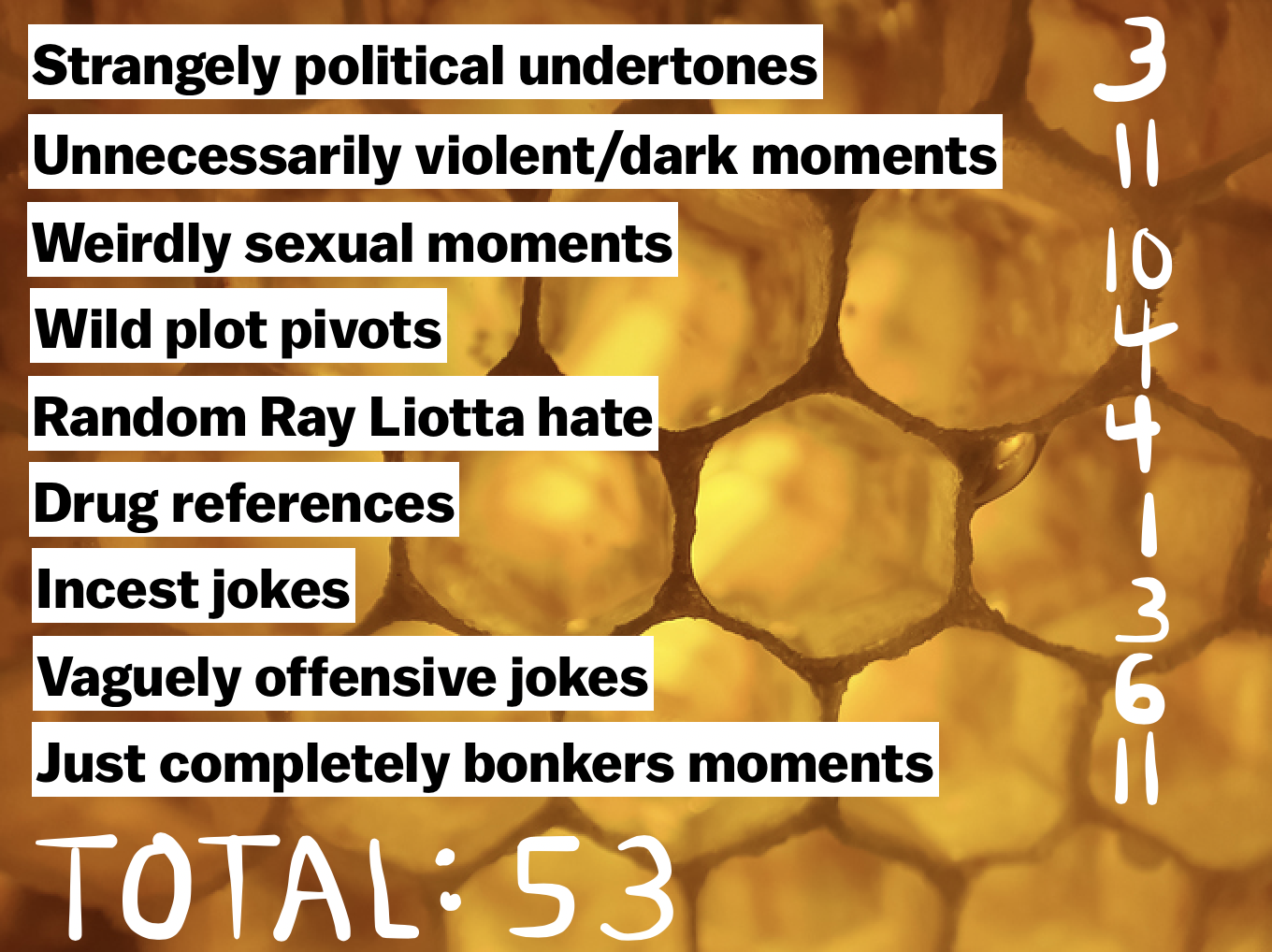 Final thoughts:
I don't get what the point of this movie was. In the end, nothing in the hive has changed. They've just learned to appreciate their ability to work themselves to death, I guess? Barry's life changes, but he's still very much operating within the hive system he hated so much. He hasn't helped his family or his friends. He just created a mess, then fixed it. This also isn't the love story I thought it would be: Vanessa and Barry don't really end up together. There's no real resolution to that plotline. Overall, this movie was just sort of a jumbled mess of in-jokes that do not appeal to a wide audience, and certainly not children. I honestly cannot believe it was made. But...it certainly wasn't boring, that's for sure!