I love to cook, but every once in a while I struggle with weeknight dinners. It can be hard to motivate myself to cook after a long day. Especially living in a big city, it's tempting to just order takeout food instead of using my groceries.
Then I got my hands on the "Holy Sheet" pan made by the cool kitchenware brand Great Jones, and my weeknight dinner routine changed for the better.
The "Holy Sheet" pan costs $25. It's a vibrant, bright blue color that looks super cute when I leave it out on my stove top. I immediately noticed that it felt very sturdy, unlike some flimsy sheet pans I've used in the past.
Since getting this sheet pan, I've been using it nonstop to make easy, nutritious weeknight dinners that come together in about 30 minutes. Best of all, since I cook my protein and veggies on a single tray, there are no excess dirty dishes.
The other night I cooked crispy chicken thighs with winter vegetables. Just chop your favorite veggies and brush the chicken thighs with some spices (like salt, pepper, paprika, cayenne, and Italian seasoning). Then put the ingredients in a single layer on the "Holy Sheet."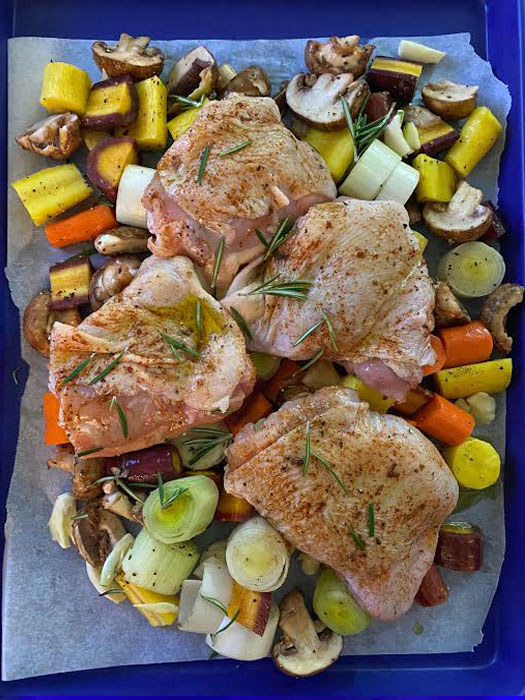 Cook for 30-40 minutes until the veggies are tender and the chicken is cooked through with golden-brown, crispy skin. And just like that, dinner is served.
I also love sheet pan salmon. I just marinated salmon fillets in salt, pepper, dijon, honey, and garlic, then place them on the "Holy Sheet" with broccolini and potatoes, tossed with olive oil. Because they need a bit longer to cook, I let the veggies roast for about 15 minutes on their own before adding the fish.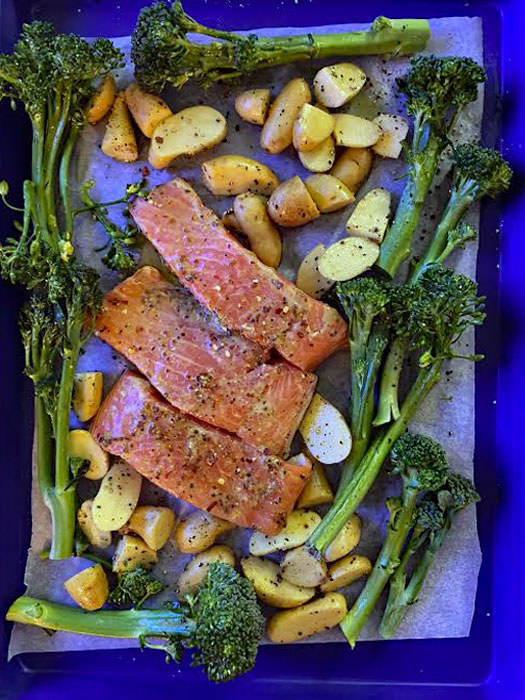 Cook the salmon for 10-12 minutes and remove the sheet pan from the oven to find that your main course and veggie sides are ready to eat.
I love that the "Holy Sheet" pan is a bit deeper than most sheet pans with high sides that protect against spillage. Excess olive oil, for example, stays right on the pan and doesn't spill into my oven. It also cools down much quicker than other sheet pans so I can move it right into the sink and clean it immediately after cooking.
The "Holy Sheet" is so easy to clean so it doesn't accumulate grease and gunk. After about three weeks of usage, it still looks good as new.
You can get it from Great Jones for $25. And if you're looking for more sheet pan recipes to try, here's some inspiration to get you started.