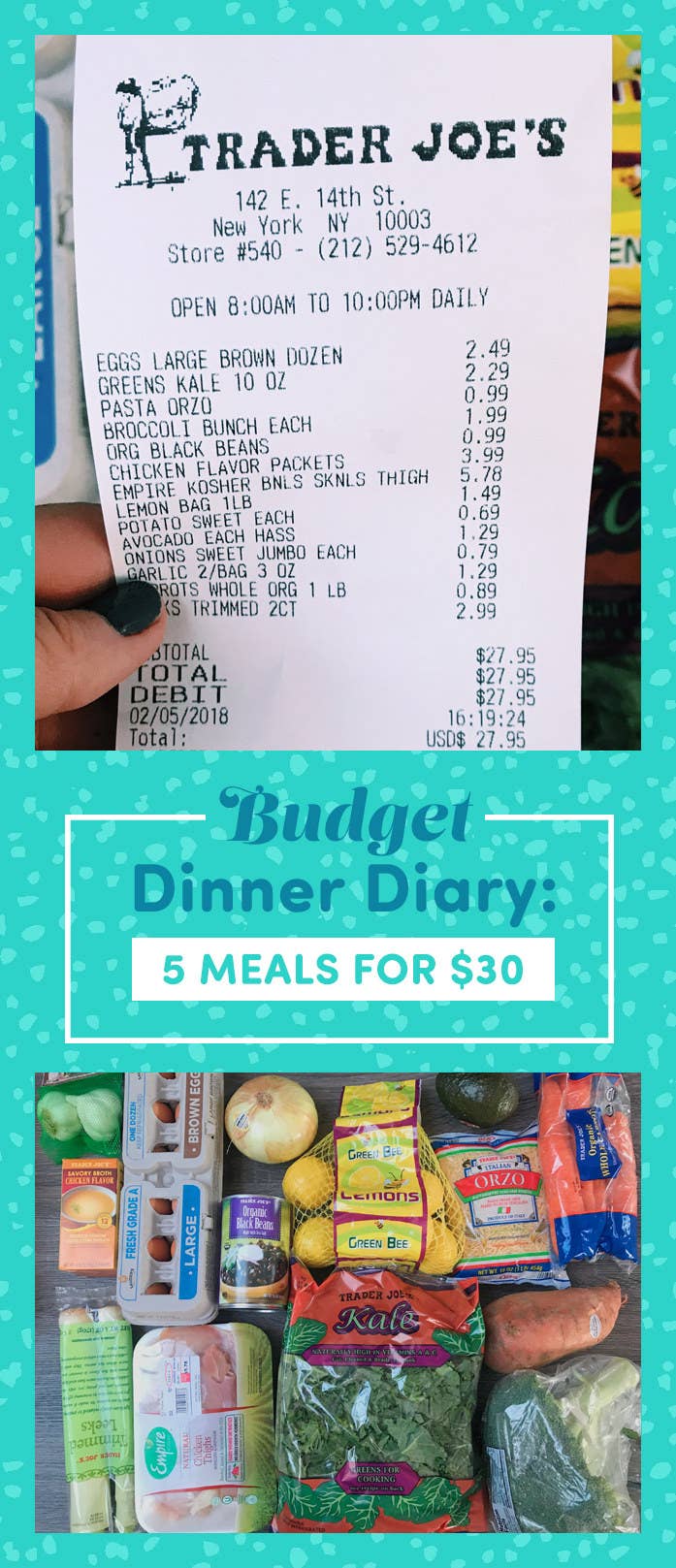 Hey! I'm Hannah. For me, living in NYC, it's very temping to eat out or order delivery most nights.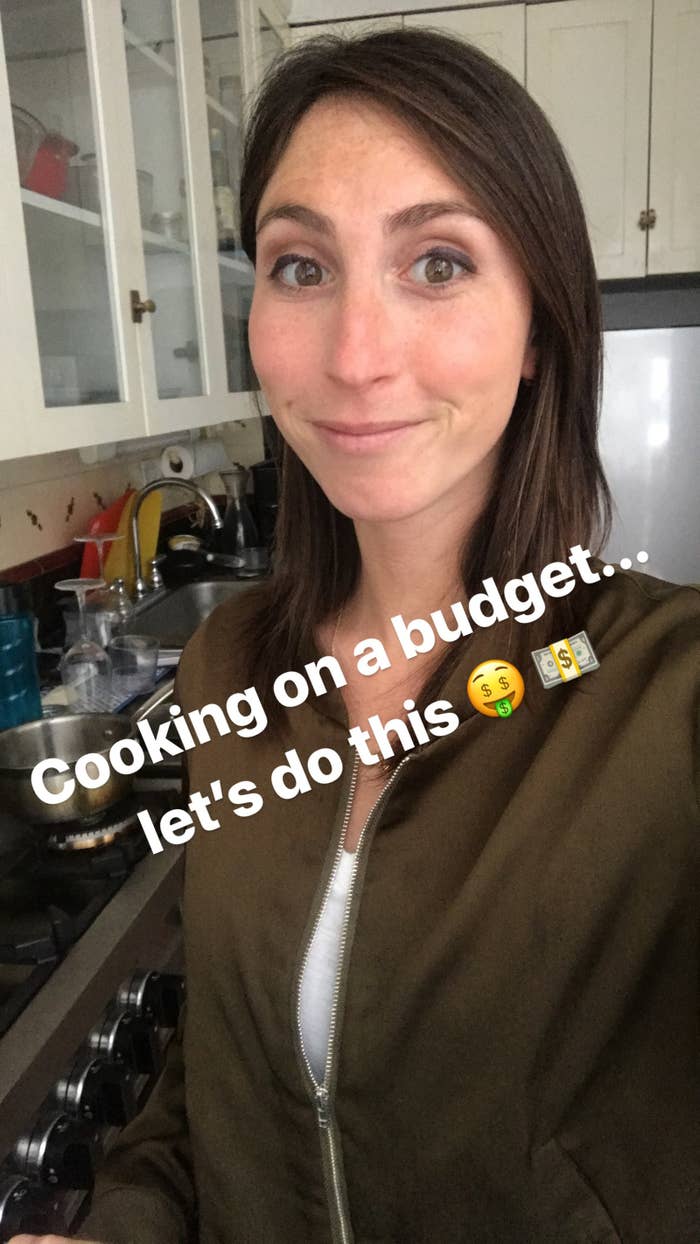 So when I was asked to make a week of homemade dinners for $30 or less, I knew it'd be a challenge for me.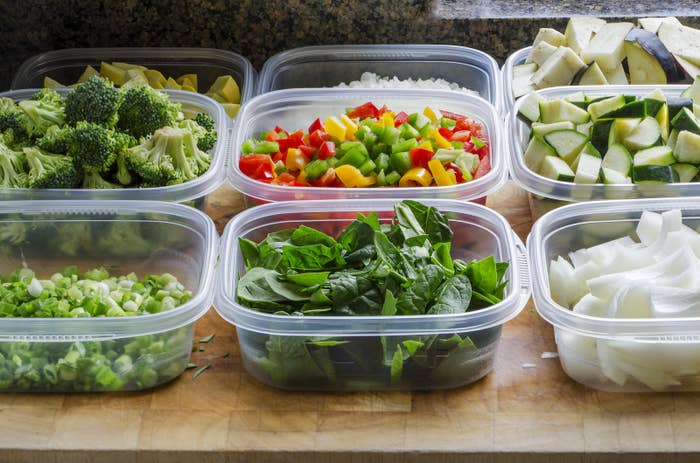 Since I was most unsure about the budget, I worked backwards. First I wrote a list of several of my favorite ingredients that I knew I could use in different ways — then browsed around for recipes with them.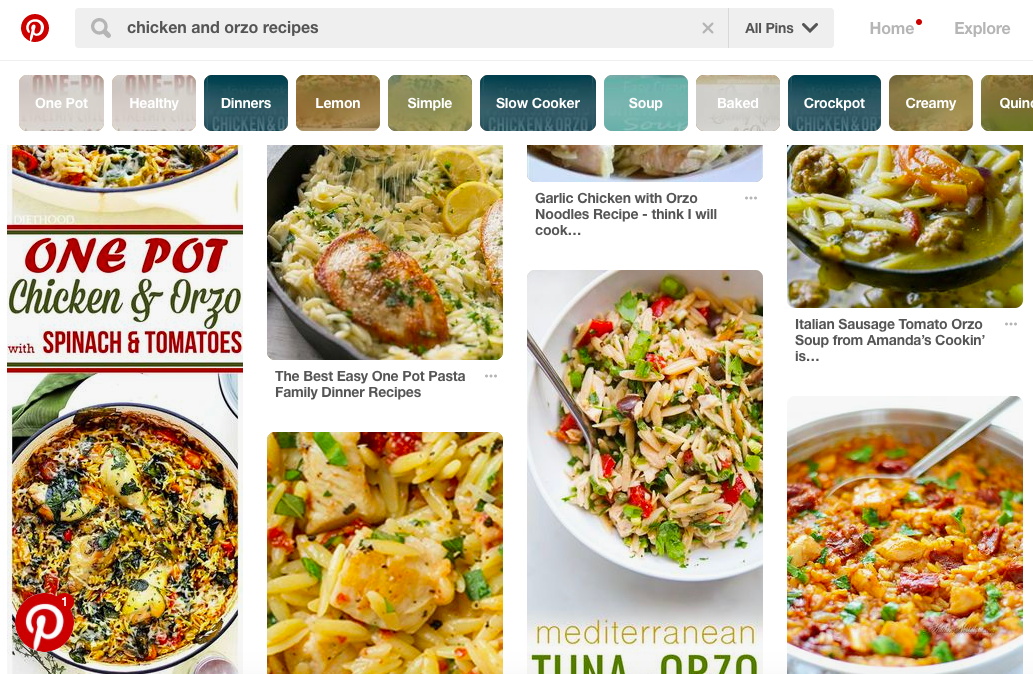 Then, I edited down the list and tracked down prices ahead of time via Google. Here's what I ended up with: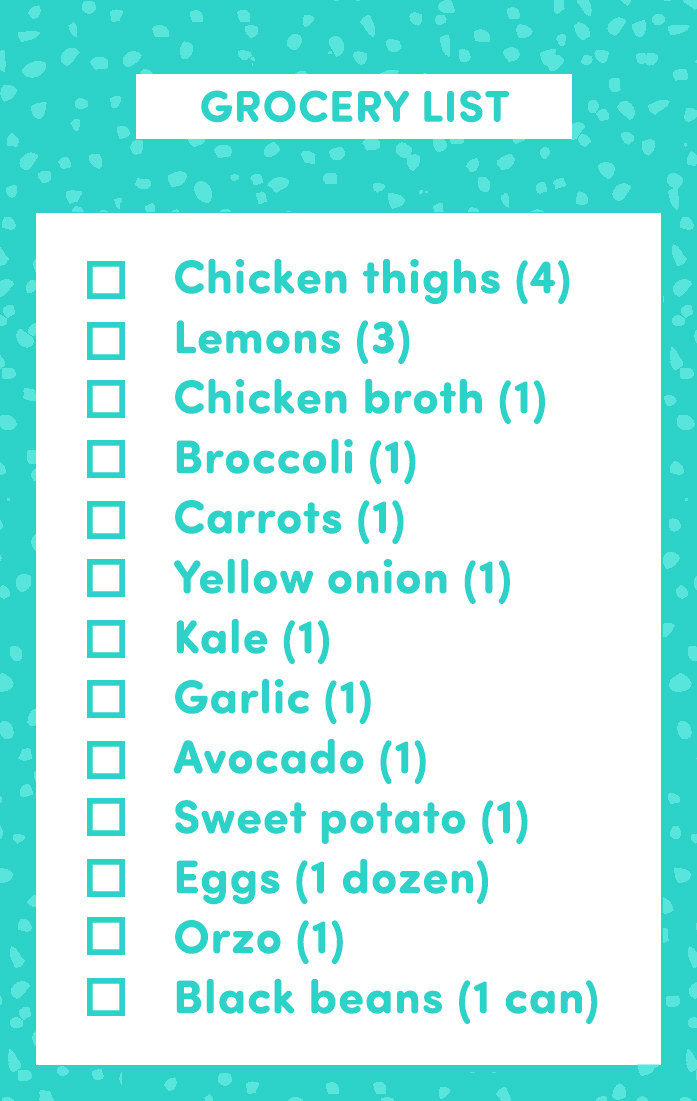 Then I hit the store on Sunday.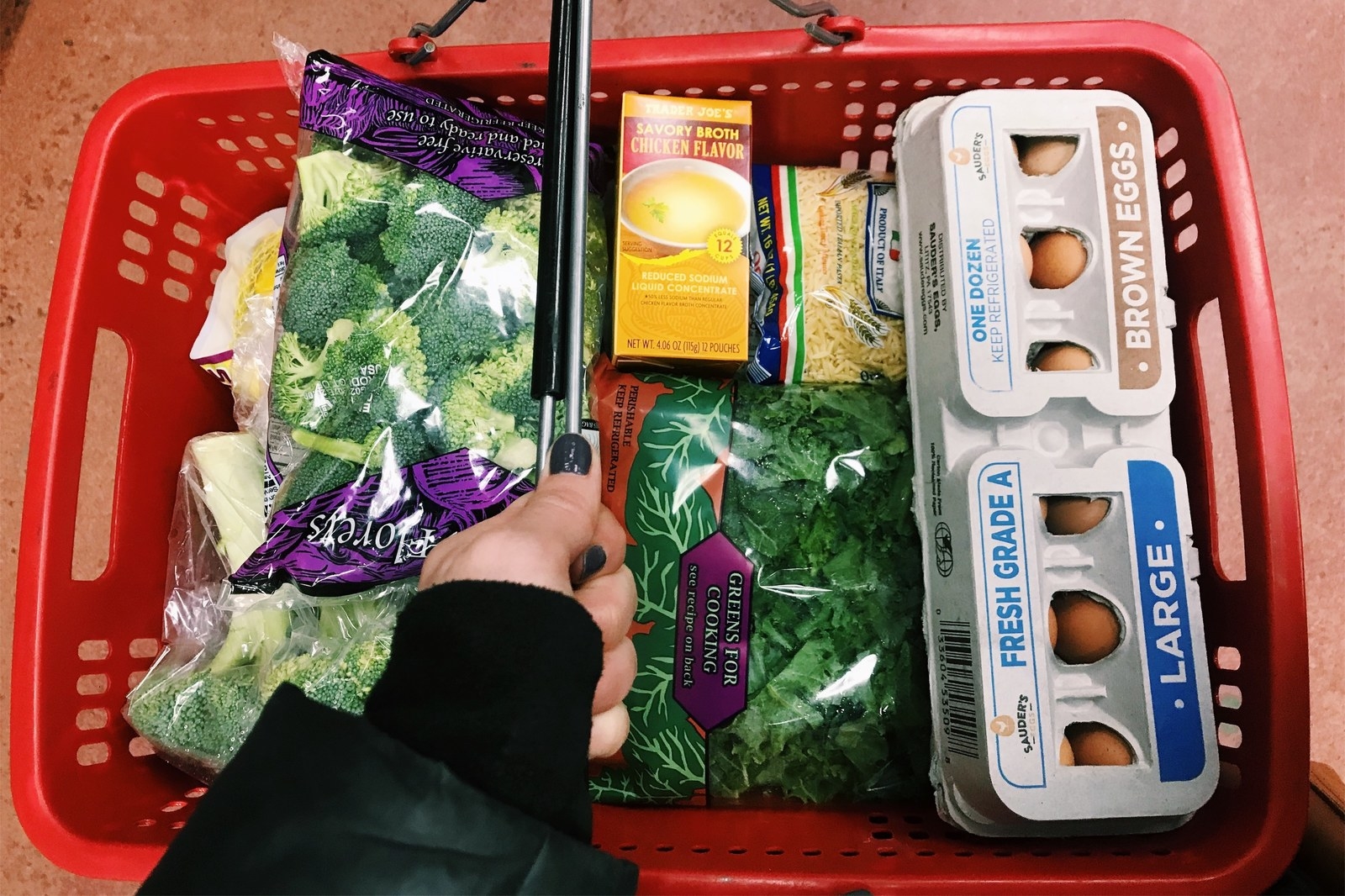 My total for everything? $27.95 — which was within a dollar of my estimate. 🙌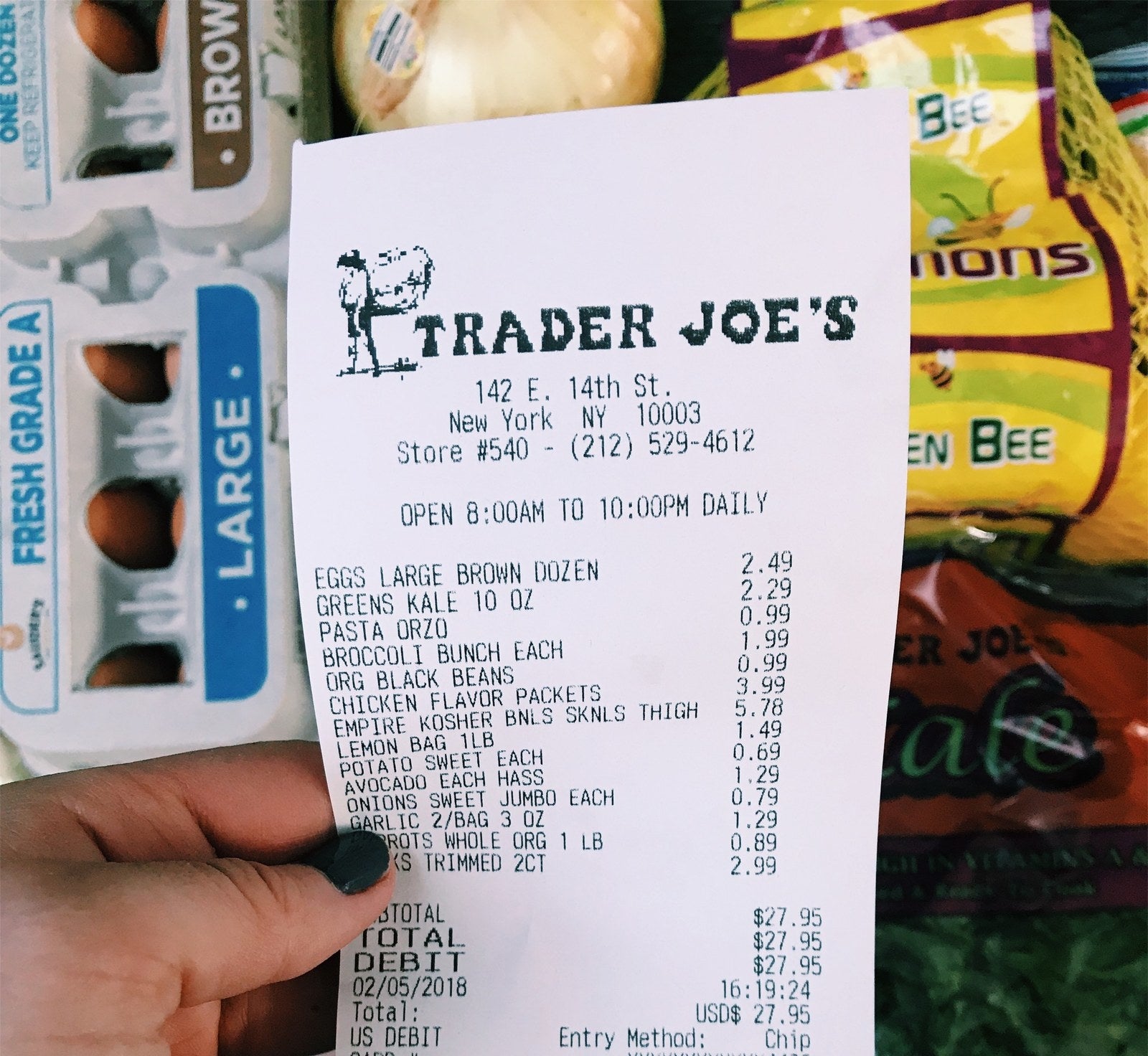 At home, I laid out all my ingredients and figured out what I could prep ahead of time.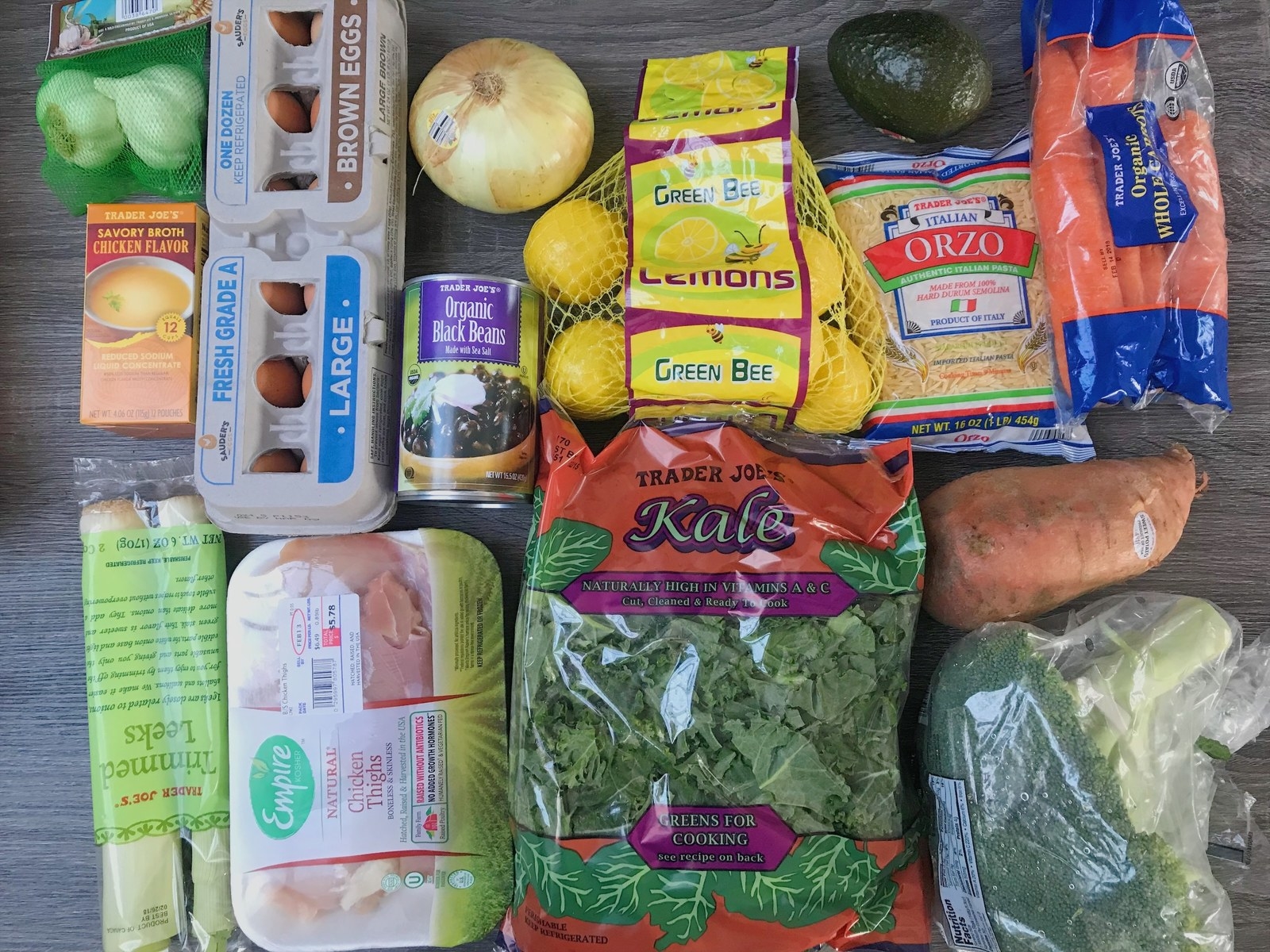 Then I spent about 40 minutes getting everything set.

Here was my menu for the week. With Sunday's prep, no meal took longer than 30 minutes to make.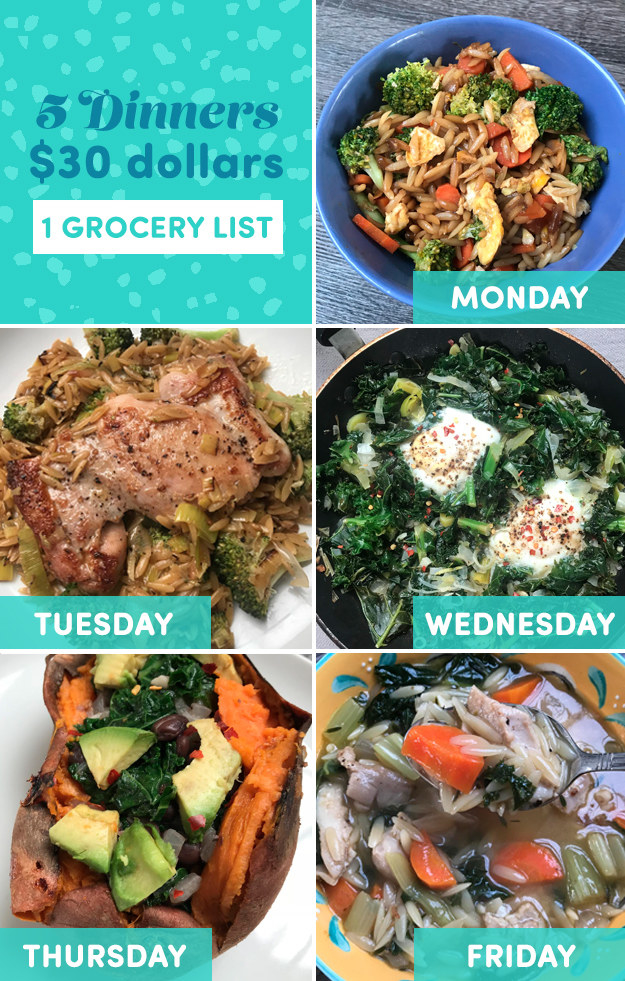 Mondays are... well, Mondays. After a long day at work, I'm craving something comforting and not too time intensive: orzo fried rice.
Since I meal prepped, the whole thing took barely any time. I also made enough for two, so my boyfriend happily devoured the other half.

I was starving when I got home, so I wanted to make a filling meal. Enter: an orzo, broccoli, and leek skillet, topped with crispy chicken thighs.
Again, this recipe made enough for two, so I ate half of it for dinner and packed the rest up for lunch the next day.

Having eaten a bunch of orzo and chicken so far this week, I was craving something a bit lighter on Wednesday. I made sautéed kale and leeks with baked eggs (sort of like a green shakshuka, if you will), inspired by this recipe.
I topped the egg skillet with some lemon juice and red pepper flakes, then sliced some avocado to make the meal a bit more filling.

Stuffed sweet potatoes are one of my go-to weeknight meals because they're so easy to make and really versatile. You can really make them using whatever is in your fridge, but I chose to follow this recipe.

It was the last night of cooking, and I was feeling surprisingly confident about the week had gone so far. Friday night happened to be absolutely freezing, so I couldn't have been happier about making a piping hot bowl soup for dinner.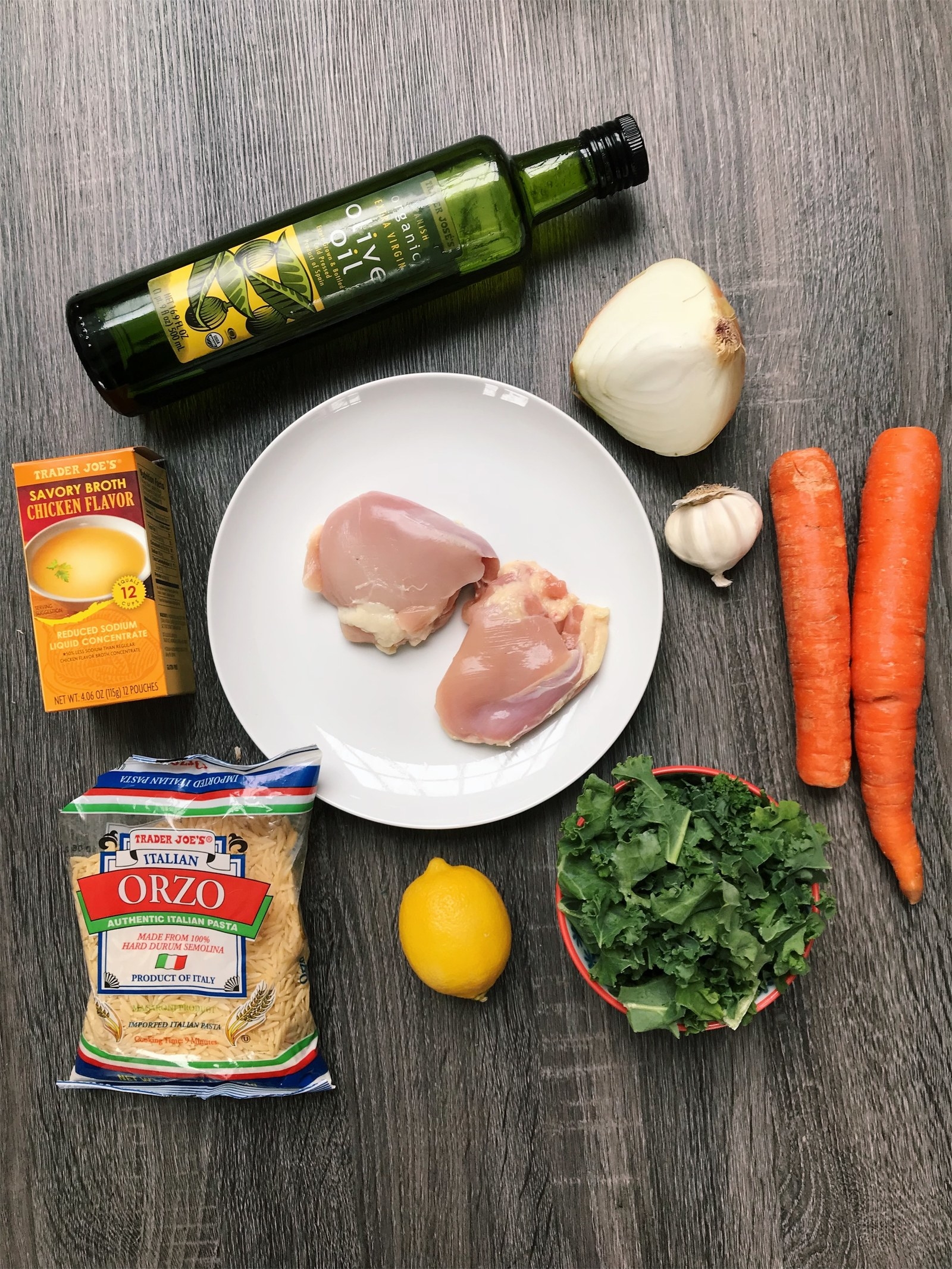 Following this recipe, I started by cooking the chicken in a stock pot with some olive oil. Once cooked, I put it to the side and sautéed the vegetables until tender.
As you can probably tell, this recipe made a massive pot of soup... far more than a single serving. I ate one big bowl and then I filled another Tupperware with the leftovers.

All in all? The week was actually a lot easier than I was expected.
While the $30 is less than I normally spend, it turned out not to be an issue. Most meals made two portions (or leftovers), and for the ones that didn't, I could have easily fed both me and my boyfriend for just a few bucks more. And the best part is that after cooking at home for a week, I had zero guilt about splurging on a nice meal out on Saturday night.
If you're thinking doing something similar, here are a few pointers that might help you out:
1. Put thought into planning your grocery list: ✍🏻 If you go to the grocery store without a plan, you'll find yourself buying lots of extra ingredients and items that don't necessarily work together. Fine-tuning your grocery list before you shop will help you stay organized, focused, and within your budget.
2. Mix in a few vegetarian meals: 🥕 When it comes down to it, meat is usually the most expensive thing in your grocery cart — so it helps to have some great vegetarian staples on hand. While you probably won't be able to buy fancy cuts of meat or fresh seafood on a budget, there are also lots of affordable meat options to consider adding to your grocery list like ground meat, canned tuna, frozen cod fillets, or frozen meatballs.
3. Meal prep as much as you can. 🥣 If you know one night of your week tends to be busy, try preparing as much as you can ahead of time to reduce your cooking time. Chop any veggies, make any grains in advance, and even cook meat the night before so you can re-heat it on a busy night.