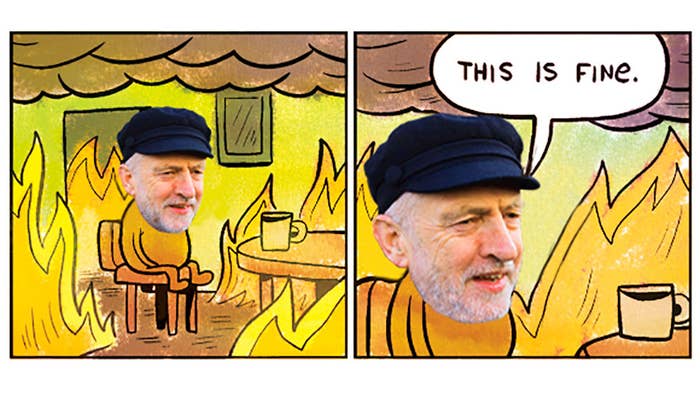 1. Labour are simply luring Theresa May into a false sense of security before they strike a fearsome blow in the next by-election.
2. Labour initially thought they'd lose to the Tories in Copeland by much more than 2,147 votes. This shows progress. Labour are a progressive party living up to their progressive ideals.
3. Labour didn't actually want to win a seat in Copeland, because Labour don't want to merely cope with "land", they want to excite land with a bold and brave new vision of politics.
4. "Copeland" is an anagram of "Dance Pol", which refers to Ed Balls, a former Labour politician who appeared on a show about dancing, therefore the constituency itself is already a ringing endorsement of the Labour party.
5. Everybody loves an underdog. Transforming from a comfortable winner into an underdog only makes you more beloved to the nation – not that the mainstream media will ever report it that way.
6. "Copeland" is an anagram for "La Cop End", which is a frankly disrespectful to this nation's brave police officers. The Tories will never understand that in winning Copeland they have proved once more how out of touch they are with the working class.
7. The Copeland result was actually Tony Blair's fault, since he spoke up the other day and people just wanted to reject Blairite politics by voting against Labour.
8. "Copeland" is an anagram of "Code Plan". Labour's plan is actually expressed in code, making it a fun puzzle for the British public to solve! People love puzzles. Once the public have cracked the code, they will understand Labour's plan and will vote for them.
9. The last time the Tories won a seat in Cumbria was in the 1930s. You know what else happened in the 1930s? Nazis. Hope they're happy with THAT historical fact.
10. "Copeland" is an anagram of "Penal Cod". Copeland voted strongly to leave the EU in last summer's referendum. This was a protest vote about punitive EU fishing quota policies.
11. Labour won by 2,620 votes in Stoke Central. The Bible verse Proverbs 26:20 states: "Without wood a fire goes out; without a gossip a quarrel dies down." Thus we can see a clear message handed down from on high that God is communicating directly with Jeremy Corbyn in support of a kinder, gentler politics. Also God likes Jeremy Corbyn's beard.
12. Corbyn's position on Trident isn't alienating to working-class voters at all – he's actually speaking out against pointy fork-stick-weapon things that bad mermen have sometimes. This'll be cleared right up before the next election. It's the mermen that are wrong.
13. "Stoke Central" is an anagram for "Treacle Knots". Labour's victory in Stoke is a victory for delicious puddings.
14. Labour lost by 2,147 votes in Copeland. Mark 15:21-47 tells of the crucifixion of Jesus. In this we can clearly see that the Tories are responsible for killing Jesus.
15. "Stoke Central" is an anagram for "Rectal Tokens" which is a perfect metaphor for the privatisation of the human body itself. Labour's victory in Stoke is a surefire protection against rectal tokens.
16. The by-elections took place on 23 February. That's 23/2. 232. The 232 bus route in London goes to Turnpike Lane. A turnpike is a word for a highway with tolls. Toll roads are the perfect metaphor for the privatisation of public infrastructure. Labour stands against the privatisation of the public infrastructure on principle; it would have been hypocritical to win the Copeland seat on a day like 23 February.
17. "Stoke Central" is an anagram for "Slacken Otter", which is frankly disrespectful to British wildlife. Labour's victory in Stoke is a vote to invigorate British woodland creatures.
18. Labour purposefully had such a poor showing in Copeland in order to tempt Theresa May into calling a snap election, in which there will surely be a stunning Labour victory. People love Jeremy Corbyn, especially now that he has such a strong pro-otter, pro-treacle platform.
19. If Labour lets the Tories win in its heartland, they will be so distracted they won't even notice the huge push Labour is going to make in Hampshire at the next election. They'll never see it coming.
20. Labour are simply playing four-dimensional chess. The Tories are playing three-dimensional chess and this will ultimately doom them in the fourth dimension: time. Time conquers all; ergo, Labour will win a stunning victory, eventually.
21. "Copeland" is an anagram of "Nepal Doc". The reliance of the NHS on Nepalese doctors is a damning indictment of Tory funding cuts.
22. Jeremy Corbyn is actually a performance artist and this is his masterpiece.
23. British voters understand the power of tough love, and see that by not voting for Labour in Copeland they were actually expressing how much they love Labour. Tough love is the strongest kind of love there is.
24. "Copeland by-election" is an anagram for "A Bicycle Tendon Pole", so clearly the whole election was rigged against Jeremy Corbyn from the start. Not that you'll ever hear about it on the biased BBC.
25. Labour may have lost Copeland, but at least Jeremy Corbyn has never held hands with Donald Trump. That's the real victory people should be talking about. Remember when Theresa May held hands with Donald Trump? Well, Jeremy Corbyn hasn't held hands with the US president, ever. The president wouldn't even WANT to hold hands with Jeremy Corbyn, and that says it all.
26. Everybody knows that if voters take enough turns to the right, they end up going left again.