Hello, and welcome to Hannah's Happy Hour! Yes, it's me, Hannah, your favorite boozy best friend. Sampling and rating alcohol are kind of my thing, so I'm back to tell you about Bud Light Seltzer's new Fall Flannel variety pack. Of course I tried it, and of course I have lots of thoughts. So let's dive in!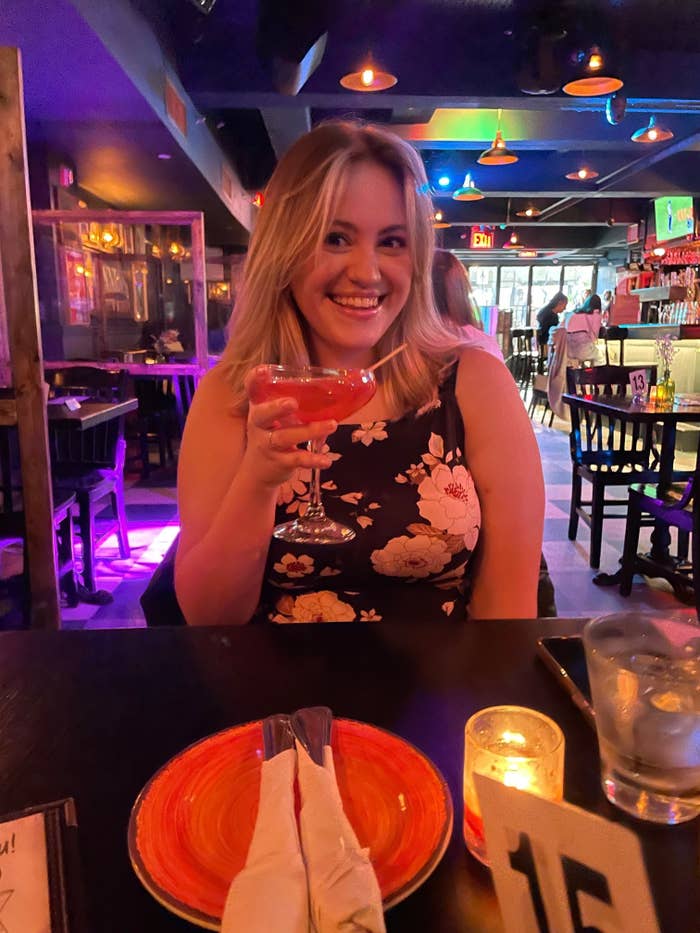 Here's the cute, little box. I know that loving fall has been deemed "basic," but I do not give a shit. I love fall. It's my birthday, it's Halloween, it's chilly, and it's perfect. I love an autumn vibe, so I was really digging this flannel rebrand. So very fall, so very festive.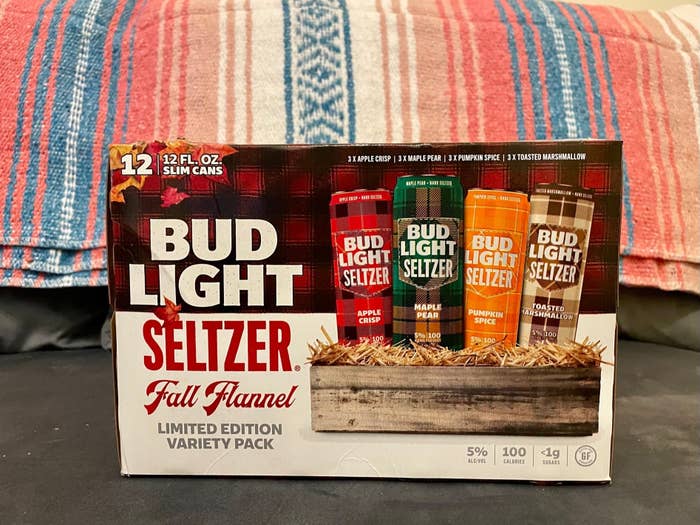 And here are the cans! We've got Toasted Marshmallow, Maple Pear, Apple Crisp, and Pumpkin Spice! Oooooh!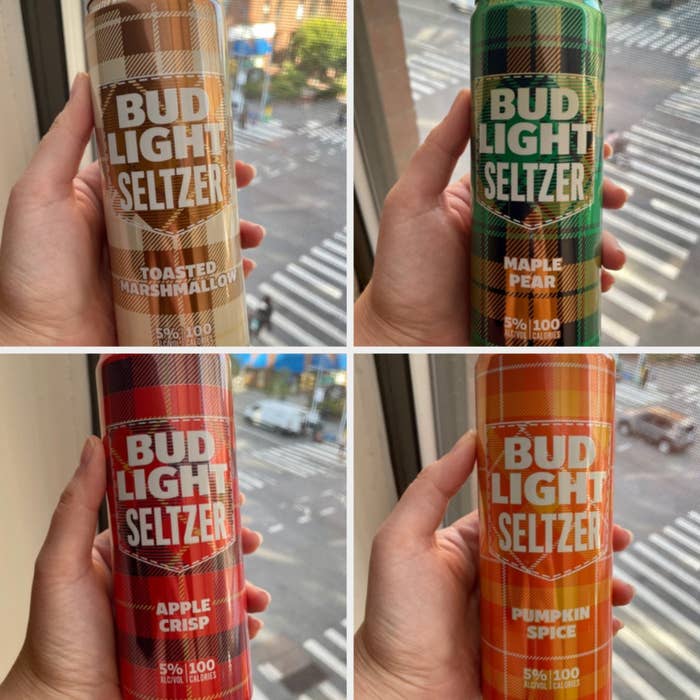 And just like that, it was time to drink! I enlisted the help of my lovely roommate, Caitlin, to try these bad boys out with me. Here's how it went:
Toasted Marshmallow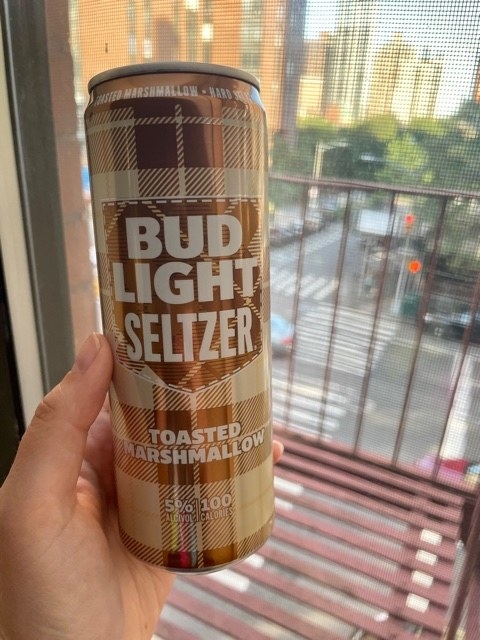 For starters, it smelled like a decadent candle or body lotion (think Warm Vanilla Sugar à la Bath and Body Works). It was soooo aromatic — I honestly was surprised a seltzer could pack such a smell.
Then, it was time to taste! Upon our first sip, Caitlin and I were both instantly reminded of whipped cream-flavored vodka. We were both kind of caught off guard by how distinctly flavorful the drink was. Usually seltzers seem to taste watered down, but this was aggressively flavorful. It kind of reminded me of a vanilla Tootsie Roll (which I weirdly love), so that was cool. Caitlin and I were both a little jarred by how creamy this tasted, given the fact that it's a seltzer and not a dairy product. That was very unexpected. We also speculated that this could be a great ingredient in a sweet cocktail. It would pair well with cream soda and whipped cream vodka.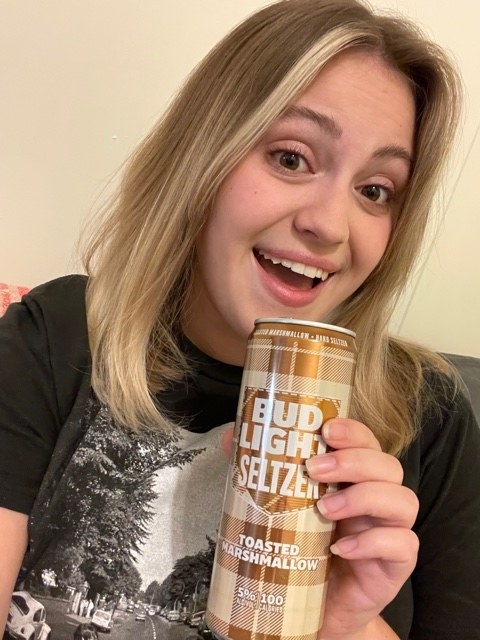 Caitlin's rating: 5/10
While she still thought it was tasty, she wasn't entirely sold on the creamy flavor. She did agree it smelled like heaven, though!
Hannah's rating: 6/10
It wouldn't be the first flavor I'd pick, but I was pleasantly surprised. It was super flavorful and, honestly, tasted pretty close to a toasted marshmallow. I'd love to mix with some other ingredients to create the perfect seasonal cocktail!
Maple Pear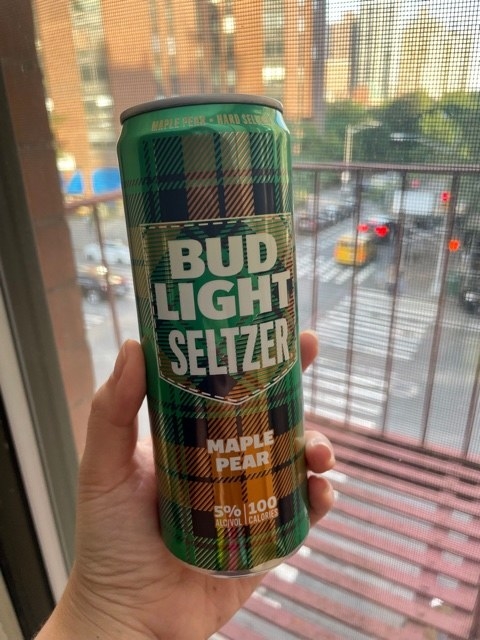 We cracked it open, and boy did that smell surprise our noses. Another super-fragrant seltzer! Again, you'll see a trend here; I'd love to have a candle that smelled even half as good as this seltzer.
Bottom's up! I must say, I do really love pear-flavored things, so right off the bat, I knew I wouldn't hate this one. I'm not a huge maple fan, but I'd say the pear flavor was more dominant anyway. Much like the previous seltzer, we both found this to be much more flavorful than your typical fruity seltzer. It was more robust, and the taste lived up to the name!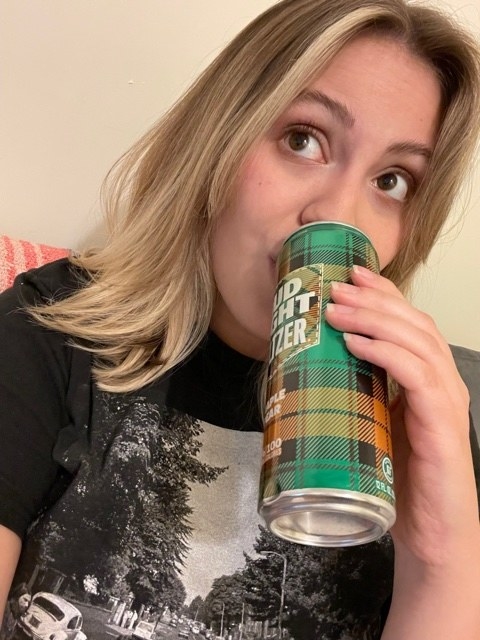 Caitlin's rating: 7/10
She thought it smelled great and was tastier than the previous flavor, but the maple wasn't her favorite.
Hannah's rating: 7/10
We were basically on the same page with this one. I liked it better than the first seltzer, and I'd happily drink it again.
Apple Crisp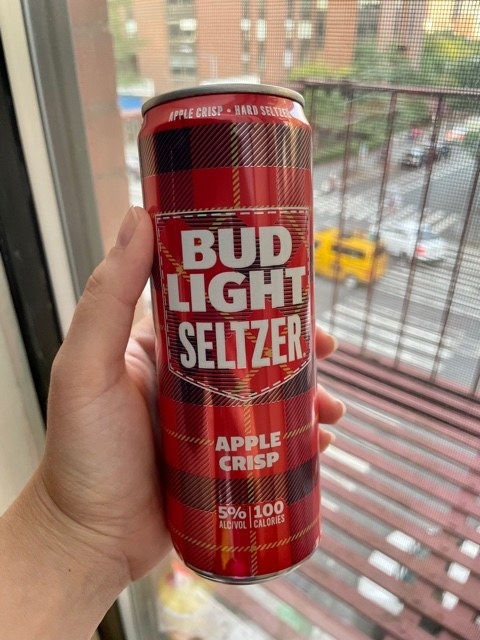 Alright, I know I've been raving about these smells so far, but this one really smelled the absolute best. I think apple-scented things are already one of the most delicious smells anyway, so I was drooling over this one. If I had this smell in candle form, I'd light it all year round. Autumn all the time!
It honestly tasted like liquid pie. It was like drinking a slice of apple pie. I was floored. It was also reminiscent of applesauce (in a good way). It really was like fall in a can! I was completely shocked at the sheer amount of cinnamon flavor in this drink. It was hearty — I honestly felt like I'd eaten a meal after drinking it. You could probably throw a shot of Fireball into the mix and turn this into quite the seasonal cocktail.
Caitlin's rating: 8.5/10
Caitlin was a fan! Though she also found it to be a bit heavy, she loved the taste and said it was the most sensible flavor yet.
Hannah's rating: 8.5/10
I really loved this one as well, and I could see myself drinking it through fall and all the way up to Christmas. It seemed more like a hearty, warm beverage than a cold, spiked seltzer.
Now, the moment we've all been waiting for...the most controversial of the seltzer flavors!
Pumpkin Spice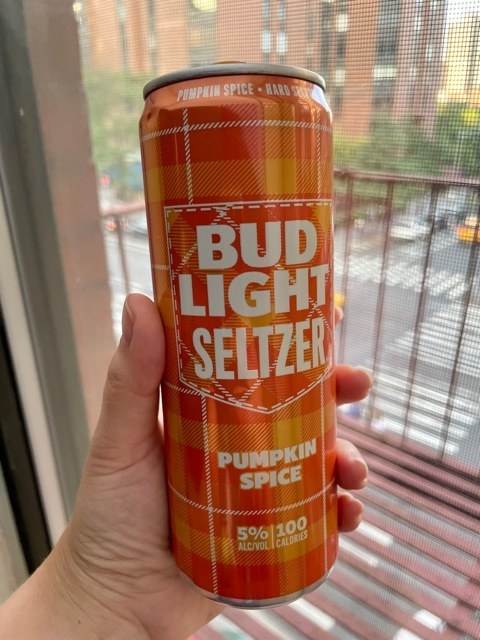 Well, what do ya know? Another strong smell! Yes, folks, much like the rest in this pack, this seltzer also smelled like a Bath and Body Works candle. It was like I had a can of pumpkin pie in my hand.
It was almost jarring how much this seltzer tasted like pumpkin pie. Seriously. It tasted so much like pie that Caitlin and I agreed that we almost expected it to be creamy. It's as if the medium didn't quite match the taste. You almost forget you're drinking hard seltzer because the taste is unlike any other seltzer out there. It was confusing!!!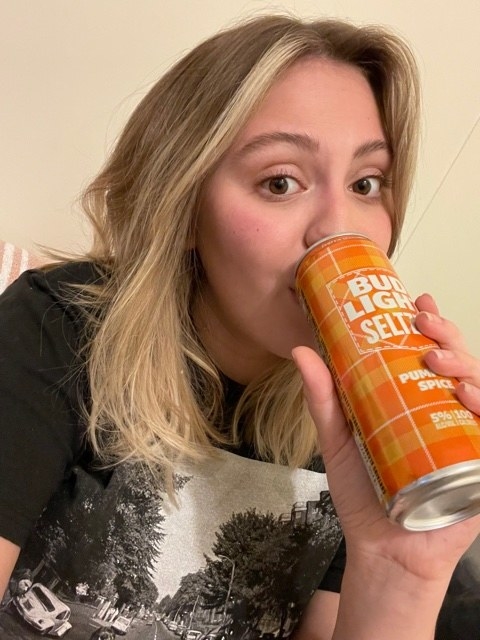 Caitlin's rating: 7/10
Caitlin liked it, but she definitely found the flavor to be a bit odd. She still preferred the Apple Crisp flavor, overall.
Hannah's rating: 8.5/10
I'm not even ashamed to say that I really liked this one! I kind of expected it to be nasty, so maybe I was just pleasantly surprised. Either way, I'm really not a picky person, and I tend to love a pumpkin beer, so I guess this was right up my alley. Would I drink it with a meal? No, I think it's far too robust and sweet for that. Would I drink it with a piece of pumpkin pie? Uh, yeah. Bring it on!
Final thoughts: Not too shabby! These were certainly some of the most flavorful seltzers I've ever had. The flavors were so hearty and rich that they almost didn't seem like seltzers at all. Though I wouldn't throw one of these back during dinner, I think they are worth a try nonetheless. They make a pretty unique, sweet treat. If you're a fall lover like me, I think you'll appreciate these unique flavors! Cheers! 🍁