Here's What Happens When Crisis Funding For The Most Vulnerable Disappears
Five years ago the government devolved responsibility for grants and loans to those in financial dire straits to local councils. Those most in need say they've been left bereft as a result.
At North Paddington Food Bank, in one of the wealthiest boroughs in London, there is no one "type". There are men and women of all ages and ethnicities, from babies in prams to old-age pensioners, waiting in line for food handouts. However, one thing unites almost everyone here: They are in receipt of state benefits.
Elaine* has osteoarthritis in both of her knees and is unable to work. She claims disability benefits, which recently switched from Employment and Support Allowance (ESA) to Personal Independence Payment (PIP). While her benefits transitioned, Elaine had no money coming in. Her only way to put a meal on the table was a visit to a food bank, where she had to wait her turn to be handed a bag of supplies to last the week.
Five years ago it would have been possible for Elaine to take out a crisis loan from the Social Fund. Accessed through the Jobcentre, averaging around £50 and intended to overcome short-term financial crises, these loans helped people in financial dire straits to pay their bills in the short term. The money from the loans was repaid through benefits.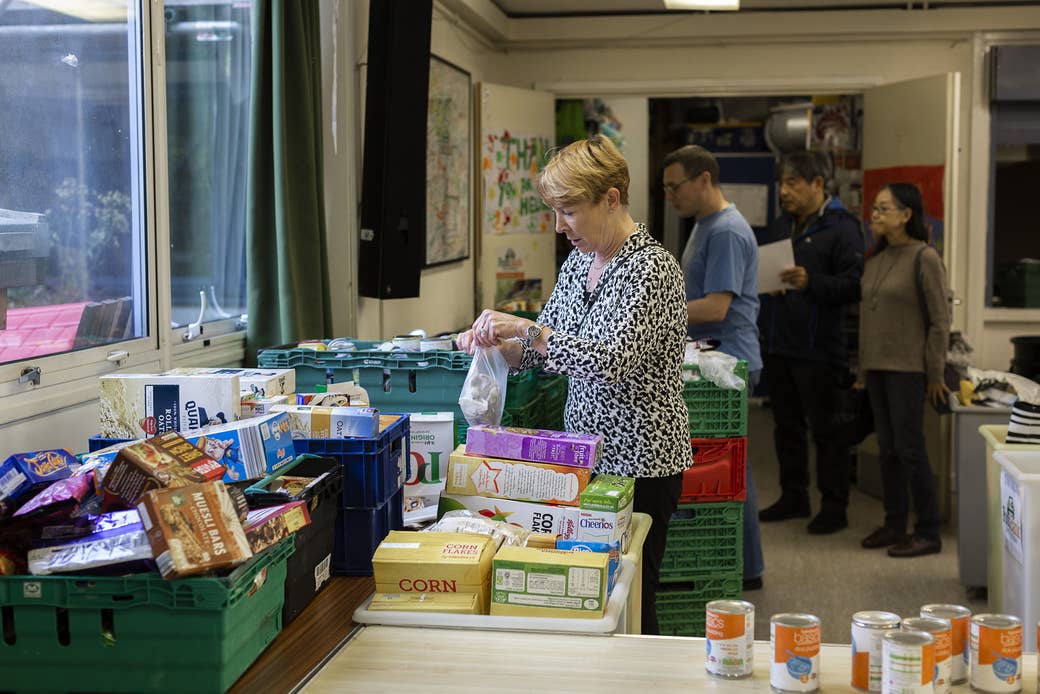 The same fund also provided community care grants, which helped vulnerable people, including domestic violence victims and those who were leaving care, to get back on their feet.
But in 2013 the government devolved responsibility for Community Care Grants and Crisis Loans to local authorities in the form of local welfare assistance schemes. But the money was not ring-fenced, and as many councils face increased financial pressures, their emergency funding schemes have been heavily stripped back, with some disappearing altogether.
Now people seeking financial support face a postcode lottery: In those areas where local authorities offer no financial support at all, the burden has fallen instead to food banks and other charities to support people in crisis. And in areas where funding is available, it often doesn't reach those who need it.
"They don't tell you they're stopping it," Elaine told BuzzFeed News. "They just stop. They stop your benefits and you can't pay your bills. You can't pay anything.
"When I went from one benefit to another they stop your money for a while. I thought I could have a crisis loan, but they said, 'You can't do that now.' So you've got nothing; you have to come to the food bank instead."
Nobody at the Jobcentre told Elaine that the money had been given to local councils to dole out instead. "I didn't know. They didn't tell me," she said.
A civil servant employed by the Department for Work and Pensions spoke to BuzzFeed News on the condition of anonymity. Acutely aware of the problems benefit claimants often face, they volunteer at their local food bank outside of their working hours.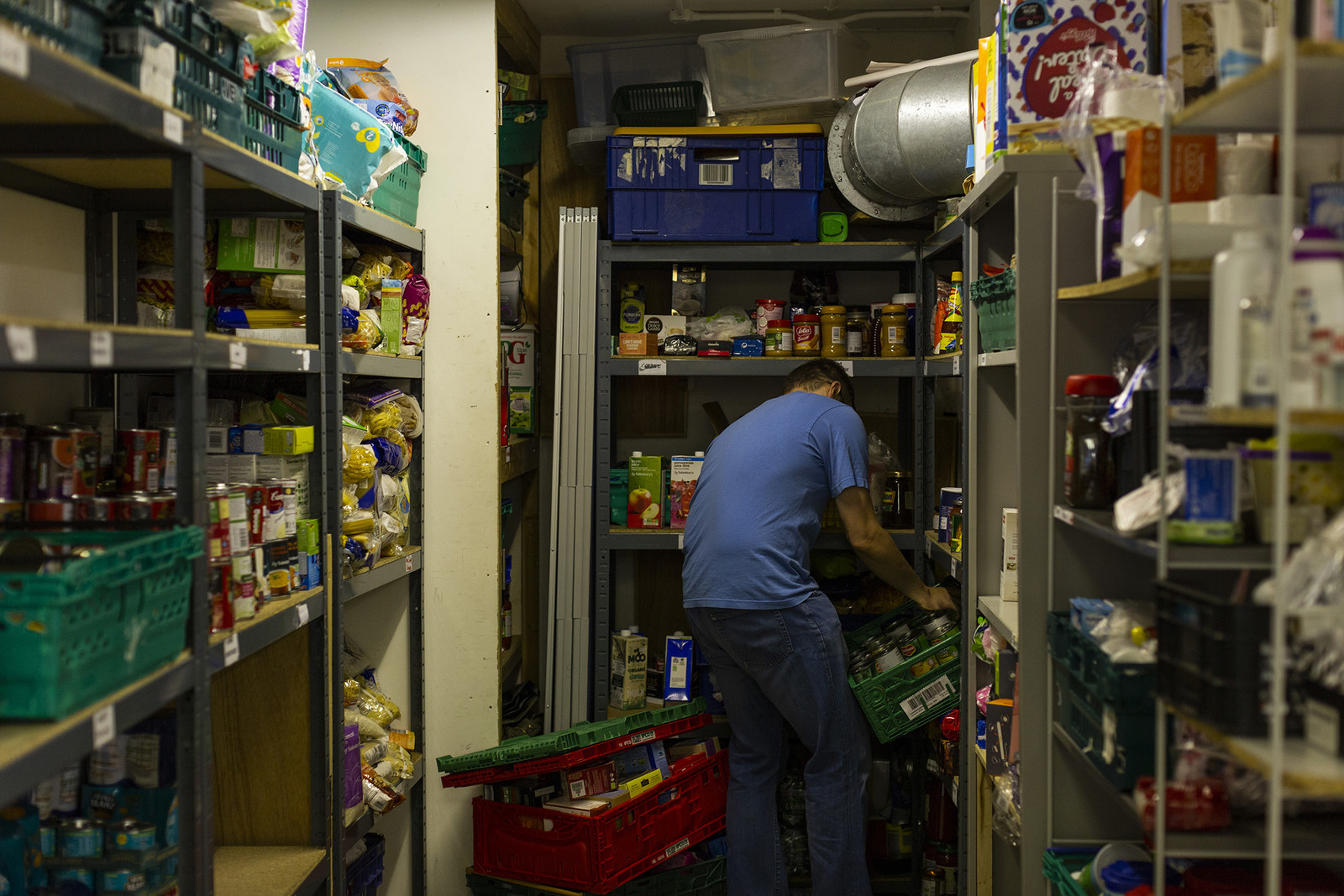 They described some of the people who had passed through the food bank's doors, including a woman sharing a small room in a women's refuge with her three children, and another woman who burst into tears after being given a packet of sanitary towels — she had spent most of her last period sitting on the toilet because she couldn't afford to pay for sanitary products.
"These are the people who most deserve help," they said, "because if you want to earn money quickly in [this city] you can. You can sell drugs, sell arms, even sell people. These are people who don't want to do that, are most deserving of help. The vast majority have mental health problems. Food is obviously the least you can give them — but people always have much more complex needs than just food."
The people in receipt of benefits who visit the food bank, the civil servant said, are often in desperate situations, and as far as they are aware, not many would think to approach their local authority for financial help.
"I don't think they expect money from the council anyway," they said, "it's always such a battle to get the money, I don't think they ever expect it. I don't think they feel entitled to the money."
BuzzFeed News asked the civil servant whether they thought the rollout of Universal Credit would lead to more people facing financial crisis. "Yes," they said, emphatically. "In theory it shouldn't. I don't have a problem with Universal Credit; I think it could be quite a good policy. But inevitably there are mistakes in a system so massive. There are bound to be mistakes."
And research from Greater Manchester Poverty Action has found that the amount of financial support available to people who end up in crisis has fallen dramatically. The organisation carried out an analysis of local schemes in 131 out of 150 top-tier local authority areas in England, and shared the findings with BuzzFeed News. The data revealed that 22 local authorities do not operate local welfare assistance schemes, and GMPA estimates that this means 7.75 million people are living in areas where crisis support is not available.
A further 29 schemes are under threat; local authorities have cut the budget for their schemes by two-thirds over the last three years or are operating schemes on budgets of less than £100,000 a year.
When the government devolved the funding, worth almost £200 million, it said that the money would be better able to reach those in need, but crisis support funding in England has fallen by 69%, GMPA has said.
In 2012-13 £139 million was spent by central government on crisis funding, but this had dropped to just £46.6 million in 2017-18, administered by local councils, according to GMPA's analysis.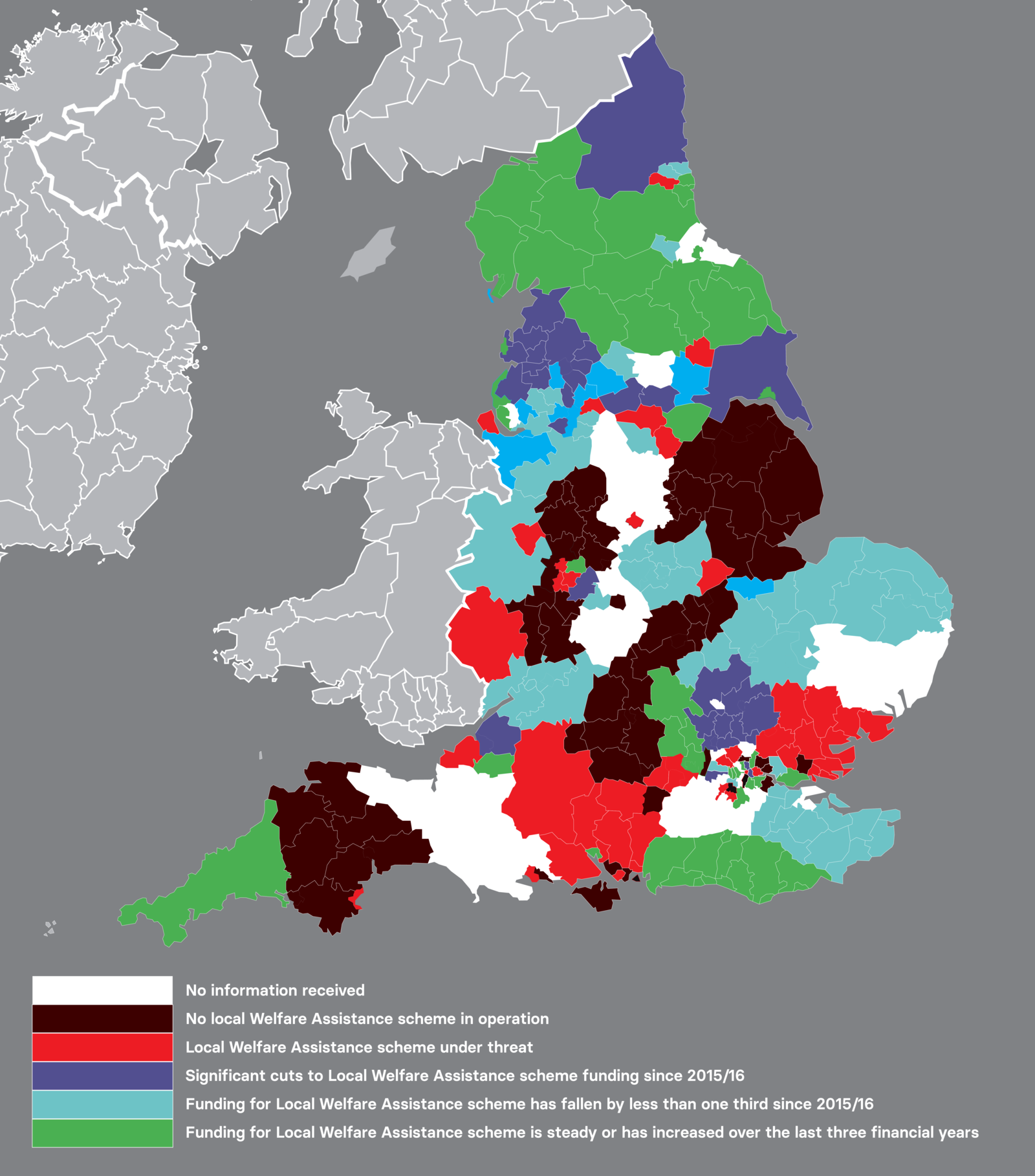 The number of individual awards made also fell from more than 1.3 million Community Care Grants and Crisis Loans in 2010-11 and upwards of 700,000 in 2012-13 — the final year of the national scheme — to a little over 161,000 successful applications for support through local welfare assistance schemes in 2017-18 — a drop of 88% since 2010-11.
"Local welfare schemes aren't the first port of call for people who are in a crisis," Graham Whitham, director of GMPA told BuzzFeed News, "and that's what they were intended to be.
"They're being bypassed — in some areas even people providing statutory services don't know about them. Not just among people needing them, it's often among the public sector workforce that there is a lack of awareness. It's highly concerning."
He added: "It's becoming the norm for the voluntary sector to provide crisis support for people who are going hungry, in sudden financial crisis, facing unmanageable debt. It's great, the response from the voluntary sector, but it's also an indictment of the impact of austerity and government welfare reforms.
"People need access to money. That gives them choice and control and dignity. Going to a food bank and waiting in line takes away people's dignity but also their choice and control. People using food banks have multiple needs. You've got to have something more holistic in place. The government can't absolve itself of responsibility."
James Quayle, North Paddington Food Bank's manager, told BuzzFeed News that the majority of people who go there are in receipt of some kind of benefit. One of the trustees, Nick Hall, said it was "pretty much everyone."
This isn't necessarily the case with every food bank, Quayle said, but it is the case here.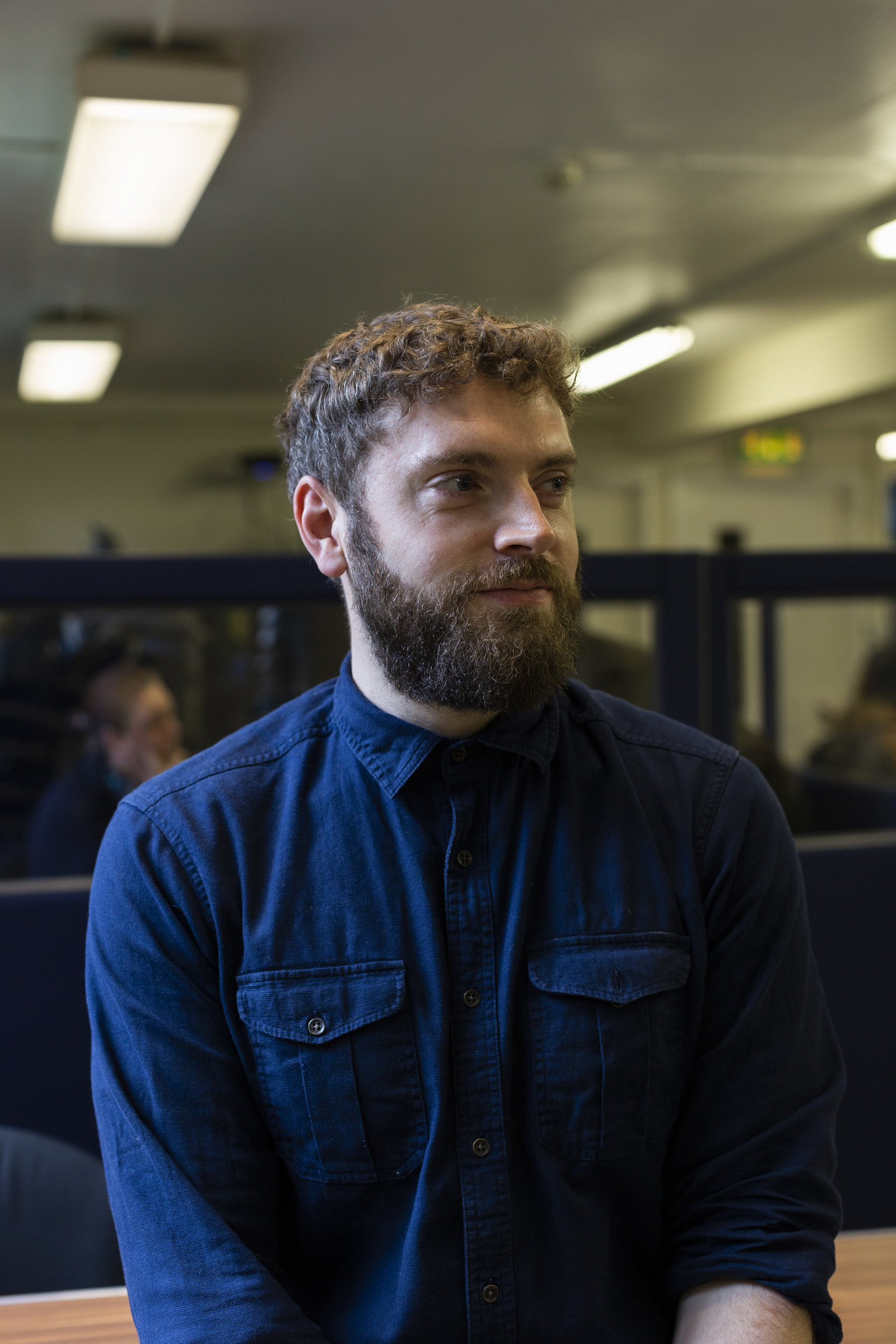 When people can't make it to the food bank, he takes food to them. "I've done 22 deliveries this year," he told BuzzFeed News. "Five have been this week."
"I think it's being made as difficult as possible for people to get the benefits they're sometimes entitled to," he said, "in the hope that people will give up."
Hazel is receiving ESA after undergoing a hip operation. She used to have a good job in the charity sector, she told BuzzFeed News, but is now out of work with health problems, and fell into debt after escaping a violent relationship. Her benefits do not cover her outgoings, and Quayle delivered food to her when she was bed-bound.
Hazel had to start again with nothing — her ex-partner destroyed most of her possessions and set her bed on fire. Under the previous system, she would have been eligible for a community care grant. When she was discharged from hospital after surgery she didn't even have a bed to sleep in, which she says made an existing spinal problem worse. Hazel made the Jobcentre aware of this, she said, but was not signposted to her local council.
It was not until three months later that someone told her that help may be available from the council. She was offered one piece of furniture or a £50 voucher. She chose a bed.
"I've been through really bad domestic violence," Hazel told BuzzFeed News. "All my benefit money this week went on my rent arrears. There's nothing hardly left in it. I came out of hospital from a hip operation and I didn't even have a bed. I was still in so much pain after major hip surgery.
"[My ex-partner] held me by the throat, punched me, terrorised me a lot. I've got that much debt that I've incurred, things I've got to replace. It does affect your wellbeing, you know. He took my clothes, my shoes, I'm limited now with clothes and underwear, I've not adequate footwear. I just wish I knew somewhere where I could still get help."
Des Lynch from the Manchester-based charity Wood Street Mission told BuzzFeed News that the charity regularly helps women fleeing abuse — who once would have been able to access community care grants.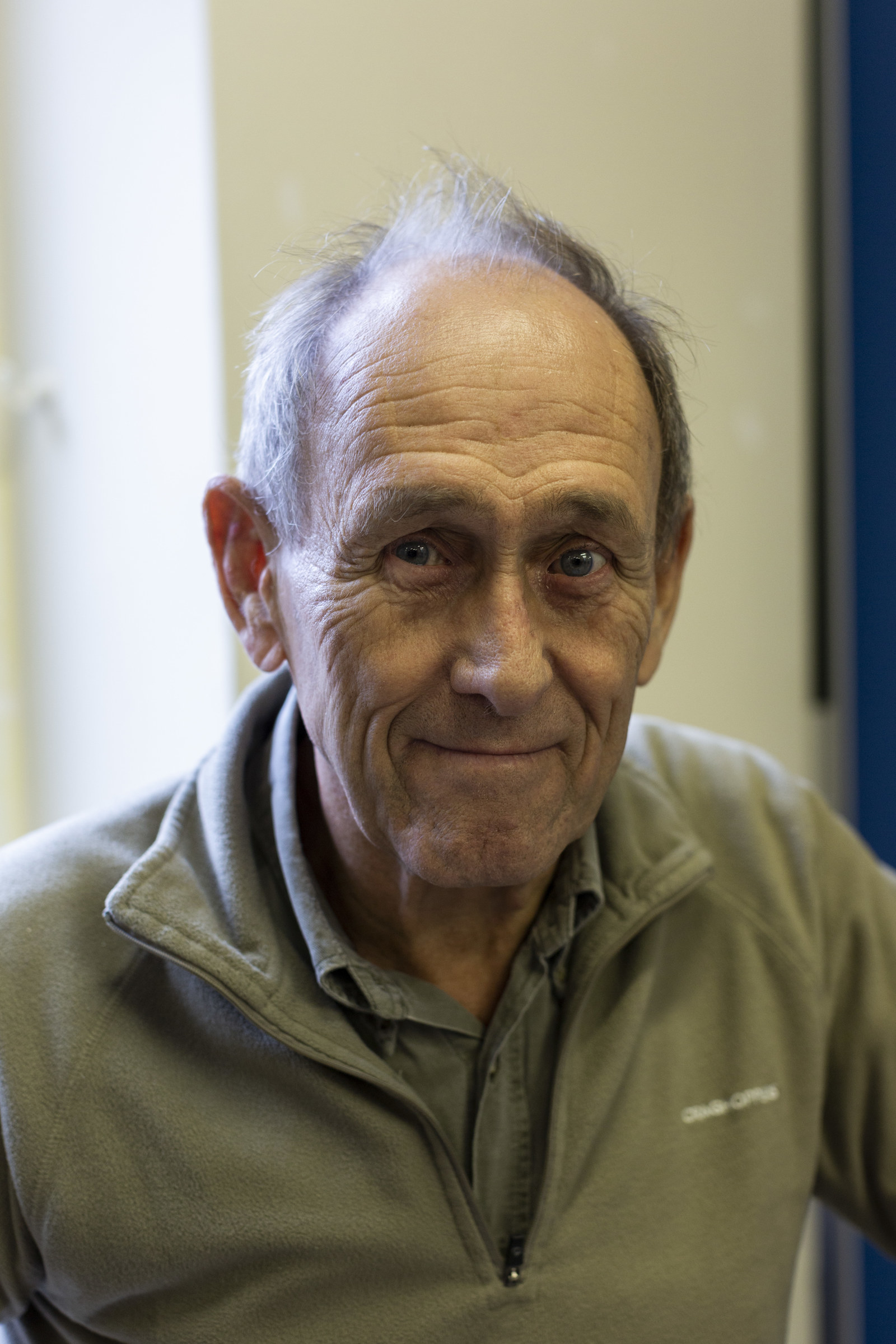 "That is on the increase," Lynch told BuzzFeed News, "particularly women who've got a kid who are fleeing violence then put in emergency accommodation. They're not given anything, they move house, they're put into a room in a hostel, and then they've got to fend for themselves."
"The budgets aren't there to provide the basic items that a single parent would need," he added. "Clothing, bedding, you're trying to get people out of the situation that they're in, but there's nowhere to move them on to that's safe and secure."
Lynch said that not only this government, but also the policies of previous governments, have allowed more and more of the burden for supporting people in need to fall to the voluntary sector, where once the state would have provided.
He told BuzzFeed News: "I think the government — not the just the Conservative government, this has been going on for years — they've expected charities and the voluntary sector to pick up what used to be state duties. What used to be local councils, government bodies, is left increasingly for the voluntary sector to pick up."
"It's for everyone's benefit," Lynch said, for some kind of emergency financial support to be available to people in times of crisis. "The chances are," he told BuzzFeed News, "if you've not got anything to go on at all, and no crisis loans, you're going to spiral ever more into debt, into trouble. You're digging the hole ever deeper, and it costs far more to get people out of this hole."
Sian Hawkins, head of campaigns and public affairs at Women's Aid, told BuzzFeed News that "leaving an abusive partner can mean survivors and their children are faced with a future of poverty, homelessness, and insecurity. Yet the financial support they so desperately need to help rebuild their family's life free from fear and abuse is being stripped away."
She said that the charity was calling on the government to ensure that survivors of domestic abuse have access to financial assistance, and ensure that they are not penalised when making a new universal credit application or forced to wait for their first payment, and for the government to exempt survivors escaping domestic abuse from being required to repay a benefit advance.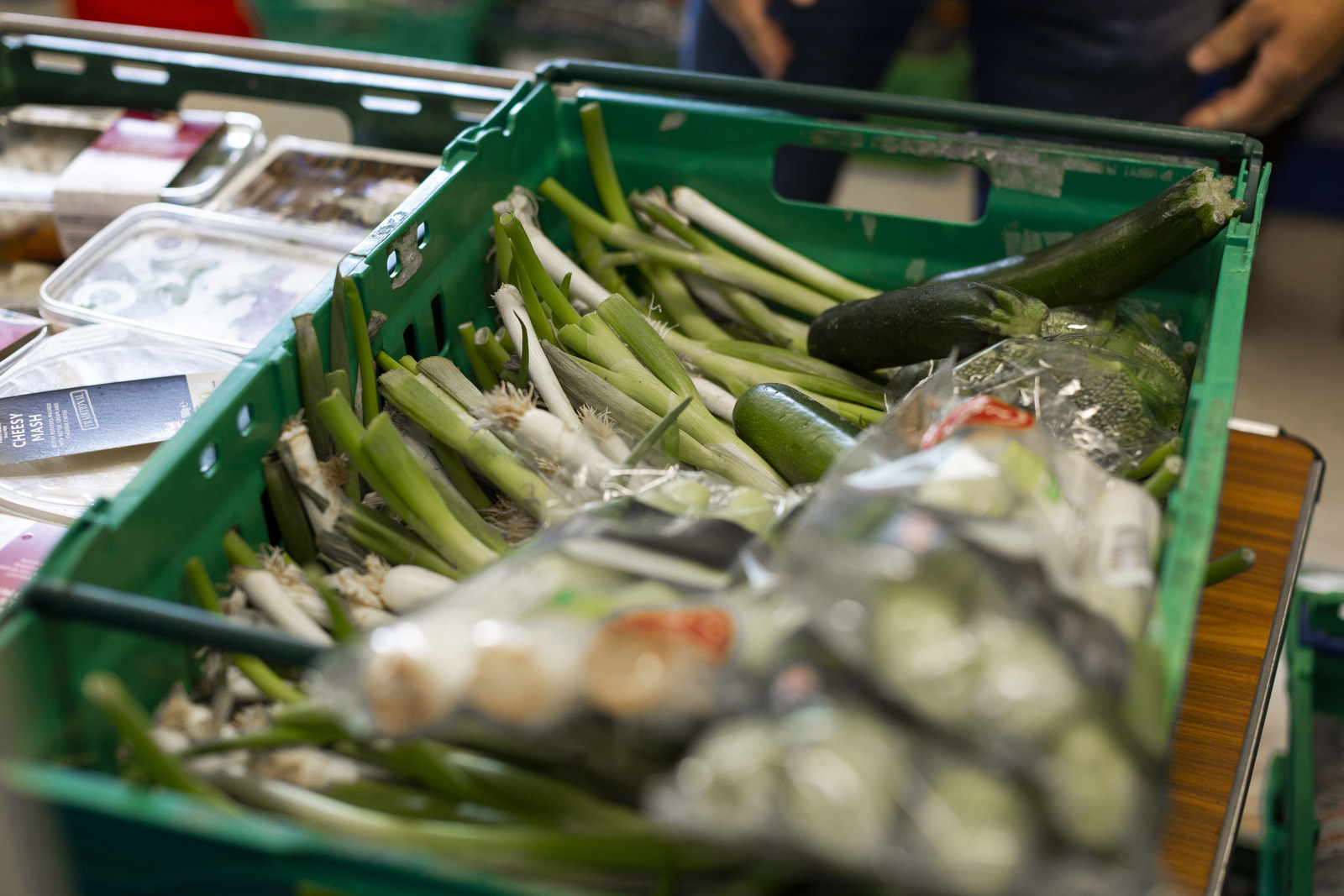 Even when local welfare assistance schemes do exist, and are well-publicised enough that people know they are available, they are often harder to access than payments made via the social fund would have been.
Michael used to be a support worker but had to give up his job after sustaining an injury. He is now in receipt of ESA, but his benefit payments don't cover his outgoings. "It's not enough," he told BuzzFeed News, "I can't survive on that. I'm paying bills, paying everything, paying half of the rent."
When things are particularly tight, Michael has to turn to a food bank. "It's hard because it's embarrassing as well," he said. "It does play with your mental health, but I need it." He has no family nearby to turn to when things get tough.
Michael tried approaching his local council for emergency cash, he said, but was turned away, as he did not meet the criteria. "I did a year or two ago," he told BuzzFeed News, "They said they can't do much because I'm not homeless — but I could have lost my home. I was at the point where I couldn't pay the bills."
Michael has had to ask the food bank not just for himself, but also for his cat. "I've got the cat and I can't just abandon the animal," he said. "She's like company. She's good for people who struggle with mental health issues. She's a clever little thing."
Christine Moore, the CEO of Manchester Credit Union, said that staff at its branches across the city had seen an increase in people coming to them in a financial crisis in recent years.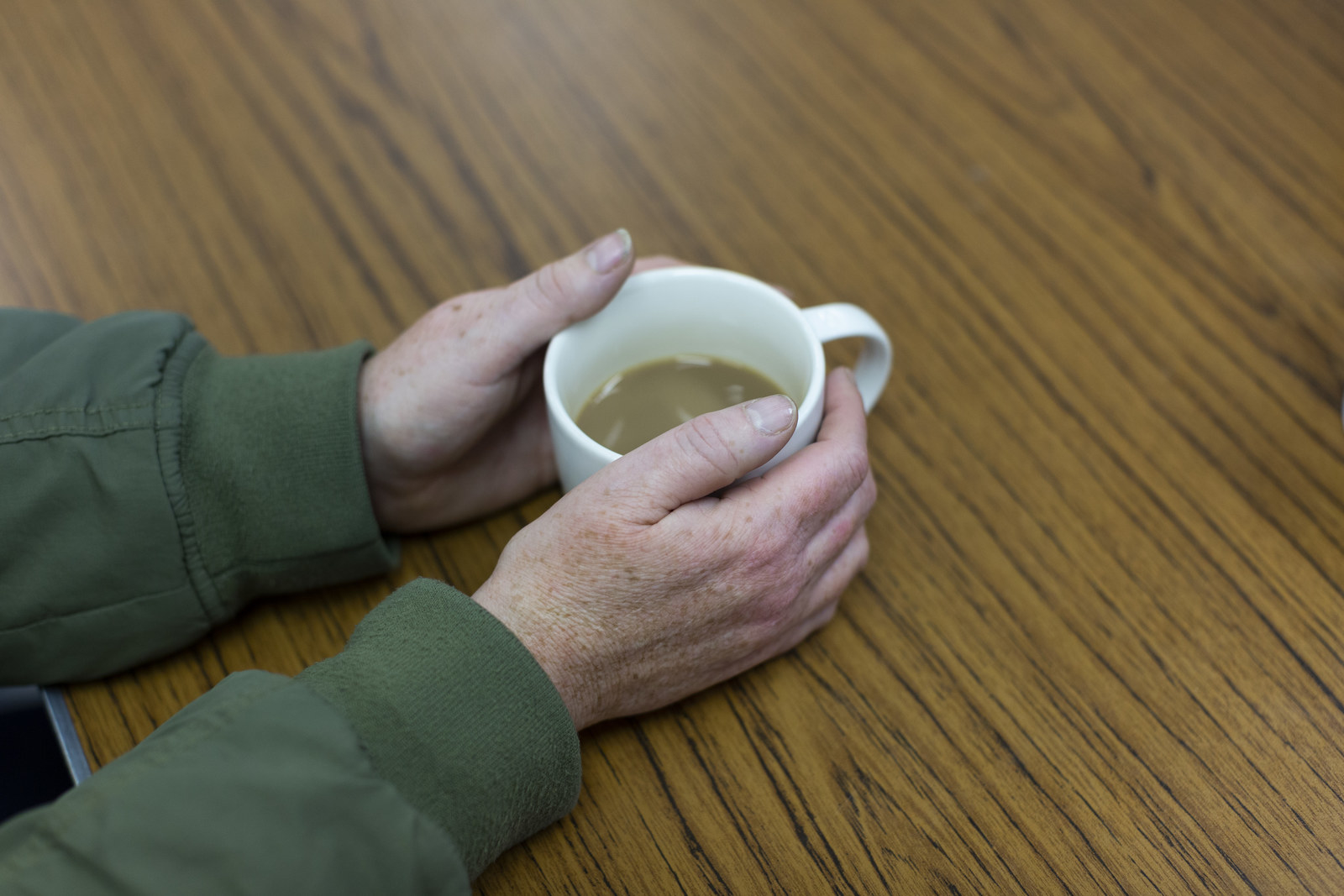 "We've noticed that more people are coming to us for loans straight away [rather than saving money with the credit union first]," she told BuzzFeed News, "and a lot of people seem to be harder up just with normal day-to-day living expenses — the demand for loans shows that."
Moore said the credit union had "definitely" witnessed the impact of universal credit and benefit sanctions, adding: "We know that's one of the reasons why we're getting more people and they're struggling to pay."
"We've had a large increase in young men, in particular, coming in to ask for small loans. I think those are the type of people who might have accessed crisis loans quite frequently," she added.
The credit union regularly helps people on low incomes and those on benefits, Moore said, but is only able to lend to people who can prove that they have the means to repay the loan. When they are unable to help someone, staff will signpost them to other agencies, including food banks.
However, there is always the fear that those who do not qualify for a loan will end up getting into unsustainable debt, for example by turning to illegal loan sharks.
"I think it's always been a problem in the area," Moore told BuzzFeed News. "Now it's still rife; we work with the illegal money lending team. It's possible that people we refuse for a loan will have to use that route. We hope they don't, but some people will use them if they're desperate."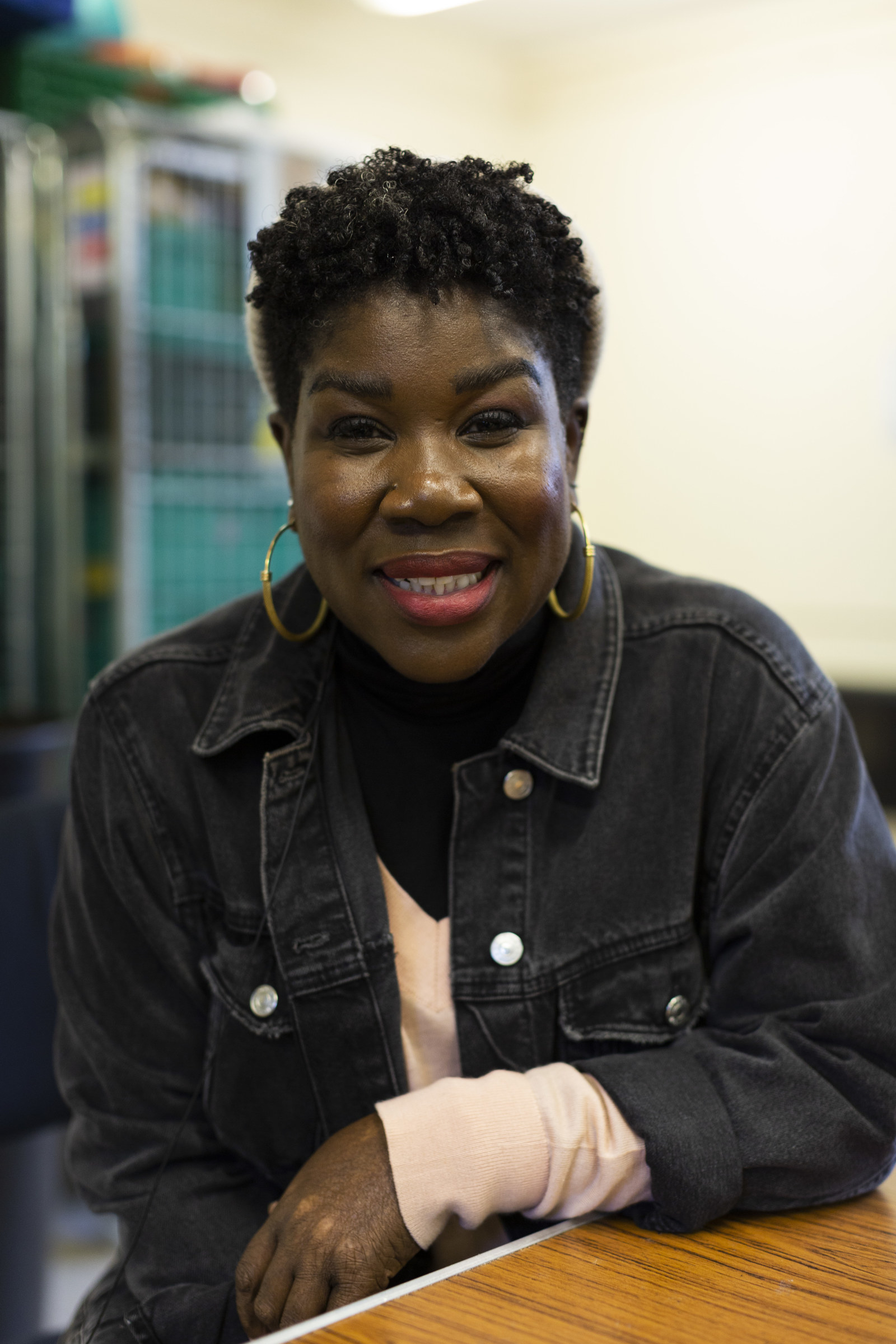 Phyllis Osie, another food bank trustee, who has been involved since North Paddington started in December 2013, said demand had increased "exponentially."
"Now we're seeing upwards of 80 clients at each session," she told BuzzFeed News. "When we first started it was 10."
With Universal Credit paid monthly, and claimants risking tough sanctions, there are fears among professionals that numbers will continue to increase.
Raymond receives universal credit, but has had to rely on food banks after losing money from his benefits due to sanctions. He was sanctioned for turning up late to an appointment, he told BuzzFeed News, but he said he rang the Jobcentre in advance and asked to change his appointment time.
"If you don't do as you're told they sanction you," he told BuzzFeed News. "Then you've got to borrow money off of them, you've got to pay that back, and at the end of the month there's not much to live on."
Raymond said he was unaware of any financial support offered by the local authority — despite it existing in his area. "I didn't know it was an option," he said, "nobody ever told me. After all the sanctions I was only getting £190 a month — that's less than £50 a week to live on."
Without the food bank, Raymond would be unable to feed himself, he told BuzzFeed News, and he has Type 1 diabetes, so not eating properly could have devastating consequences. He added: "But you tell them that and they don't care."
A government spokesperson said: "One million people have been lifted out of absolute poverty since 2010 and household incomes have never been higher.
"For families that need extra support, we're spending £90bn a year on working-age benefits.
"Local authorities are responsible for using their funds to best meet the needs of their residents, and over the next two years we are providing them with £90.7bn to do so."
*Some names have been changed to protect people's identities.
CORRECTION
Nick Hall is a trustee of the North Paddington Food Bank. An earlier version of this post misstated his name.