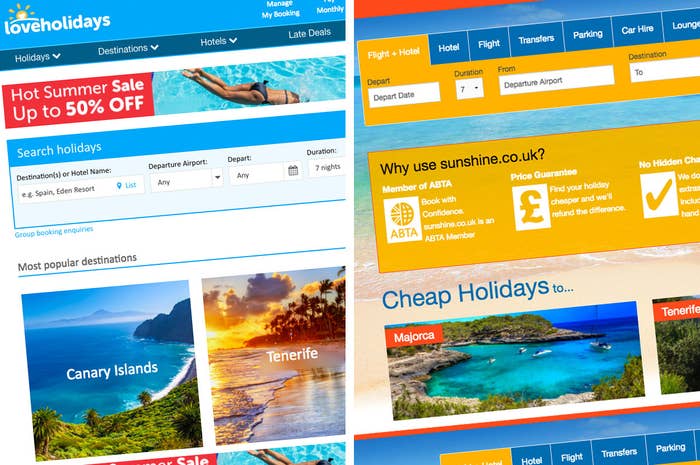 Travel companies have been told they must immediately stop discriminating against non-British EU customers after BuzzFeed News revealed they were refusing to accept their bookings or charging them more.
The Association of British Travel Agents described such terms and conditions as "discriminatory and not acceptable", and said that it was now writing to all its members to tell them to stop.
ABTA's move comes two days after BuzzFeed News reported on complaints about one London-based company, Love Holidays, that was refusing to take bookings from people who were not British or Irish citizens, and was even cancelling holidays already booked by nationals of other EU countries.

It has since emerged that several companies, mostly low-cost web-based operators, have similar policies in place and are either turning down non-British customers or telling them they may be liable to pay more for their hotel on arrival.

Campaigners and the Labour party said the controversy was the result of uncertainty among businesses over the fate of non-British EU citizens in the UK, but travel companies said it was down to hotels both in Europe and outside the continent offering cheaper rates for British citizens.
The Equality and Human Rights Commission has also said it will be investigating unlawful discrimination within the travel industry, and will write to ABTA as well as any other companies known to be discriminating that are not members of the organisation.

An EHRC spokesperson said: "It's unlawful to discriminate on the grounds of race, which includes nationality. Now that this issue in the travel industry has been brought to our attention by BuzzFeed [News] we will be examining it further and writing to ABTA, as well as any companies who are not members of ABTA that are also brought to our attention."

The European Commission is also now investigating the practice. A spokesman said it had not previously been aware of the issue, but that specialists in Brussels were analysing evidence provided by BuzzFeed News and would provide a response in due course.
ABTA said its lawyers had already contacted member travel companies in the UK and told them to change their terms and conditions.
Among the companies told to update their booking policies was Sunshine.co.uk, which had said "the prices we get from the hotels are only for UK passport holders".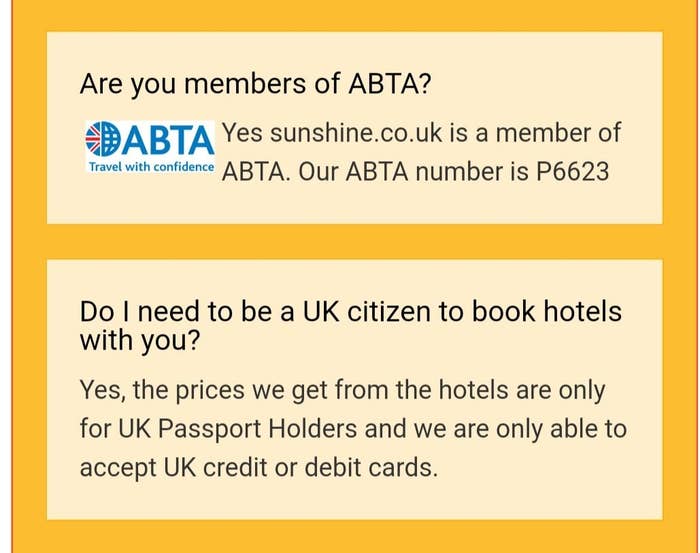 On Thursday a spokesperson for the company told BuzzFeed News: "Unfortunately, we won't discuss this directly with you but have advised ABTA we will look into this matter within the next seven days and advise them accordingly of any action we have taken."

Fawad Mir, a spokesperson for Love Holidays, previously told BuzzFeed News that the company had added the clause due to hotels operating dynamic pricing, where customers of different nationalities are charged different rates, based on their perceived ability to pay.
He said the rates the company had set with hotels both inside and outside the EU were negotiated for British nationals.
"The issue that we're having is because Love Holidays are an online travel agency acting on behalf of hotels and suppliers, some hotels will give us rates for UK and Irish customers only," he told BuzzFeed News last week.

"It's just a market variation across the EU. Germans travelling to Egypt will get one rate, British people another. Even in the EU there would be different rates, Germans might pay more for the same hotel. It's the same for airlines. You tend to get it more in Egypt or Turkey, but you also get it more in Spain.
"We're only doing that because of our suppliers, we're just a booking service. We've had issues with customers turning up and not being able to check in. In general that's what we're trying to avoid.
"What we're advising them to do is call our call centre and we will call the hotel. It's not that we don't want their business, we do. We're not discriminating, we're trying to be a bit up front."
The company has now changed its terms and conditions, following intervention from ABTA.
Travel expert and journalist Simon Calder said he was not aware of the practice, but that he believed it could be down to online companies booking hotels through accommodation-only suppliers, known as "bed banks".
He told BuzzFeed News: "Online travel agents work either directly with hotels or more often with bed banks. Clearly these bed banks have different rates of buying power. It's entirely possibly that you have a British bed bank that is getting better rates than a Polish bed bank, or a German bed bank."
Calder also said situations exist within the travel agency where so-called ethnic travel agents specialising in holidays to Africa or Asia will negotiate packages that they will not sell to anyone with a British name. "Again, it's illegal, but it has been going on," he said.
Campaigners and Labour, however, pointed to Brexit as a major factor behind the policy. Axel Antoni, the media spokesperson for grassroots campaign group the3million, which lobbies on behalf of non-British EU citizens living in the UK, said: "Theresa May's reluctance to determine a cut-off date for EU citizens in UK is creating uncertainty within businesses, banks, and rental sector.
"We are seeing businesses such as the travel industry are increasingly protecting themselves against these uncertainties, which is leading to more and more visible discrimination against EU nationals.
"Our members are bringing increasing cases where they find terms and conditions or job specifications that are discriminating against EU nationals on nationality. We're very pleased that action is being taken by the Equality Commission and by the industry body."
Paul Blomfield, a shadow Brexit minister, also suggested the policy could be attributed to Britain's withdrawal from the EU, telling BuzzFeed News that "an agreement needs to be reached" on the rights of EU citizens to stay in the UK after Brexit, to prevent further discrimination as businesses and employers seek to protect themselves from uncertainty.
He said that while he could not raise the subject in the House of Commons as parliament is in recess, he would write to ministers urging them to tackle the travel industry's discrimination against EU nationals.
He told BuzzFeed News: "It's unlawful discrimination and it has to stop. It's outrageous that it's happening in this country. This isn't the kind of conduct that people want to see whether they voted to remain or leave. It's both outrageous and awful for the people that are facing that."
After being contacted by BuzzFeed News, an ABTA spokesperson said: "In a small number of overseas destinations, passport holders of that country will not be eligible for rates that are offered to overseas nationals and in some cases are only allowed to take flights on their national carrier. These policies are set by the countries concerned, not by travel companies.

"This is the case in Egypt, so if an Egyptian passport holder resident in the UK were to book a stay in an Egyptian hotel, they would be charged more for that stay than other nationalities. Similarly, historically Tunisian nationals were only allowed by the Tunisian government to fly on Tunisair when flying home, and it is quite reasonable for a travel company to point this out in their Terms and Conditions.
"However, it is not correct for companies to put a more general statement in their Conditions which might imply that all non-British passport holders are not entitled to the same rates as British passport holders or that they will only accept bookings from UK passport holders. This is discriminatory and not acceptable.
"We will be issuing a general notice to our Members about this issue and our Legal Department have contacted the ABTA members who have made this error to ask them to change their terms and conditions, which they have done or will do without delay."
BuzzFeed News contacted the Department for Business, Energy and Industrial Strategy, which has responsibility for regulation of businesses in the UK, but a spokesperson declined to comment.