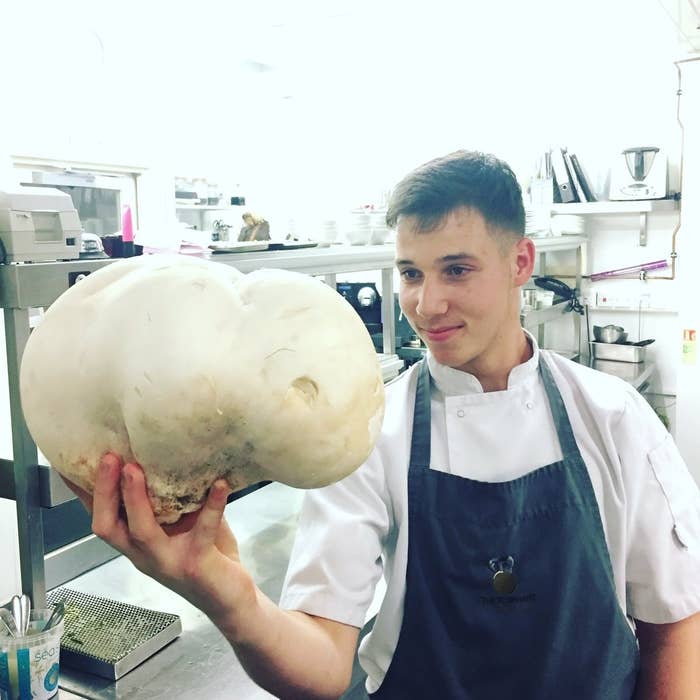 A promising young chef who escaped violence in his native Albania and was robbed at knifepoint in the Calais Jungle is now facing deportation because he has lost his right to remain in the UK.

Ali, who wishes to be known only by his first name, will find out on 4 September whether he will be allowed to stay in the UK, and his friends and foster family have rallied round to support his bid.
He is also being backed by Michelin-starred chef Simon Hulstone, under whom the 18-year-old is training as an apprentice at his restaurant, The Elephant, in Torquay, Devon.
As Hulstone's protégé for the past 18 months, Ali has finished in the top three in a national cooking competition and has just completed the second year of a food technology course at the South Bristol Skills Academy.

Ali came to Britain as a child refugee when he had just turned 16, and applied for asylum as an unaccompanied minor. He was turned down as the EU considers Albania to be a "safe" place to return to, but Ali is estranged from his family there and has no home to go to.
He was given a temporary visa, and sent off a new application for leave to remain in Britain in November 2016, but this was rejected and he was told he is no longer entitled to stay. He is appealing against this decision, but he is not entitled to legal aid.

Ali, who says he left Albania to escape violence at home, was helped by a friend and then travelled alone across Europe, through Italy and France, sleeping on the streets or on park benches.
He then spent three weeks living in the Calais Jungle, where he says he was robbed at knifepoint.
Speaking in a thick Bristolian accent, Ali told BuzzFeed News: "I had to leave Albania because horrible stuff happened to me... My childhood was lost. When I got to 16 I felt that I didn't have a great life and decided to leave. I thought, This is it.
"I decided to go as far as I could, and I knew a little English. When I finally got to Calais I was there for three weeks as I tried to escape. I saw horrible things. At first when I got there I saw people getting stabbed, robbed, raped.
"These four men tried to grab me and then a few other people jumped in with knives and saved me in one way, but they robbed me. After that it was the same every day for three weeks straight. I was crying every night."
Ali says he eventually managed to find space in a lorry, where he spent three days without food and water, before he made it to Bristol. He was taken in by a foster family and enrolled in college, which is where he discovered he had talent in the kitchen.
"I didn't have a clue when I came that I wanted to be a chef," he said, "but I wanted to try something new, so I enrolled at college and I enjoyed it. That's when I realised I have a talent, and I've tried to use it as much as I can over the past two years and I'm really happy.

"I don't want all that to get thrown out. I want it to carry on and my dream is for one day to be a top chef, or have my own restaurant.
"Coming to the UK has changed my whole life. As a youth I didn't have most of it; everything is new to me. I'm trying to enjoy everything I can, I'm making the most of it. I'm very happy that I'm here, I feel safe. This is my home now."
Hulstone told BuzzFeed News: "It's not so much that he's an employee of my own, but there is such a skills crisis in this industry, and we have such a young, keen lad, wanting to cook, wanting to learn, and actually being good at it.
"I've taken on two apprentices and I've had an email from the English one saying he's changed his mind and doesn't want to be an apprentice. It's killing our industry.
"But Ali always turns up on time, and he motivates the whole team. I've got a young lad, you wouldn't even know he's a refugee, he's a young lad who wants to get on with life. He's lost his childhood, he's playing catch-up now."
Hulstone continued: "He's got a desire, he's got the ability, he can take the rough with the smooth, and he turns up. I've had chefs come through my kitchen who are now three-Michelin-starred, who are award-winning, everyone has gone on to achieve, and I've put all my effort into making him a fantastic chef.
"I'm not in favour of uncontrolled immigration, but this is a humanitarian thing. This young lad just needs to be treated like a human being, and not like dirt. Let him get on with it, have a job, enjoy his life. It's ridiculous – he's not sending money home, he doesn't want to go home, he's contributing to the local economy, this is his home."
The Home Office said it would not be commenting on Ali's case as it is currently subject to an appeal.