Sadiq Khan Wants The Law To Protect Police Officers Who Pursue Criminals Who Are On Mopeds
"It is important that the law and any guidelines protect and not hinder the police in their vital role of keeping Londoners safe, including when it comes to pursuing suspects on mopeds," a spokesperson told BuzzFeed News.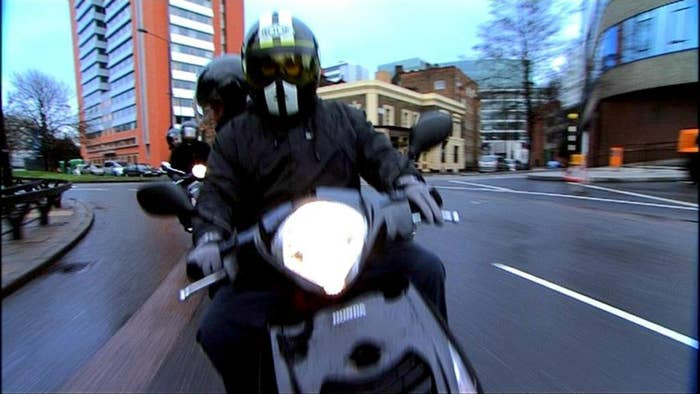 London mayor Sadiq Khan has joined growing calls for the government to ensure laws are in place to protect police who pursue criminals who are on mopeds.

Metropolitan police officers have said that if they are to get a grip on soaring moped crime in London, they must be given assurances that they will not face disciplinary action after pursuing suspects.
One senior police officer told BuzzFeed News that criminals on mopeds "take their crash helmets off and stick two fingers up to the police", knowing they will not be followed.
On Saturday a spokesperson for the mayor told BuzzFeed News: "It is important that the law and any guidelines protect and not hinder the police in their vital role of keeping Londoners safe, including when it comes to pursuing suspects on mopeds."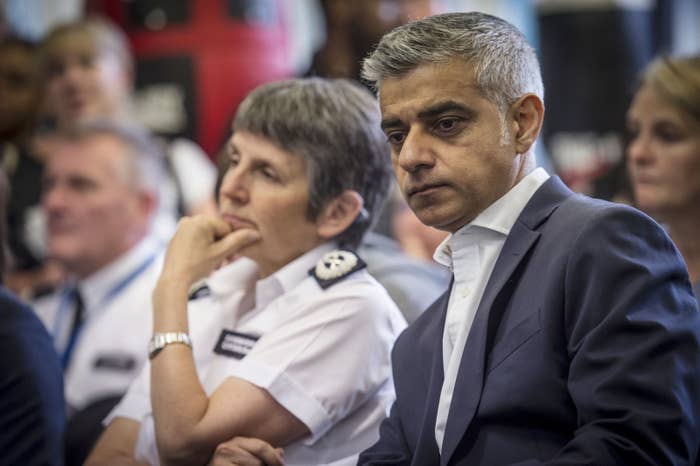 Several MPs have already called on the government to introduce new legislation to crack down on moped crime, including Wes Streeting, Labour MP for Ilford North, who told BuzzFeed News: "There are two issues here: resources and red tape.

"We need more police on the streets, more police cars and motorbikes ready to respond and we need to free police from the shackles of red tape that sees officers having to check in for risk assessments with control rooms and fearing about their own risk of being prosecuted if something goes wrong, when their only concern should be catching criminals who think they can use mopeds with impunity.
"Frankly, if a criminal on a moped without a helmet suffers a serious injury because they're being pursued by police, that's their own fault – not the police officers who put their own safety at risk whenever they enter into a high-speed pursuit."
He added: "Ministers should come before the House of Commons as soon as parliament returns with changes to put the law on the side of the police, not moped gangs."

Met officers often abandon pursuits because they fear they will face reprisals if a suspect is killed or injured while being chased, sources told BuzzFeed News.

Although this has been the case for some time, the issue has recently come to the fore amid rising moped-enabled crime in the capital, and criminals using motorcycles to commit acid attacks.
The Met said it would review its pursuit policy following the death of 18-year-old carpenter Henry Hicks in December 2014.
Hicks had been pursued by police at high speed before he lost control of his moped in Islington, north London. Scotland Yard said Hicks did not know that he was being pursued by officers, but an inquest jury ruled otherwise, prompting the Met to reexamine its procedures.
At the inquest into Hicks's death, the senior coroner for inner London, Mary Hassell, said the jury had reached a narrative verdict, ruling: "Henry David Hicks died as a result of a road collision on Wheelwright Street.
"Immediately prior to this collision Henry David Hicks was aware that plain clothes police officers were in unmarked vehicles driving at whatever distance behind him and wanting him to stop. This was a police pursuit, as defined by the Metropolitan police service standard operating procedures."
Four officers were told they would face gross misconduct hearings in relation to Hicks' death, and police have said that their fear of being prosecuted means that criminals are getting away.
According to Scotland Yard's "police driver and vehicle policy", officers should only pursue suspects in strictly defined situations, such as if "there is clear potential for grave consequences", for example "an immediate threat to life, significant damage to property or issues of national security".

The policy also states that officers should make a risk assessment before deciding to pursue a suspect, taking into account factors such as whether they are wearing a helmet, have protective clothing on, or are carrying a pillion passenger.

Metropolitan Police Federation chairman Ken Marsh told BuzzFeed News: "Police officers will do everything they can to stop crimes, but what they need is the protection of their senior officers and the IPCC [Independent Police Complaints Commission] that when they do pursue they will not be prosecuted.

"The legislation needs to change and management need to back their officers, so that you know you're not going to found accountable for all sorts of heinous things. They need to know they can do their job without fear or favour. Things born out of the Henry Hicks case and other cases that are ongoing leave my officers in a bit of a quandary.
"These people on these mopeds are criminals, my colleagues are not criminals, they're law abiding citizens who are carrying a warrant card and serving the Queen. They're being tried as criminals for actions they've taken and that's why they're not going to pursue people and that's why we're in the endemic situation we find now."
Marsh called for an open discussion with the IPCC, the police watchdog.
"We're not saying for one moment we shouldn't be investigated, we shouldn't be transparent – 90% of colleagues have cameras on their body, they're filming everything that's happening," he said.
"They [suspected criminals] take their crash helmets off and stick two fingers up to the police. If you want to put yourself a risk of harm, we're not the cause of that.
"My officers need to feel secure and safe to follow, pursue and take action – before that, they will not."
David Videcette, a former Met police detective with a background in fighting organised crime, told BuzzFeed News that criminals were deliberately using mopeds instead of other vehicles to carry out crimes, because they know that they are more likely to get away.

"The police are hamstrung because if they pursue these people and they fall off it's the police driver that gets prosecuted," he said.
"We've a huge problem. With the way moped and motorcycle theft has been happening in London, trying to stop all the criminality is very difficult when you can't pursue them."
Another serving officer, who BuzzFeed News has chosen not to name, said: "As soon as we turn the lights on, we're in the vicinity, we're accountable. We won't risk it if we have to face court or prison."
And a second said: "They examine what we can and do and work round it. [If they crash] we'll be blamed for that, not that they've gone out on a stolen bike. How many times do we have to be lucky? How do we trace stolen mopeds when they're wearing crash helmets, wearing gloves?
"It a social problem, what do we do? We have either an epidemic, which we have now, or a crackdown."
However, another serving officer disagreed that the rules should be changed, saying: "I don't want to be responsible for knocking one off. There's other ways to get them – wait for them to get off the moped, they will at some point. Get them when they're going into the shop for some fags."
Westminster North MP Karen Buck agreed that there may be other ways to legislate, without increasing numbers of police pursuits. She suggested one option for the government would be to look at banning mopeds from carrying pillion passengers.
She told BuzzFeed News: "Of course they are right to want clarity about the guidance, but I don't think any police want a situation that increases risk to bystanders, pedestrians, innocent people that get caught up in these chases.
"Many times these crimes are happening when there are two people riding a moped – some driving and someone doing the snatching. Should we be making it a prima facie to have two people on a moped?"
The Labour MP also said manufacturing companies should be urged to improve security in order to make bikes hard to steal.

She added: "I want to have a discussion about whether there are other ways of dealing with this, and looking at why this has happened so dramatically."
In a full statement, the London mayor's spokesperson said: "Moped crime is reckless, frightening and intimidating and will not be tolerated on the streets of London. The mayor views this crime as an extremely serious offence and fully supports the police to crackdown on perpetrators.
"The police are deploying dedicated ground operations, building intelligence on offenders, and using prevention work to make the streets hostile territory for criminals who use mopeds, motorbikes and bicycles for robberies and violence.
"It is important that the law and any guidelines protect and not hinder the police in their vital role of keeping Londoners safe, including when it comes to pursuing suspects on mopeds."
In response to comments from police officers, the IPCC strongly denied suggestions that it was "over-zealous" in its approach to investigating those involved in pursuits.

A spokesperson said: "When the IPCC conducts a mandatory investigation into a death or serious injury to a member of the public following a police pursuit we examine if the actions of the police are in line with the policies and procedures set either nationally by the NPCC and College of Policing or locally by the police force.
"All officers are treated as witnesses until there is any evidence that would suggest either misconduct or criminality so any suggestion that the IPCC is over-zealous in its approach to investigations is simply wrong."

A spokesperson for Scotland Yard said: "The MPS [Metropolitan Police Service] can and will undertake pursuits in any situation where it is necessary and proportionate to do so, in line with nationally approved guidance on pursuing powered two-wheelers."
They added that police policy is designed to ensure the safety of officers, the public, and the suspect during a pursuit, and only specially trained officers are authorised to engage in pursuit activity.
"A driver or pillion removing their crash helmet does not automatically require a pursuit to be terminated," the representative continued. "MPS and national policy does not preclude a pursuit from continuing in such circumstances, but pursuing officers, their tactical advisors and the senior officer in charge will constantly review the risk being posed, balanced against the type of criminality under consideration and the additional risk posed to other road users as well as the suspects in determining whether it is safe to continue."
The spokesperson added that police have a range of tactics available to bring a pursuit to a safe conclusion, including air support and tyre deflation devices, as well as pre-emptive tactics to stop pursuits occurring in the first place.
Chief Constable Alex Marshal, College of Policing CEO, said: "There are circumstances when police can and will catch criminals using mopeds and motorcycles. High speed pursuits of motorcycles carry high risks and there will be times when these risks of serious injury or loss of life outweigh the benefits of immediate pursuit. The arrest of such criminals may follow later when the risks are lower.
"The police have always had to balance the risks of an immediate action with safer action later on. The important thing is that the public are not put at unnecessary risk and criminals are caught and brought to justice."
A Home Office spokesperson said: "All emergency services, including the police, are exempt from speed limit, traffic light and sign violations when undertaking an emergency service response.
"However, they remain subject to the general law on motoring in the same way as members of the public – including the law on careless and dangerous driving.
"Decisions on the management of pursuits and response driving are an operational matter for forces."