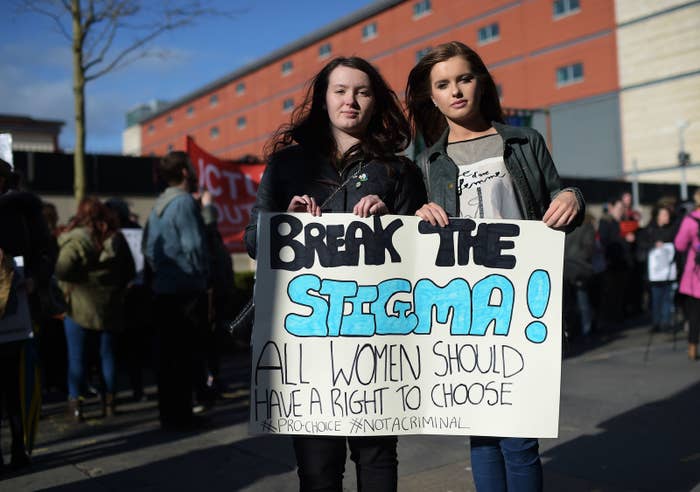 Abortion rights campaigners have welcomed a landmark vote by doctors in favour of decriminalising abortion, heralding the decision as an "important development" in their fight to relax abortion laws, particularly in Northern Ireland.

Fifty years after the Abortion Act was passed, the British Medical Association backed calls for the decriminalisation of abortion on Tuesday, saying "decriminalisation does not mean deregulation" and that the subject should be treated as "a medical issue rather than a criminal one".
Grainne Teggart, Amnesty International UK's Northern Ireland campaign manager, said: "This is an important development. Right now, in 2017 in Northern Ireland, women are still being hauled before the courts for accessing abortion because of the failure of both the Northern Ireland and Westminster governments to bring our abortion laws in line with human rights standards."

Under UK law, abortion is treated as a criminal act, but there are a range of
exceptions laid out in statute or common law that allow a woman to terminate a pregnancy at up to 24 weeks in Britain if she has the sign-off from two doctors.
However, in Northern Ireland abortion is only permitted if a woman's life is at risk or there is a permanent or serious risk to her mental or physical health.
Abortion rights campaigners in Northern Ireland have already expressed fears that the deal between the Conservatives and the stringently anti-abortion Democratic Unionist Party could make their fight to legalise the procedure even harder.

In the current climate, they have welcomed the landmark vote by the BMA, the first of its kind in history, as an "important development" in their fight against "discriminatory 19th-century laws".
Announcing the result of the vote, BMA medical ethics committee chair John Chisholm said: "This is clearly a sensitive and complex issue, on which doctors voiced a broad range of views during an informed and considered debate.
"Abortion is currently a crime, with exceptions, throughout the UK. Following the debate the majority of doctors were clear that abortion should be treated as a medical issue rather than a criminal one.
"What must be clear is that decriminalisation does not mean deregulation. The debate today and the BMA's new policy only relate to whether abortion should or should not be a criminal offence; the policy does not address the broader issue of when and how abortion should be available. The BMA has established policy on these issues which remains unchanged."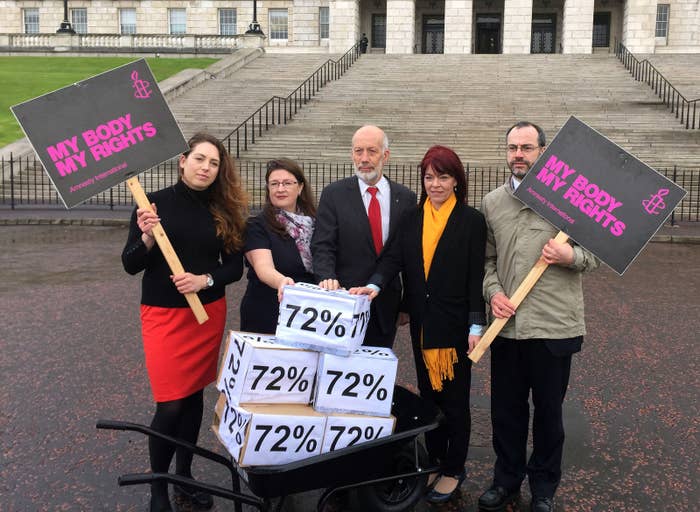 Amnesty International UK's Teggart said women were still being criminalised in Northern Ireland for having abortions due to "archaic and discriminatory 19th-century laws".
"These laws in Northern Ireland not only force women resort to taking 'abortion pills' without medical supervision, but they continue to exert a chilling effect on the medical profession, who are already torn between their desire to help women and to avoid prosecution," she said.

"Women who need abortions are not criminals – the law should not treat them as such. We are calling on the UK government to commit, particularly in the absence of functioning devolution, to prioritise bringing Northern Ireland's abortion laws in line with international human rights standards. This must include the decriminalisation of abortion."
The BMA decision was also welcome by pro-choice organisations elsewhere in the UK, including the London-based British Pregnancy Advisory Service, which provides abortion services from more than 40 abortion clinics and sexual health centres in England, Wales and Scotland.
A BPAS spokesperson said: "We welcome this important vote by the BMA, which shows doctors believe a woman should be trusted to make her own decision when faced with an unplanned pregnancy or a pregnancy she cannot continue, and that healthcare professionals should not risk criminal prosecution when they are providing women with safe, effective clinical care.
"Decriminalisation does not mean deregulation, or that abortions could be legally performed on women by unqualified individuals: it would simply mean that abortion could be governed in the same robust way as all other clinical procedures are in the UK today, and that doctors could provide woman-centred care according to the highest clinical standards, rather than legislation that is now 50 years old.

"It would also ensure that any woman who uses abortion medication without the authorisation of two doctors would no longer face the threat of life in prison, as is the case today."
However, the vote was heavily criticised by anti-abortion groups, who said the decision had been motivated by a "very small minority of extreme campaigners" and accused the BMA of "undermining the consciences of doctors" and of being an "unwitting stooge of these [abortion] extremists".
Dr Anthony McCarthy of the Society for the Protection of Unborn Children said: "The BMA has betrayed all who take seriously healthcare for pregnant woman in favour of an extremist agenda in line with the abortion industry's laissez faire 'up to birth' attitude to ending the lives of unborn children.
"Against overwhelming public opinion and against those who support women by refusing to trivialise abortion, the BMA has today undermined the consciences of doctors who refuse to follow an 'autonomy' agenda that has nothing to do with good medicine and everything to do with ideology."