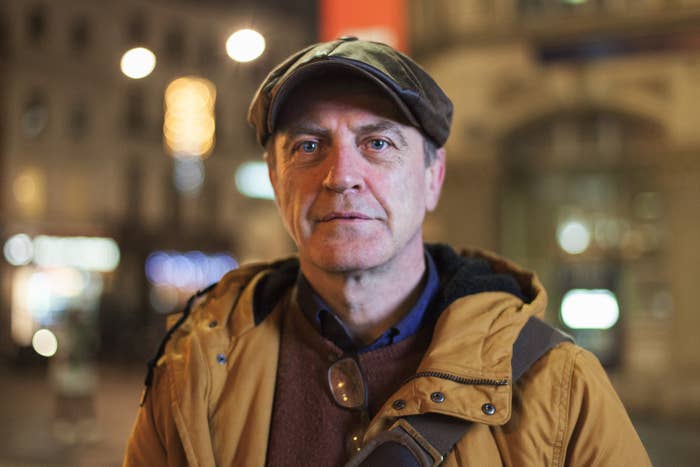 No trains will be pass through London's Euston station on Christmas Day. Instead, 200 homeless people will be sitting down to Christmas dinner. They will arrive at 11am to find the station concourse filled with festive decorations, and tables laid for a hearty meal.
The idea came from Network Rail, which manages the station – but the man they contacted to make it a reality says he's been trying to organise a festive party for the homeless on this sort of scale for decades.
Jon Glackin, 47, is the founder of an organisation called Streets Kitchen. He's been involved in homeless outreach for almost 30 years and set up it about five years ago primarily as an information website, but he's now out almost every day volunteering at the pop-up soup kitchens it advertises.
"They [Network Rail] approached me a few months ago and I jumped at the chance," Glackin says, adding that around 40 of his people will be giving up their time to make and serve Christmas dinner on the day, assisted by other volunteers.
"We're providing food – I'm hoping I might get 20 turkeys donated," he says. "We never ask for money, we always ask for goods in kind."
Streets Kitchen, Glackin says, is not a charity, just a grassroots organisation of volunteers who give their time because they believe in "solidarity, not charity".
Often he teams up with other groups – when BuzzFeed News meets him on Wednesday, he's out in Camden with Refugee Community Kitchen, which has provided more than 1.5 million meals in London and Calais since it was set up in October 2015.

Glackin can't remember the first time he got involved in homeless outreach, he says, but it is how he has spent his Christmases for most of his adult life.

"I've been doing this every Christmas for too many years," Glackin says. "This is Christmas, it's all for giving, not taking. It's not just me – national rail workers are giving their time, they're not getting paid for it."
St Mungo's, a charity that provides beds and support to homeless people, will also be sending volunteers down on the day.
The people attending the lunch, Glackin says, will be invited by Streets Kitchen and St Mungo's.
"All of our friends here will be invited," he says, sweeping his arm out to indicate the dozen or so homeless people clutching warm cups of soup and bread rolls from the pop-up kitchen set up outside Camden Town underground station on this wet and bitterly cold mid-December night.

"We also do Hackney, and we'll be inviting those people down," he adds.

Beth Norden, community and events manager for St Mungo's, said: "Many people become homeless because of relationship breakdowns, so Christmas can be a particularly lonely time for some of our residents.
"Our thanks to Network Rail, their staff and volunteers, for helping some of our residents in Camden and neighbouring boroughs feel included in the community this Christmas Day."
Glackin says that while he has been involved in smaller-scale Christmas events for years, he has wanted to organise a huge festive party like this for homeless people "forever" – but couldn't previously find the space.
"It's shocking the amount of people who do sleep out on Christmas Eve in London," he says. "I know Crisis is open, but not everybody wants to stay there. But you do get lots of people coming out and giving out chocolates and fruit.
"We just want everybody to have a good family day, a proper family Christmas. We are out with these people every day, they are friends of ours, we'll be spending Christmas with our friends."
Glackin says "it's not much" for people who are sleeping on the streets in winter, "but it's something. They shouldn't be barred from community events, from feeling part of a group."
Steve Naybour, head of transformation in Network Rail's track team, is leading the team running the event.
"Using a station to give homeless people a Christmas dinner and some festive cheer is a great thing to do," he said.
"Thousands and thousands of my colleagues will already be working on Christmas Day to improve the railway for passengers. Working on Christmas Day is pretty much par for the course for many of us who work for Network Rail, but this year, because I wasn't scheduled to work, myself and a handful of colleagues came up with this plan to feed some of London's homeless instead.
"St Mungo's and Streets Kitchen have been fantastic. And I'm proud to say we've had lots of interest from Network Rail colleagues to volunteer to come along on the day to help out."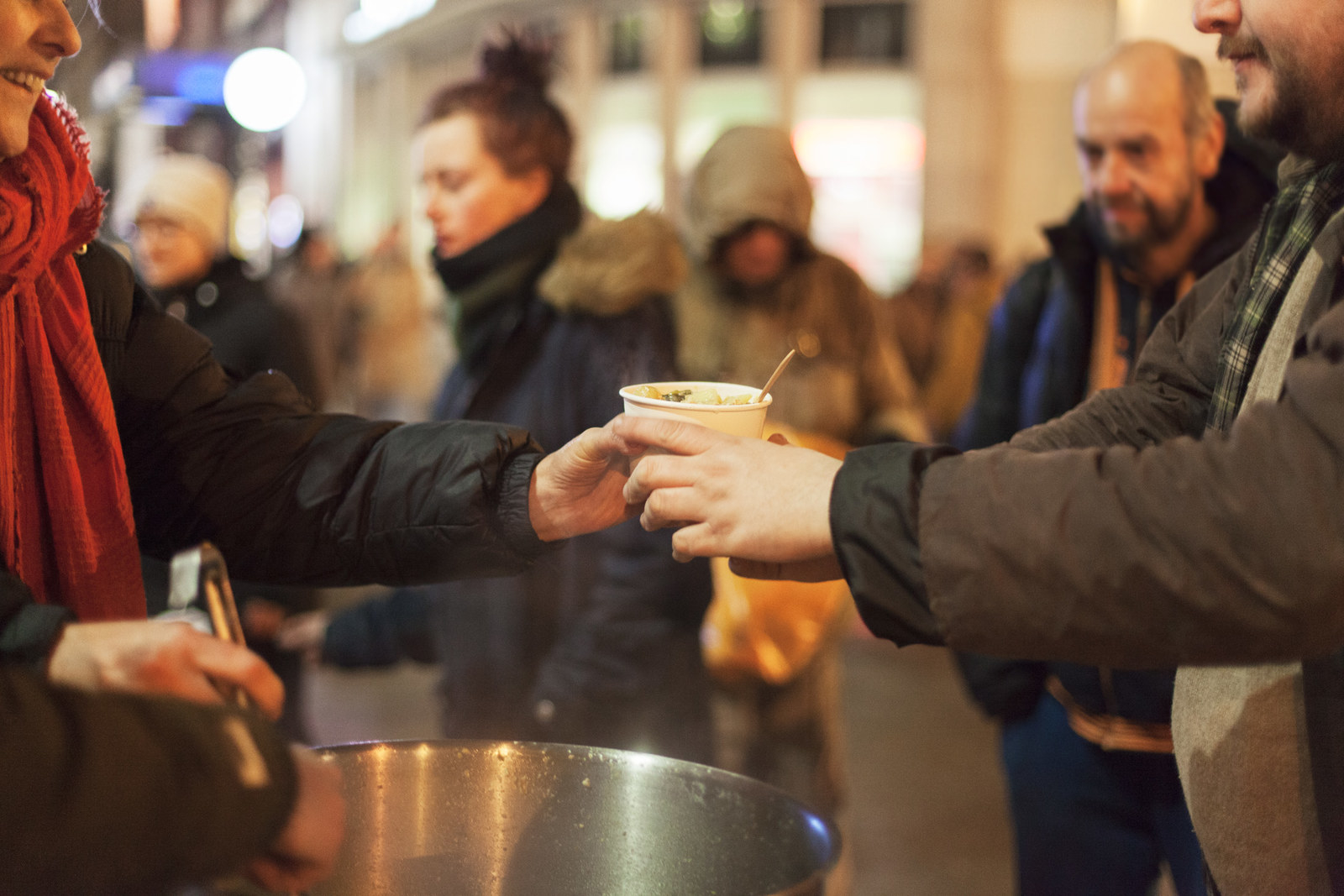 He added: "All of this is possible due to great support from the station team, British Transport Police, and local and national suppliers including the Pret Foundation Trust, Blacks outdoor clothing, Virgin Trains, and Abellio – they've been amazing in making this event happen."
Joining the other volunteers on the day will half a dozen professionals from StreetVet, who will be coming armed with shoeboxes filled with Christmas presents for homeless dogs, donated by the public.
The not-for-profit organisation was founded by qualified vets Jade Statt and Sam Joseph, who had been independently walking the streets of London with backpacks of supplies and treating homeless dogs in their spare time. By pure coincidence, both had been calling themselves StreetVet, and when they were introduced to each other in April this year they decided to team up.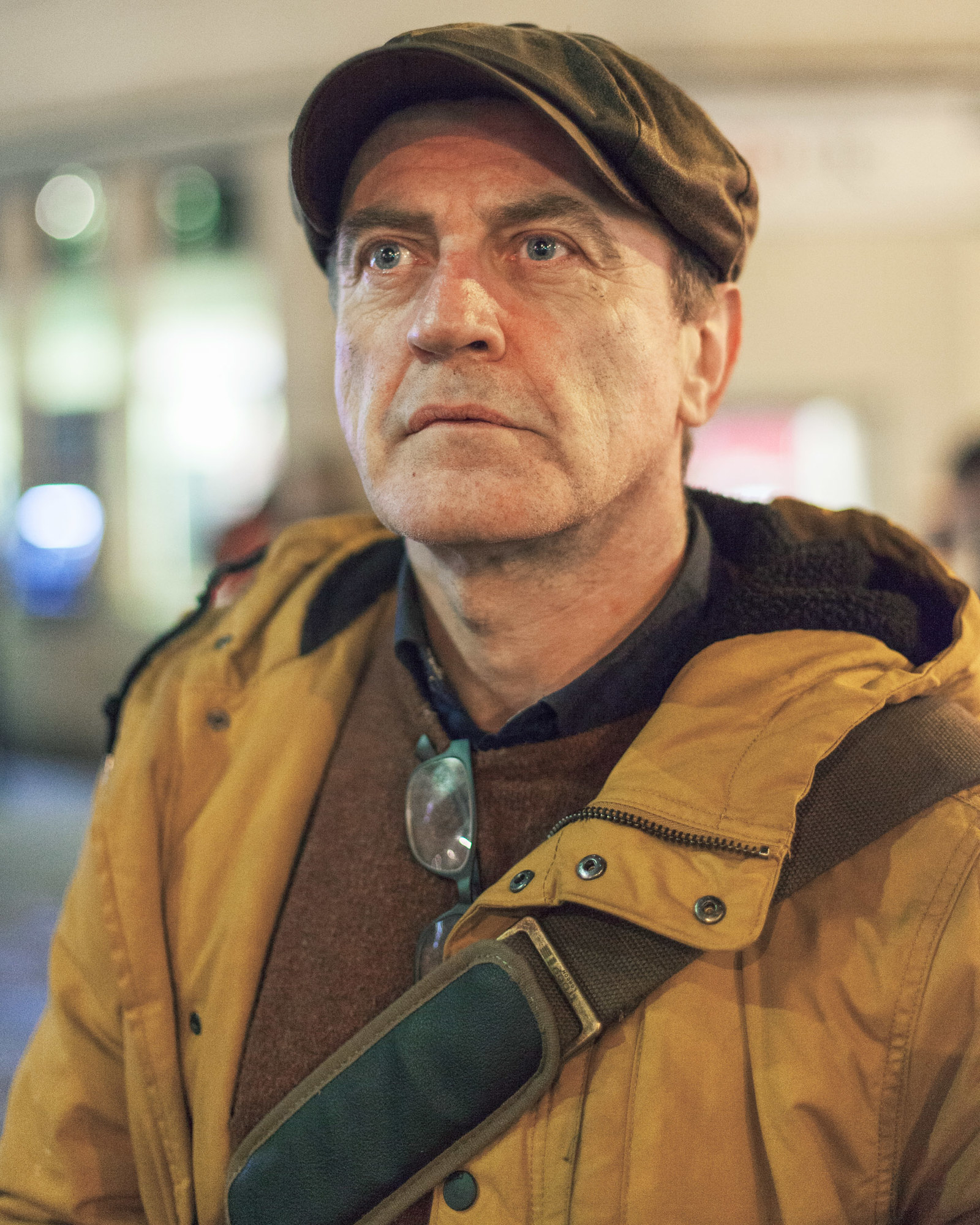 They now have a team of 70 qualified vets and veterinary nurses and are a registered practice. They are out in six different locations across London four times a week, and have expanded to cities including Brighton and Bristol, with plans to branch out into more cities and to expand more widely into the cities they already cover.
"Everything we normally do we'll be able to do [on Christmas Day]," Statt tells BuzzFeed News. "We will have our vet kit with us." On the streets the vets tend to dogs who would not normally be able to access treatment, offering them everything from flea treatment, worming medicine, and microchipping to ear and eye treatment.
"We do everything we would normally do in a consultation at work – we can take bloods, and we bring a suitcase full of food, toys, coats, and leads," Statt says.
"What I'm motivated by is nothing that every vet and nurse hasn't felt when they've walked by a homeless person and their pet. You want to have a chat to them, get the dog some food.
"I've always wanted to volunteer as my profession in this country and it's a very easy thing to do abroad, but there isn't really anything that exists here to help the animals in this country, and that is what I wanted to do."

The response to their Christmas appeal has been so good, she adds, that they have had to hire a van to deliver the gifts this weekend, but there will be plenty left over for dogs on Christmas Day.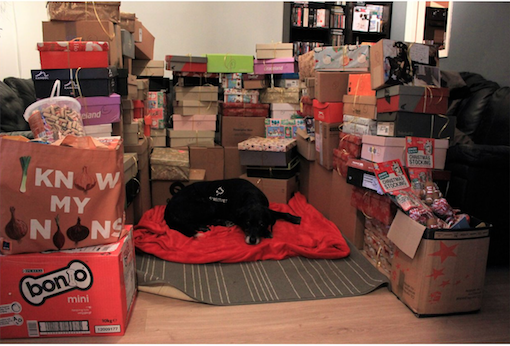 "We've been doing a Christmas shoebox appeal which has been running for quite a few weeks now," Statt says. "We'll be bringing along the Christmas presents the public have generously donated – they will be wrapped up for Christmas for the dogs."

She adds: "We never really know how many dogs we'll get, but because there's an area of shelter it's going to be a good atmosphere. People are going to come along and know that they can bring their dogs. I hope that we'll see some familiar faces, and some new faces, too."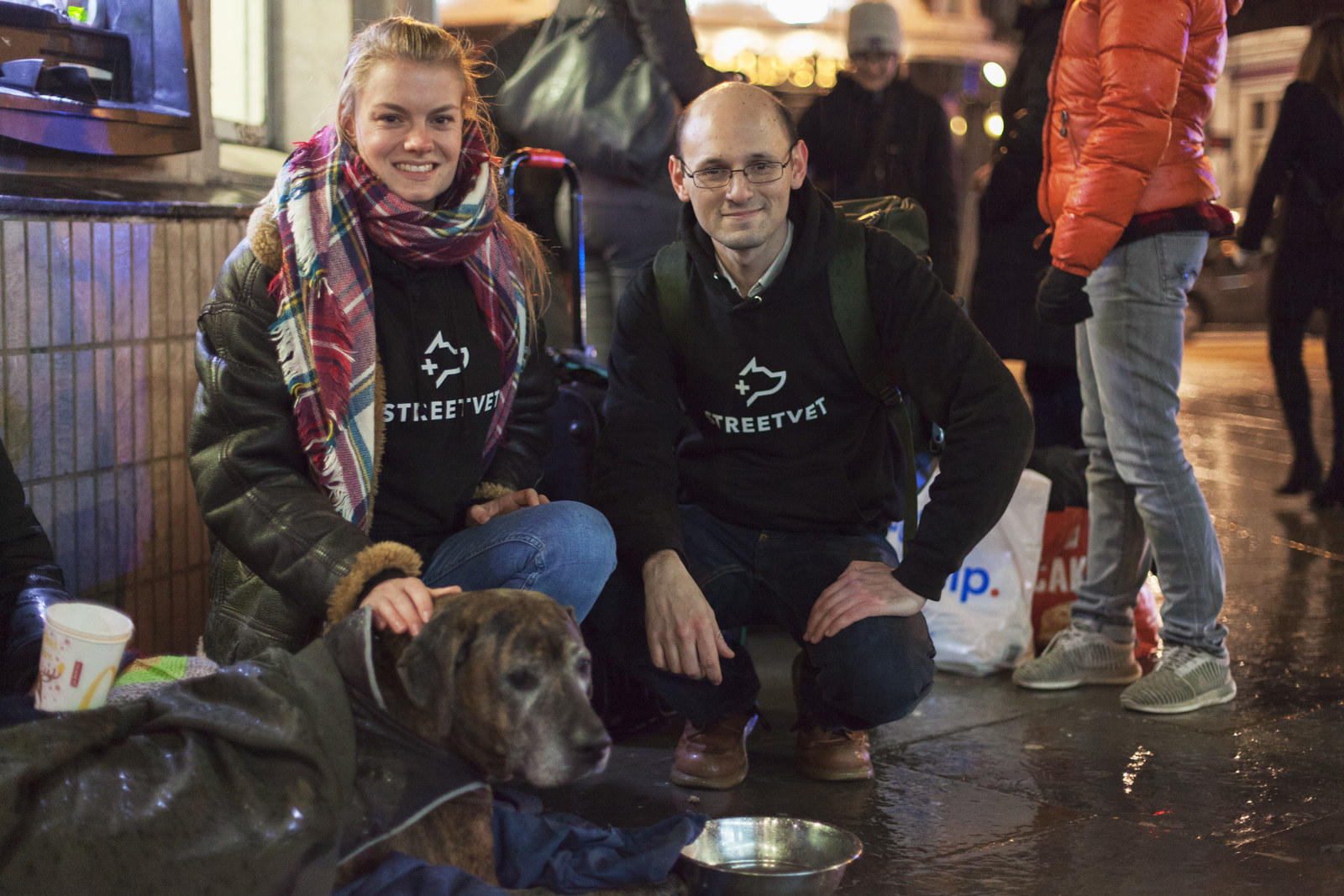 For those who want to donate food and gifts for the Christmas dinner, Streets Kitchen will be at Euston Gardens on Friday 22 December between 11am and 6pm, collecting donations from the public. "People will be bringing stuff down to us," Glackin says. "Sleeping bags, underwear, the bare basics that keep people alive."

While Glackin says he is thrilled with the positive response the Christmas Day event has had, he finds it frustrating that the issue of homelessness can be highlighted at Christmas – and forgotten again by the New Year.
"I hope we can make people realise that homelessness isn't just for one day," he says. "I hope we get as much interest when we don't have train stations or anywhere. I hope people who read this and see what we're doing give us buildings to use. I would encourage businesses, if they have offices lying empty – we need space.
"Christmas is a very poignant, hard time, but every day of the week is hard. It's harder in January and February when nobody cares.
"Why do we do this? It keeps people alive, and that's what we're about."