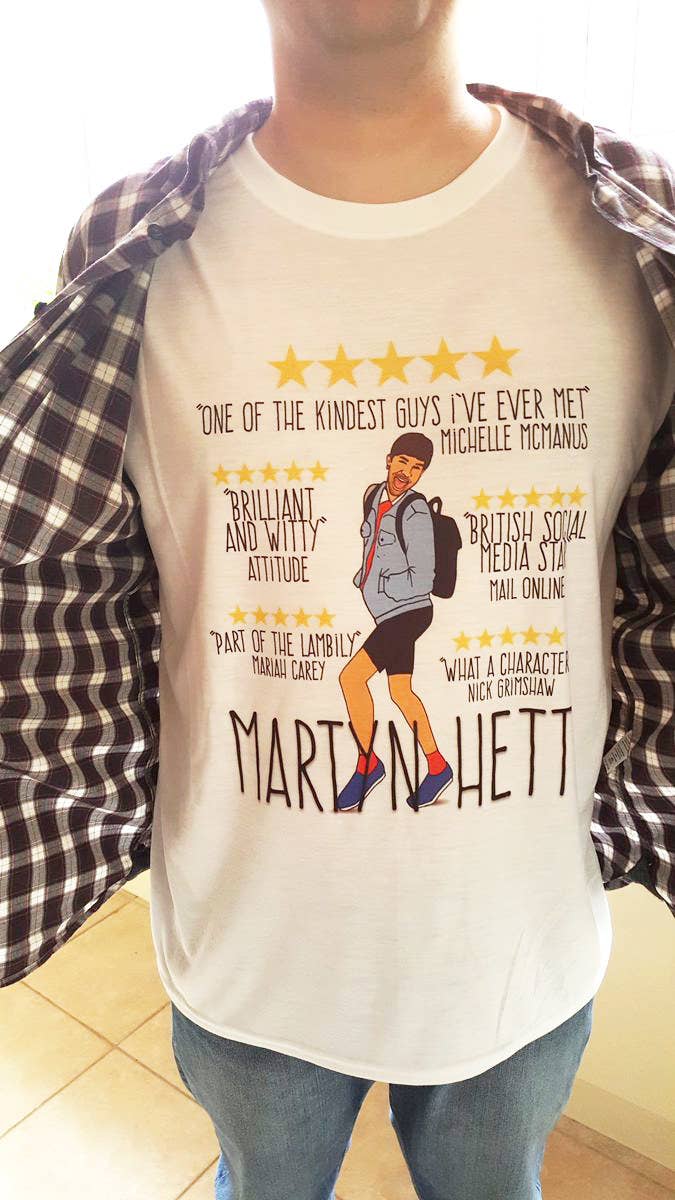 Friends of Martyn Hett, the iconic blogger who died in the Manchester Arena bombing, have produced a T-shirt in his memory. It is already flying off the shelves.

The T-shirt features an illustration by a friend of Hett's, artist Holly Shortall, and has been produced by Philip Normal, who has a shop in Brixton, south London.
Hett used to come into Normal's shop, and often wore his T-shirt designs, so when Normal was approached by Hett's friends he was more than happy to produce and distribute the tribute T-shirt.
Already more than 100 of the T-shirts have been sold, raising close to £3,000. All proceeds from the sales will be given to Hett's family, or a charity, organisation, or project of their choice.
The T-shirts are available on GoFundMe and cost £25 for UK buyers, with £20 donated to charity.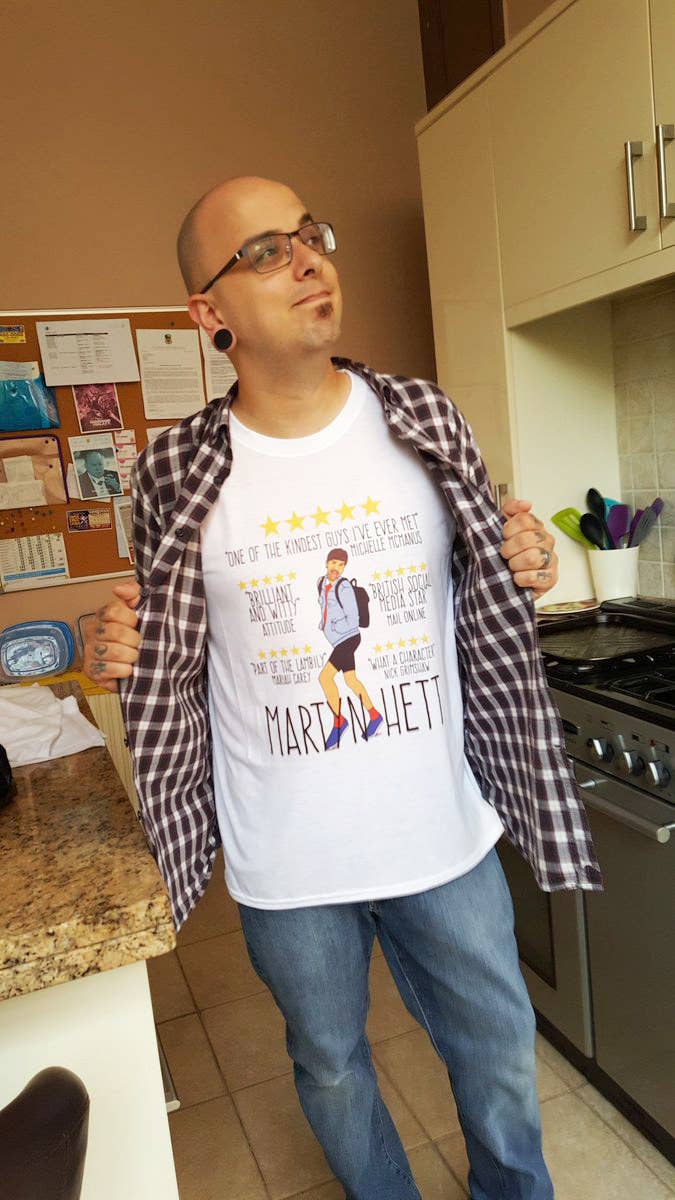 Hett's brother Dan, who tweeted a picture of himself wearing one of the T-shirts, said that Martyn would have found it "hilarious" to see so many people in the T-shirts, and encouraged everyone to "wear them with pride".

He told BuzzFeed News: "I'm sure he'd be howling with laugher to see so many people wearing this ridiculous T-shirt with his face on it.
"Not just the T-shirts, but the sheer weight of support has been unbelievable. It's really carried us through. My phone is constantly vibrating with messages and things."
He added: "It's been amazing, to be honest, the amount of activity I've had on social media, and the most ridiculous thing was me saying I looked like I was going on a hen do. My phone is still vibrating with messages from that post.

"The fact that somebody thought to make [the T-shirt] completely bowled me over. I'm an artist myself and it's nice that people's response wasn't to complain but to start making those incredible drawings.
"I just want to reiterate my massive thanks, both to Holly and to Philip, particularly to those two, but also to everybody who has retweeted it or bought one."
Normal said it was "very emotional" to see Hett's friends and family wearing the T-shirts at a vigil in his memory on Sunday evening.

Hundreds of people crowded into Heaton Moor Park in Stockport, Greater Manchester, to remember Hett.
After producing just a few T-shirts for the vigil, demand grew, and Normal started selling them online on GoFundMe.
"I did some for the vigil," he told BuzzFeed News. "It was just so moving, I was so emotional. Everybody just wanted one."
He added: "It's just came through social media, where obviously Martyn was such a superstar.
"Holly is a friend of his and did an illustration as a tribute to him and said she was thinking of doing prints. Mutual friends said, 'Wouldn't it be good if Philip did a T-shirt?', and I could do that.
"I think it's fitting tribute. I'm happy it's raising money and doing so [much] good after something so tragic.
"I just think it's so nice. One of the reasons I love doing T-shirts is it's really nice to do something creative that becomes part of someone's life. We can do that through this project in Martyn's memory in a really fun way – that's a really fitting tribute."
Celebrities including Michelle McManus, who is quoted on the T-shirt, have encouraged fans to buy them, and in just two days the project is more than a quarter of the way to its fundraising goal.
Normal added: "I'm really pleased, it's just so heartwarming. It's amazing how many people he touched in such a short amount of time.
"It's a great T-shirt. Holly is so talented. I've now met Holly and I didn't know her before, so Martyn is still bringing people together, and that's amazing."
Shortall, who is based in Dublin, told BuzzFeed News: "I'm delighted with the response. I think it feels like the very, very minimal we could do, being over here in Ireland and not being able to be with Martyn's friends or comfort his family after such an unspeakable tragedy.

"I know Martyn really liked my drawings that I do all the time of different celebrities and he'd said before he wanted one but I never got around to doing it. It felt like the only thing I could do and when I posted it on his Facebook page it made people smile.
"It was something nice to remember him by – it was just very him. It was something he would be cackling looking at."