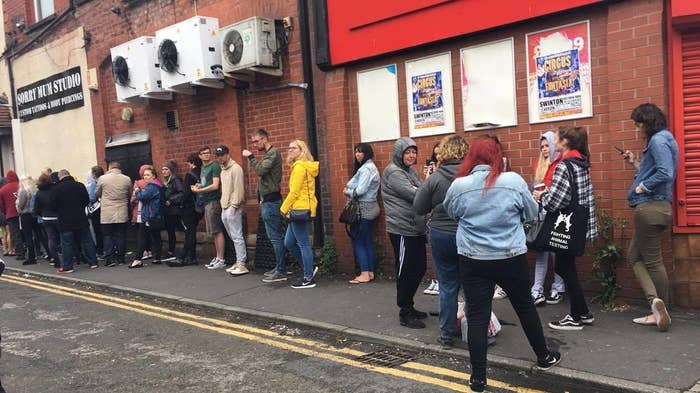 Hundreds of Mancunians have spent the bank holiday weekend queueing for up to 15 hours to get inked with a Manchester bee tattoo – with all proceeds going to help the victims of last week's terror attack.

People from all over Manchester and from all walks of life have taken part in the fundraising drive – raising tens of thousands of pounds for charity – and the dozens of tattoo studios participating have been inundated with requests for appointments.
Many parlours opened up specially over the weekend, and all of the artists donated their time. Most studios asked for a donation of £50 per tattoo, with all proceeds going to help the victims and families affected by Monday's terror attack.
Tattoo artists in cities and towns across the country – including Liverpool, Hull, Bath, and in Kent – have also tattooed bees to raise money for the appeal, but the majority of the tattoos were inked in Manchester.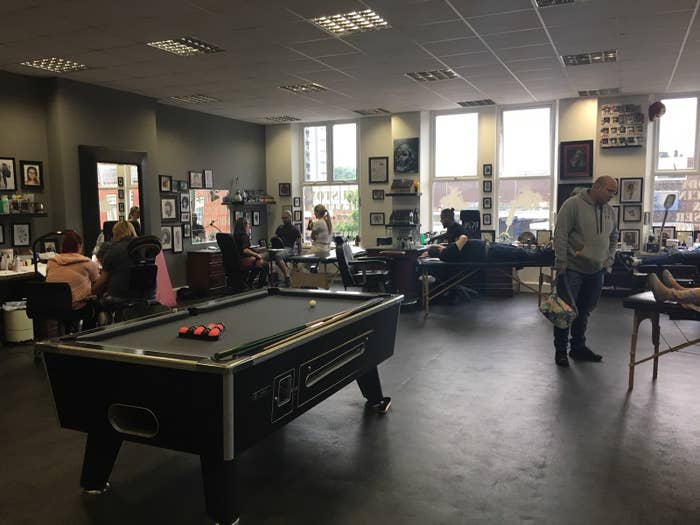 The worker bee is the symbol of Manchester – it represents the city's hard-working past and its growth during the Industrial Revolution. The Manchester bee can be found across the city on clock faces, a mosaic in the Town Hall, and even bins.

Sam Barber, the artist behind the Manchester Tattoo Appeal, set up the drive with the aim of raising £50,000, but the grand total looks like being much more.

Sorry Mum Studio in Prestwich, north Manchester, is taking part, and artists there have raised more than £11,500 so far.
All of the tattoo artists taking part in the initiative at Sorry Mum have had a bee inked themselves, and dozens of people queued all day in the rain for one.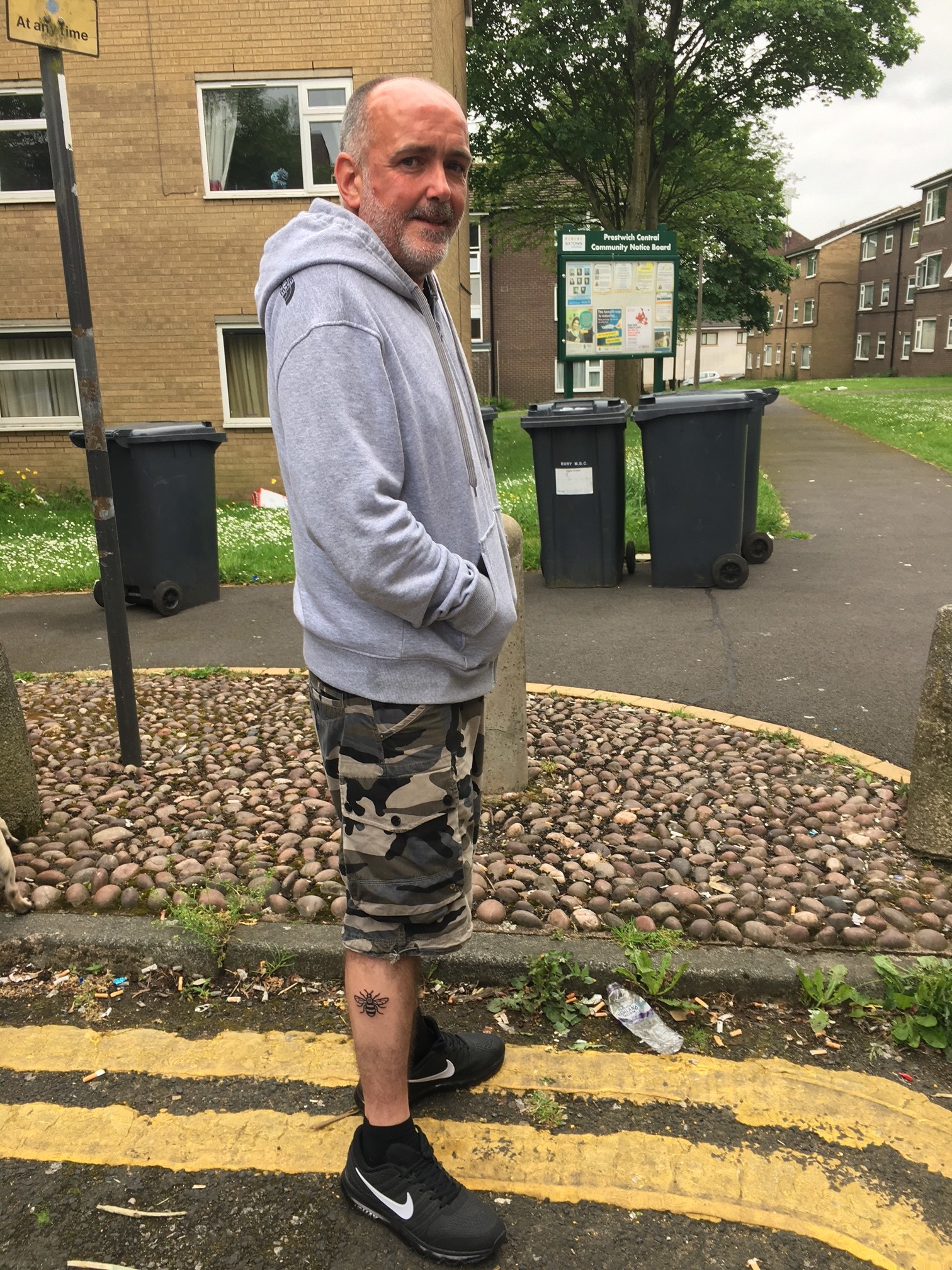 Mark Casey, a 46-year-old labourer, had the design inked on his leg.

He told BuzzFeed News: "I had it done just for respect really. I don't know anyone who was in it. My cousin was there but she got out just before it went off.
"It's a brilliant idea – I think it's great how Manchester has all pulled together.
"I've got other tattoos but this one means the most, definitely – apart from my City tattoo."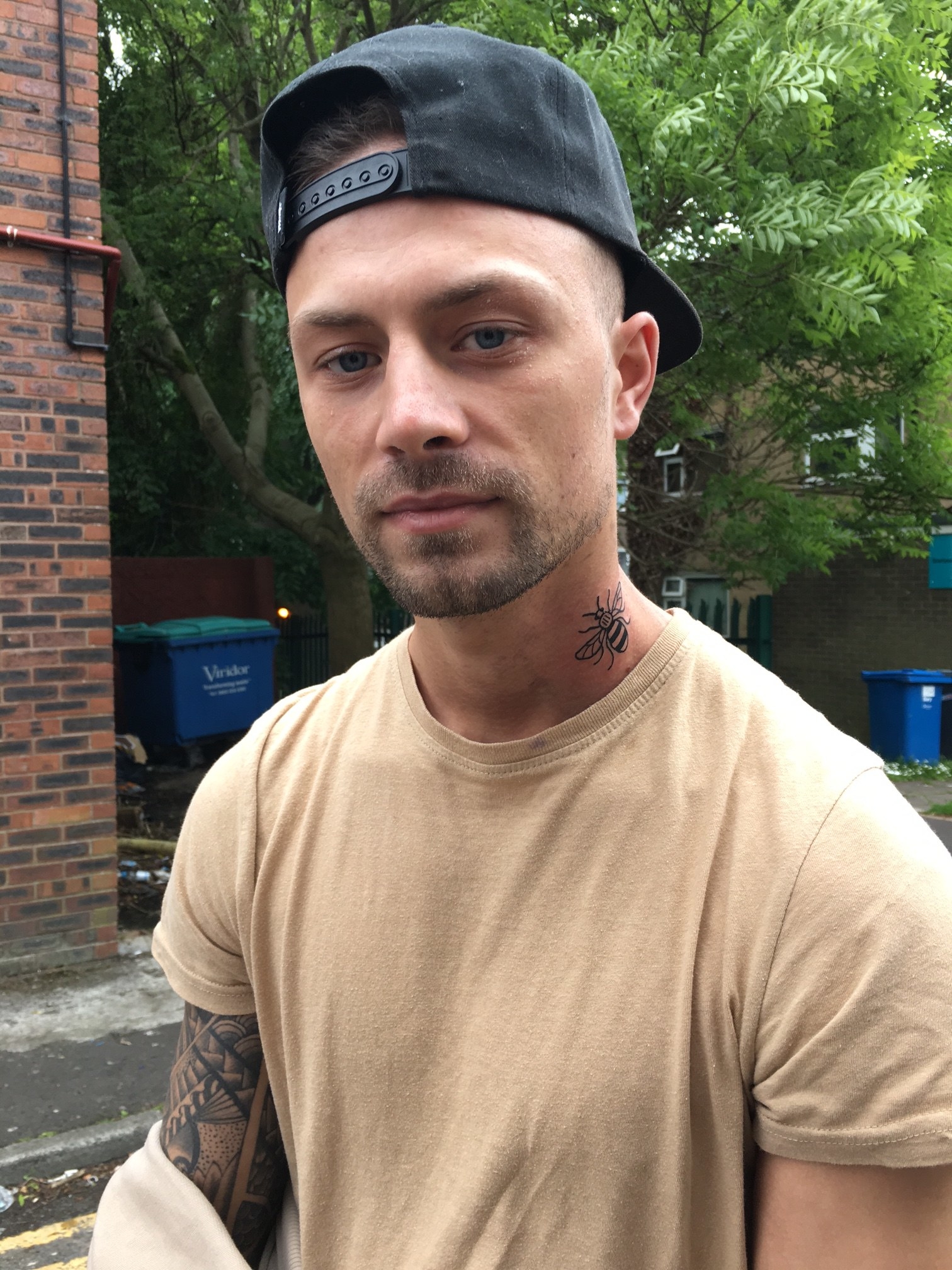 Lee Smith, a 25-year-old technician, got the tattoo as he knew a few people who had been directly affected by the tragedy.

He told BuzzFeed News: "My girlfriend's sister was there, two floors away from where it happened, and one of the lads who died lived around the corner from me, and my sister went to school with Olivia Campbell [one of the victims].
"I was going to get one anyway so it's nice, it's good."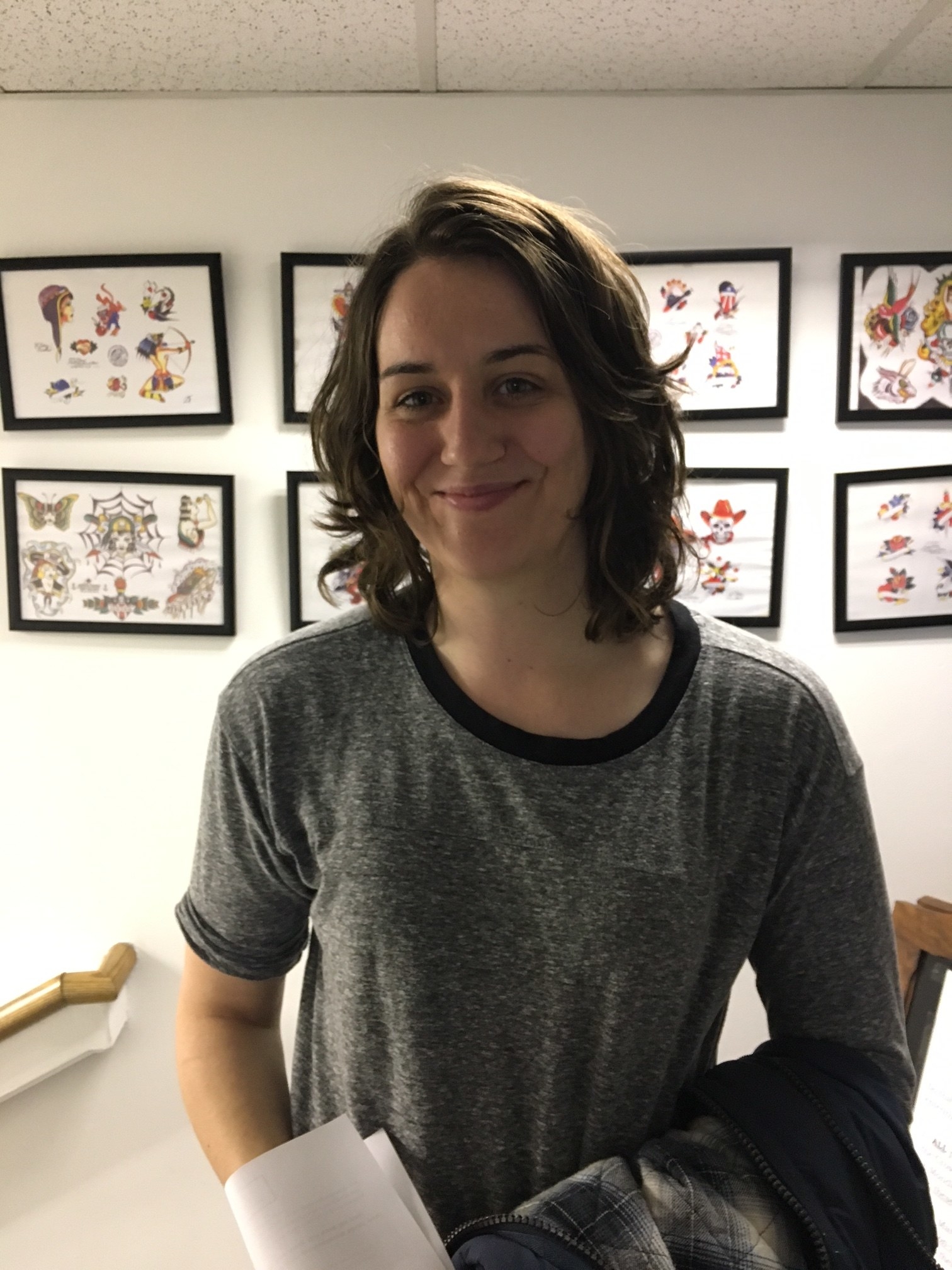 Natalie Bicknell, 31, who works in probation, had a bee inked on the back of her neck.

"The main reason I got it done is because I've lived in Manchester for 10 years, and it's a second home", she told BuzzFeed News. "It means a lot to me. It's a sign of solidarity, it shows my love and appreciation for the city.
"It's a great city, and it's amazing the way everyone has come together. The amount of people who will have this tattoo is something so significant."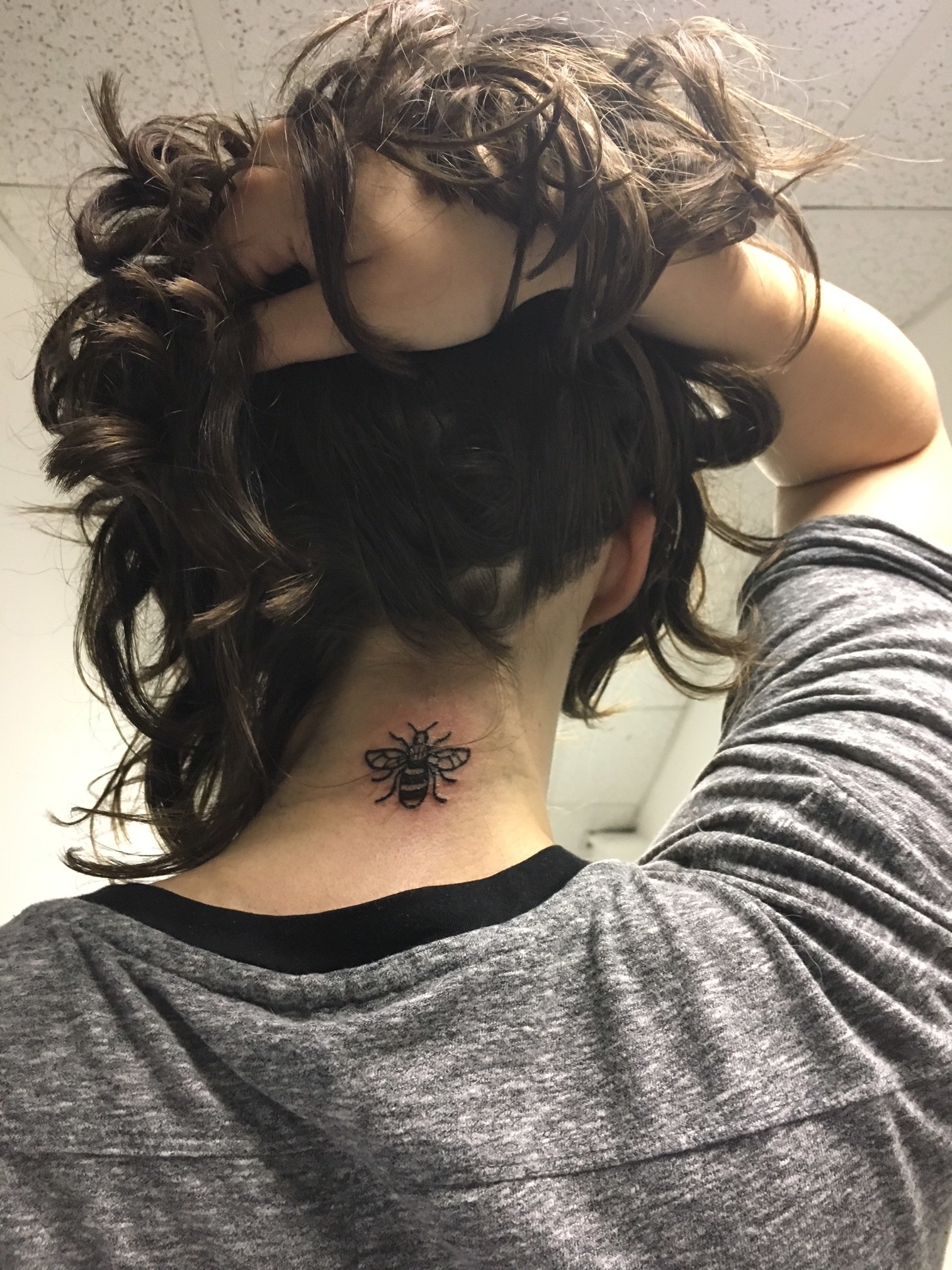 She added: "The response from tattoo artists is amazing, really good, that on a bank holiday Monday all these people have come and taken time out when they should be off.

"They're all getting it done as well, which I think is pretty cool."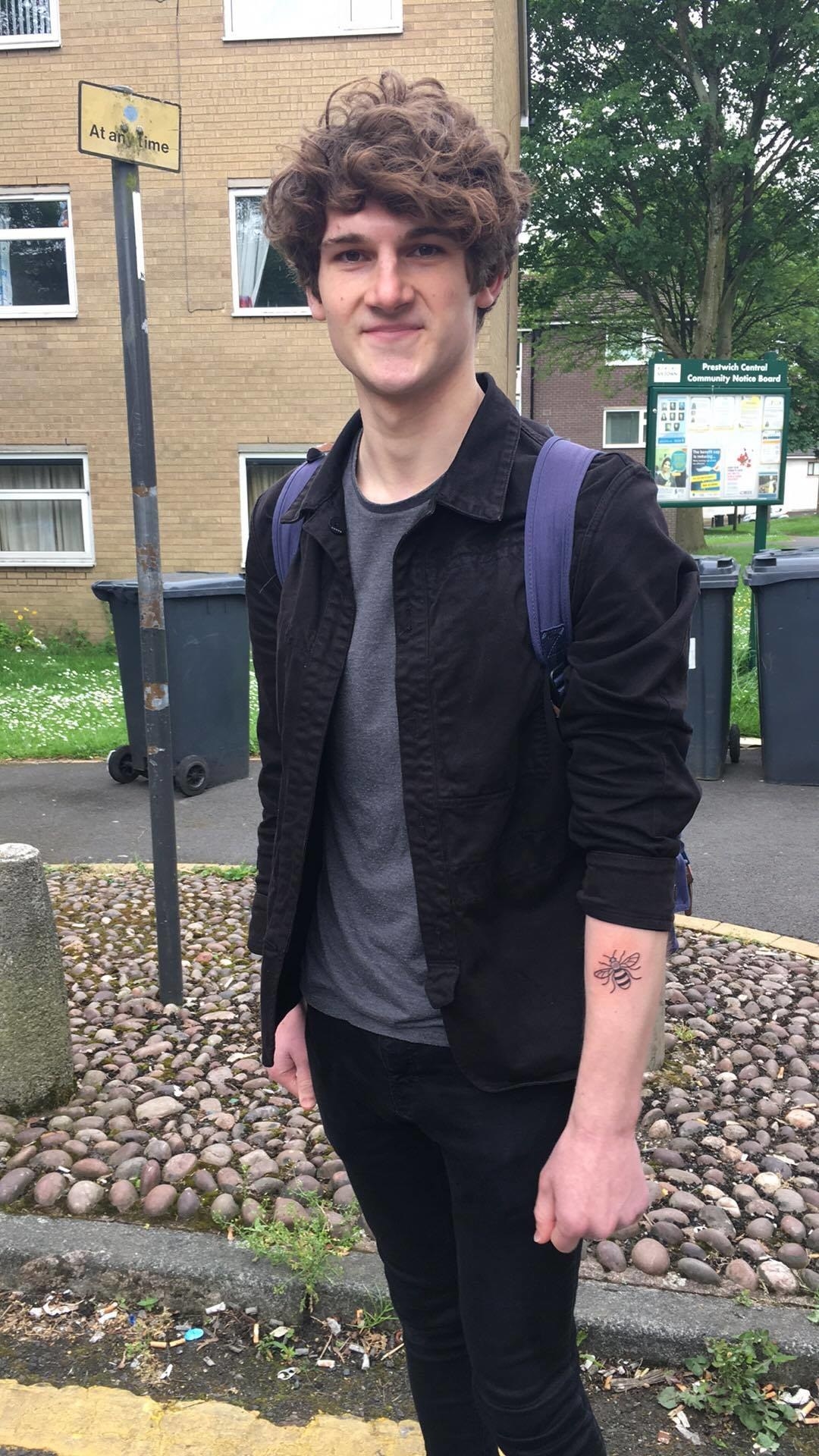 Alfie Prior, a 20-year-old music student, got his first tattoo today.

"I've always wanted them," he told BuzzFeed News, "and just thought if it's for a good cause I may as well start now.
"I think it's fantastic, it's amazing, so good to see the amount of people who have all come out to show their support for charity. It makes you really proud to be from Manchester.
"The tattoo was alright actually, it wasn't as bad as people have told me. I went in expecting the worst, and it wasn't that bad."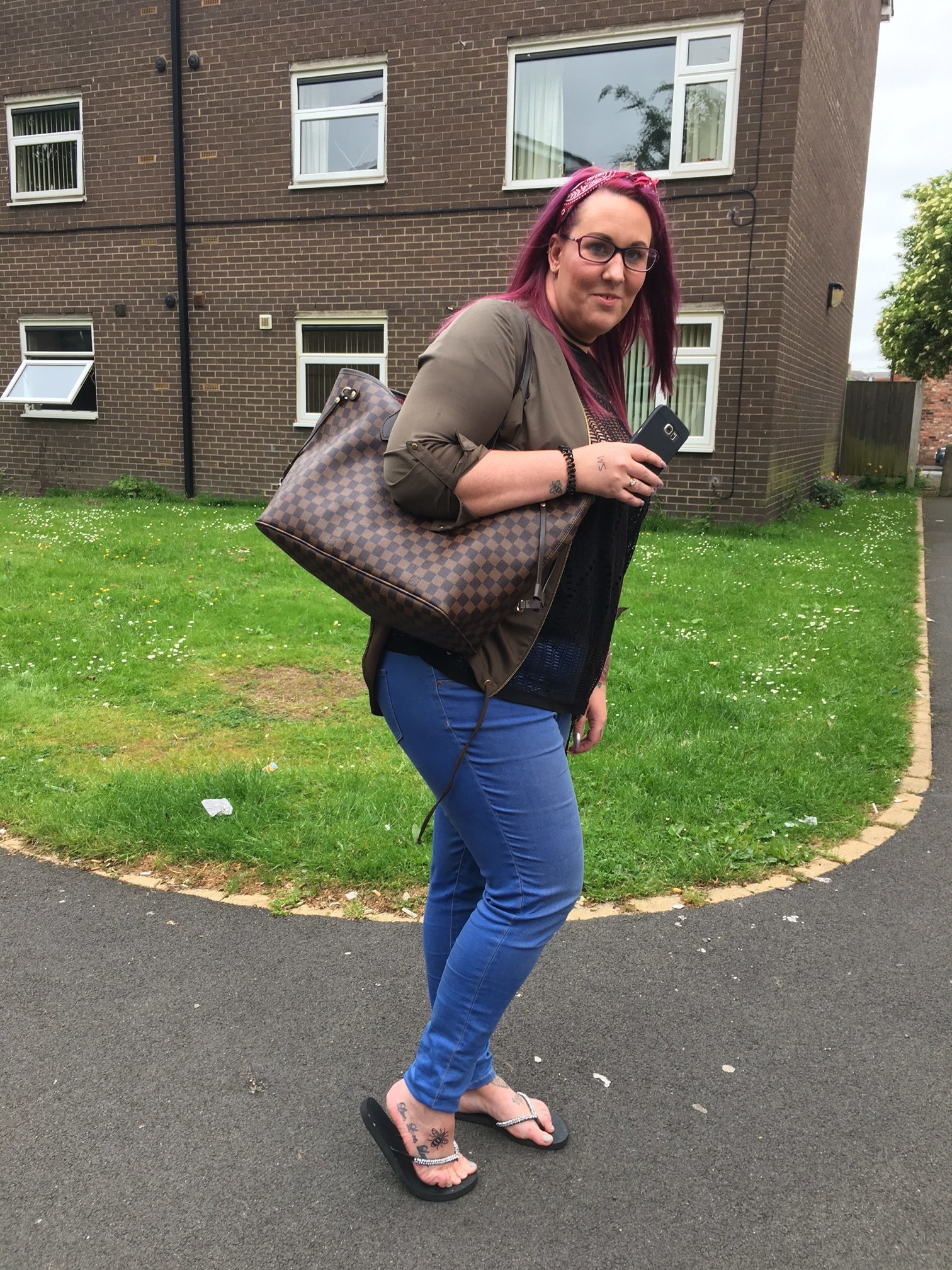 Vee Brookes, 32, a full-time carer, also joined the queue to have a bee tattooed on her foot.

She told BuzzFeed News: "I was brought up in Prestwich and it's just close to home, what happened. It's just dead nice the whole community pulling together, I love it.
"This is where I come for tattoos anyway, I know all the tattoo artists, and I just wanted to help, and wear Manchester with me too.
"There are bees everywhere in Manchester, it's a big symbol."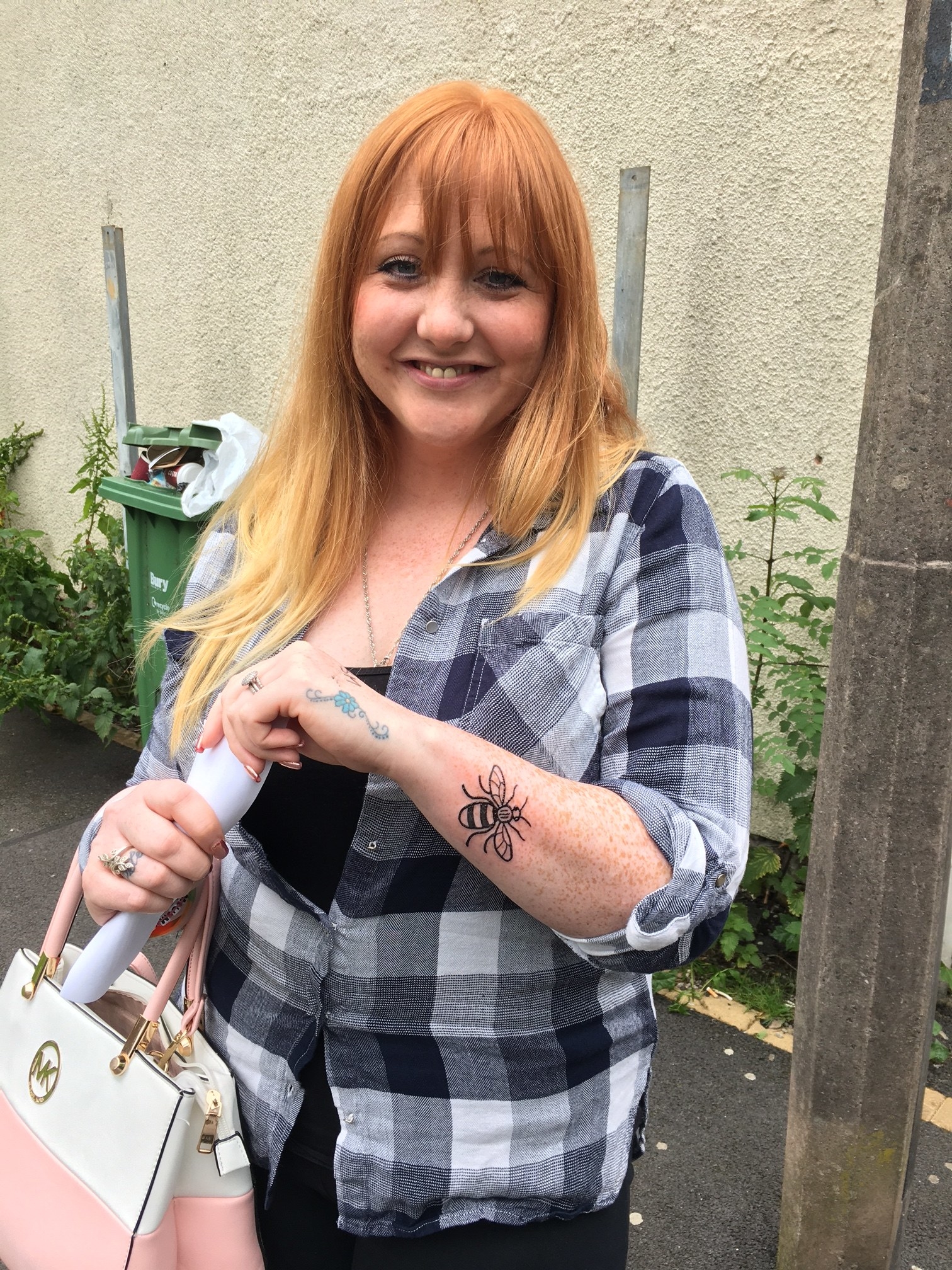 Her friend Wendy Leonard, 36, who is also a carer, added: "It's close to home, we're showing solidarity, support. We're from Greater Manchester and I've got four children.
"I just think it's really good, it just shows solidarity between everyone – different ages, genders, ethnicities, races, all coming together."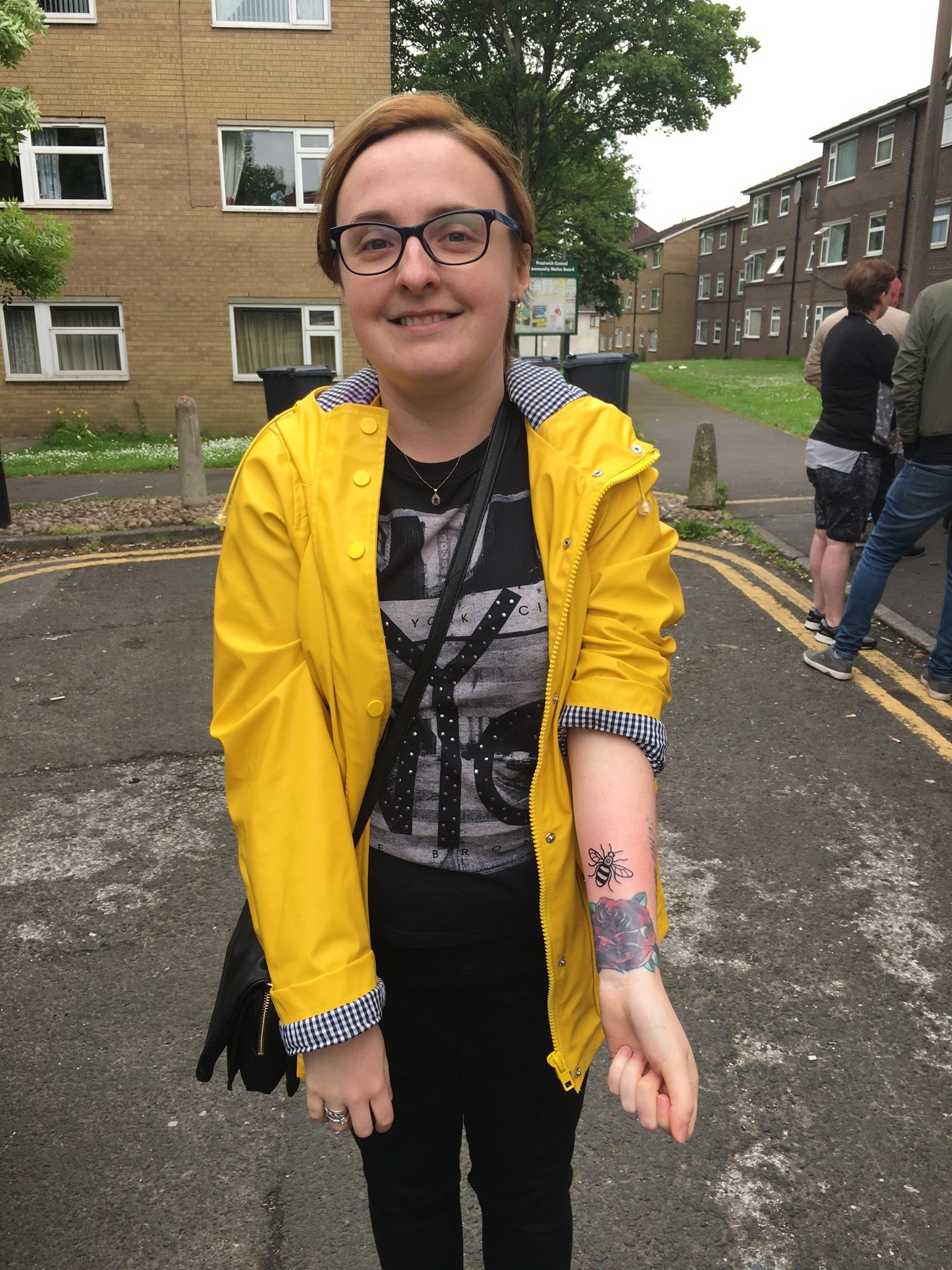 Hannah Frame, 31, who got her 10th tattoo today, had the bee tattooed on her arm.

She told BuzzFeed News: "It's for a good cause, I've always wanted one anyway and just wanted to help out in any way I can.
"I think it's a brilliant idea. Lots of people have had it done, a few of my friends have done.
"I think the tattoo industry is great – the fact that lots of places are doing it in Manchester and elsewhere."
The salon is owned by husband-and-wife tattoo artists Jonny and Laura Firth.

Jonny, 28, told BuzzFeed News: "We just saw everybody else in Manchester coming together and helping out and saw this was a really good way of doing it.
"We're frowned upon as an industry still because of the way we look, and this is a 'fuck you' to people who still think like that. We are good people, we are nice people, we are family people, and we just wanted to take part and do whatever we can."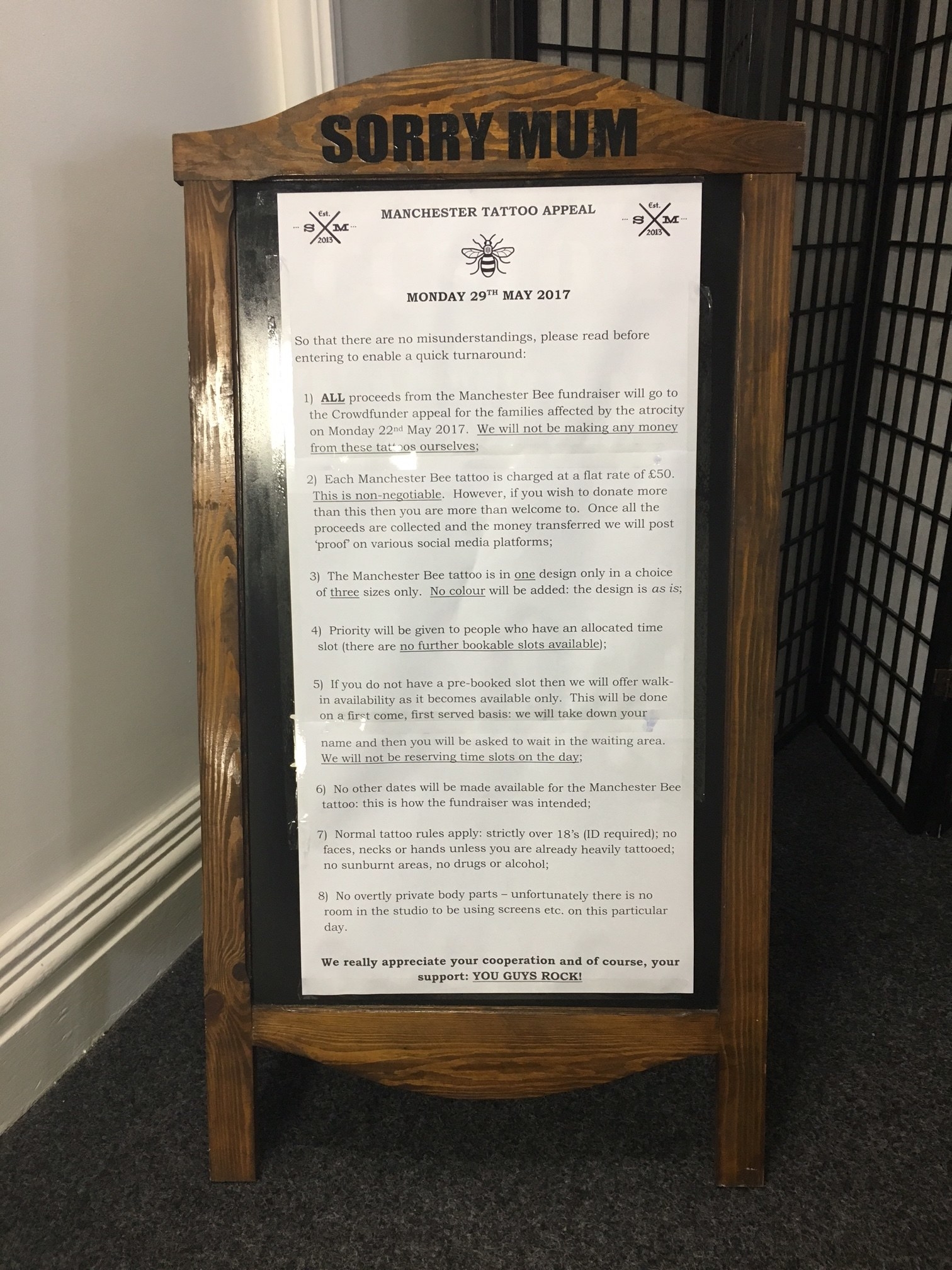 He added: "It's obviously devastating, what's gone on, and we're just trying to do our bit to help as much as we can."

Laura, who's 23, added: "It's so close to home. We've had two in today who have been directly affected by it.
"We've all donated and all got it [the bee tattoo]. We see it as a badge of honour for being involved."