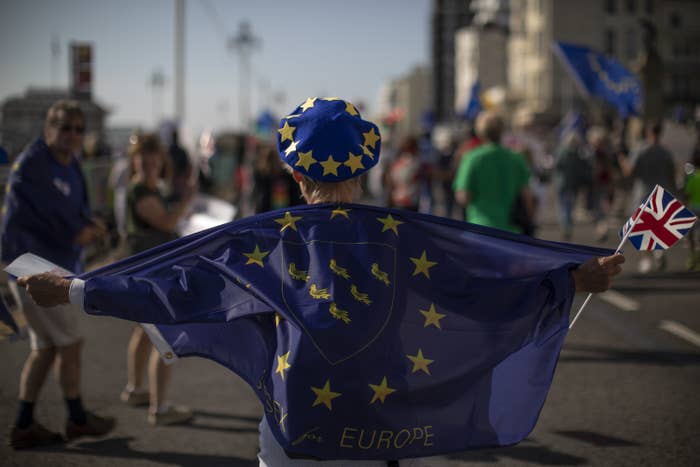 Labour could pass two contradictory Brexit positions on Monday following a showdown on the conference floor that could deepen divisions over the issue within the party and drag it closer to backing Remain in a second referendum.
Delegates at the party's annual conference in Brighton met on Sunday night and attempted to reconcile different Brexit motions so that a compromise could be put to a vote — a process known as "compositing". But they were unable to agree on a common position, and so two different options will be voted upon to decide the party's new Brexit policy.
One party source said it was "unheard of" for the compositing process to fail like this.
The party's ruling body, the National Executive Committee (NEC) hopes to solidify what it considers a happy compromise: to back a second referendum — but without any commitment on how Labour would campaign.
"Labour will put Brexit back into the hands of the people in a new referendum," its draft Brexit statement reads.
"The NEC believes it is right that the party shall only decide how to campaign in such a referendum — through a one-day special conference, following the election of a Labour Government."
The first motion delegates will vote on on Monday is broadly in line with the NEC's position, but a second goes further and states that Labour should back Remain. Many constituency parties had put forward motions committing Labour to campaign to stay in the EU.
Several MPs and other senior figures say the time has now come for Labour to send voters a clear message on where it stands, instead of trying to play both sides to appease Leave- and Remain-supporting voters.

While the first motion is almost certain to pass, the second is far less guaranteed. If it did pass, it would likely override the first as the stronger motion and force the party's hand into backing Remain.

However, a source with knowledge of Labour party policy procedures cautioned that to have motions that deviate in this way is fairly uncharted territory at conference, and said outcomes are not guaranteed.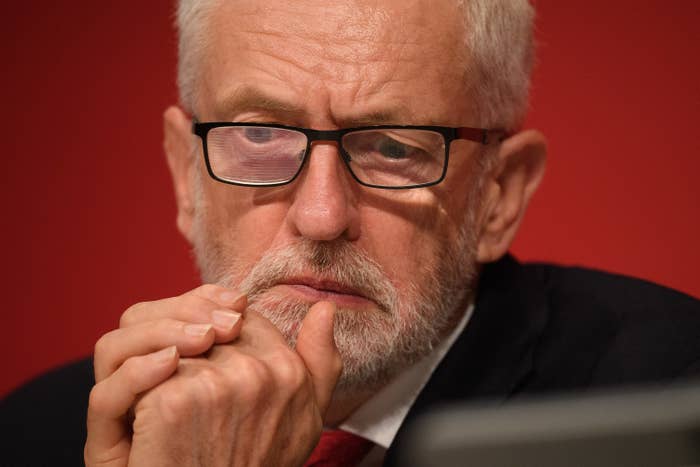 The NEC's current position won't satisfy a growing number of dissenting voices, who believe an unequivocal Brexit position will give the party a better chance of winning going into a general election.

At the Liberal Democrat conference earlier this month, the party committed to a so-called cancel Brexit policy, promising to revoke Article 50 if it got elected, which could lure some Labour voters.
Members of the shadow Cabinet have been breaking ranks to call for the leadership to commit to campaign for Remain, and Momentum's national campaign coordinator Laura Parker also said that an ambiguous Brexit position will continue to harm the party electorally.
Speaking at a Hope Not Hate fringe event, titled "How to Beat the Brexit Party", Parker said: "I hope that this conference will decide our position. Then we can all go home and recover, and then get out on the doorstep in a week's time and start selling our message of a positive Labour agenda and win this election."
Her concerns were echoed by Sheffield Heeley MP Louise Haigh, who told the same event: "I hope that conference this week will sharpen up that message on Brexit and will be less ambiguous. I talk to other colleagues who believe that a 2017 similar compromise policy will get us through another general election, and it will allow those of us in Leave seats to say 'don't worry we'll push for a Brexit deal', and those of us in Remain seats to say the opposite, and I personally don't think it will, I don't believe another compromise like that will see us through another general election."
She continued: "I think our policy for a second referendum and to campaign for Remain is going to be a very difficult sell. It's going to be a very difficult sell in the seat that I represent, but people do want clarity, people want leadership, and on the biggest political issue that has been dominating our national discourse for the last three years, I believe we have a duty and responsibility as the Labour party to take that clear path."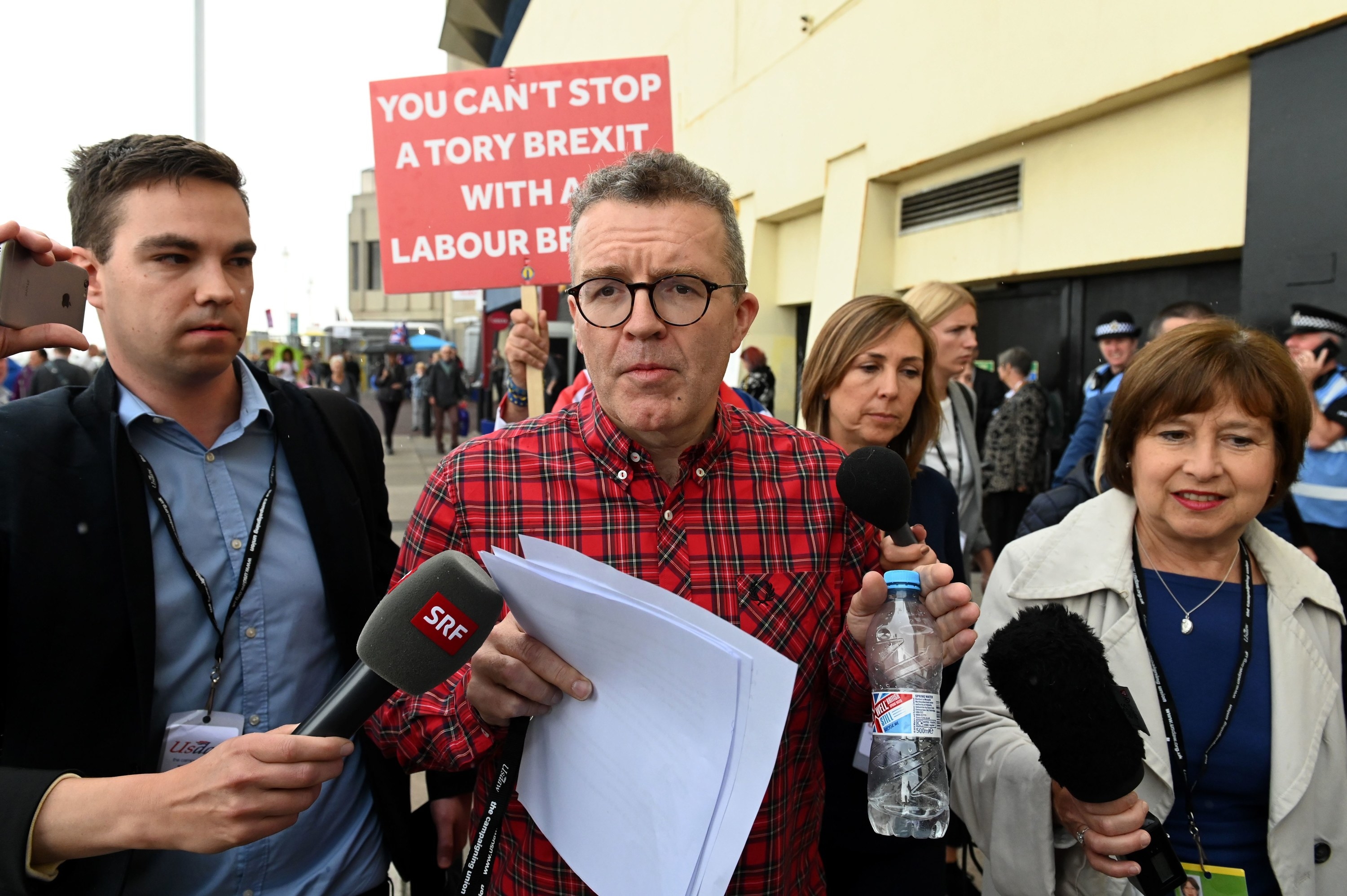 Speaking at a Labour Movement for Europe rally, deputy leader Tom Watson also said the party needed to come out in favour of Remain.

He said: "The vast majority of our members, our MPs, and our voters want to remain in Europe. If we win our fight for a People's Vote I believe our members, our MPs and our party will lead the campaign to Remain. That's not just because it is the best way of reconnecting with our voters, but also because it is the best way of standing up for our values.
"We are a Remain party. We are a European party. We are an internationalist party. That is who we are. Not perfect, not pure. But overwhelmingly committed to Britain remaining in Europe and reforming Europe. By backing a people's vote, by backing Remain, I am sure we can deliver the Labour government the people of this country so badly need."
Shadow foreign secretary Emily Thornberry disputed the idea that those pushing for Remain were attempting to undermine the Labour leadership, telling the same event that they were doing so in order to boost Labour's popularity with the electorate.
"When people here today take the position that they want a second referendum and we want to remain, that doesn't mean that we're not socialists, or that we're disloyal to Jeremy Corbyn," she said.
"It is entirely because of our commitment to socialism and our loyalty to Jeremy that we are out today demanding the outcome that will give us the best chance of putting Jeremy into Number 10, and putting into practice the socialist policies that we set out in our 2017 manifesto."