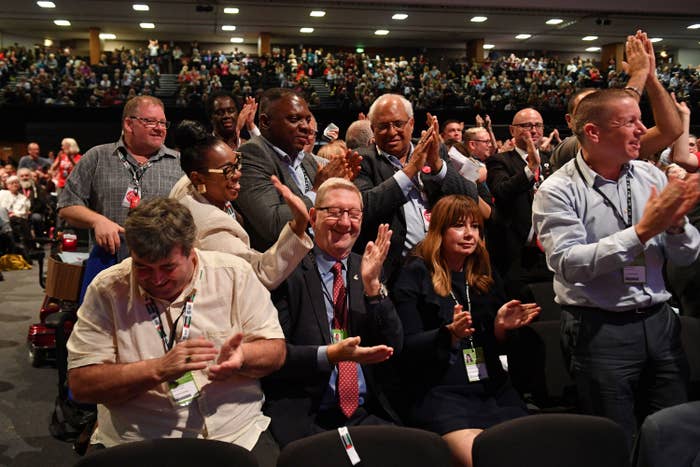 Angry scenes broke out on the floor of Labour's conference after the party's ruling body refused to allow ballots to be counted in a crucial vote that would have seen it adopt policy in favour of remaining in the European Union.
Instead, the motion was rejected by a show of hands.
Delegates in Brighton voted to adopt the position advocated by Jeremy Corbyn and the party's ruling National Executive Committee (NEC), which means that Labour has failed to adopt a decisive Brexit policy for the second year running. The party has pledged instead to support a second referendum and to pick a side only after a general election.
There were shouts in the hall for a card vote, where each vote is counted individually, by delegates unhappy with the result, but this was refused by the chair, NEC member Wendy Nichols, who said the show of hands was overwhelming.

There was confusion in the hall as it appeared that Nichols and general secretary Jennie Formby, who was sitting beside her on the podium, disagreed over whether the vote had carried.
The shouts came from both the conference floor and the balcony above, where many Labour members who are not delegates were watching, but Nichols refused, saying the vote had not been close enough and that she would not be bullied into ordering a count.
Shouts of "Oh Jeremy Corbyn" erupted from other delegates, who backed the position of the Labour leader and the NEC.
A statement from the NEC — rubber-stamped in a vote on conference floor — said that "Labour will put Brexit back into the hands of the people in a new referendum".
It continued: "The NEC believes it is right that the party shall only decide how to campaign in such a referendum — through a one-day special conference, following the election of a Labour Government."
A policy motion, compiled from those put forward by constituency parties and trade unions, was also approved.
It states: "Our party leader has made our way forward abundantly clear; a public vote on a deal agreed with the EU giving people a final say between a credible leave option and remain."
Two Brexit options were put to a vote on Monday afternoon. Delegates from Labour's constituency parties and affiliated trade unions had attempted to find a compromise position between the dozens of Brexit motions submitted to conference in a meeting on Sunday night — a process known as "compositing".
However, after more than four hours of discussions, a common position could not be found, and so two separate motions were submitted to conference — one broadly aligned with the leadership position and one committing Labour to campaign for Remain.
The Remain motion, which stated that "Labour must reflect the overwhelming view of its members and votes, who want to stay in the EU. Labour will therefore campaign energetically for a public vote and to stay in the EU in that referendum, while recognising the rights of those members who want to argue another view", failed to get enough votes.
It had looked like the mood may be shifting towards Remain earlier on Monday when Unison, one of the largest affiliated trade unions, said its delegates would be rejecting the NEC statement, abstaining on the so called "neutral" motion, and voting in favour of the Remain position. A second union, Usdaw, said it would vote in favour on all three Brexit votes.
However, the Remain motion failed to get the backing of powerful trade unions Unite and the GMB, and did not have the votes in the room to carry it.
The issue of Brexit has been the biggest talking point at conference for the second year running, causing some of the deepest dividing lines within the party.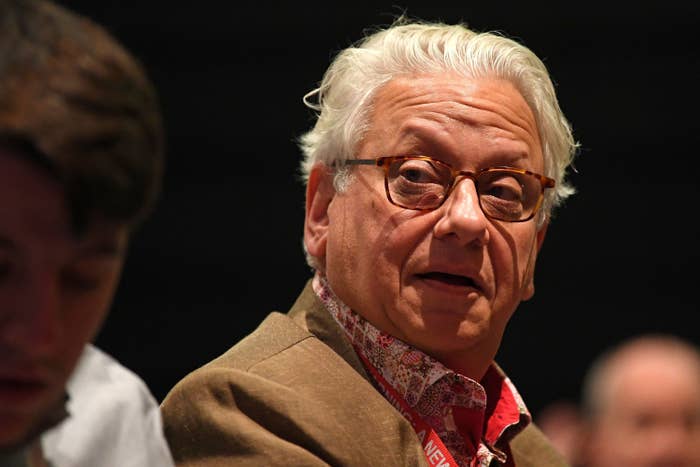 Momentum founder Jon Lansman criticised the way the NEC statement had been produced, and in a series of tweets earlier on Monday urged members to "vote with their conscience".

He said: "I'm completely supportive of Jeremy's leadership, but I'm incredibly disappointed with the process by which today's NEC statement on Brexit was produced. There was no meeting, no discussion, no consultation with the membership.
"On one of the biggest issues of the day, this is a travesty. Across the membership there are many different views on Brexit, and on conference floor members should feel free to vote with their conscience."
Labour had been facing increasing pressure to adopt a clear position on Brexit, with several members of the shadow Cabinet breaking ranks and calling for the party to adopt a clear remain stance.
Speaking at a Labour Movement for Europe rally on Sunday, deputy leader Tom Watson said: "The vast majority of our members, our MPs, and our voters want to remain in Europe. If we win our fight for a People's Vote I believe our members, our MPs and our party will lead the campaign to Remain. That's not just because it is the best way of reconnecting with our voters, but also because it is the best way of standing up for our values."

At the same event, shadow foreign secretary Emily Thornberry said that supporting Remain would boost Labour's chances of winning an election.
"When people here today take the position that they want a second referendum and we want to remain, that doesn't mean that we're not socialists, or that we're disloyal to Jeremy Corbyn," she said.
"It is entirely because of our commitment to socialism and our loyalty to Jeremy that we are out today demanding the outcome that will give us the best chance of putting Jeremy into Number 10, and putting into practice the socialist policies that we set out in our 2017 manifesto."
Immediately following the vote, Labour began facing criticism from within its own ranks for yet again failing to adopt a decisive Brexit position.
Veteran MP Margaret Hodge said the NEC position was "beyond a joke" and would be a difficult sell on the doorsteps at election time.
Pat Glass, a Labour MP until the 2017 general election, described the result as "chaotic" on Twitter. "[It] looks like bad news for members but ironically looks like really good news for the Lib Dems," she said.
Some Labour MPs have already said they will ignore the party to policy and continue to lobby for Remain.
Wes Streeting, a prominent critic of both Brexit and the Labour leader, tweeted: "My position remains clear and consistent: there is no sign of any Brexit deal being better than the deal we have as members of the European Union. I will campaign for Remain in any referendum and will campaign for any deal - or no deal - to be put to the people with remain."
He told BuzzFeed News: "Labour conference has agreed Jeremy Corbyn's Brexit policy, Jeremy Corbyn's manifesto, and Jeremy Corbyn's pitch to the country. Success or failure now rides on Jeremy Corbyn. It's down to him."
Jess Phillips also tweeted saying she would continue to campaign for Remain.
She told BuzzFeed News: "I think that the party will struggle to sell the position on the doorstep and I think it's a huge mistake that helps Boris Johnson."
Mike Gapes, who quit the party in February in protest over Corbyn's leadership, after serving as an MP for almost three decades, tweeted suggesting that the card vote had been prevented so that it was not made obvious which was constituency delegates had voted.
He said: "A card vote is normal at Labour Conference when votes are close. It ensures that CLP delegates can prove they voted according to their mandates and did not break their mandate. That is presumably why General Secretary Jennie Formby was so determined to prevent a card vote."

However, Corbyn ally and shadow home secretary Diane Abbott welcomed the result, saying Corbyn's Brexit position had "triumphed".
"The message is, despite the chatter from commentators, the party is determined to unite behind its leader," she tweeted.