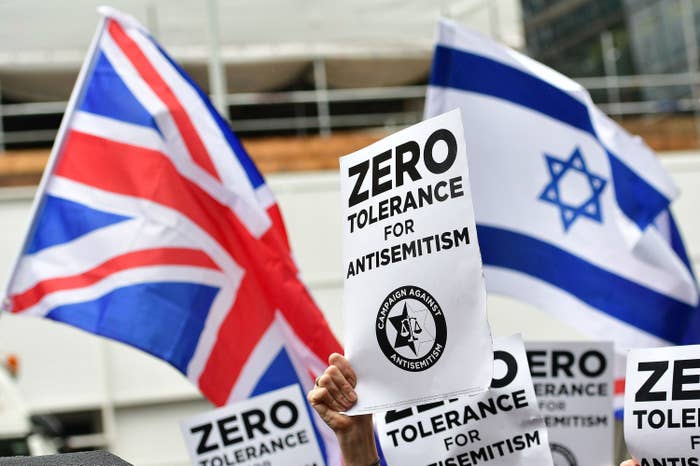 A Labour party member who was twice reported over allegations of anti-Semitism has been removed from a shortlist of parliamentary candidates.
Luke Cresswell was shortlisted by a local joint panel for the South Suffolk seat competing against just one other candidate, BuzzFeed News reported on Monday.
His name has now been taken off the list after due diligence checks were called out, BuzzFeed News understands.
Cresswell, a former district councillor in Suffolk, was suspended while being investigated by the Labour party after posting images which compared Israel to Nazi Germany and included an image of a blood-soaked Star of David.
He later apologised, saying the posts were "unhelpful, crude and can be misconstrued." "I have made mistakes in what I have said in the past and, of course, I regret these," he added. "It has never been my intention to offend or hurt anyone and I am sorry if my insensitive remarks have done so."
In April 2018, BuzzFeed News reported that after being reinstated, Cresswell was referred to the party again over different allegations, with no apparent further action taken against him the second time.
The local panels came as a result of new streamlined processes agreed by the NEC, which has been criticised by some for overseeing a culture of stitch-ups, by shortlisting candidates seen as loyal to the Labour leadership.
Earlier this month, Labour's ruling body, the NEC, decided that it would draw up longlists of potential parliamentary candidates, from which panels made up of NEC, regional board, and local party representatives would select a shortlist.
The decision to shortlist Cresswell has been criticised both locally and nationally, with one member describing it as a "slap in the face to the Jewish community".
A local Labour party source told BuzzFeed News: "Luke Cresswell is a serial antisemite. He should not be a member of the Labour Party, let alone be standing to represent us in South Suffolk.
"This is not only a slap in the face to the Jewish community but to the hundreds of local members like me who are going to be asked to campaign for him. What are the Labour Party nationally playing at letting people like this stand for parliament, maybe they should spend less time on stitch ups and more time kicking out antisemites."
Jewish Labour MP Ruth Smeeth also questioned Cresswell's suitability to stand for parliament. She told BuzzFeed News: "If the Labour Party is trying to prove that we don't have an institutional problem with anti-Jewish hate then this seems a strange way to go about it.
"I welcome everyone who has taken the opportunity to educate themselves about racism but I question whether anyone who has shared clearly racist material should be eligible to stand for any political party, nevermind the Labour Party."
Another Labour MP, who BuzzFeed News agreed not to name, added: "I welcome his apologies but this still seems like a very misguided decision considering the current situation and whilst we are still awaiting the outcome of the EHRC inquiry.

"It's very hard to believe there were no other good candidates with a clear track record of not offending our Jewish friends and colleagues."

Euan Philipps, spokesperson for Labour Against Antisemitism, a campaign group that has reported Cresswell to the party "a number of times" told BuzzFeed News: "It is extremely alarming that Luke Cresswell, who has a track record of promoting antisemitic views, has been shortlisted to be the Labour parliamentary candidate for South Suffolk.

"Mr Cresswell, who is also a member of Momentum, has been reported to the Labour Party by Labour Against Antisemitism on a number of occasions with overwhelming evidence of his views. Yet the party has failed to take the appropriate action of expelling him.

"That he is now considered a viable prospective parliamentary candidate only underlines how what appears to be institutional antisemitism has become embedded across the Labour Party."
Cresswell had not responded to a request for comment at the time of publication.