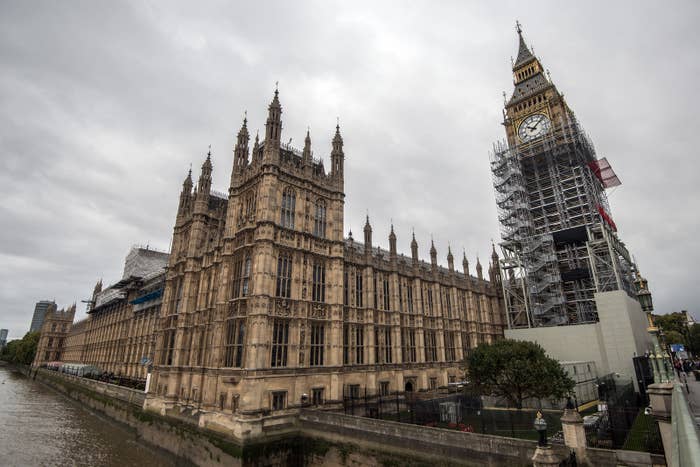 Labour is actively contacting party activists and urging them to report incidents of sexual harassment, amid growing concerns about widespread inappropriate sexual behaviour in parliament.

In an email sent to local party branches and women's officers on Thursday evening, obtained by BuzzFeed News, a leading party official urged all party members to report allegations of sexual harassment "even if the behaviour is not directed towards them" and promised a "zero tolerance" approach.
"It is important to note that sexual harassment can often be brushed off by others as 'banter' or harmless flirting," the head of Labour's complaints department wrote in the email. "However the impact the behaviour had on the individual is the most important factor, it is not so relevant whether the harasser intended to cause offence, but rather that offence was caused by the conduct."
The email to Labour members urges them to report incidents of unwanted sexual behaviour including verbal sexual advances, unwanted physical conduct, or requests for sexual favours.
The renewed focus on sexual harassment in British politics follows the accusations against film producer Harvey Weinstein, which have led political parties to steel themselves for further claims.
On Friday Theresa May's spokesperson urged political activists to come forward with any claims of sexual harassment: "Any allegations that may come to light will be taken extremely seriously and we would advise people to contact the police if there is such an allegation so that it's fully investigated."

Multiple parliamentary staff have told BuzzFeed News of a toxic atmosphere across all political parties within parliament, with young female staff left vulnerable and with few ways to raise complaints about the behaviour of politicians and senior staff.
"MPs and assistants have a weird power dynamic," said Stephanie*, a parliamentary assistant in her twenties. "I think it gives some MPs a sense of power over the coterie of twentysomething-year-old assistants, all of whom are probably earning less than a third of their salary. MPs themselves are often pretty isolated and lonely, having left their family behind in their constituency. It's just such a toxic combination."
She also said that she was aware of members of parliament regularly having sexual relationships with their employees, but said this was accepted as ordinary behaviour.
"There was one MP who seemed to have a revolving door of very young, male assistants and interns working for him, and you would see the MP being followed around parliament by this gaggle of young boys and think it was pretty funny," she said.
"But it wasn't. It was a serious abuse of power, and what seems even more shocking to me now was the fact that everyone knew about it. I wouldn't be surprised if it was still going on. Because who are those young men going to complain to?"
Nadia*, an office manager who currently works in parliament, said there are politicians "who are known as serial harassers to their staff and people that they meet".

"It's completely known and acknowledged," she said, "and nothing is ever done about it and so it persists, and more and more young women are subjected to it. Nobody knows who to go to: if you go to the whips nothing discernible happens; if you go to the leader's office nothing happens; if you go to your MP you put them in a difficult position because they're often mates with them.
"Stuff happens in the lifts all the time. I can't tell you how many experiences I've had with male MPs and younger researchers. Lifts are their space that you're in – MPs have priority in the lifts, you're in private and it's just completely widespread."
A spokesperson for the LabourToo group, which was created by an anonymous group of women to draw attention to harassment within the party, said: "We are shocked but not surprised by the number of stories coming to light about harassment, abuse, and assault within parliament.

"We believe that this problem, however, is not only confined to the parliamentary estate, but is rife within all levels of all political parties.
"As a result of our own experiences, and those of the sisters in our party, we set up the #LabourToo campaign for women in the Labour party to share, anonymously and confidentially, their experiences of harassment, assault, and abuse by others in the party."
Max Freedman, head of the parliamentary branch of the Unite trade union, said he is concerned the power structures in parliament lend themselves to sexual harassment. Each individual MP employs staff directly, effectively making them the combined employer, coworker, HR manager – and potential abuser.
"The issue is that so many staff are very young. Very often it's their first job out of university," said Freedman. "People will be reporting directly to their boss and there isn't a sufficient form of outside structure to maintain standards."

"If you want to take out a grievance of any kind then it's going to be your boss who hears it," said Freedman. "That will have a chilling effect naturally – why would you want to raise things?"

He said the issue cut across party lines.
"If parties were being proactive on this they'd know who the likely culprits were to speak to."

Labour leader Jeremy Corbyn is giving a speech in Scotland later today where he is expected to say that a culture of sexual harassment and abuse "thrives in the corridors of power, including in Westminster".
"Any members of parliament who have engaged in this sort of behaviour must be held to account," he is due to say.
"I urge anyone with any complaints to come forward, to their party organisations or for those working in parliament, the Commons Authorities, or to the police where appropriate."
*Names have been changed.
Have you experienced sexual harassment in politics? Contact Hannah Al-Othman at hannah.al-othman@buzzfeed.com or Jim Waterson at jim.waterson@buzzfeed.com in strictest confidence.
You can also contact our reporters anonymously and in confidence.