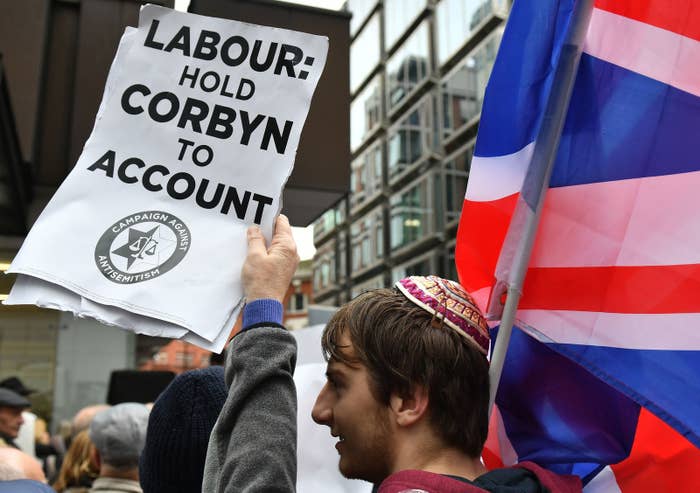 Current members of Labour party staff have passed a motion at a meeting of one of the party's recognised trade unions, condemning their employer's response to the recent Panorama programme and demanding an apology to whistle-blowers.
The motion, which passed by a huge majority of 124 to 4 at the meeting of GMB-affiliated staff members, heavily criticises the party's response to the BBC programme, which saw whistle-blowers describe the effect that working in Labour's campaigns unit had on their mental health, and young Jewish activists recount their personal experiences of anti-Semitism.
One current staff member told BuzzFeed News that employees were facing a "mental health crisis", which had been compounded by Labour's response to the programme.
The "whistleblowing and anti-Semitism" motion was submitted anonymously by two GMB members, who as current staff members were concerned about reprisals. As an employer, the Labour party recognises two trade unions, Unite and the GMB. BuzzFeed News understands GMB is the largest.
The motion singled out the party's official @LabourPress Twitter account for criticism, and states that staff noted the Labour party's response to the programme "with sadness".
It was passed to BuzzFeed News in advance of the meeting, on the same day that more than 200 current and former staff members and supporters wrote to Labour leader Jeremy Corbyn, criticising the party's response to the documentary.
The letter said: "The revelations in the Panorama documentary deserve to be treated with the utmost seriousness. But the party's response has been to smear Jewish victims, and former staff, accusing them of acting in bad faith. These are dedicated 'civil servants' of the party, who quit jobs they cared about deeply because their working environment was so toxic that it had severe consequences on their mental wellbeing, prompting one member of staff to consider suicide.
"The way the party has threatened and denigrated these whistleblowers is appalling, hypocritical, and a total betrayal of Labour's core values. Exposing racism and corruption represents Labour values in action, and these whistleblowers should be thanked, not demonised."
As dictated by the motion, the GMB Labour staff branch will now write to general secretary Jennie Formby and all executive directors of the Labour party, laying out a number of issues on behalf of staff, including to "demand that the Labour Party apologises to former colleagues for the attacks launched on them by both the Labour Party officially and approved 'outriders' over the Panorama programme", and "to condemn the Labour Party's official response to the Panorama programme and the attacks on former staff who we have found to be committed, principled and honest".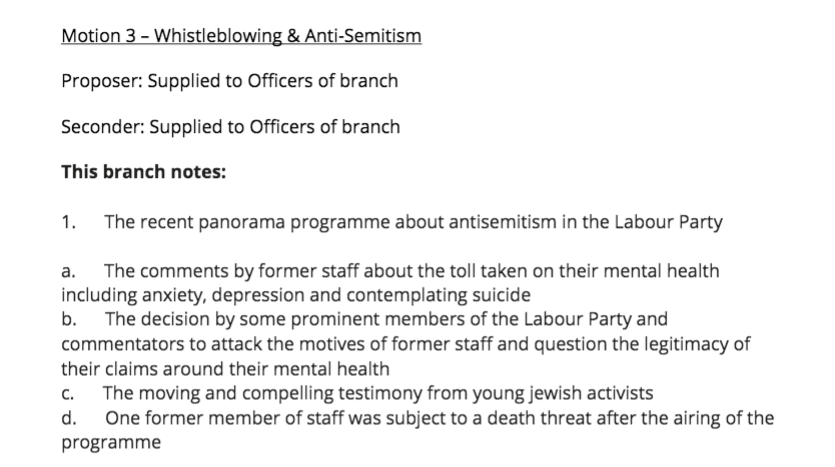 The motion set out a commitment from staff in support of those who blow the whistle, stating that GMB members: "fully commit to Labour's position of support for whistleblowers regardless of where they work and to always condemn attempts to label them as politically motivated," and also "commit, in the strongest possible terms to take robust action in defence of any current staff who are subject to punitive measures for providing evidence, either voluntarily or through summons, to the EHRC."
The text also hits out at Labour's use of nondiclosure agreements to gag staff, saying that NDAs "are not needed to enforce data protection, there are entire sections of legislation that do that. To suggest that they are is deeply misleading and is a source of embarrassment".
One current Labour party staff member, who asked to remain anonymous, told BuzzFeed News they were supporting the motion, adding: "The party's response to the Panorama programme was grotesque. To witness young Jewish activists in tears and former staff revealing they contemplated suicide was hard enough to watch, but to see our party try to smear and discredit them was a disgrace.
"All it did was compound the mental health crisis facing staff. The architect of that strategy is not fit to work for the party and should do the decent thing and resign."
A second member of staff, who also wished to remain anonymous, added: "It is the duty of every member of staff to stand up for our values — even when that's against our own party. If we don't fight for our principles now, we should be asking ourselves why joined the Labour party."
After publication of this story, a Labour spokesperson said: "The Labour Party's comprehensive rebuttal of the Panorama programme did not in any way criticise Jewish members who have suffered anti-Semitism. As we said after the programme aired, we will fully investigate any complaints alleging anti-Semitic incidents reported by Party members in interviews in the programme."
They went on to claim the Panorama team invented a quote, edited emails, and "made no serious attempt to understand the Party's procedures for dealing with anti-Semitism", presenting a "biased and selective account". They claimed that former staff members' claims were "inaccurate" and said "some of the individuals have a clear record of political opposition or hostility to the Labour leadership".
"The Party was not informed by Panorama of the mental health issues experienced by former staff members. The Labour Party is committed to fulfilling our duty of care to our employees," they added.