More than 20 sex attacks are being reported every week in Britain's pubs, clubs, and bars, new data from police has revealed.
The statistics, released to BuzzFeed News under freedom of information (FOI) laws, show an average of 23 rapes or sexual assaults are reported each week at licensed premises across England and Wales.
However, the figures – which show there were 1,246 reported attacks in the year to 5 April 2017, across 26 police forces – are likely to be only the tip of the iceberg, as close to half of forces didn't provide data and the vast majority of sexual assaults are not reported to police, campaigners say.
BuzzFeed News spoke to women around the country who said the scale of the problem is so huge that some go on a night out expecting to be assaulted, or regularly leave clubs or bars because of harassment.
Reported sex attacks in the year to 5 April 2017 from police force data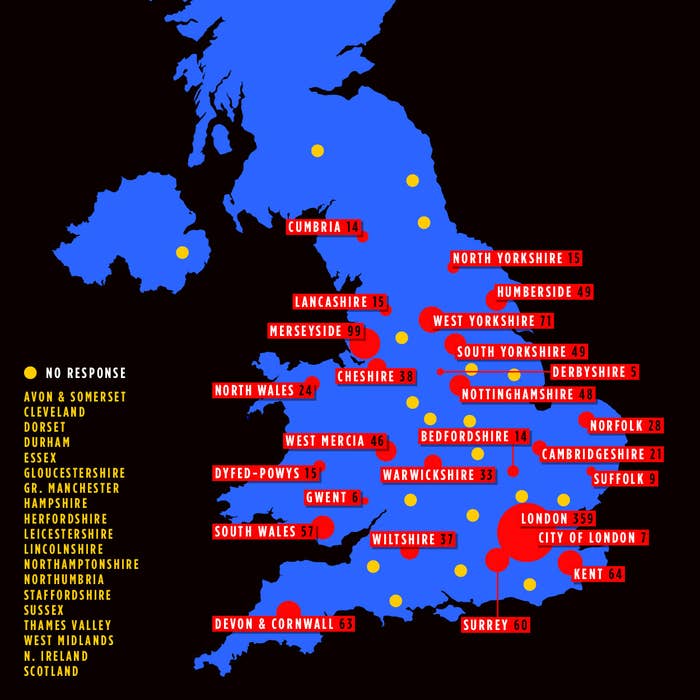 The force with the most reported attacks was London's Metropolitan police, with 359 incidents during the 2016/17 financial year. This marked an increase from 358 the previous financial year, and 287 the year before that.
In Merseyside there were 99 reported incidents over the year, while in West Yorkshire there were 71, in Kent there were 64, and in Surrey there were 60. Of those that responded, the force with the lowest number of recorded incidents was Derbyshire, with just five potential crimes reported in the last financial year.
Many forces failed or refused to respond to BuzzFeed News' FOI request, including Police Scotland and the Police Service of Northern Ireland, which cover the whole of Scotland and Northern Ireland between them. Some said they were unable to supply figures as they did not separately record how many sex crimes were happening in licensed premises.
Several other forces covering big cities, including West Midlands Police (which covers Birmingham), Greater Manchester Police, and Northumbria Police (which covers Newcastle), also failed to provide the data, meaning that the number of reported sex attacks in licensed premises is likely to be at least double the figure of 23 a week.
The data provided by police shows that while both men and women have been victims of sexual violence, the vast majority of victims are female.
BuzzFeed News spoke to seven women who had been targeted on a night out. Just one of them had reported the incident to police.

One of the women, Louise, who asked not to use her real name, told BuzzFeed News she believes assaults in nightclubs, bars, and pubs, often by drunk men, are treated differently to those in other public places.

"Imagine someone groping you in Tesco," she said. "It's just not acceptable. I don't reckon if they were drunk in Tesco it would be the same. I get that drink is a factor but it doesn't mean a woman wants a random grope."
Sarah Green, from the End Violence Against Women Coalition, said: "Given that these are recorded crimes these [police figures] are high numbers. We know there are low levels of reporting of sexual assault and sexual harassment, a lot of underreporting. Women are told to belittle their own feelings rather than do something about it.
"Those who run licensed premises should look at training of staff and how to encourage people to report any behaviour they don't like.
"While responsibility lies with those who are committing these crimes, those people make a decision about whether they can get away with it or not."
"Women are told to belittle their own feelings rather than do something about it."
Louise, 30, said she was assaulted in a nightclub but did not report it because at the time she did not realise how serious the incident was.

She told BuzzFeed News: "There was a lad in there that I knew of but didn't know well. He started talking to us and at first was just trying to hug me, saying to my friend he really liked me, blah, blah.
"I was resisting, and trying to walk away. After a while I went to the bar and he followed me, picked me up, and took me to a stairwell. He literally would not let go of me [and was] trying to kiss me. Luckily my friend saw him follow me to the bar and take me away. She came and got me. She had to grapple a bit with him though.
"I never told my husband. I never really told anyone because I was very, very drunk and the stereotypical things like 'I must have led him on' went through my head. It's only now, years later, that I realise how bad it was and how thankful I am that my friend came to the rescue. I had never actually thought through what might have happened if she didn't.
"I think people need to be aware it's wrong and report it. Even if nothing is done. If everyone reported it every time then the numbers would go up and it would be seen as a problem."

Another woman, Sarah, who also didn't want to use her real name, said: "When I was about 18 or 19, I was in a club in Birmingham. I actually met a guy that evening and we were getting on really well. We went to the dance floor and he started kissing me. I then felt someone's hand go up my skirt, cup my vagina, and attempt to tickle it.
"I knew it wasn't the guy I was kissing, who had his hands on my back. I broke off the kiss and saw this man, probably in his forties, standing next to me and pretending it wasn't him. I slapped him across the face and said 'What the fuck are you doing?' He walked off.
"If everyone reported it every time then the numbers would go up and it would be seen as a problem."
"I wish I had reported it to a member of security or something but I was so shocked and angry I didn't think to do that. It still angers me now. I didn't wear skirts for a while afterwards."

Sarah said she feels clubs and bars are unsafe for women "more so than men", adding: "Your bag gets checked as you go in but there never is any security inside, which I think is also needed.
"I do always feel on my guard. Several of my friends told me about incidents where they were spiked at a bar in Leicester we all used to go to, so when I went there I would only buy bottled drinks and keep my thumb over them the entire time.
"It's when you have to start doing stuff like that to protect yourself you think, Surely this is a problem. People always let their guards down on nights out, be it because of drinking, drugs, or just having a chance to relax. For people to take advantage of that for their own satisfaction is disgusting."
"It's just not acceptable. I don't reckon if they were drunk in Tesco it would be the same."
Hayley, who lives in Manchester and did not want to give her surname, had a drink spiked on a night out. Staff at the bar witnessed the incident on CCTV cameras, and bouncers threw the men out, but the incident was not reported to police. Although staff managed to intervene to stop a possible assault, Hayley is still affected by the incident and is constantly on the alert on nights out.
She told BuzzFeed News: "At first I didn't want to go out and now I'm still wary. I never trust anyone to buy my drink and if I put it down for even a minute I will get myself another one. I always make sure I go to the toilet or outside with someone as well.
"I didn't report it as it seemed pointless. I don't think most do report it, as it kind of feels like we've put ourselves in that position, especially when you're younger. We go out, we get drunk, and we aren't careful. It feels more like women do take more of the responsibility than the men who have committed the offences.
"The questions I got asked from people were 'Why didn't you watch your drink?' or 'Why were you talking to them?'. Women always feel like they're in the wrong with anything like this. Society still needs change."
Hayley, who is in her thirties, believes that most women will have been the victim of some form of sexual violence on a night out.
"Even if someone has never had any experience, then they know someone who has," she said.
Molly Ackhurst is spokesperson for the Hollaback campaign group, which runs Good Night Out, an independent campaign that works with clubs, bars, pubs, and venues to prevent harassment.
Its regional organisers provide advice, posters, and support, as well as training bar staff in how to respond to someone disclosing harassment or sexual assault, de-escalation techniques, and how racism and homophobia can intersect with sexual harassment.
Ackhurst said BuzzFeed News' findings of at least 23 reported sexual assaults a week were "incredibly low".
"Women often don't go to the police," she said. "I'm frustratingly not surprised by the lowness of these figures. I'm also not surprised that these survivors say they're not being treated seriously enough. It's important to ensure these stories don't get forgotten.
"We live in a society that perpetuates misogyny. Women are constantly being blamed for the 'choices' that they've made, but going out and drinking is not a licence to be harassed; dressing how you like is not an invitation."
"It feels more like women do take more of the responsibility."
Ackhurst said that women are often reluctant to report a crime as they are forced to "carry the shame" of being a victim of sexual assault. Several of the women BuzzFeed News spoke to agreed that they were made to feel responsible for the crimes committed against them.

Maisie, 18, who didn't give her surname, said she believes "9 out of 10" women will have been sexually assaulted on a night out at some point in their lives – but she thinks hardly any will have reported the incidents.
She told BuzzFeed News: "I'm always on guard – even just if someone looks over I'd probably say I'd be anticipating it. Someone smiled at me the other night and I smiled back, [and] he grabbed my arm and wouldn't let me go cos he wanted me to go home with him.
"It's not taken seriously, boys don't think what they are doing is assault. Bouncers don't even take it seriously even if they have done it before."
Natalia, 32, said she goes on a night out expecting to be the victim of a sexual assault. She told BuzzFeed News: "I can think of so many instances. I genuinely don't think I have ever been to a club and a guy hasn't grabbed my arse.
"I think the worst incident to me personally was in a club in Newcastle ... where a guy grabbed my arse then put his arm around me and tried to pull me away. Luckily I was with a big group of friends who noticed and pulled him off me and alerted the bouncers, who then kicked him out.
"Clubs just seem to be a law unto themselves. Plus most bouncers seem to be fairly unhelpful once you are inside. It sounds awful but I have come to expect at least a couple of sleazy guys hitting on me and sometimes getting physical. Not because I am Miss World or anything, but just because clubs seem to attract some really awful sorts."
Rachel was the only victim BuzzFeed News spoke to who had reported her attacker to police. She was sexually assaulted while walking between two bars in a town in the North West, which she has asked us not to name. Despite reporting the attack to police just minutes later, she claims her complaint was not taken seriously, and as a result, nobody was brought to justice.
She said: "We were just literally walking down the street between bars and some guy walked between me and my friends and put his hand up my skirt and grabbed me.
"I was like, what the hell just happened? I saw the police [on the street] and went straight to [them]. There was quite a high presence in the town centre, but the police definitely did not take it seriously. I pointed him out and said 'he's there', but somebody else came and asked for a photograph, and they posed for a photograph while I was trying to report this crime.
"[The police] spoke to him and said, 'He's really drunk, we've sent him home.' It didn't seem the right response to me. A couple of weeks later I got called to do an ID parade, but I didn't ID him [correctly] and that was it. I identified him on the night – why did I have to go and do it again? Nothing ever happened.
"I remember them asking how much I'd had to drink, as if that's anything to do with it. I'm just frustrated that nothing more came of it. It would never stop me reporting it again – I put it down to a few bad police officers, but I can certainly see how it would put other people off.
"It was quite a long time before I went out after that."
"It's important to ensure these stories don't get forgotten."
Ackhurst said that while the primary responsibility to prevent sex attacks lies with the perpetrators themselves, she said it was "next on by-standers to intervene in a safe way". She said that this includes venue staff, friends of perpetrators, and anyone else who witnesses inappropriate behaviour. "By-stander involvement can take many shapes and forms," she added.

Ackhurst said that if bar staff and society in general did a better job of intervening to stop sexual violence, women would feel a lot safer. "Just knowing someone's there and they've got your back," she said. "Women and girls are keeping themselves safe – safety training, safety checking, walking home holding their keys in their hand. If we lived in a world where we felt safe we wouldn't need safety training. It's exhausting."
"There's also a responsibility for the government to promote sex and relationship education in schools," she added, saying that with better education "women and girls would be a lot safer".
A spokesperson for the Security Industry Authority (SIA) which regulates the private security industry and licenses staff, told BuzzFeed News that since 2013 its qualifications have included training on how to spot potential sexual predators at venues and look after people who may be vulnerable to assault.

"Training alone will not prevent unsolicited or unwanted sexual attention, or even assault," they added. "This is about more than just the training; it is about fostering a culture of protecting people in vulnerable situations in partnership with others. A number of key players have a role; the venue, local authorities, police, training providers, and the private security industry."
They said the SIA supports campaigns such as 'Ask For Angela' which let people anyone receiving unwanted attention on a night out, to ask staff for "Angela" as a code word to show they need help.
Sophie, 30, who didn't use her real name, explained that the implications of an assault run much deeper than just ruining a night out. She said: "I get sexually harassed most times I go to the pub. The level of severity just differs on occasion. There have been times when I've just gone home early due to pure frustration that I can't simply go out and enjoy my night without feeling like I'm being preyed on.
"Once I was sitting in a pub on a bench and felt a hand go down the back of my trousers. It was a random man. When you're struck by fear you don't say anything and can't do anything, so I just left.

"A guy was leaning in talking to my friend a month ago in a nightclub and he was close to her ear, and he licked her," she added. "I pushed him away and he said he had a girlfriend and my friend was an ugly bitch.
"A lot of women do [experience sexual assault] but I suppose it's now seen as part of your night out, so it's not spoken about enough. It doesn't get reported."
She agreed that it should not fall to women to keep themselves safe.

"I guess it's about guys speaking to their friends about this behaviour too. If you're out and your mate does something like this, don't just laugh and think it's banter. It's not for me and other girls that experience it. Unfortunately I go home and carry it with me for the night or the next night I go out. I can't laugh it off."