Everyone Is Losing Their Fucking Minds In The Chaos And Confusion, But Here's What You Can And Can't Do In England
From Wednesday, the lockdown rules will be different in England. We've tried to make some sense of the government's advice.
BuzzFeed News has reporters across five continents bringing you trustworthy stories about the impact of the coronavirus. To help keep this news free, become a member and sign up for our newsletter, Outbreak Today.
You can't mix households.
Lockdown rules due to the coronavirus are still in place, which means that you can't meet up with both of your parents at once and two groups of housemates can't all go for a picnic together.
But you can meet up, on your own, with one other person from a different household.
It must be in a open public space — so gardens are a no-no — and you must maintain a 2-metre distance at all times. So you can meet a friend, or just one of your parents, as long as you do it outside and go alone.
And meeting in groups is still not allowed.
People have been discouraged from pushing the boundaries and meeting up in groups — even if you try to keep a distance. Police will still be able to break up larger gatherings, and the fines for breaching the rules have been increased.
As long as you stick in your household group, you can sit together in the park, sunbathe, or take a picnic. If you want to sit in the park with your one friend from another household, that's allowed too so long as you stay 2 metres apart — which probably means taking your own separate picnics.
So a day at the beach or a picnic at a beauty spot is fine, so long as you keep a 2-metre distance from other people.
But you can't drive over the border to Wales or Scotland and hope to apply the same rules.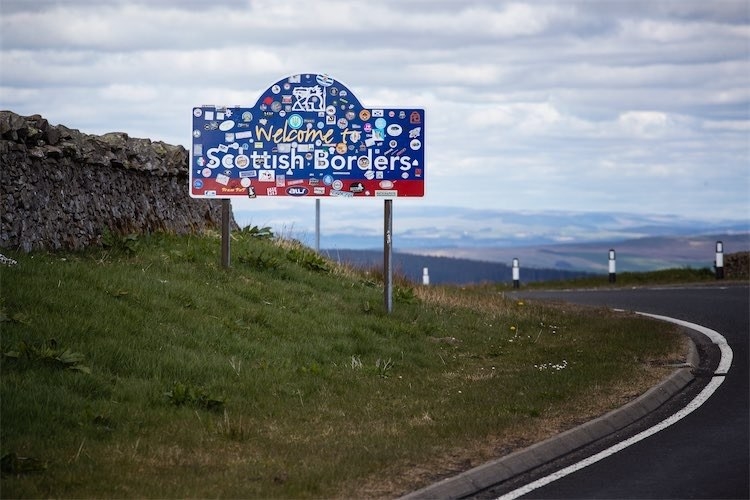 The devolved administrations — including Northern Ireland too — have their own set of rules, so you may end up in a spot of bother with local law enforcement if you drive to Abersoch for a picnic or try to climb Ben Nevis.
While you can drive as far as you want in England for the day, you must return home at the end of the day. The rules on staycations haven't been relaxed yet, so a weekend break is still out of the question.
As long as you're just meeting one other person, and you can keep 2 metres apart, then exercising together is fine.
Basically any sports where it's difficult to keep to the 2-metre distancing rule are not allowed.
You can also exercise as many times as you want.
Previously the government advised only leaving the house once per day to exercise — now you can exercise outside as many times as you want, so long as you stick to all of the other rules.
You can go to work if you can't work from home and your workplace is open.
If you are able to work from home, the government has said that you should continue to do so. Workplaces have been issued with guidelines to prevent the spread of infections.
But some workplaces won't be able to open yet.
Workplaces where it's harder to implement social distancing — like pubs, restaurants, hairdressers, and beauty salons — aren't expected to open before the summer.
And if you're going to work, you should avoid using public transport where possible.
People travelling to work have been asked to walk, cycle, or drive where possible, and if you have to use public transport, you should follow social distancing rigorously.
But if you do travel on public transport, you should wear a face covering.
People have been advised to wear a face covering in enclosed public places, such as buses and shops. As more people return to work, it means that people are more likely to come into contact with those outside of their household. The government is advising people to wear a face covering to protect others from inadvertent transmission of the virus.
However, don't try to get a surgical mask. Medical equipment such as surgical masks or respirators used as part of personal protective equipment by healthcare workers need to be saved for NHS staff.
The guidance also says that face coverings should not be used by children under the age of 2, young children who may struggle to use them unassisted, or those with respiratory conditions.
But if you, or anyone in your household, has symptoms, you should continue to stay at home.