The British Medical Association Has Said That Doctors Could Die If They Don't Have The Right Protective Equipment
The trade union for doctors has collated accounts from its members and said that without proper equipment for medics, the infection will spread and the coronavirus pandemic will worsen.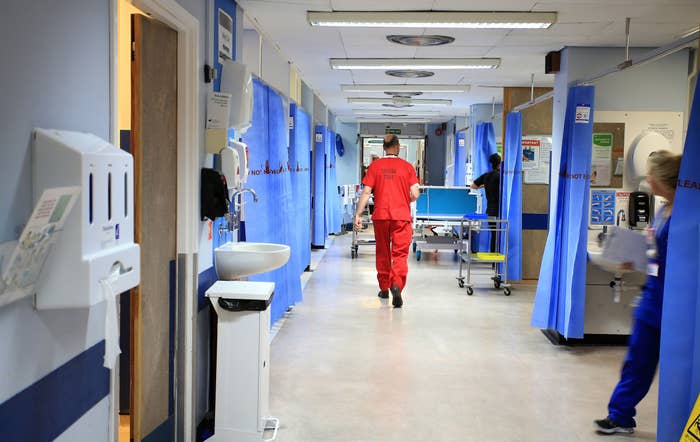 The journalists at BuzzFeed News are proud to bring you trustworthy and relevant reporting about the coronavirus. To help keep this news free, become a member and sign up for our newsletter, Outbreak Today.

The British Medical Association (BMA) has warned that without proper personal protective equipment, doctors who are treating patients with COVID-19, the disease caused by the novel coronavirus, could die.

The association has also warned that failing to give medics the equipment they need means that the infection will spread, the pandemic will worsen, and the workforce needed to care for and treat a growing number of sick patients will be depleted.

The BMA, the trade union and professional association for doctors and medical students, said the issue is affecting "thousands of GPs and hospital staff". BuzzFeed News has also spoken to care workers, who said they are finding it even harder to source PPE (personal protective equipment) and are turning to eBay or asking people to sew homemade masks for them.

The warning comes after repeated complaints from medics that the equipment they need to treat patients is either unsuitable or not available at all.

Rosena Allin-Khan, Labour MP for Tooting and an NHS hospital doctor, told BuzzFeed News that care workers "don't have anything" and that staff in hospitals were so short on equipment that doctors were spending time trying to track down PPE when they could be treating patients.

She also said that hospital staff were "suspicious" that guidance had changed from wearing a full FFP3 mask as well as gloves and a full apron to only wearing gloves and a basic surgical mask — with no proper explanation from the government.
Dr Nora Albaldawi shared a picture of her husband, Dr Firas Majeed, who is working on a coronavirus ward, describing the protective equipment he had been provided with as "rubbish".

Dr Mark Porter, an NHS GP partner in the Cotswolds, told BuzzFeed News he had no access to the same supply chains hospitals use and had to source equipment privately — which he then had to share with district nurses, who had even fewer masks.

The BMA has collated accounts from its members, which said that protective equipment such as gowns, masks, aprons, and goggles are not getting through to frontline staff, "or if they are, it's in very small amounts and is rationed or not offering sufficient protection."
One doctor said in a written account to the BMA: "Coughed on by Covid patients all day today. No visors available… tomorrow I'm borrowing my 9-year-old's safety specs she got in a science party bag. I wish this was actually a joke."
Another said: "We have no testing or PPE on mental health units, and the environment was never designed to contain an epidemic. Given that asymptomatic people can spread the virus, within weeks 100% of patients and staff will be infected, and it will be just pot luck who survives."
Dr Chaand Nagpaul, chair of the council of the BMA, said: "We are told that lorries are shipping hundreds of boxes of supplies of PPE to GPs and to hospitals but that isn't the reality for thousands of our members. The type of PPE being supplied [is] not in keeping with WHO recommendations.
"GPs in many parts of England have been told to go and buy their own stocks, only to find none is available. In Cumbria, GP practice staff went to Wickes to try and secure masks."
Nagpaul also shared an account from a hospital doctor, who said: "We are being asked to risk our lives and our loved ones' lives, in flimsy paper masks and plastic aprons. I don't know if I can do it. I just don't know if I can. I don't think it is fair to expect this of us. I am terrified."
"There are limits to the risks that doctors should expose themselves to and to go beyond those is not fair on themselves, their families, or their patients," Nagpaul said. "If adequate protective wear isn't available, a doctor in hospital has every right to ask to be moved to a low-risk area or to provide patient care that doesn't expose them to becoming infected with COVID-19.
"For GPs with patients who still need face-to-face care, again they need to think carefully about the level of risk they are exposing themselves and other patients to if they give that care without protection. They risk making themselves ill and infecting other vulnerable patients, and GPs should not have to make that choice because they don't have the masks, gloves, and gowns they should have."
Nagpaul said it was time "for the government to be transparent about the level of supplies we really have".
"We know hundreds, if not thousands of doctors and frontline staff are risking their health and lives every hour of every day caring for COVID-19 patients," he added, "and they should not have to do so without the right protection. For their sakes and for the sake of the population at large, it has to stop."
A Department for Health spokesperson said: "We are working around the clock to give the NHS and the wider social care sector the equipment and support they need to tackle this outbreak.
"Over the last two days, more than 15 million face masks have been delivered to the frontline and yesterday's deliveries included 24.6 million gloves and 1.9 million eye protectors.
"The full weight of the government is behind this effort and we are working closely with industry, social care providers, the NHS, and the army so all our NHS and care staff have the protection they deserve."