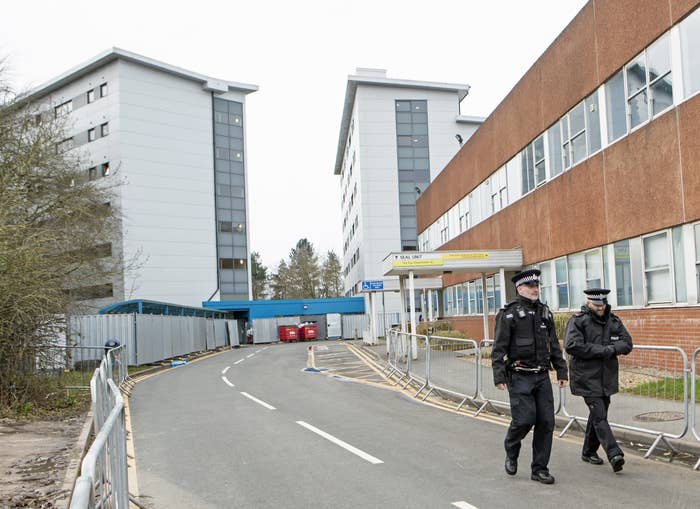 Frontline police officers have warned that forces could struggle to cope with the extra burden placed on them by coronavirus as MPs launched an inquiry to examine whether the Home Office is adequately prepared to deal with an outbreak.

Police forces are drawing up contingency plans on how to respond to the expected spike in virus cases over the coming weeks, which could see officers being responsible for forcing people to return to isolation if they refuse to follow the advice of doctors.
The government passed emergency legislation last month allowing for the detention of those at risk of coronavirus who refuse isolation. Police will act in close cooperation with Public Health England and medical professionals to return those who refuse to comply to a place of isolation for further treatment. The default position is not to arrest those involved, and no one will be taken to police custody.
In order to help deal with additional strain placed on forces, officers will have rest days cancelled, resources will be shared between forces, shifts will be extended to 12 hours, and special constables will be drafted in.
However, frontline officers told BuzzFeed News that already stretched forces will still struggle to cope with the extra burden, as the Home Affairs Select Committee announced that it is investigating whether police services are adequately prepared.
"Sickness would hammer us normally," one serving officer told BuzzFeed News. "Response teams already run under minimum strength every single day. And if we're sick the public are sick and there are more incidents, so 10% sick probably goes hand in hand with 10% increase in demand as well.
"We also don't have the same ability to deploy troops or paramilitary troops like other European countries, so if we have the same problems as Italy we'd be screwed. We struggle to man big crime scenes, let alone quarantine zones."
A second officer, who also asked to remain anonymous, told BuzzFeed News: "We can't cope with Extinction Rebellion sitting in the middle of the road when we're up to full strength.
"How the heck are we gonna manage when [a percentage] of officers are off sick or in isolation added to those who have to be off with kids etc when schools are closed, never mind the extra stuff we're going to have to do re policing the extra issues."
Chris Hobbs, a retired Met police officer with experience in public order policing, told BuzzFeed News that if the situation escalates, it could spell trouble for forces due to depleted officer numbers.
Both France and Italy have significantly more officers per head than the UK when combining all forces, he said, which means that in his view, policing around coronavirus would be more significantly more difficult here, "in terms of being able to enforce any emergency measures that the government wants to bring in"
"The police effort will be handicapped quite simply by the lack of numbers," he added.
Hobbs said that the scale of challenge for officers will depend on whether the streets are quiet in response to an outbreak of the virus — "if people, even the gangs and the criminals are tending to stay at home, then I think it's doable."
However, he said that if crime remains high, or "if there is any sort of public disorder," it will present a serious challenge for policing.
"I think the police will really struggle because I don't think any force will want to provide mutual aid, because they're going to need officer numbers in their own area," he told BuzzFeed News.
Hobbs said he imagined that forces would have specialist teams, equipped with hazmat suits, who would deal with returning people to isolation, but he said it was "inevitable" that some police officers could come into contact with people who have the virus during their normal duties, which may then lead to further depletion of officer numbers if they have to self-isolate.
He pointed out that some forces did not have the necessary protective equipment required to deal with a widespread outbreak, and said there were concerns as to whether this would be made available.
In Wednesday's budget, chancellor Rishi Sunak announced a £5bn response fund to help deal pressures on public services — primarily the NHS — caused by COVID-19. However, the cash injection is unlikely to solve the immediate problem of limited officer numbers.
Labour's shadow policing minister Louise Haigh said that in her view, overstretched police forces would also struggle to cope with any civil disobedience brought about by an outbreak.
She told BuzzFeed News: "The coronavirus outbreak has rightly focused attention on our overstretched, underfunded NHS but all our public services are suffering after 10 years of austerity.
"Our police are already unable to cope in the face of spiralling violent crime with hundreds of thousands of rest days cancelled, record levels of sickness it's very difficult to see how they will be able to respond to civil disobedience without emergency support."
The concerns have emerged as the Home Affairs Select Committee launches an inquiry into the Home Office's preparations for and response to Covid-19. The inquiry will look at whether public services — including the police and Border Force — are sufficiently prepared for an outbreak.
It will consider a range of issues, including what trade-offs will have to be made by police if a significant number of officers are unable to work at any given time, and how police forces will support each other while also attempting to limit the possible spread of the virus.
Labour MP Yvette Cooper, the committee's chair, said: "It's very important that all of our public services are prepared for coronavirus. We need to know what preparations the Home Office is and should be making and what practical consequence there will be for police and border force as coronavirus continues to spread."
Deputy chief constable Paul Netherton, the National Police Chiefs Council's lead for civil contingencies, said he was confident police forces were in a strong position to respond.
"While we are not anticipating a worst-case scenario, we are preparing for it, as the public would want us to do," he said.
"If required, we have tried and tested plans that ensure continuity of policing during times of capacity issues or increased demand. These plans can include moving officers around the country, changing shift patterns and the use of the Special Constabulary.
National Chair of the Police Federation of England and Wales John Apter said that the organisation was "working closely" with the NPCC, the Home Office, Public Health England and has been since they became aware of the original outbreak in China.
"The NPCC are leading on the policing response and we are in discussion about how the service would adapt if there was widespread disruption to people's everyday lives," he said.
"Police officers are resilient, adaptable and will always do their best for the public, but it must be remembered that policing is under huge pressure from our day to day demand. I would urge the public to be pragmatic and sensible about their use of the 999-emergency system if the virus does become more prevalent."
A Home Office spokesperson said: "The government and police continue to work closely to plan for any impacts caused by the spread of the coronavirus.
"There are robust contingency arrangements in place that will allow the police to maintain their civil protection functions and critical services in the event of an emergency.
"We will continue to work with the National Police Chiefs' Council to assess the business continuity plans in place in case of a reduction in the police workforce."
There is also concern about the impact that the virus could have on the wider criminal justice system.
Earlier this week riots broke out in prisons across Italy after visits were suspended, and so far 12 prisoners have died. Those with close knowledge of the UK prison system fear similar unrest here.
"I think if it spreads in prisons we'll certainly see concerted indiscipline," one former prison officer, who now works elsewhere in the criminal justice system, told BuzzFeed News.
They added: "I don't know what Italian staffing levels are like, but HMP struggle to run their regimes safely already, so [it] wouldn't take too much to reach a tipping point. Also, if widespread, [it] would impact on contingencies.
He said that the Operation Tornado teams that respond to prison riots rely on officers being sent from nearby prisons. "If all prisons are struggling with absent staff they won't have spare officers to send, or if they send staff then their prison kicks off."
Prison reform charity the Howard League has also raised concerns about the potential spread of coronavirus in prisons, with chief executive Frances Crook has writing to justice secretary Robert Buckland to ask what steps were being taken to protect people in prisons, in particular in relation to hygiene and washing facilities.
The Prison Officers Association's national executive committee met earlier this week with Prison Service director general Phil Copple and other senior managers to discuss potential contingency plans, and will continue to meet in the coming days and weeks, a representative told BuzzFeed News.
In a statement the POA said that "whilst those discussions are confidential they were described as extremely sensible and constructive by the POA leadership".
The statement continued: "The POA executive are fully supportive of advice given by the Chief Medical Officer and NHS England and advise its members to follow the instructions. The POA recognise that the coronavirus is unprecedented and challenging and it will take a great effort to stop it spreading and that the union will stand ready for any meeting with government officials, employers and NHS providers to ensure our Prisons and Criminal Justice System is safe for both staff and those in our care."
BuzzFeed News understands that handwashing facilities are available in all prisons and that the Ministry of Justice has worked closely with suppliers to ensure adequate supplies of soap and cleaning materials are available.
A Prison Service spokesperson said: "As a result of our contingency planning, we are well prepared and have the ability to deploy staff flexibly. We will prioritise the safety of officers, prisoners and visitors while ensuring minimal possible disruption to normal regimes."