More Labour Anti-Semitism Allegations Have Emerged After Jeremy Corbyn Said "Every Case" Had Been Investigated
"He just doesn't care," one Jewish Labour member said, "and he isn't able to actually recognise the issue."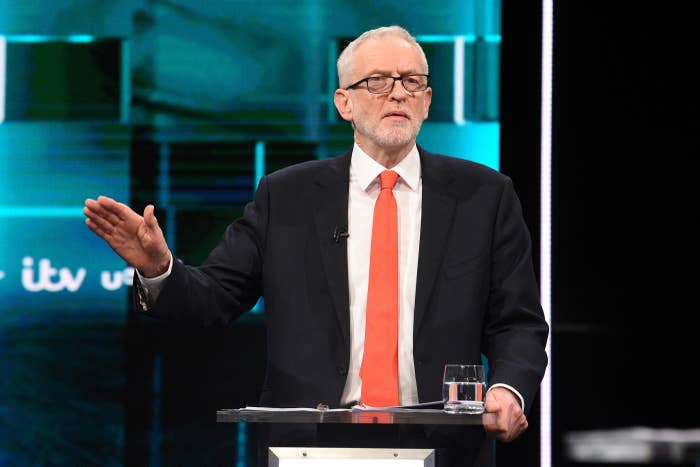 Jewish Labour members have disputed leader Jeremy Corbyn's claim earlier this week that "every single case of anti-Semitism" has been investigated by the party, and have provided BuzzFeed News with a dossier of cases that they say are still outstanding.

In response to a question at Tuesday's televised head-to-head debate in Salford, the party leader said he had taken action and suspended or expelled anyone who had anti-Semitic statements.
"Anti-Semitism is an absolute evil and scourge within our society," Corbyn said. "Racism is any form is a scourge in our society. I have taken action in my party where anyone has committed any anti-Semitic acts or made any anti-Semitic statements, they are either suspended or expelled from the party and we have investigated every single case," he added.
A Labour source said that by "all cases have been investigated," Corbyn meant that they had passed the first stage of the process, but may still be subject to ongoing disciplinary proceedings.

On Wednesday, BuzzFeed News presented the Labour Party with a list of more than two dozen names that have been submitted to the party's complaints unit. Sources said that either the cases had not been investigated, or that the members in question were never suspended.
In one complaint, a member was referred to the party back in February 2018 for saying at a constituency Labour Party meeting that "Ken Livingstone was right", that he had been speaking "an inconvenient truth" and that "the Haavara Agreement reflected a desire on the part of the Nazis to see an increase in Jewish settlement in Palestine."
According to the complainant, no action has yet been taken by the Labour Party.
In another outstanding case from March this year, a Jewish member was accused of being a "fifth columnist" at a CLP meeting after writing about anti-Semitism in Labour. The term was originally used to describe supporters of General Franco's fascist forces within Republican Madrid during the Spanish Civil War and was often used in connection with British Nazi sympathisers during the second world war.
Another case, referred to the party in June, involved an individual making comments online that included "It is quite legitimate to seek out the truth about history. It is not holocaust denial," as well as comparisons of Israel to Nazi Germany.
Other cases recently referred to the Labour Party, which complainants said they had not even received an acknowledgement for, include members who have shared anti-Semitic Rothschild family conspiracy theories, including about Jewish Labour MP Margaret Hodge that describe her as "an infiltrator".
When presented with the list of names, a Labour spokesperson said it was "untrue" that they had not been investigated, adding: "This list includes individuals who are not Labour members, individuals who are suspended, individuals who are subject to ongoing disciplinary processes, and some cases where we investigated and found there was not sufficient evidence of a breach of the rules."

However, BuzzFeed News has seen evidence that confirms at least a dozen of those named were members at the time of the complaints. Labour were asked to provide a breakdown as to how many of the individuals had been suspended, how many cases had been progressed with and so on, but the party refused, citing data protection. Campaigners said several of those who had been the subject of complaints were still active in their constituency parties.
Corbyn's claim earlier in the week was met with outrage: "I thought it was very blatant that he's able to get away with lying to the British public about the extent of anti-Semitism in the Labour Party," one Jewish member, who is still waiting for a complaint to be resolved, told BuzzFeed News.

"He knows full well that what he was saying isn't the case because him and his office have been contacted as well as obviously other members of party staff about ongoing complaints and various issues, so there's no way he can believe what he's saying."
"He just doesn't care," they added, "and he isn't able to actually recognise the issue."
Peter Mason, the national secretary of the Jewish Labour Movement, claimed on Twitter that there were "at least 130 outstanding cases".
Another Jewish member, who has submitted complaints that they say are unresolved, also disputed Corbyn's claims. "That's obviously not the case," they said. "[One of my complaints] is nearly a year old now, and I'm not holding my breath.

"Often these people are suspended and then let back in with a slap on the wrist, a suspension; that's not a punishment. This is institutional anti-Semitism writ large. Anti-Semitism happens and it's tolerated."
Cathy Ashley, who was awarded an OBE in 2017 for work on Holocaust memorial and remembrance, has been a member of the Labour Party for around 40 years, but only joined the Jewish Labour Movement in recent years, when anti-Semitism became a problem in the Labour Party.
She told BuzzFeed News that a complaint she submitted in February 2018 is yet to be resolved. "I only joined JLM because I felt so isolated," she said, "and then because I was seen as part of the Jewish Labour Movement, there was even further vitriol."
"It feels like being in an abusive relationship continually," she told BuzzFeed News. "I feel ill going to meetings. I carry on doing it but it feels different during an election as people are denying what you've experienced.
"It's one thing if people think that [anti-Semitism] isn't the most important area of social policy, but when people deny it, when Jeremy Corbyn said all complaints have been investigated it feels like you're more than an irrelevance; it feels like gaslighting really."
A Labour Party spokesperson said: "Jeremy said that anti-Semitism is an evil and a scourge within our society, which we must stand up to. As Jeremy said, the party is imposing swift suspensions and expulsions and the party investigates all complaints we receive."
A Labour source added: "The autonomous disciplinary body the NCC, which until very recently was the only body with the power to expel members, has not been hearing cases quickly enough. That's exactly why Jeremy brought forward fast-track expulsion processes to allow for rapid expulsions in extreme cases, so we don't have to wait for the NCC."